OH HI. So this morning I had a major site crash, and it lost my whole post. So – here are three photos, and the recipe. Lawd knows I have no idea what I blabbed about this morning. Something about Emily Gilmore and having a face that looks like a lighthouse? Because I make sense like that.
Eat this!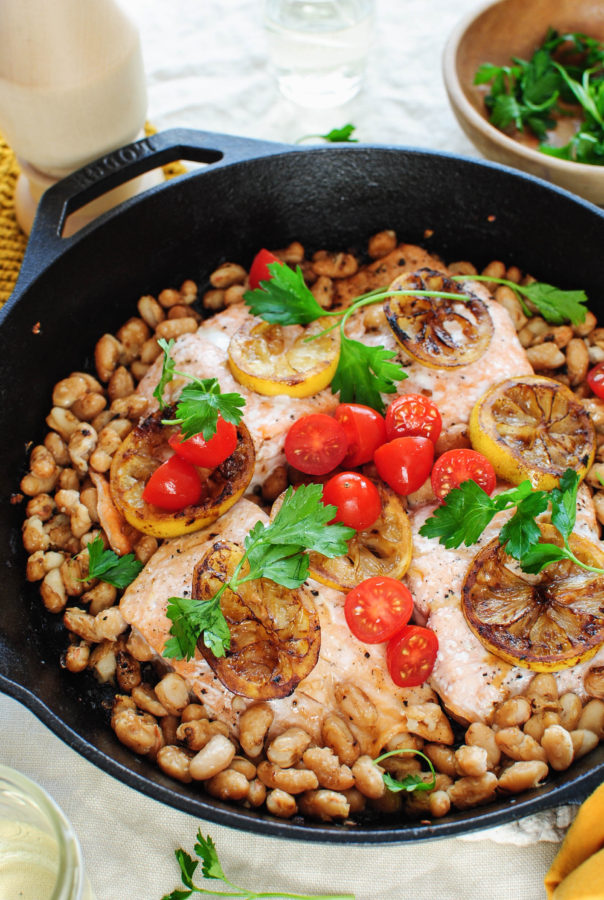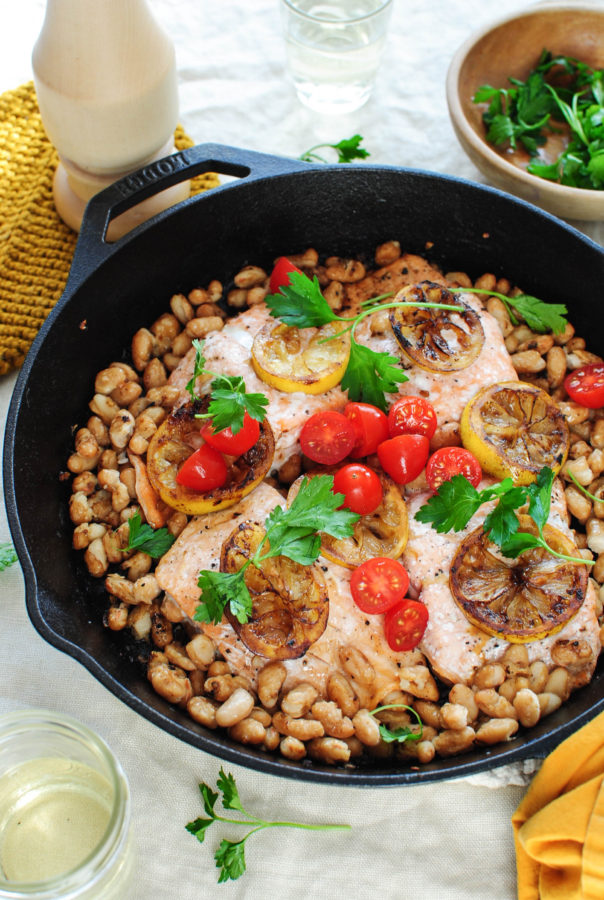 Skillet Salmon with White Beans and Charred Lemon
Ingredients
2 Tbs. butter
1 Tbs. extra-virgin olive oil
1 lemon, cut into slices
3 garlic cloves, minced
1 (15 oz) cannellini beans, drained and rinsed
4 fresh salmon fillets
Parsley sprigs, for garnish
About a cup of halved cherry tomatoes
Salt and pepper
Instructions
Preheat your oven to 400.
Heat 1 Tbs. of butter and the oil in a large skillet over medium-high heat. Once the butter foams, add the lemon slices and sear on both sides, 2-3 minutes total. Reserve lemons.
Back in the skillet, add the remaining butter. Once foaming, add the garlic, and sauté for 30 seconds, until fragrant. Add the beans and toss in the garlic and butter. Season the salmon on both sides with salt and pepper, and nestle them in the skillet. Arrange the lemon slices on top of the salmon, and bake for 15-20 minutes, until the salmon is cooked through and flakey.
Garnish with halved cherry tomatoes and torn parsley sprigs. Give the whole skillet another squeeze of lemon! DONE. INHALE.
Serves 4 (light dinners).
7.8.1.2
62
https://bevcooks.com/2017/01/skillet-salmon-white-beans-charred-lemon/