Two more days until the official Slurpin' Season begins!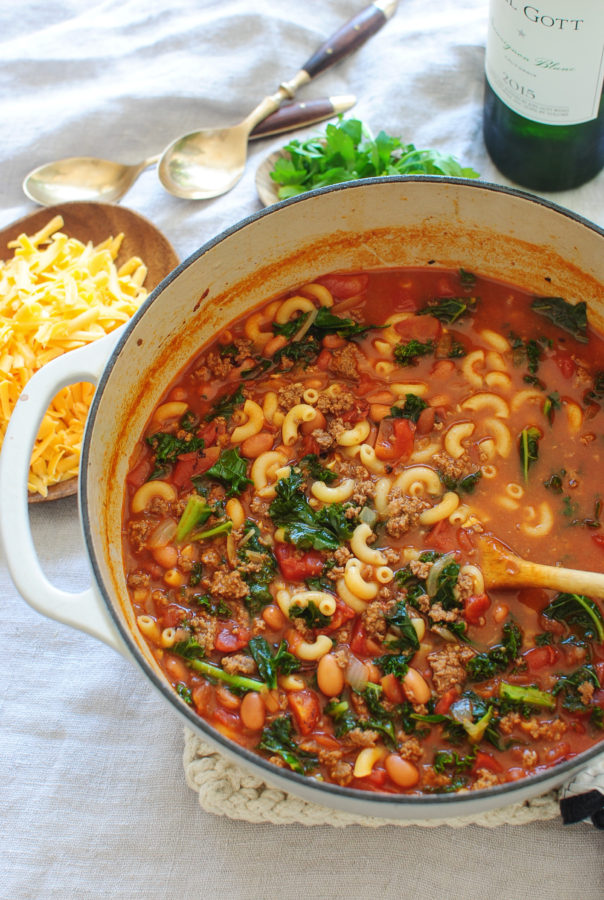 Everything I said just now was 100% true, except for the whole official part. So never mind everything I said just now.
But you can still slurp if you want. You should slurp this! Let me tell you about it.
I love this recipe. I had such a gas (not be confused with "I had gas") coming up with it. It's verrrr basic, but SUPER fall and actually a bit healthy. So don't get mad at me. I put kale in it. OFF WITH HER HEAD.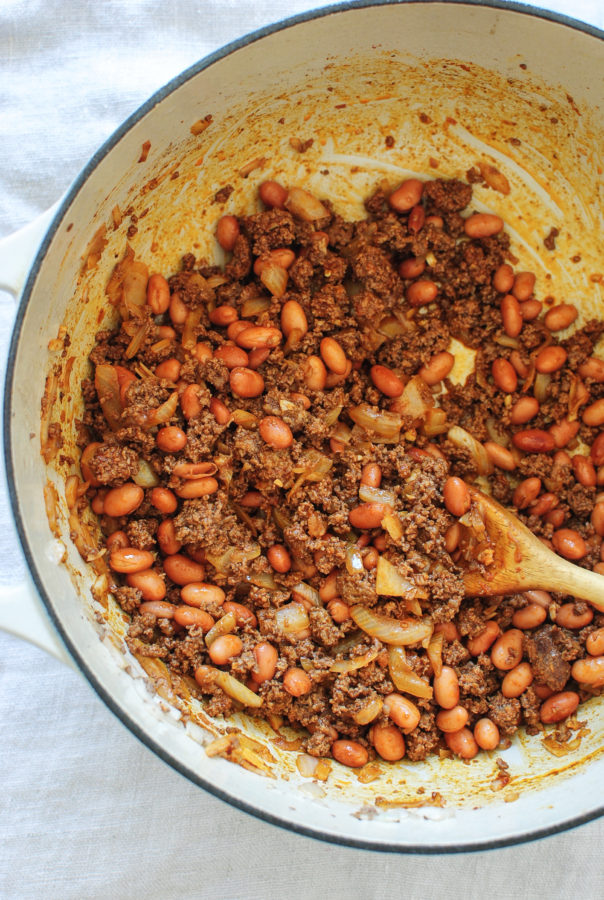 Let's build.
You start with beef. Grass-fed beef. But you can swap out turkey or chicken or pigeon or ostrich here, if ya need. You brown it, add a smooch of smoked paprika (Aaron always says, "It's paprika-y." I say, "IT'S ONLY TWO TEASPOONS, I THINK YOU CAN CHILL." And he says, "No, I like it like this." And I say, "Oh." The end.), onions and garlic, and pinto beans! I needed to sneak pinto beans into this meal because pinto beans have become my life. I'm dedicated to the pinto.
It is also my main goal in life to find this car. Or a station wagon. Or an '80s Volvo. Or an '80s Volvo station wagon. Or all of them. Le sigh.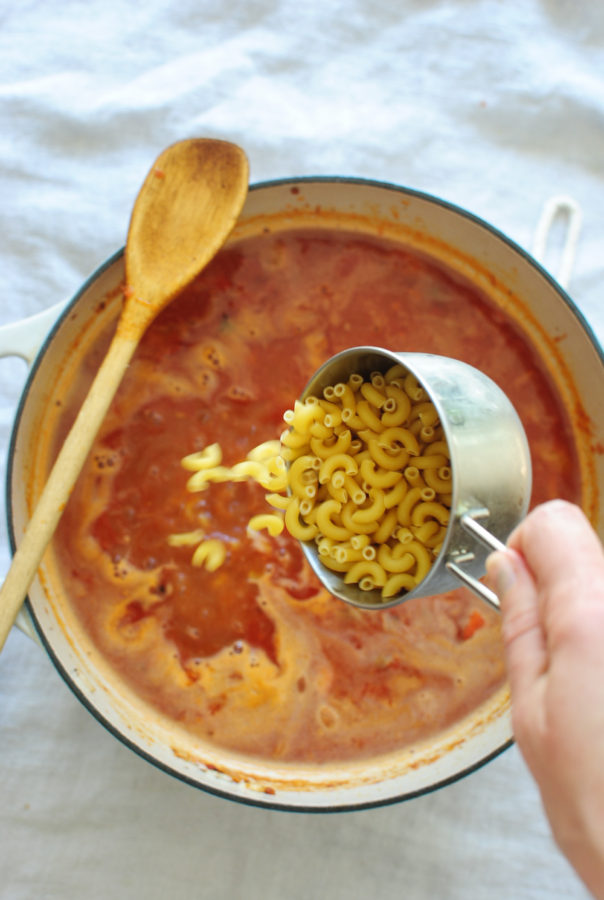 Then you add some tomato paste. I also included a little Lidia Bastianich trick I've learned through my years of watching her on the PEE.BEE.ESS., and that is to caramelize the tomato paste right in the pot. You like, scoot the meat and beans to the side, add the paste, mash it into the pot with your wooden spoon, until it breaks up a browns juuuuust a leetle beet. Then mix it into the beef mix. Ugh, Lidia. You good.
Then add some fire-roasted tomatoes, six cups of stock, and let it simmer for a tad. Then pour in some elbow mac and rejoice your face off.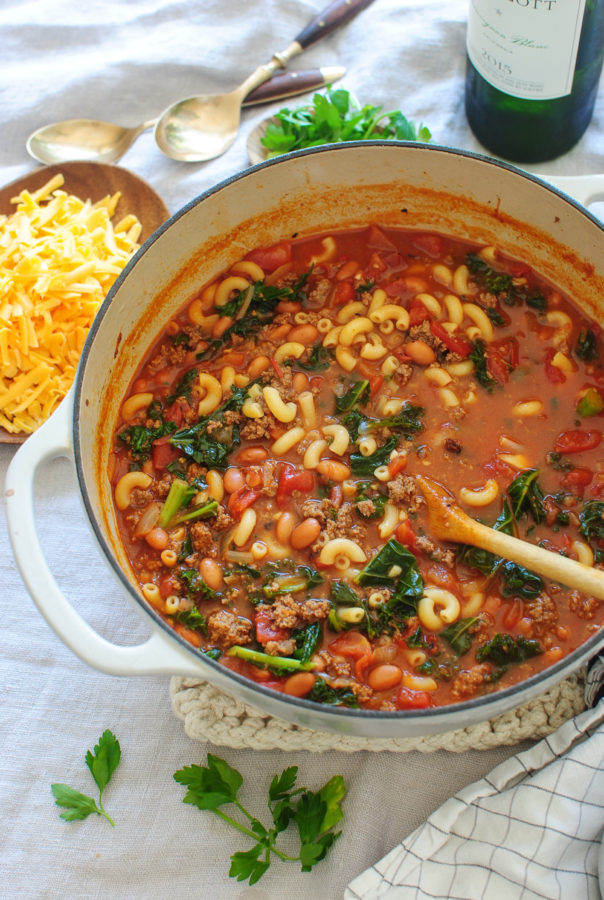 Once the elbows becomes al dente (<–gross), just stir in about 5 handfuls of kale. I didn't really measure here. I just kept adding until I couldn't see through my tears.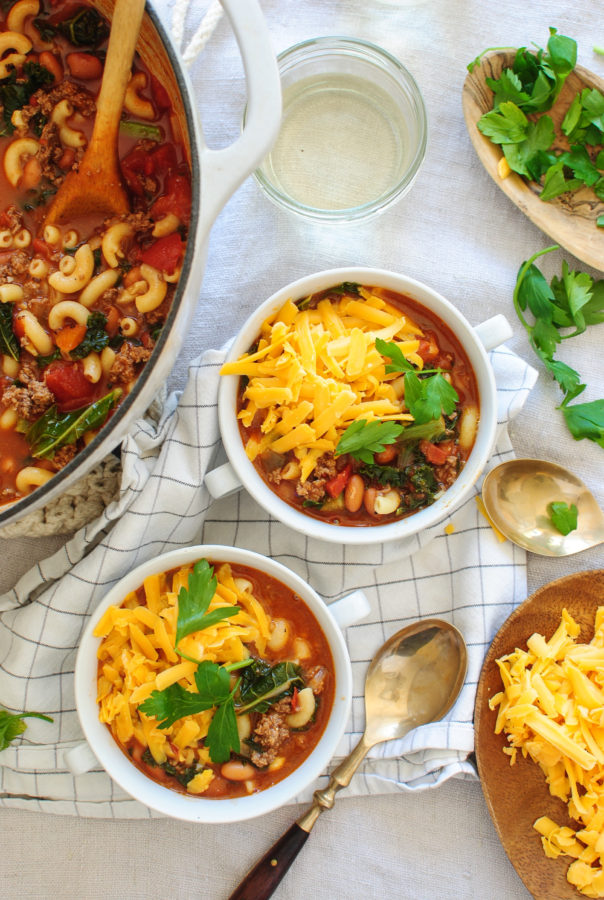 Noooooow comes the cheese.
See, originally I wanted to call this a smokey, beefy macaroni and cheese SOUP. I thought about a) stirring a bunch of cheese right into the pot, but Aaron would divorce me, b) broiling the shredded cheese on top of each bowl, c) letting it melt naturally on top of each bowl, d) throwing a major fit because I can't decide and succumbing to the fact that I'm actually kind of enjoying Fuller House. (just punch me.)
So this is what I did. I topped each bowl with the cheese, and then stirred it in. Such a lunatic, I know.
But the facts remain, it's stinkin' GOOD. The soup has delicate hint of smoke. It's beefy, without feeling like you're eating a whole entire cow. It's got kale in it, which basically cancels out the carbs. And it's got carbs in it, which basically cancels out the health and frankly, makes you a better person.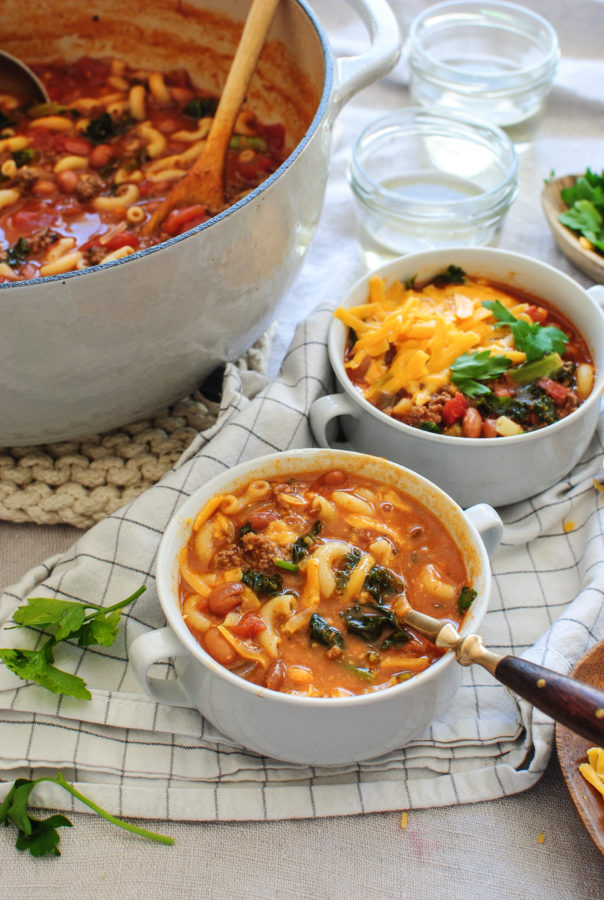 Yew best get in that.
Ingredients
1 pound grass-fed beef
1/2 large white onion, chopped
4 cloves garlic, minced
2 tsp smoked paprika
1 (15 oz) can pinto beans, drained and rinsed
1 heaping Tbs. tomato paste
1 (15 oz) can fire-roasted tomatoes
6 cups chicken stock
1 1/4 cup elbow macaroni
4 - 5 cups chopped kale
2 cups shredded cheddar cheese
parsley, for garnish
coarse salt
Instructions
In a large pot or dutch oven, brown the beef with a wooden spoon. Once it's crumbled and no longer pink, add the chopped onion, garlic and a pinch of salt. Sauté until the veggies are tender, just about 3 minutes. Add the smoked paprika and stir until coated and fragrant. Add the pinto beans and stir to combine.
Then scoot the mix to the side and add the tomato paste. Using a wooden spoon, sort of mash the paste into the pot, letting it break up and caramelize, just about a minute. Then stir the paste into the meat and beans.
Add the fire-roasted tomatoes and stock. Bring it to a rolling simmer, and add the pasta. Once the pasta reaches al dente, maybe six minutes, add the kale. Once wilted (only takes seconds), you're done! Taste it. Needs salt? Add another pinch.
Now ladle the soup into bowls and top with shredded cheddar cheese, and a little parsley if you want!
Get slurping, or else.
Serves probably six.
7.8.1.2
45
https://bevcooks.com/2016/09/smokey-chili-mac-soup/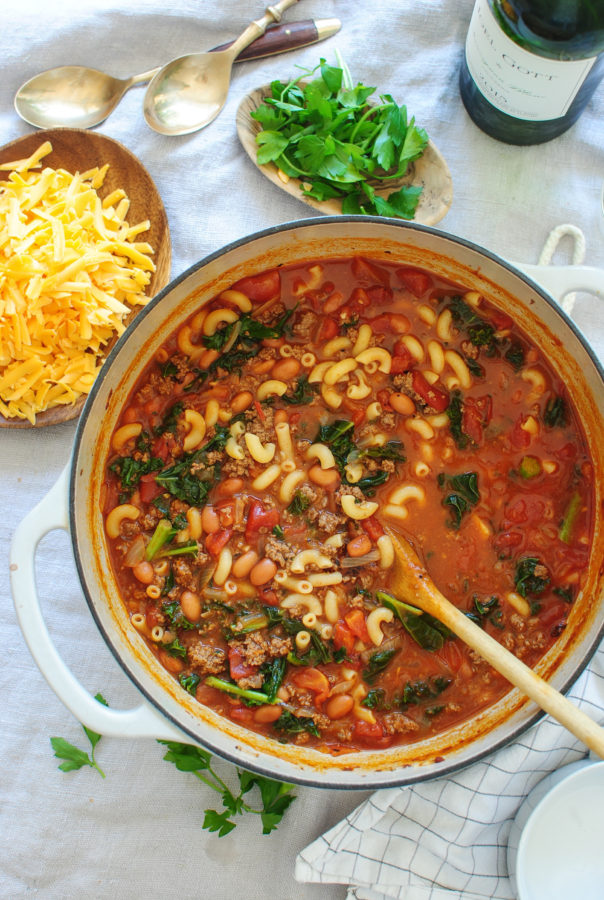 Mental slurping is allowed and encouraged.
Save
Save
Save
Save
Save