Summer slurpin'! It happens.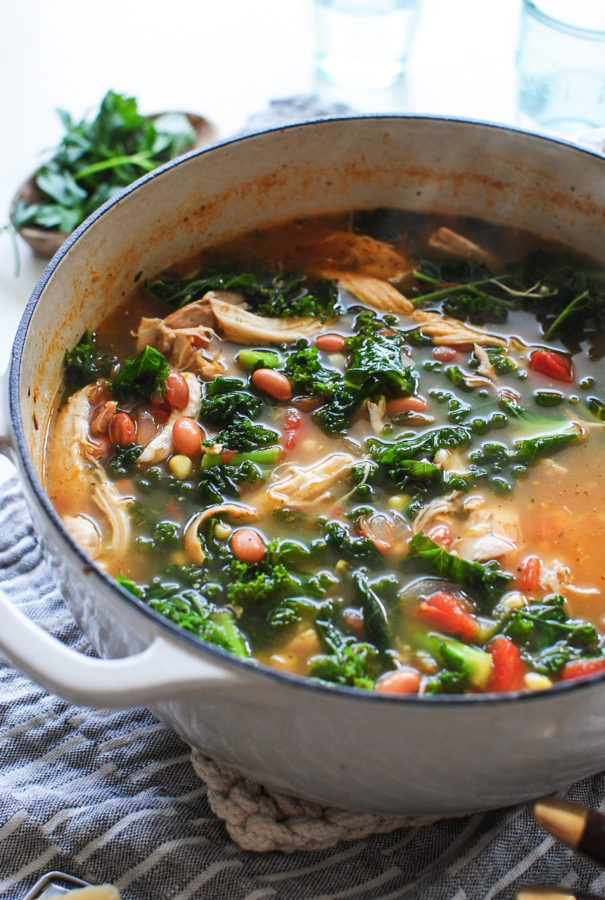 Yes, it's soup. And yes, it's 86 kazillion degrees outside. But I can't rightly care, because there's so much summer in this soup!
Plus pinto beans.
I'm really into pinto beans lately. Remember when I made slow cooker burritos with them? Well, they're BACK, but in a soup. This soup. The one I'm about to show you. So hold your horses, already.
The magic of the soup is hard to put your finger on. All the ingredients are crazy fresh, some straight from our garden. I'm not sure if Nat put a wizardly spell on this recipe, but Aaron and I were like, "What IS that taste? What IS that flavor? What IS Sam Seaborn going to do about that questionable lady friend?"
I think it's the dried Italian seasoning all over the chicken, + the fresh, sweet nuggies (<–not sorry) of corn, + the creamy bites of pinto beans, + the fresh tomato-infused broth, + the earthy, silky wilted kale, + my wide open mouth.
Not sure, but it's there. AND YOU WILL SEE.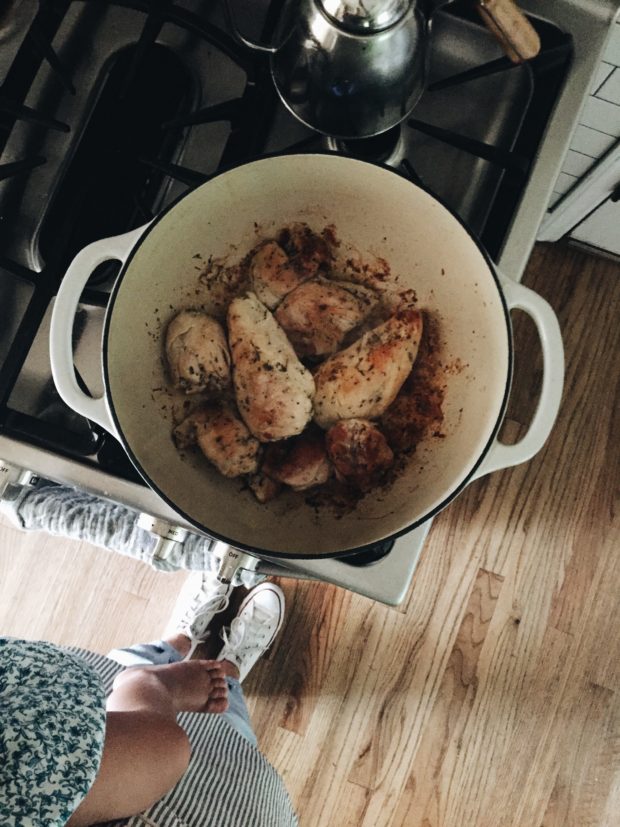 I love browning chicken in a deep dutch oven. However, I don't love when one of my kids wakes early from her nap and turns into a massive cling bot, while I'm trying to cook and shoot a recipe. It's a good thing her foot is cute, I guess.
So yeah, brown up some chicken breasts and thighs. You got this.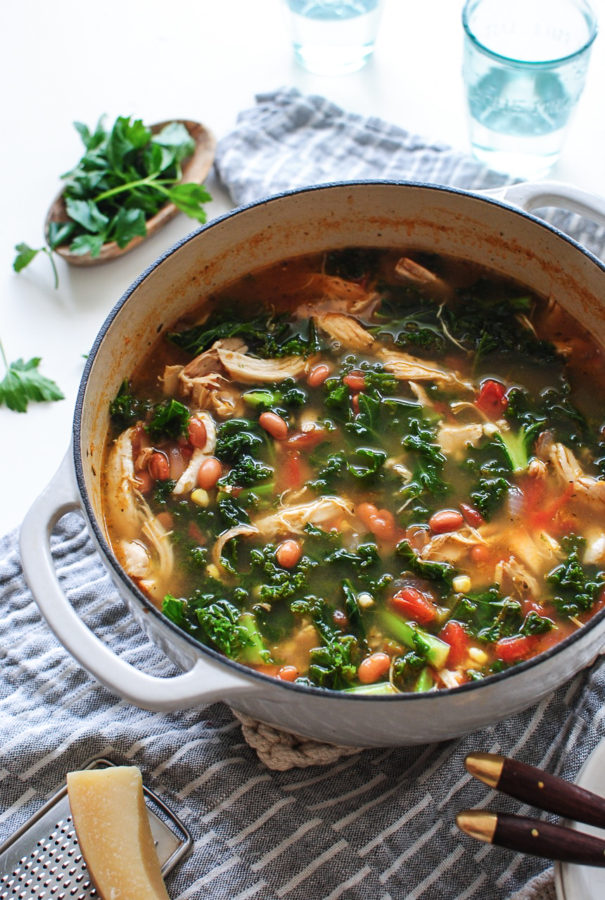 Then add all the summer to the pot and let her simmer for about 20 minutes. Then take the chicken out, give her a rough shred, and throw her back in the pot.
I assume she's a she. I called her Gladys.
You were delicious, Gladys!
Sorry, Gladys.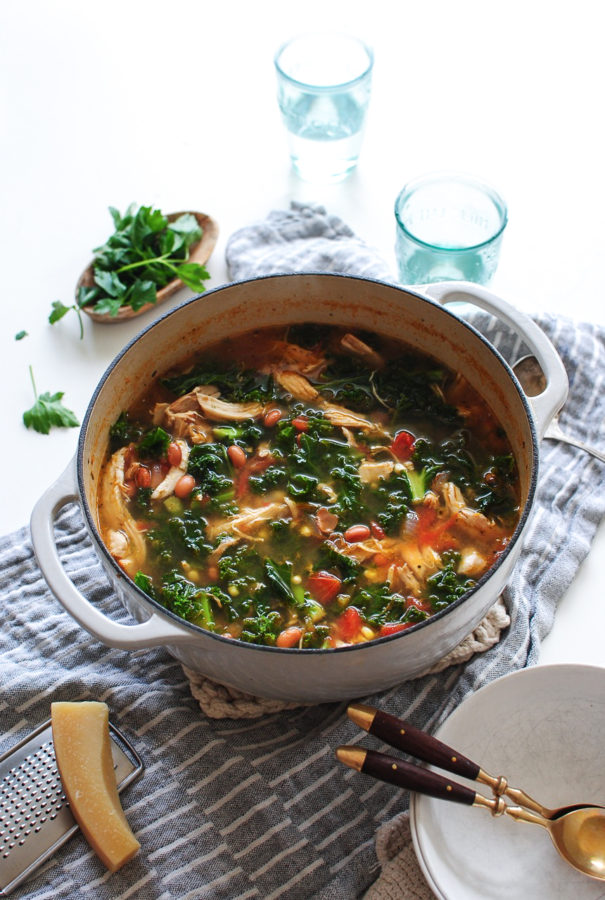 And that's like, it. Have a lot of fresh lemon juice on the side, along with some torn parsley stems and freshly grated parmesan cheese. This is the ESSENCE part of the meal. The FINESSE. The CHICNESS and PIMPNESS of REFINEMENT.
You better slurp this.
Summer Chicken Soup with Pinto Beans and Corn
Ingredients
1 Tbs. extra-virgin olive oil
1 pound chicken breast
1 pound chicken thighs
2 Tbs. dried Italian seasoning
2 (15 oz) cans pinto beans, drained and rinsed
2 medium tomatoes, diced
2 ears of corn, kernels sliced off
1 jalapeno pepper, seeded and diced
8 cups chicken stock
3-4 cups chopped kale
juice of a lemon
salt and pepper
freshly grated parmesan
fresh parsley, for garnish
Instructions
Heat the oil over medium-high in a large dutch oven pot. Season the chicken all over the with dried Italian seasoning. Place in the pan and sear the chicken on both sides.
To the pot, add the beans, corn, jalapeno pepper and tomatoes. Season with a big pinch of salt and toss to combine. Add the chicken stock, bring to a boil, then reduce the heat to a medium; simmer for 20 minutes.
Fish the chicken out (haha! oh.) with some tongs, and give it a light shred. Put the chicken back, and add the chopped kale. Once it's wilted, add a good squeeze of lemon juice, and taste. Pretty darn amazing.
Ladle and serve with freshly grated parmesan and parsley leaves!
UGHHHHH.
Serves around 6.
7.8.1.2
33
https://bevcooks.com/2016/07/summer-chicken-soup-pinto-beans-corn/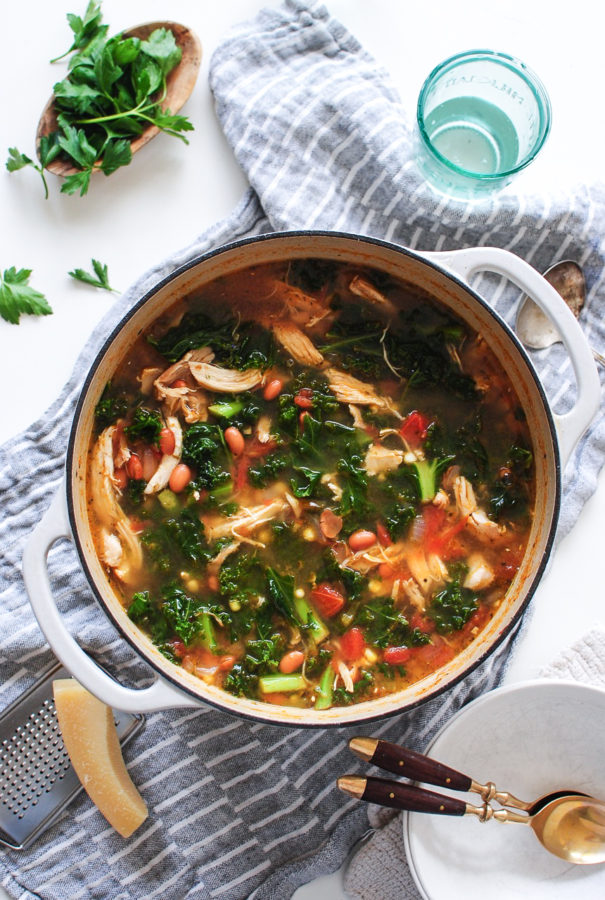 Pinto beans for president.
Save
Save
Save
Save
Save