I'm still trying to find ways to stick summer in soup.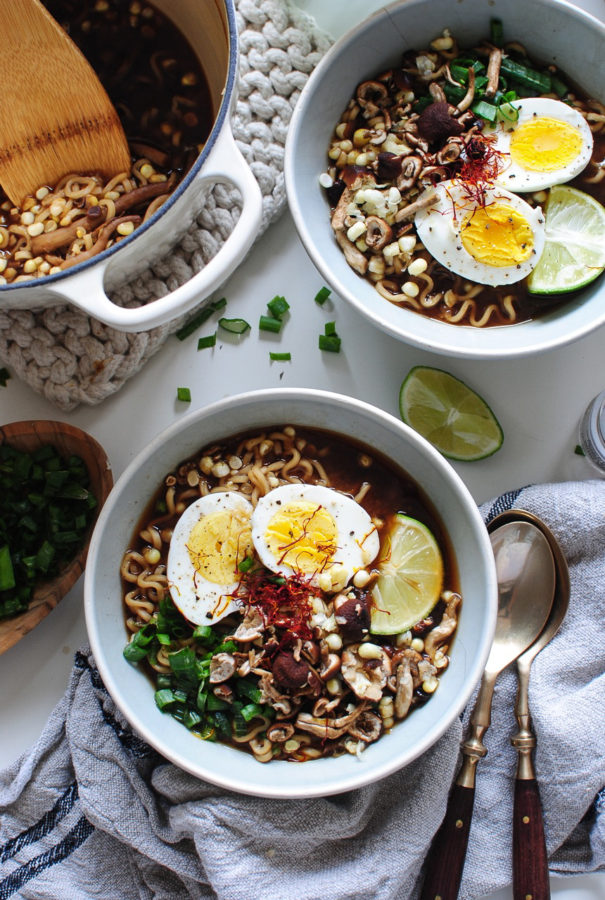 And I'd call this one a dern success.
First of all, it's fresh corn! When it's July and hot and blazin' hot and very hot and summer and July and hot in July you use fresh corn. It's mandatory for your health and personal growth.
Second of all, it's fancy mushrooms! Only because I wanted to try a new 'shroom. You can use whatever 'shroomies you dig. Thing is – you're not going to pre-sauté these. They'll just boil a tiny bit in the soup and you'll call it a day. This is a good thing in summer.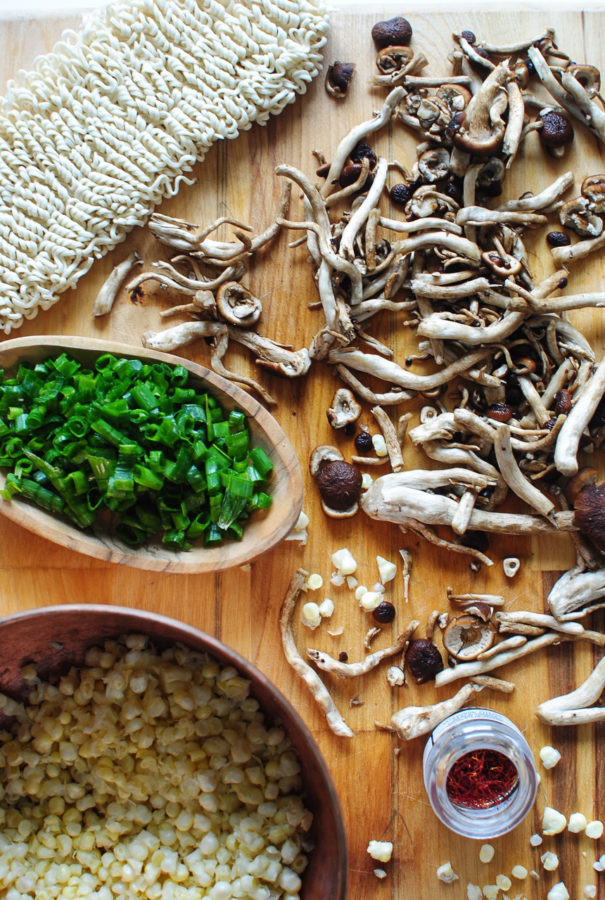 Third of all, I made only enough for two peeps! Me and Aaron. Although, as luck and my life would have it, my kids were less interested in their chicken nuggs and broccoli, and more interested in getting their slimy biz all up in my soup's delicious biz.
I thought, "Miso paste? No way. Fancy face mushrooms? Gag me. Saffron threads? With a spoon."
BUT NOOOOO. It has noodles and I'm an idiot and forgot that little grimy gremlins love curly, springy noodles. And corn.
Anyway. What was I saying?
Oh right. You might make a bigger batch than what this calls for. Unless you don't want to. I'm not trying to be bossy.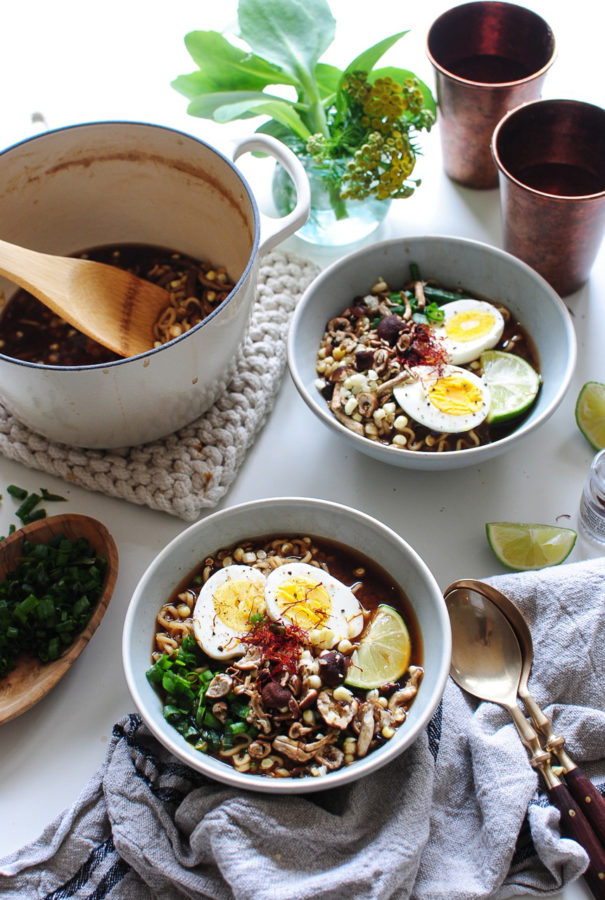 This mess is phenom and only takes a few minutes to pull together! Under 30, seriously, since it's vegetarian. If you don't count the eggs on top. And you can boil those while you're boiling the soup – and hot diggity dang! You're a multi-tasking wizard, you are.
Can you see me in the spoon? I'm wearing jeans that are ripped at the knees and my inner-'90s soul beameth. However, my outer almost-forty body. . . no, no actually – it beameth as well. I suck.
This soup – earthy, rustic, fresh, comforting, SIMPLE, complex, bright, light, noodle-y and yumtastic. (<–don't punch.)
Also, I garnished with saffron threads, but you totally don't have to! Go with a simple dollop of chili paste and your life is grand.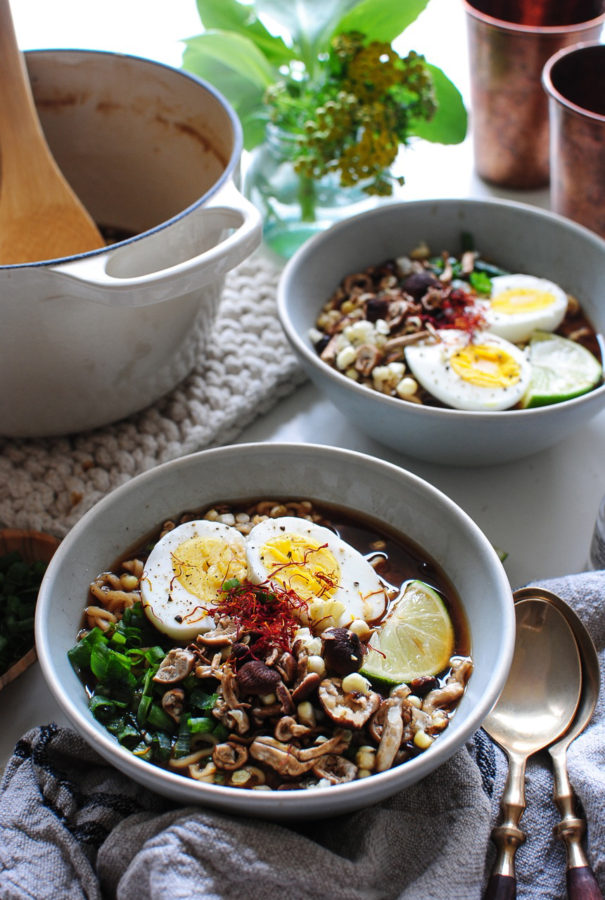 Why are summer soups all I live for?
Corn and Mushroom Ramen Bowls
Ingredients
4-5 cups chicken (or veggie!) stock
1 Tbs. dark miso paste (or whatever miso paste you have!)
2 Tbs. soy sauce
1 (4-ish oz) bundle Chinese curly noodles (a couple packets of ramen would work here)
2 ears fresh corn, kernels cut from them
1 (4 oz) package Velvet Pioppini mushrooms, lightly rinsed
2 hard-boiled eggs
1/2 cup sliced scallions
1 lime
1 pinch saffron threads (optional!)
Instructions
Bring the chicken stock and miso paste to a simmer over medium-high heat, stirring to dissolve the paste. Add the noodle bundle, corn and most of the mushrooms. Simmer until the noodles are soft and al dente, about 4 minutes.
Stir in the soy sauce and a good squeeze of lime juice. Ladle the soup among two big bowls and garnish with the hard boiled eggs, remaining mushrooms, scallions and saffron threads. (or a dollop of chili paste - way cheaper!)
SUMMAH SOUP.
Serves two. (unless your kids are like mine and totally yoink your soup)
7.8.1.2
35
https://bevcooks.com/2016/07/corn-mushroom-ramen-bowls/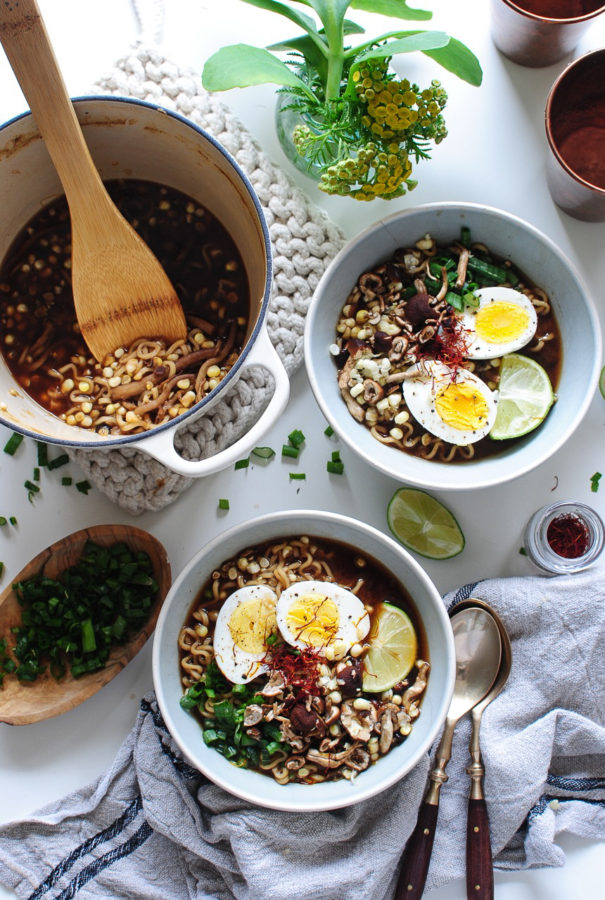 Now go eat a popsicle.
Save
Save
Save