'Bout to change. yo. life. and. weeknights. and. mouth.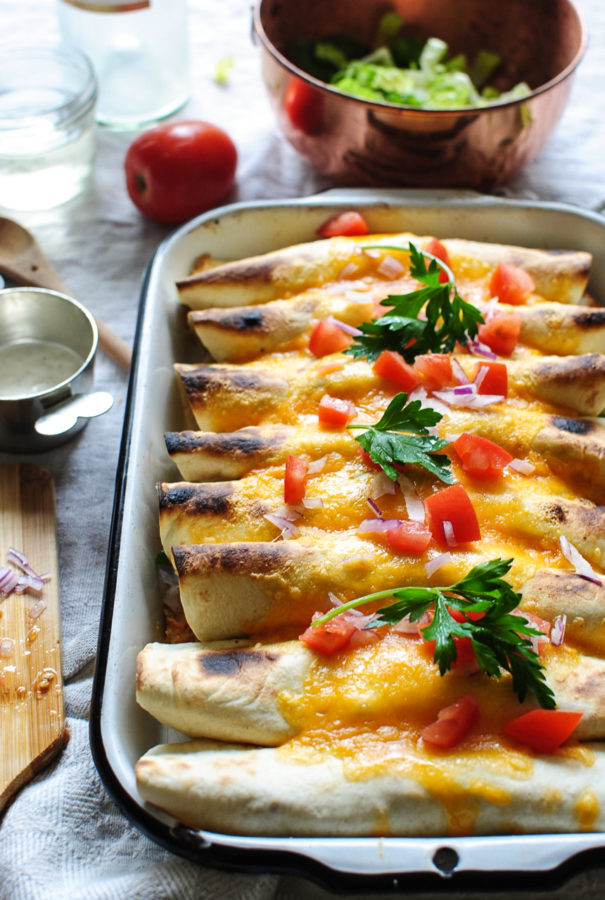 To the naked eye, it might appear that this is a warm, luscious, gooey, cheesy casserole filled with warm, luscious, gooey, cheesy fillings. Which . . . okay, that wouldn't be a bad thing.
But!
It's not. THIS, my infant pigeon babies, is my new weeknight, shortcut, face-pleasing extravaganza of 2016. (<–just ignore the 18 comas in that sentence.)
It's something that occurred to me one night as I was feeding the kids, and I thought, "I WANT BUFFALO CHICKEN. BUT FASTER THAN LIGHTNING. I ALSO NEED TO PICK OUT A NEW TOE NAIL COLOR BECAUSE THIS ONE LOOKS LIKE CHOCOLATE TURD SHARDS."
Crap, I meant to keep that second half to myself.
First of all, let's talk about the chicken. You'll want fried chicken. Fried chicken tenders. But don't even fuss over making some, lawdy no. This is your first shortcut. Buy a package of your favorite local chicken. From the grocery store, from a restaurant, fast food, doesn't matter. Just get something good. Then chop 'em up into bite-sized chunkies. (<–you had to know I'd say chunkies.)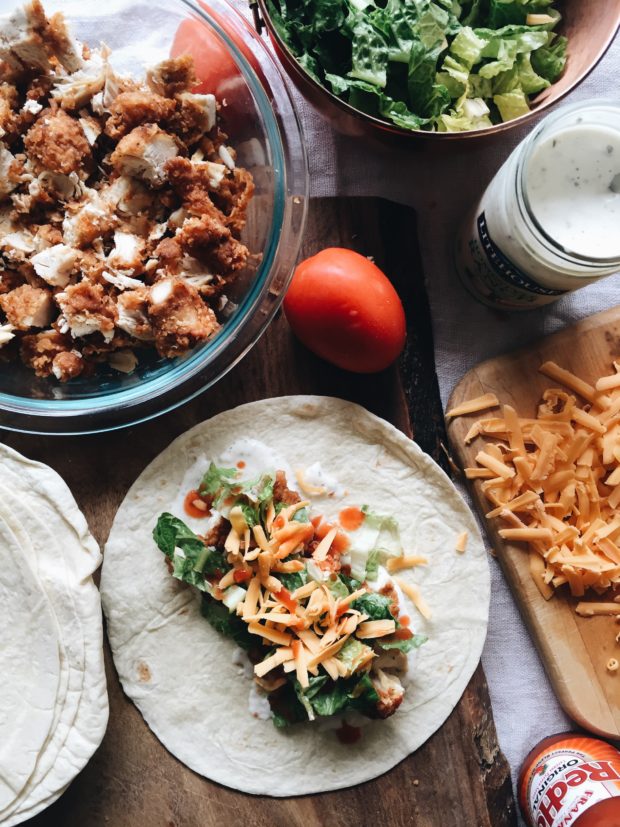 Then, you'll seriously just spoon a little bit (or a lot?) of ranch dressing in the middle of a warmed tortilla, followed by a few chicky chunkies, some chopped romaine lettuce, a pinch of shredded cheddar, and a few healthy glugs of buffalo sauce. Just glug glug glug away. Go loco.
Now roll up each wrap and place them in a casserole dish. And top with more cheese. LOTS of cheese. So much cheese you lose all feeling in your upper torso.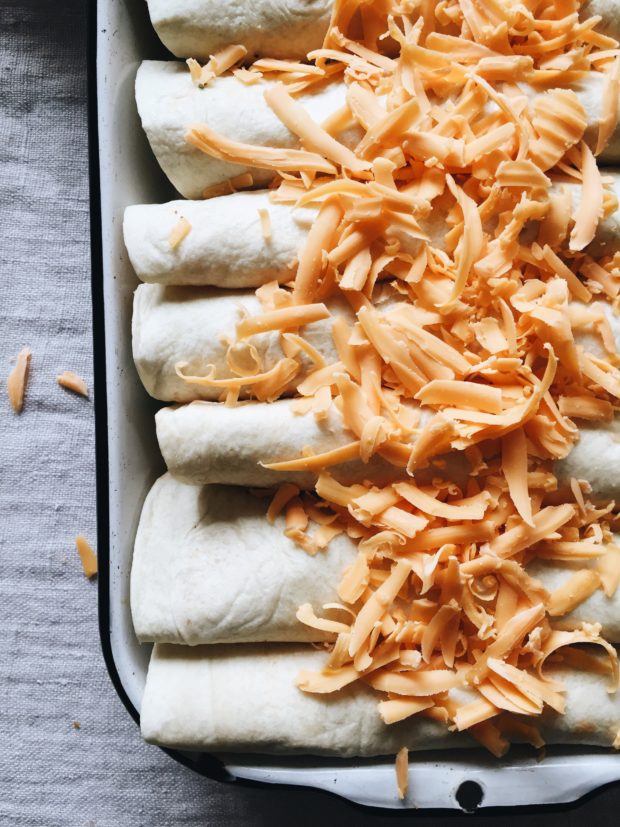 Now, get this: (this next part is your second shortcut) you'll just BROIL IT. For three minutes! Two, even. Keep an eagle eye on that bia. She'll bubble up fast.
Broiling does two magical things here: 1) it melts the cheese qa-uick, buuuuut 2) the casserole isn't in the oven long enough to wilt the lettuce. So everything on the INSIDE stays fresh like a crisp spring morning.
Are you hearing music right now? Fluttering in your heart? IS THERE A SINGING BIRD AT YOUR WINDOW SILL?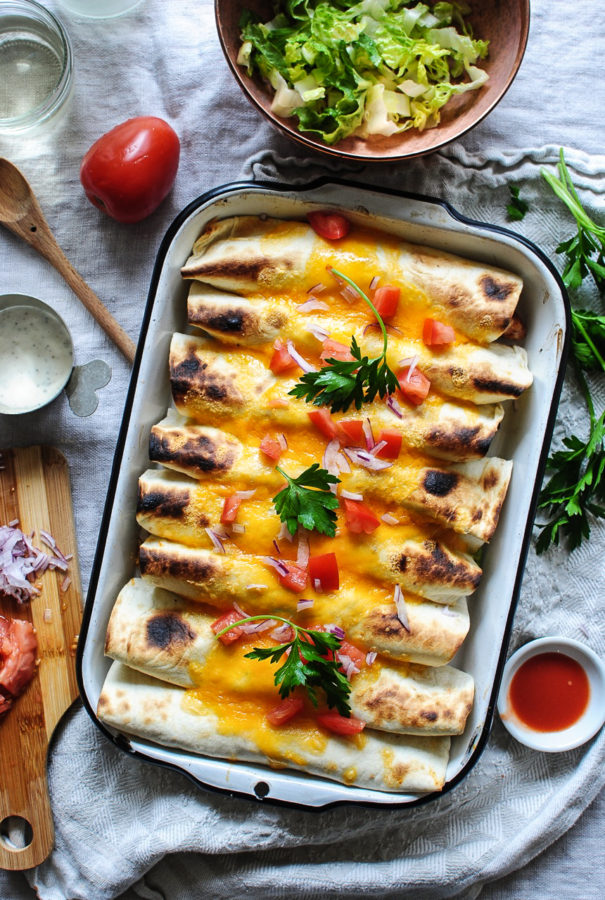 Most definitely.
Quickest Buffalo Chicken Wrap Bake
Ingredients
1 1/2 pounds fried chicken tenders, cut into bite-sized pieces
8 (8-inch) flour tortillas, slightly warmed
8 Tbs. ranch dressing
2 cups romaine lettuce
2-3 cups shredded cheddar cheese
buffalo hot sauce (a few Tbs.)
1 diced tomato, for garnish
1/4 cup diced red onion, for garnish
parsley, for garnish
Instructions
Preheat your broiler.
Spoon 1 Tbs. of ranch dressing in the center of each warmed tortilla. Follow with a handful of diced chicken, lettuce, cheese, and a few glugs of buffalo sauce. Roll up each tortilla and place in a casserole dish, seamside down. Top the wraps with about a cup of cheese, and broil in the oven for maybe three minutes, until the cheese is melted and bubbling. Keep an eye on it! Don't walk away.
Garnish with diced tomato, red onion and parsley leaves. INHALE.
serves 8!
Also, have a little cup of ranch dressing mixed with buffalo sauce on the side for dipping. ooooooh dear.
7.8.1.2
18
https://bevcooks.com/2016/05/quickest-buffalo-chicken-wrap-bake/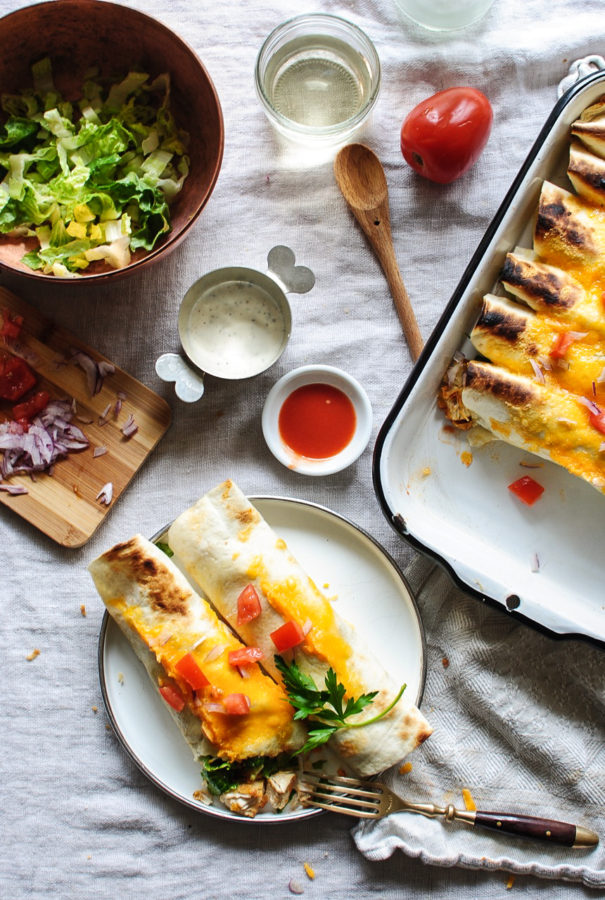 If you don't try this, I don't rightly know if we can continue in our love.