p a s t a !! (!)
It's been a minute since I've shown you pasta, hasn't it? HOW DARE ME. How dare I?
Anyway, this meal is a tooootal weeknight pleaser, plus a fancy little twist! Before I get to that fancy little twist, I have a confession to make. And I don't take these things lightly, so give me grace as you process what you're about to hear.
I watch Diners, Drive-Ins and Dives for inspiration.
Wait! Don't go!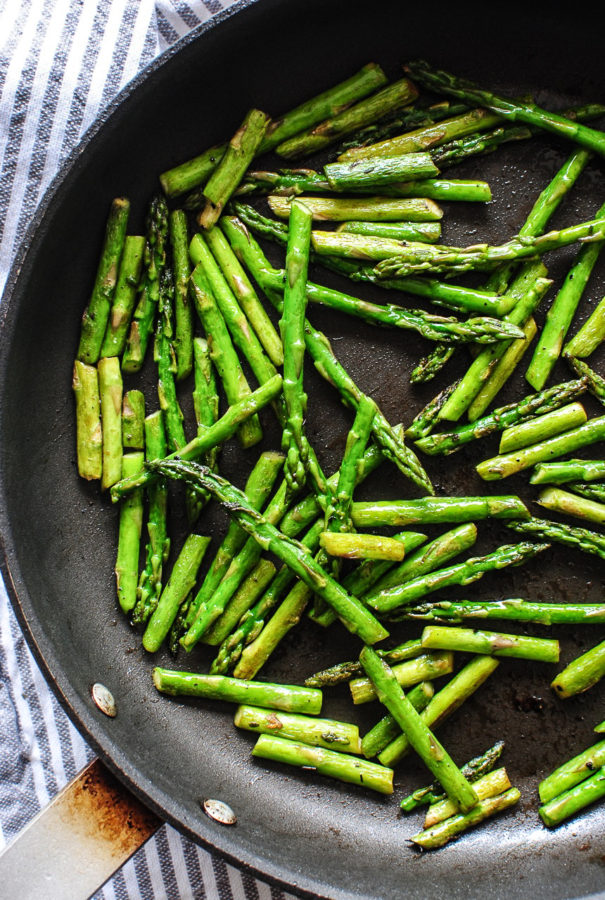 Ugh, it's true. While I can't get on board with Guy Fieri's peroxide porcupine head, I actually like his camera presence and enjoy watching all of the camaraderie between him and the diner chefs. And the FOOD. Golly gut bomb, it's all super insane and I wish it would instantly appear in my head and life.
So this sauce – the idea spawns from one of the episodes. They didn't actually make it on camera, but while the chef was layering up a vegetarian ramekin lasagna, he threw out the words "roasted tomato béchamel" and I immediately blacked out.
And then woke up and made some.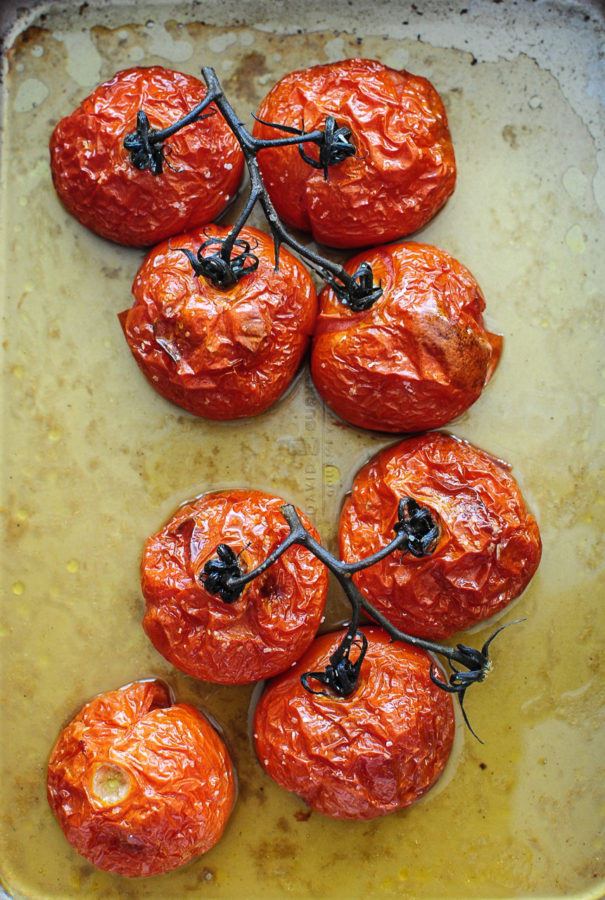 It's beyond simple. You stick some vine tomatoes on a roasting pan with a wee bit of oil and salt, and let them soften, blister and wither in the oven for about an hour.
And then you blend them in a food processor and slip them into a cream sauce on the stove. That's all. That's it. Add some salt and a tiny bit of parm. You're done.
Sort of.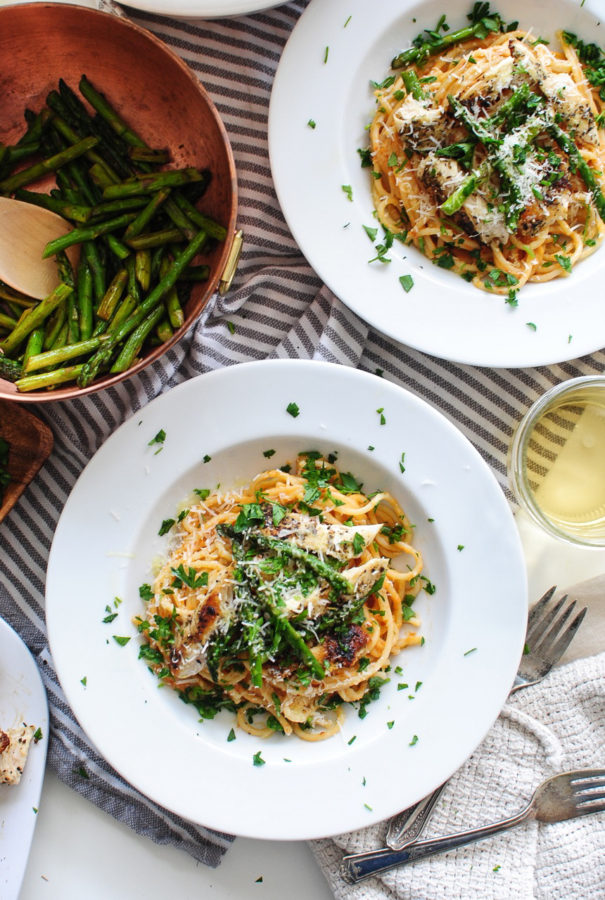 While the tomatoes roast, sear up some chicken breasts that have been heavily dusted with Italian seasoning. Like, almost blackened. That's my favorite way to eat a chicken breast – heaaaavy coating of dried herbs and salt on the outside. yumyumyumz.
Once that's done, let the chicken cool for a smidge, then viciously tear it apart with your hands. You don't have to do the vicious part I just mentioned. But you could if your husband just tracked dog poo into the house with his shoes. You know.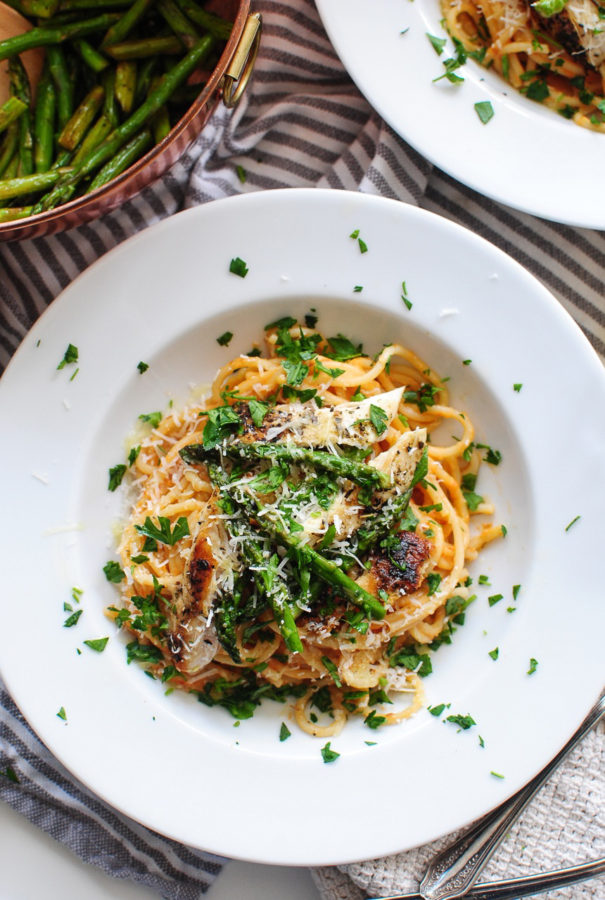 Little bit of sautéed asparagus for color and health! Nooooow you're set. All done.
Top the pasta with chicken, asparagus, another massive dusting of parmesan cheese – and all is right in your soul.
One more thing! I always like to have a little bit of fresh lemon juice on the side, just in case I get the hankerin' to squeeze it over the final plate. That little bit of acidity just wakes.her.up. Which is good since she blacked out over the whole roasted tomato béchamel thing.
Or wait that was me.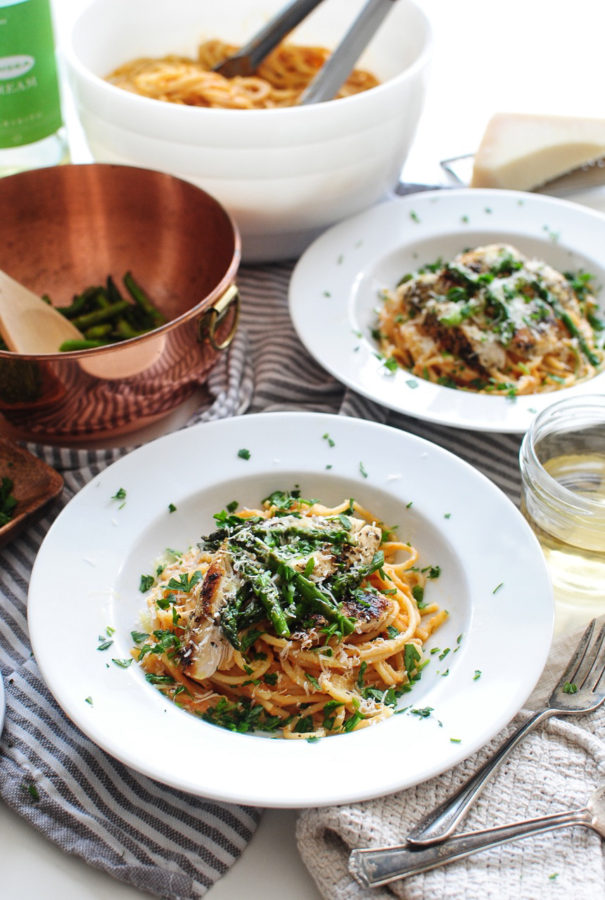 Eat up!
Chicken Pasta with a Roasted Tomato Béchamel
Ingredients
8 vine tomatoes
3 Tbs. extra-virgin olive oil, divided
2 Tbs. butter
2 Tbs. all-purpose flour
1 cup whole milk
1/4 cup freshly grated parmesan cheese
1 pound chicken breast
1 Tbs. dried Italian seasoning (herbs)
1 bunch asparagus, ends trimmed (and discard), and cut into 2-inch spears
1 pound spaghetti
chopped parsley, for garnish
extra parmesan cheese, for garnish
a lemon, for squeezing (optional)
coarse salt and freshly ground pepper
Instructions
Preheat the oven to 400.
Place the tomatoes on a baking sheet; drizzle with 1 Tbs. olive oil, and sprinkle with salt. Roast for about an hour (longer if needed!), until the tomatoes have really softened and withered. Remove the stems, transfer to a food processor and blend until smooth.
In a small saucepan, melt the butter. Once foaming, add the flour and whisk until it turns a golden brown. Now slowly add the milk and whisk it in, letting the sauce thicken. Season with a good pinch of salt, and add the parmesan cheese. Now stir in the blended tomatoes and stir until it's combined and glorious. Taste it. UGHHH. Add more salt if needed.
In the meantime, season the chicken breasts on both sides with the Italian seasoning, and a pinch of salt. Sear them in a sauté pan over medium-high heat (with a Tbs. of olive oil) until browned on both sides. Let rest about five minutes, then shred.
Back in the pan, add the last Tbs. of oil, and sauté the asparagus until the greens pop, and the veggies have gone slightly tender, just a few minutes. Season with a pinch of salt.
Also in the meantime, bring a large pot of salted water to a boil. Cook the spaghetti until al dente, drain and add the roasted tomato béchamel sauce to it. Toss to coat. Cry a little.
Serve pasta topped with chicken, asparagus, lots and lots of cheese, and parsley!
And lemon. Good grief.
7.8.1.2
17
https://bevcooks.com/2016/04/chicken-pasta-roasted-tomato-bechamel/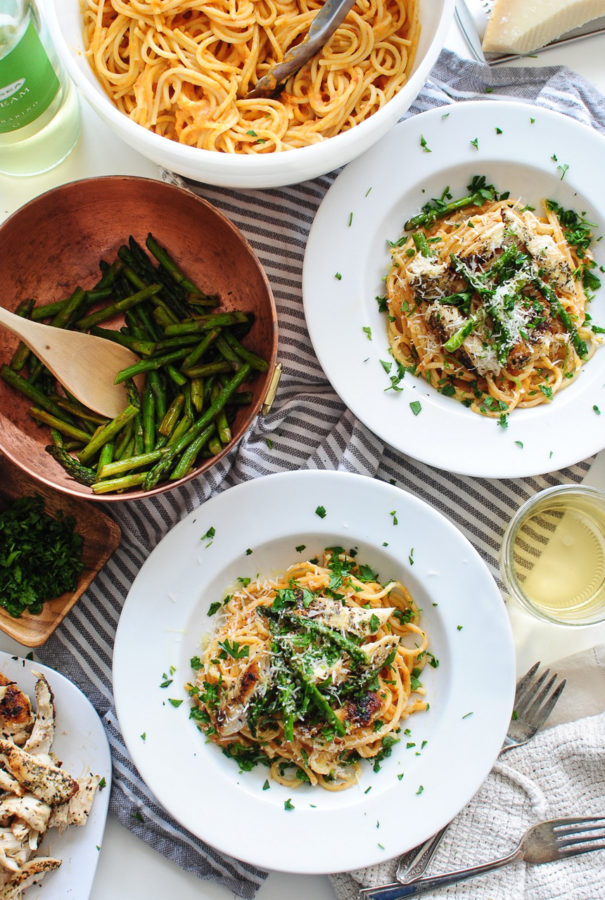 I mentioned the roasted tomato béchamel sauce, right?