I have found the most delicious loophole in life.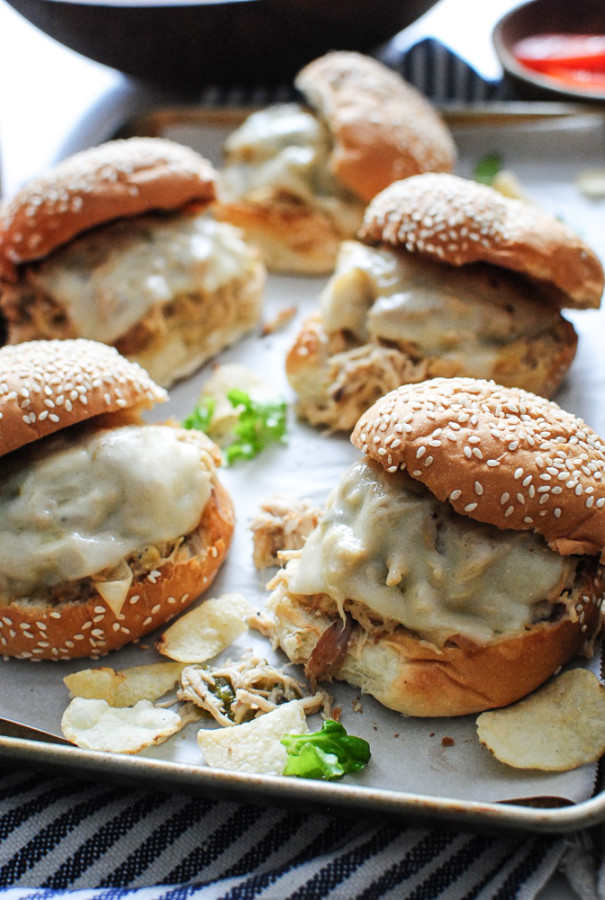 Before I go any further, let me just say that yes, it has the word ranch in the title, but no, this won't break your diet! If anything, it helps your diet. Because hi, ranch. (and cheeseandchipsandbread)
And not only that, DOUBLE ranch. You might need to sit down.
I'm almost too excited to even write this post because of the taste magnitude this recipe beholds. First of all, it's slow cooker, so the majority of the time is hands off, giving you free time to google gossip about Khloé Kardashian because is she really a Kardashian? (<–don't tell anyone I just said that)
Let's talk about what goes in this muthu. We have a mix of chicken breast AND thighs (and guess what, I accidentally bought bone-in, but it's totally fine because you'll just fish out the bones <gross> at the end of the slow cookering), a green bell pepper, one white onion (I wanted to give this dish the FEEL of a Philly chicken cheesesteak sam, but not repeat what's been done a kabagillion times before), minced garlic, one packet of ranch dressing mix (this is ranch part one), and a lil' bit of chicken stock.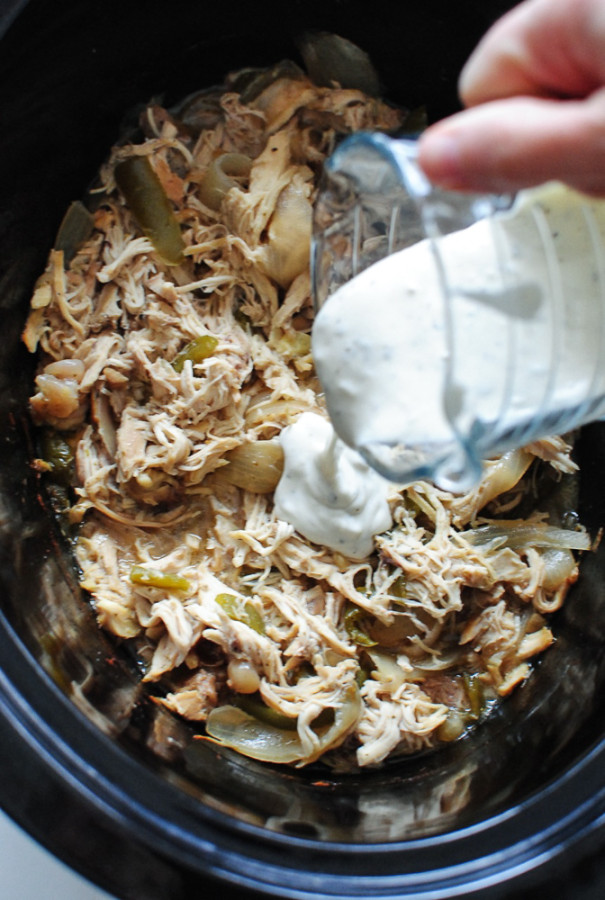 After about five hours of cooking on low, a few things will happen to you. First, your mood will be orbiting the sun, due to the tantalizing smells that fill and permeate your abode. Second, your children will be on their best behavior due to said tantalizing smells that fill and permeate your abode. Third, your basement will magically clean and organize itself due to the very same tantalizing smells that fill and permeate your abode.
Don't hold me to that last one.
So then, after the shredding of the chicken, you'll do something that will change the way you see your future. You'll stir in 3-4 Tbs. of THEE BEST RANCH DRESSING YOU CAN FIND (ranch part two) and watch as the chicken mix smiles right back at you. Which is a mildly disturbing. Never mind.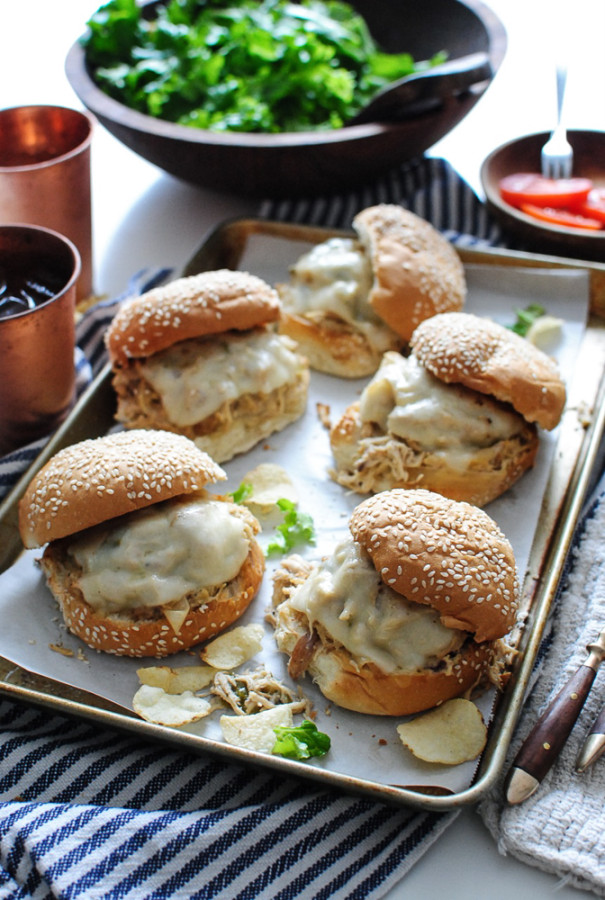 Then of course you'll melt some Swiss cheese on each sandwich mound and feel the hugs of angels all around you.
I can't TELL you how absurdly good this is. It's total comfort food, but incredibly simple. It's perfect on snow days, game days, gardening days, or yesterday. It's kid-approved, husband-endorsed, dog-recommended and enthusiastically applauded by MOI.
How about, I finally have a recipe that lets ranch dressing shiiiiiiine! (like the top of the Chrysler building) <-name that movie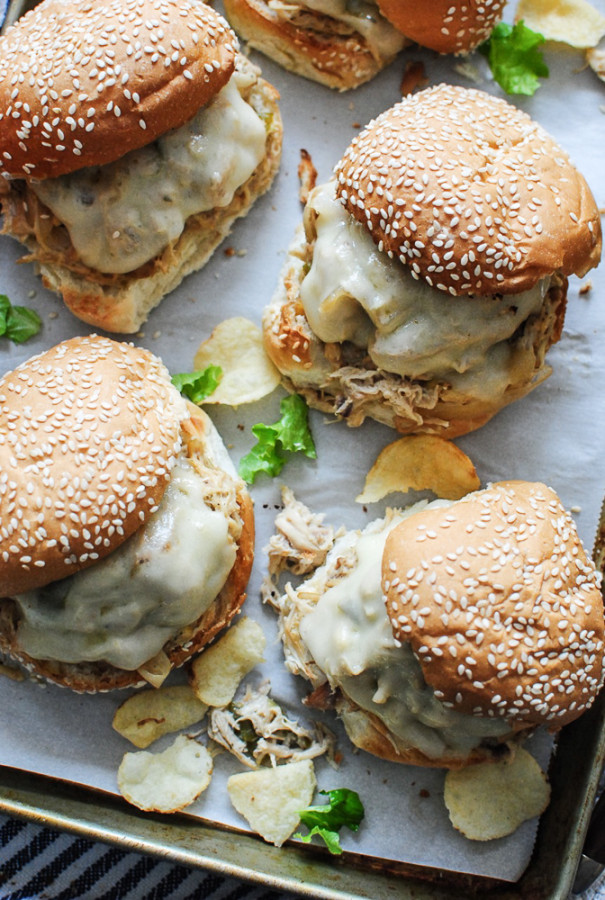 For. Real.
Slow Cooker Ranch Chicken and Swiss Sandwiches:
Serves about 8:
1.25 lbs chicken thighs
14 oz chicken breast
1 green bell pepper, sliced
1 medium white onion, sliced
4 garlic cloves, minced
1.12 oz packet ranch dressing mix
1/2 cup chicken stock
a grind or two of black pepper
3-4 Tbs. good quality ranch dressing
8 slices Swiss cheese
8 sesame seed buns
In a slow cooker, combine the chicken, bell pepper, onion, garlic, ranch dressing mix, chicken stock, and a little black pepper. Toss to combine and set on low for about six hours.
After that time, shred the chicken (right in the pot!) with two forks. Stir in the ranch dressing and stir until everything is combined and creamy and you want to cry. Taste the mixture and add a pinch of salt if you feel it needs a tiny lift.
Place a heaping mound of chicken mix on the bottom half of each sandwich bun and top with a slice of Swiss cheese. Slide the sandwiches under the broiler for maybe a minute or two, melting the cheese.
Place the remaining bun on top and serve sandwiches with a big green lettuce, any fixins you want, and some chips! If you want. It's not necessary. I think.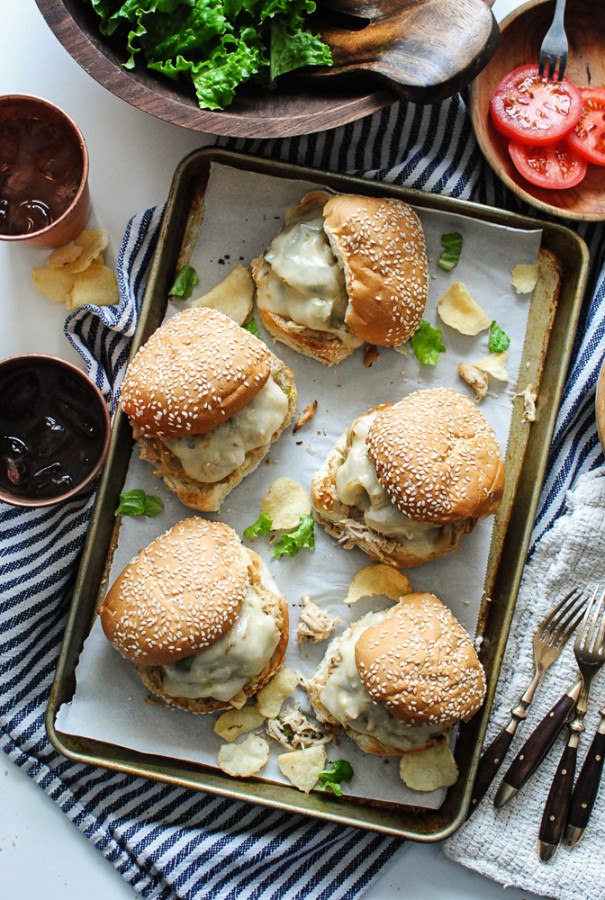 You CAN even.