YOU GUYS.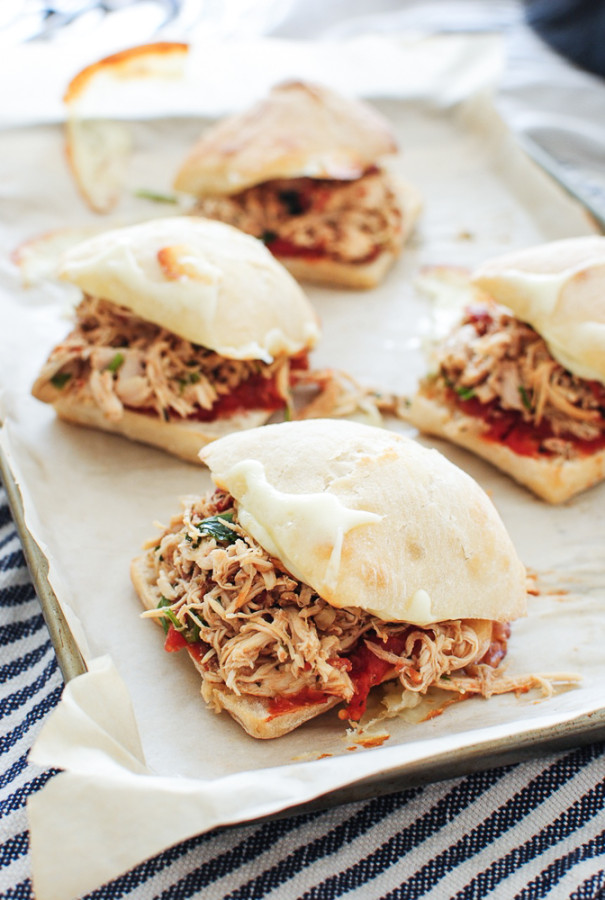 I'm not YOUGUYSing the chicken just yet. Oh, I will here in a second, you better believe it, but first:
YOU GUYS. Oh my gosh, you guys. Can I just take a second to freak-out THANK YOU from the bottom of my heart for your words/emails/comments/texts/tweets on Friday? I want you to know I read every single comment, more than once, and my soul seriously exploded ALL day long. And weekend really. And now! Gah, thankyouthankyou. I hope you don't think I was giving you the big internet wooden stick slap on the wrist. That wasn't my intention. I was just starting to feel like I was talking to my toe jam. So THANK you for listening and setting me straight. See, this is why I need you in my life.
Also, a tiny microscopic piece of fuzz just gently floated next to my laptop, and I thought it was a brown recluse, and naturally just freaked my ish and woke up everyone on my street and city and country. I am one jumpy sunbia.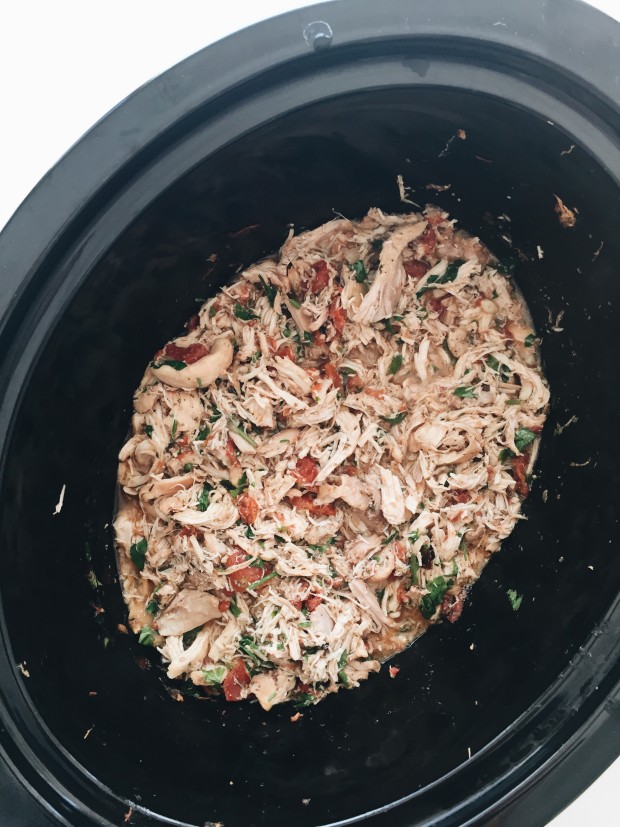 So, this chicken. YOU GUYS.
If you follow me on Snapchat (I promise I will stop saying that one day), you may remember that Paula Deen's third cousin, twice removed Bevily Sue came over and made these here pulled-chicken sliders. She kind of annoyed me with that thiiiiiyick southerrrrn drawl, but what can ya do?
But! I have to say, this recipe is embarrassingly simple, but tastes kick-you-in-the-face RIDIC.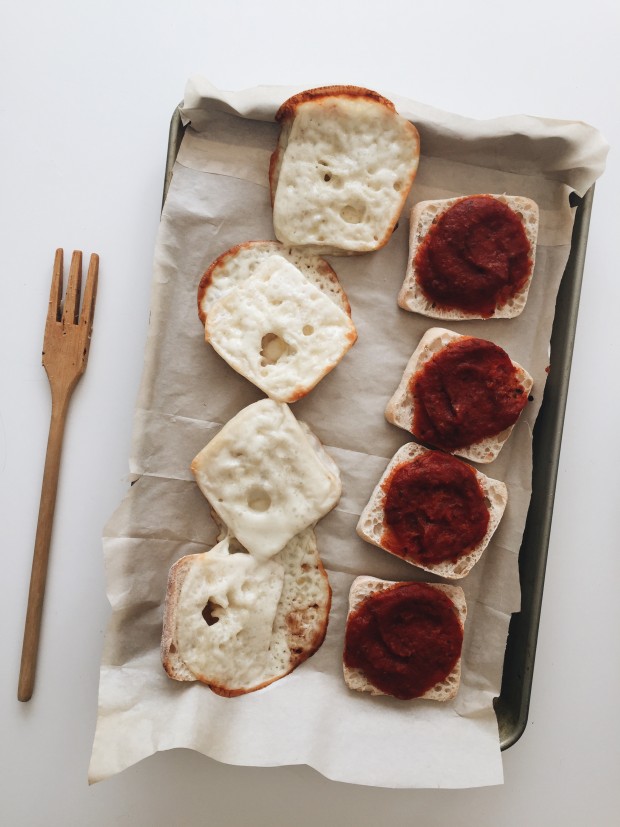 You start with your slow cooker. Also known as already winning. It's just chicken (breast AND thighs, boiiii), chopped onion, minced garlic, a lot of Italian seasoning (remember what Paula Deen's third cousin, twice removed teased that it was? I swear, that lady. she loco.), and some canned diced tomatoes. That's IT. You just let it marry and have babies and get divorced and remarried. You'll add parsley at the end. Do some shredding. Both to the chicken, and your kitchen floor, WAT.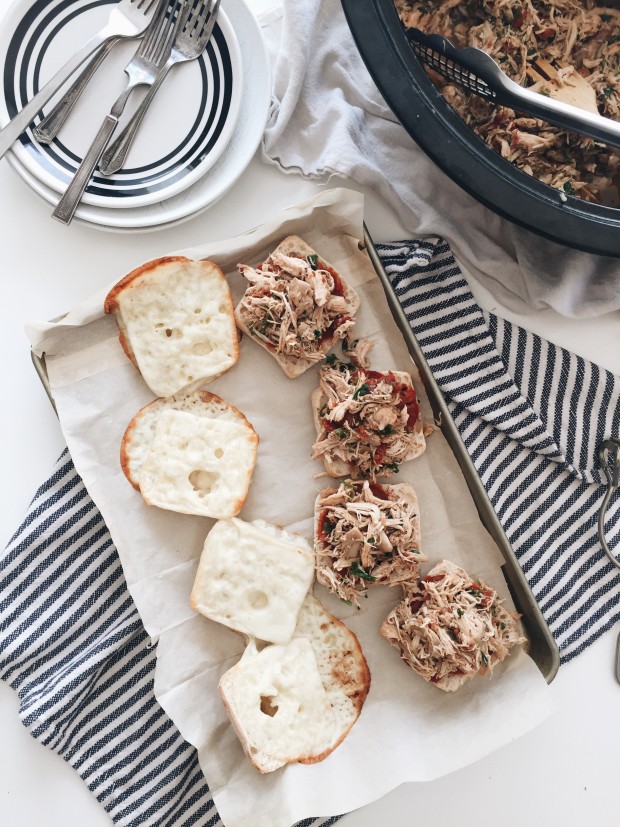 And this is where it gets all whoa. You'll toast some ciabatta rolls, half with pizza sauce, the other half with slabs of provolone cheese, until the cheese and your face simultaneously melt from ungovernable sobbing.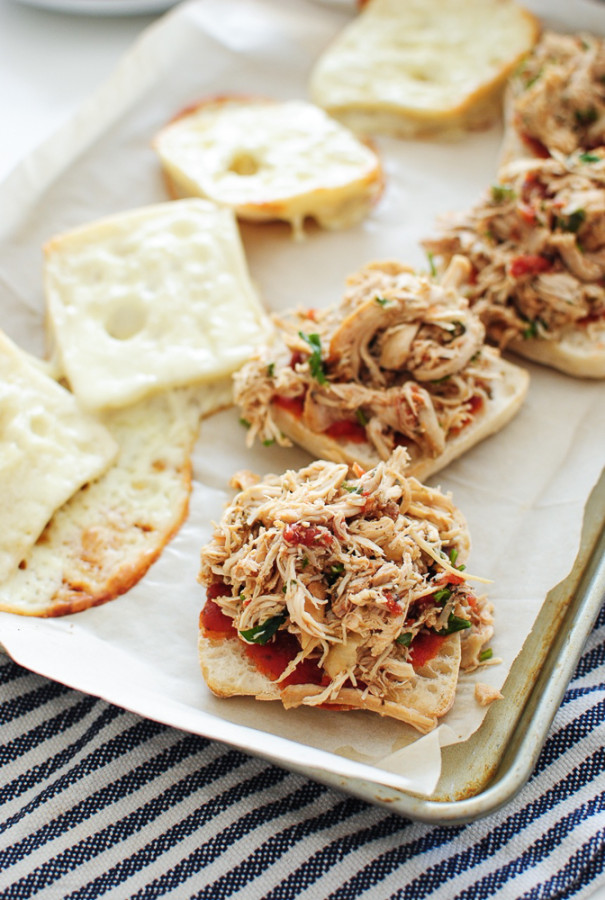 You'll then pull yourself together long enough to pile mammoth mounds of Italian pulled-chicken onto your toasted pizza rolls.
And then you'll sob some more, but that's obvious.
MAKE THESE. They're all-face friendly, and beyond ideal for weeknights when you need dinner to make itself. (quick poll!::: do you say make dinner? or fix dinner? I swear I won't make fun of you! …that much.)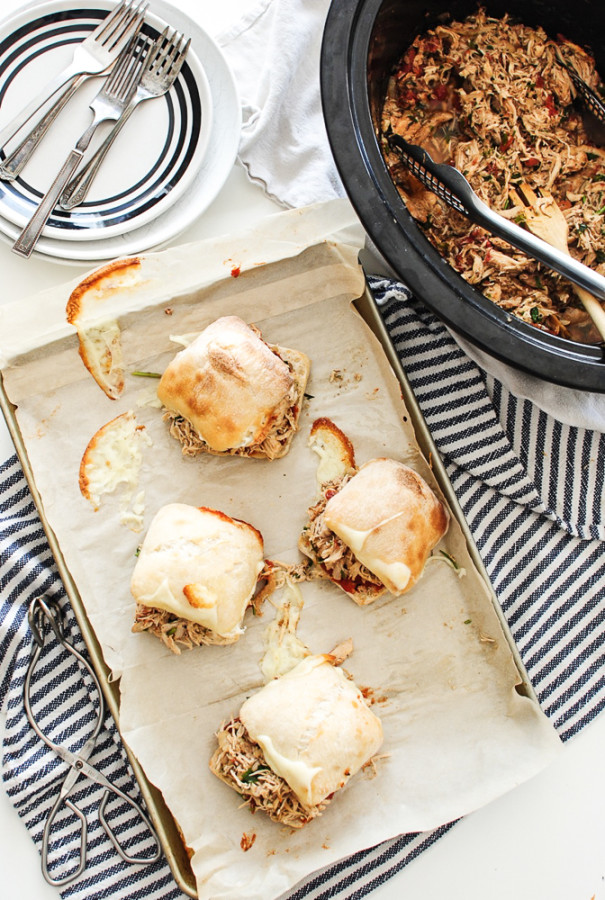 (don't laugh at my burnt cheese. It's Paula Deen's third cousin, twice removed's fault.)
Italian Pulled-Chicken Sliders:
What it took for four:
* 1 pound chicken breast
* 1 pound chicken thighs
* 1/2 large white onion, chopped
* 3-4 cloves garlic, minced
* 1 (14.5 oz) can diced tomatoes
* 1 Tbs. Italian seasoning
* 1 good handful chopped parsley
* large pinch of salt and pepper
* 4-8 ciabatta slider rolls, split
* pizza sauce, for spreading
* 4-8 sliced provolone cheese
In a slow cooker, place the chicken, onion, garlic, tomatoes, Italian seasoning and a good pinch of salt and pepper. Cook on high for 4 hours, or low for 6-8. Remove chicken from pot and shred with two forks. Place shredded chicken back in the slow cooker until you're ready to eat. Add the chopped parsley and stir to combine.
Spoon a little pizza sauce on the bottom halves of the ciabatta rolls. Place the provolone on the top half. *important! maybe like, tear the provolone cheese into pieces instead of a giant slab of cheese, avoiding ambitious melting and sticking to your pan, instead of your mouth.
Slide into a 350 degree oven and bake until the cheese melts, about 8 minutes. *important! you can also broil this step rather than bake, but do NOT go anywhere. DO.NOT.
Pile on a ton of shredded chicken onto the slider bottom, top with the cheesy half and hoooooooly.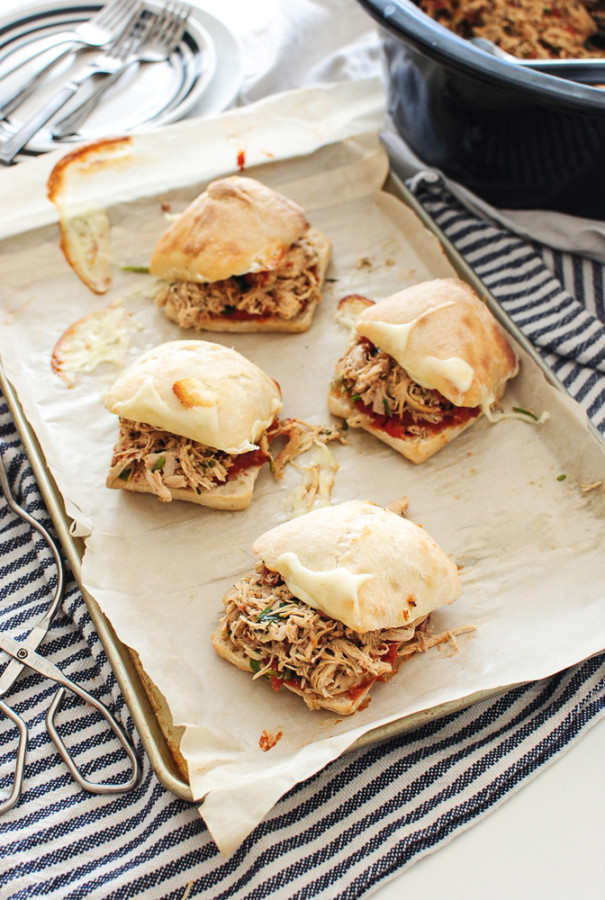 ^^^the promised land, y'all.^^^