Ask, and you shall receive.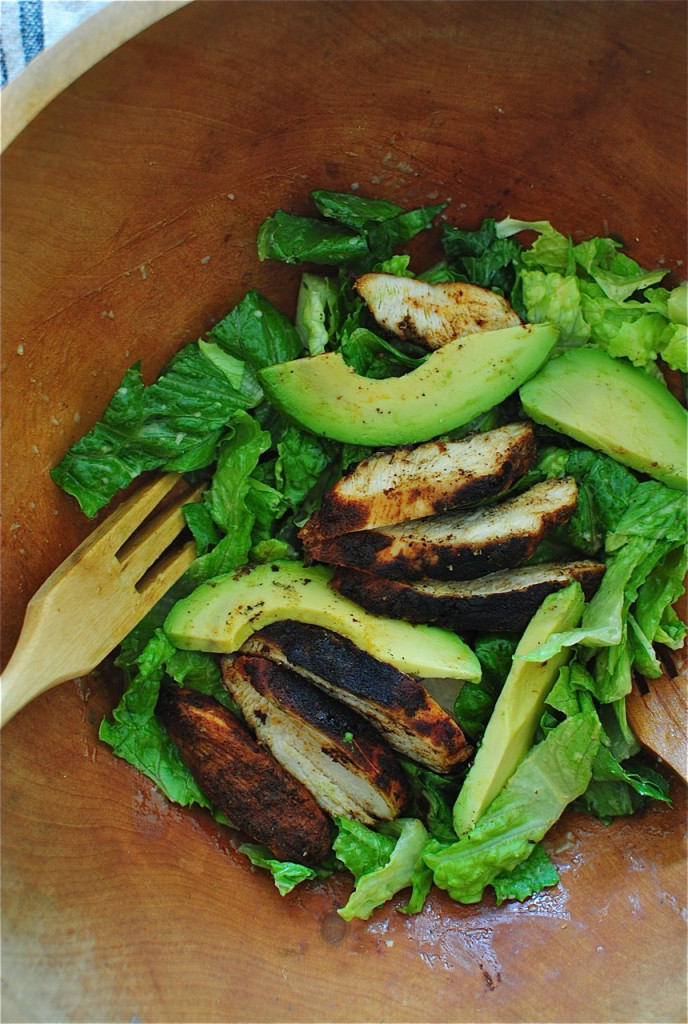 Did I tell you we make a version of this EVERYSINGLEMONDAY? We make a version of this everysinglemonday. Sometimes Aaron coats the chicken with mustard and panko and bakes it. Sometimes we simply throw a little salt and pepper on 'em and pop 'em on the grill. And sometimes, we blacken. Today, we blacken.
And I'm warning you now, the chicken might look a little burned, but that's how you know you did it right! I think.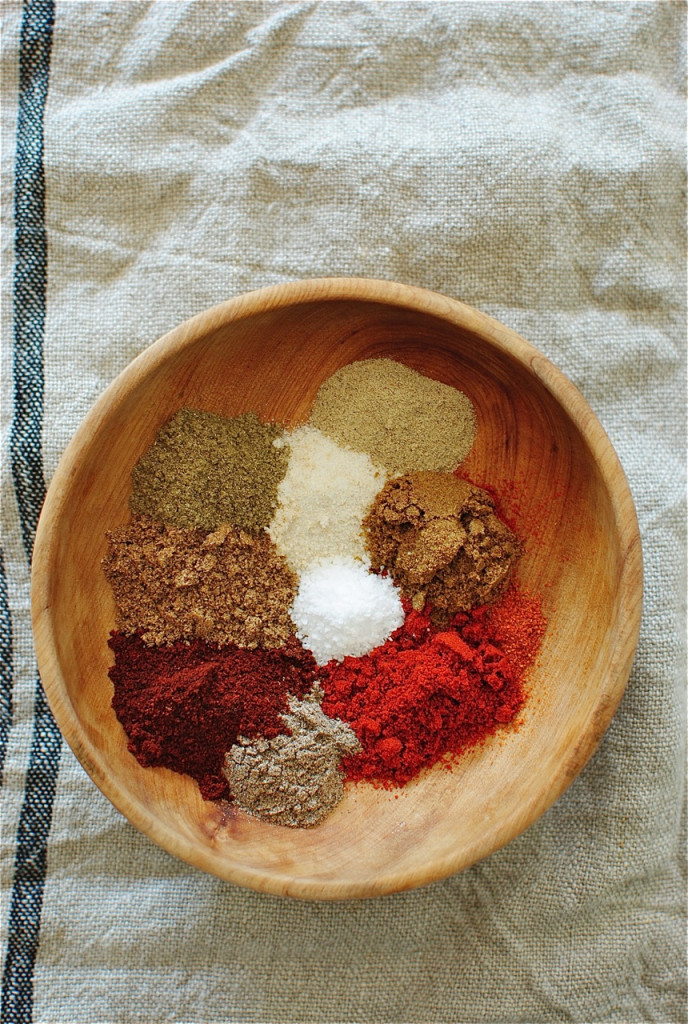 I'll be totally honest, the blackening spices vary from week to week. Just depends on what we have, what I grab, and what plummets to my head from the pantry door because toddler tornadoes. But this mixtchuh is right on right on, party people. It's spicy, a little Mexi-happy, a teeeeeny bit floral, and all around on fleek.
Okay, I just learned about this word, you guys. And I have yet to decide how I feel about it. Because when I say it I sound 85 years old. I guess I should backspace? Naw.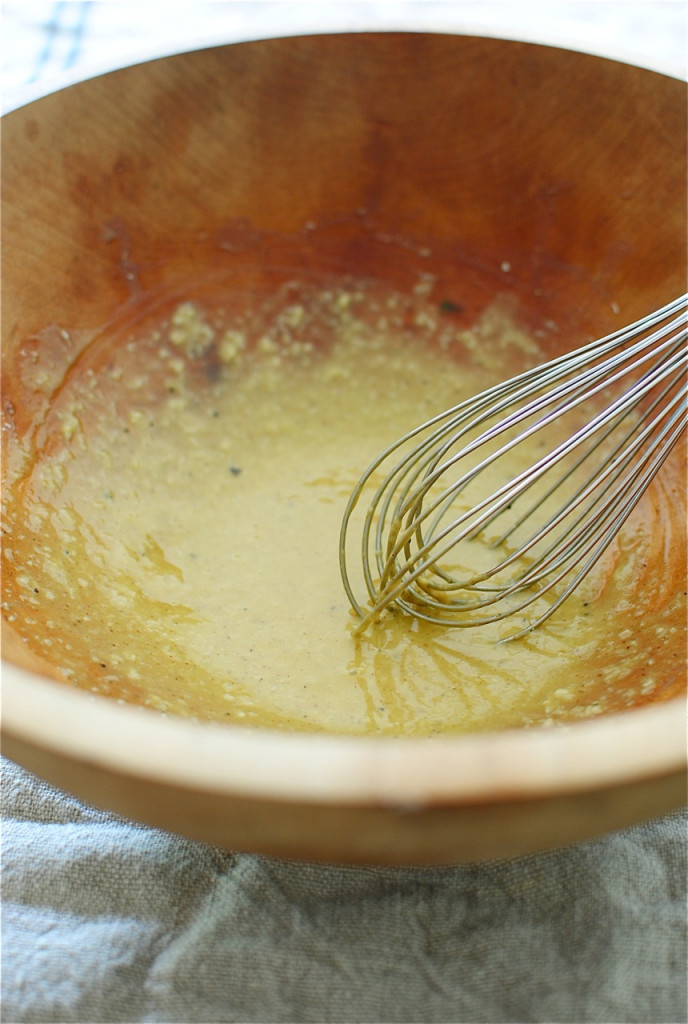 The dressing! Ugh, it's terrific. Don't be nervous about a little raw egg yolk, either. I've been making Caesar dressing from scratch forever and there's nothing wrong with me.wrong with me.wrong with me.
What makes this particular version so spectacular is the amount of freshly grated parmesan cheese that goes in. A full 1/3 cup! Gah, maybe even more? I just grate and grate and sob and sob.
The tubed anchovy paste is brilliant, as you won't end up wasting 5/6ths of a little tin. You just squeeze a leetle, and put her away.
Her = the tube of anchovy paste. Oh you got that? Oh.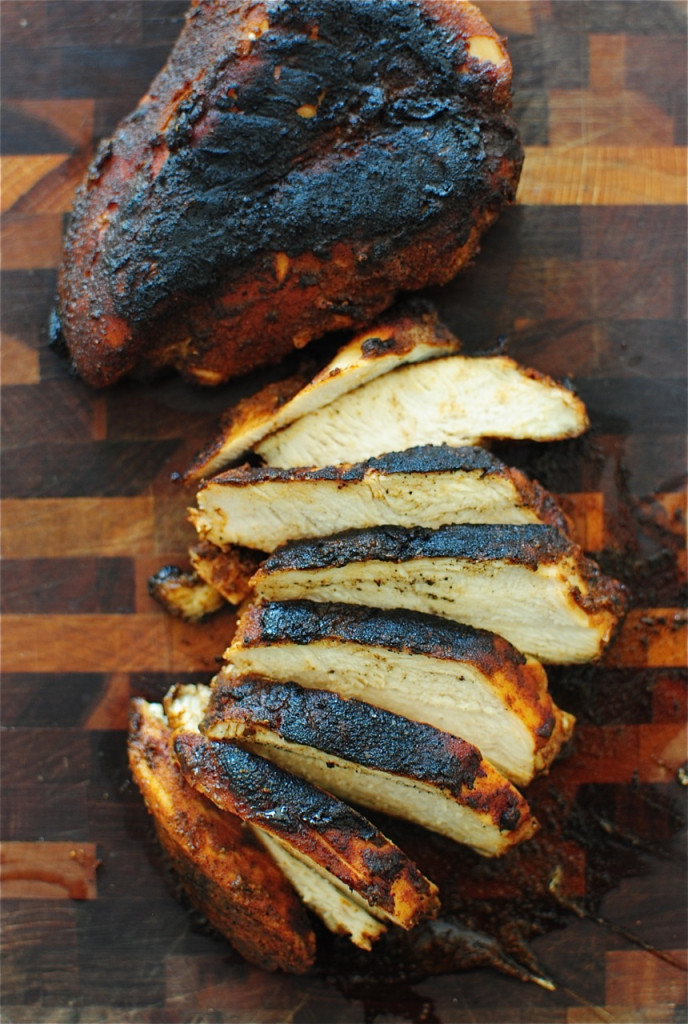 Burn, baby burn! I MEAN blacken, baby blacken!
For real though, it tastes on fleek.
Eck, I'm not so sure about this word. Should I be wearing a chain wallet when I say it?
Anyway, long story long, make this! The dressing will slay you. The spicy blackened chicken will kick you in the face. The cool, creamy avocado just adds that OOMPH. Shoot, add croutons if you want! I didn't because I was lazy.
But I will say one thing, this mess is on flee- nope.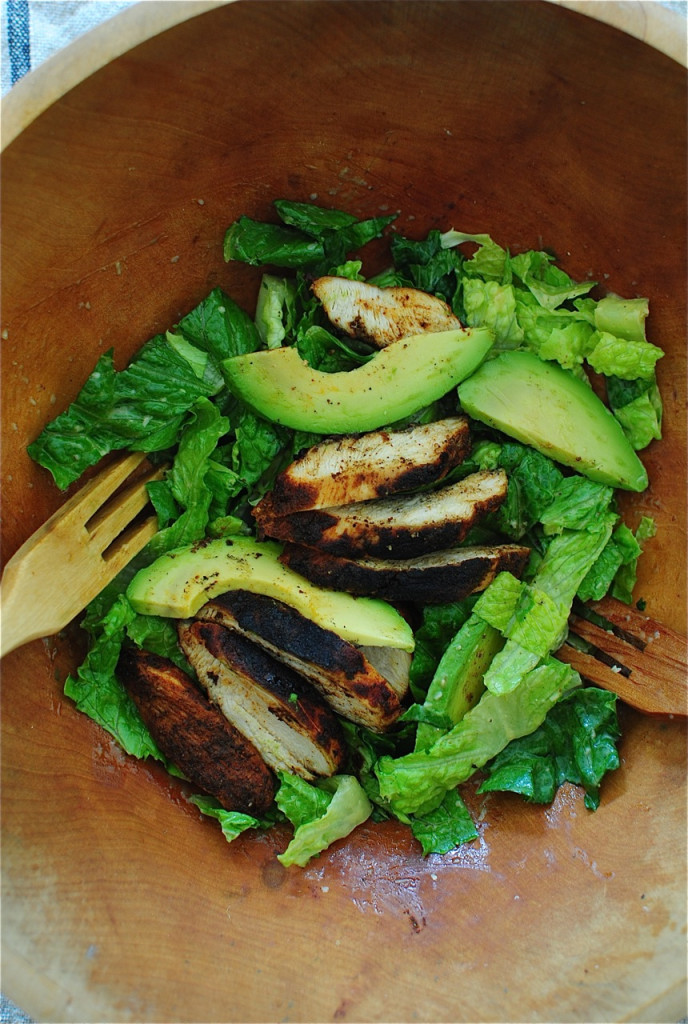 Blackened Chicken Caesar Salads with Avocado:
What it took for two:
for the chicken:
* 1 tsp each: garlic salt, cumin, smoked paprika, cardamom, chili powder, ground coriander
* 1/4 tsp cayenne
* 1/2 tsp each: ground sage, ground white pepper and coarse salt
* 2 chicken breasts
for the dressing:
* 1 tsp anchovy paste
* 2 tsp fresh lemon juice
* 1 egg yolk
* 2 tsp Worcestershire
* 1 tsp mustard
* 1/3 cup freshly grated parmesan
* 1/4 cup extra-virgin olive oil
* 1 small pinch of salt and freshly ground pepper
* 1 bunch romaine leaves, chopped and rinsed
* 1/2 avocado, sliced
* extra parmesan, for serving
With your fingers, combine all the spices in a small bowl. Evenly rub all all over the chicken. Heat a Tbs. of olive oil in a sauté pan over medium-high. Place the chicken in the pan, cover and sear for four minutes. Flip and sear another four minutes. Remove from the pan and let rest for 10 minutes. Thinly slice.
In the meantime, add the anchovy paste and lemon juice to a large wooden salad bowl. Whisk to combine. Add the egg yolk, worcestershire and mustard. Give it another good whisky whisk. Then add the parmesan and oil, salt and pepper. One fiiiiinal whisk to get it all creamy and emulsified.
Add the chopped romaine to the salad bowl and toss to coat with the dressing. Add the sliced chicken to the salad and serve topped with sliced avocado and extra parm!
Done.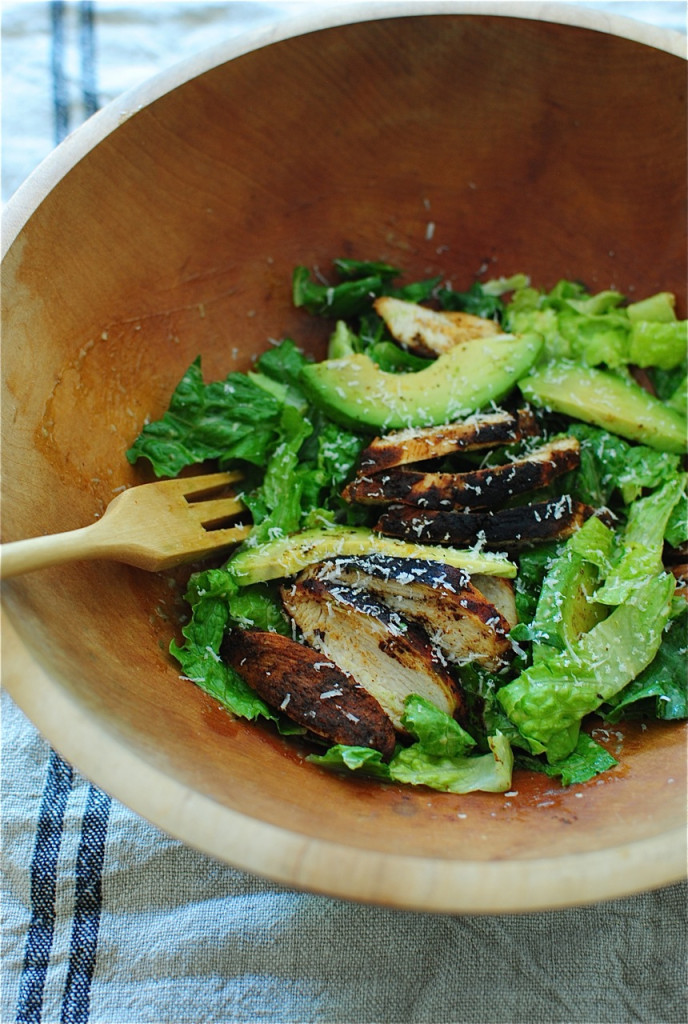 Everysinglemonday.