Hoooolmg.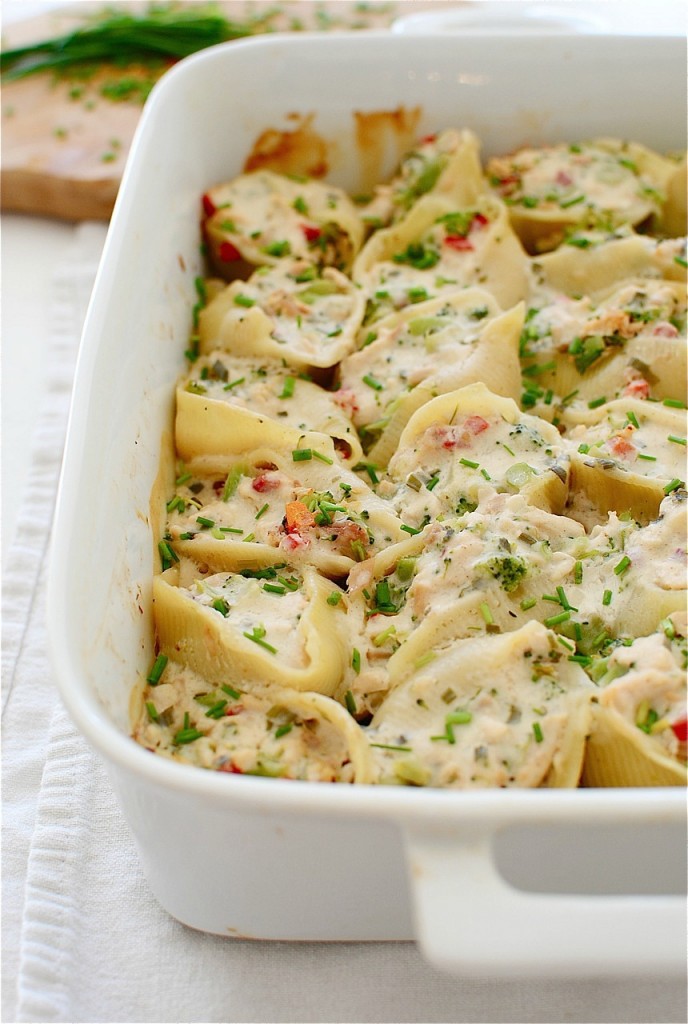 I've been so excited about this recipe/post/moment/day/life event. Stuffed shells!
Normally you might shy away from stuffed shells because of its laborious nature. But this, these, this, all of this, these shells, all of it, is waaay easier than ya might think. There are a few steps, sure. But you basically do it all at the same time, and then bam, in the oven it goes, and boom, you can resume your Who The Bleep Did I Marry marathon.
Oh that's just me? Oh.
I kept the filling simple and classic. Chicken and broccoli. BUT (!!) I added pimento cheese, because I've been thinking about pimento cheese a lot lately, so instead of making chicken and broccoli pimento cheese stuffed shells (wait…PATENT PENDING) I threw some pimentos in there to help satisfy my craving.
But of course now all I can think about is chicken and broccoli pimento cheese stuffed shells and I will not SLEEP until I attempt that. I will not!
For now, guess what's in the sauce.
Guess.
Do you want me to beg?
Because I will.
Fine, I'll tell you.
After this photo.
Right after it.
Like one second from now.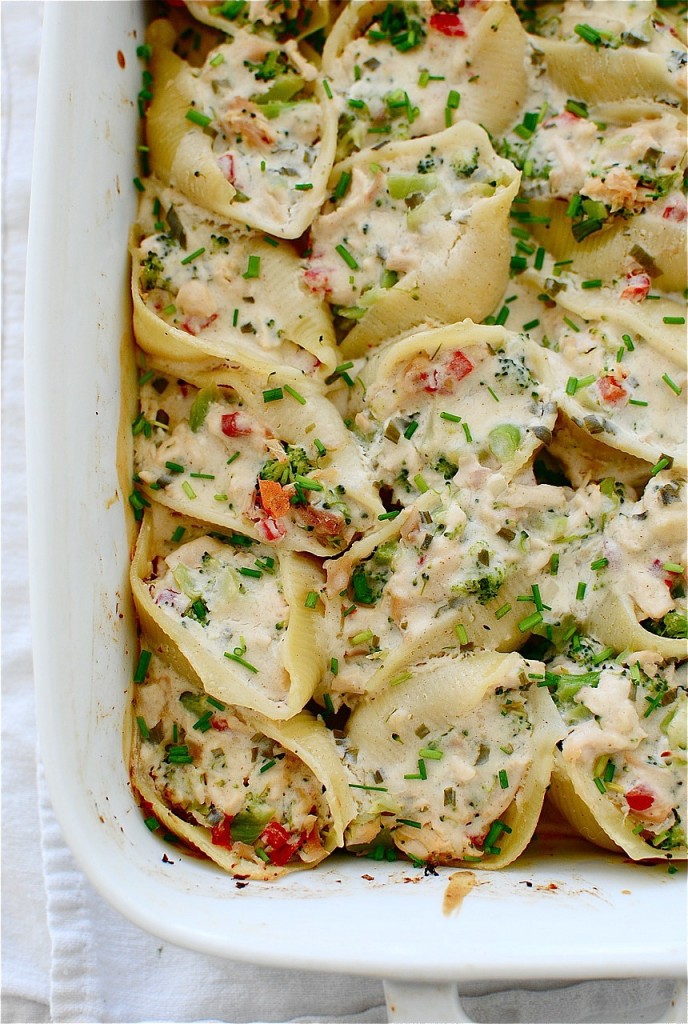 Chive and onion cream cheese! An entire tub, just melted right in the sauce. You KNOW how insanely yummy that cream cheese is on its own? Yeah, just imagine that flavor getting all infuso-happy in your sauce. It will become your new thing. People will be like, "Do you want to grab a drink after work?" and you'll say, "Sorry, Bro. Gotta melt some chive and onion cream cheese in a sauce."
"Do you want to come over and watch a movie this weekend?"
"Sorry, Man. Melting that cream cheese, ya know."
"Do you want to help me with my taxes?"
"Dude, cream cheese meltage."
You no longer have to "wash your hair."
I love solving your problems.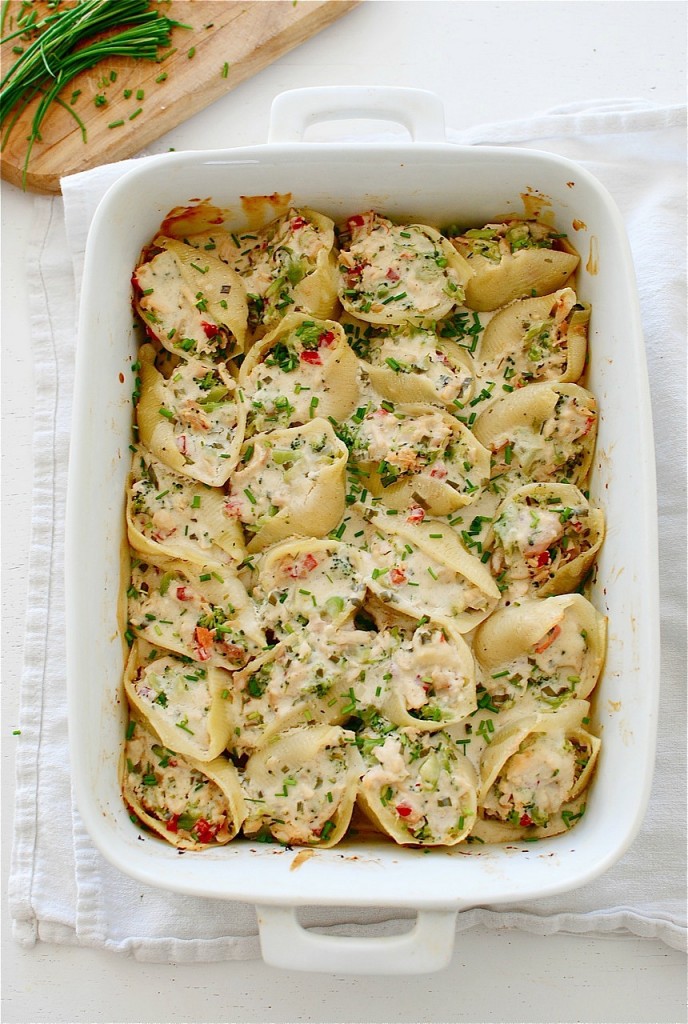 Time to eat.
Chicken and Broccoli Stuffed Shells with a Creamy Chive Sauce:
What it took for four (with maybe a little bit of leftovers?):
* 1 (12 oz) box jumbo shells (I used about 3/4th of the box)
* 1 rotisserie chicken, shredded
* 1 (10 oz) box frozen chopped broccoli, thawed and wrung dry
* 1( 4oz ) jar pimentos
* 2 Tbs. butter
* 2 Tbs. all-purpose flour
* 2 cups milk
* 1 (8 oz) tub chive and onion cream cheese
* freshly chopped chives, for garnish
* coarse salt and freshly ground pepper
Preheat your oven to 350.
Boil the shells until they're al dente. Drain and set aside.
While the shells cook, prep the filling. In a large bowl, combine the chicken,  broccoli, pimentos and a sprinkling of the salt and pepper.
In a small saucepan, melt the butter. Once the foam starts to subside, add the flour. Whisk on low until it becomes a medium brown color, about 5 minutes. You made a roux! Add the milk and whisk to incorporate. Add the chive and onion cream cheese and whisk until the sauce becomes thick and creamy. Not crazy thick, just creamy. Like a cream sauce. You get it. Never mind.
Add about half a cup of the sauce to the chicken mix. Stir to combine.
Using your fingers, stuff each shell with the chicken mix. Don't worry about using a fork to get the mix in. It will take way too long. And you have more control and GUSTO (I don't know) with the stuffing of the shells.
Pour a little of the sauce in the bottom of a 9×13 baking dish. Arrange the shells side by the side in the dish, pouring the remaining sauce evenly over the shells.
Bake for 30 minutes, until the sauce is a little bubbly.
Garnish with freshly chopped chives and dig.in.for.the.love.of.the.baby.ponies.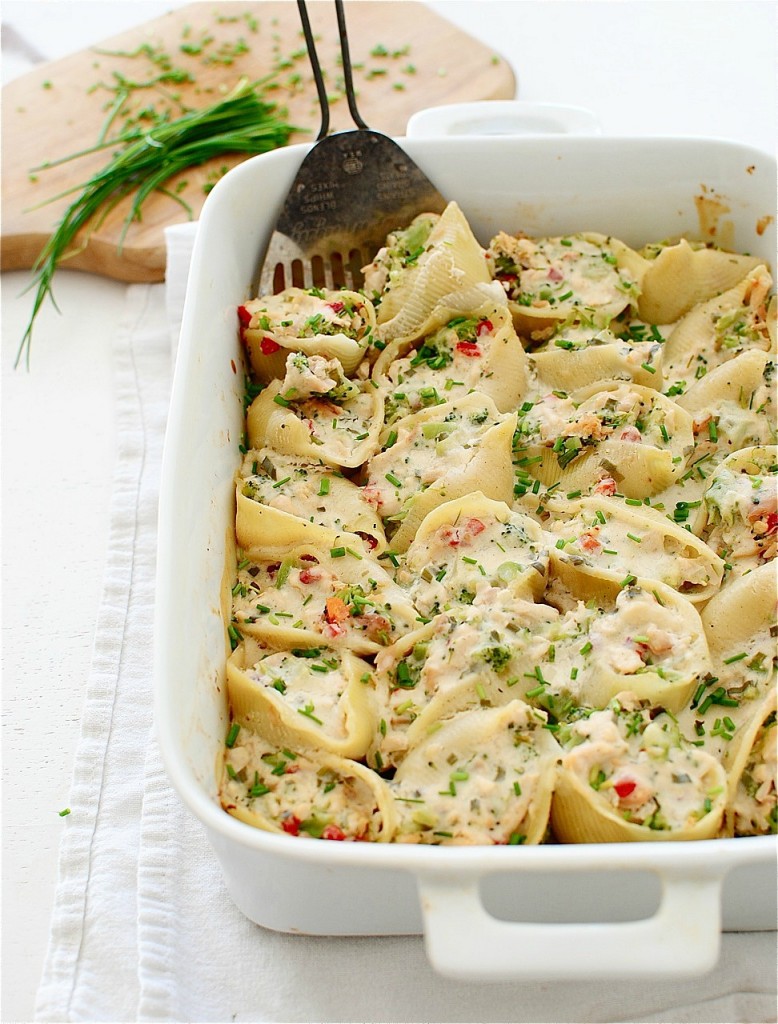 You need to get stuffed.