My heart is on the verge on spontaneous combustion finally showing you these. (!!!)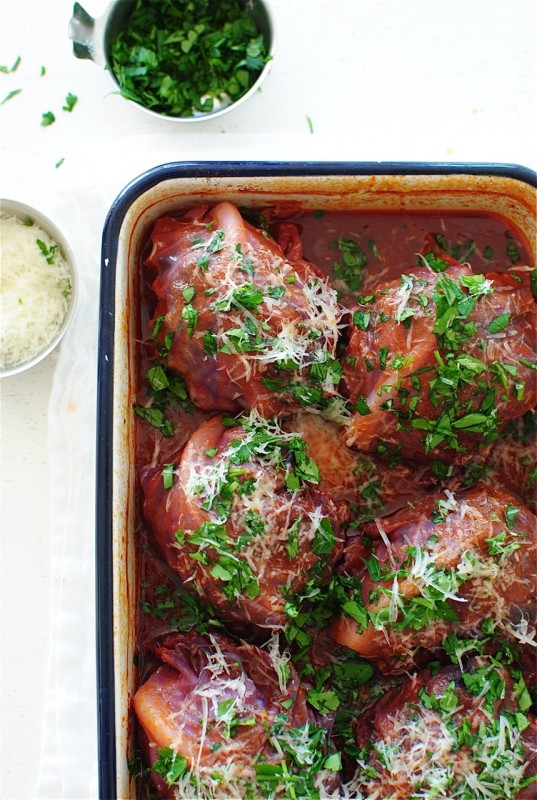 Coincidentally, they kind of look like hearts. So my sister and husband say. They're little purple cabbage heart chambers cradling the most savory beefy and rice filling ya evah did see.
It's another Rewind Recipe! Hooray! Have you missed them? I can tell you have.
This tried-and-true comfort meal hails from yet another find in my Grandmother's loot. Of course what draws me to it is the horrific pun in a hilarious rice font on the bright red front cover. I want to punch it and smooch it at the same time.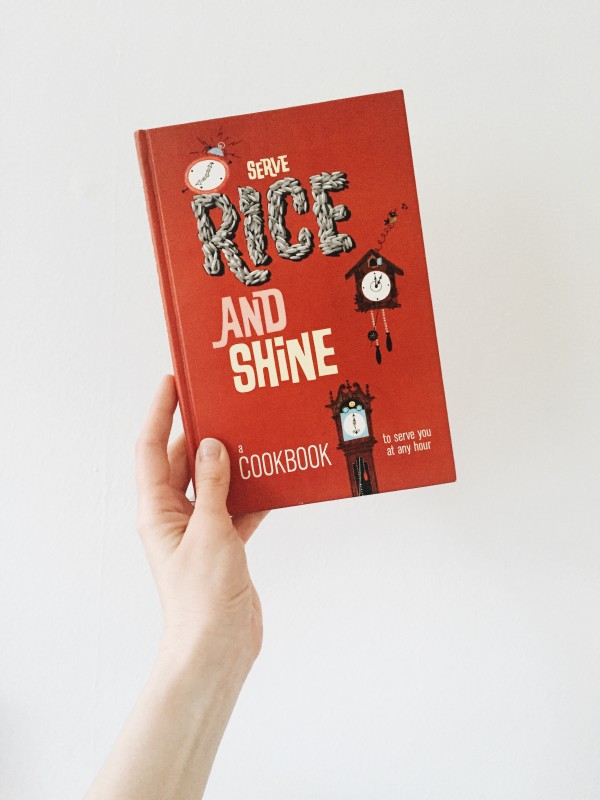 This 1963 publication boasts a sprinkling of blurry, black and white photography, and 154 pages of tiny fonted rice-a-licious recipes all devoted to our beloved little grain.
Even though the dish is somewhat common, this specific recipe is unexpectedly freak-your-face special. Let me tell you why.
First of all, the only other times I've stuffed cabbage, I've used green cabbage. Not purple. The book didn't specify which kind of cabbage to use, and since I still had a ton of purple left over from my tostadas, I wanted to use it. But those enormous cabbage leaves are tough, man! So just dip them in some hot hot hot water for a few seconds and they'll soften right up. Sweet little things, they are.
Okay, this is the thing. And I personally think this is what makes these rolls MAGICAL. And I don't use that word lightly. Except I do. Anyway, the book said this would make twelve rolls. Uhhh, naw. Let's make six huge ones!
But that's not the magic. It sort of is, but it's not the WHOLE magic.
The rice I used was jasmine. The book just said to use white rice, but not what kinddddd of white rice. You know how sweet and nutty jasmine rice is? Holy duders, use jasmine. You will NOT believe the sweetness it imparts in those rolls. You just will NOT believe it. You will NOT.
NOT NOT NOT.
And lastly, the beef. I used grass fed, but if you have a favorite, flavorful beef that you love, use it!
And lastly lastly, the parmesan cheese. It calls for three tablespoons, but I just went completely nuts with it. I have no clue how much I put in. I just kept grating and grating and sobbing and sobbing.
And lastly lastly lastly, the book didn't call for a garnish, which is straight silliness. I threw a bunch of chopped parsley and more grated parm on top and I'll never look back.
And lastly lastly lastly lastly, just kidding I'm done.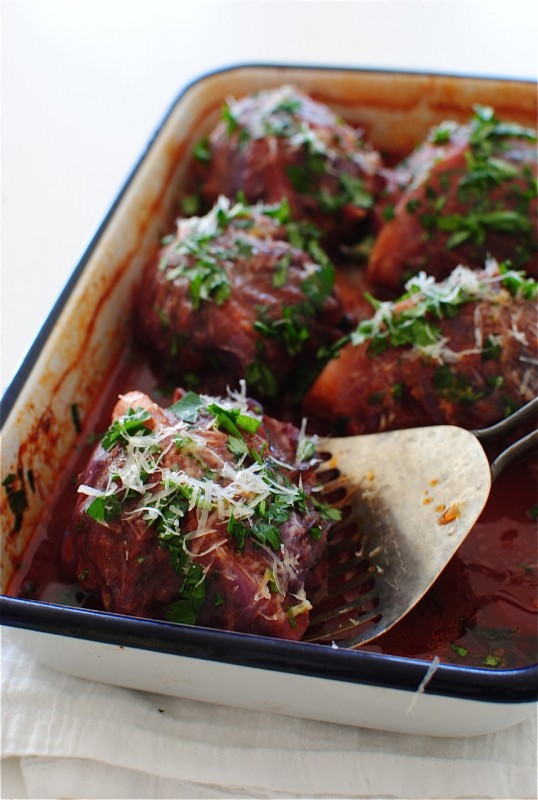 Wait! I'm not done. It bakes in a spicy tomato broth for over an hour. I just don't think you could ever be prepared for what will happen to you during that first bite.
This is CRAZY AMAZING.
Slap-ya-mama-ridic.
Beefy, nutty, sweet, juicy, tomato-y, savory, cannot deal.
I can almost 294734253% guarantee that this will make it to your heavy rotation meal plan.
Make that 294734254%.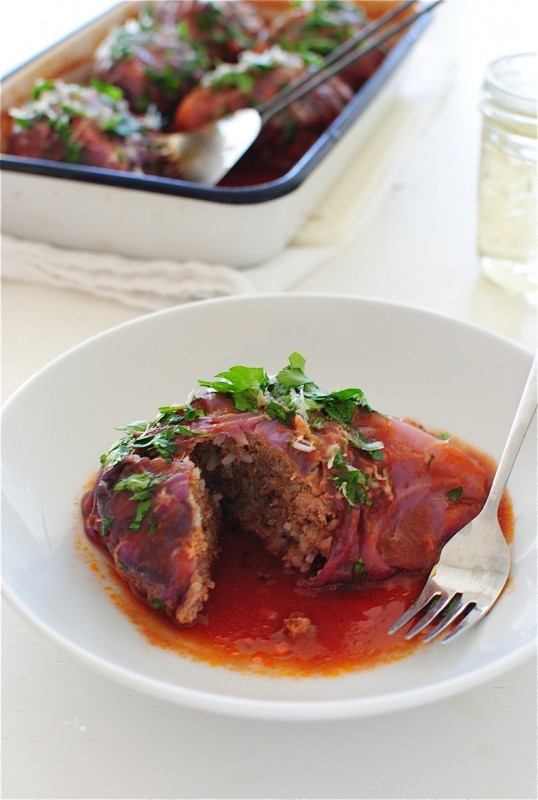 The inside, because GAH.
Beef and Rice Cabbage Rolls:
* 1 pound ground beef (I used grass fed because I dig the flavor.)
* 3 Tbs. freshly grated parmesan cheese
* 1 tsp coarse salt
* 1 pinch freshly ground pepper
* 1 egg, lightly beaten
* 2 slices bread (I used whole wheat and it was just fine!)
* 1/2 cup uncooked rice (I used jasmine and I'll never regret it)
* 6 large purple cabbage leaves
* 1/2 tsp chili powder (I probably used a little more)
* 1 cup tomato sauce (like, an 8 oz can)
Mix the meat, cheese, 1/2 tsp salt, pepper, egg and bread (which you'll dip in a little water and squeeze it dry) in a big bowl. Add the rice and mix really well.
Take the cabbage leaves and dip them in boiling water for about 15 seconds, just to soften them and make them pliable.
Evenly divide the meat into six large meatballs and place them in the center of each cabbage leaf. Fold the leaf over the meat and place them in a casserole dish, seamside down. Sprinkle with the chili power.
Mix the tomato sauce with a cup of water and evenly pour over the stuffed cabbage.
Cover and bake in a 375 degree oven for an hour and 15 minutes.
Garnish with freshly chopped parsley and parmesan cheese and eat all of it immediately.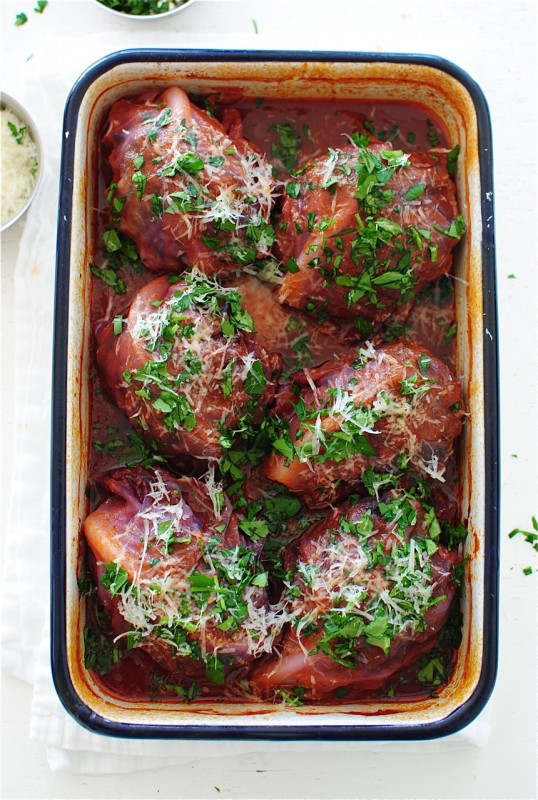 If you need me I'll be snuggled between these cabbage rolls for the rest of time.