Thai Tostada Tuesday! It works.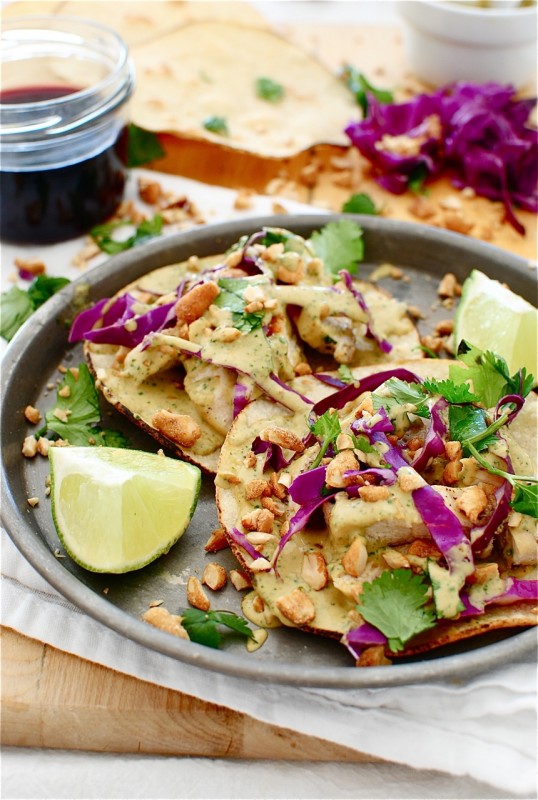 Are you guys watching the newest season of House of Cards? Umgggg it's all I can think about right now. I won't give any spoilers! But, have you noticed how they never eat on the show? Besides that one fancy dinner at the White House, a quick bite in the car and lobster on the Air Force One, THEY NEVER EAT. It's no wonder Claire Underwood is the Eighth Wonder of the World.
I think I'd rather eat.
Anyway, I'm irrationally obsessed with the show right now. It's a slightly slower pace than the previous two seasons, but crazy ish is still happening. We have four episodes left! Tell me where you are. Tell me how it ends!
Just kidding.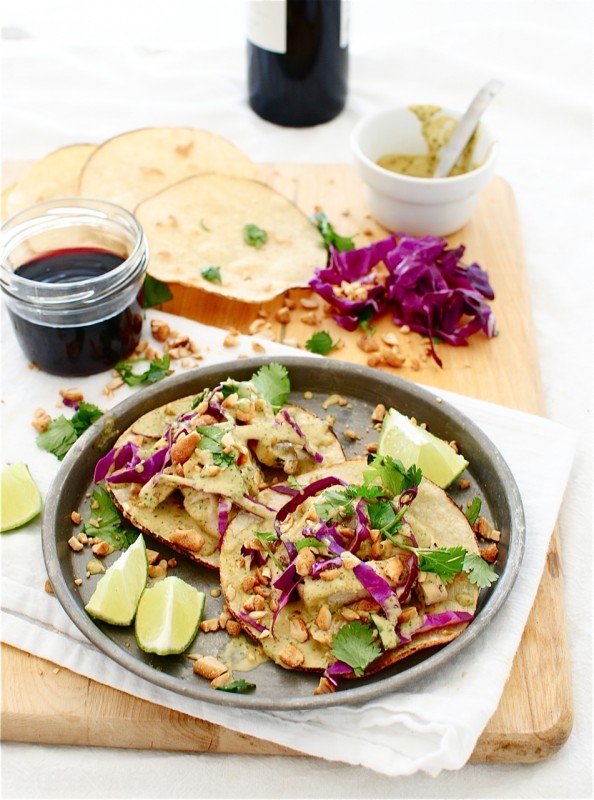 I wonder if Claire likes tostadas.
You should know about the sauce on top of these. First of all, I feel like I'm always freaking out, "THE SAUCE. YOU GUYS THE SAUCE. You'll see STARS. You'll meet GOD. You'll slip into COMAS. You'll see the FUTURE."
And look, I just want to settle one thing right now. I know I can be dramatic. I know I'm a wildly crazed lunatic on the run with law enforcement on my tail. But listen. There's peanut butter in this. Coconut milk. Spicy Sambal. Lots of basil and cilantro. Lots of lime juice.
Remember the whole future seeing thing? Right.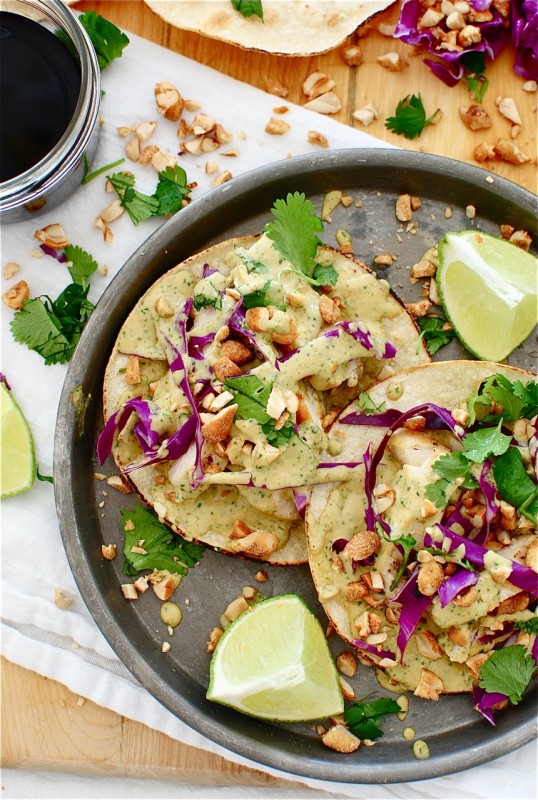 Structurally, these are super simple. Chicken, tostada shell, the SAUCEEE and a few garnishes. You could even add more veggies like thinly sliced red bells and/or fresh bean sprouts. Or more sauce.
Flavorfully (<–wait, is that not a word?), these are off their rocker. You can even leave the shells on the soft side if you're feeling like tacos. Whatever you do, add more sauce.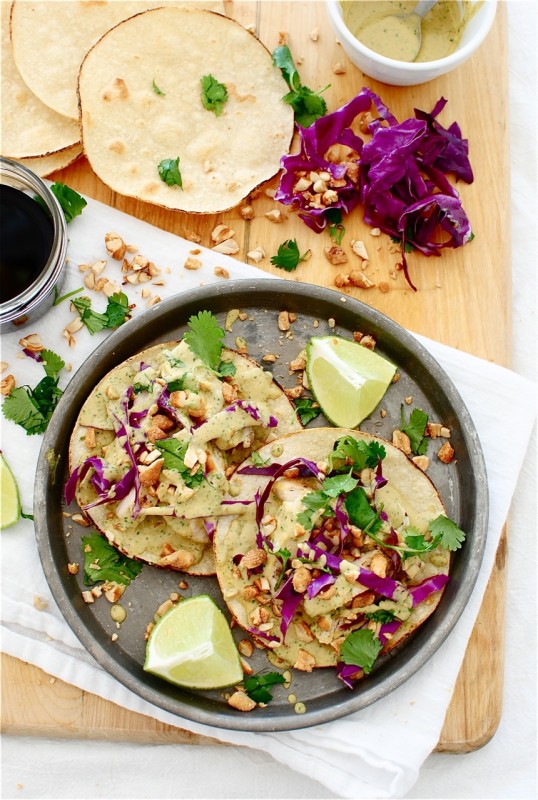 Claire Underwood approves this message.
Thai Peanut Chicken Tostadas:
What it took for six tostadas:
for the sauce:
* 3 Tbs. creamy peanut butter
* 5 Tbs. coconut milk
* 2 tsp Sambal Oelek
* 2 Tbs. fresh lime juice
* 5-6 basil leaves
* handful of loose cilantro leaves
for the rest:
* 1 Tbs. extra-virgin olive oil
* 1 pound chicken breast
* six white corn tortillas
* shredded purple cabbage
* extra limes
* extra cilantro
* chopped peanuts
In a large food processor, combine the sauce ingredients and blend until you get a smooth operator. I mean sauce.
Heat the oil in a medium skillet over medium-high. Season the chicken with salt and pepper and sear on one side for five minutes. Flip and sear another four. Cover and let rest for five minutes. Give the chicken a rough chop.
Lightly coat the tortillas with cooking spray (I used coconut oil) and bake them for about 10 minutes at 400 degrees. Then for an extra crisp, run them over an open flame on your stove top.
Evenly divide the chicken over the tostada shells. Top with shredded cabbage, cilantro sprigs and a good drizzle of your peanut sauce. Sprinkle with chopped peanuts and serve with extra lime wedges!
*add fresh bean sprouts! I was going to but my store was out. And I forgot.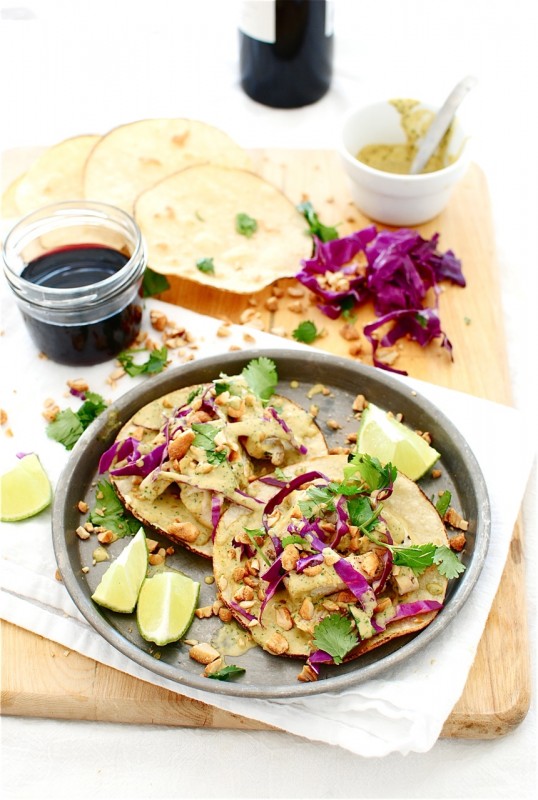 Get that sauce in yo' face.