Carbs on carbs. Just the way I like it.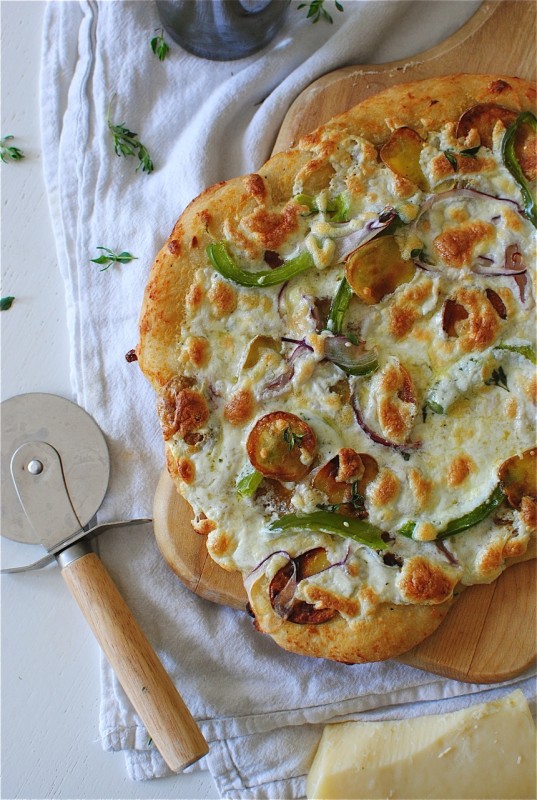 But it's not even that, fully. It's mostly that. It's probably 65% that.
It's the sauce! It's 37% the sauce. Because it's (A LOT of) roasted garlic, fresh thyme, a touch of cream and a little bit of silky olive oil. BA-LENDED.
It's probably 47% the sauce.
But hold on, it's the POTATOES. It's probably at least 54% the potatoes. Baby golds, super thinly sliced and crisped up in a little oil. Okay it's like 71% the potatoes.
It's also the veggies, though! I'm telling you, slivered red onion and green bell pepper are like Nick and Jessica. Good thing they're still together. Even if it's 0%.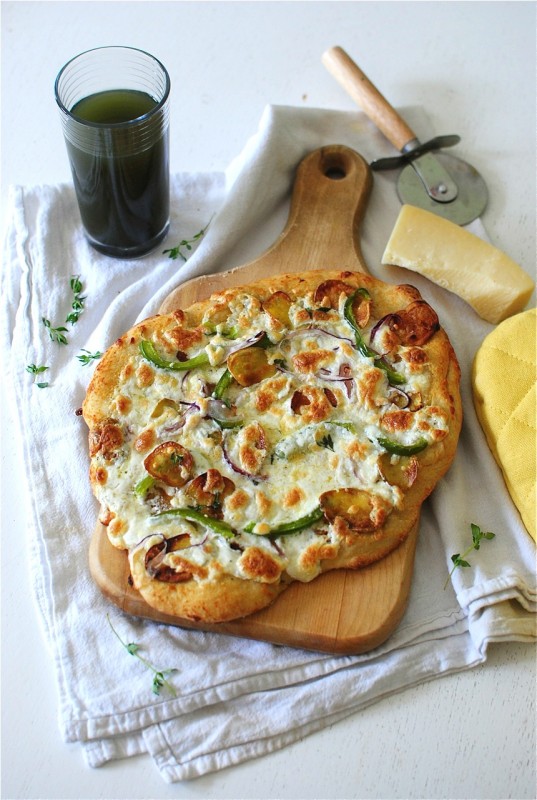 But listen. We haven't even discussed the cheese. It's real. It's fresh. It's super yummy, fluffy mozzarella. Grate that ish right on top and your day is done.
I change my mind. It's like 89% the cheese.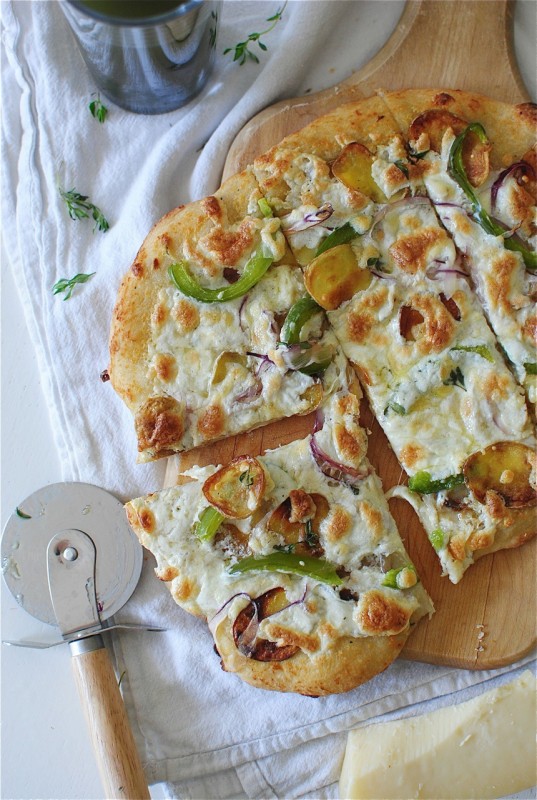 Thank goodness I'm good at math. Now eat.
 Potato and Pepper Pizza with a Roasted Garlic Thyme Sauce:
What it took for two 8-inch pizzas:
* 1 head (or 2 small heads) garlic, one end lopped off
* 1 Tbs. olive oil
* 1 Tbs. fresh thyme leaves
* 2-3 Tbs. cream (or milk)
* 2 Tbs. olive oil
* 1 pinch of salt
* 1 cup thinly sliced (use a mandolin!) baby gold potatoes
* 1 Tbs. olive oil
* 1/3 cup thinly sliced red onion (that mandolin would be good here, too)
* 1/2 cup thinly sliced green bell pepper (did I mention the mandolin?)
* 1 pound pizza dough, divided in half
* 1 ball fresh mozzarella (about a fist size), grated
* fresh parmesan for garnish
Heat an oven and pizza stone to 425 degrees.
Place the garlic in a small sheet of foil and drizzle the Tbs. of oil over it. Wrap and set in the oven for about 45 minutes, or until the garlic is roasted and soft and you want to punch it.
Squeeze the garlic into a small food processor and add the thyme, cream, 2 Tbs. oil and a pinch of salt. Puree. Taste it. DEARGOD.
In a sauté pan, heat that last Tbs. of oil over medium-high. Add the potatoes and sauté until they're crispy and browned on both sides, like chips! Kind of. Eat a few.
Roll out the pizza dough on a floured work surface. Place on the hot pizza stone for about 5 minutes, allowing the dough to pre-bake a little.
Bring it out, then brush the top with that amazing garlic thyme sauce. Then top each pizza with the onion and pepper slivers, along with the crispy potato rounds. Top with fresh cheese and bake for another 10-15 minutes (your oven may bake it faster), until the dough is nice and browned and the cheese is bubbly and gawgeous.
Serve with parmesan!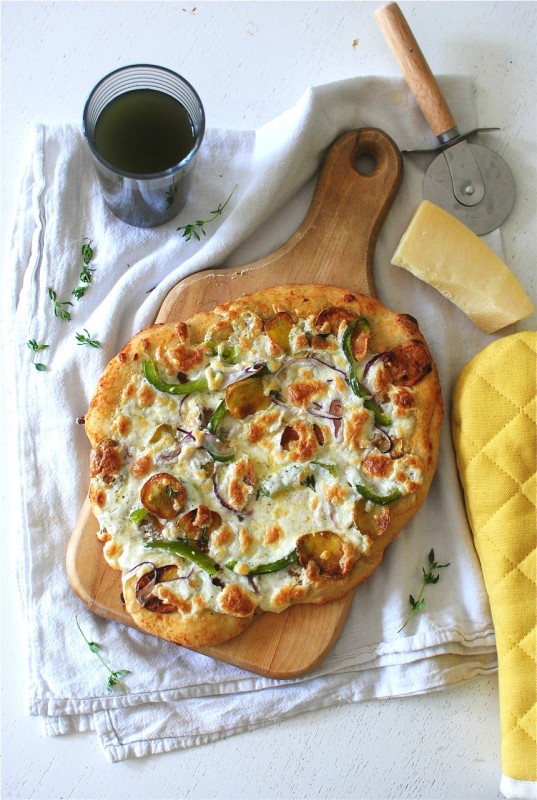 100%.