It's the most wonderful meaaaaaal of the daaaaaay.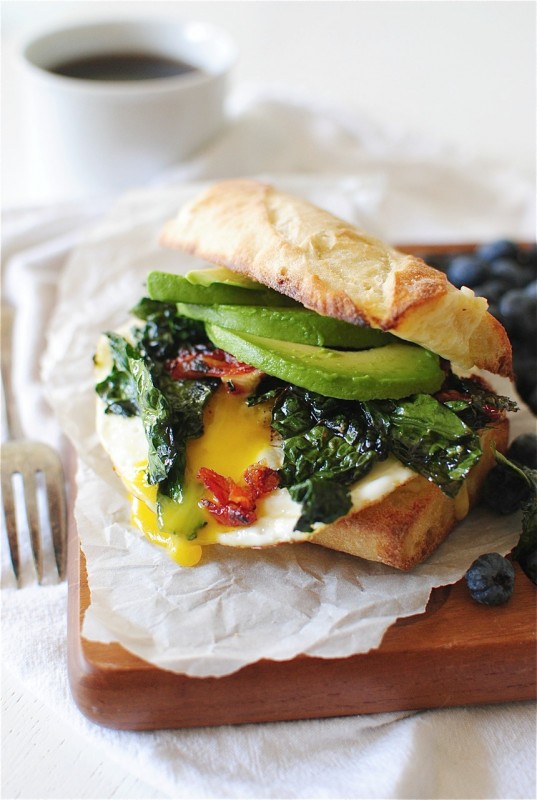 With the protein all runny and oozy and sunny you'll want a whole traaaaaaaay,
it's the most wonderful meaaaaaaal of the daaaaay.
It's the hap-happiest tiiiiime for your faaaaaace.
With some leafy greens blistered and aged cheese all toastered, you'll want to embraaaaace,
it's the hap-happiest tiiiiime for your faaaaace.
They'll be sliced avocado, and sun-dried tom-ah-toes and crusty baguettes in this piiiiiece.
They'll be pump juicy berries and buckets of coffee and no guilt because there's no greeaaaaase.
It's the most wonderful meaaaaal of the daaaaaaaaaay.
They'll be envious neighbors,
ridiculous flavors
right in your airwaaaaaaaay,
It's the most wonderful meaaaaal of the daaaaaaay.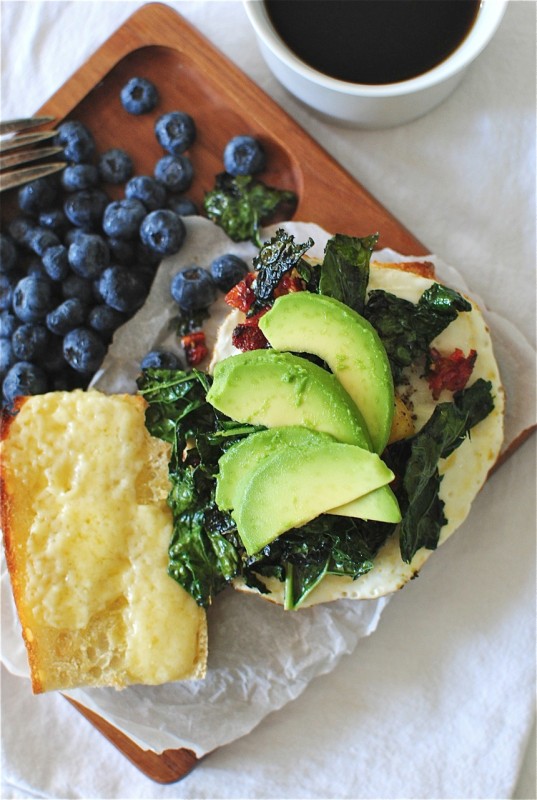 (we're . . . still friends, right?)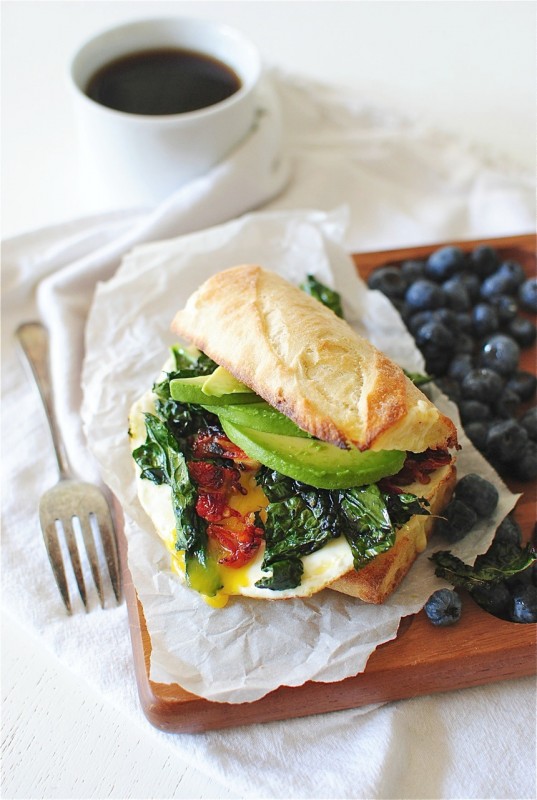 You CANNOT live without this.
Most Ridiculous Breakfast Sandwich Ever:
What it took for 1:
* 1 tsp oil from the sun-dried tomato jar
* 1 cup roughly torn kale
* 2 sun-dried tomatoes, sliced
* 1 large egg
* the best crusty bread you can find
* the best sharp aged white cheddar in the world
* a few slices avocado
* blueberries
* salt and pepper
Slice a few slivers of cheese and place on both sides of the crusty bread. Slide into a toaster oven until the cheese is browned and bubbly and singeth your praises.
In the meantime, heat the oil in a small sauté pan. Add the torn kale and sun-dried tomatoes. Let sauté and blister for a few minutes, until you see gorgeous charred spots all over. Scoot it to the side of the pan, and crack the egg right in. Sprinkle with a tiny pinch of salt and pepper and let the egg sear on one side, until the whites are set but the yolk is still runny.
Runny yolks = all that is good in life.
Place the fried egg on the bottom half of the toasted cheesy bread and slide the kale and tomatoes right on top. Lastly, arrange the sliced avocado on top of the egg and seal the deal with the top half of the cheese toast. Press it. See the yolk ooze out? Mommy.
Serve with blueberries! (or any fruit you dig)
alternate versions:
* season the egg with cumin and serve with sautéed spinach and salsa and green peppers
* instead of the tomatoes, go with roasted peppers
* any green you like – chard, arugula, spinach, even scallions or chives
* any cheese you want – but that aged white cheddar makes me weep in my sleep
* the bread – make it good bread. sourdough, ciabatta, a good baguette, yes.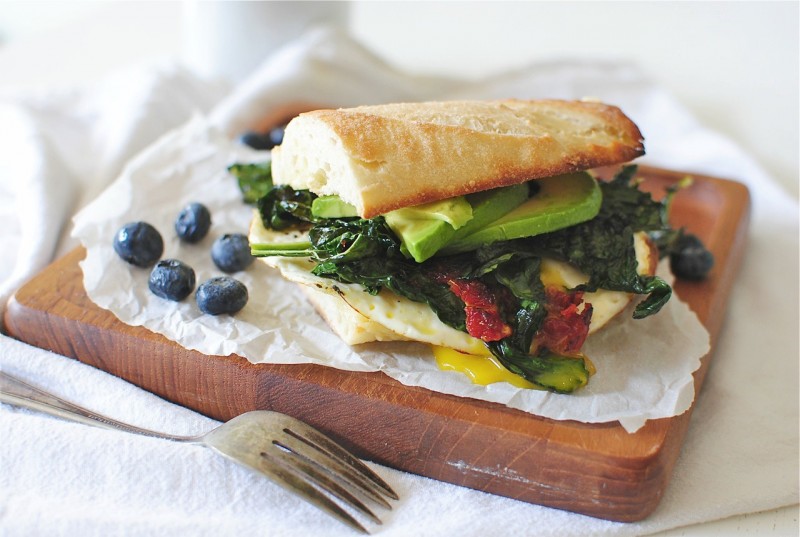 KEY CHANGE!