I almost just want you to skip down to the recipe. But don't!
It's just THAT GOOD. Aaron came up with this recipe, and my head straight up popped off and rolled down the street at the first bite.
It's got a kick. It's got some cream. It's got tang. It's got music. It's got rhythm. It's got its man.
Who could ask for anything more?
(btw, my babies are teething.)
I also feel like it's a perfect summer pasta because it has lemon in it. Let's just ignore the fact that it makes zero sense.
Oh I've got it! It's the perfect summer pasta because of the cream. And the kale and sun-drieds, but mostly the cream. And basil. And sausage.
. . . and cream.
(could I just move to Canada for a month or so?)
But the hidden secret is all the spice! A mix of crushed red pepper, cayenne and smoked paprika. Freaking yeah.
(like, I want to rip my ears off.)
But wait! The best part is the fresh herbs. A nice blend of chopped rosemary, sage and a finishing touch of liquorice-y basil. Which I find so weird. I DETEST liquorice, but could inhale a wheelbarrow of basil 15 hours a day. What the what, man. These are the things I lie in bed at night thinking about.
(if I just draw teeth in their mouths will they stop crying?)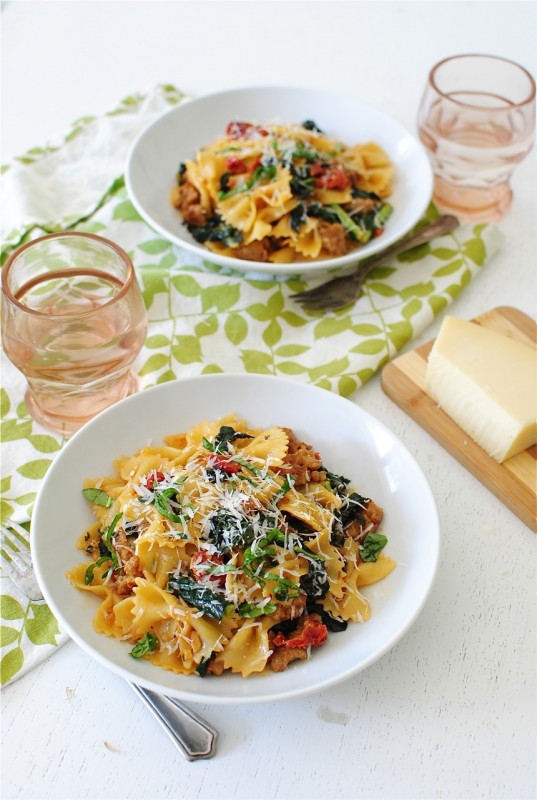 So there you have it. Your new favorite summer pasta ever. Because of the fresh garden goods. And tart tomatoes. And crumbled sausage. And spices. And cream.
(send help. and earplugs. and booze.)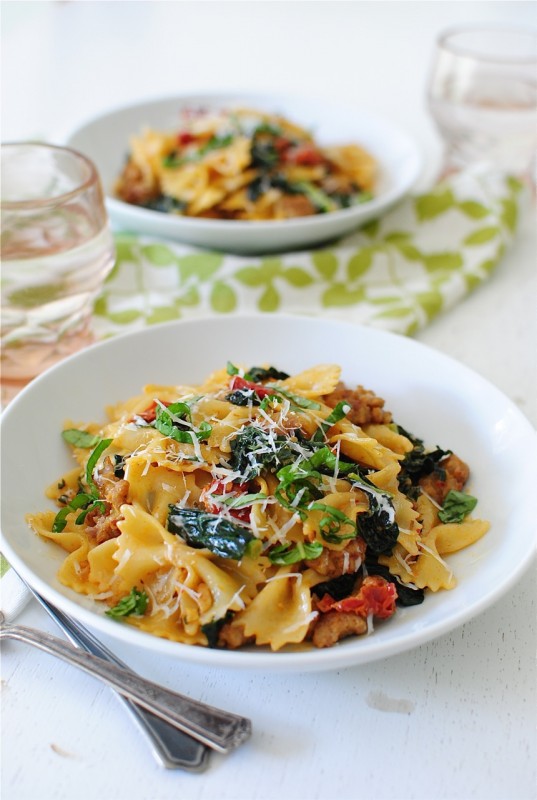 Good gosh almighty.
Creamy Bow Tie Pasta with Kale and Italian Sausage:
What it took for 4:
* 2-3 Italian sausages, casings removed and crumbled
* 3 cloves garlic, minced
* 10-13 sun-dried tomatoes (in oil), thinly sliced
* 1/4 cup beer (or stock), for deglazing
* 1 sprig rosemary (or 1 tsp chopped fresh)
* 1 sage leaf, chopped
* 1 pinch crushed red pepper
* 1 pinch cayenne
* 1 pinch smoked paprika
* 6 cups shredded kale (or spinach, or any green you love)
* 1 cup heavy cream
* 1 pound bow tie pasta
* 1/4 cup freshly grated parmesan cheese
* 2 Tbs. fresh lemon juice
* fresh basil and parmesan for garnish
In a large sauté pan, bring a Tbs. of the sun-dried tomato oil to a medium-high heat. Add the crumbled sausages and brown all over. Add the garlic and sun-dried tomatoes; sauté another minute. If needed, add the beer or stock to deglaze the pan. Use a wooden spoon to scrape up browned bits.
Add the fresh herbs and spices to the pan. Let simmer a minute. Then add the kale. Toss the kale in the mix to wilt slightly and pop in color. Then add the cream and let simmer for about 5 minutes.
In the meantime, cook the pasta in boiling water until al dente. Using a spider, transfer the pasta to the sauté pan, allowing pasta water to drip in. Any extra pasta water helps with that sauce, baby.
Finally, off the heat, toss in the parmesan and lemon juice; toss everything together. Taste it. Maybe a pinch of salt? Do it.
Serve with freshly torn basil and more parmesan!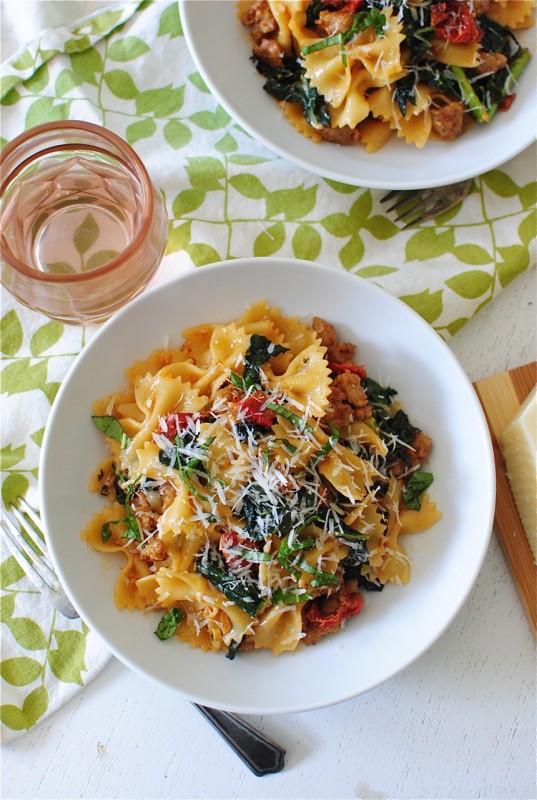 You should add more cream.