ILOVELETTUCEWRAPS.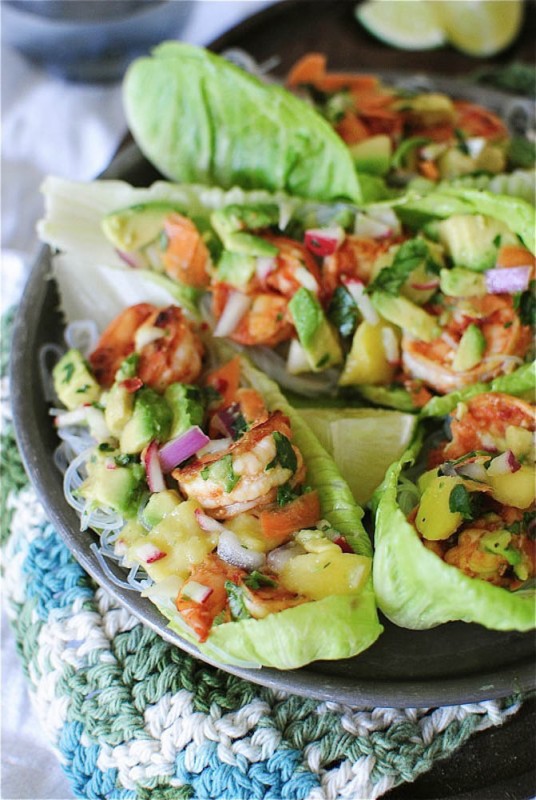 Sorry to scream.
But if my noggin' has any hint of an inkling of what you were up to this long holiday weekend, you might need to love to some lettuce wraps, too.
I'm not trying to tell you what to do! I don't think.
But these here boaties are going to make your face (and waistline) so happy. Your faistline!
. . . don't look at me like that.
Don't tell Aaron about my hand in the noodles.
This is so delicious. (not my hand in the noodles) All it is is some shrimp marinated in sambal oelek, soy sauce and a kiss of fish sauce. If you hate fish sauce (which 99 million percent of you do), fret noneth. Just leave it out. Or replace it with gasoline.
I keeed.
( I REPEAT: DO NOT REPLACE THE FISH SAUCE WITH GASOLINE.)
(UNLESS YOU'RE A PART OF THE CIRCUS.)
(OR LIKE, A SIDE-OF-THE-ROAD FREAK SHOW EXHIBIT THINGY.)
(WHICH YOU VERY WELL MAY BE.)
(THERE'S NO WAY FOR ME TO KNOW.)
(UNLESS YOU TELL ME.)
(I'M GOING TO STop screaming now.)
The relish. It's ridiculous. Ridiculish. It's avocado, mango, lil' citrus, some carrots and radishes. Lil' red onion. Some cilantro. It cuts through the heat so perfectly. That pop of lime with the slightly creamy chunks of bliss. I seriously love it so much I want to replace my face with it. And just eat my face off.
I swear to you I'm not drinking.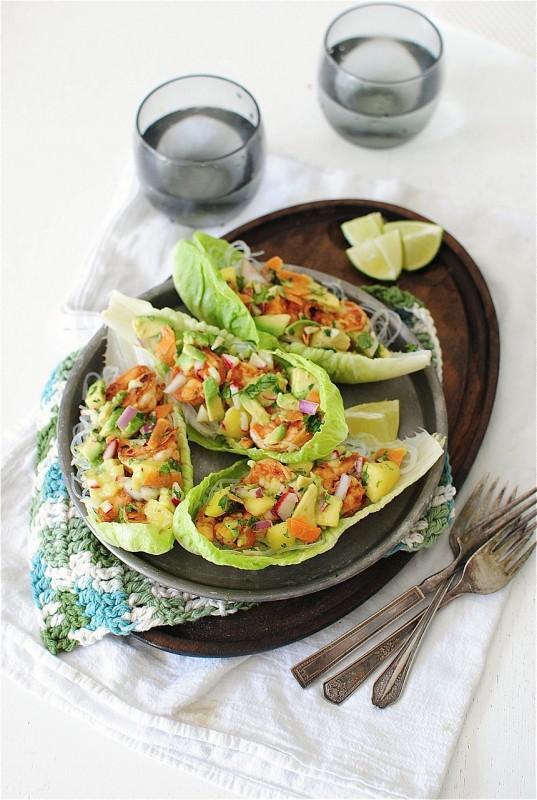 Deweeeeet.
Fiery Shrimp Lettuce Boats with an Avocado-Mango Relish:
What it took for 6-8 boats:
* 1 pound extra large shrimp, peeled and deveined
* 3 Tbs. sambal oelek (or sriracha sauce)
* 1 Tbs. soy sauce
* 1 tsp fish sauce
* 2 bundles vermicelli noodles, cooked and drained under cold water
* 1 avocado, diced
* 1 mango, peeled and diced
* 1/4 cup finely diced red onion
* 1 large carrot, shaved (into thin ribbons) and chopped
* 1 radish, finely diced
* 2 Tbs. lime juice, plus wedges to serve
* 1/4 cup finely minced cilantro
* 1 pinch salt and pepper
* 8 romaine leaves
Place the shrimp in a large plastic bag and add the sambal oelek, soy sauce and fish sauce. Rub liquids all over the shrimp to coat well. Seal and place the bag in the fridge for an hour.
In a bowl, combine the avocado, mango, carrot, diced onion, radishes, lime juice, cilantro and a pinch of salt and pepper. Toss to combine.
Heat a large sauté pan over medium-high. Add the shrimp and sauté on both sides until opaque. You won't really need oil since the shrimp is coated in liquid. It may start to braise otherwise.
Separate your lettuce "boat" leaves, and load them up with the cooled vermicelli noodles, shrimp and the avocado/mango relish. Squeeze a little more lime over everything and eat!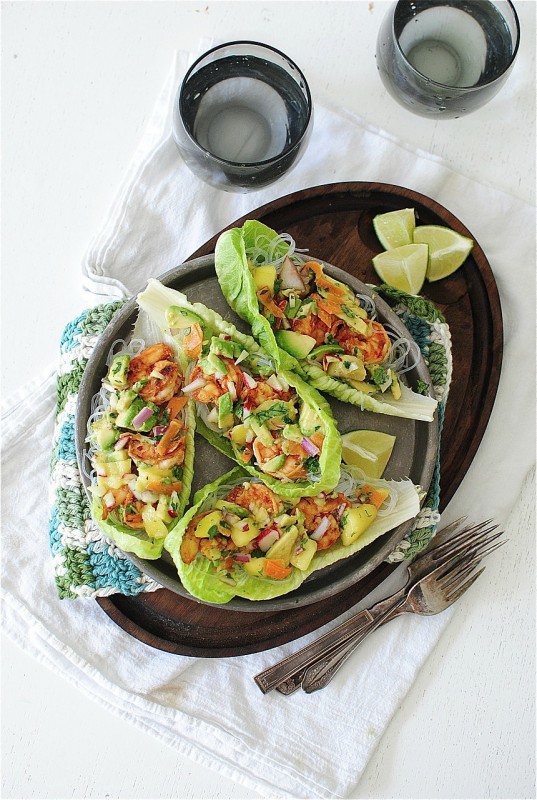 Now I want ice cream.