How gross is it that I want to serenade this pizza?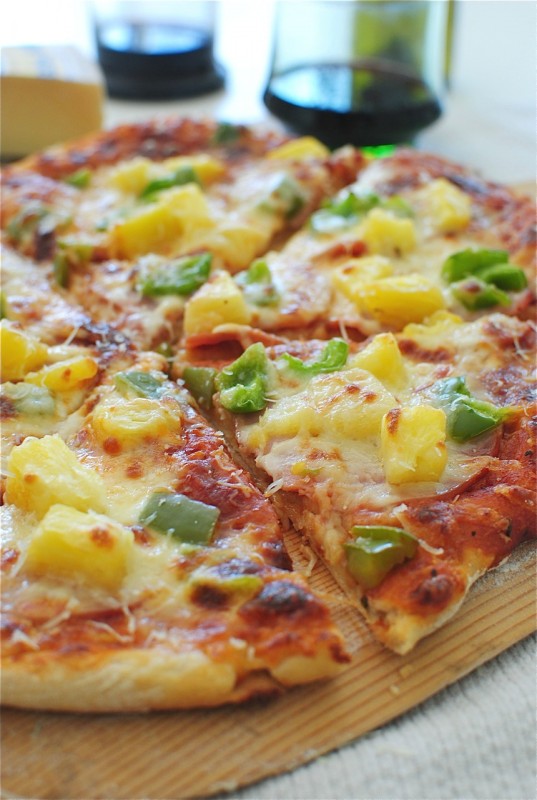 A little Bryan Adams? A little "Everything I Do, I Do It For You?" A little shoulder sway? A little lip licking?
A little too far?
I seriously remember when that song came out in 1991. Best moment of my life. I was maj crushing on Jim Skinner in 10th grade (he was a senior!). I sat at my bedroom vanity with my little gray boombox in my lap, looking at myself in the mirror in my No Fear T-shirt and my crunchy bangs, singing along to the ballad of epic proportions, pretending he was staring back at me with requited love. He did ask me to the prom that year! Boom.
"Don't teeeeeell me, it's not worth fighting fooor. I can't heeeeelp it. There's nothing I want moooore."
This pizza is ridic. Aaron made up a simple beer crust that doesn't take 465234 years. You mix it, let it rise for a little bit, and that's that. Spikidy spam. (not actual spam)
"There's noooo love, like youuuuur love. And no oooooother, could give moooore looove."
Then you just top it with some Canadian bacon, chopped pineapple and diced green bell pepper. And cheese! A sick, ungodly amount of shredded cheese.
"THERE'S NOWHEEEEERE. UNLESS YOU'RE THERE. ALL THE TIII-HIIIIME. ALL THE WAAAAAAY YEAAAAAH."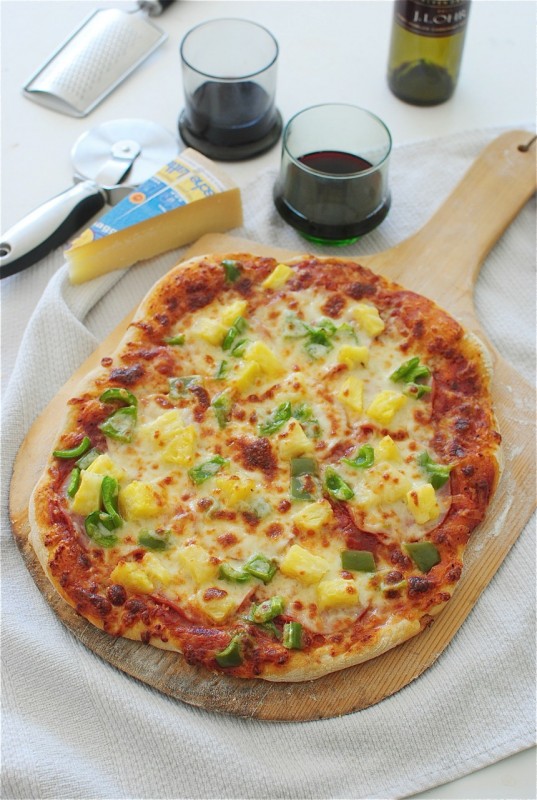 (piano solo)
You bake this mess in a hot hot HOT oven for about 15, and that's that. Hickory dickory dock. (but without the whole mouse thing)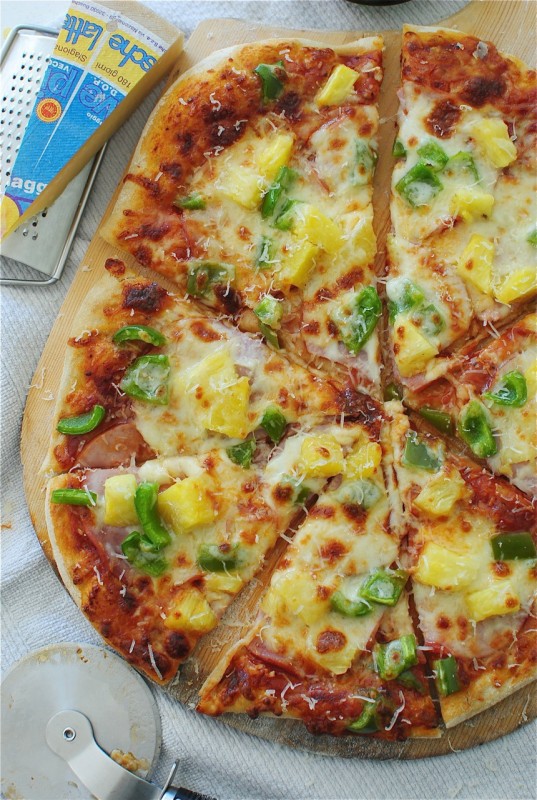 "You knoooow it's true. Everything I do, I do it foooooor you."
(please don't delete me from your life.)
Hawaiian Pizza:
for the dough:
* 2 cups all-purpose flour
* 1 cup beer
* 1 packet active yeast
* tsp sugar
* pinch of salt
the rest:
* 1 cup (or more, just eyeball it!) favorite pizza sauce
* 1 package Canadian bacon
* 1 green bell pepper, diced
* 1 cup chopped pineapple
* 2 cups shredded mozzarella cheese
In a small bowl, combine the sugar and yeast in 3 Tbs. lukewarm water. Let sit for 15 minutes, until nice and foamy.
In a larger bowl, combine flour with the beer, salt and yeast mixture. Let rise for hour and a half, or until it's doubled in size.
On a floured work surface, divide the dough in half. The dough is pretty wet, so just work each mound of dough liberally with more flour until it's silky and stretchy and awesome. Roll it out to form a (roughly) 10-inch pizza crust.
Spread some pizza sauce over each crust, followed by the Canadian bacon (I left mine whole, but feel free to slice or dice the bacon), diced green bell pepper, chopped pineapple and shredded cheese.
Bake each pizza (on a pizza stone if you have one!) in a 500-degree oven for 12-15 mins, until the crust is cooked through and the cheese is browned and bubbly. Yum.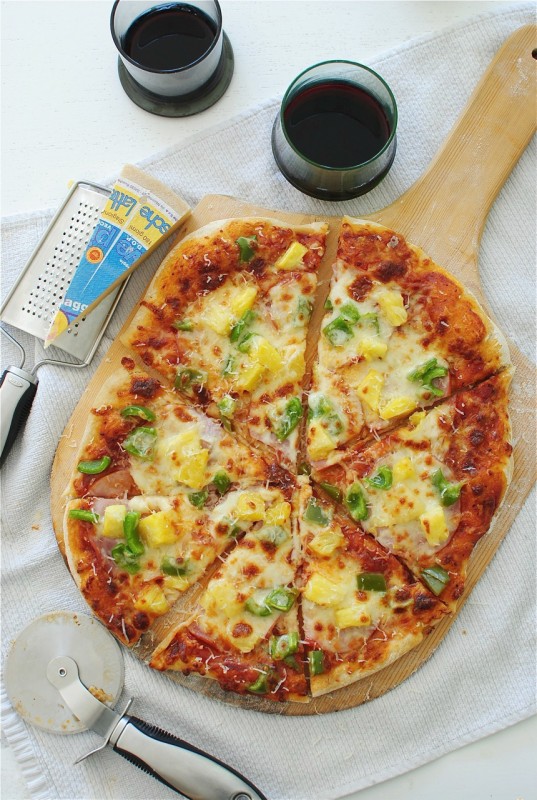 I miss crunchy bangs.