Ohgoodgrief.
Remember that movie What Lies Beneath with Michelle Pfeiffer and Harrison Ford? This casserole totally reminds me of that. Not in a psycho-thriller-murdery-ghost sort of way, but just when I look at that photo. What liiiiiies beneath all of that cheese? Let me tell you, bunnies. (is it okay if I call you bunny?)
First of all, oh wait I'm having a contraction! Just a stiffy B-Hicker. Okay it's done.
Anyway, kale. A big ol' bunch of lacinato kale. You can get whatever kind you want. Curly, anything goes. I keep calling it "lactinato" to crack myself up because that's what I'm going to be here in a few months. A lactinato machine. Lactanato. Lactate-nato.
My male readers are like, "aaaaaand I'm out."
Italian sausage. Because I'm forever devoted.
Red bell pepper! For health, sweetness and color.
Pasta. I went the whole grain elbow route but you can do whatever makes you feel awesome inside.
And a cream sauce. But not just any cream sauce. A CHIPOTLAAAAY cream sauce.
You probably notice a strand of chipotle-flavored recipes on my blog from time to time. It's because I buy a little can, open it, use 2, put it in the fridge, then catch the can giving me bedroom eyes every time I open the refrigerator door. It wins. Every time. Should I seek therapy?
Yeah, that's what lies beneath, puppies.
That's. What. Lies. Beneath.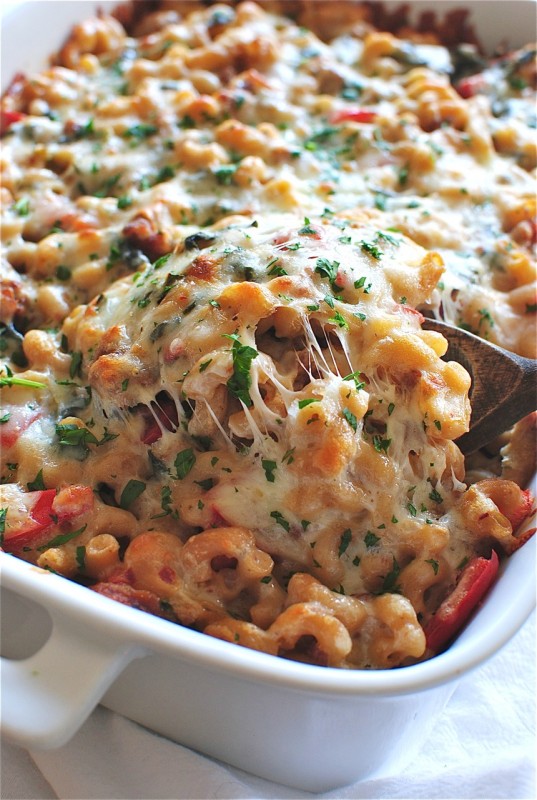 It's waiting for you.
Sausage and Kale Pasta Bake:
What it took for 4-6 (trillion):
* 1 pound Italian sausage (4 to 5 links), casings removed and torn into chunks
* 1 red bell pepper, diced
* 1 bunch dinosaur (lacinato) kale, chopped
* 13.25 oz whole grain elbow macaroni (I used Barilla, so that's why it's that weird amount, and not a straight up pound)
* 3 Tbs. butter
* 3 Tbs. flour
* 2 1/2 cups milk
* 2 chipotle peppers in their adobo sauce
* 8 oz block mozzarella cheese, grated
Preheat oven to 350.
Heat a large skillet over medium-high. Add the torn sausage and brown all over. Add the red bell pepper and kale; sauté another 3 minutes, until the kale wilts. Season with a tiny pinch of salt.
In the meantime, bring a large pot of salted water to a boil. Add the pasta and cook until right under al dente, 5 to 6 minutes.
Add cooked pasta to the sausage mix and toss to combine.
Also in the meantime, melt the butter in a small saucepan. Add the flour and whisk until no longer floury, just a couple of minutes. Add the milk and whisk until creamy, 5 to 8 minutes. Transfer cream sauce to a food processor and add the chipotle peppers with their adobo sauce. Pulse to combine. Taste that. Want more heat? Add another pepper! And a little salt if it needs it.
Add spicy cream sauce to the pasta/sausage mix. Toss to combine.
Transfer to a 9×13 baking dish and cover with shredded mozzarella. Bake, uncovered for 30 minutes, or until cheese is browning and bubbly.
Garnish with chopped parsley and enjoy being awesome.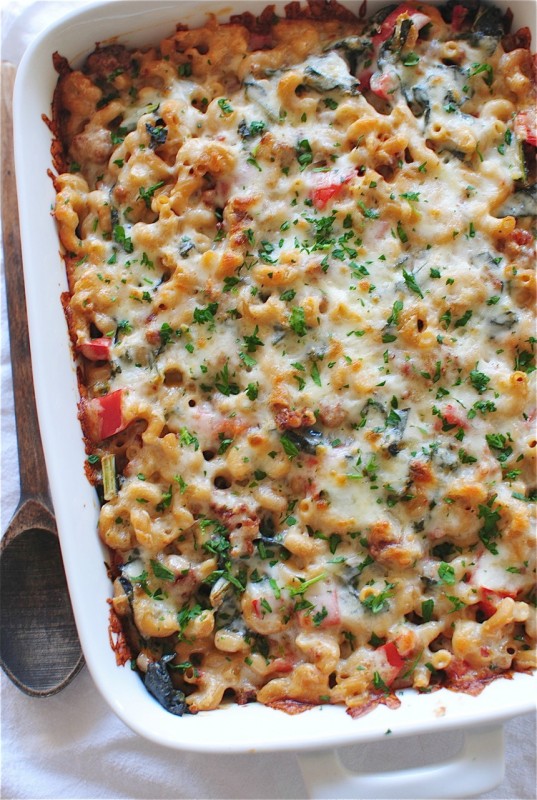 Also! I didn't announce this last week because it was a rough week with my pup, but I have Ree's cookbook winners!
They were: #645, Melissa who said, "I've never seen the movie but from the pictures I've seen, I'm guessing A Christmas Story"
# 151, Wendy who said, "I don't know, but would love to win the book!"
# 625, Justine who said, "I have no idea, but I would love Ree's cookbook!"
Congrats, ladies! We've already talked so you know you've won. The QUOTE, you guys is from Friends! It's the Halloween episode where Monica makes Chandler wear that awful pink bunny costume because his favorite book as a child was the Velveteen Rabbit. A BROWN rabbit. Oh, those friends and their shenanigans.
Okay, now make some pasta already.