Beans, beans, the magical fruit . . .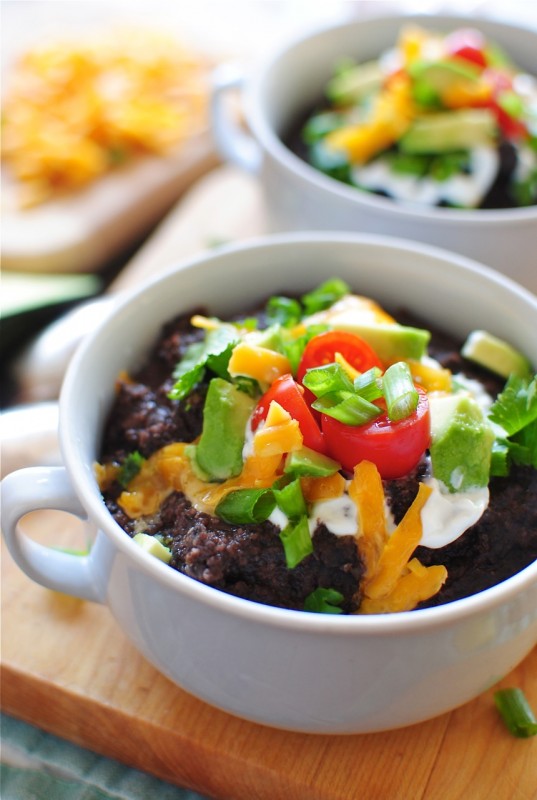 The more you eat, the more you . . . get cute?
I'M TRYING TO BE A GROWN UP.
I don't normally use dried beans in recipes. I had to make a pumpkin pie for a client and it called to use dried beans as weights on the pie crust. So, I had all these beans and was like, "noooow whaaaat." And then I thought, "ohhhh souuuuup!" And then I thought, "ooooo with roasted veggies in it, all pureed liiiiike." And then I thought, "I need a haircut," but that's neither hither nor thither.
I also have a TON of jalapeno peppers from our garden, so that's what all those little burnt things are. They're not really burnt though! Just nice and roasted. And maybe a little crispy. Maybe one of them is burnt. But I'm not going to tell you which one. I like to leave certain things a mystery here on the www.bevcooks.com internet url blog website.
So after you soak your beans overnight (this is why I hardly ever use dried beans) and simmer them for 45 hours in a huge pot of stock (another reason), you add all the tender roasted veggies to the beans and stick a good ol' immersion blender down in that thing and make some dang magic, Mike.
And then season her good and add a little milk if you want. I have no idea why I added milk, I just followed my soul fairies' guidance and felt an inner peace like no other.
They also told me to add a lot of lime juice, and that was a good decision.
They also whispered that maybe I should go a little blonder.
You're . . . gone, aren't you?
There ain't no such thing as black bean soup without sour cream, cheese, avocado, tomatoes and scallions, I tell you!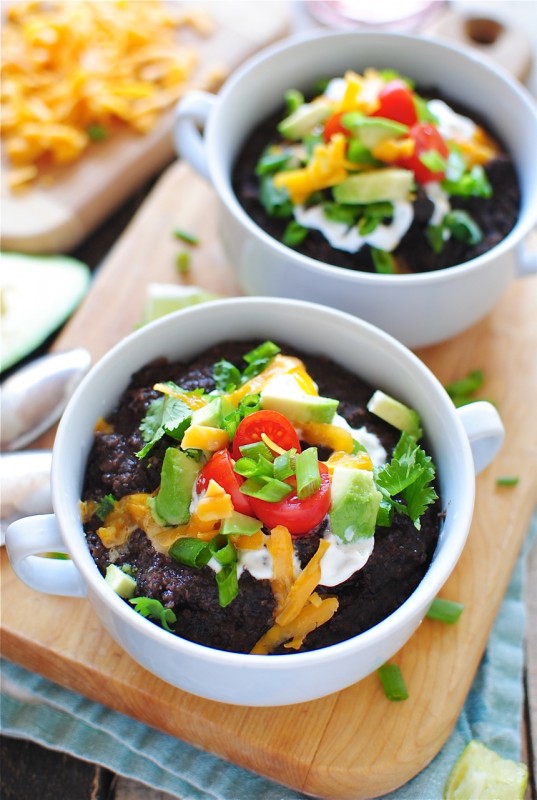 Weekend soup? Yes.
Roasted Garlic and Pepper Black Bean Soup:
What it took for 8:
* 2 pounds dried black beans, soaked overnight
* 10 cups chicken (or veggie) stock
* 1 garlic head
* 2 tsp extra-virgin olive oil, divided
* 1 large red onion, peeled and quartered
* 6 jalapeno peppers, sliced and 4 seeded
* 1 cup cilantro leaves
* 2 Tbs. ground cumin
* 1 Tbs. chili powder
* 1/2 cup milk
* 1 lime
* salt and pepper
* scallions, grated cheese, sour cream and diced avocado for garnish
Add the beans and the stock to a large stock pot. Bring to a boil, reduce heat and simmer on medium for seriously two hours if needed. Check at the 1-hour mark, then keep adding more liquid until the beans are tender.
Preheat oven to 400. Place the onions and jalapenos on a baking sheet. Drizzle with a tsp of oil. Lop the end of the garlic off, exposing the cloves. Place the head in a small piece of foil, drizzle with 1 tsp of the oil, and wrap up the garlic in the foil. Place on the pan and roast the veggies for 45 minutes. (if your peppers roast quicker, just take them out)
Once the beans are tender, add the roasted veggies (squeeze the garlic cloves out of their skins!) and cilantro to the beans. Using an immersion blender, blend the beans until nice and pureed. If you don't have an immersion blender, do this in batches in a regular blender. And then add immersion blender to your Christmas list.
Add the cumin, chili powder, a big pinch of salt and the milk. Simmer for about 15 minutes, then add the lime juice. Taste it. What does it need? More spices? More salt? More lime? Do it.
Serve with sliced scallions, grated cheese, sour cream and diced avocado!
* You can always cut this recipe in half, because 2 pounds of dried beans makes a frickin' LOT. Or just use 4 cans of black beans and go for a slightly smaller onion and maybe 3 peppers. But keep the garlic amount the same! For the love.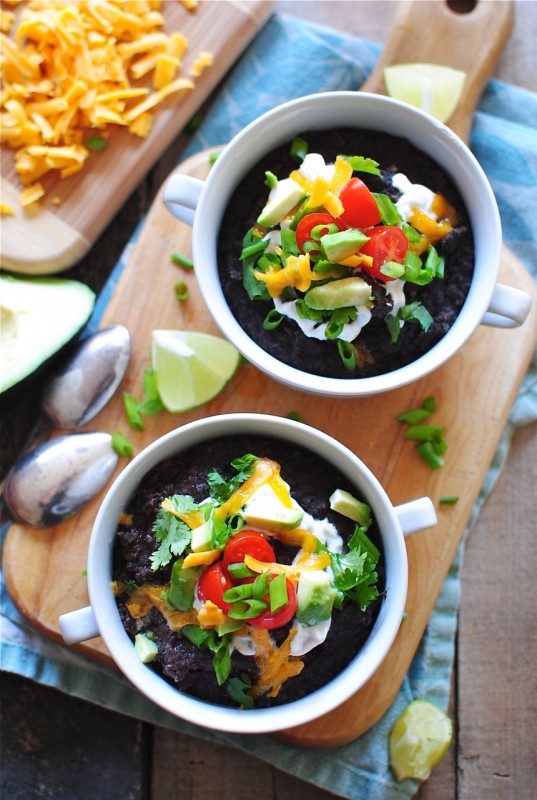 I spy a pregnant lady in the spoon.