I think we should cover Monday in a cream sauce.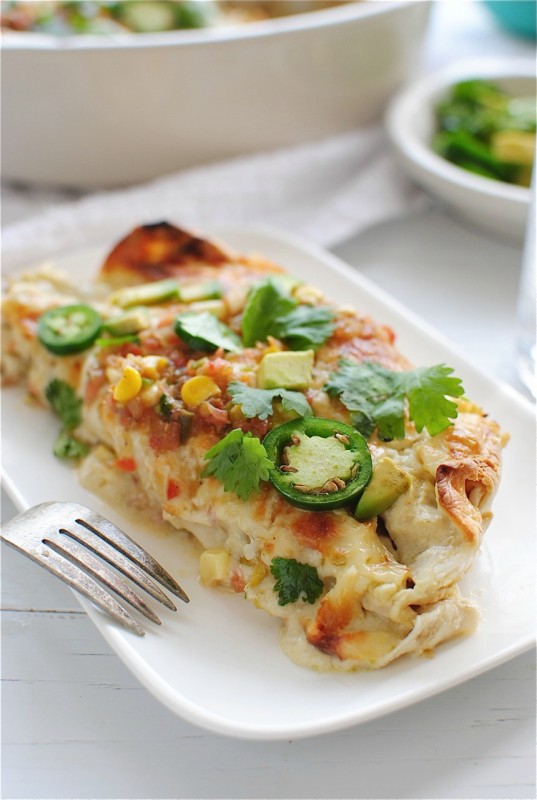 Matter of fact, did you hear that in Uzbekistan, the translation for Monday is in fact "cream sauce?" Yeah, it's a relatively new thing so don't try to look it up just yet.
But the trickster hook is that this cream sauce isn't just a regular cream sauce. Oh ho ho no, pigeons. It's actually a cream CHEESE sauce. As in, cream cheese. As in, the blocks. As in, the magic wand sparkle glow of Philly. As in, I totally hoodwinked my husband into eating it.
How did that go down, you ask? Like this:
Me, "You're going to LOVE these enchiladas. They're spicy and creamy and awesome bo-bawesome."
Him, "Looks really good. What makes them creamy? And did you just say 'bo-bawesome'?"
Me, sweating, "You tell ME. Just taste it. I swear there's no cheese in them." (I have no idea what possessed me to say that.)
Him, "No cheese? Really? Okay, is it heavy cream?"
Me, armpits sliding off my body in a river, "Nope! Just taste it."
Him, "Hmmm. Milk and flour?"
Me, morphing into a human pond, "WRONG! FREAKING TASTE IT."
He tastes it. Looks at me. Looks back at the food. Back at me. Back at the food. Back at me, "Bev, these are seriously good. The creaminess is really nic -"
"IT'S CREAM CHEEEEESE, SUCKA!! You've been SWINDLED! You've been HORNSWOGGLED! You've been FLIMFLAMMED, SANDBAGGED, FLEECED and TAKEN FOR A RIIIIIIIIIDDDAAAAAA."
Him, "Is that a cockroach behind your left foot?"
Who knew only half a block of cream cheese could bring about such beauty and wonderment in this world.
And overactive sweat glands, but whatever.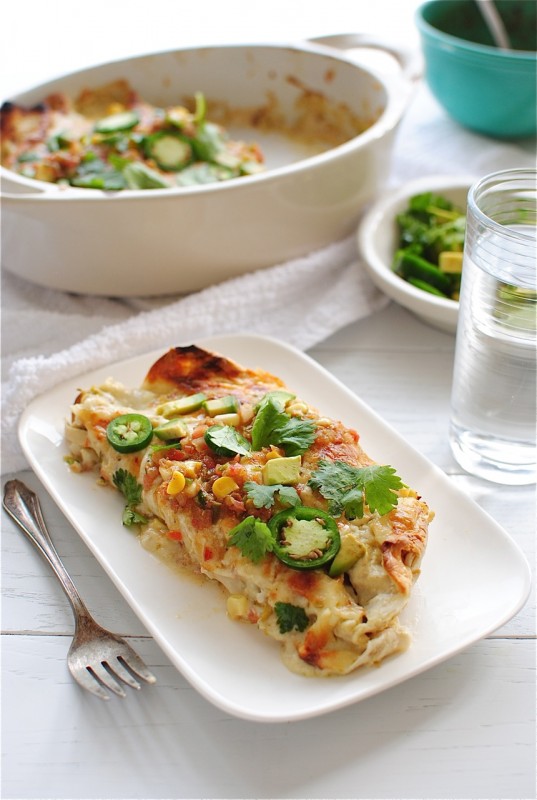 Don't wait even a day to make this.
Creamy Chicken and Jalapeno Enchiladas:
What it took for 4:
* 1 1/2 pound chicken breasts, poached in boiling water, cooled and shredded
* 2 (10 oz) cans green enchilada sauce
* 1/2 block (4 oz) cream cheese, at room temp (or more if you want!)
* 1/2 cup milk
* 1/2 cup jarred jalapeno peppers, chopped
* 2 Tbs. juice from jalapeno jar
* 1/2 cup cilantro, plus more for garnish
* 10 soft flour tortillas
* 2 cups pepper jack cheese
* cubed avocado, for garnish
* favorite salsa, for garnish (optional), ours was a corn salsa
* fresh jalapeno slices, for garnish
Preheat oven to 350.
In a large bowl, whisk together the enchilada sauce, cream cheese, milk and the jarred jalapeno juice.
In another bowl, combine the shredded chicken with 1/2 cup of the sauce mixture, jarred jalapeno peppers and cilantro. Mix together to coat.
Place about 1/3 cup of the chicken mix in the center of each tortilla and roll to close.
Pour about 1/2 cup of the sauce over the bottom of a 9×13 baking dish. I used two smaller baking dishes because my husband doesn't eat cheese and it makes me cry daily.
Arrange the tortillas seam side down in the baking dish. Pour the rest of the sauce over the enchiladas. Top with shredded cheese and bake for 30 minutes.
If you need to switch the oven to broil at the last minute to really brown and bubble that cheese, by all means.
Garnish with your favorite salsa, fresh jalapeno peppers, more cilantro and cubed avocado!
That creaminess, just get ready.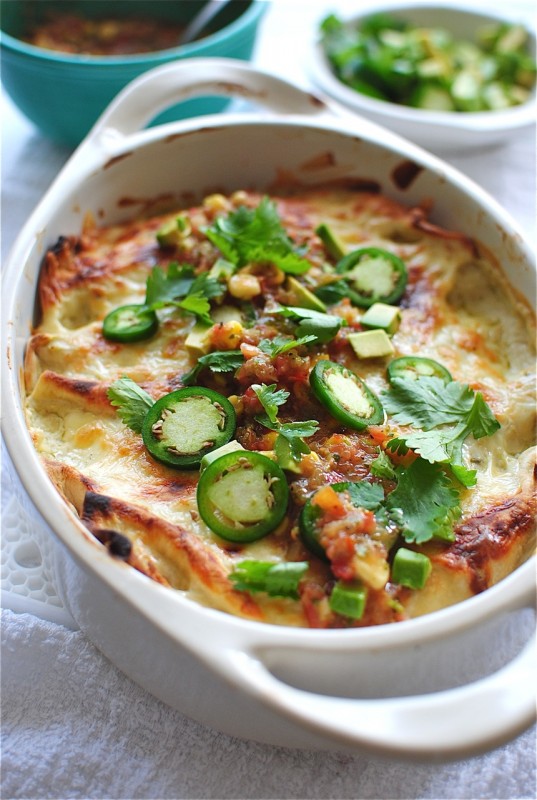 I'm just gonna set up camp in the bottom of that thing.