This would be my husband one upping me.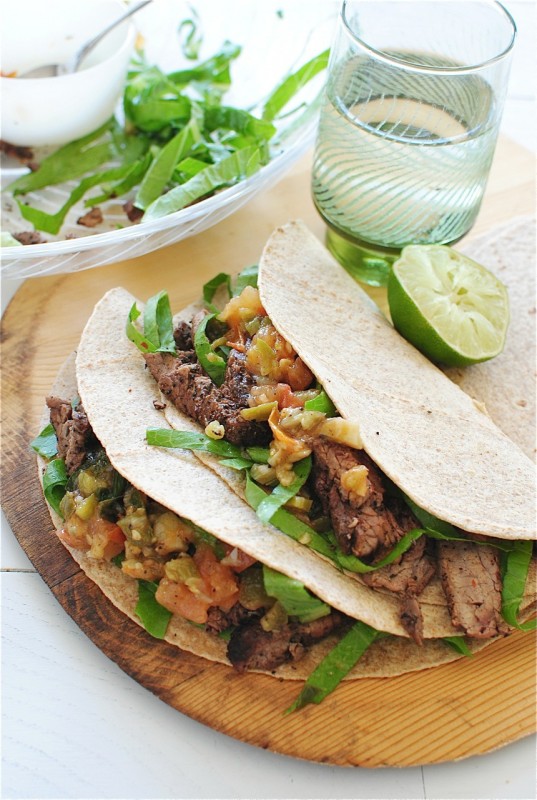 Funny how that works.
Last week I was feeling p to the un to the y, so I let Aaron take on some cooking d to the u to the ties.
Why am I already being such a troll?
Basically, Aaron absolutely loves to cook. But I hardly ever let him because A) he gets home pretty late during the week. Too late to cook and still have time for me to take pictures. B) He takes FUREVAR when he cooks. Just piiiiddles and takes his tiiiime and I end up hooooovering and micromaaaaanaging and it makes me want to strangle baby sloths. Not good. And C) Okay fine, he's too flippin' good at it and it makes me jealous.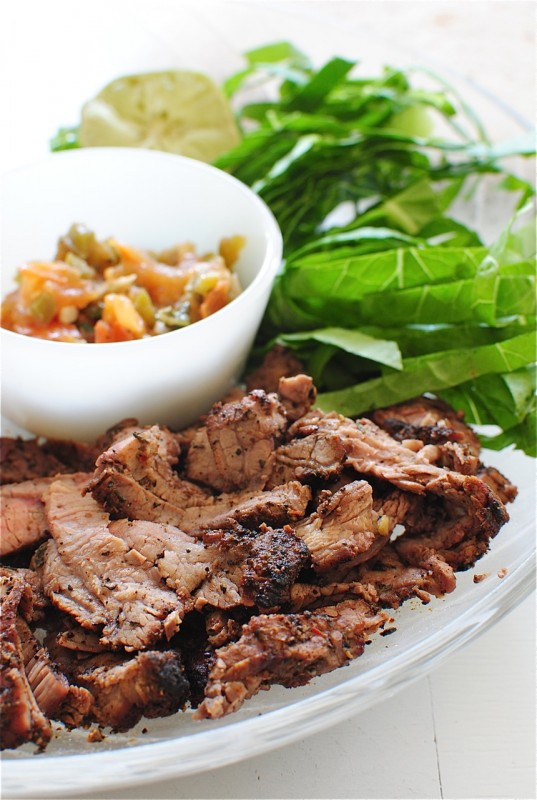 Our approaches to cooking are actually pretty different from one another. Case in point, the salsa. I would have probably blitzy blootzed it in a food processor and made it dainty and smooth and speckled with fairy dust. But he "fahred" up the grill and made it rustic and charred and chunky. Gave it chest hair. I like it.
Obviously I didn't get photos of all the grilling because I was on the sofa watching Judge Judy. SWEET LORD she terrifies me. I'm pretty sure she has chest hair too.
I'd like to also mention that our approaches to eating food are poles apart as well. If you give me a plate of food I will Tasmanian Devil my face through it in .239852 seconds flat.
Aaron? You give him a plate of food and he lets it sit there. Forever. "I need to let it cool," he'll say. YOU NEED TO WHAT? He'll lean back, watch some TV, chit chat about some tornado he wishes he could chase. And I'm like, "DUDE YOUR FOOD IS ICE COLD BY NOW. I DO NOT UNDERSTAND THIS." And he'll say to me, "Bev, the eye of the tornado was over a mile wide. Can you even imagine?"
This is like, everysingledayofmylife, you guys.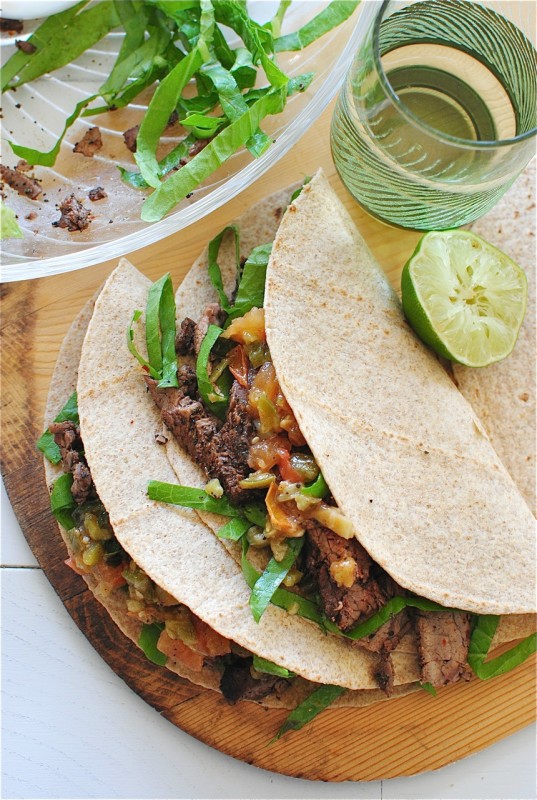 It's a good thing he fed me steak.
Spicy Steak Tacos with a Grilled Tomato Chard Salsa:
What it took for 6-8 tacos:
for the steak:
* 1 pound flank steak
* 1 Tbs. cumin
* 1 Tbs. chili powder
* 2 tsp garlic powder
* 2 tsp smoked paprika
* 2 tsp ground coriander
* 1/2 tsp coarse salt
* 1/2 tsp freshly ground pepper
for the salsa:
* 1 large beefsteak tomato, cut in half
* 1/2 large white onion, cut into large slices
* 3 cloves garlic, minced
* 4 large swiss chard leaves, ends trimmed
* 1 jalapeno pepper, sliced in half lengthwise
* coarse salt and freshly ground pepper
* 1/2 cup freshly chopped cilantro leaves
* 2 limes (partly for the juice, partly for garnish)
for the rest:
* 1 bunch romaine, thinly sliced
* guacamole
* whole wheat tortillas
* any cheese you want, like maybe crumbed queso fresco?
Combine all the spice ingredients in a small bowl and evenly pat it into the steak on both sides. Cover and rest for 30 minutes.
Preheat a grill to medium high. Lightly oil the grates.
Place the tomato halves on the grill, cut side down. Then arrange the onion slices and jalapeno pepper halves on the grill as well. Grill and flip and flip and grill until the veggies begin to soften, and have nice grill marks on all sides. Remove and place on a cutting board.
Place the chard leaves on the grill and cook until they begin to slightly brown, just a few seconds. Flip and do the same. Remove from the grill.
Now give everything a good chop (tomatoes, onions, peppers and chard) and place it all in a bowl along with the minced garlic and cilantro leaves. Give it all a good toss with some salt and pepper, and a nice squeeze of lime juice.
Grill the steak to your preferred doneness. Rest for 10 minutes and thinly slice.
Serve steak tacos with grilled salsa, romaine lettuce and more lime juice!
And cheese if you want. You should want.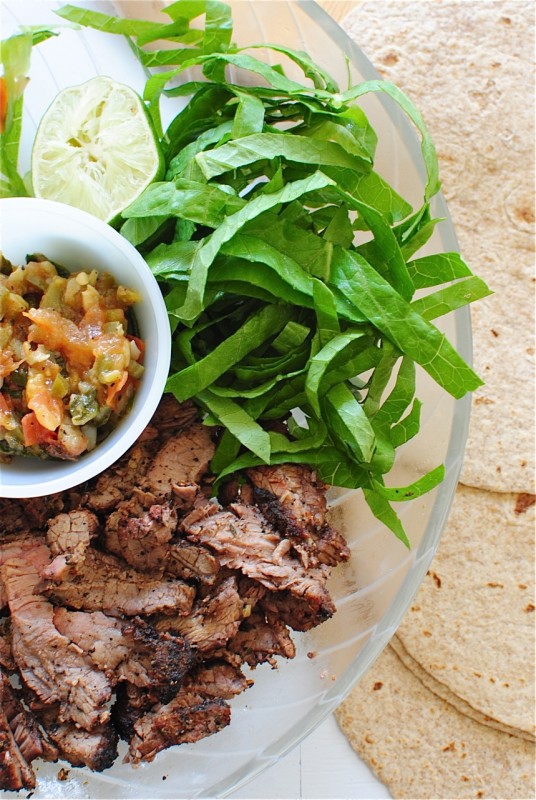 Can you imagine being married to Judge Judy? Lawwwwwwwwwwwwwd help him.