I don't know about you, but my fancy is like, way tickled with all these appetizers this week.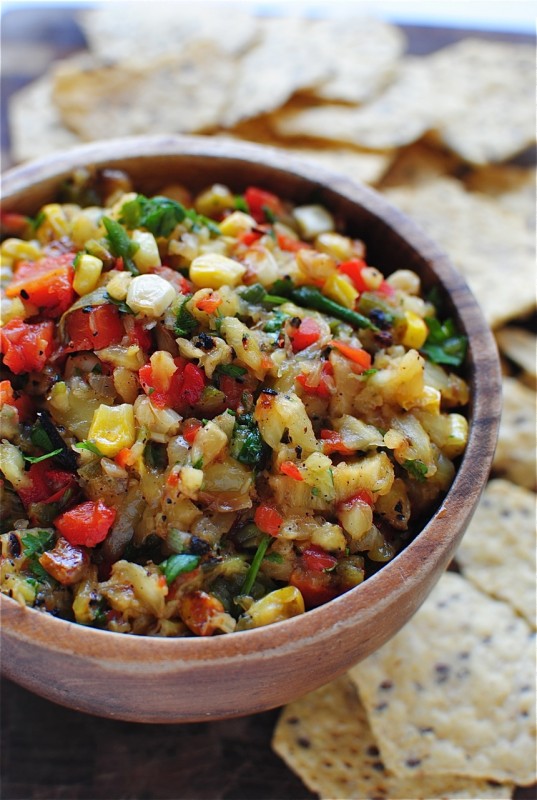 And we're not done yet, my sweet pookie bears! (I'm sorry. I'm going through some things. Just . . . let me.)
I'm posting something summery and grilly and dipperydoo today to help my heart come to terms with what I'm hoping is a major typo on the weather.com as they predict THREE TO FIVE INCHES OF SNOW tonight. In Kansas. In May. In my back yard. And front.
I don't know about you, but my fancy is like, way the opposite of tickled at the thought of such wonk-a-loo.
My tulips' fancies are like, way giving this weather prediction the bird, too. (it's actually kind of funny because they're at that end stage where a few petals are hanging down and a few still struggle to stand up. so it kind of looks like they're giving the bird! haha! ugh.)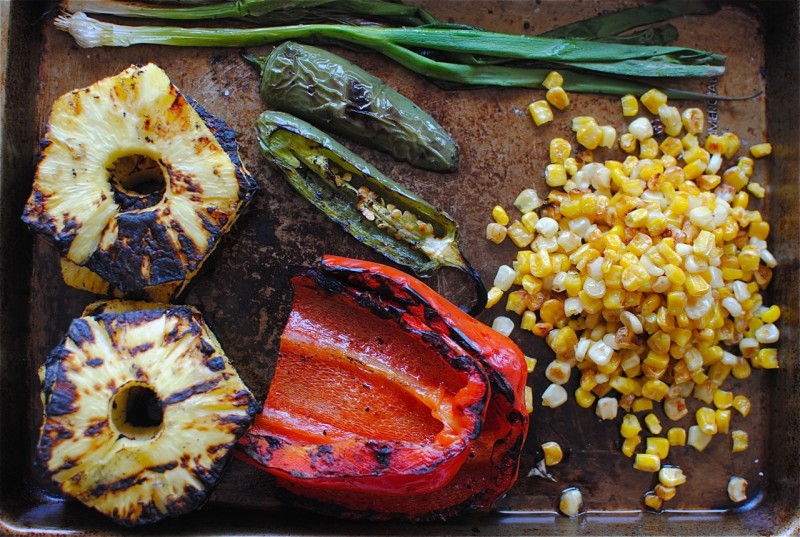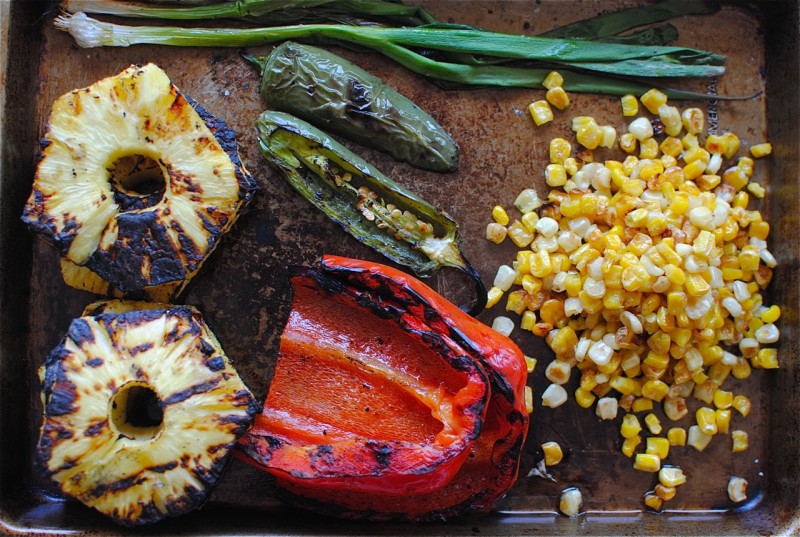 After grilling a pineapple for this here salsa, I've decided to become obsessed with it. Have you ever grilled a pineapple before? I could probably count on one hand, using one finger, counting this time, the times I've grilled pineapple. That is pure blasphemy. Things are gonna change, I can feel it (wah ha wah ha wah ha.) – Name that song.
The deal with this salsa is, not only does it have pineapple in it, but there's also some kick-yo-face-in heat with some grilled jalapeno (just leave the seeds out if this idea puts you in the fetal position), some delicious grilled corn, grilled SCALLIONS (I felt like that deserved all caps), grilled red bells, lots of fresh mint and cilantro and lime juice, and some – wait for it – crystallized ginger.
I know!
I'd never thought of adding such a rare delicacy of the hidden worlds (it's not a rare delicacy of the hidden worlds) into a salsa until I saw Steven Raichlen do it on the TVs. It's nice! Subtle. If you don't have any, no sweatpants, just use regular sugar, sugar. (I'm still going through things. Let me.)
Speaking OF, I've been wearing these earrings lately that when I hug anyone, they poke into my head behind my ear and blood streams down my neck. It's quite possibly the scariest thing you've ever seen. Should I Vine it? No? Wow, that was quick.
Please make this salsa. For the love of Pete and all of Pete's friends, make this salsa. Make it simply for the sake of dipping (recommended), or spoon a backhoe load over some grilled brats, chicken, steak, whateverz (really, really recommended.)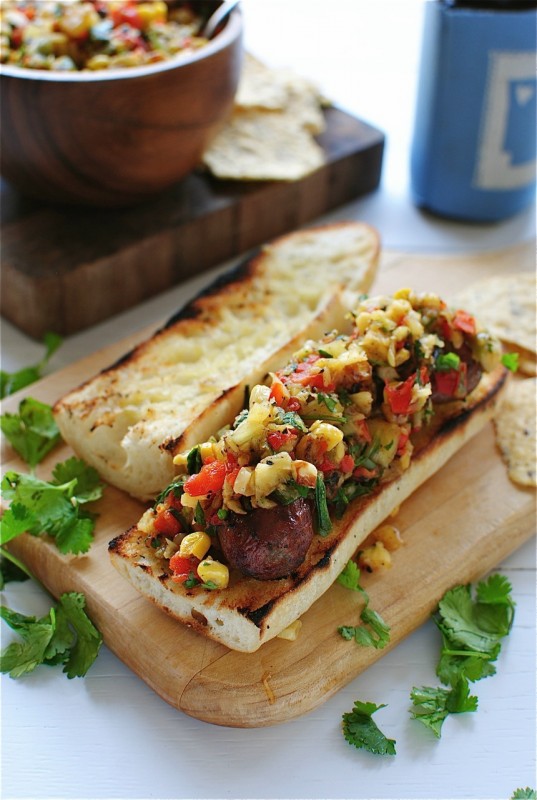 Or just stick your head in it. (obviously recommended)
Grilled Pineapple and Corn Salsa:
(inspired by Steven Raichlen. OH THAT STEVEN.)
What it took for 4 (as a dip):
* 1 pineapple, peeled, and cut into 1/2-inch sliced (and cored – I just used my paring knife to cut it out)
* 1 red bell pepper, seeded and cut in half
* 3 scallions
* 1 jalapeno pepper, halved lengthwise (for less heat, remove seeds)
* 2 ears corn (or 1 cup frozen corn, broiled, using this method!)
* 1 Tbs. crystallized ginger
* 3 sprigs fresh mint
* 1/3 cup fresh cilantro leaves
* 2 Tbs. fresh lime juice (or more to taste!)
* coarse salt and freshly ground pepper
Preheat an outdoor or indoor grill.
Place the pineapple slices, red bell pepper halves, jalapeno pepper halves, ears of corn and scallions on the grill. Drizzle a little olive oil over everything and a quick pinch of salt. Grill until everything is nicely charred and gorgeous. All the cooking times will be a little different. The scallions will come off first. Then everything else will take a few more minutes.
On a cutting board, give everything a super rough dice. Nothing crazy.
Now, place everything in the food processor EXCEPT the corn (but including crystallized ginger, mint, cilantro, lime juice, salt and pepper) and pulse just a few times until it's still all good and chunky. You don't want to puree it. Just a few pulses. There you go.
Pour the salsa into a bowl and stir the corn in. Taste it. Need anything? Besides another taste?
Serve with chips or over anything you want, bebeeeees! (still going through the things)
*Don't forget to enter to win Gaby's cookbook, Absolutely Avocados!