Game changer.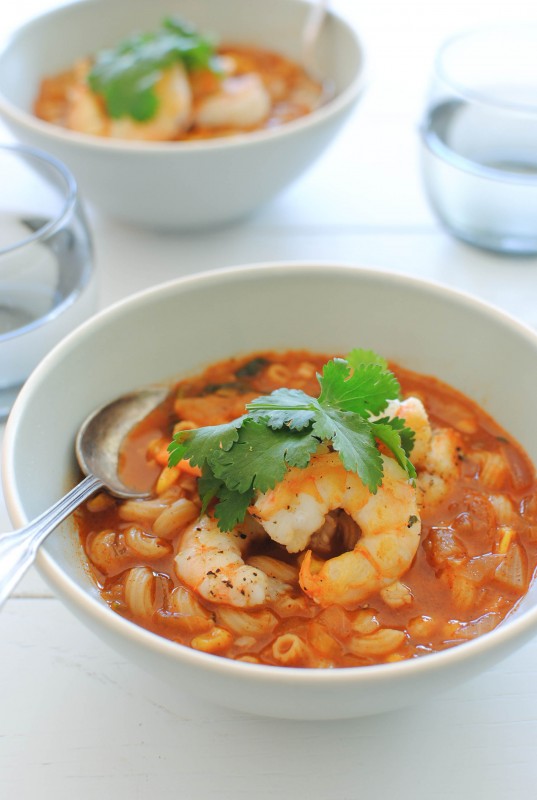 And you know what, I'm not even going to bore you to tears with some random run-on story about the other day when I went to the grocery store and saw some d-tard parked IN FRONT OF THE SHOPPING CARTS and not in a regular parking spot. And how I took a picture of it with my phone and sent it around to a group of friends and we laughed and got pretty ticked off simultaneously because really, who does that. And it was a Mercedes too. AS IF that gives you some cool elite pass to park all willy nilly in the parking lot. I gave that Mercedes a knuckle sandwich, I did. And it hurt pretty bad, but that's beside the point. Took one for the team. And then I ran away because I didn't want the cops to throw me in jail for taking pictures and punching a car. But I'm not going to go into all of that right now.
Hey! I've got some news about corn. Ya gern fleep. Did you know, and I kid you not, that you can take frozen corn, no seriously frozen right from the bag, put it on a baking sheet with oil, salt and pepper, still totally frozen, stick it under the broiler, still not kidding, and about five minutes later, no really, you'll have perfectly roasted little corn kernel babies of crispy glee?!
Seriously! I feel like I've been roasting corn like every 10 minutes lately, so instead of actually letting the oven heat up (yawn) and roasting it in the oven for 10-15 minutes (yawn yawn), I tried broiling it and it works! Totally works! Absolutely works! (annoyed yet?) Completely works! (one more) Fah-rickin' works!
So get this. BBQ Shrimp Minestrone, which you already know because of the title, but omg, I can't beg you hard enough to make this.
A) It's ludicrously simple to pull together. Seared shrimp, a BBQ flavored broth which, oh wait. This should be my B.
B) Yew GUYZ, the broth. The amazing thing is that each soup is going to taste completely different because of how different BBQ sauces taste. Some will be smokier, some vinegary-er, some tomato-y-er. Isn't that so neat? It makes me think of little paper children holding hands, making the world go round. (ignore that last part)
C) I call it minestrone because it has pasta in it. HA-BIGGIDY BAM.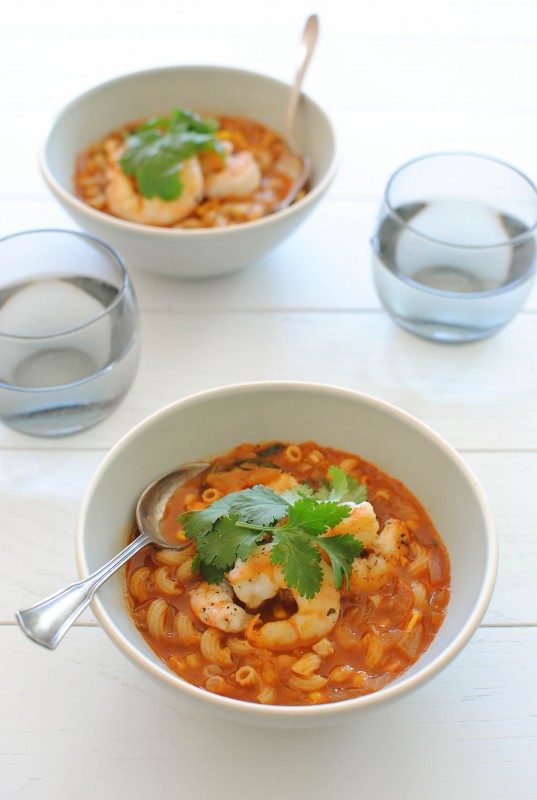 D) And of course the broiled corn! (I had to throw in another exclamation point before the post was over.)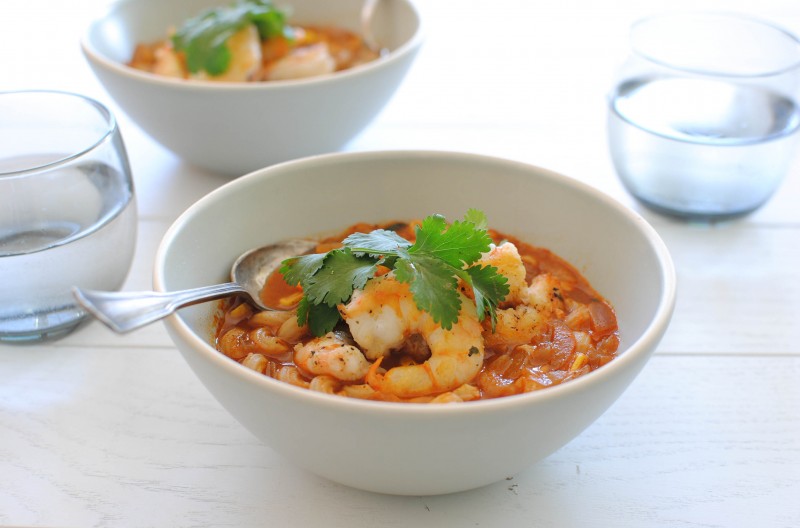 Just get in it.
BBQ Shrimp Minestrone:
(the adding bbq sauce to soup method inspired by Jenny)
What it took for 4:
* 3 – 4 Tbs. extra-virgin olive oil, divided
* 1 pound shrimp, peeled and deveined
* 1 red onion, diced
* 4 cloves garlic, minced
* 4 cups chicken stock
* 3/4 cup favorite bbq sauce (or a full cup if you want!)
* 1 cup cilantro
* 1 cup frozen corn
* 1 cup small pasta
* coarse salt and freshly ground pepper, to taste
Heat your broiler to high. Arrange the frozen corn on a rimmed baking sheet. Drizzle with a Tbs. of oil and sprinkle with a pinch of salt and pepper. Stick under the broiler for about 5 minutes, or until the corn gets slightly browned and crispy. You can just set it aside for now.
Bring 2 Tbs. oil to a medium-high heat in a large pot. Season the shrimp on both sides with salt and pepper, and sear on one side for 2 minutes; flip and sear 30 seconds to a minute. Remove from the pot and set aside. You can do this in batches in needed.
Add another Tbs. of oil, and add the onions; sauté about 5 minutes, until they start to soften. Add the garlic and sauté until fragrant, about a minute. Add the broth, bbq sauce, cilantro, roasted corn and pasta. Simmer until the pasta is cooked through, maybe 8 minutes? Depends on the kind of pasta you throw in der. Okay taste that. Need anything? Go rawt ahead.
Now, you can do this two ways: You can ladle the soup into bowls and serve with a few shrimp on top, garnished with cilantro. Or you could just dump the shrimp back into the soup and then ladle and serve! Whatever you want. It's all good. No worries, mon.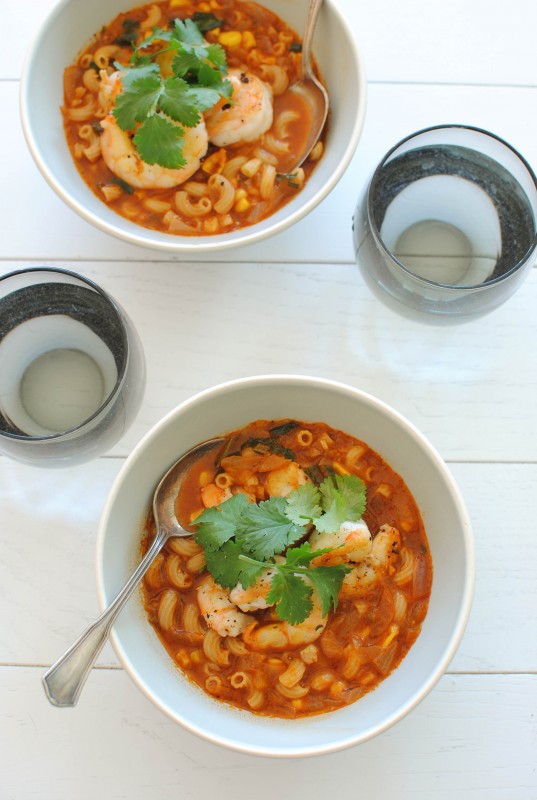 Dinner tonight? Yessshhhhhh.