March Madness is about to be up. in. herrrrrrrrrr.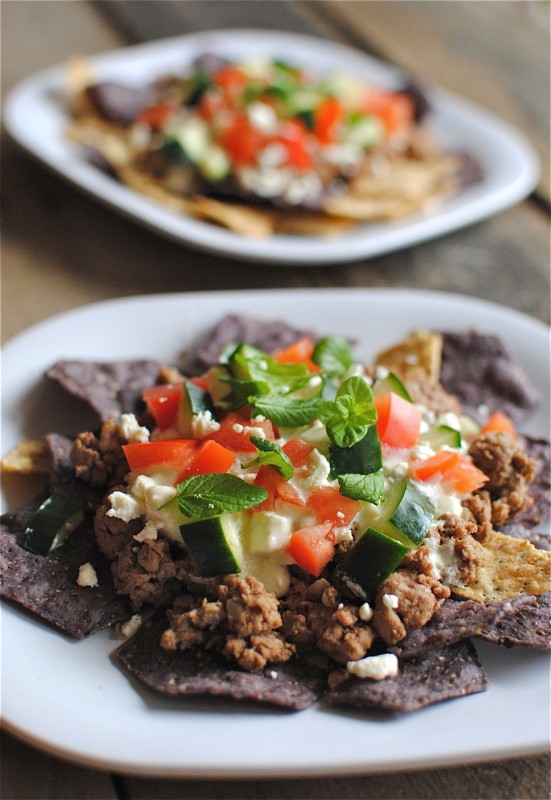 Which I guessing most of your jaws just fell off their hinges and landed in your laps at my enthusiasm over this. "THAT girl likes sports? THAT weirdotron knows what basketball is? THAT goober boob?"
Truth be told, I don't know jack about it. I just get excited at the slam dunks and the dribbling and the close calls. It's almost too much for my blood pressure but eh, I don't care. I'm scared to tell you what team I watch because you're either an ENORMOUS DIE HARD fan or you want to throw them into the ocean with weights on. So I'm not even about to tell you.
Okay fine I'll tell you. I like KU.
OH HEY LOOK AT THOSE AWESOME GREEK NACHOS UP THERE. Don't you just want to gobble them right up? I said gobble because there's some seriously seasoned turkey in it. Ooooo and a creamy feta yogurt sauce. Aaaaaand fresh cucumbers and tomatoes aaaand you are either rejoicing with confetti or kicking your monitor at my face for liking KU.
Who's your favorite team?! Are you pumped up for March Madness? Should I never say pumped up again? Probably so.
Make these super simple Greek Nachos and eat them. Air Nacho! (omg sorry)