I know. IknowIknowIknowIknowIknow.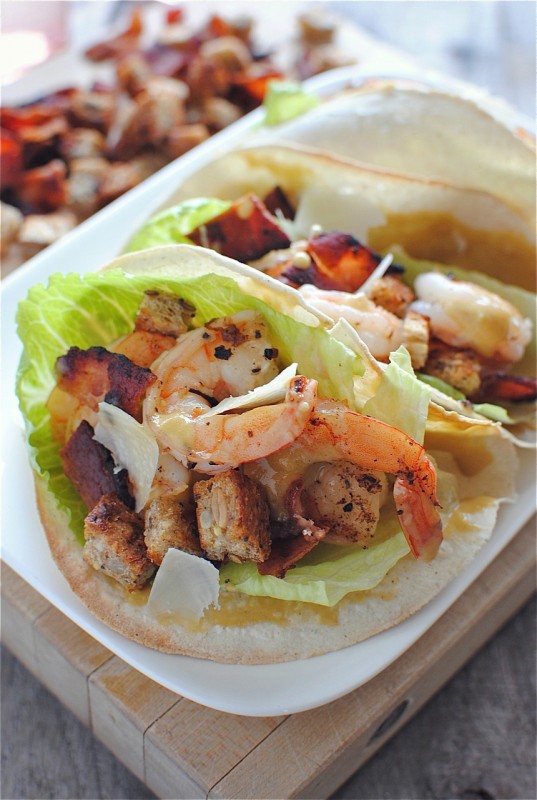 What have I done. How could I even. What was I thinking. Who killed JR.
These thoughts are most likely bouncin' around noggin town right about now. And rightly so. Who do I even think I am taking one of life's most well known prized and cherished historical food items on one of life's most well known prized and cherished historical fast food chain menus and making it . . . healthy?
Off with her head!
But let me tell you a story.
We were cruisin' back to the Midwest after spending a few days in Arkansas for ze Thanksgeebeen. We stopped at a Taco Bell to grab a snack, because we always do and it's just what we do and have always done and will probably always do so don't judge me. I ordered a double decker taco because why wouldn't I? I ate it slowly, savoring the sloppy yet crunchy awesomeness that it was.
And then five minutes later as it settled in my stomach, it somehow grew boxing gloves lined with death and regret, and it beat me up from the inside out for the next 15 thousand hours. Ugh, I love it.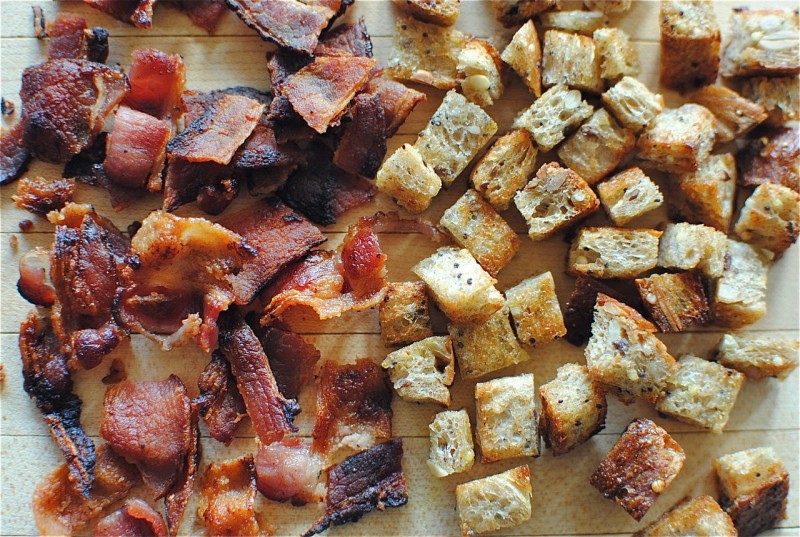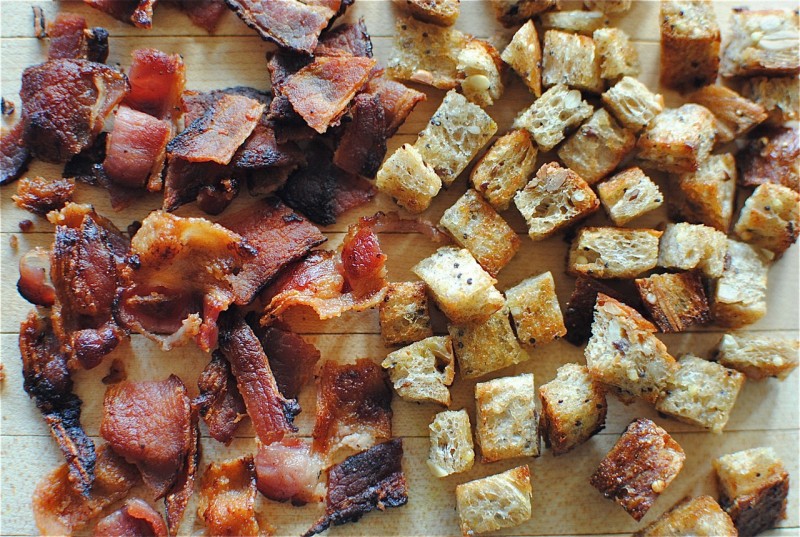 So as I safely drove us home with my eagle eye and acute awareness of the dangerous outside elements and my husband peacefully slumbered next to me with our warm pup in his lap and fluffy pillows all around and I'm not quite sure how we came up with this agreement but whatever, it hit me.
Well, besides the army of angry ghosts raging inside my abdomen.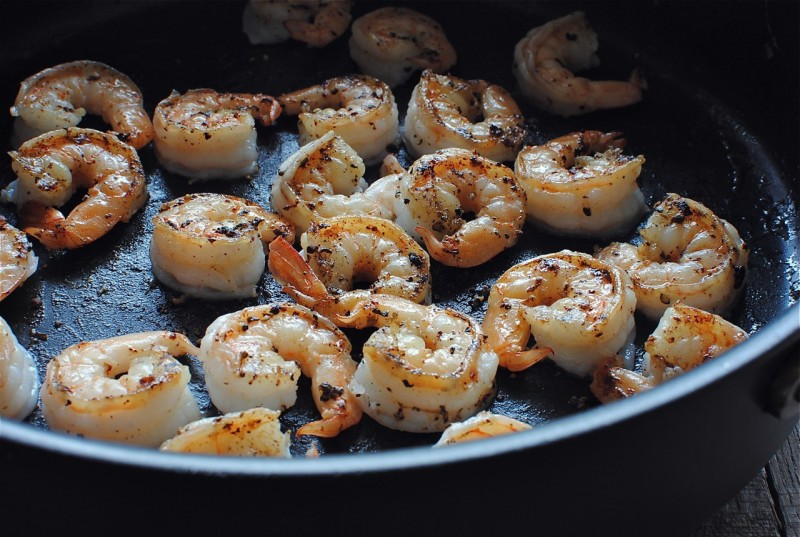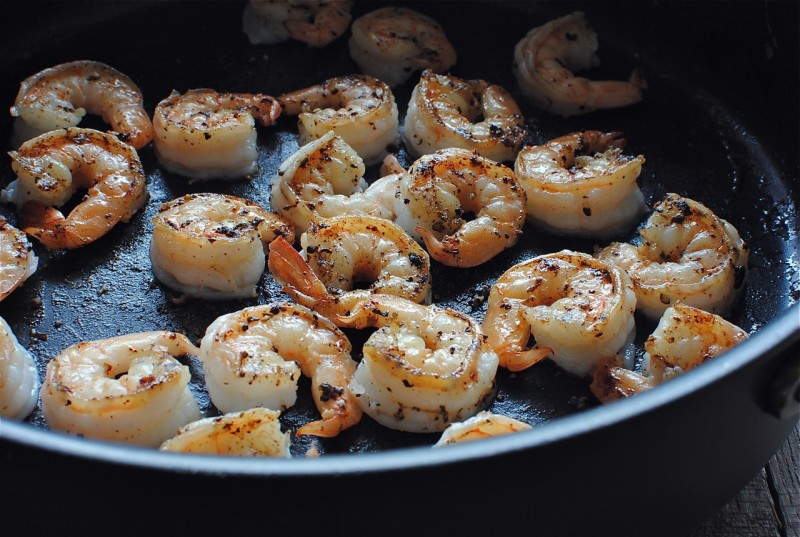 "I'll caesar salad it! Aaron I'll make it caesarfied! Dude, wake up! I'll make it with shrimp and bacon and little homemade croutons and I'll stick a romaine boat inside a tortilla and bind it with creamy caesar dressing and our love will grow stronger and life will never be the same!"
He didn't move.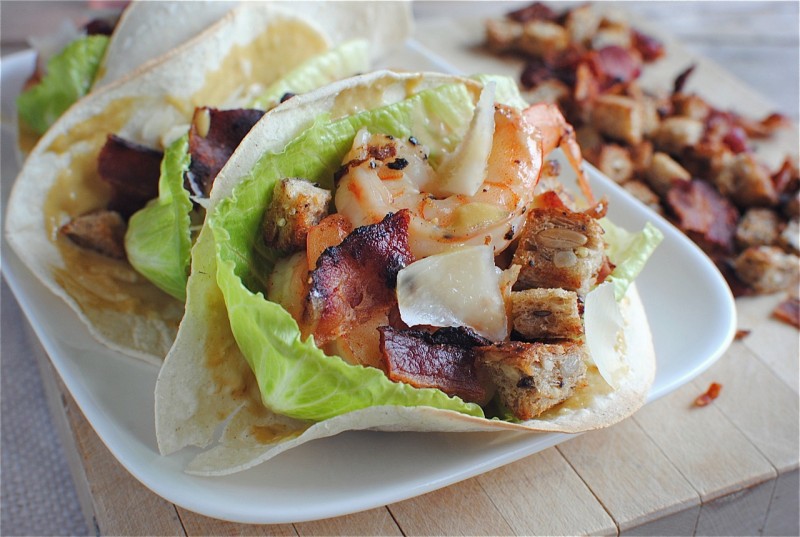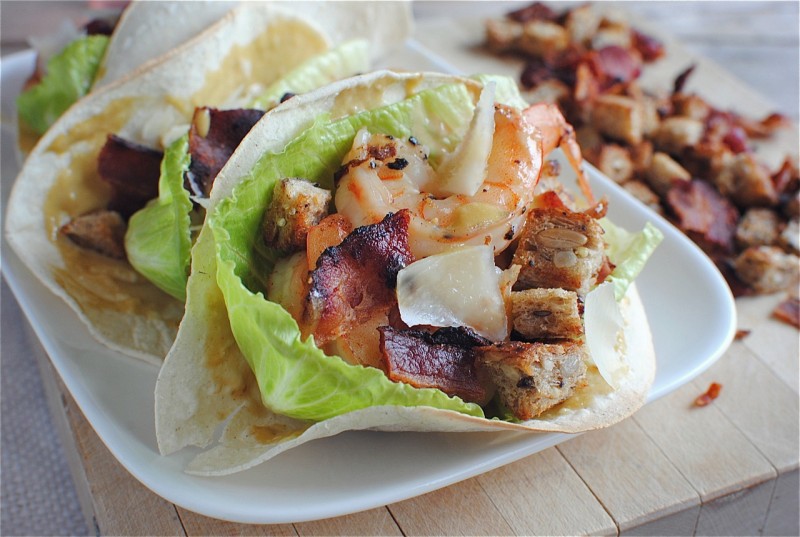 Ya just gotta do this.
Double Decker Shrimp Caesar Salad Tacos:
What it took for 2 (or 4 tacos):
* 1/2 pound shrimp, peeled and deveined
* 4 slices bacon
* 1 tsp extra-virgin olive oil
* 1 slice multi-grain bread, cut into small cubes
* 1/2 tsp garlic salt
* 4 white or yellow corn tortillas
* 4 slices romaine lettuce
* parmesan shavings for garnish
* coarse salt and freshly ground pepper
for the dressing:
* 1 egg yolk
* 1 garlic clove, smashed
* 2 Tbs. anchovy paste
* 1 tsp Dijon mustard
* 1/2 cup extra-virgin olive oil
* 1 Tbs fresh lemon juice
* 1/2 tsp worcestershire sauce
* 2 Tbs. freshly grated parmesan cheese
Preheat oven to 450.
Heat a large skillet over medium. Add the bacon and cook until crispy and the fat has rendered, 7 to 10 minutes. Remove the bacon from the pan and set aside on some paper towels to drain. Then just break it up into pieces. Eat a piece just to make sure you did it right. Maybe eat another juuuuust to be positively sure.
Back in the pan, add the shrimp and sear in the delicious bacon fat on one side for three minutes. Flip and sear a minute or two more. Remove from heat.
Toss the bread cubes with the tsp of oil and the garlic salt. Toast in toaster oven (or regular one) for about 5 minutes, until crispy and golden brown.
In a food processor, add the egg yolk, clove and anchovy paste. Pulse to combine. With the motor running, add the oil in a thin stream. Lastly, add the lemon, parmesan and worcestershire sauce. Give it one more blitz. Taste it. Reedic.
Take your tortillas and position them between the cups on the back of a muffin tin. Slide them into the oven for 3 minutes until nice and crispy. I discovered this cool technique here!
Spread the inside of the each tortilla with the dressing. Then nestle a romaine boat right down inside each tortilla. Tuck the shrimp, bacon, croutons, another drizzle of the caesar dressing and some good parmesan shavings inside each taco. Maybe give it a couple grinds of pepper? Why not.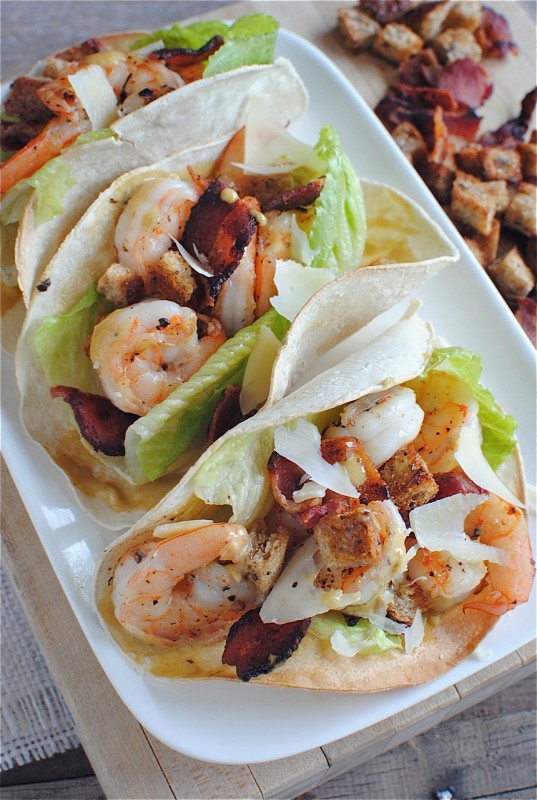 Go ahead and sextepletuple this recipe for the love.