Okay so the only real thing vindaloo-y about this meal is the actual seasoning, but I'm a'ight with that.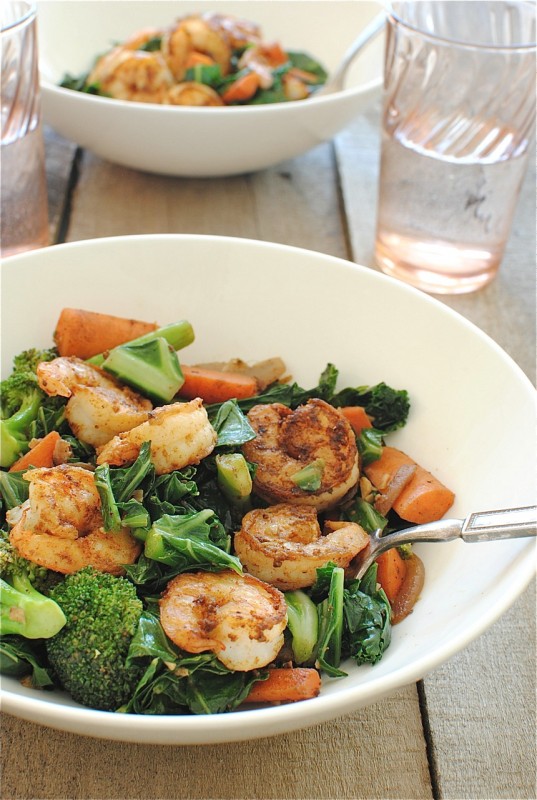 I like to think of this dish as my wingman. And it's wearing some awesome Ray-Bans.
Here we are, on the brink of what is about to be the barn door of belly poochapalooza. And I'm out there, in the arms of danger, seduction at every turn, and I start to tip one way, and then back another, losing sight of health, losing track of calories, losing count of how many comas are in this sentence, and then I remember my friend, my stabilizer, my rock, my sandbag, my seared shrimp vindaloo with kale and collard greens and broccoli and carrots, and I say to myself, "seriously, home girl, end this sentence already because this coma usage is about to make me all kinds of vindaloony."
Yeah, I've only been dying to say that for two weeks now.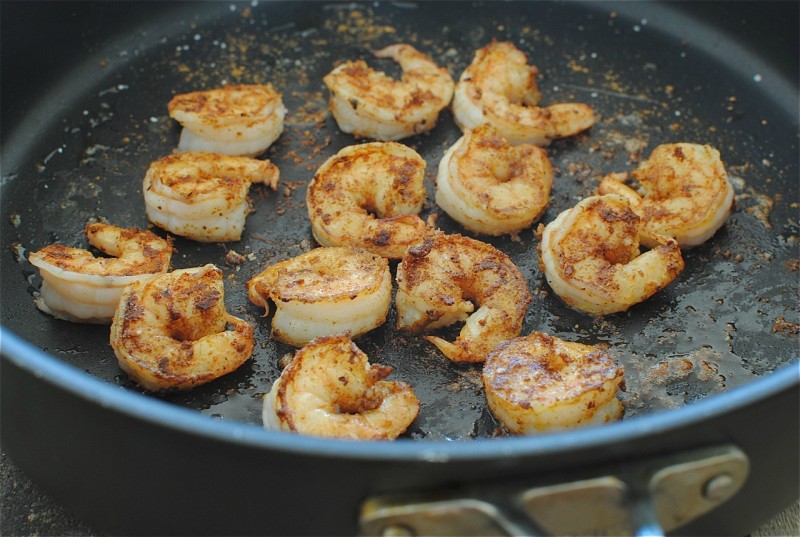 This meal has your back, yo. It has every single thing in it that your expensive night cream does.
Actually don't quote me on that.
But peep this; we got carrots, broccoli, onions, garlic, wilted kale and collard greens and curried seasoned shrimp. Gonna keep you tight, bra!
I have no idea why I insist on talking like a frat dude.
Come along now. This way to health. Don't be a vindalooser.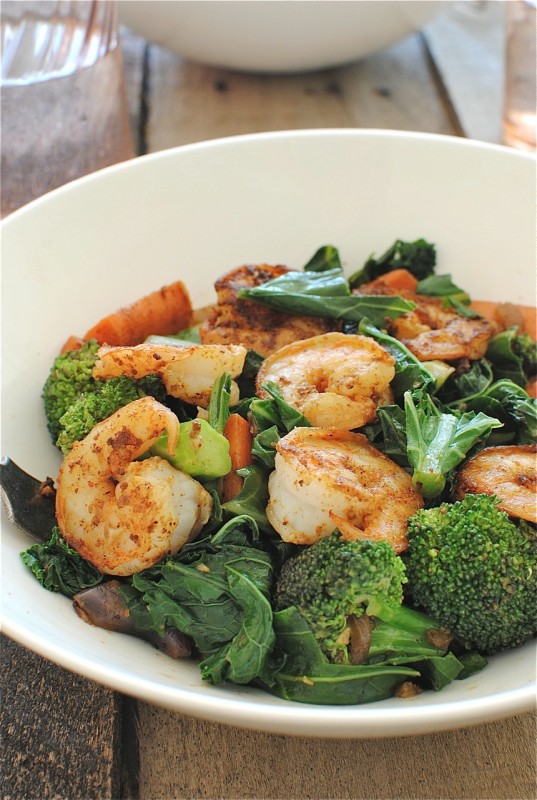 Skip to my vindaloo, my darlin'.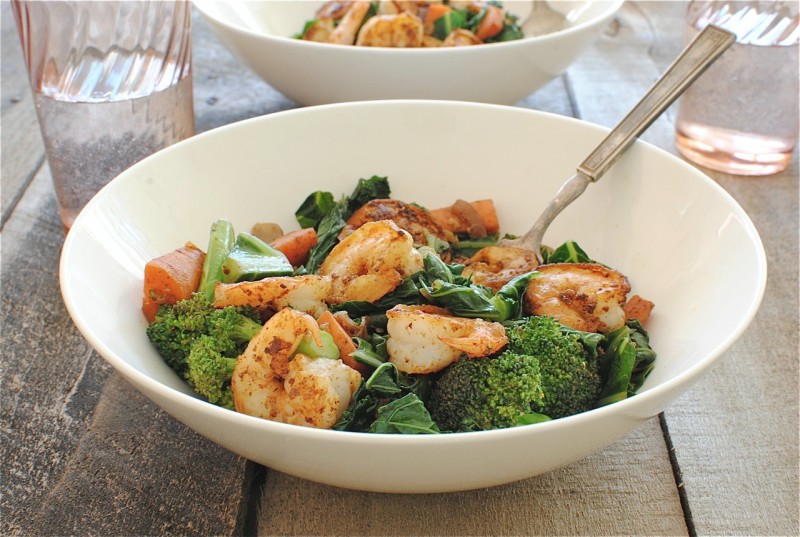 I've been dying to say all that too.
Seared Shrimp Vindaloo with Vegetables:
What it took for 2:
* 2 Tbs. extra-virgin olive oil, divided
* 1 Tbs. vindaloo seasoning
* 1/2 pound shrimp, peeled and deveined
* 1/2 red onion, thinly sliced
* 1 carrot, chopped into bite-sized pieces
* 1/2 head of broccoli, broken into florets and ends trimmed
* 3 cloves garlic, minced
* 1/2 bunch kale, roughly chopped
* 1/2 bunch collard greens, roughly chopped
* coarse salt and freshly ground pepper
Sprinkle the shrimp with the vindaloo seasoning.
Heat a Tbs of the oil in a large skillet. Add the shrimp and sear on one side for 3 minutes. Flip and sear another minute or two. Remove the shrimp from the skillet, cover and set aside.
Back in the pan, add the remaining oil. Add the onions and carrots and sauté about 5 minutes, until they start to soften. Add the broccoli and garlic; sauté another 3 minutes. Season with salt and pepper.
Add the chopped greens and sauté until wilted, 2 to 3 minutes. If you want you could even toss in a little more vindaloo seasoning. Actually, just do that.
Add ze shrimp back to the skillet and give it all a good toss.
Taste it. Need any salt? Dew eet.
Serve immediately and reverse the effects of time! (not really though so don't quote me on that either.)
p.s. I know the word loser only has one o. But sometimes we make decisions in life for the sake of a giggle, even if we look a complete idiot. Never mind.