Are you totally sick of seeing tomatoes and zucchini in EVERY SINGLE POST?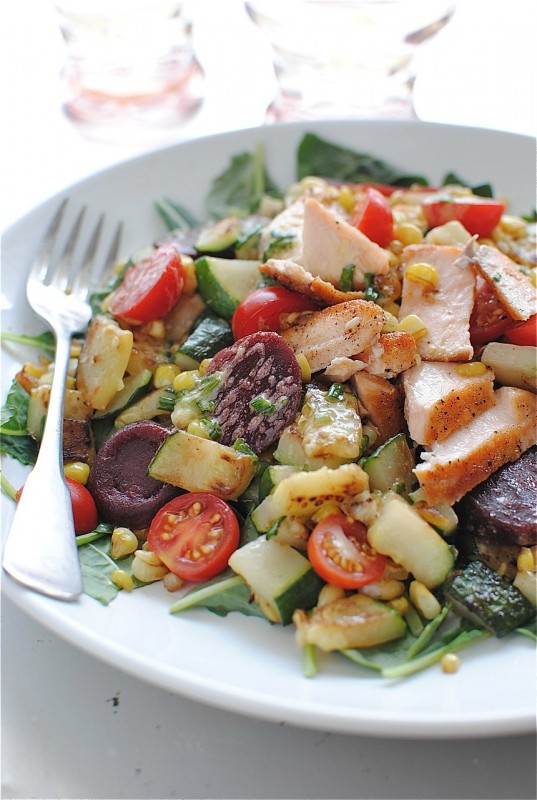 Because I hear ya. But first we gotta talk about this salad. Omg.
I didn't rightly know what was going to unfold when I made this salad. Didn't really have a plan or an agenda. All I knew at that moment in time was:
A) Aaron was doing something worky at some sports field or something. (yawn)
B) Fleetwood Mac's Rumours still rules everything ever.
C) My top knot was lookin' pretty saggy.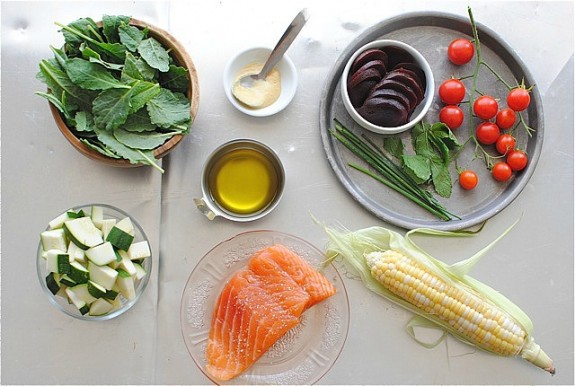 Once those three elements came together like a perfect storm in my head hole, the message was clear: girlie food extravaganza time to the max and back.
Not that Aaron won't eat this kind of food. Oh, you better bet your bottom dollar he will. But I'd just picked up some baby kale and precooked beets (they were out of fresh beets) at the sto' and was giggling at how the words baby kale sound when said over and over.
Baby kale, baby kale, baby kale.
(I clearly need friends.)
So the salmon. You know I'd never really thought about searing the salmon, letting it cool and then pulling it apart with my fingers for a loose, flaky, casual look. I learned it in Gweneth's new cookbook!
Did you like how I didn't say Paltrow? As if she's a bf of mine? Yeah, you're about to loose, flaky, casual look my face with your fist.
This salad = hammer time. It's got the warmth of the salmon and the sautéed veggies, with the cool bursts of cherry tomatoes and soft beets, finished with a simple bright chive vinaigrette and fresh mint leaves. Oh. Oh, yes.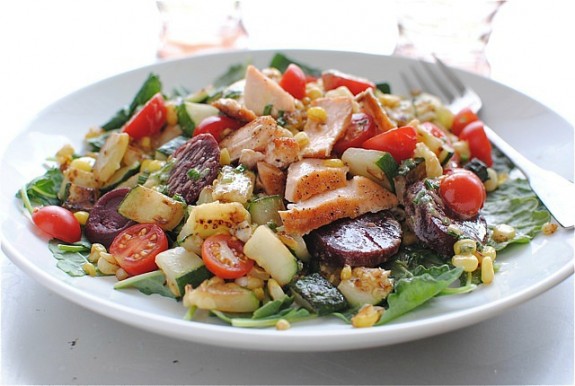 Didn't you want summer to land in your mouth and stay awhile?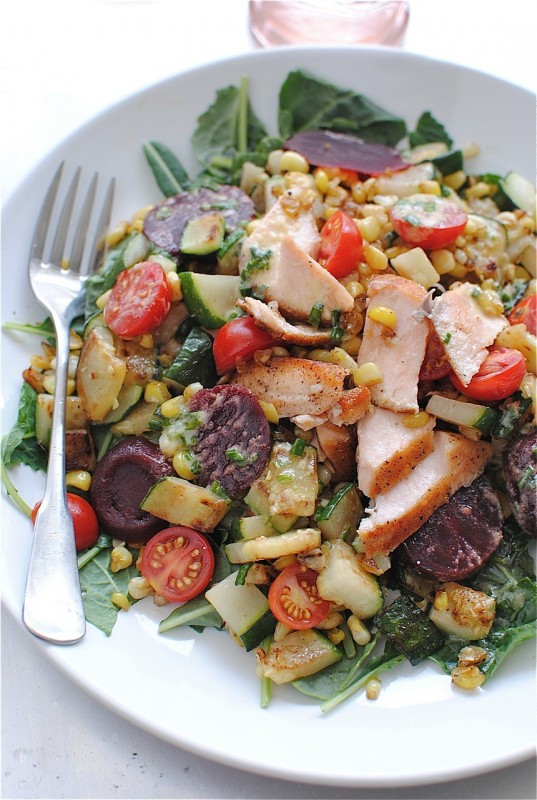 My top knot is still pretty saggy though.
Seared Salmon Salad with Kale and Garden Vegetables:
(inspired by Gweneth's new cookbook.)
What it took for One:
* 4 Tbs. extra-virgin olive oil, divided
* 1/2 cup sliced zucchini
* 1 small ear corn
* 1 fresh salmon fillet
* 1 cup baby kale leaves
* 1/4 cup sliced, cooked beets
* 1/2 cup halved cherry tomatoes
* 1 Tbs. Dijon mustard
* 1 tsp chopped chives
* 1 tsp chopped fresh mint leaves
* 1 pinch coarse salt and freshly ground pepper
Heat 2 Tbs. oil in a medium skillet over medium-high. Add the zucchini and corn, season with a pinch of salt and pepper and sauté until softened and slightly browned, 5 minutes. Remove from pan and set aside.
To the pan add the salmon. Season with salt and pepper and sear until cooked through but not overdone, about 3 minutes per side. Remove from pan and pull apart with your fingers, once cooled a little.
In a small bowl, whisk together the remaining 2 Tbs. oil, Dijon, chopped chives and a pinch of salt and pepper. Add more oil if needed.
Arrange the kale leaves on a large plate. Loosely place the salmon pieces over the greens, along with the corn and zucchini. Then place the tomatoes and beets over the vegetables. Drizzle the chive vinaigrette over the salad and garnish with fresh mint leaves.
Um, yeah.