I have a bone to pick with tofu.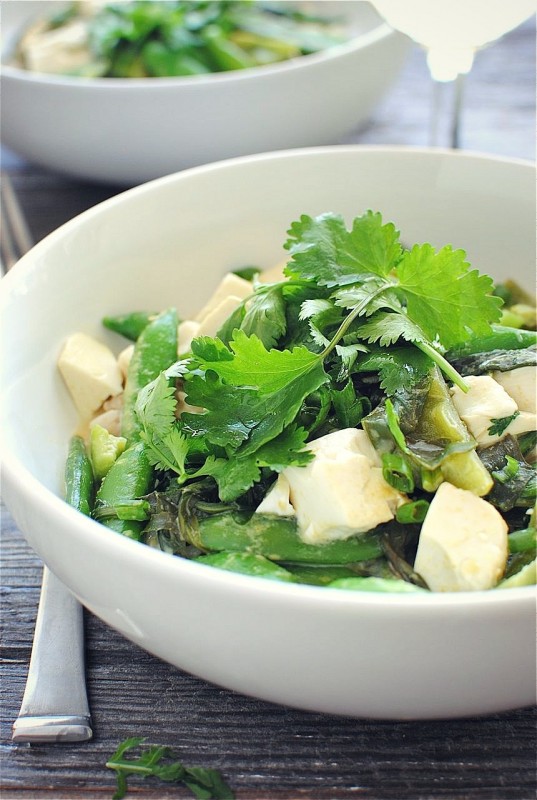 You know how when you go to a Thai restaurant with your vegetarian friend and he/she orders something with tofu in it and it comes back to the table all beautifully nestled in a vibrant sauce with colorful vegetables and the tofu is in DISGUSTINGLY PERFECT little squares, masterfully crisped and golden brown on all sides with no signs of breakage and then your friend flicks your nostrils for being 2 inches away from her food?
OKAY.
That has to be fried, right? Like, deep fryer plunge business?
BECAUSE.
I'm PO'd. First of all, take a look at my tofu in this here picture.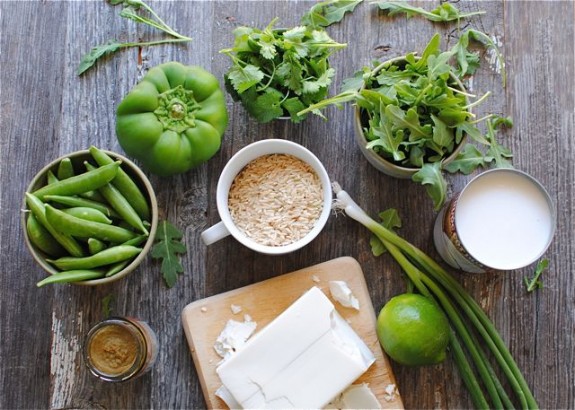 All tow up to hayell and back. And the package said EXTRA-FIRM. I never learn. I always buy extra-firm tofu and when I go to open the box, it squishes all up in there like dang mashed potatoes. If it's going to say EXTRA-FIRM, it needs to BE EXTRA-FIRM. Just like my abdominal muscles.
Oh.
My original plan was to lightly crisp the tofu squares in a little oil before tossing them into the curry. The way in it looks in the restaurants, ja kner?
WELL.
A) How can one cut the tofu INTO little squares when the stupid box crushed it all to smithereens?
And B) You should have seen how the sautéing went down. HA FAH-RICKIN' HA. There was so much sticking and sweating and swearing and hair hurting and utter chaos that I nearly threw it all out in the front yard and served Cymbalta and scotch for dinner.
They're so deep fried, aren't they? It's the only way.
Even if it looks like my tofu got stomped on by a dinosaur, I need to be straight with you regarding the flavors of this curry dish.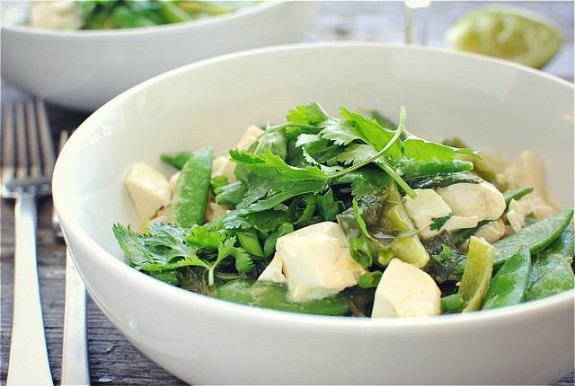 Baby. Got. Back.
Creamy coconut sauce with a mild but rich green curry flavor, just stop. Crisp-tender veggies that will drop kick your mouth. T-O-N-S of fresh lime juice that will send your esophagus on a joy ride. Nutty brown rice that make your stomach want to make out with it. Grassy herbs that will send your mind into a state of I DON'T EVEN KNOW.
And the little tofu sponges soak up all the rich flavors so wonderfully that you'll forget about the nuclear breakdown that occurred only minutes before.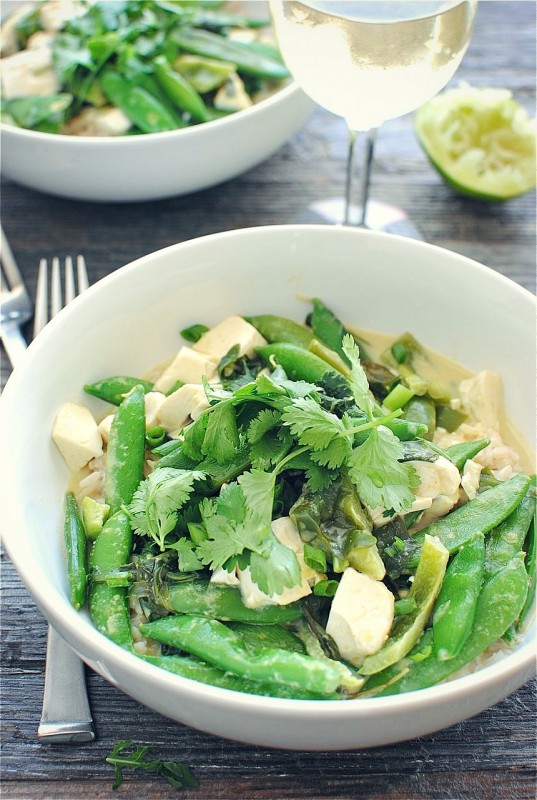 Someone teach me how to open a tofu box.
Green Tofu Curry with Brown Rice:
What it took for 2 HUNGRY adults (with maybe a little left over. So I bet you could get 4 small portions out of this. I'll just get on with it.):
* 1 cup uncooked brown rice
* 1 Tbs. extra-virgin olive oil
* 2 Tbs. green curry paste (from a jar is fine)
* 1 (13.5 oz) can coconut milk
* 2 cups sugar snap or snow peas
* 1 green red bell pepper, diced (seeds and stem discarded)
* 1 block extra-firm tofu, cut into a bite-sized dice
* 2 cups arugula (or your favorite green)
* 2 scallions, finely diced
* 1/2 cup cilantro
* 1 lime
* coarse salt and freshly ground pepper
Cook the rice in a rice cooker or your favorite stovetop method.
Heat the oil in a medium skillet over medium heat. Add the curry paste and press into the oil, blooming for a good minute. Whisk in 1/4th cup of the coconut milk to combine, then whisk in the remaining coconut milk and bring to a light simmer. Add the snow peas and simmer for 2 minutes.
Carefully add the tofu and the green bell pepper. Simmer another 2 minutes.
Stir in the arugula and half the scallions. Taste it. Yeah, add some salt and pepper. And while you're at it, squeeze a gooooood amount of lime juice in. Taste it again. There we go.
Serve the curry over brown rice, garnished with the cilantro sprigs, remaining scallions and more lime slices.
* if you have the ability to crisp the tofu in a small frying pan without having a complete nervous breakdown, then by all means, dew eeeet.