Husbands. Whatever.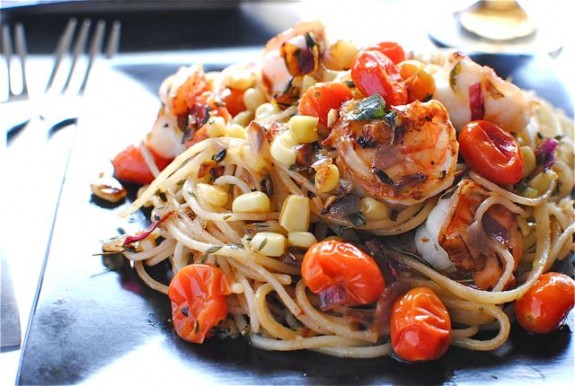 I love how I can spend 417 hours a day in the barrels of food obsession, wrestling multiple brain aneurysms trying to dream up the pimpest recipe combinations, researching every last cobwebby corner of the webs and magazine pages until I'm blue in the face for a single speck of inspiration for the perfect dang meal. And then he comes breezing through the door, all casual and cute with a new haircut, randomly feeling like cooking dinner, and he whips up THIS out of freaking nowhere.
Jerk.
I wasn't even fully aware of what was happening either. I was on glass number whatever of wine, deep into kitchen remodel research on the sexy vortex of Pinterest, when it hit me and my nose.
Me, "What are you doing in there? It seriously smells incredible."
Him, "Oh, just getting a quick caramelization on these purple onions since they're naturally sweet, and pairing it with garlic, some of our dried herbs from the garden, sweet corn and cherry tomatoes, so the acidity complements the sweetness."
Me, "Why are you doing this to me? Don't you know how fragile I am?"
And then, just like that, he formed a lasso out of a strand of spaghetti, threw it towards my vulnerable body, and it coiled around my waist, and I went flying through the air like a delicate feather, and our bodies met, right next to the stove. And we kissed. For 7 days straight.
He made this dinner for me, you guys. It's PRETTY MUCH THE SAME THING.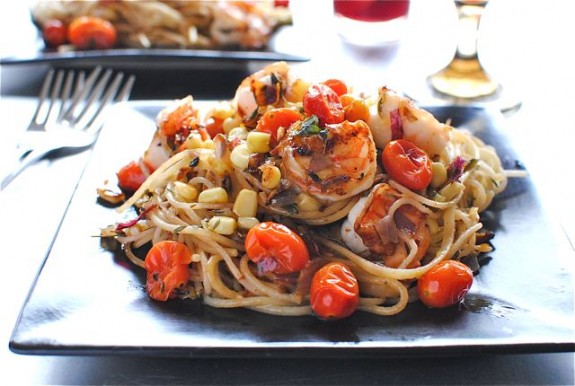 (Subliminal Valentine's day meal hint goes here.)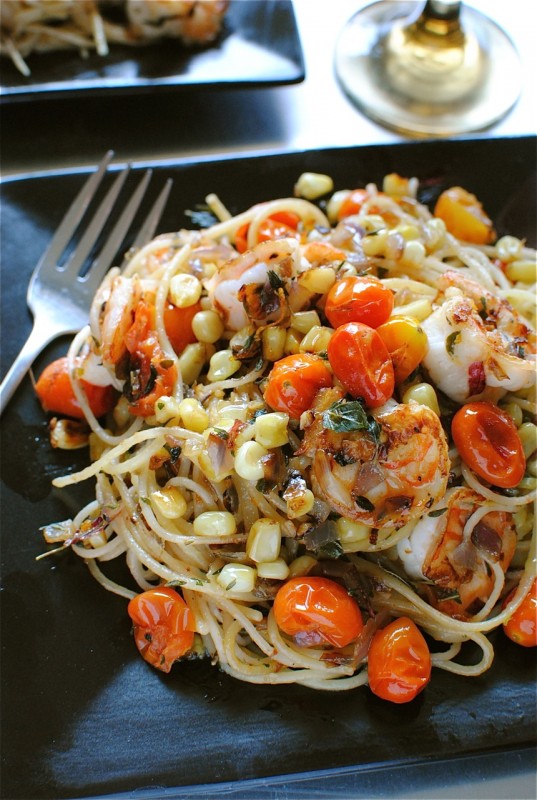 And then the not so subliminal one goes here.
 What it took for 2:
* 2 Tbs. extra-virgin olive oil, plus more drizzling
* 1/2 red onion, finely diced
* 3 cloves garlic, minced
* 2 Tbs dried oregano and thyme (total)
* 1 Tbs. orange zest
* 1 cup frozen corn
* 1 cup cherry tomatoes
* 1/2 pound frozen shrimp, thawed and deveined
* 1/2 pound thin spaghetti
* coarse salt and freshly ground pepper
Heat the oil in a medium skillet over medium-high. Add the onions and saute until you start to see a little color, 5 minutes. Add the garlic, herbs and zest and saute another 2 minutes.
Add the corn and tomatoes. Cook another 5 or so minutes. Season with a pinch of salt and pepper.
Scoot the veggies to the side and arrange the shrimp in the center of the skillet. Sprinkle a little salt and pepper over them. Sear on one side for 2 minutes. Fiip and sear another minute.
In the meantime, cook the pasta in a large pot of salted water, until it reaches al dente. Using tongs, transfer the pasta into the skillet. It's okay to let some pasta water drip into it. That helps create a light sauce.
Toss everything together until combined. Drizzle with more oil and toss in more salt if needed.
Serve and demolish.
 This meal is Charlie girl approved.