Something is happening to my brain. And it's starting to scare me.
It all started with the most devastating news ever ever ever. Whitney. When I found out, of course I spent the next 36.5 hours cradling my laptop, glued to YouTube, singing along through unruly sobs to I Will Always Love You. And things were fine! Almost healing. Almost therapeutic.
Ugh, I've always been in such AWE of her mouth. Teeth so straight it's like they came straight from a table saw. Lips so perfectly shaped they could run for Mayor of her face. And win.
But I believe it was on the 19,254th listen, that it happened. It got stuck inside my head hole and is never leaving. Ever again. I am SO sick of wishing him joy, you guys. About to kick something if I have to wish him happiness one more time. And if above all this, I have to wish him love, one.more.finger.flipping.time? I'm going to rip my own mouth off my face.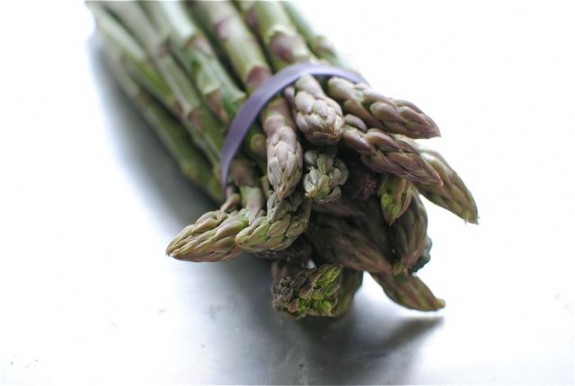 On the verge of a colossal breakdown, I sweaty-fingered texted Jessica, who is obviously sharing in the grief.
"Quick!" she texts, "Blast Be My Baby Tonight! It's much more upbeat and will FIX THIS."
Uh, it did for 3 minutes until the song ended and BITTERSWEET MEMORIES BOMBED MY BRAIN AGAIN.
After 6 hours (not kidding) of remedy and antidote testing (acting out the entire scene to "I am 16 Going on 17" WITH AIR), down the ledge texts, glasses of wine, and spoonfuls of biscoff, we came up with….well nothing. We're screwed for life.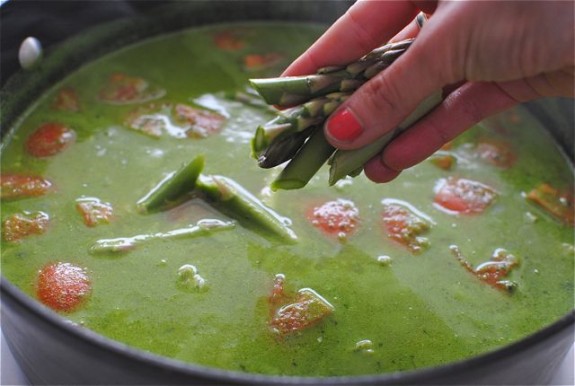 But I think the important lesson in all of this is to always have an Olympic-sized trough of blow-your-mind chicken pesto minestrone on hand to get you through these delicate times in life.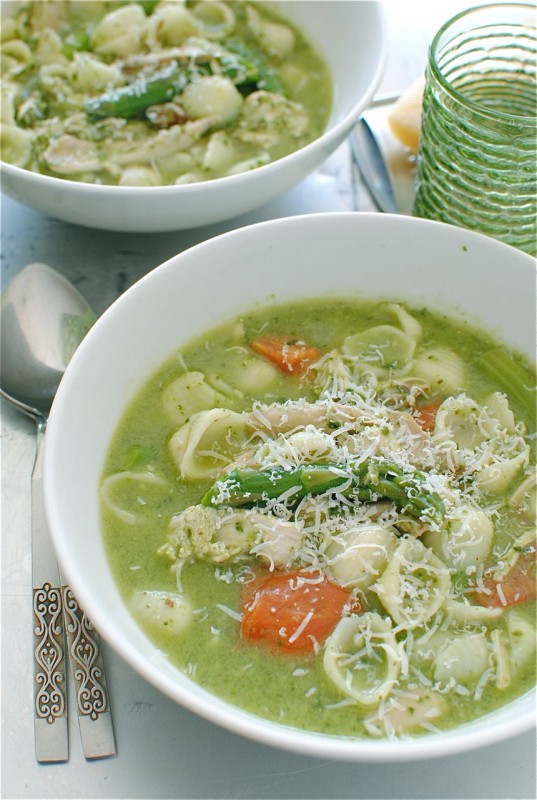 And a fully charged phone battery.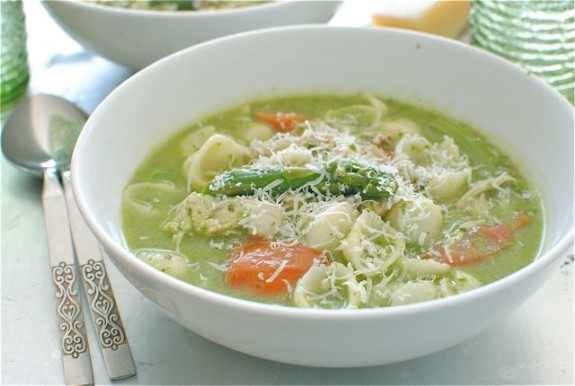 AND IIIIIIII–EEE-IIIIII WILL ALWAYS LOVE YOUUU—-OOOO—OOOOOO.
Kill me now.
What it took for 4:
* 4 cups baby spinach
* 1 cup fresh basil leaves
* 1/4 cup slices almonds (or whole)
* 3 cloves garlic, chopped
* 1/4 cup freshly grated parmesan cheese, plus more for garnish
* 1/4 cup extra-virgin olive oil
* pinch of coarse salt and freshly ground pepper
* 5 cups chicken stock
* 1 cup small pasta shells
* 1 rotisserie chicken, shredded
* 2 roma tomatoes, chopped
* 1/2 bunch asparagus, ends trimmed and sliced into 1-inch pieces
Toss the spinach, basil, almonds, garlic, parmesan, salt and pepper into a food processor. With the motor running, add the oil in a thin stream, until you get a pesto consistency.
Bring the chicken stock to a light boil. Add the pasta shells and cook 1 minute. Add the chicken, pesto, tomatoes and asparagus. Simmer another 5 minutes until the pasta is al dente and the asparagus is crisp-tender. Taste. Need more salt? Toss in a pinch.
Ladle the soup into bowls and snort, I MEAN EAT with more cheese on top. Oh dear.