Story time! (heeeey now, there's an ACCORDION in it.)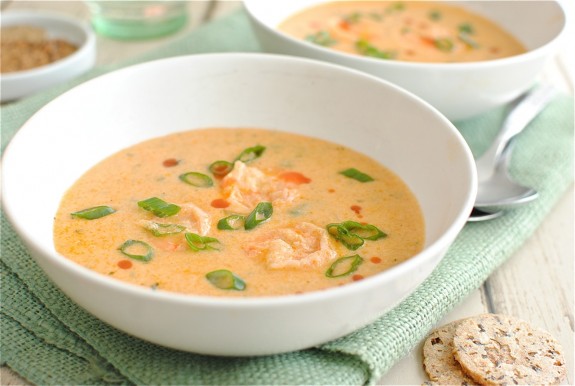 I used to have a job that wasn't related to food. I drove to a building. Sat at a desk. Hung out with human beings. Minimized chat windows and Facebook every time my boss walked by. Brushed my hair.
When work slowed down this awesome woman from next door (hi, Libby!) would walk over and we'd chat about food for 5,298 minutes. She shared the passion, and by the end of our conversations we would mop the floors with our own saliva and turn out the lights because we realized it was like 3 in the morning.
She'd often times leave printouts of recipes for me while I was at lunch or gone for the day, which was like Santa and the Easter Bunny having babies all over my Herman Miller.
So as I was cleaning up my life last week, I found this printout! I promised her like, over a year ago that I'd make it. Of course I willy nilly'd with it a bit, to please the buds on my tongue. You guys, it was like my mouth turned into a very hip nightclub in the French Quarter and this bisque was the band and the bouncer wasn't letting anyone else in due to dangerously high levels of delicious taste capacity rules.
Oh, and – Libby's husband plays the accordion. Which is totally Cajun! SEE HOW THE STARS ALIGNED JUST NOW?
This bisque is ragin'. Oh! It's RAGIN' CAJUN.
(just love me)
Cajun Shrimp Bisque: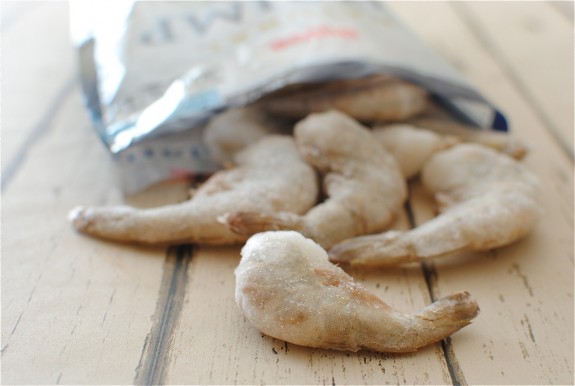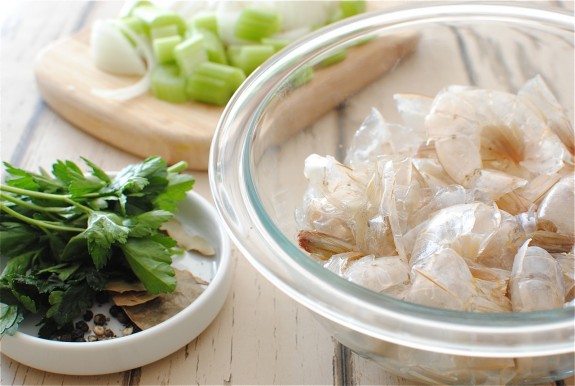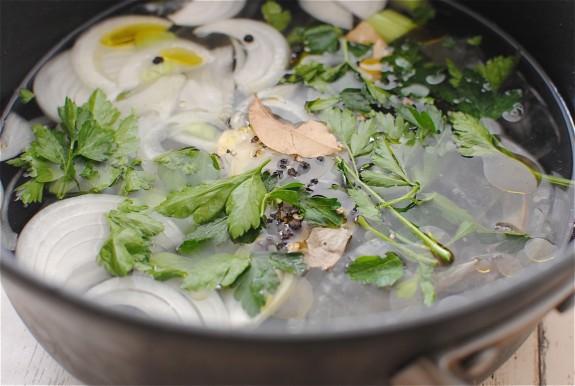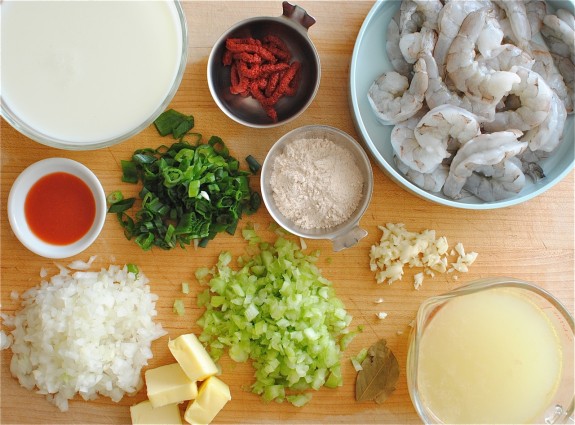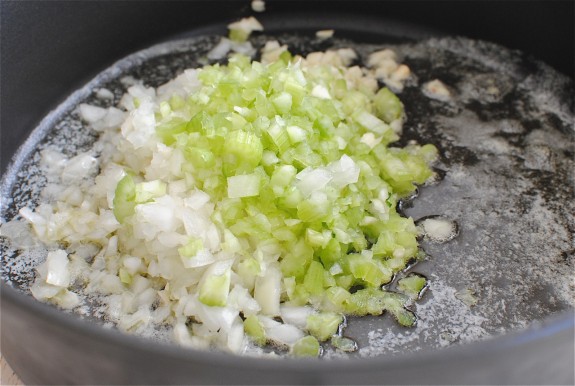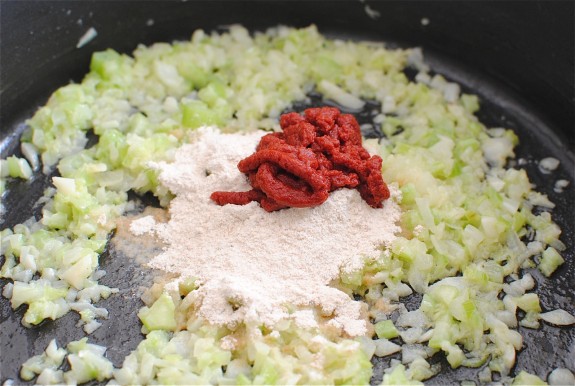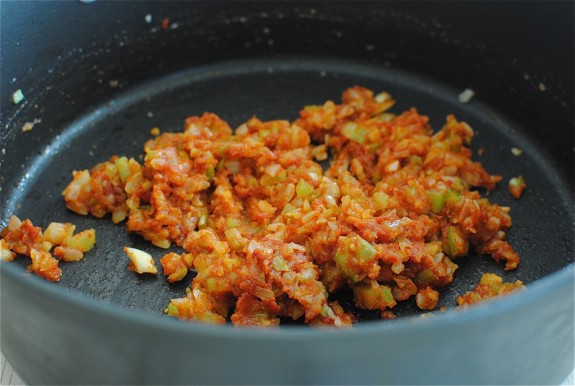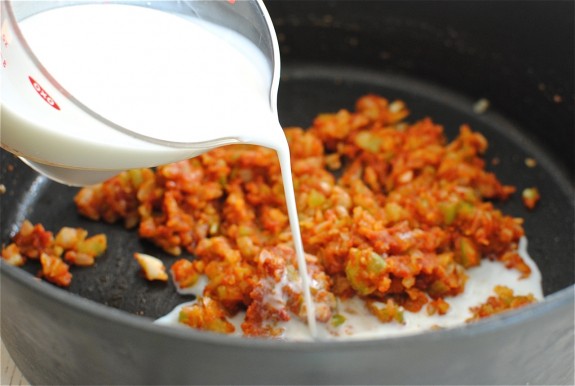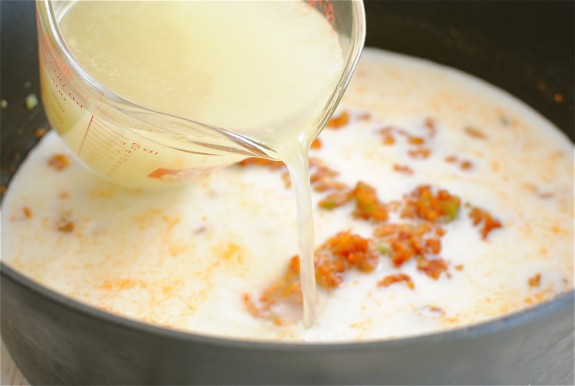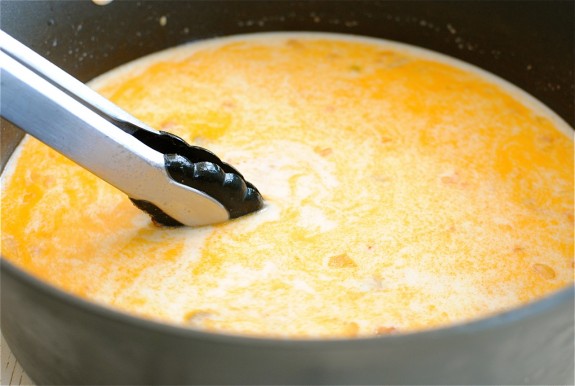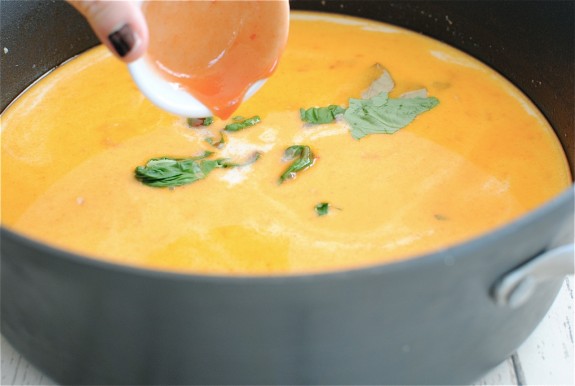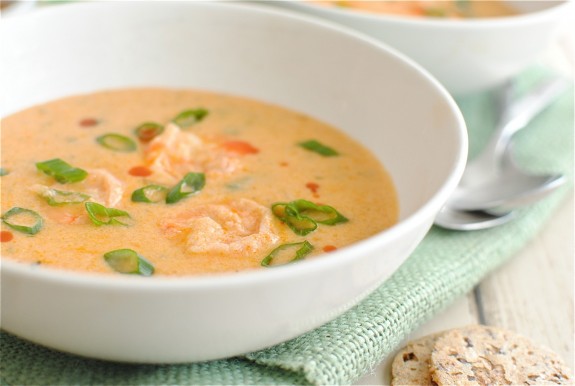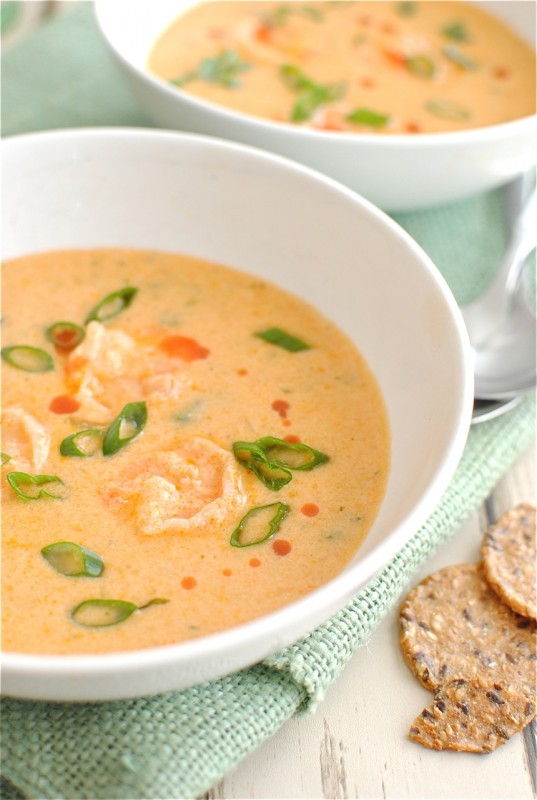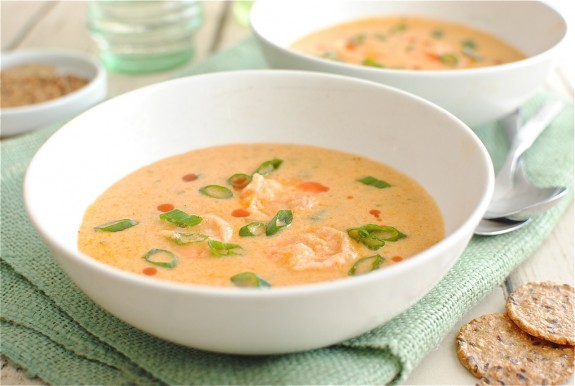 Now I really want an accordion.
What it took for 4:
For the Shrimp Stock:
* 1 pound shrimp shells (shrimp to be saved for the bisque)
* 1/2 medium onion, sliced
* 1 tsp whole black peppercorns
* 1 tsp coarse salt
* 2 dried bay leaves
* 1 Tbs. extra-virgin olive oil
* 2 Tbs. fresh parsley
* 6 cups water
For the Bisque:
* 1 pound reserved shrimp
* 4 Tbs. butter
* 1/2 medium onion, finely diced
* 2 celery stalks, finely diced
* 3 cloves garlic, minced
* 2 Tbs. all-purpose flour
* 2 Tbs. tomato paste
* 3 cups milk
* 2 cups shrimp stock
* 1 dried bay leaf
* 4 fresh basil leaves, torn
* 3 Tbs. hot sauce (I used Franks)
* few pinches coarse salt
* 3 scallions, finely sliced
Bring the water to a boil and toss in all the stock ingredients. Boil for 20-30 minutes.  Strain stock into a bowl or container and discard the solids.
Melt the butter in a large skillet over medium-high. Add the onions, celery and garlic. Saute until soft, 5 minutes. Add the flour and tomato paste and toss to coat the veggies. Remove pan from the heat.
Stir in the milk and broth and whisk until combined. Add the bay leaf, torn basil and hot sauce. Put back on the heat and bring to a boil; reduce and simmer 10 minutes. Toss in some salt.
Add the shrimp and cook until they're pink, 2 minutes.
Remove from heat and add the scallions. Taste it. More salt? Do it. More hot sauce? Ohhhh yeah. Get it just right for your taste buds.
Ladle up and serve with crackers!