Do you want to know what makes me over-the-top-mega-mama-giddy-pants-central-station?
Well, besides raindrops on roses, whiskers on kittens, bright copper kettles and warm woolen mittens, and Wilson Phillips on repeat?
SMOKED. PAPRIKA.
I remember years ago when a friend was describing the difference to me between regular, sweet and smoked and I was all, "whuuuut?" So I La De Da'd to my spice store, took one sniff…and it happened. The reaction within my body, the realization within my soul, the borderline risque dance party in my nostrils.
I would need smoked paprika….ALL THE TIME AND ON EVERYSINGLETHINGEVER. EVAAAAAAR.
I've calmed down since my escapade in the spice shop that day, which ended up landing me a spot in an ER ambulance, followed by a visit to a psychotherapist where apparently they thought a straight jacket was needed. Whatever.
So I kind of love smoked paprika, what?
Caaaan you feel the loooove tonight? (Tonii-ii-iiight)
Sorry.
Smoky Shrimp with Parsnips and Brown Rice:
(adapted from Power Foods)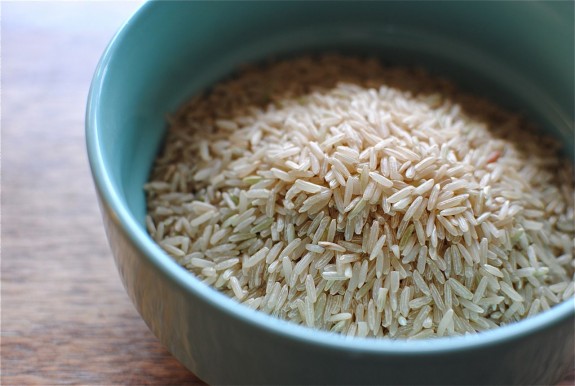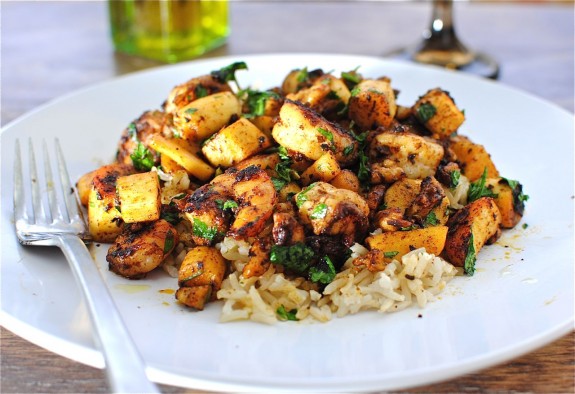 (Please excuse the strange photo. It's day #1 of artificial light of nearly 7 months. I need MORE TIME to get into the swing of this again, you guys.)
What it took for 2:
* 2 Tbs. extra-virgin olive oil
* 1-inch piece of fresh ginger, minced
* 2 Tbs. smoked paprika
* 1/4 cup coarsely chopped walnuts
* 5 parsnips, peeled and diced
* 1/2 pound shrimp, peeled and deveined
* 1 tsp mirin
* 1 Tbs apple cider vinegar
* 1/4 cup chopped parsley
* coarse salt
* 2 cups cooked brown rice
Heat the oil in a medium skillet. Add the minced ginger and paprika; bloom for 30 seconds. Add the walnuts and parsnips and cook for 2 minutes.
Add the shrimp and a little more oil if needed. Sear 2 minutes on one side. Add the mirin and vinegar. Flip and sear shrimp another minute.
Add in the parsley, toss in a pinch of salt and serve the heavenly goodness over brown rice!