I'm drawn to red sauces. Well, red food in general.
But I guess most red food is in sauce form. Right?
I mean, other than red peppers and tomatoes, what else is red? OH, fruit. Apples, raspberries and strawberries. Those are red. And I can dig all of that, too.
But if I want to get serious, it's my devotion for red sauces that carries me through each day.
Tomato sauces to be specific.
So, I guess I should just start over and say, I'm DRAWN TO TOMATO SAUCES.
Good grief, how can you guys even stand me?
When I was perusing my pantry a couple of days ago while jotting down a quick grocery list, I noticed the other carton of Pomi tomatoes that was sent to me a little while back to try out. BONUS. Instead of the diced tomatoes that I used a few weeks ago, these were the "strained tomatoes" – aka: tomato sauce. Aka: my lover. Aka: what dreams are made of. Aka: salvation was found.
(Raw meat is red too.)
SO, once I kissed the box 27 times and acted out a scene from A Chorus Line, I decided the best way to utilize this gawgeous sauce was …in…..STUFFED PEPPERS.
(Velvet cake is actually pretty red, too.)
Do you like stuffed peppers? Because I could pretty much unhinge my jaw and pour them down my throat via funnel.
Try my version. Really. We got sausage, we got rice, we got heat, we got spice.
I should be writing jingles, you guys.
*p.s. I was not compensated for this post, other than the free tomato samples. All opinions expressed are my own, dudes.*
Stuffed Peppers, Baby!: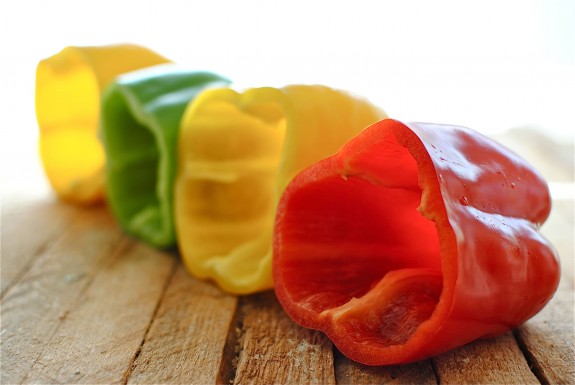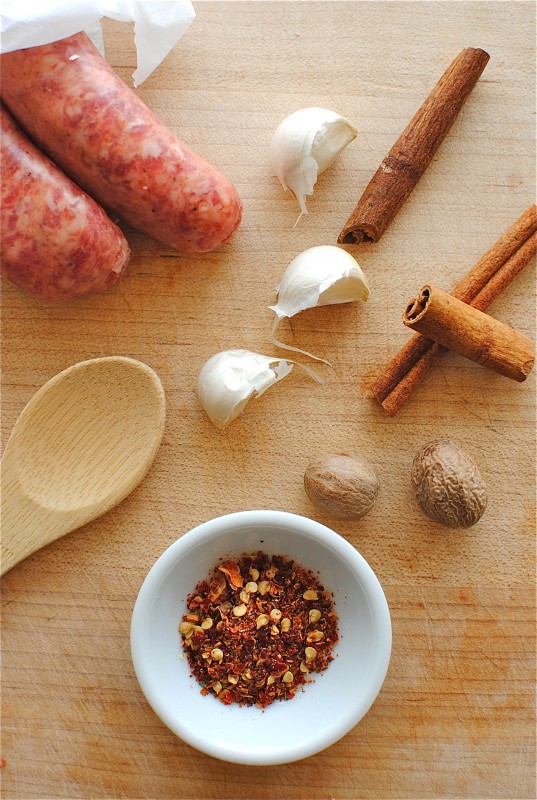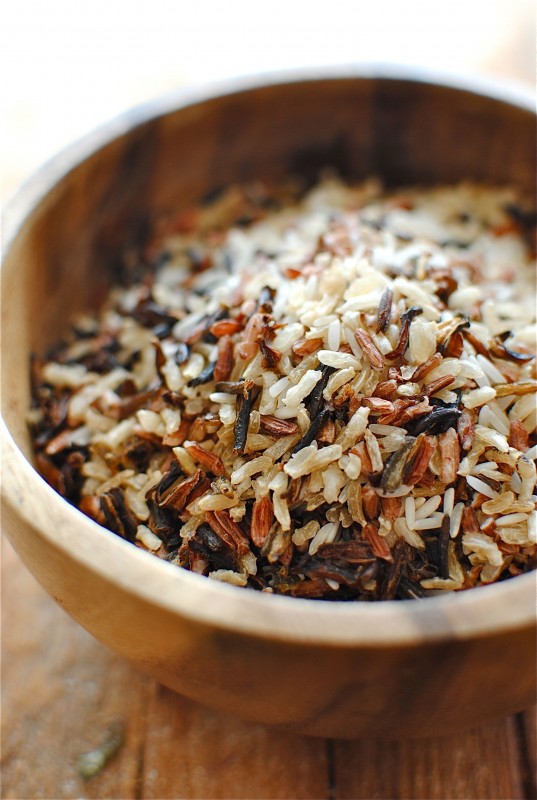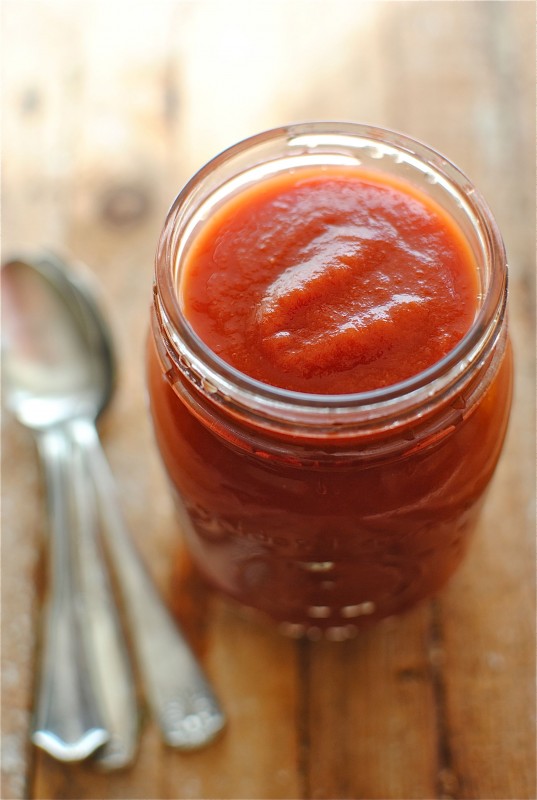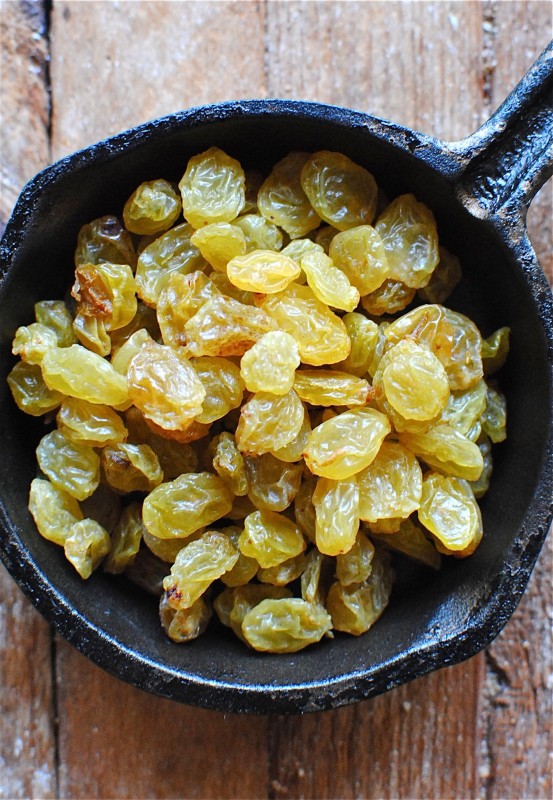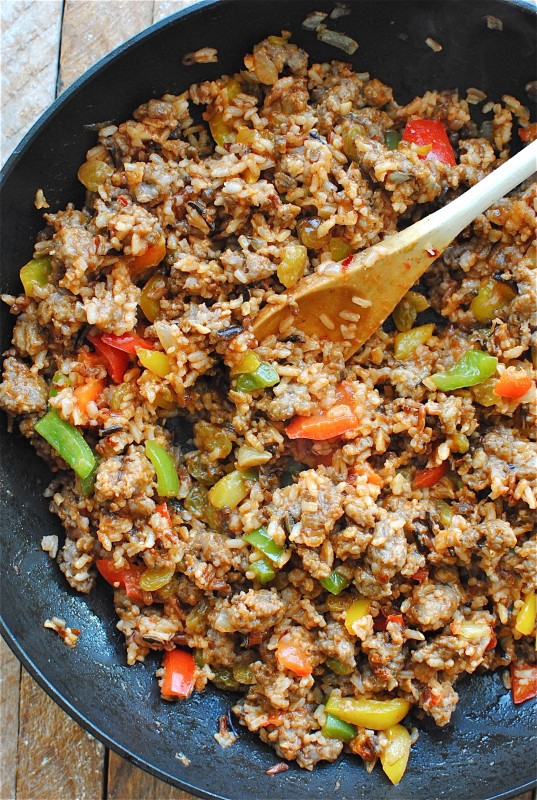 p.p.s. notice the two peppers in the back WITHOUT cheese. those are for my husband. welcome to my life.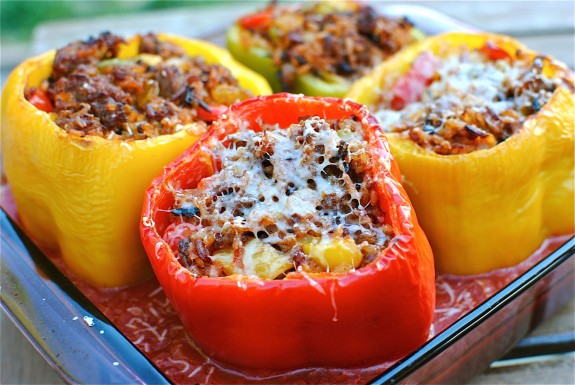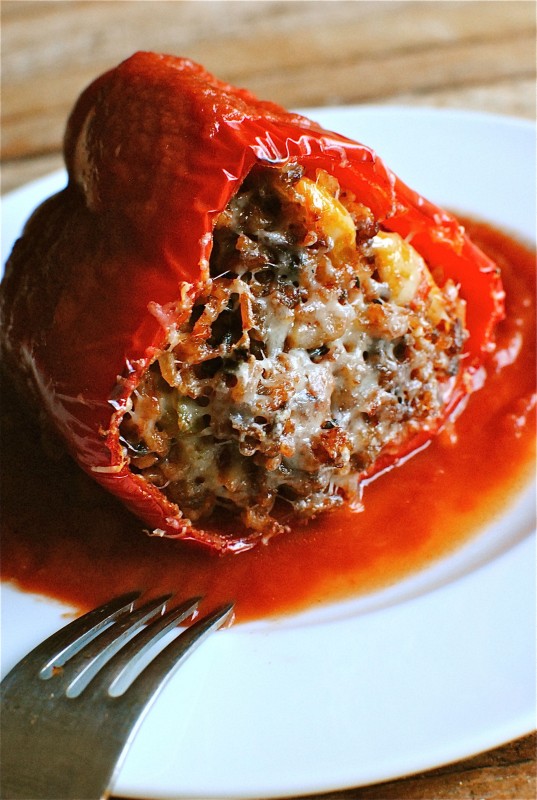 What it took for 4 peppers:
* 4 bell peppers of any color, tops lopped off and diced up to be used for the filling, innards removed from the bells and discarded or composted
* 3 Italian sausage links, casings removed
* 1 cup wild rice
* 1/2 yellow onion, finely diced
* 3 cloves garlic, minced
* 2 Tbs. extra-virgin olive oil
* 1 Tbs. ground cinnamon
* 1 tsp freshly grated nutmeg
* 1 Tbs. smoked paprika
* 1 pinch crushed red pepper flakes
* 1 (26.46 oz) carton Pomi strained tomatoes
* 1/4 cup yellow raisins
* fresh parmesan for broiling
* pinch of coarse salt and freshly ground pepper
Preheat oven to 350.
Cook the rice in boiling water for about 20 minutes.
Parboil the peppers in boiling water for about 15 minutes, while the rice cooks.
Heat the oil in a large skillet over medium-high. Add the onion and saute 4 minutes. Add the garlic and bloom 30 seconds. Add the sausage and break up with a wooden spoon. Cook about 5 minutes until fully cooked. Add the cinnamon, nutmeg, paprika, crushed red pepper, diced bell pepper tops, raisins, wild rice and a good pinch of salt and pepper. Saute another minute.
Add 1/2 cup of the strained tomatoes and stir to combine.
Stuff each pepper with the sausage mixture and place in a small baking dish. Pour the remaining strained tomatoes around the peppers in the baking dish. Bake 30 minutes.
Switch oven to broiler, sprinkle peppers with cheese, stick it back in for a minute, until the cheese melts and is freaking amazing looking.
Serve peppers with a good drizzle of the bubbly tomato sauce. THERE IS NOTHING BETTER IN THIS LIFE, YOU GUYS.