You need to know something about my husband.
You don't know how hard this is for me to tell you. I'm fully aware that this could be a deal-breaker. But just listen to me. And after you hear this, if you need to shut down your computer, go for a run, take a hot shower and eat a pint of double fudge brownie rum dilly willy ice cream, I'll completely understand.
Here we go.
Deep breath.
My husband, Aaron…..does not like cheese.
I KNOW. I know. Please, it's okay. Sit down, I know. Do you need a cool cloth for your face?
He doesn't like cheese.
It actually hurts, doesn't it?
I might be just as cuckoo, knowing this freako tidbit about him and STILL wearing a white gown, walking down an aisle and saying, "I do."
But wait! Let me redeem him for you. If it's at all possible.
If you're even still here.
He may not like cheese, but the man can sure whip together the most incredible asian stir-fries, EVAH.
And because of that, I'll keep him. And feed him cheese in his sleep just so I can get some peace in this world.
Chicken and Green Bean Stir-fry: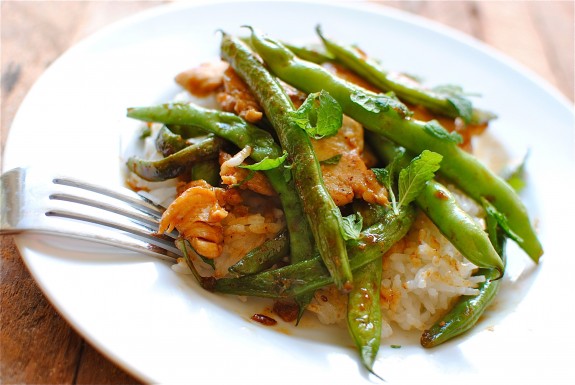 What it took for 2:
* 2 Tbs. toasted sesame seed oil
* 2 Tbs. canola oil
* 2 Tbs. minced garlic
* 2 Tbs. minced fresh ginger
* 1 chicken breast, sliced thinly
* 3 cups green beans
* 4 Tbs. mirin
* 2 Tbs. hoisin sauce
* 1 tsp soy sauce
* pinch of crushed red pepper
* pinch of white pepper
* fresh mint, for garnish
* 1 lime
* 2 cups cooked jasmine rice
Heat the oils in a wok over medium-high.
Add the garlic, ginger and crushed red pepper. Bloom for 1 minute.
Add chicken, 2 Tbs mirin, a pinch of salt and pepper; stir-fry 2 to 3 minutes, or until chicken no longer has any pink on the surface. Remove from wok and set aside.
Add the green beans to the wok, along with the remaining 2 Tbs. mirin, another pinch of salt and pepper. Add a little more oil if needed. Saute until the beans are crisp-tender, 3 minutes.
Add the chicken back to the wok, along with the hoisin and soy sauce. Stir-fry one more minute to coat everything.
Serve stir-fry over a helping of white rice and garnish with fresh mint!