So, yesterday afternoon while Aaron and I marked off some embarrassingly overdue chores on our to-do list, I kept pondering dinner.
Out loud.
"Hey babe, what should we have for dinner? What do you want to eat? What sounds good tonight? What are you craving? When should we start cooking? Now perhaps? No? Stop talking? For the love of all baby ponies in this world, keep my mouth closed for 5 minutes?"
Oh.
After 6 solid hours of my sugary sweet, cute-as-a-button and sunflower dainty pestering, he was ready to think. We both sat down to our laptops, me to blab on twitter, and him to peruse food blogs for visual inspiration.
"Ooooooooo Beeeevvvvv…I've goooooot it……!"
His face, you guys. I've never seen such honest school boy giddiness exude from one person's head.
"Calzooooones! Like, I'll make the dough from scratch and everything. Homemade sauce, seasoned, grilled chicken, crisp-tender asparagus!"
I straight up fell out of my chair and sobbed with joy for a good hour.
Oh, and: please no judging when I tell you ate the ENTIRE THING. I still can't see straight.
Make these. You'll break your own heart if you don't.
Homemade Calzones with Chicken and Asparagus: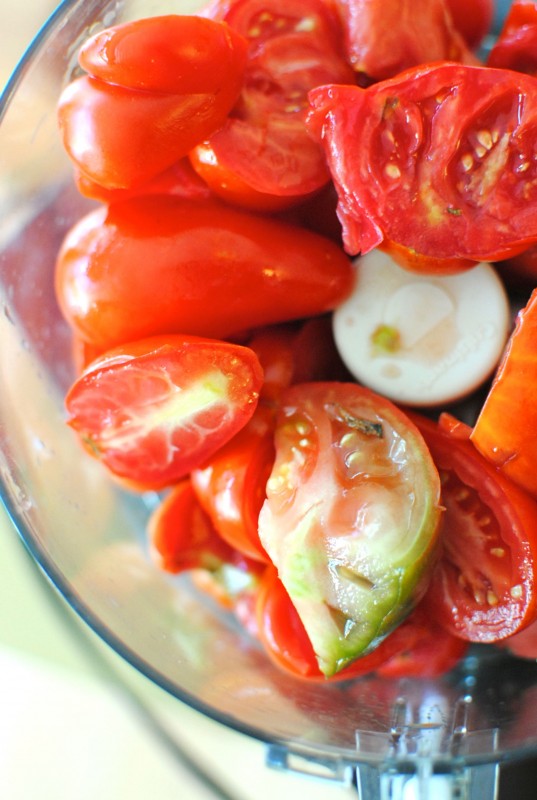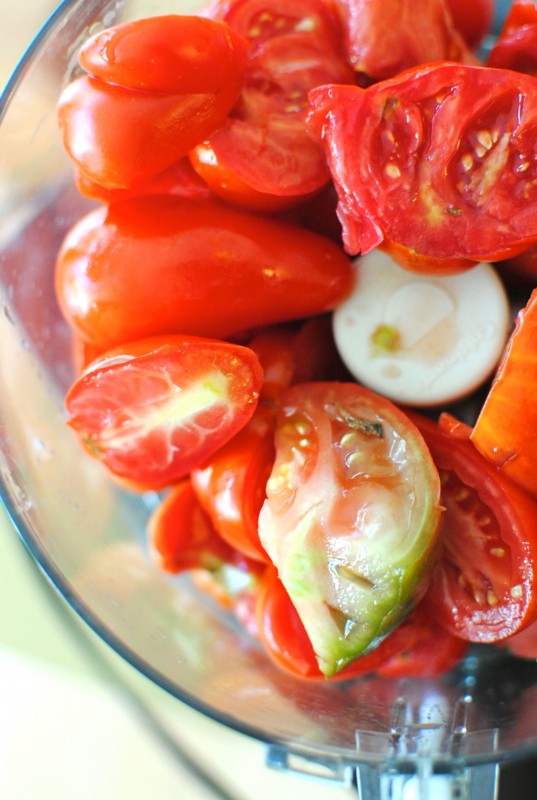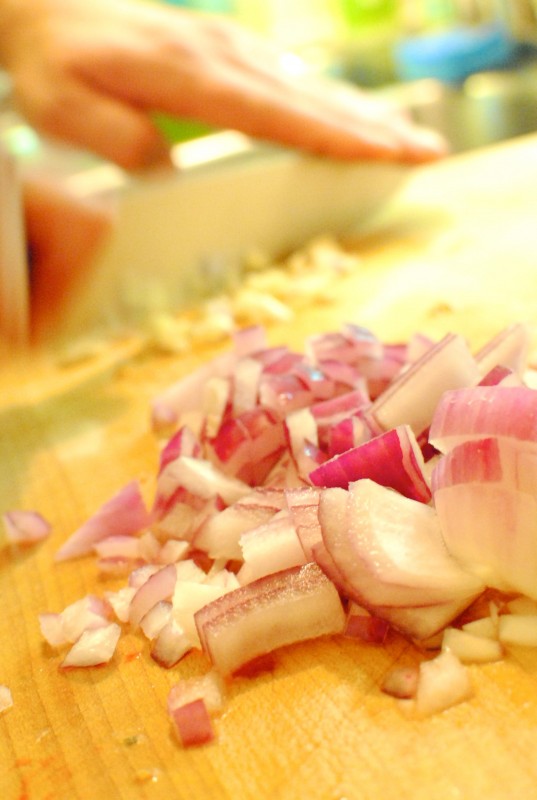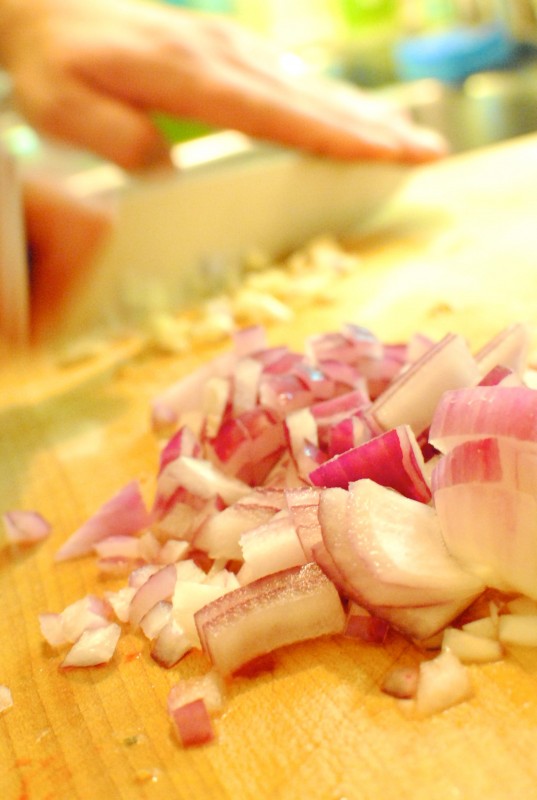 Yeah, let's just ignore the mess, mk?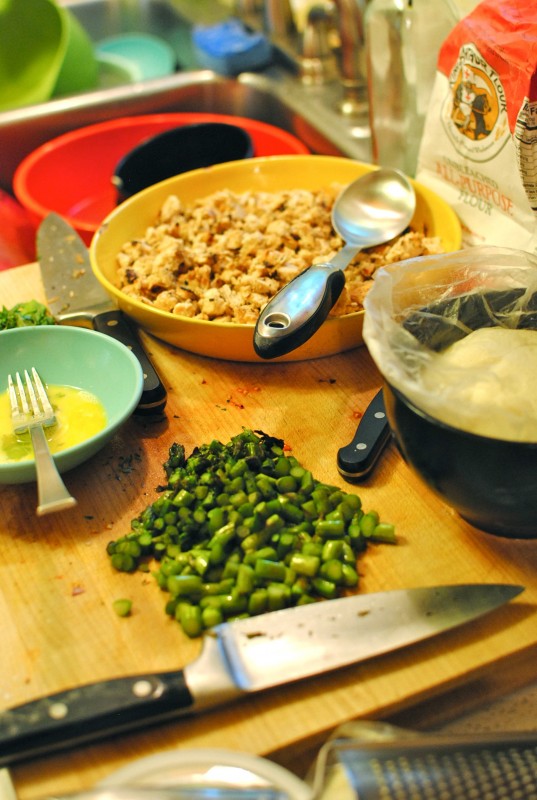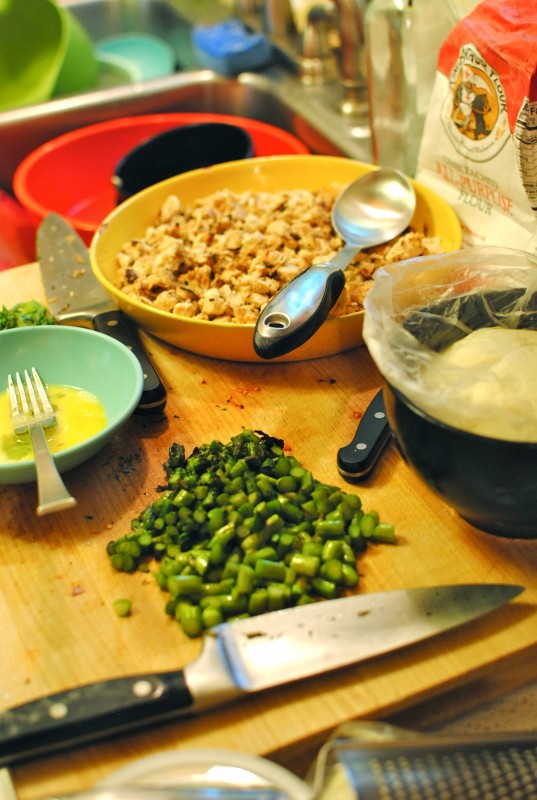 I mean, it's completely understandable how I inhaled this baby in one sitting. …..right?
I couldn't stop myself.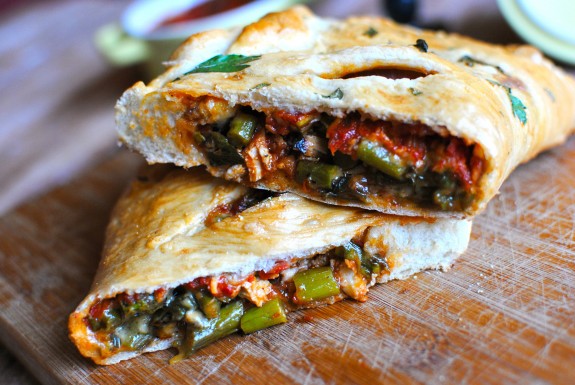 They should lock me up for life.  With these.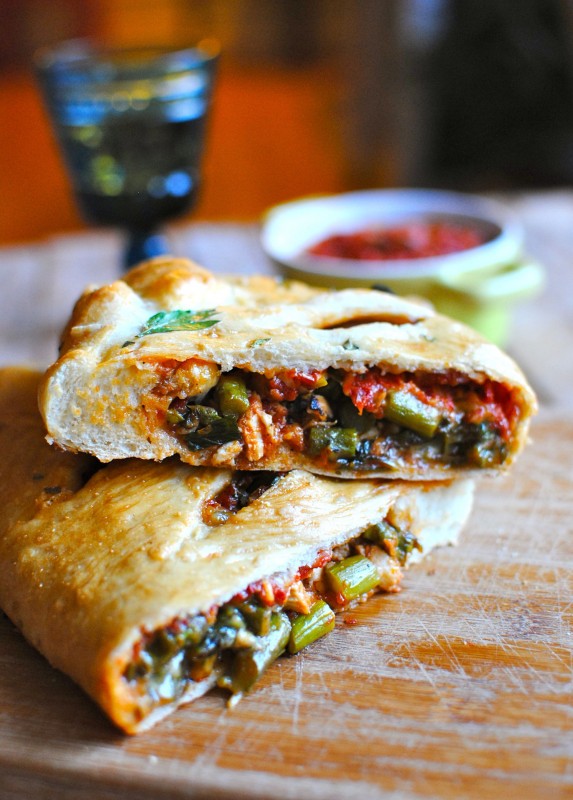 For the Dough:
* 1 cup warm water
* 1 tsp honey
* 1 package dry active yeast
* 2 1/2 cups all-purpose flour
* 1 Tbs. extra-virgin olive oil
* 1 tsp salt
For the Sauce:
* 1 pound tomatoes (whatever you got in the garden) roughly chopped and pulsed until smooth in a food processor
* 1 Tbs. extra-virgin olive oil
* 1 Tbs. tomato paste
* 1/2 red onion, finely diced
* 3 garlic cloves, minced
* 1/4 cup red wine
* 2 Tbs herbs (basil, thyme, oregano) plus more for garnish
* 1 tsp coarse salt
* 1 tsp freshly ground pepper
The Rest:
* 2 chicken breasts, seasoned with salt and pepper, grilled until cooked through and finely chopped
* 1/2 bunch asparagus, ends trimmed, grilled until crisp-tender and finely chopped
* 1 cup shredded cheese (your pick!)
* 1 egg, lightly beaten in a small cup
Directions for the dough:
In a small bowl, mix 1/4 cup water with the honey and dry yeast. Let sit about 3 minutes until the yeast starts to bubble.
In a bigger bowl, combine the flour and salt. Add the oil, the yeast mixture and the remaining 3/4 cup water. Mix to combine and knead the dough until it's soft and elastic, about 5 minutes.
Place the dough ball in an oiled bowl, cover with plastic wrap and let rise for an hour.
After an hour, divide the dough into 4 balls. Place them into 4 smaller, oiled bowls and let rise another 15 minutes.
Roll out each dough ball until it's about 12 inches in diameter, like a pizza. You're ready for the filling!
Directions for the sauce:
Heat the oil in a medium saucepan over medium-high. Add the onion and garlic and saute 5 minutes.
Add the tomato paste and bloom 30 seconds.
Stir in the tomatoes, herbs, wine, salt and pepper. Simmer on low for 30 minutes.
Keep the lid off as you'll want it to reduce and thicken a tad.
Putting it all Together:
On one half of each crust, layer some marinara, diced chicken, asparagus, shredded cheese and a little more sauce. Fold the other side over, sealing with your fingers, like a little pocket.
Repeat with remaining calzones.
Brush each calzone with the egg wash, sprinkle with herbs, and bake for 20 to 25 minutes in a 375 degree preheated oven.
Serve calzones with remaining marinara.
WHEW, you deserve to eat after all that! I'm tired.