Summer = new grill burners.
Summer = admiring your freshly mowed lawn.
Summer = spotting the first group of fireflies in your back yard and remembering childhood.
Summer = squealing over the first green tomatoes in the garden. (well, I squealed. Aaron not so much.)
Summer = husband's homemade pineapple and tequila cocktails.
Summer = dining out back and watching the sky go from a warm orange to a deep blue.
Summer = cranking up old Weezer albums and debating with husband about which album was the best. (Pinkerton, duh)
Summer = realizing that maybe you should turn down Weezer as your neighbors might not care which album was better. (but it was Pinkerton. just sayin')
Summer = staying up too late listening to all Weezer related 90's bands and wondering WHY DID WE LIKE THIS?
Summer = refilling husband's pineapple and tequila cocktail and admitting you might still like said bands. (but only a few. don't roll your eyes)
And on this particular night, summer = Tequila-Glazed Chicken Thighs.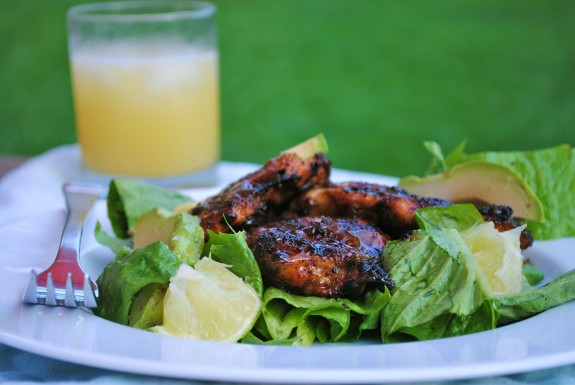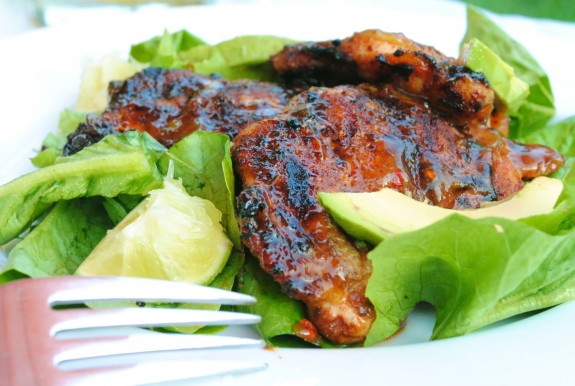 Now, I didn't willy nilly too much with this recipe, as it's from one of my fav cooking mags, Cooking Light. I did however use boneless chicken thighs instead of bone-in, and it turned out just fine!
What it took for the 2 of us:
* 6 boneless, skinless chicken thighs
* 2 tsp ground cumin
* 1 tsp chili powder
* 1 tsp chipotle or ancho chili powder
* 1/2 tsp coarse salt
* 3/4 cup pineapple juice
* 1/3 cup tequila
* 1/4 cup honey
* 2 tsp cornstarch
* 2 tsp water
* zest of 1 lime, chopped
* juice from the same lime
* pinch of crushed red pepper (we used our homemade scotch bonnet – YOWZA!)
Preheat the grill to medium-high.
Combine the cumin, chili powder, chipotle powder and salt in a small bowl. Rub it on all sides of the chicken.
In a small sauce-pan, bring the pineapple juice, tequila and honey to a boil. Reduce the heat and let it simmer and reduce to about 1/3 cup, 10 minutes. In a small bowl combine the cornstarch and water, then pour it into the sauce. Add the crushed red pepper and whisk a few seconds. It will REALLY thicken up and turn into a delicious glaze. Take it off the heat and add the lime zest and juice.
While you grill the chicken, baste both sides occasionally. Grill until chicken is cooked through, about 5 minutes per side.
Let it rest a few minutes and serve with a green salad.
(Pinkerton was the best.)