Today I went the extra mile to prove to my husband that I do in fact love him. We went, and I'm not kidding, to the Street League Skateboarding Championship at the Sprint Center.
Skateboarding.
Let me remind you, I'm FEMALE. AND 34.
In the 15,000 people that attended, there was only 1 other female, and she was 13 years old with blue hair. We bonded over pixie sticks.
To be completely honest, I actually had a dandy ol' time. I enjoyed yelling out things like, "TRY YOGA PANTS. THERE'S MORE ROOM." or, "YOU DO THAT FANCY TRICK AND THEN YOU DROP YOUR BOARD? REALLY?" or, "DO NOT TELL ME  YOU ARE THAT EXCITED ABOUT A SHIRT GUN." You guys, people really love shirt guns.
Anyway, before we went to the skateboarding convention, we hit up one of our old favorite downtown restaurants. I accidentally ate 2 pieces of pizza, a spicy chicken wing, and a few bites of hummus with carrots. I think the idea of attending something involving skateboarding clouded my decision making skills. Therefore, dinner absolutely HAD to be light. My vote was air but Aaron didn't go for that.
Basil-y Grilled Salmon with Cucumbers and Potatoes: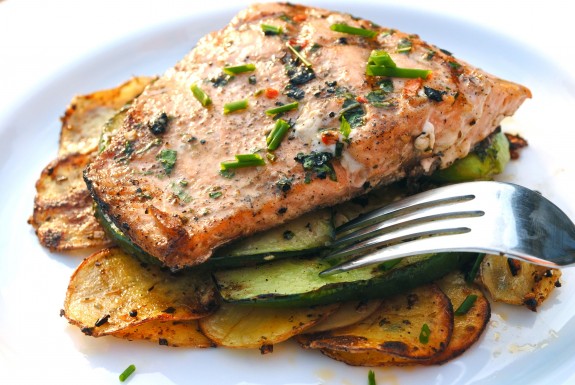 What it took for 2:
*  2 salmon fillets
* 1/2 cucumber, sliced thinly on the diagonal
* 3 small potatoes, sliced thinly with a mandolin
* 3 Tbs. butter
* 4 basil leaves, finely chopped
* pinch crushed red pepper
* 1 tsp all-purpose seasoning
* 1/2 tsp ground cumin
* pinch of cayenne pepper
* coarse salt and freshly ground pepper
In a small bowl, melt the butter and add the basil, crushed red pepper and a pinch of salt. Set aside.
Preheat the grill to medium-high. Grill salmon until opaque, roughly 8 minutes. Baste with basil butter. Grill the cucumbers, basting with basil butter, about 1 minute per side.
In the meantime, saute the potatoes in 1 Tbs. extra-virgin olive oil. Season with all-purpose seasoning, cumin, cayenne pepper and a pinch of salt and pepper. Saute until the potatoes start to crisp on both sides, maybe 10 minutes.
Plate up and eat up!