With the long holiday weekend on the way and travel plans to our hometown amongst us, I have one goal and one goal alone: to place one arm over the other, blink 3 times and make all of the remaining fresh food in our fridge vanish into our bellies.
Ain't no willy nillyin' here, folks. I mean business. I might even rent the costume.
Here's the thing, tonight's meal is a no-brainer. I almost always have tortillas on hand, so pulling together something Mexican-y is cake. Done. But tomorrow night is going to be different story. I wonder if I could just throw the last of the eggs, some fruit, and the remaining half-eaten cabbage head into a blender and call it a day.
And a marriage, whaaaat!
Well, not if I'm wearing the costume. Hey-Oh!
Shrimp Fajitas: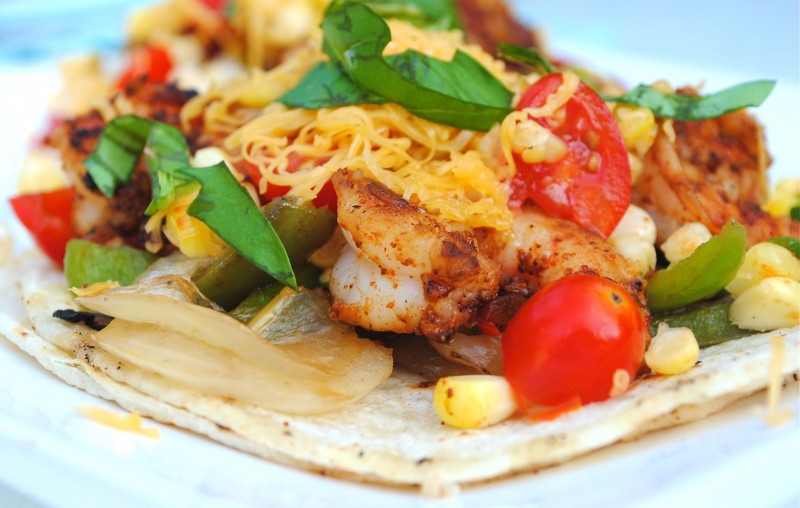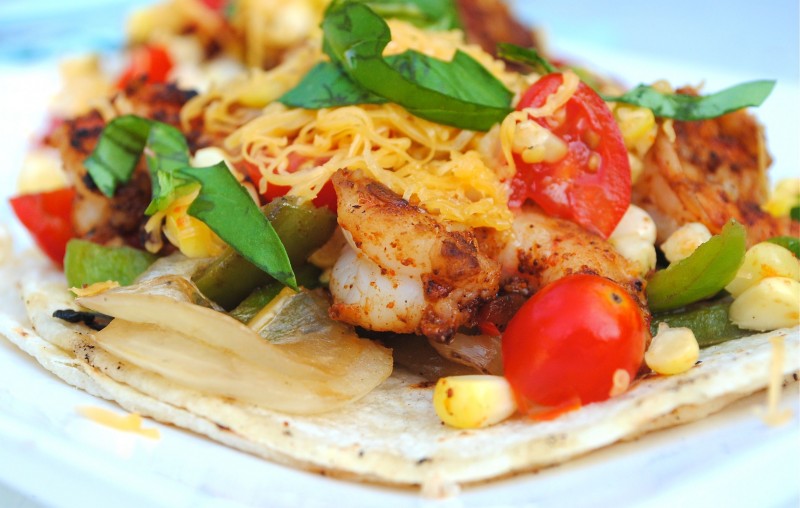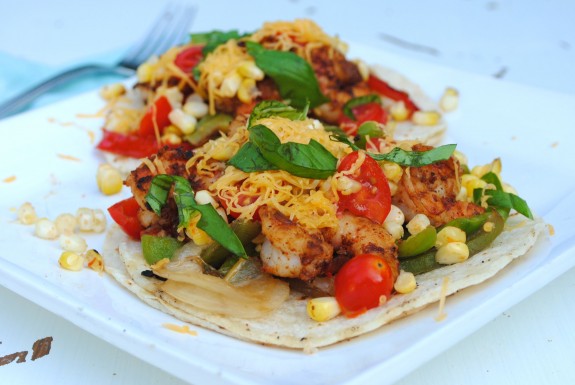 What it took for 2:
*1/2 red onion, thinly sliced
* 1 green bell pepper, thinly sliced
* 1/2 red bell pepper, thinly sliced
* 1 ear of corn
* 2 Tbs. sun-dried tomato butter
* 1/2 pound frozen shrimp, thawed, deveined and pat dry
* 1 tsp ground cumin
* 1 tsp chile powder
* 8 corn tortillas
* basil for garnish (normal people would use cilantro, but mine bolted)
* 1/2 cup cherry tomatoes, halved
* 1 lime
* 2 Tbs. extra-virgin olive oil
* coarse salt and freshly ground pepper
Toss the shrimp with the spices, salt and pepper.
Heat a grill or saute pan with the oil to medium-high. Add the onions and cook until starting to brown and soften, 6 minutes. Add the bell pepper and cook 4 more minutes. Remove from pan and cover to keep warm. Rub the sun-dried tomato butter over the corn and place on the grill. Cook until kernels start to brown all over, 4 minutes. Remove from heat and slice kernels off.
Add a little more oil to the pan and layer the shrimp in it. Cook for 2 minutes on one side, flip and cook 30 seconds more. Remove from pan.
Add the tortillas to the pan and cook until you see some browning or grill marks on both sides.
Layer onions, bell pepper and shrimp among the tortillas. Top with basil, grated cheddar and a good spritz of lime. OLE! (sorry)