I'm a little nervous. You see, when we planted our vegetable garden we used our own compost along with fertilizer and manure for the bed. A nano second later we noticed sprouts appearing all OVER the bed. These weren't seeds we planted you guys. These were volunteers. Intruders. Burglars. So we compared the sprouts to what we had germinating in our greenhouse and they looked exactly like zucchini.
SWEET, we'll just have more zuccs, we thought. After some major thinning out, we dedicated a small portion of the garden to the plants, as they get really, REALLY big.
. . . I don't think they're zucchinis. The plants have taken over the entire garden, and they have arms, legs, teeth and tendrils. Tendrils. Do zucchini plants have tendrils? Just answer me this, do we have 4 hundred billion melons on the way? Do I need to go ahead and get Aaron to build me a little green wooden melon stand so I can sit in my front yard and sell my melons (*snicker*) to the neighborhood folk? I'm going to be known as "melon girl" aren't I?
I'm going to make a killing.
My summer just got SO AWESOME.
Chicken Koftas: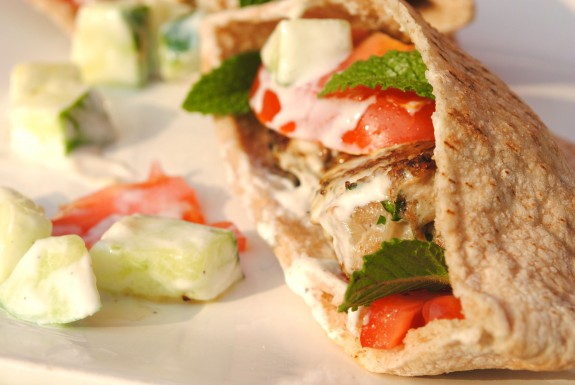 (adapted from Everyday Food)
What it took for 2:
* 1 pound organic ground chicken
* 1/3 cup diced white onion
* 1/2 tsp ground cumin
* 1/2 tsp ground coriander
* 1/2 tsp all spice
* 1/4 cup fresh parsley leaves, chopped
* 1/2 cucumber, in a large dice
* 1/4 cup plain greek yogurt
* 2 Tbs. vegetable oil
* 1 medium tomato, cut into 1/4-inch slices
* 2 pitas, (toasted and split if preferred)
* handful of fresh mint leaves
* coarse salt and freshly ground pepper
In a large bowl, combine the chicken, onion, parsley and all spices. Season with salt and pepper. Form little meatballs with your hands.
In a smaller bowl, toss together the diced cucumber with the yogurt. Season with salt and pepper.
Heat the oil in a medium skillet and cook the patties until cooked through and browned on all sides, about 12 minutes.
Stuff each pita half with the meatballs along with the tomatoes. Drizzle with yogurt-cucumber sauce and toss in some fresh mint.