When we were in Florida on vacation, (hey, I warned you) my sister-in-law and I discovered a most charming Mexican food place that side of the Mississippi. Both sharing an addiction for the cuisine, we high-tailed it there after circling the address in a local brochure.
Now, you might think of most Mexican food as greasy, heavy and the gateway to a gut bomb. But this place, THIS place: light, flavorful and honest to goodness healthy.
No gut bombs were spotted at the scene.
I was so inspired and probably went on a half hour too long about flavor balance of the nutty tempeh with the toasted pepitas against the spicy salsa zing, but when this little pinata party is erupting in your mouth hole, you have to throw your hands in the air like you just don't…
Sorry, I love Mexican food.
Tempeh and Black Bean Tacos: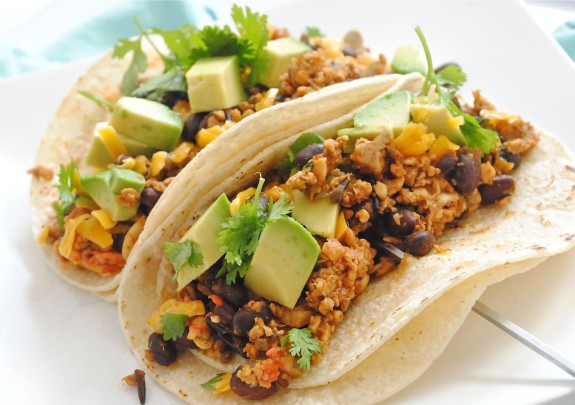 What it takes for 2:
* 8 oz package of organic tempeh, grated
* 1 (14.5 oz) can black beans, drained and rinsed
* 3 Tbs. favorite taco seasoning
* 2 cloves garlic, minced
* 2 Tbs. extra virgin olive oil
* 3 Tbs. pepitas
* 1 avocado, diced
* 1/2 cup cherry tomatoes, halved
* 1/4 cup fresh cilantro
* 1/2 cup shredded cheddar cheese
* 1 lime, cut into wedges
* dash of hot sauce
* 8 white corn tortillas
Heat the oil in a medium skillet over medium-high. Add the garlic and bloom 30 seconds. Add the grated tempeh and cook until browned, about 7 minutes. Add the taco seasoning and black beans. Cook another 3 minutes. Taste and season with salt and pepper. Toss in the cherry tomatoes and cook 1 minute. Add a smidge of water if needed.
Take off heat and stir in the pepitas.
Spoon tempeh mixture into browned tortillas and top with avocado and cheese. Spritz with lime and enjoy the party.