We're making more scones today! (<–exclamation point absolutely necessary)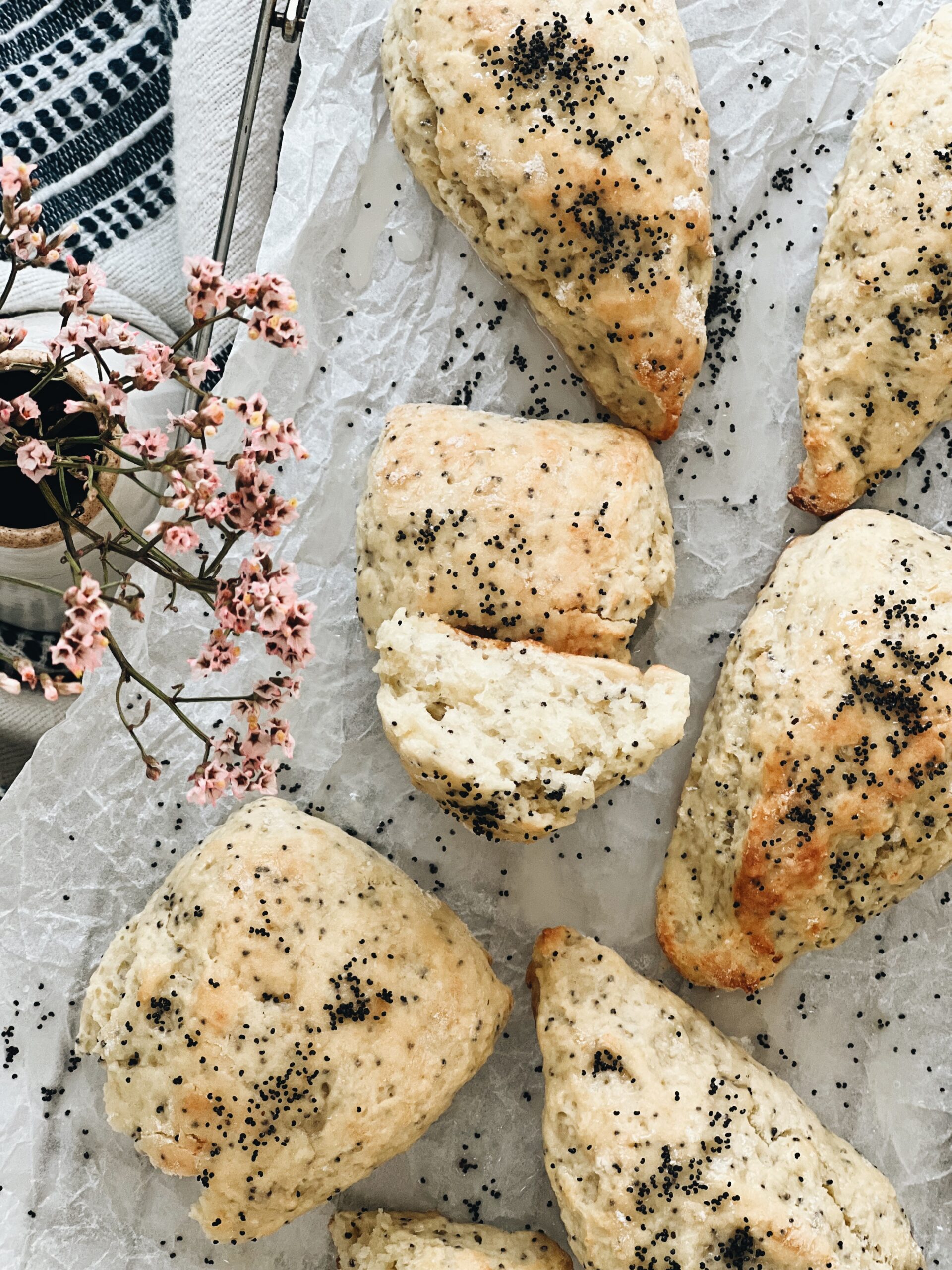 But let's go with loads of lemon and poppy seeds this time. We've made cheddar scones. We've made gruyere and sausage scones. We've even made a caprese version. All completely different personalities and irrational obsession worthy. I knew you were my people.
Let us peepeth.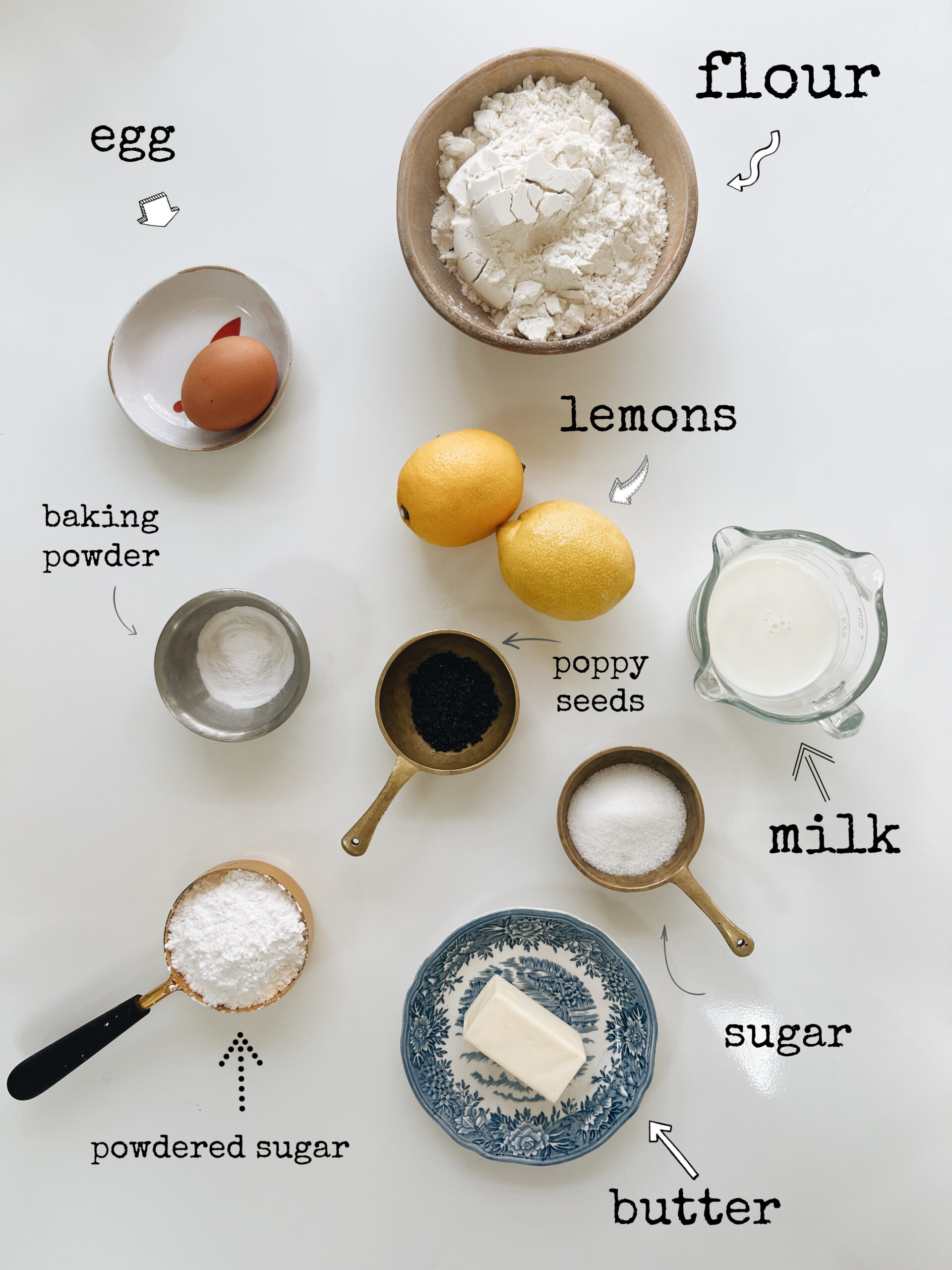 Your standard cast of characters, plus citrus and opium. Ha!
Just kidding.
I think.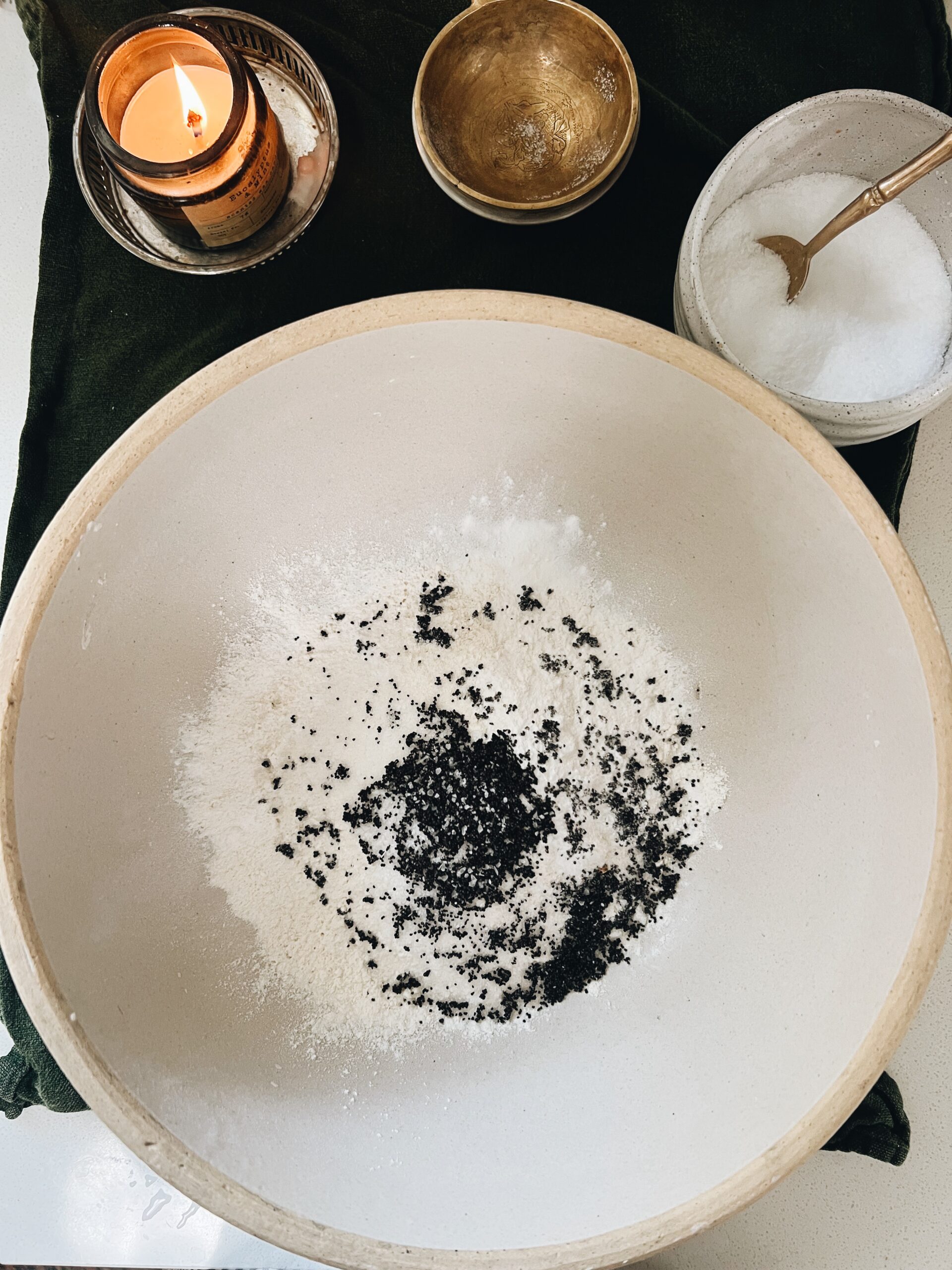 Okay, something you could do here (in hindsight of course) is add lemon zest. It's all dry ingredients in this bowl, so this would be the time to make it shiiiiine, baby. We've got flour, sugar, baking powder, salt and poppy seeds. Go ahead and add some zest! But I'm not being bossy or anything.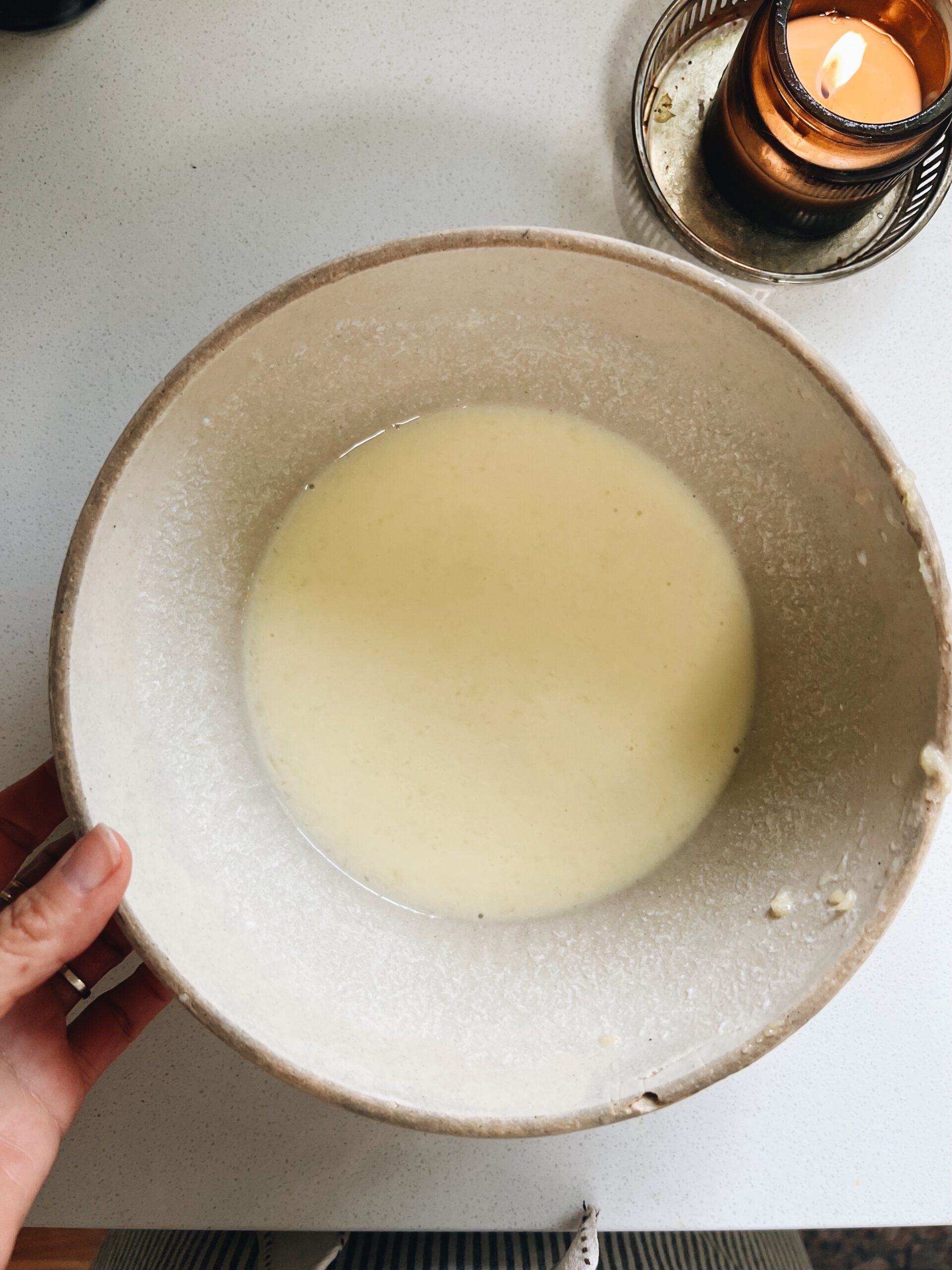 Over here we have milk, the egg and a bunch of lemon juice. The whole lemon. Get it all whisked together. I suppose the zest could go here too. Maybe it's just in our soul this time.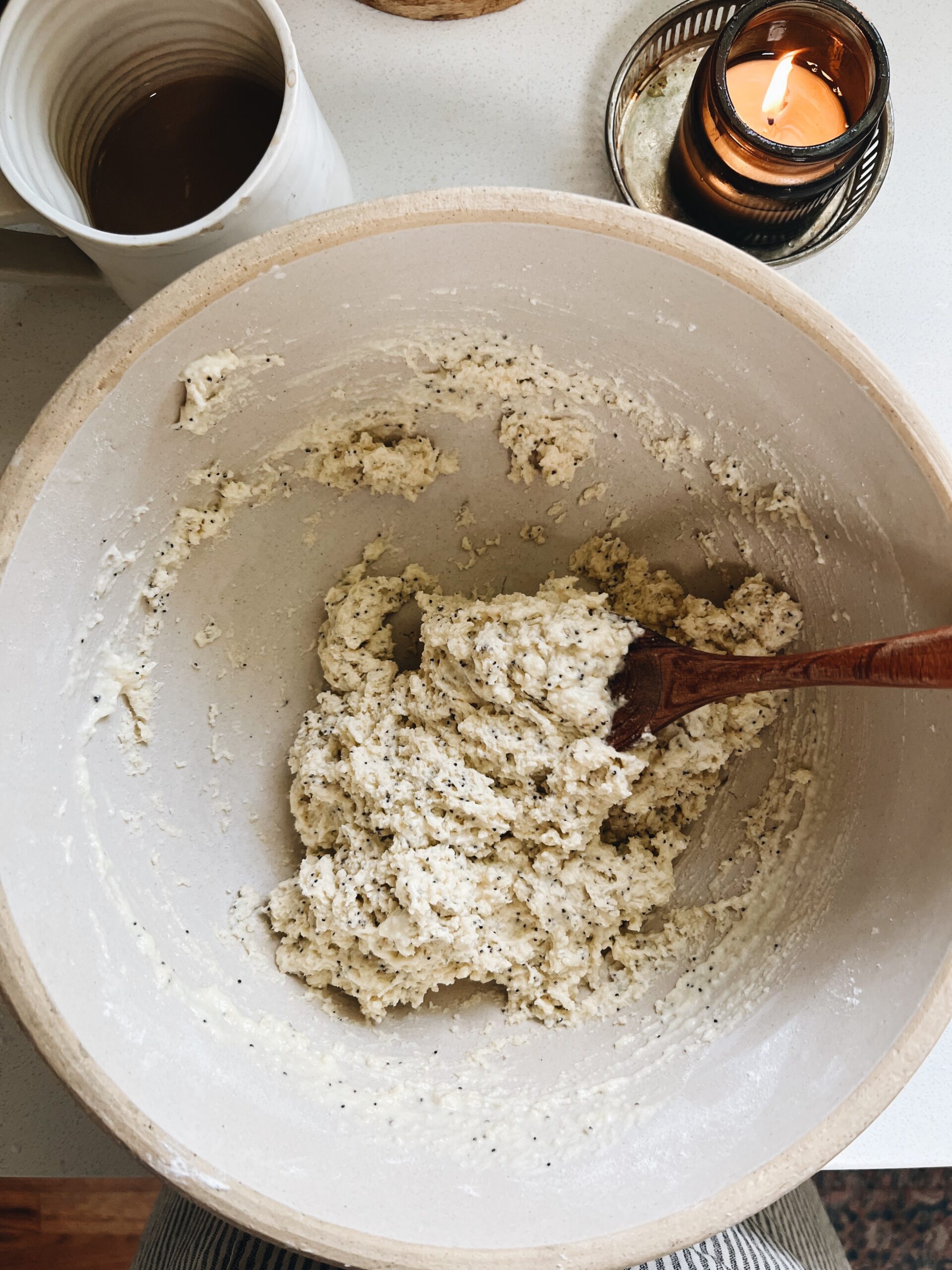 We'll pour the wet into the dry and get it stirred together to create a dough. You'll see it in the reel!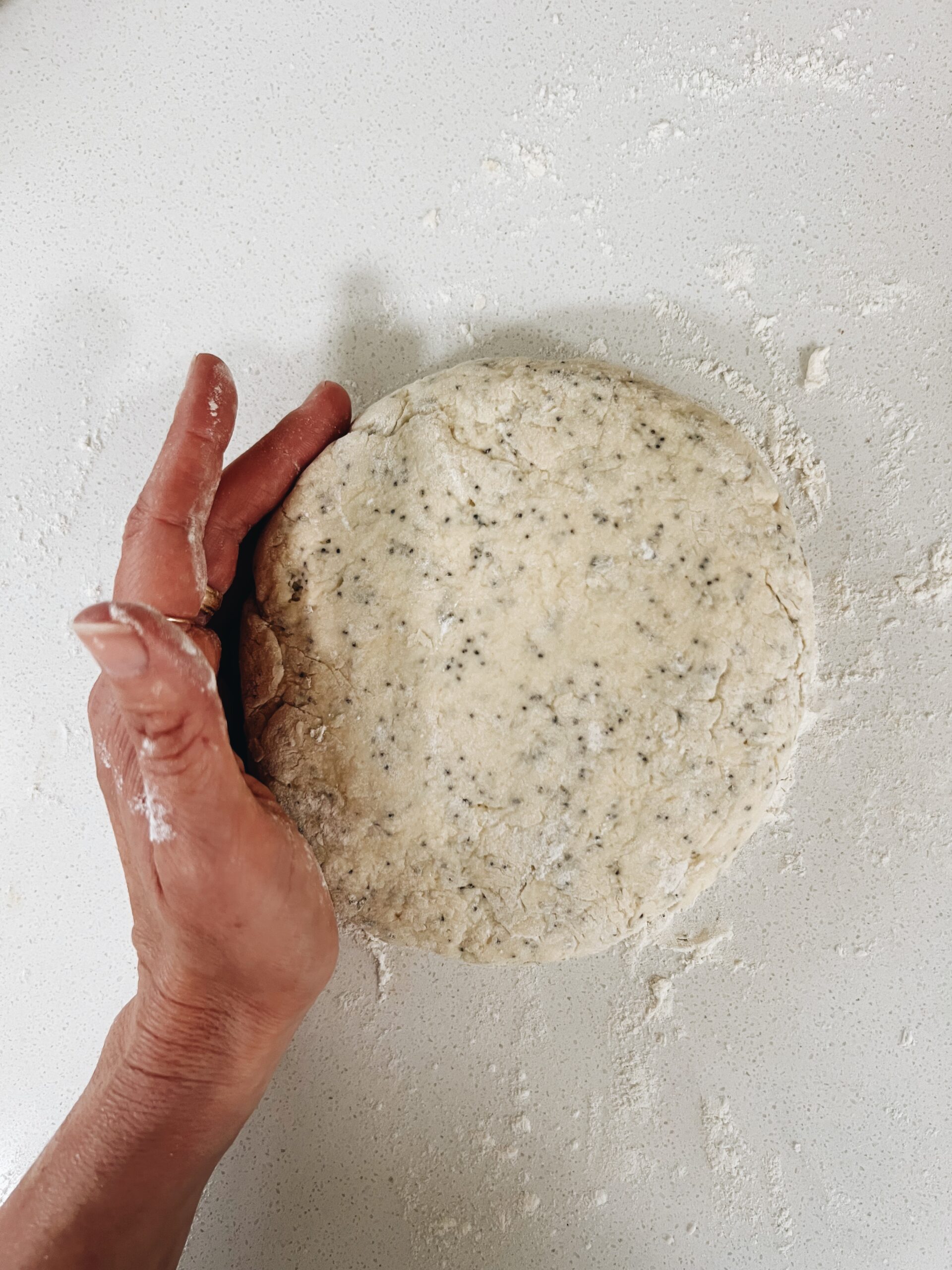 Then we tip it out onto a well-floured counter with your turtle leg wrist and get it shaped into a circle. Don't over-knead it. Just a bit of combining and shaping and you're done. You're done I tell you!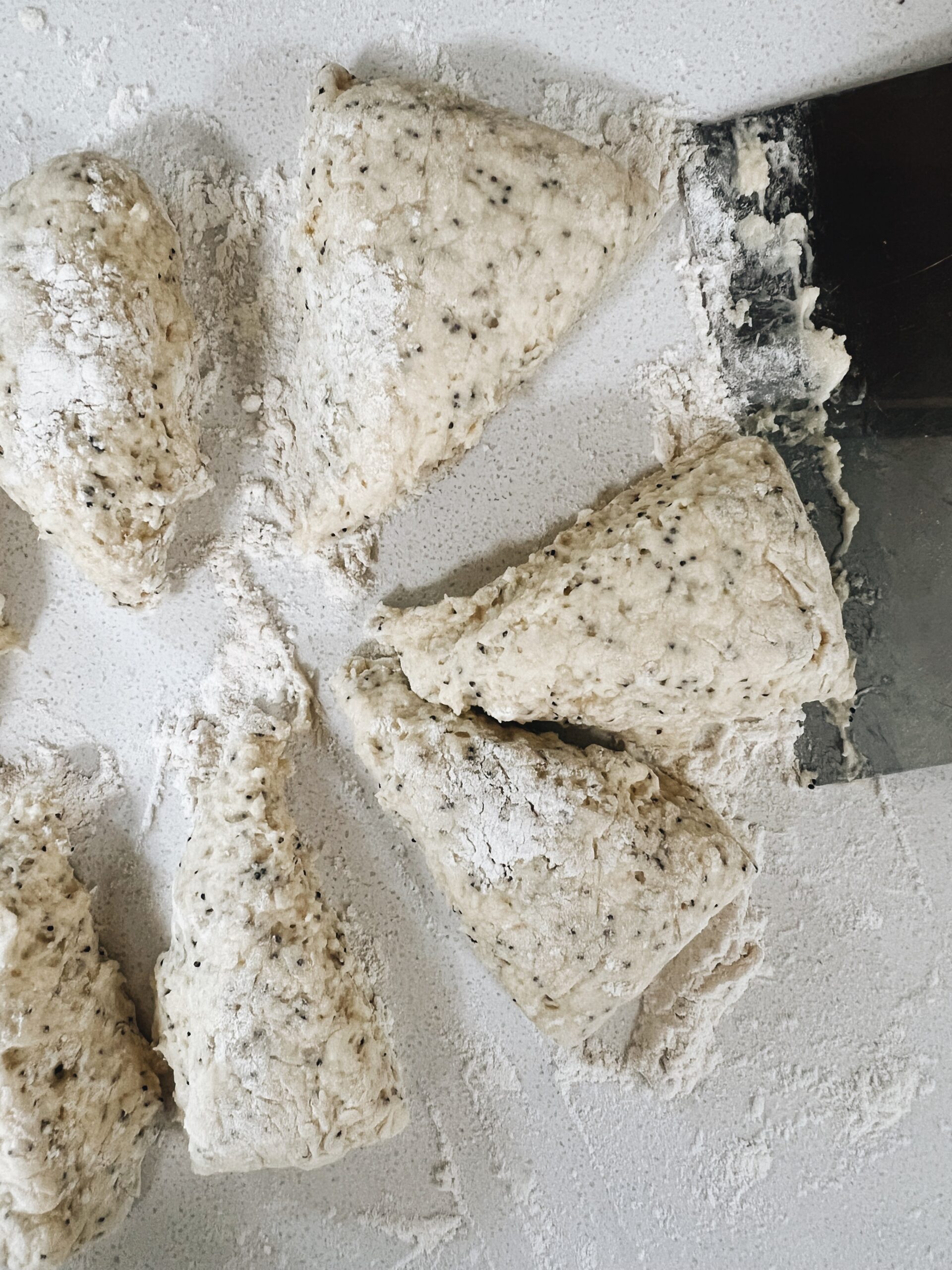 Take a pastry scraper and divide the mound into eight little triangles. Behooooold, your scones!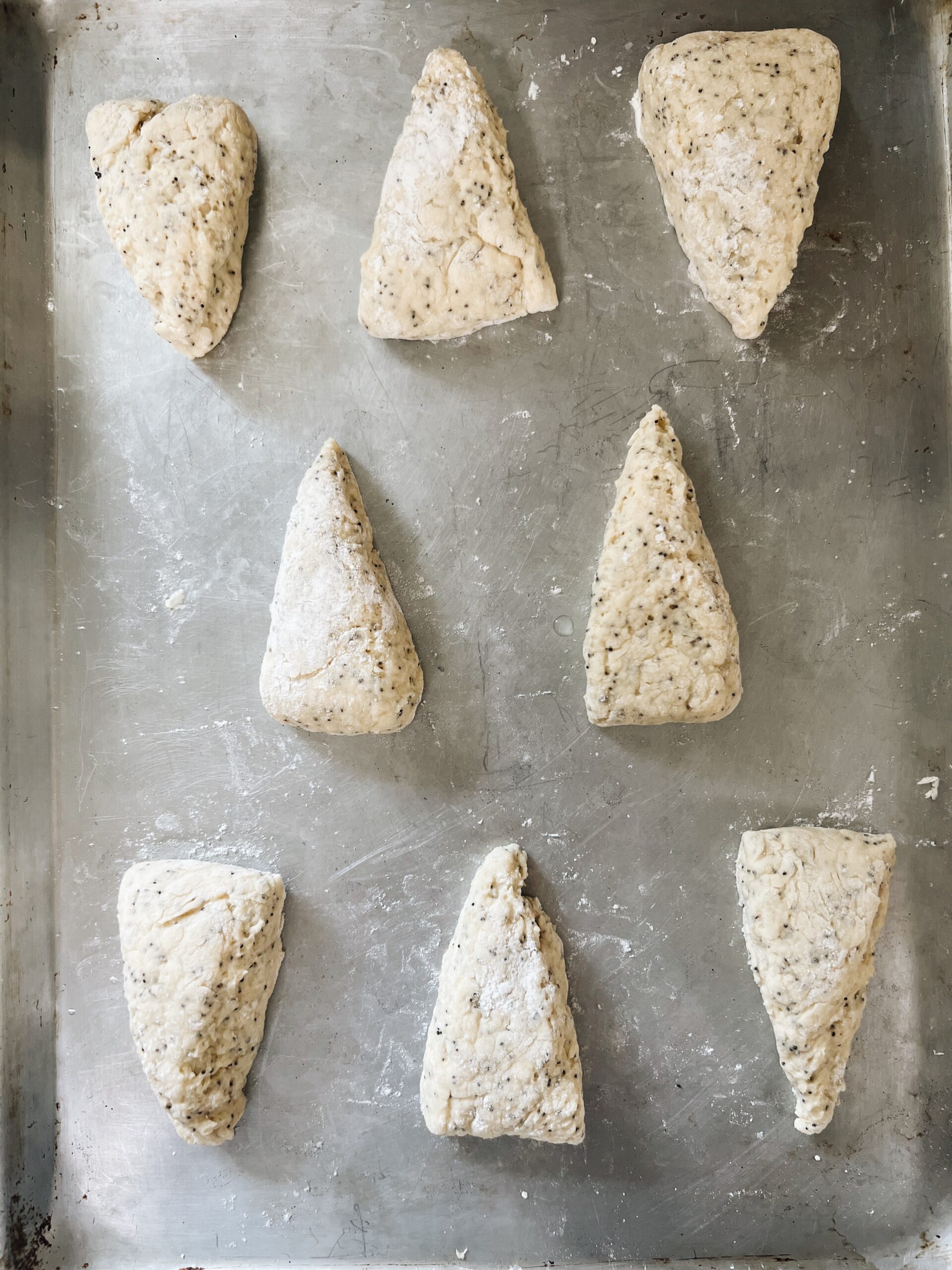 We'll violently plop them onto a baking sheet and into a hot oven and hope for the best.
Just kidding, they'll be great.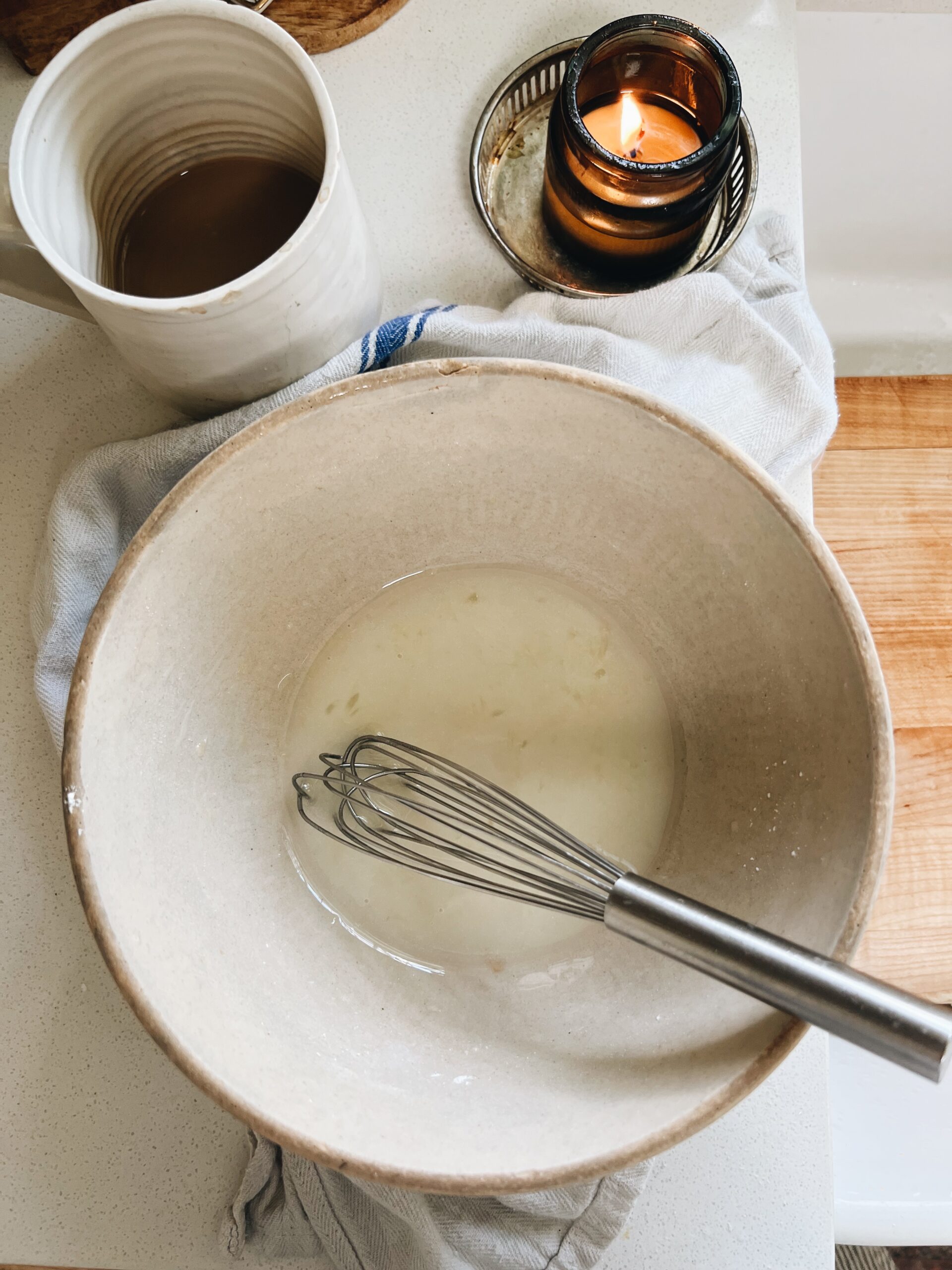 Let me also tell you that I should have used more powdered sugar. Go with a full cup + 2 Tbs. lemon juice. Your glaze will be thicker and creamier than mine. Mine is fine! Just not glaze-y enough.
I'm still a good person.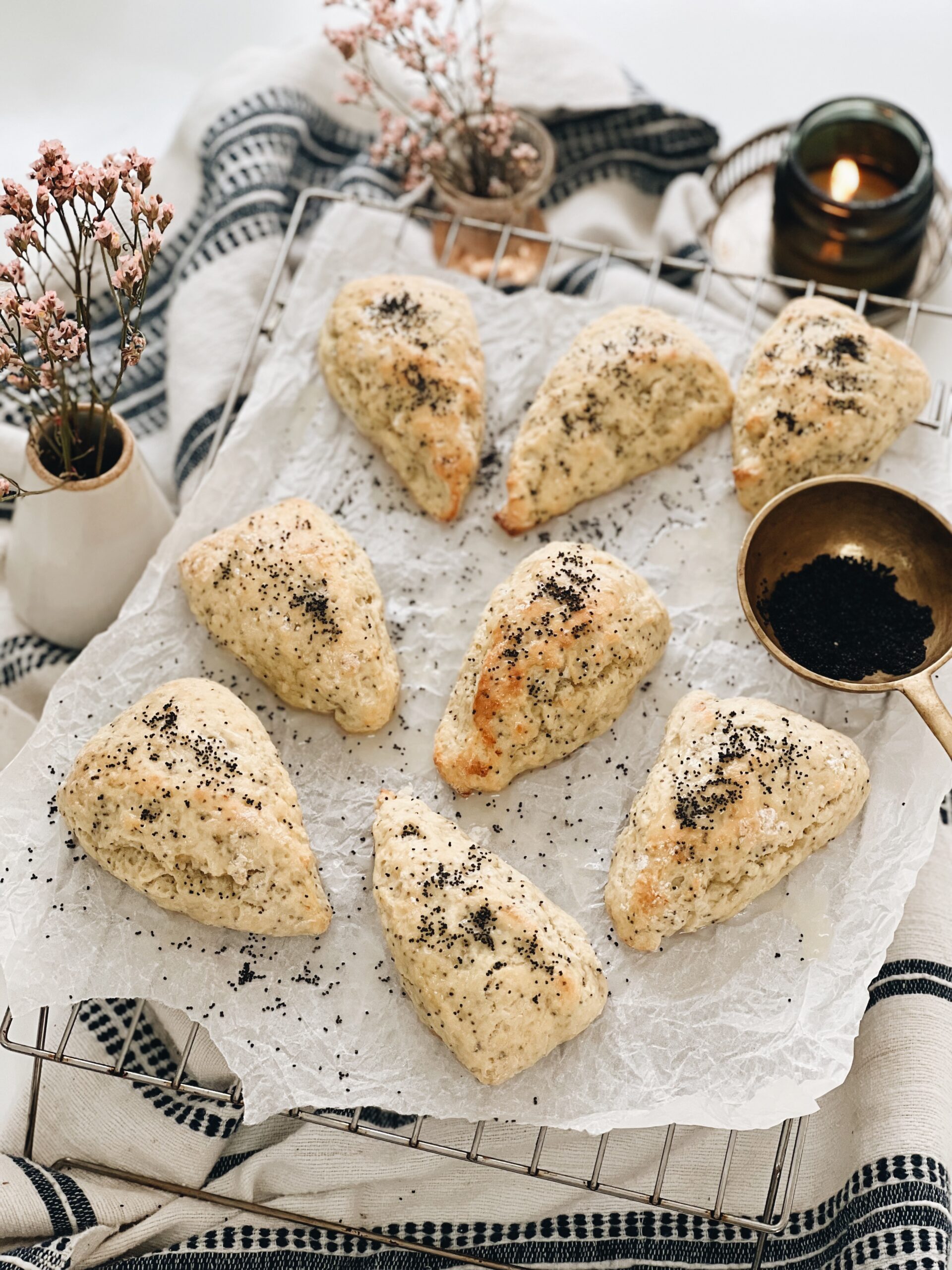 Honeeeeeeeey. Drizzle with the glaze and sprinkle with more poppy seeds and you're golden.
I love a good rustic scone, and this is definitely that. Fluffy on the inside, jagged on the outside, a bright lemony flavor throughout. It's too good.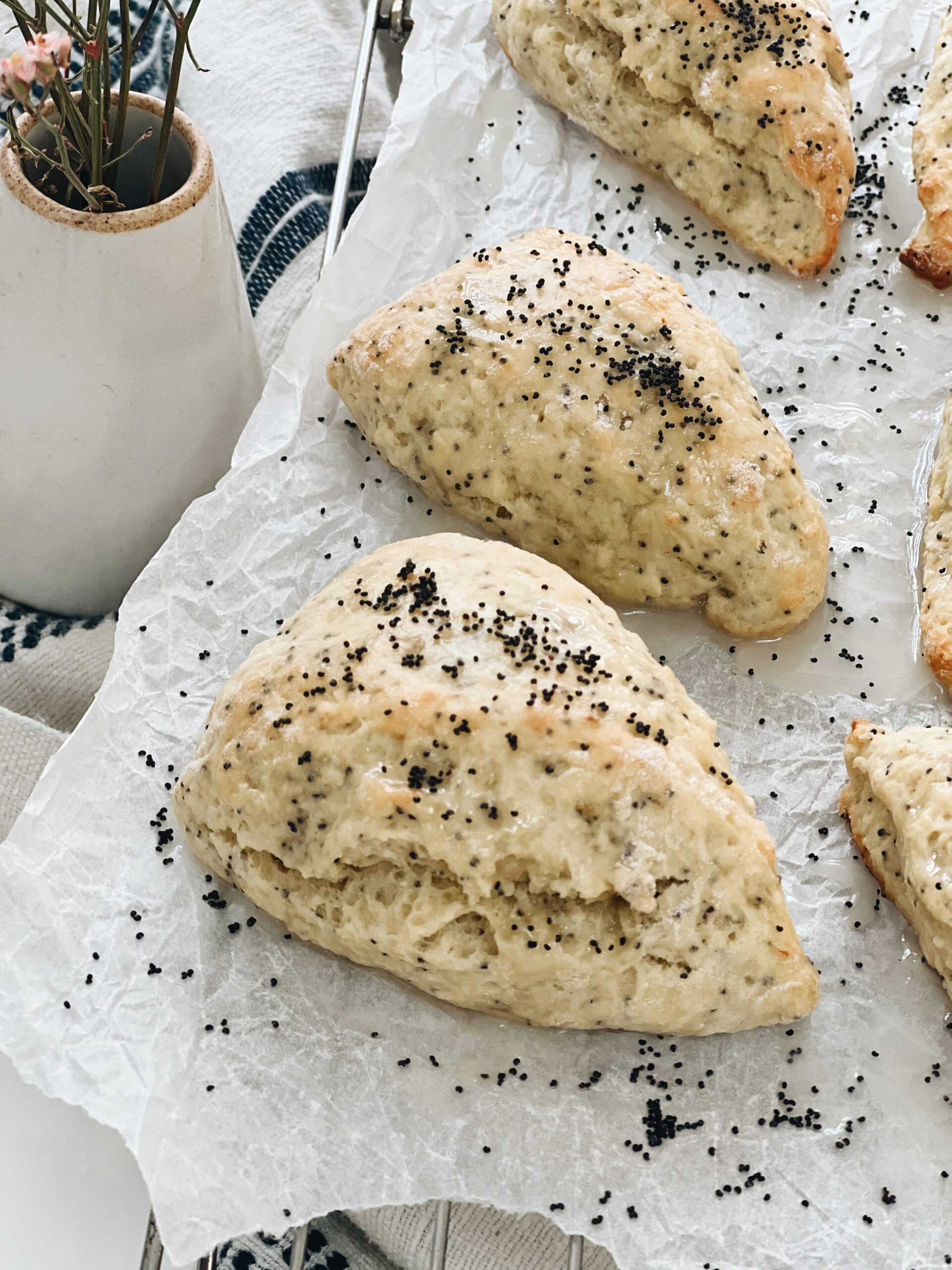 Be sure and serve it with some room temp butter for spreading (I forgot to photograph!) and get your giddy pants on.
This is perfect for any spring and summer breakfast or brunch you have on the calendar. Or just a cozy Sunday morning with nothing but jazz and fresh flowers ahead of you.
Get in these. Your kids will flip out.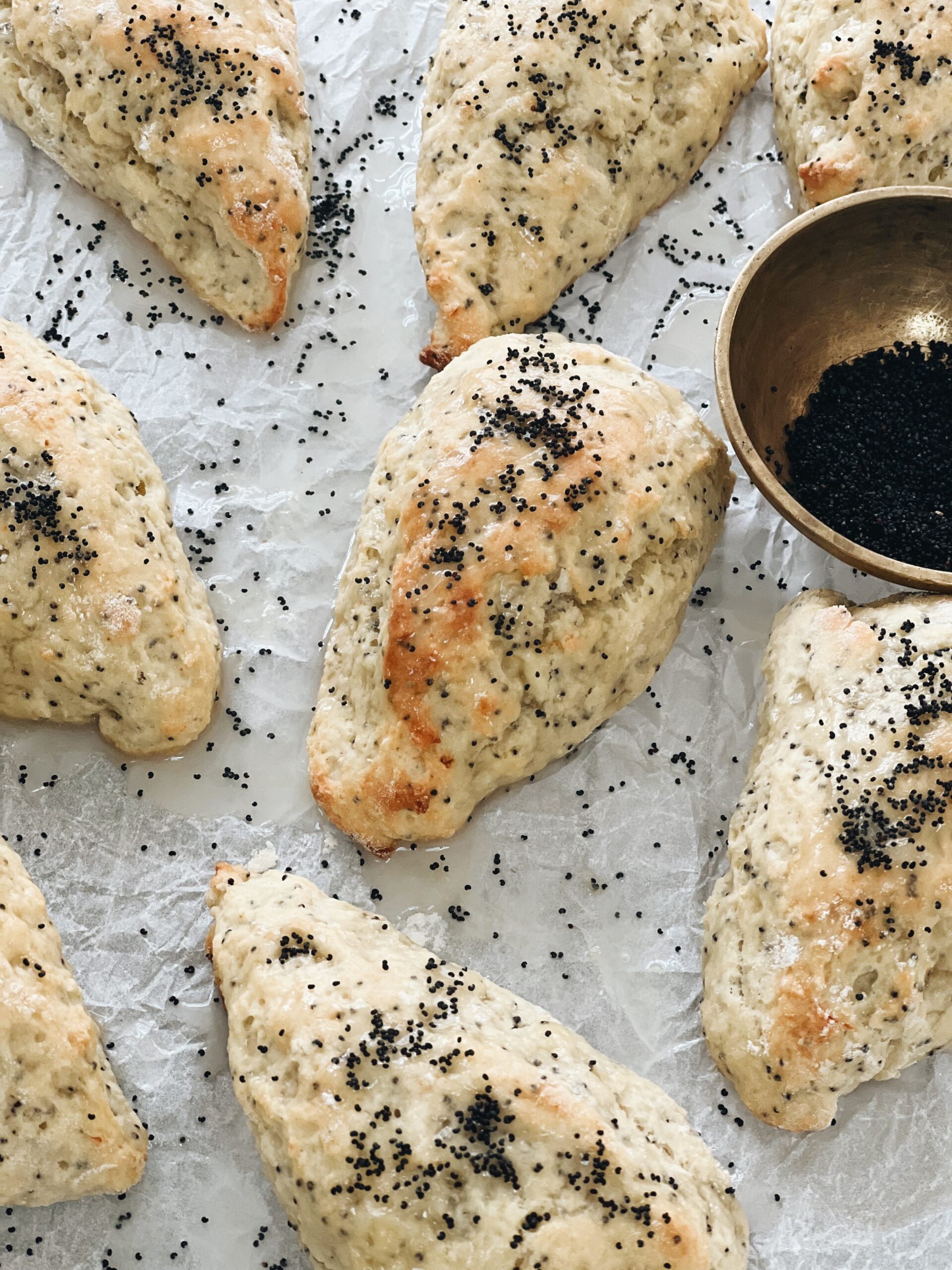 Have some butter on hand!
Ingredients
1 1/2 cups all-purpose flour
2 Tbs. Sugar
3 tsp baking powder
Pinch of coarse salt
2 Tbs. Poppy seeds
4 Tbs. Cold butter, cut into small pieces
1/2 cup milk
1 egg
1 lemon, juiced
2 Tbs. Lemon juice
1 cup powdered sugar
Instructions
Preheat oven to 400.
In a large bowl, combine the flour, sugar, baking powder, pinch of salt and the poppy seeds. Whisk to full combine. Add the butter chunks and press with your fingers until they become thin flakes, eventually mixed well into the flour, until there are no big crumbles.
In another bowl, whisk together the milk, egg and the juice from one lemon.
Pour this mix into the dry ingredients and stir to create a dough. Tip the dough onto a floured work surface and knead into a circle. Don't overwork the dough. Using a pastry scraper, divide the dough into eight triangles. Transfer them to a baking sheet and bake for 15 minutes. That's it!
In the meantime, combine the lemon juice and powdered sugar in a bowl; stir or whisk until it's a pretty glaze.
Drizzle the glaze over the scones and serve immediately!
Makes 8 scones.
7.8.1.2
636
https://bevcooks.com/2023/04/lemon-poppy-seed-scones/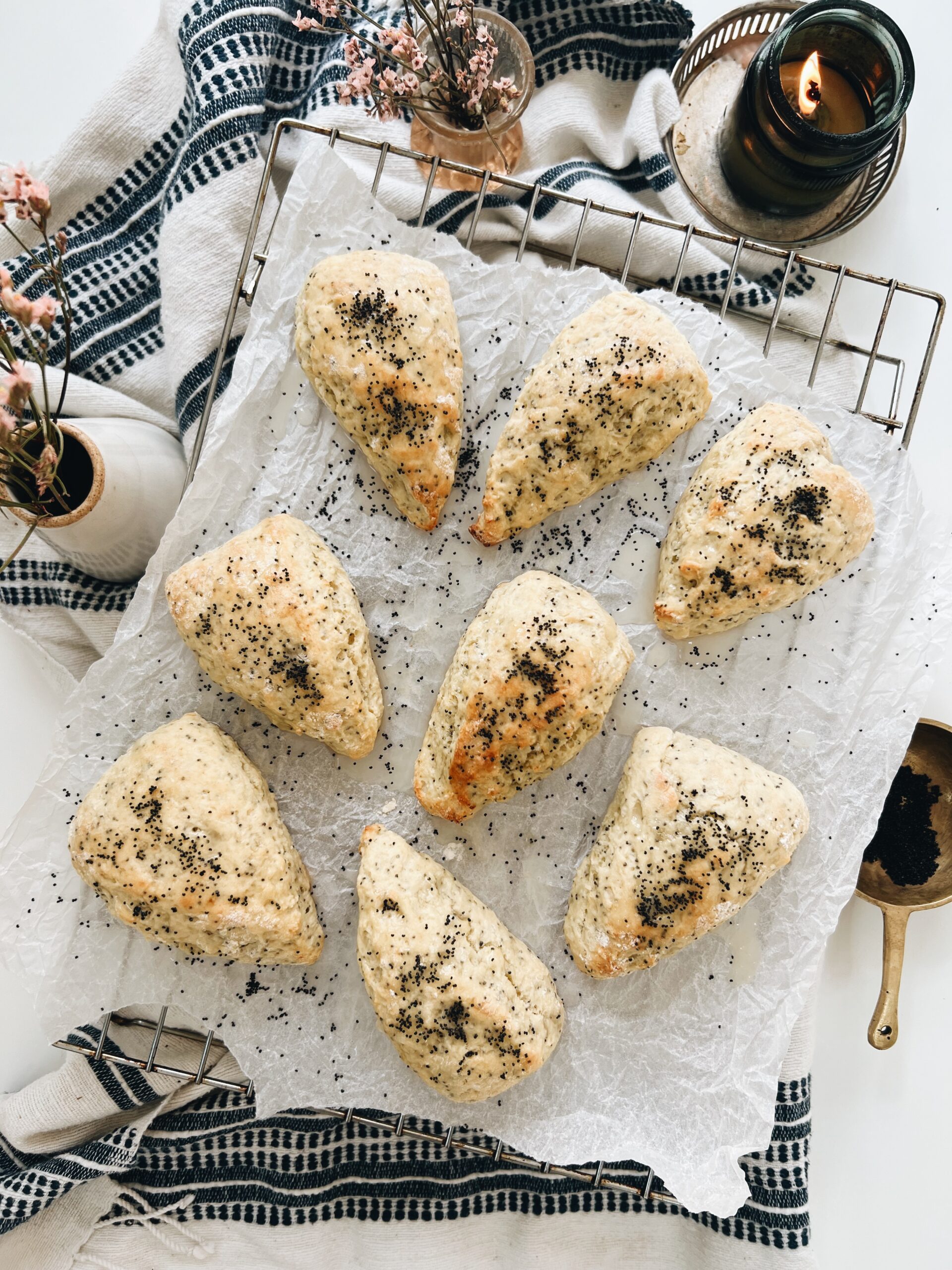 What should be my next scone adventure??