Luscious alert! You've been warned.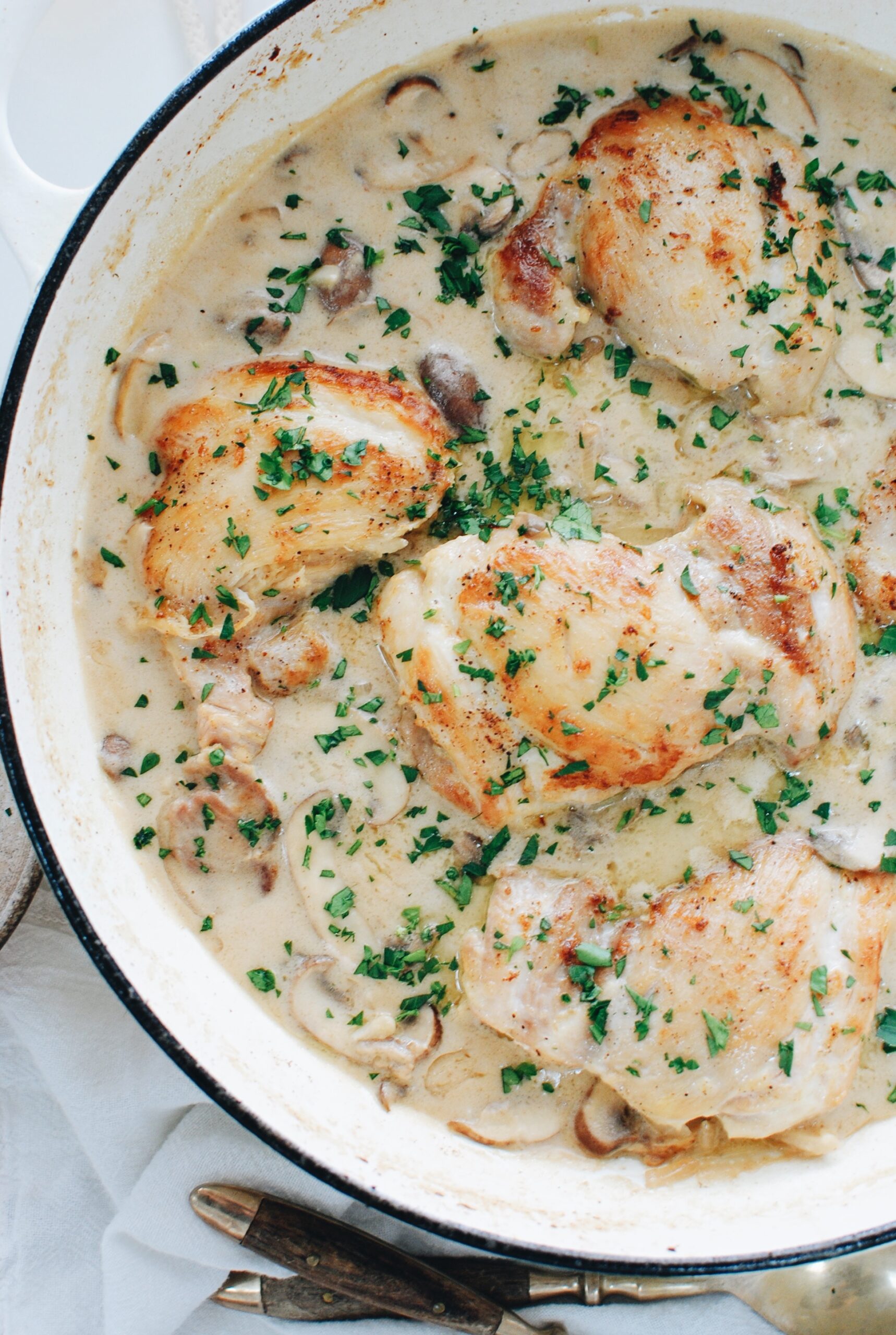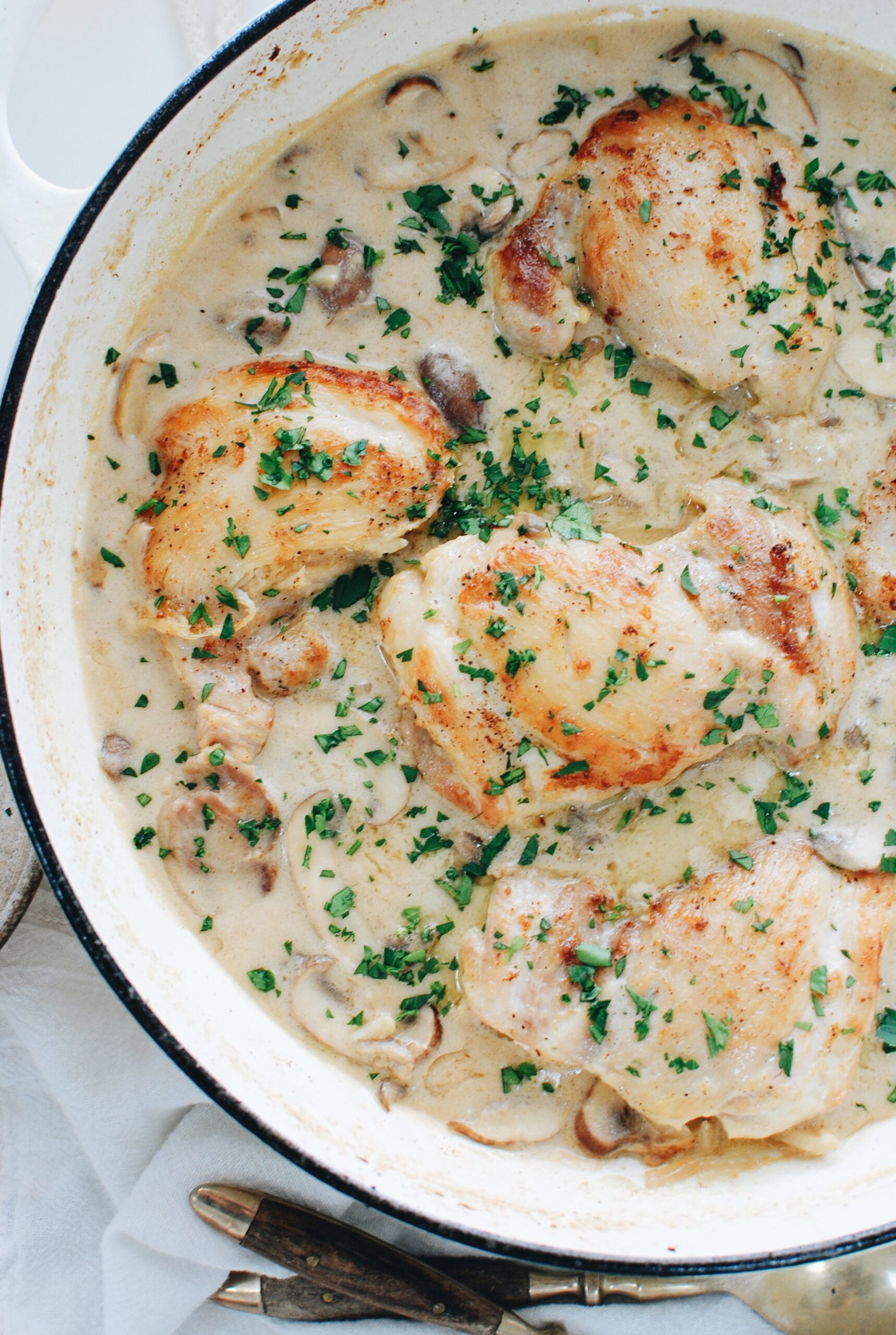 It's still chilly, so let's make something classic and warm and homey before we can't anymore.
Not that we'll not be able to make this in June. We may not want to, is all I'm saying.
You may want to. Don't let me stop you! I'm just meaning that this is a warm and comforting dish and not like, a salad.
Never mind.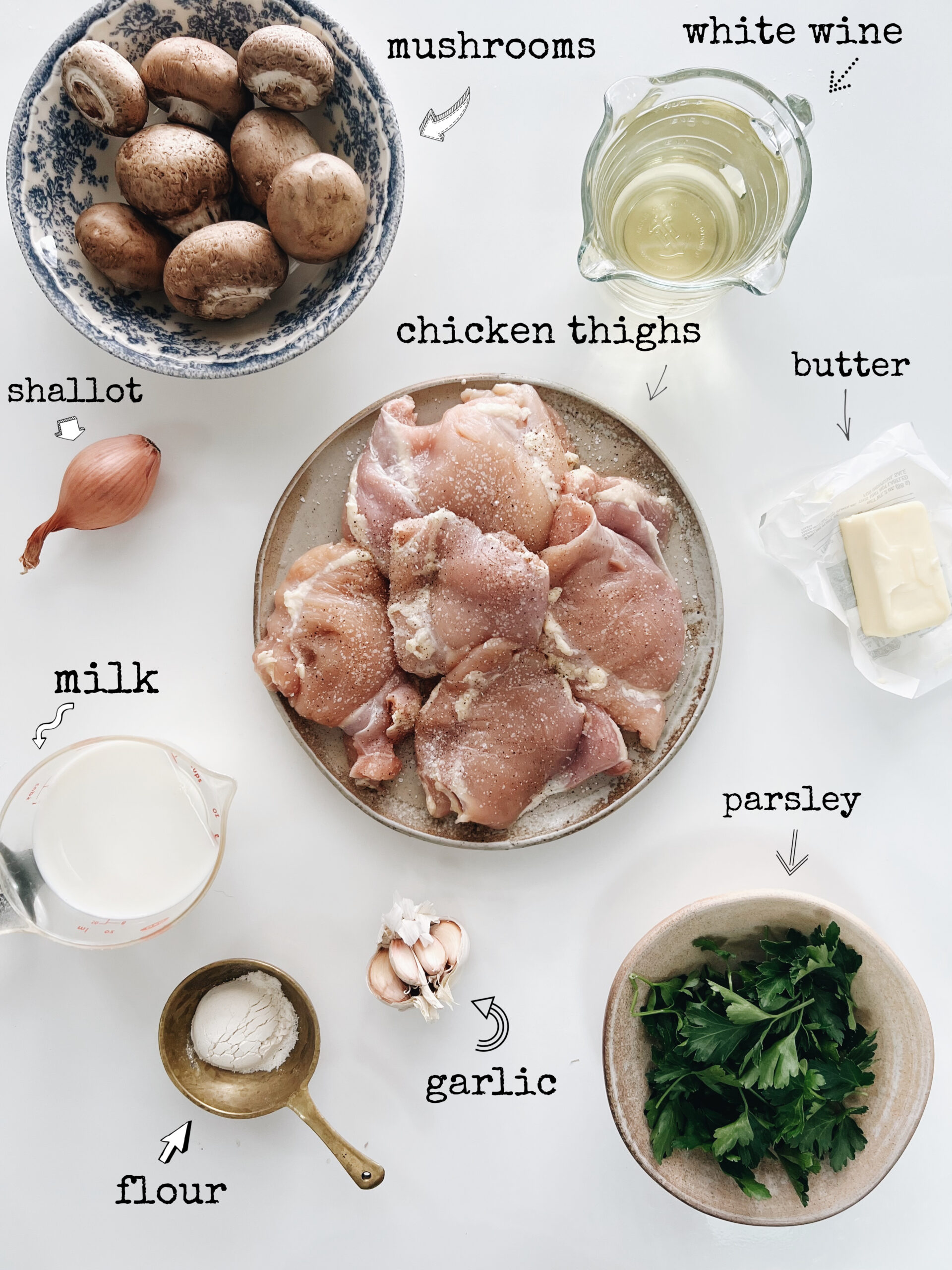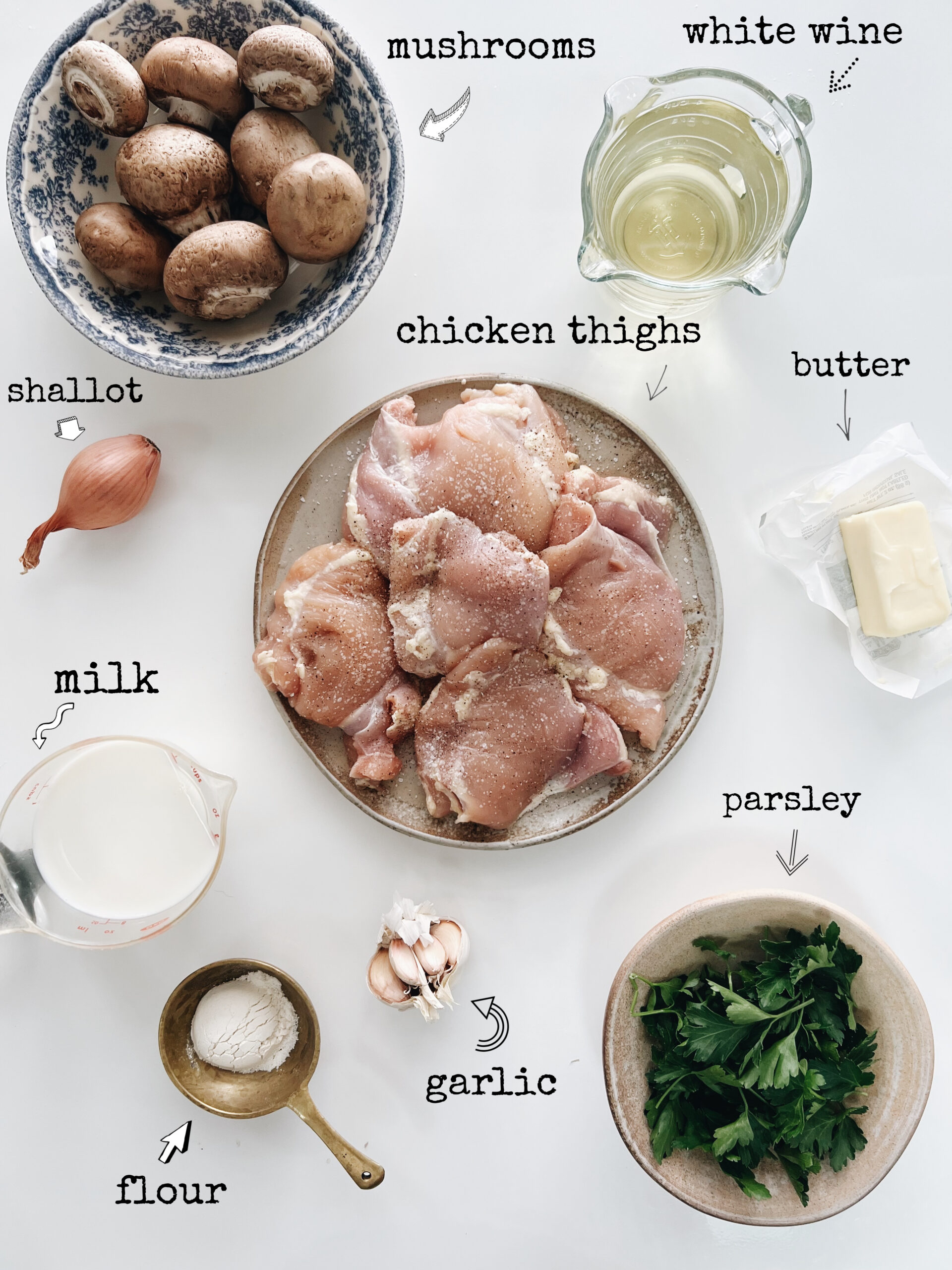 Pretty straightforward. And there are versions of this type of recipe errrwerrrrrr, but I had a little bit of wine left (gasp!), and didn't want to drink it (double gasp!) so I used it up in this recipe. So, if you're in the same boat as I was (never!), this is your solution.
…did you leave?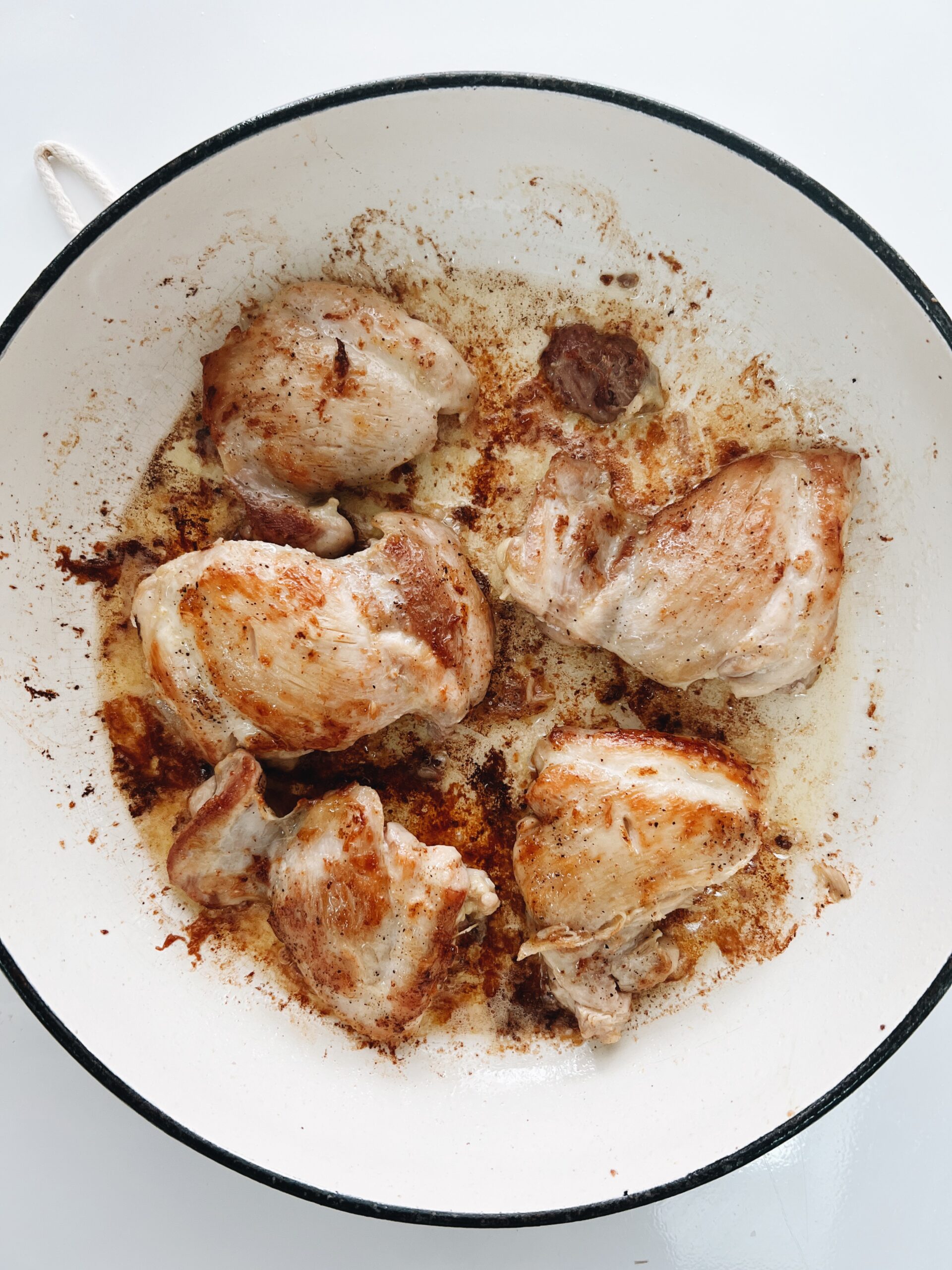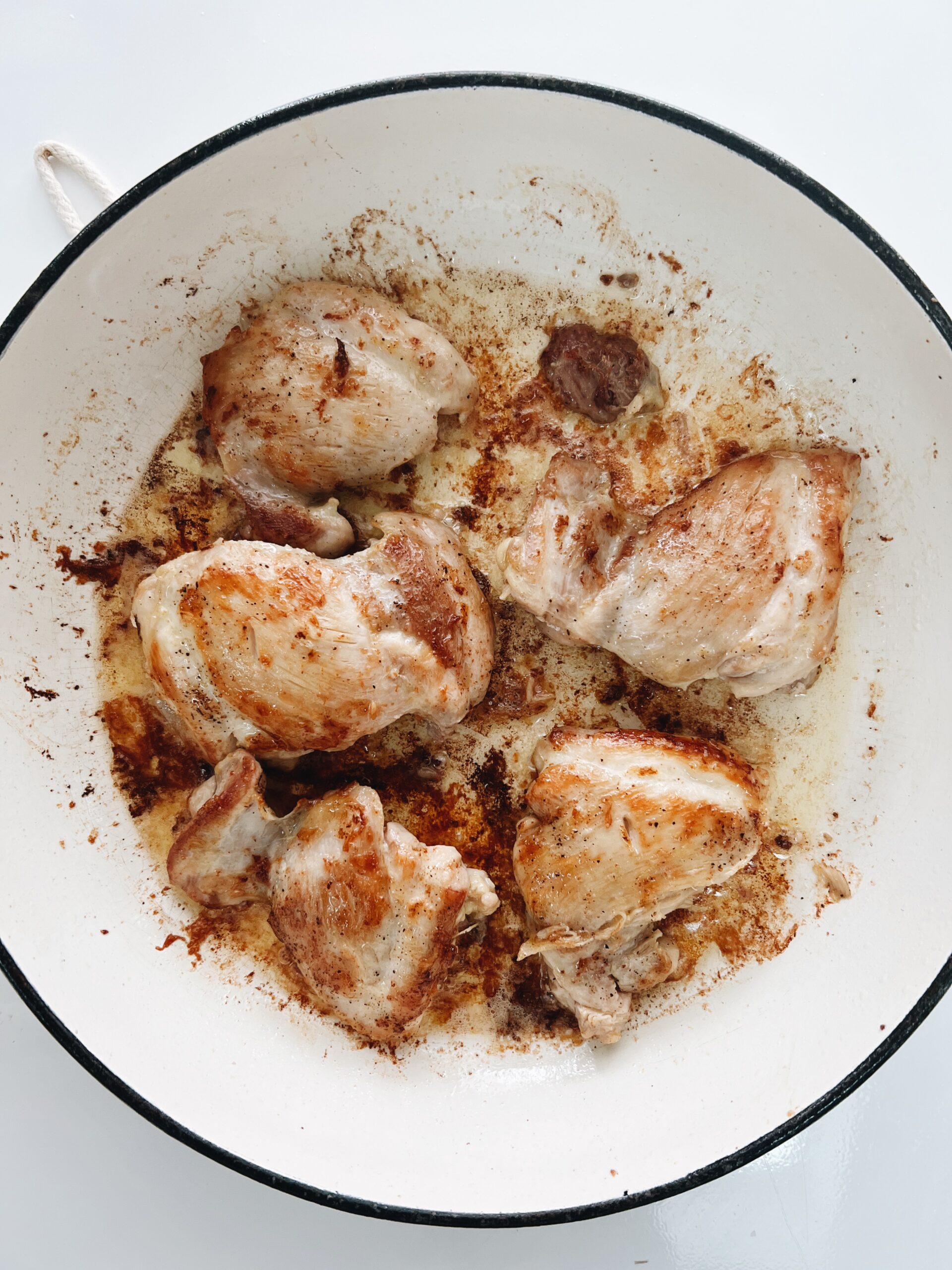 We'll melt butter and sear some thighs! Boneless and skinless, like I tend to do. If you have skin on yours, totally fine. Just get some color on 'em! Then we'll pop them out of the pan while we make the rest.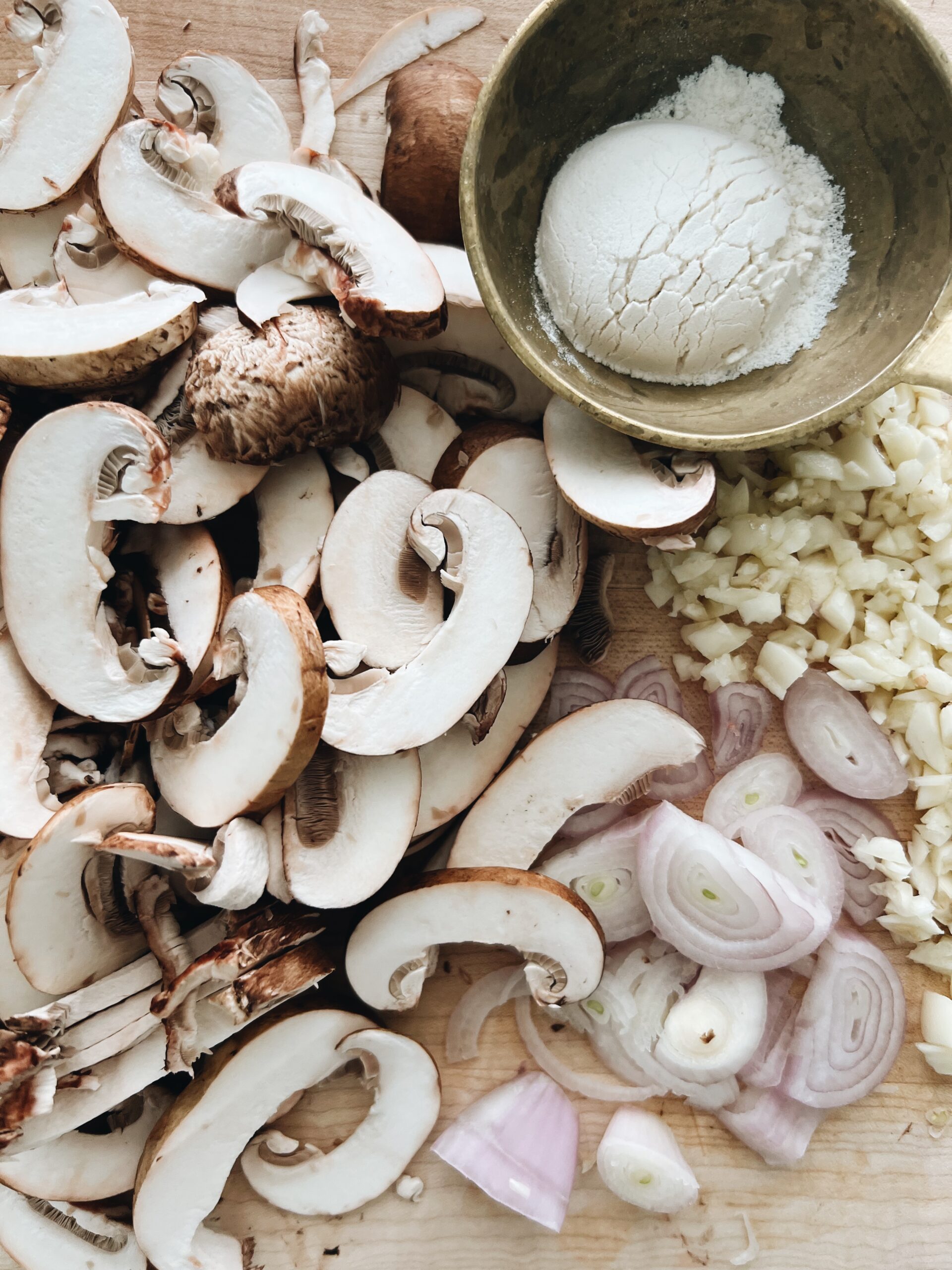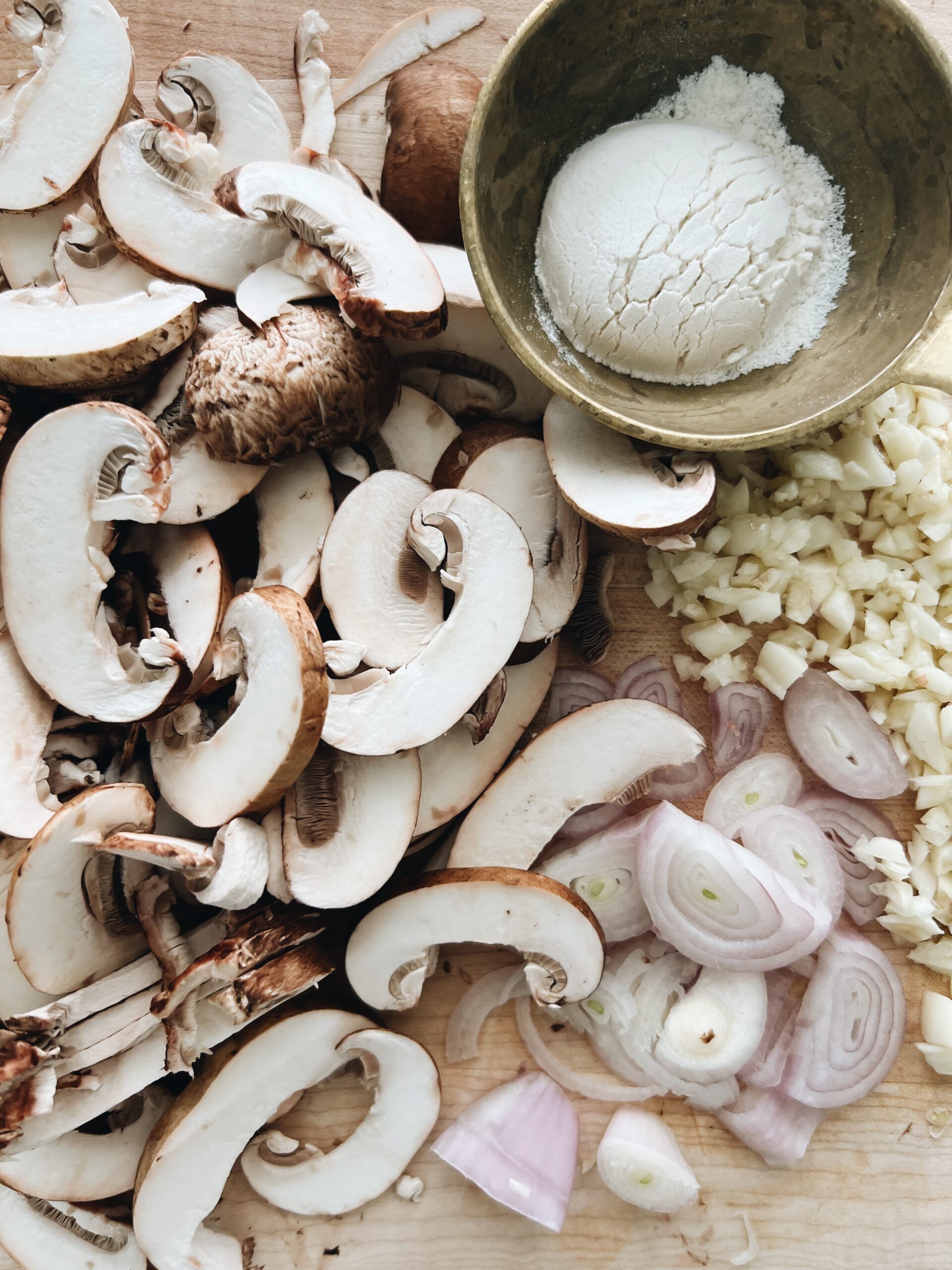 We'll slice up a shallot, some baby bella mushrooms (twist out the caps if you want. I love doing that!) and garlic. Well, you'll chop the garlic. You can slice if you want! I'm not bossy.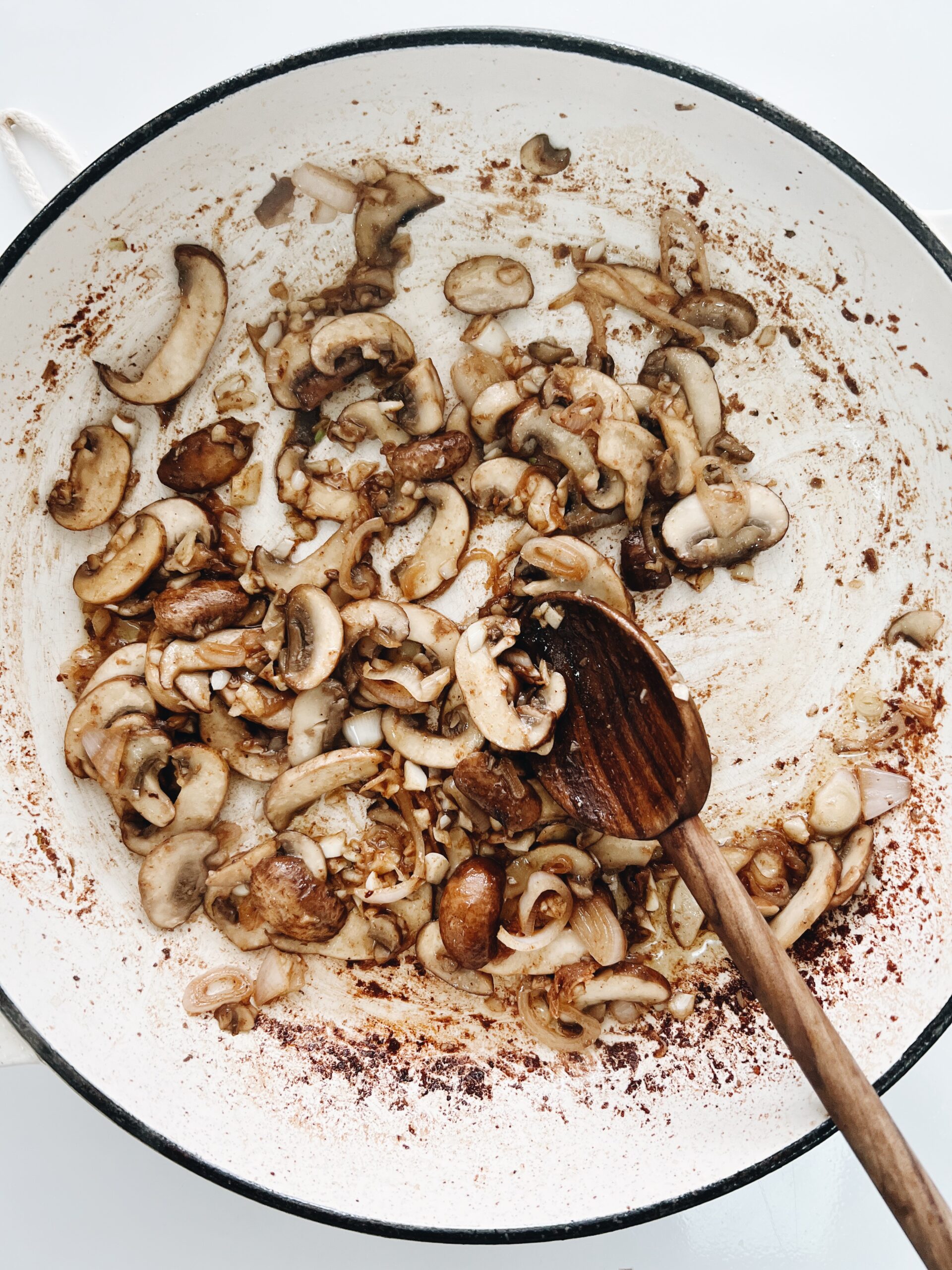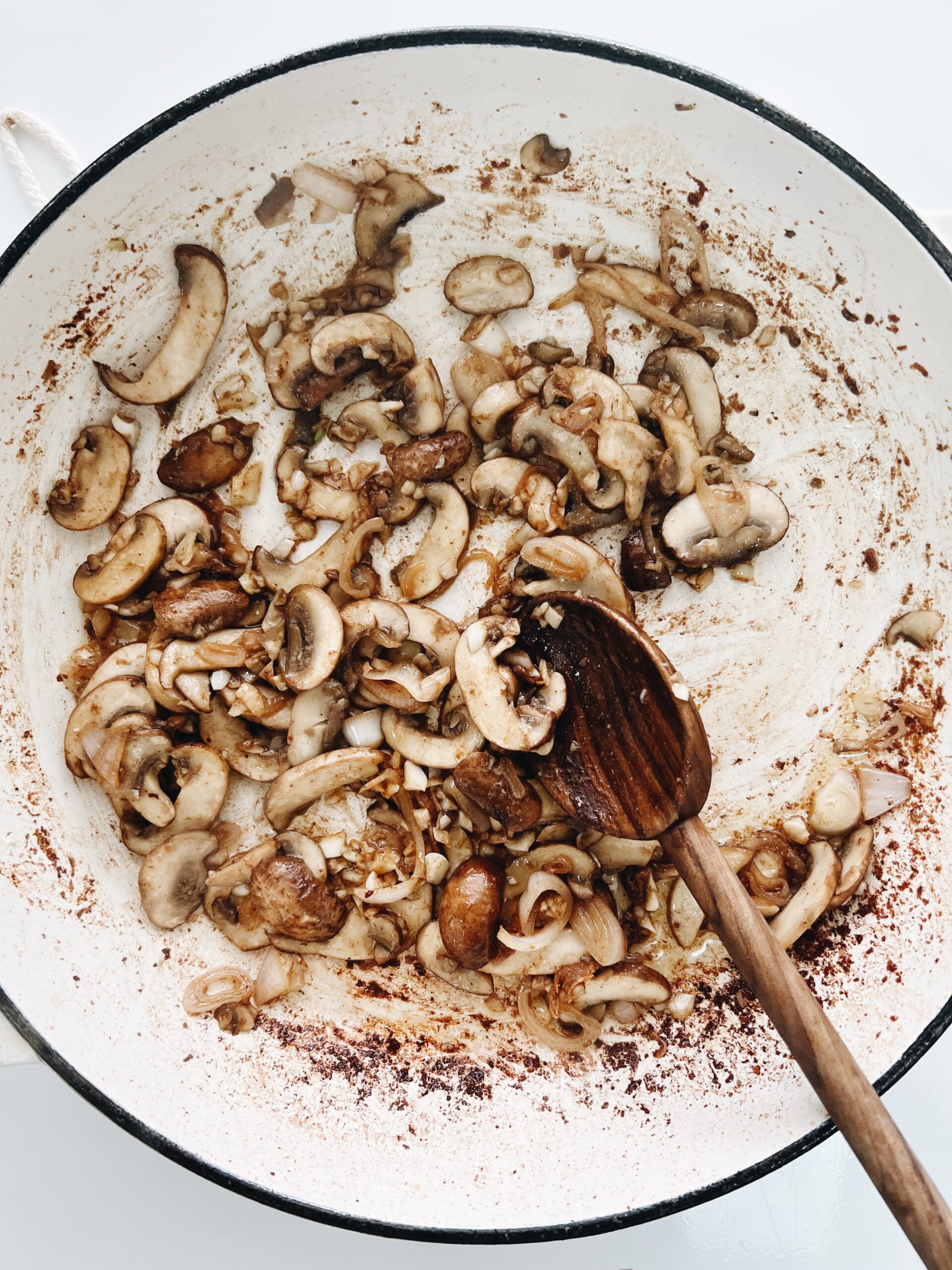 We'll sauté the shallots for a little bit, the mushrooms for another little bit, and the garlic for the last little bit. Roger?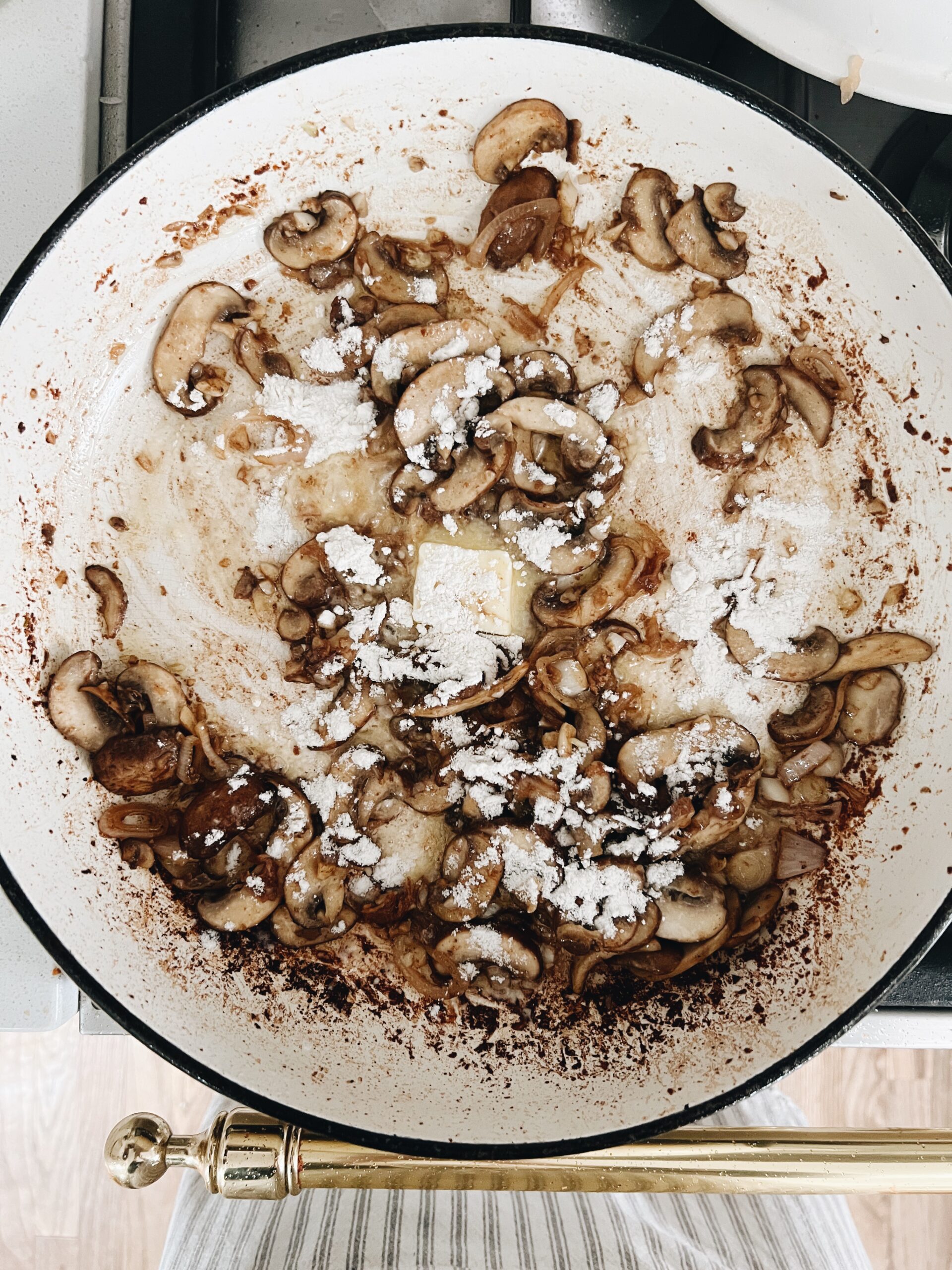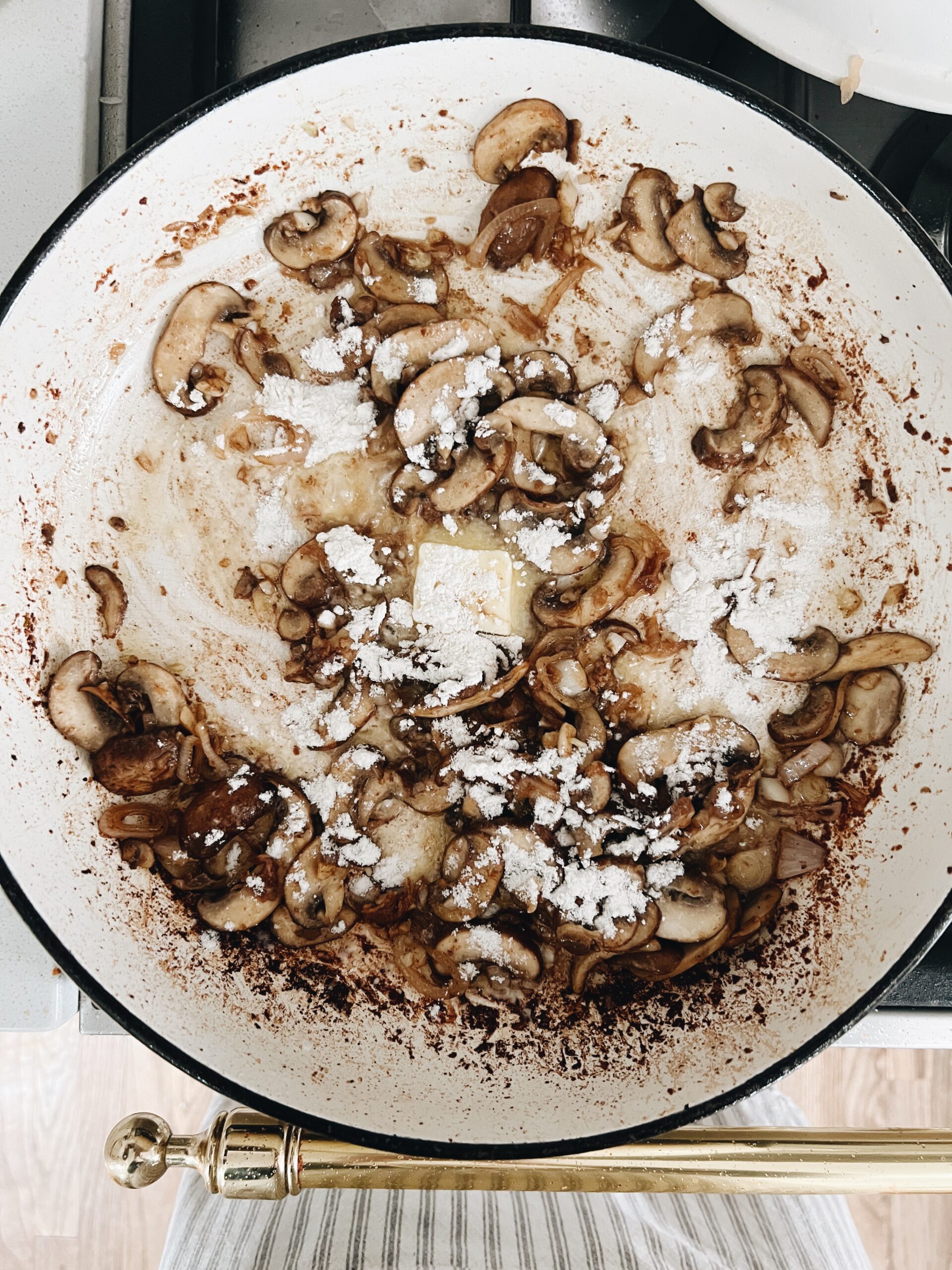 Then we'll violently add in that last Tbs. butter and the lil' sprinkle of flour. Stir it with your wooden spoon for a second, then slowly pour in the wine and milk, letting the whole sauce bubble up and thicken a little. It smells so good in your kitchen right now.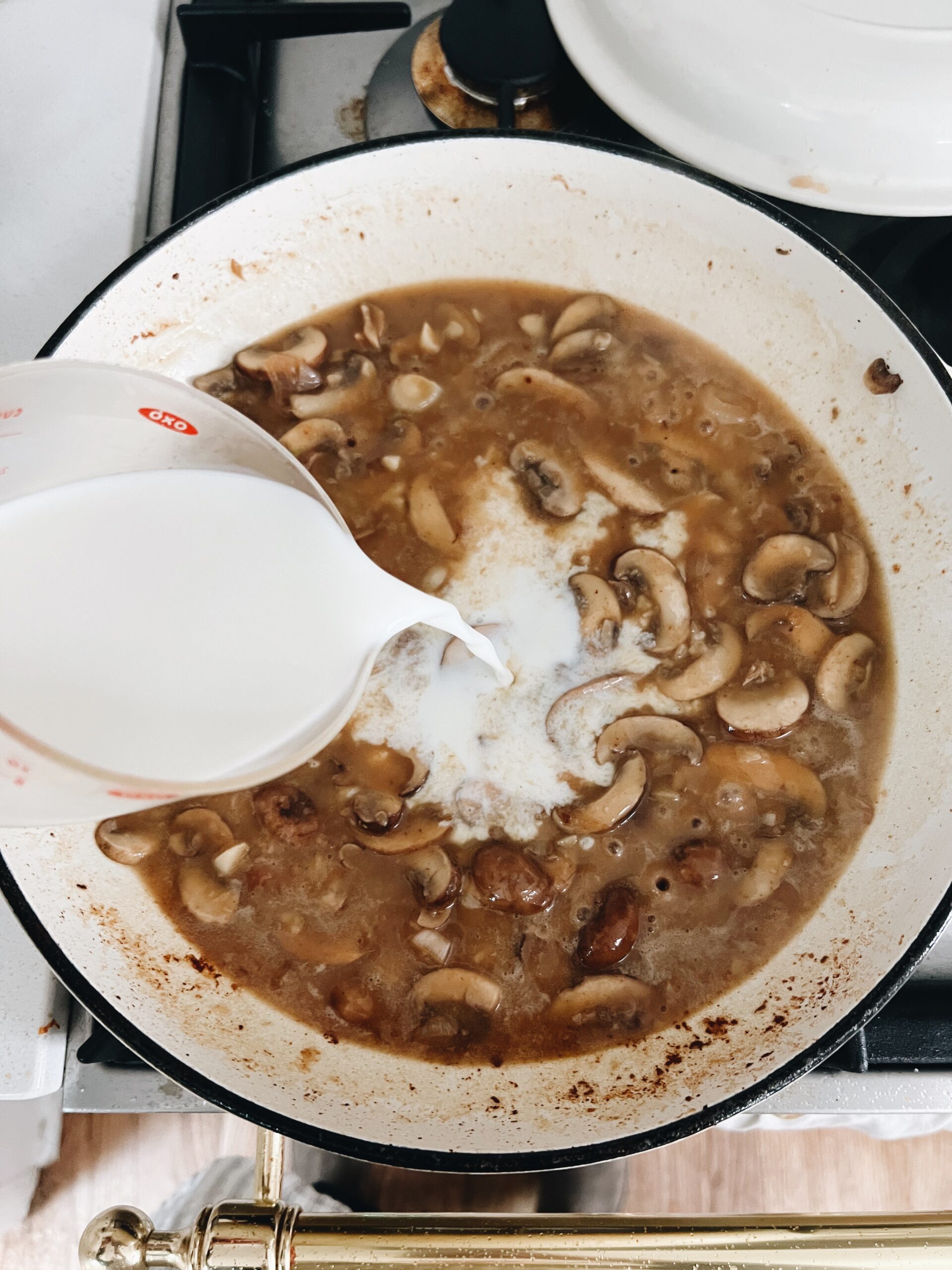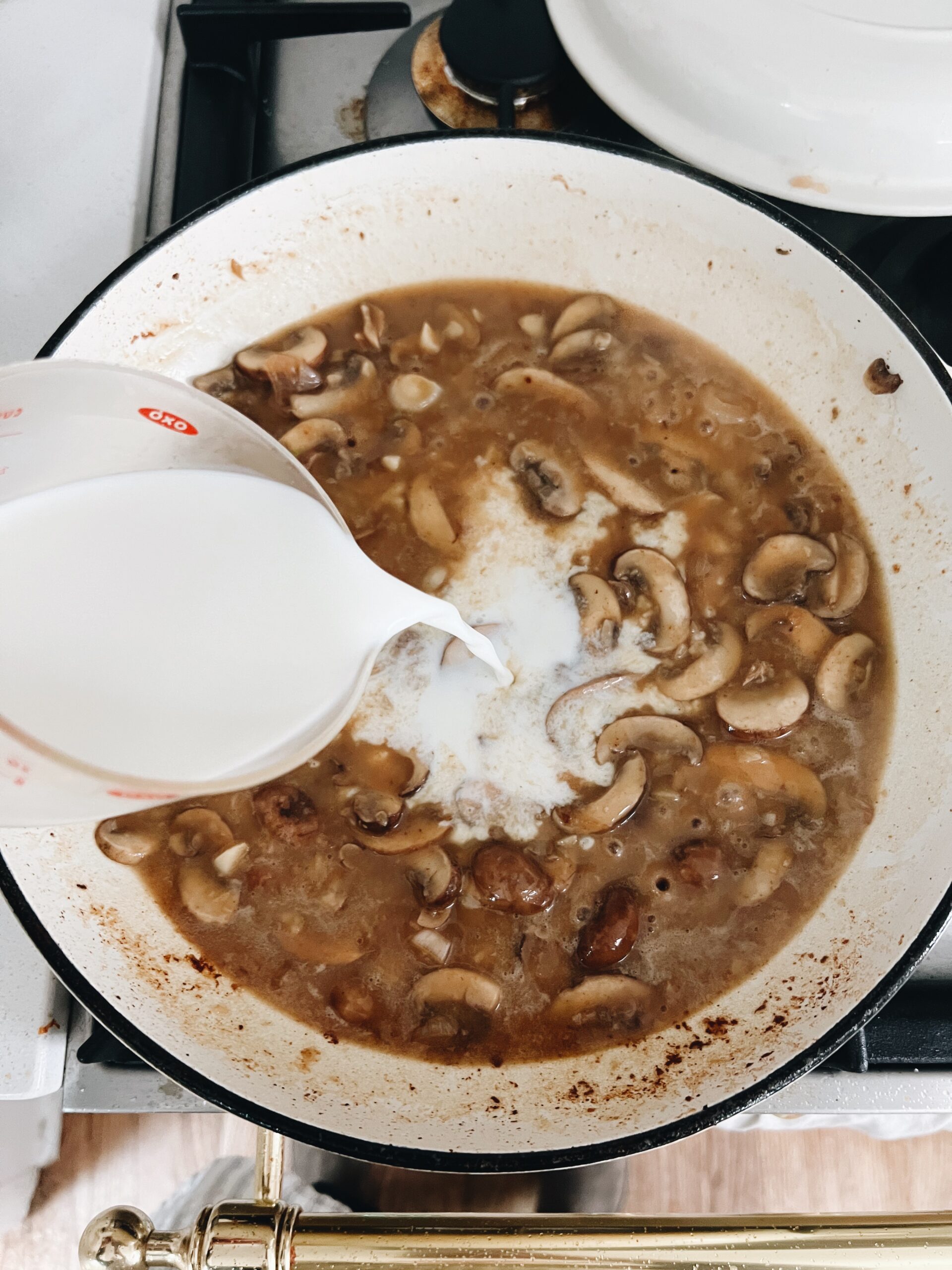 Like this. The flour thickens it and it really takes on this deep flavor with the wine. The wine you didn't want to drink (the horror!).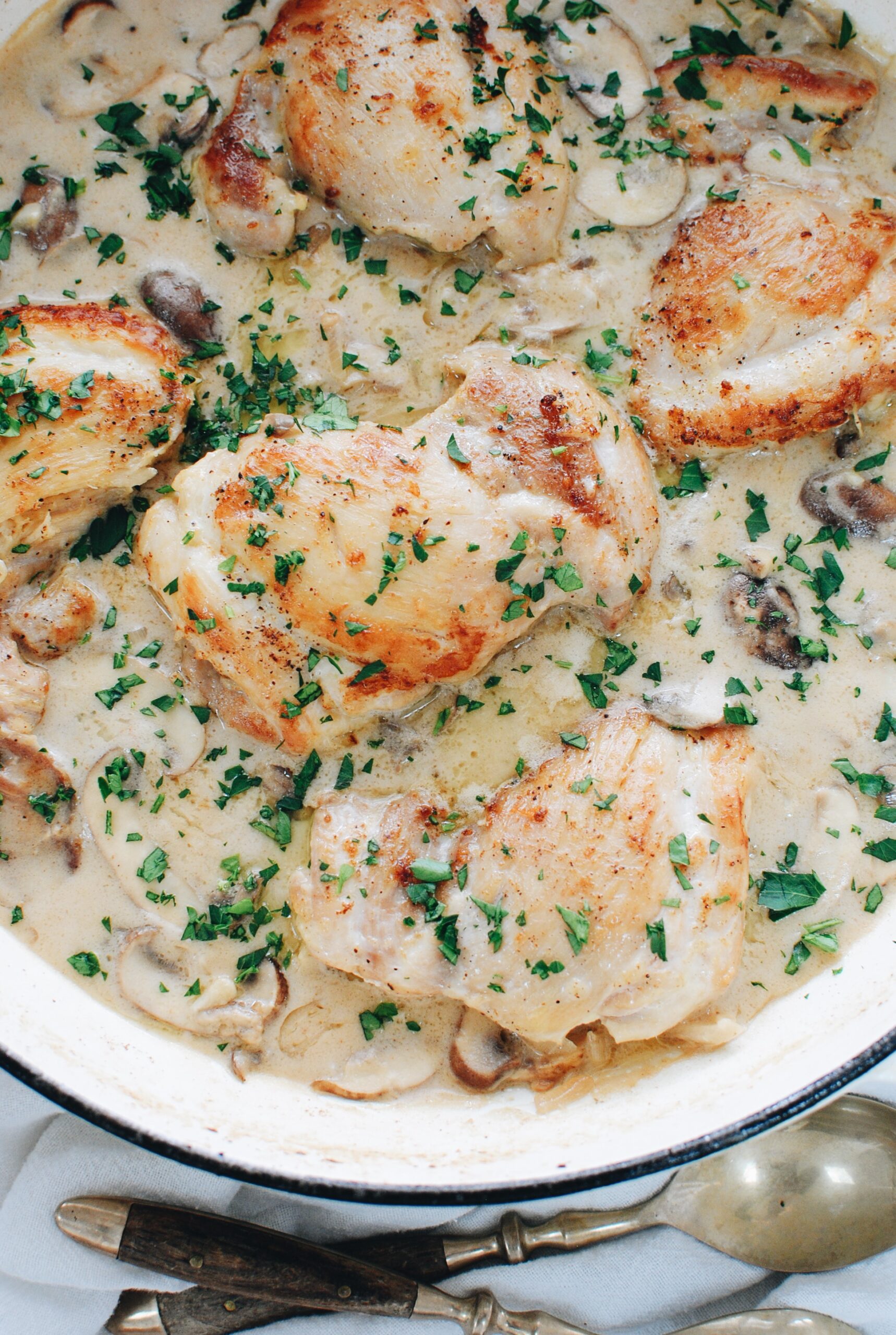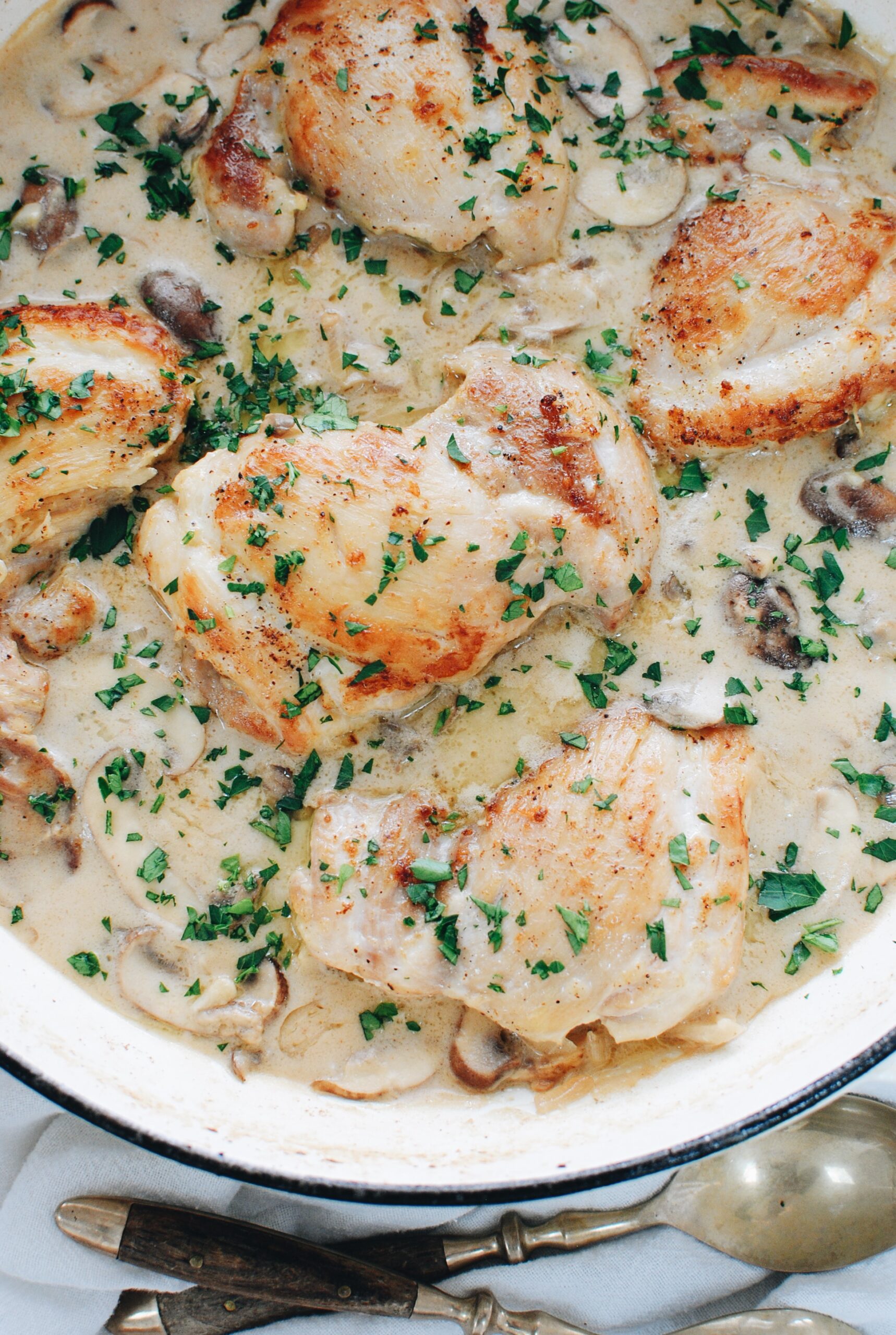 Then we'll just nestle the chicken back in for a few more minutes and boom, done.
Let's garnish with minced parsley while we're at it! Noooow we're done.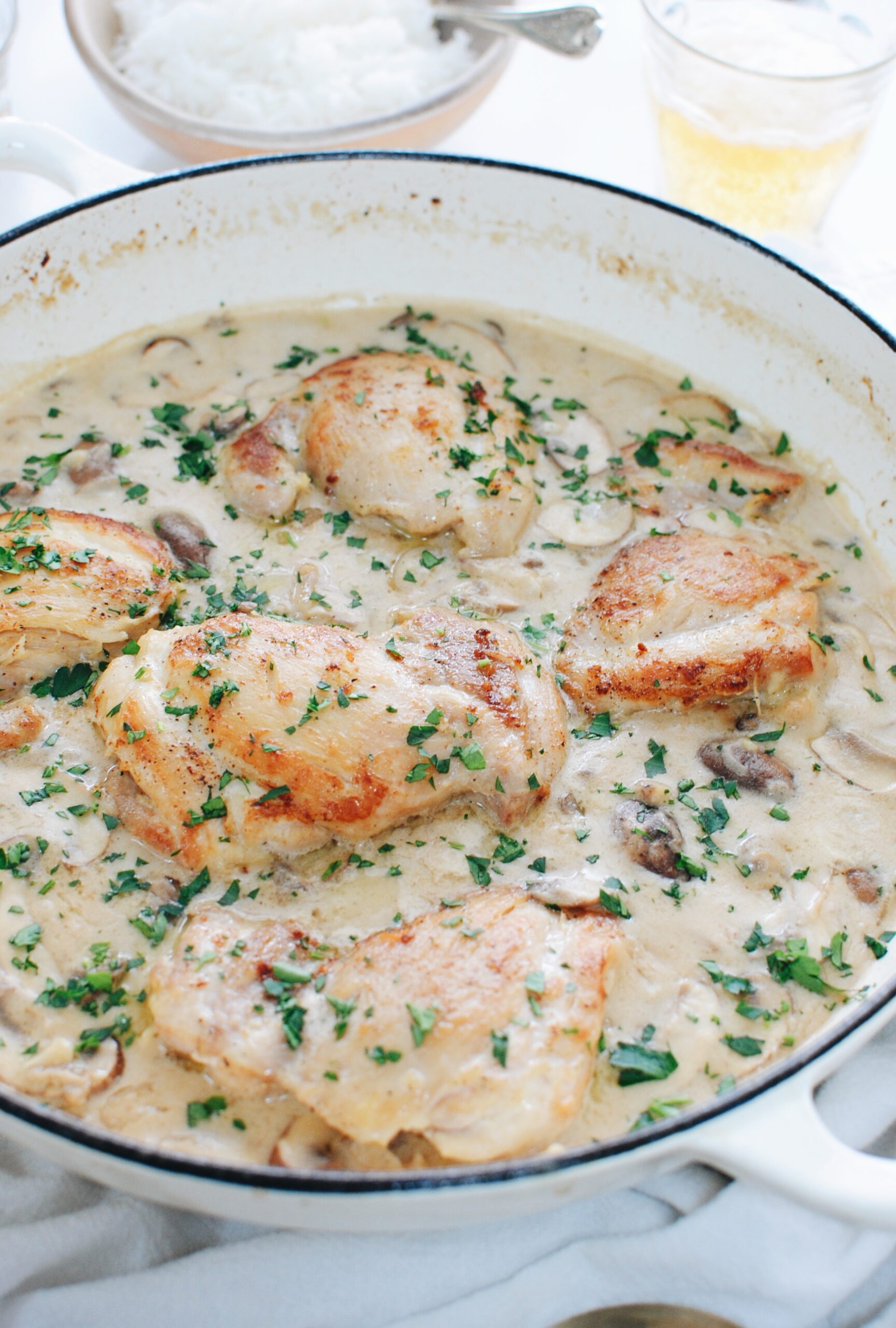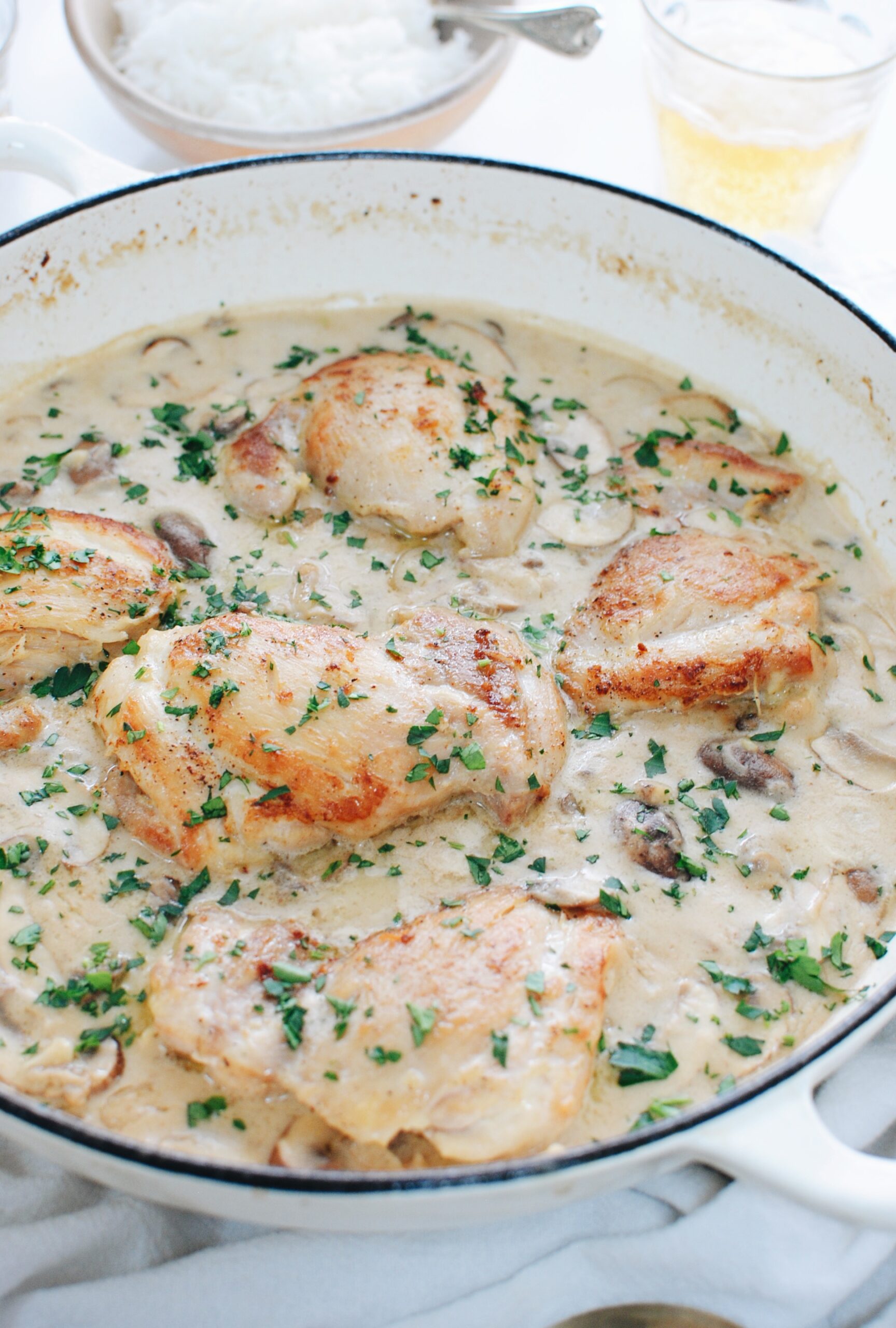 I'm telling you, that sauce is stupid delicious. Just creamy enough to hug your soul innards.
And you know, you could always have a little lemon on the side to wake it up! Taste it and see what you think. It's rustic and homey enough as is.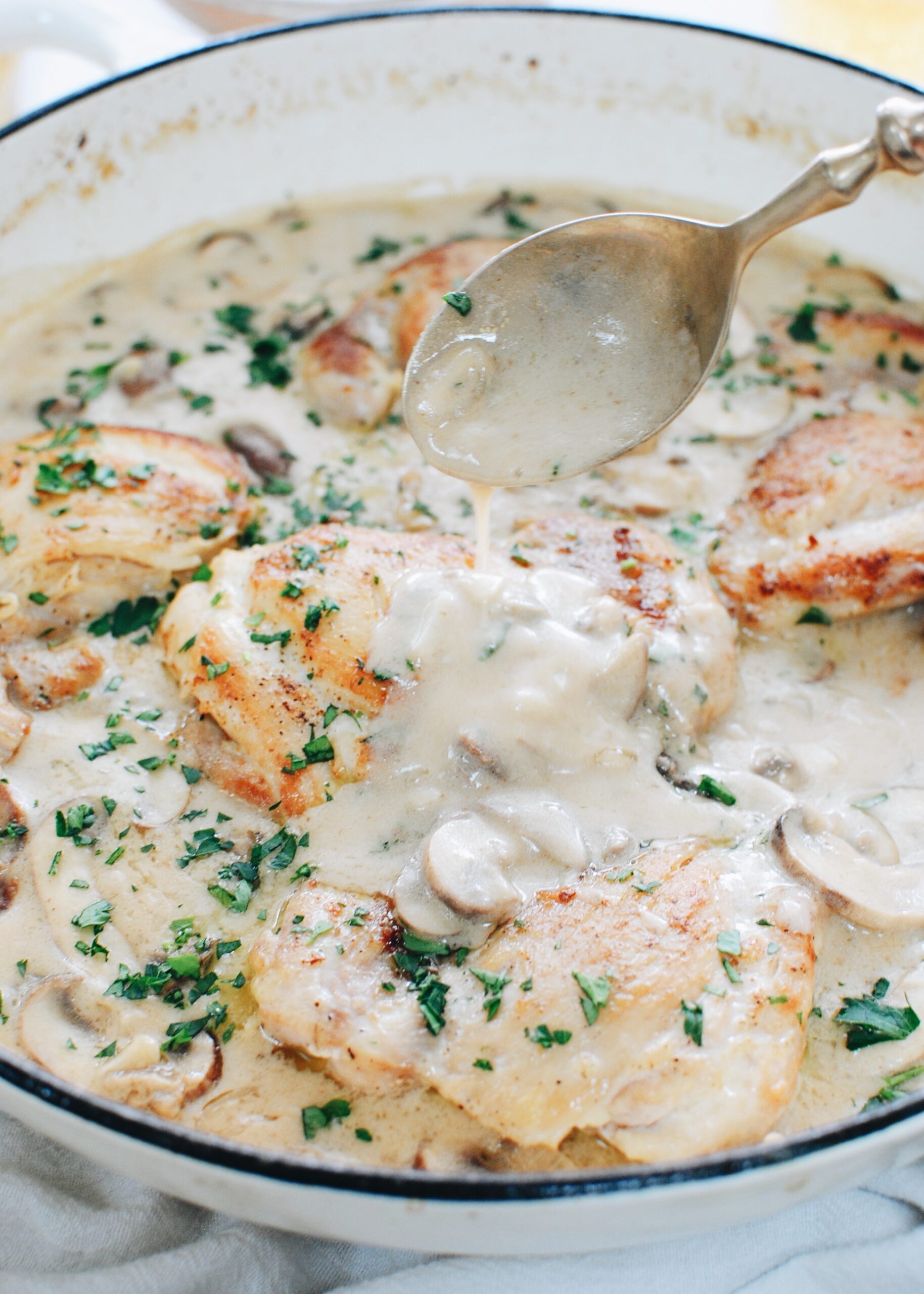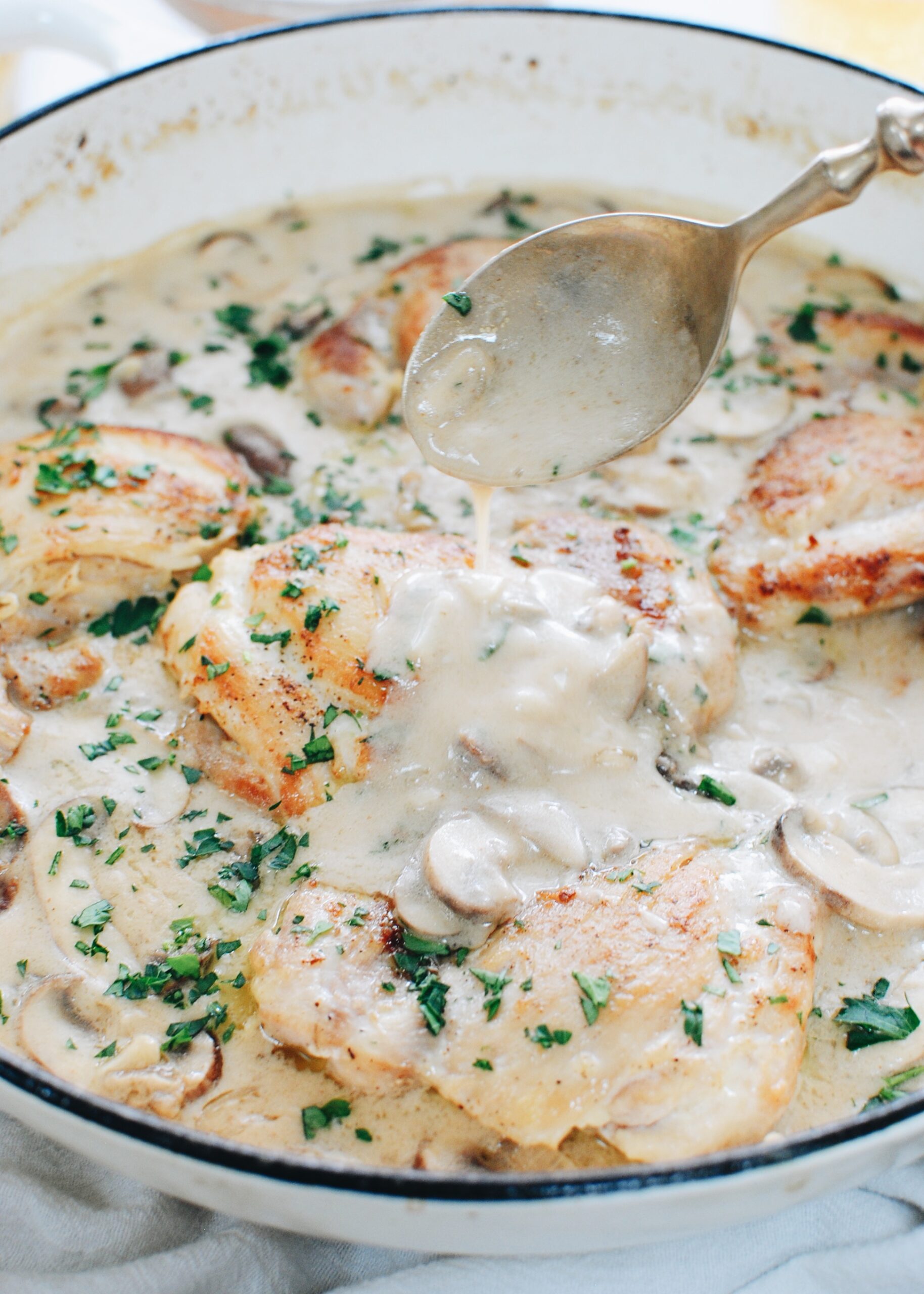 Look at that sauuuuuuce, good gracious sakes alive.
Have some cooked white rice on the side for serving! You could definitely go with pasta if you're not feeling rice. Even polenta would be positively wonderful. Anything works here.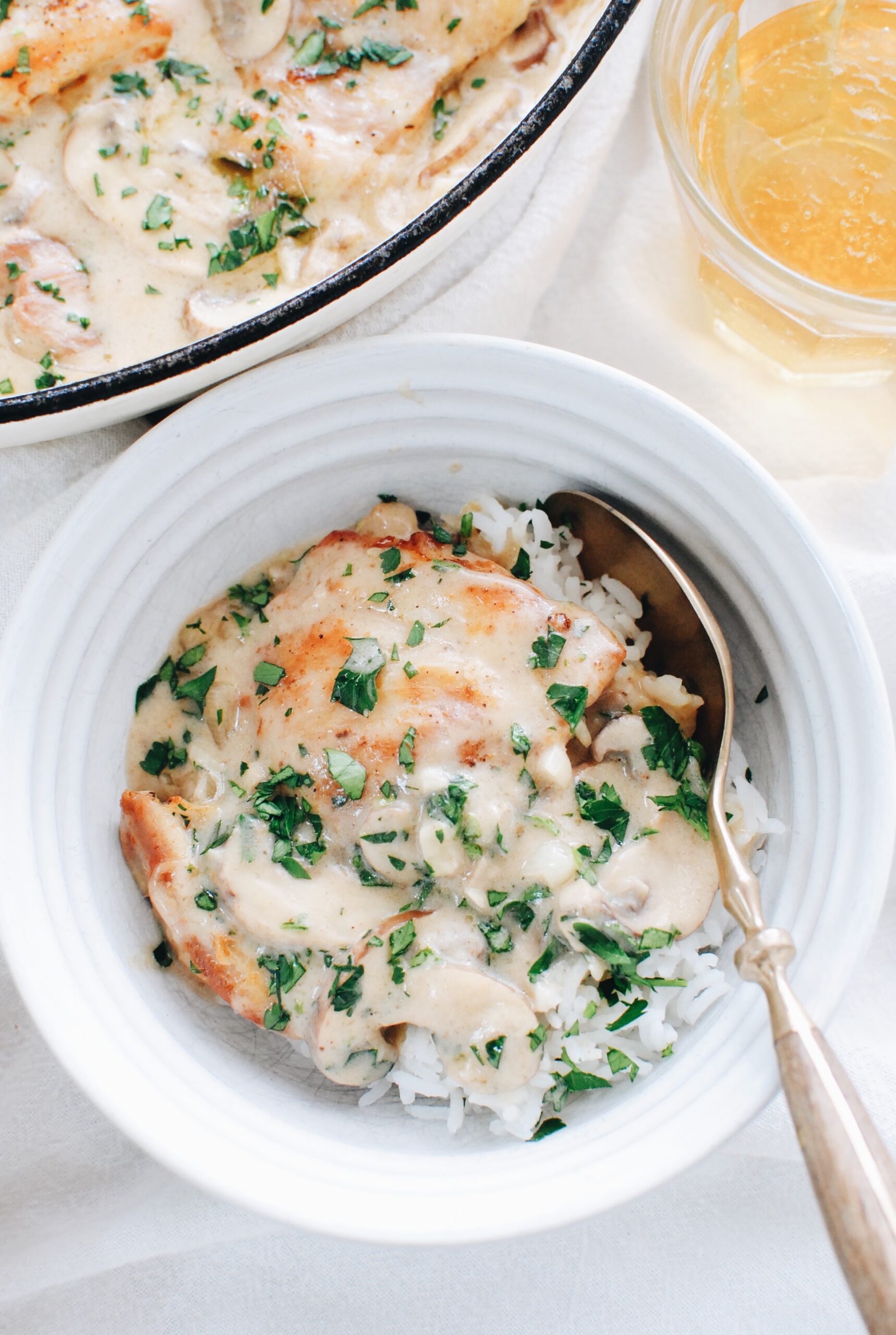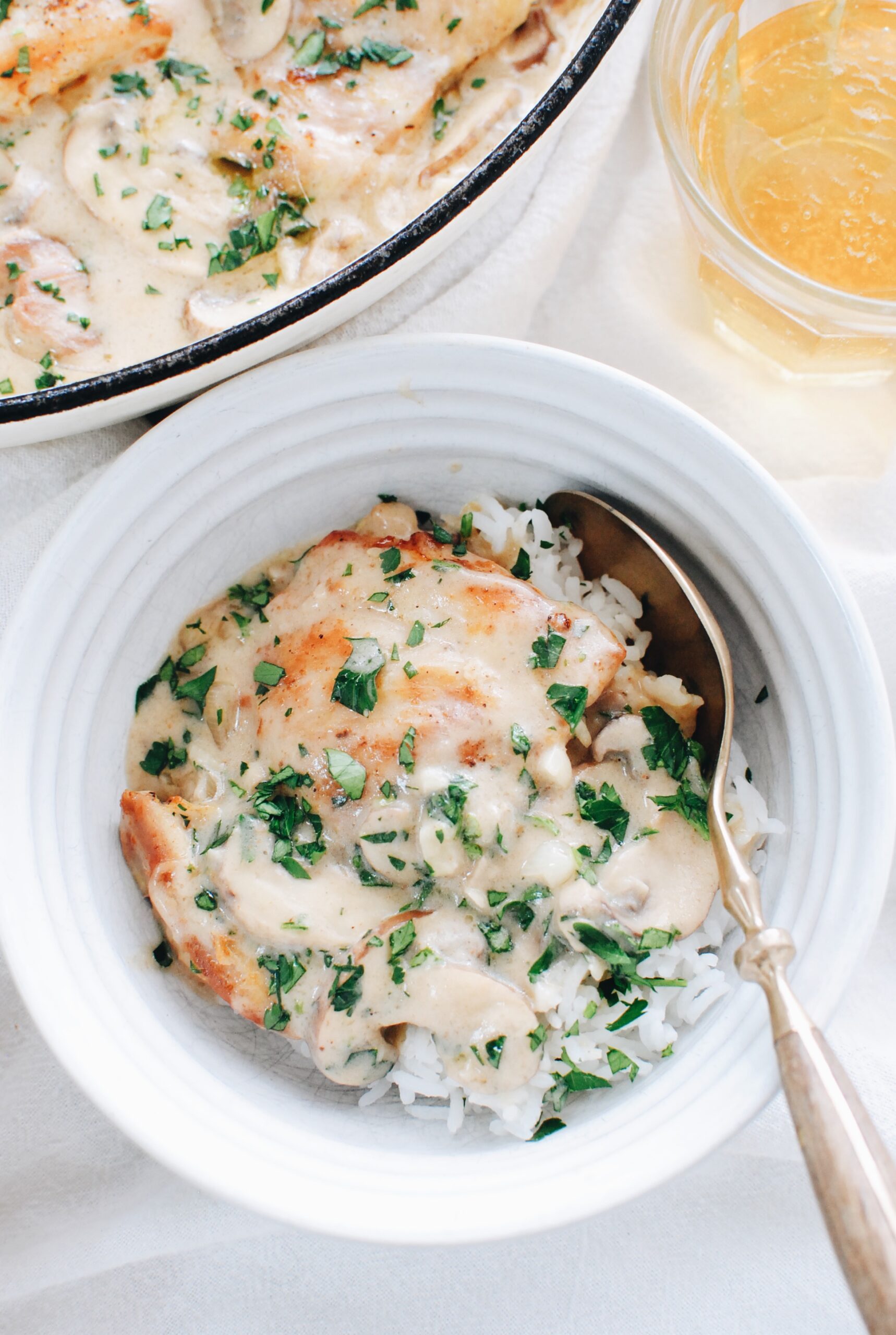 Get ya face in it!
Creamy Skillet Chicken and Mushrooms
Ingredients
4 Tbs. butter, divided
1 1/2 pounds chicken thighs (boneless, skinless)
1 shallot, thinly sliced
6 garlic cloves, chopped
8 oz baby bella mushrooms, capped and sliced
1 Tbs. flour
1 cup white wine
1 cup milk
Cooked white rice, for serving
Minced parsley, for garnish
Coarse salt
Instructions
Heat 2 Tbs. butter and 1 Tbs. extra virgin olive oil in a wide skillet. Season the chicken with salt and pepper and sear on one side for six minutes. Flip and sear another six minutes, until you get some gorgeous color on both sides. Remove the chicken from the skillet and set aside for a little bit.
Back in the pan, add another Tbs. butter. Once melted, add the shallots. Let those sauté for two minutes, then throw the mushrooms in. Season with a pinch of salt and sauté three more minutes, until the mushrooms have darkened and shriveled. Now add the garlic and sauté one more minute, until wildly fragrant. Now add the last Tbs. butter along with the flour and stir it in the pan with a wooden spoon. Slowly add the wine, then the milk, letting it bubble up and simmer for a few minutes. Add the chicken back to the pan for five more minutes on the lowest heat. Taste your sauce. Need some salt? Add a pinch!
You're all set. Have some cooked rice on hand and garnish the chicken with plenty of chopped or minced parsley. Done!
Serve the creamy chicken and mushrooms over the rice and enjoy your life.
Serves 4.
7.8.1.2
562
https://bevcooks.com/2022/03/creamy-skillet-chicken-and-mushrooms/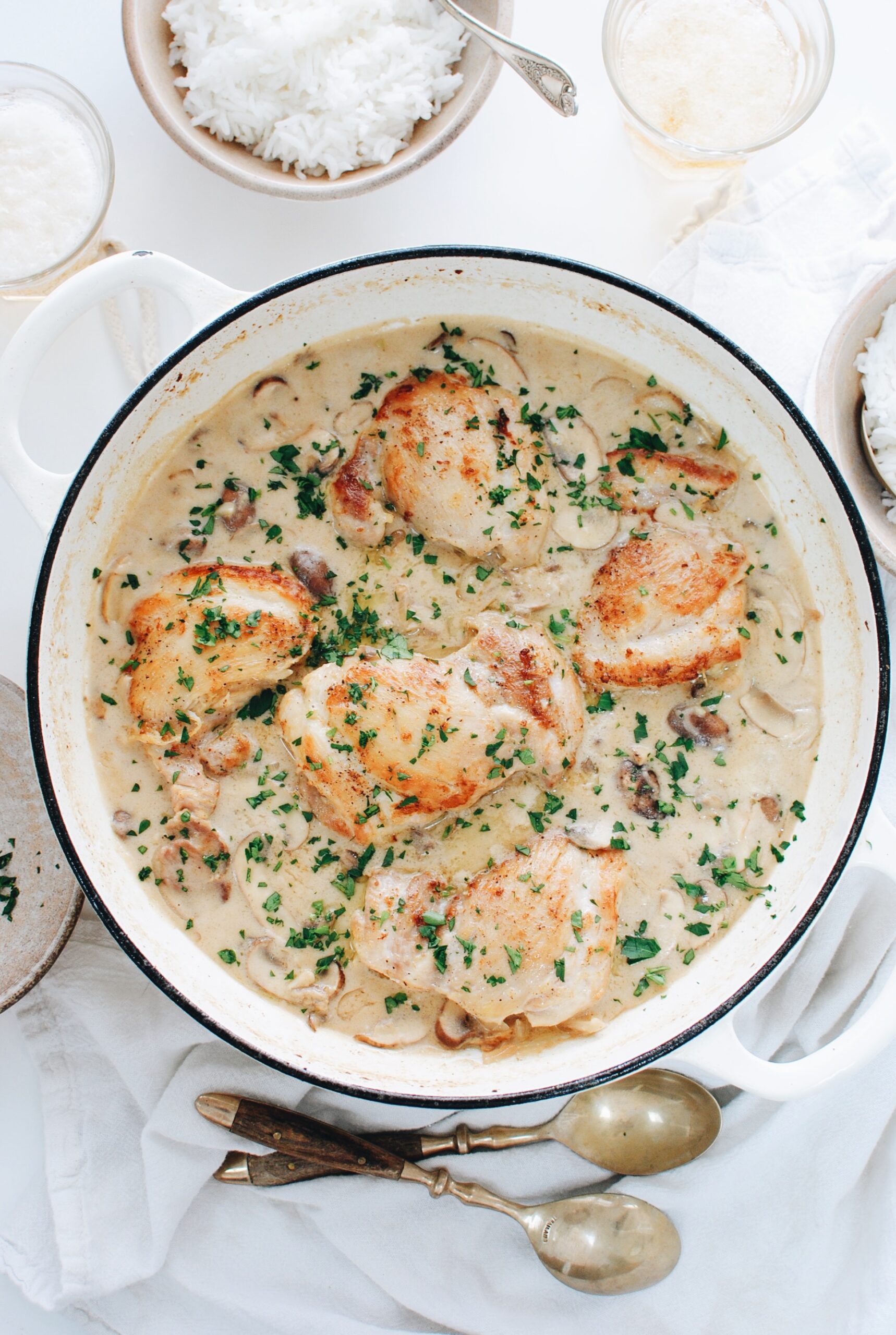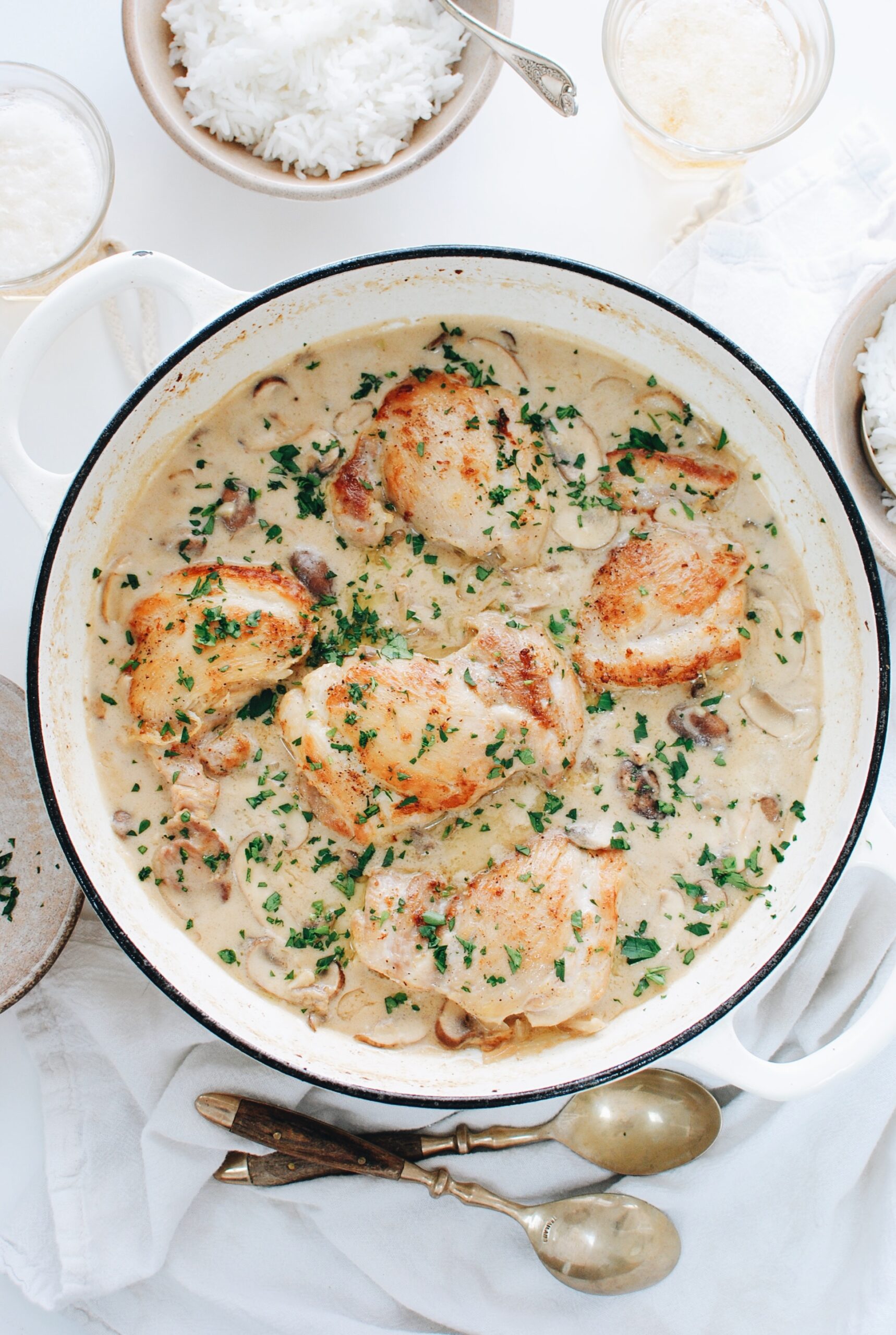 Whip this up tonight, you will fall straight over.