I will not say winner winner chicken dinner. I will not say winner winner chicken dinner. I will not say winnneresrnenenencchiiiiiicdinnddder. Not doing it.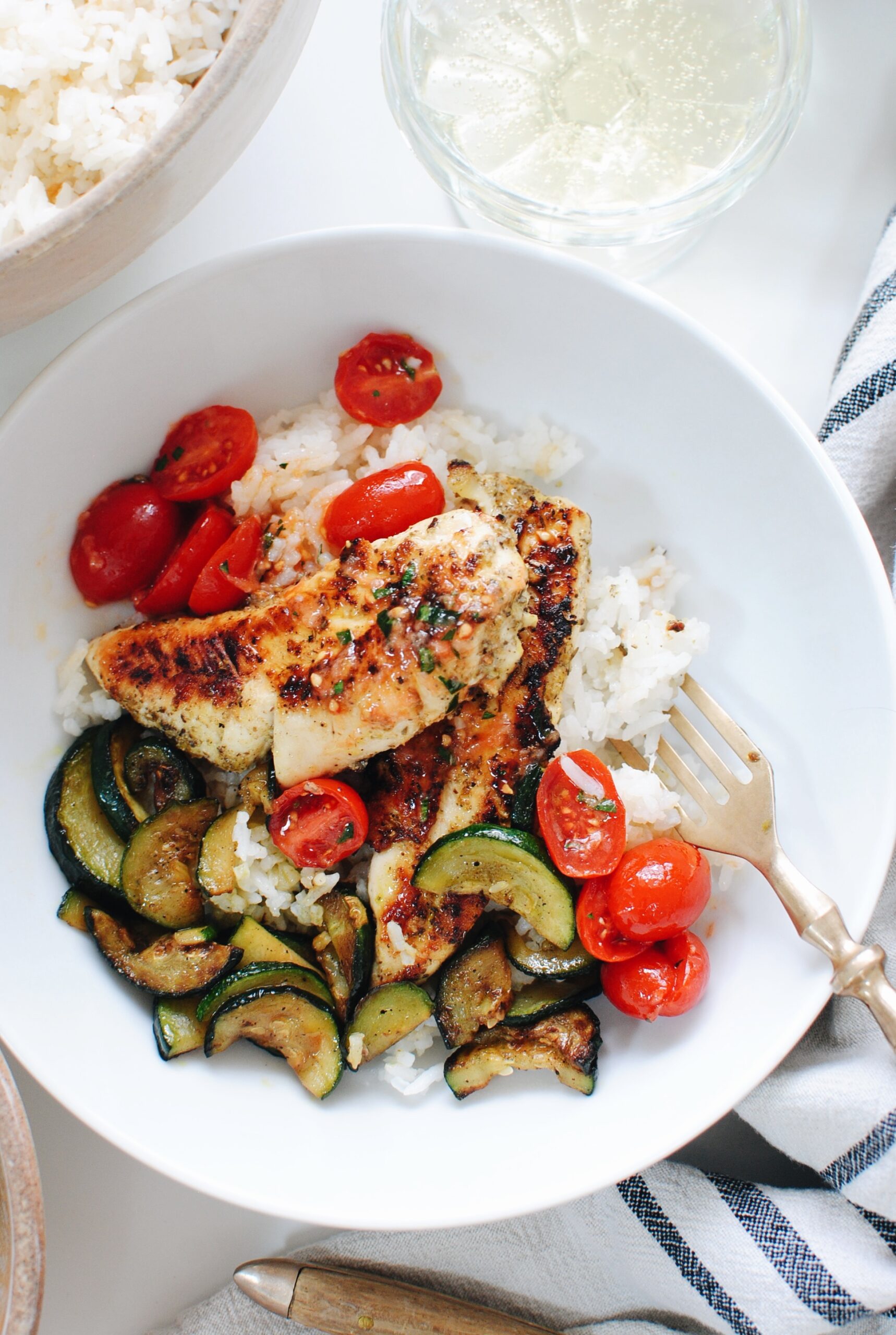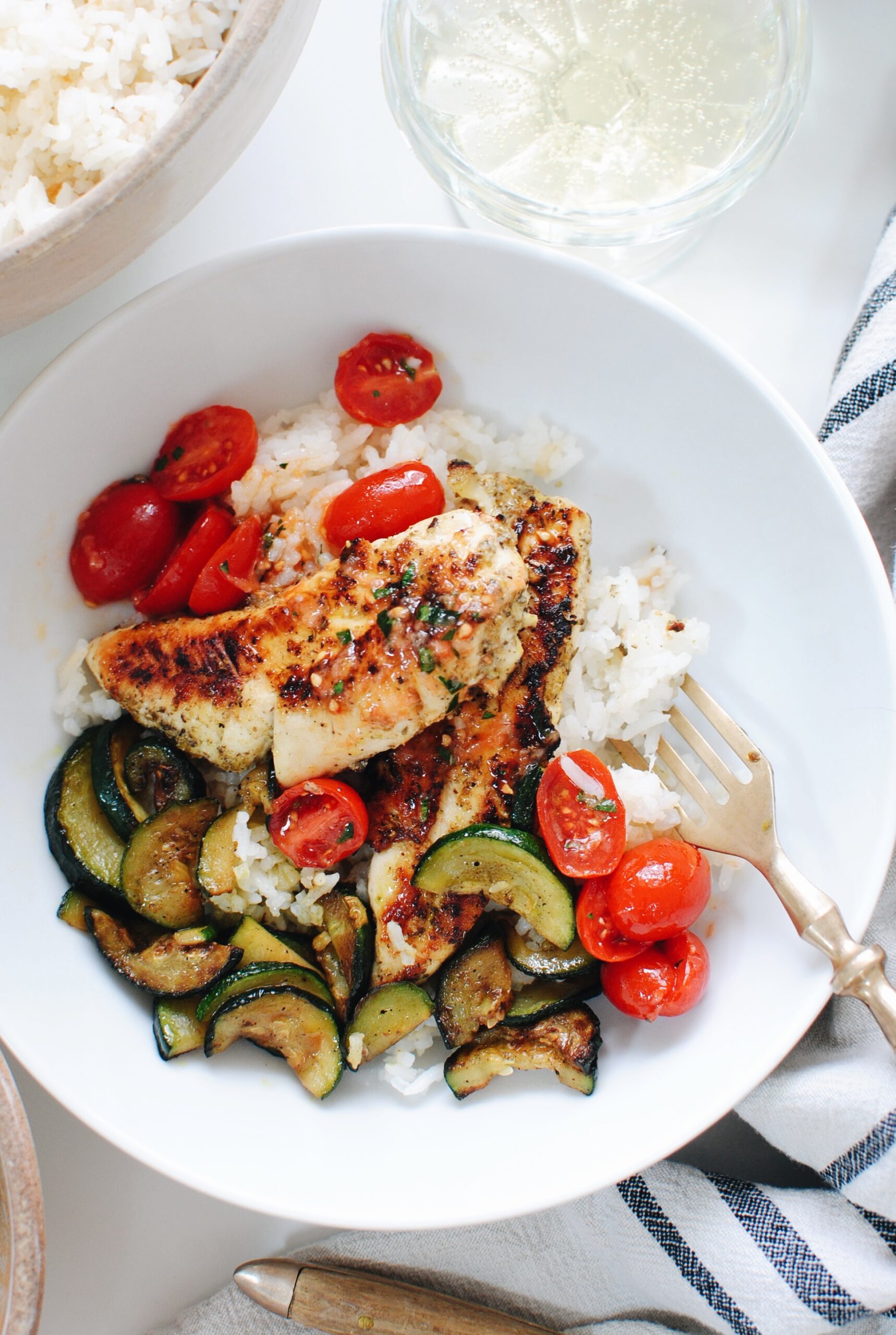 HOWEVER.
I'd love for you to try this. Let me ask you something. Because this is a . . . we'll call it a conversation, that Aaron and I have often.
Do you like dinners that are all together? Like a one-pot ordeal? OR are you an old-school soul and prefer a main and two or three sides? I go back and forth (like, I love a pot luck. story for another day.), but I also really love the simplicity and complete yumminess of everything together.
Well, this? This just may soothe your main-and-two-sides soul.
Leeeeeeet us peepeth.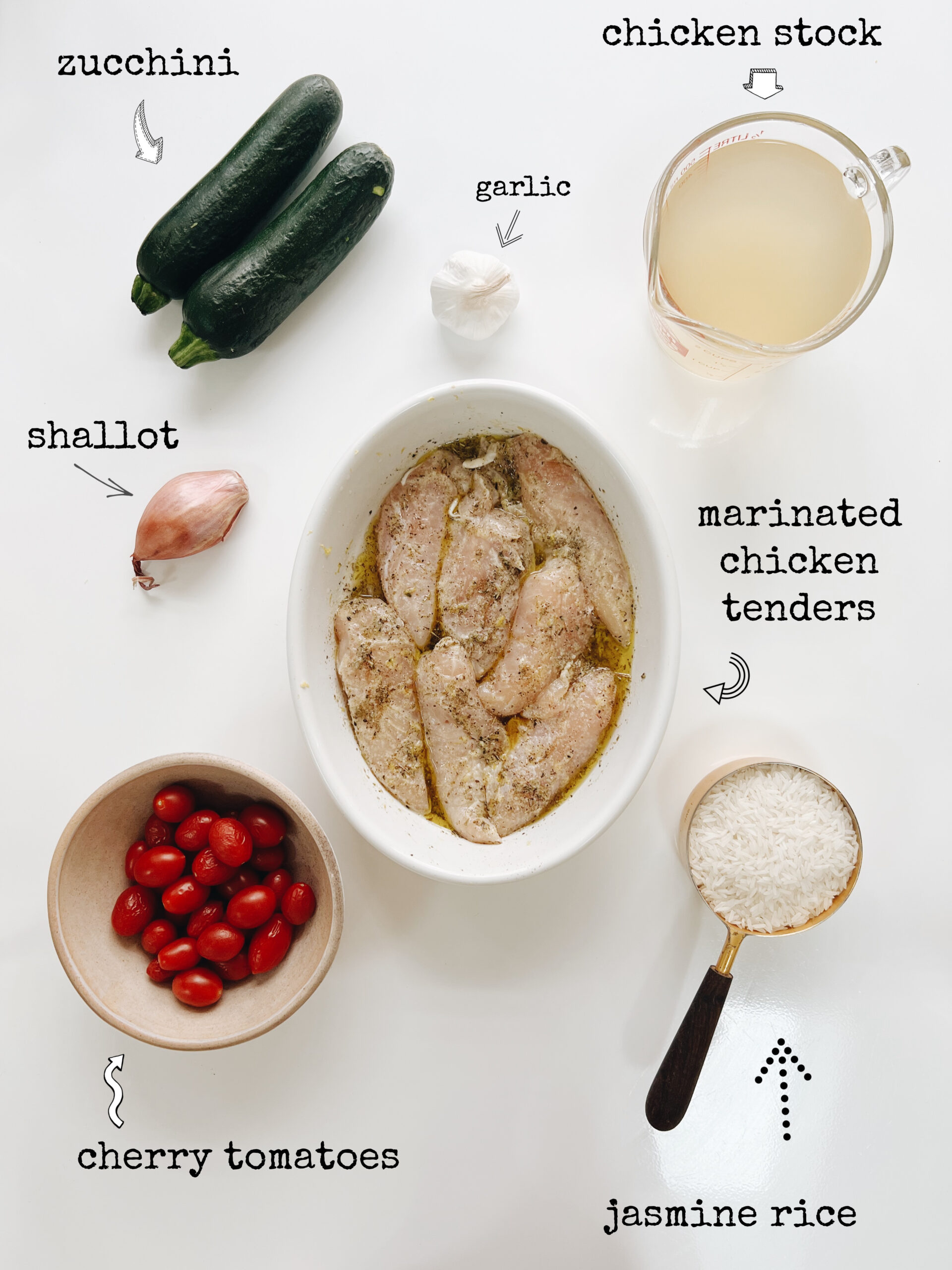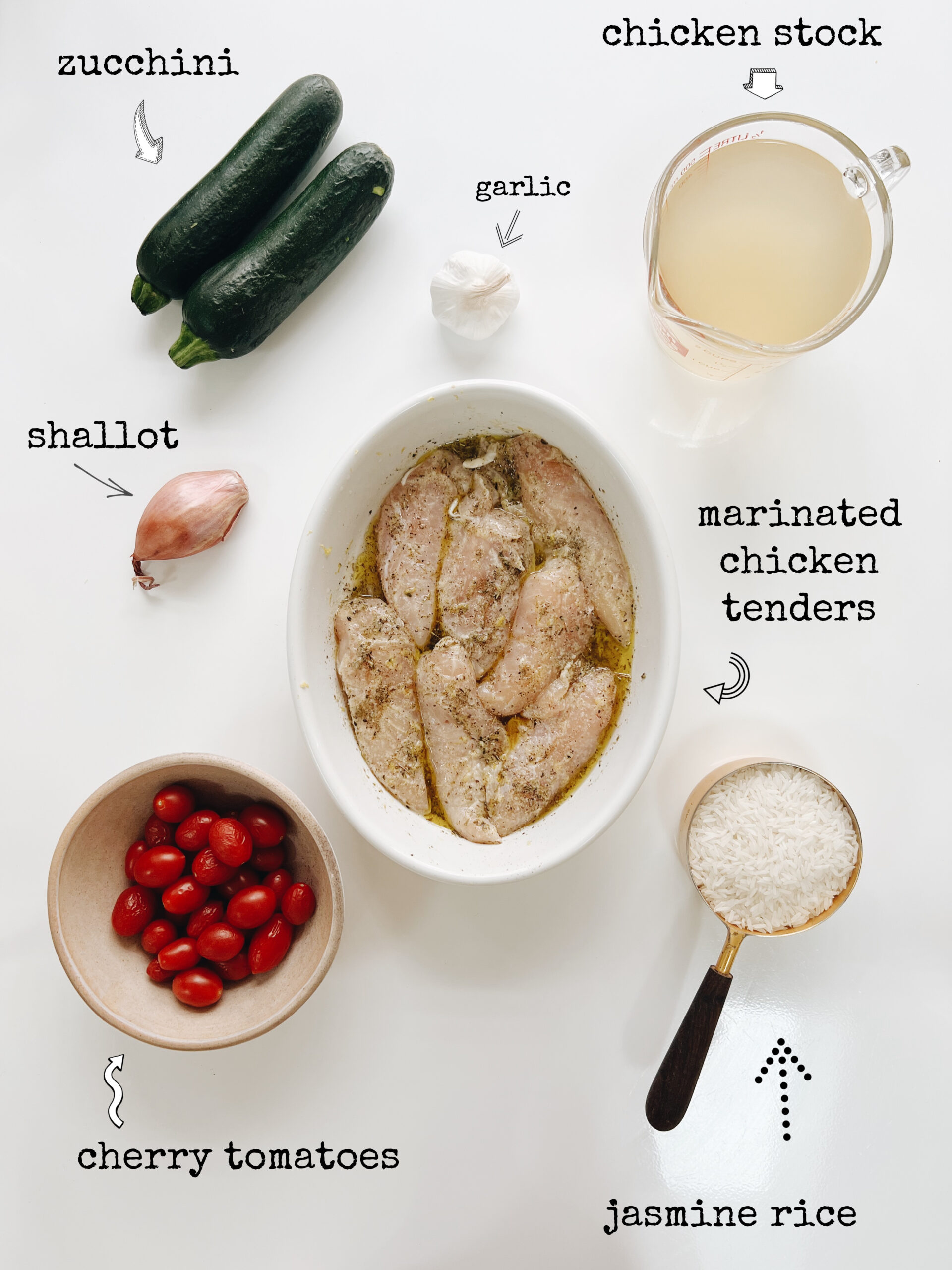 We're gonna do a couple of things here, a couple of things there, and then put it all together.
If you want. You can leave them separately. See, that's the beauty of this mess!
The rice – I used jasmine for its sweet, floral flavor, but any long grain rice works. Let's start with that actually. Pony up.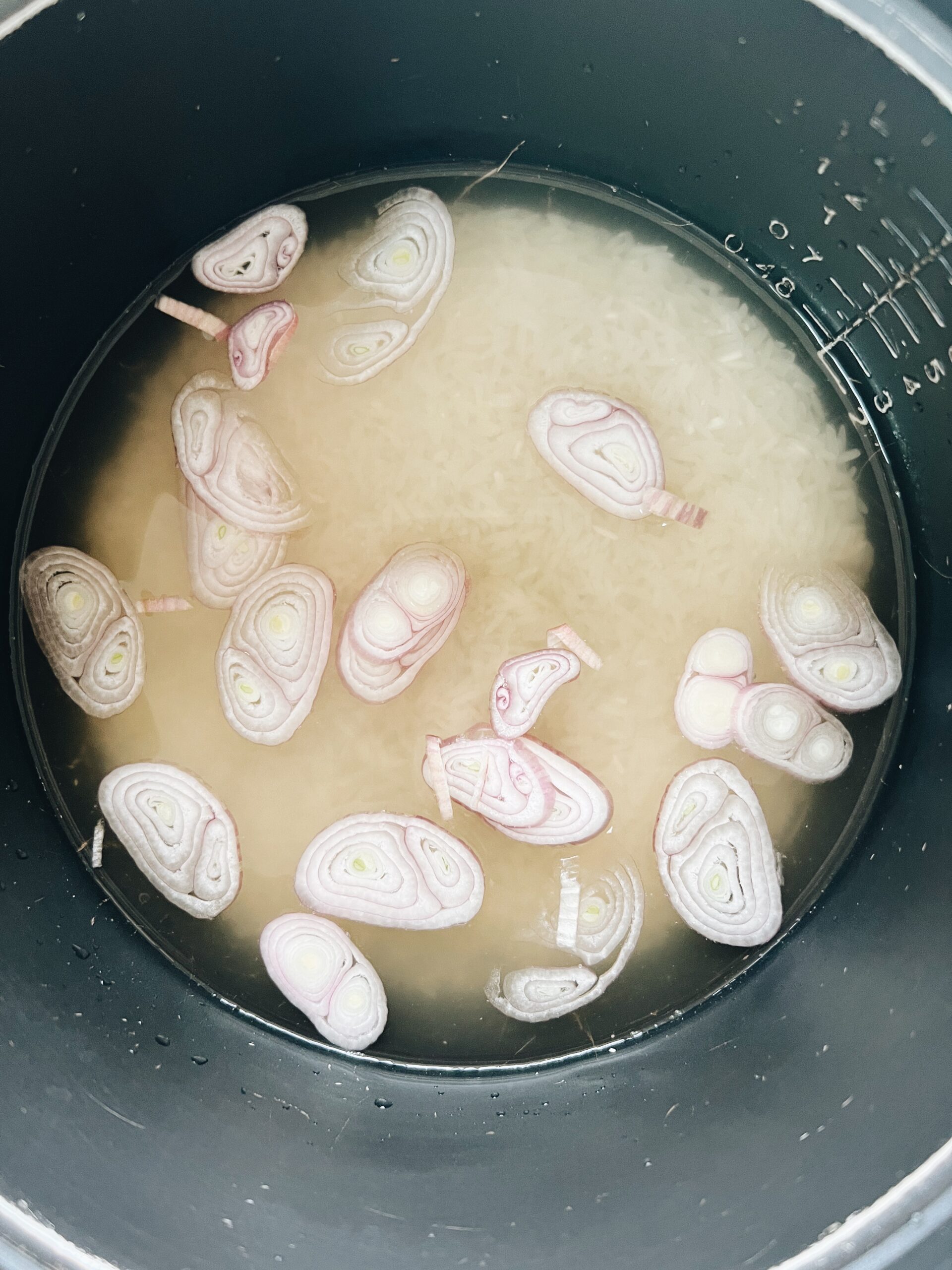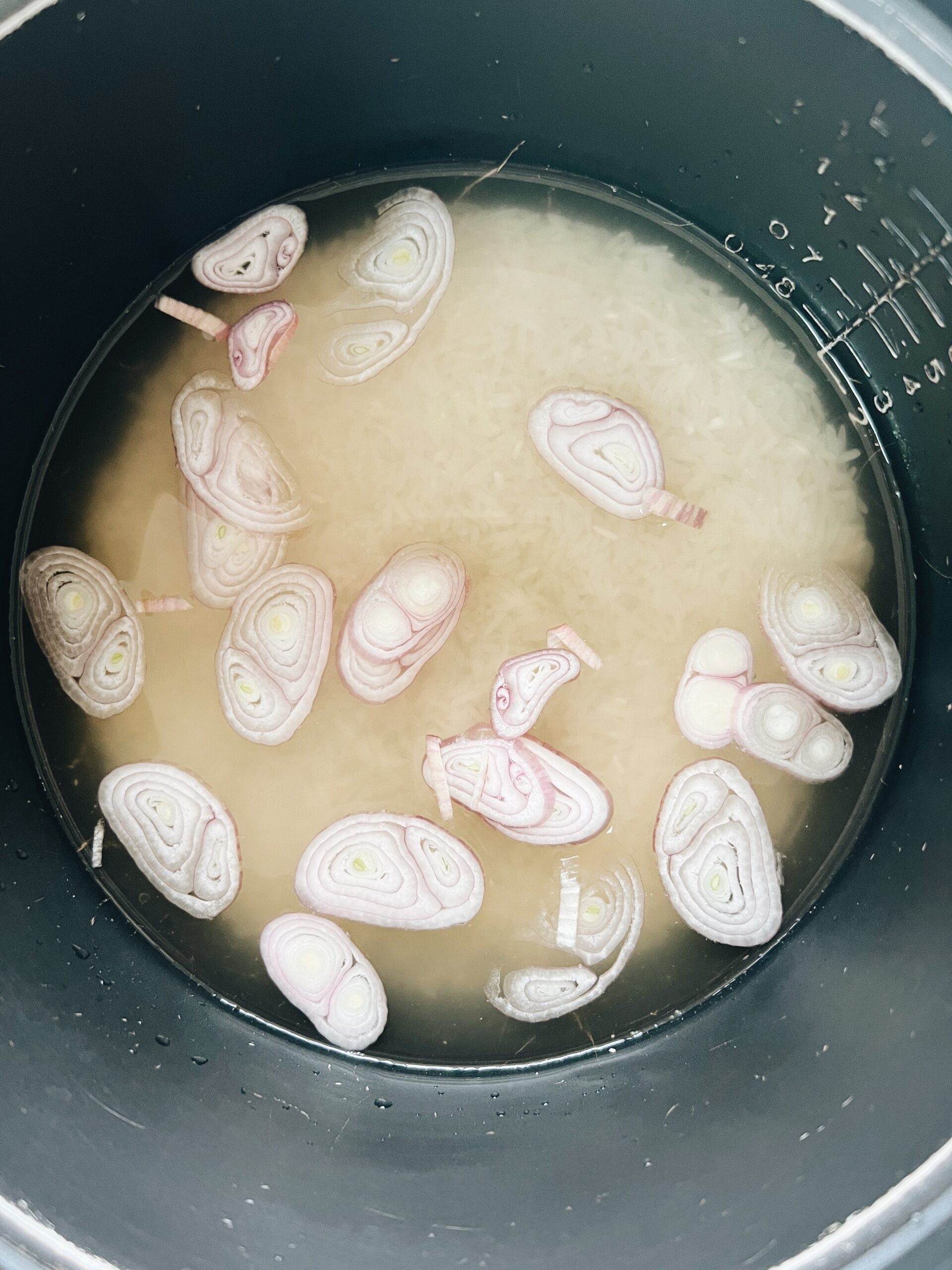 Shallot rice. If you've never added sliced shallots to your rice, y'ain't livin'. This is something I learned with my time at Food Network. First of all, the rice gets cooked in chicken stock. Not water. (which we've talked about in here for yeeaaaaarrsssss) – but the trick is, the shallots! Slice them thin and violently add them to the rice cooker. Stir it around a little, turn it on and let her roll. You'll never regret this.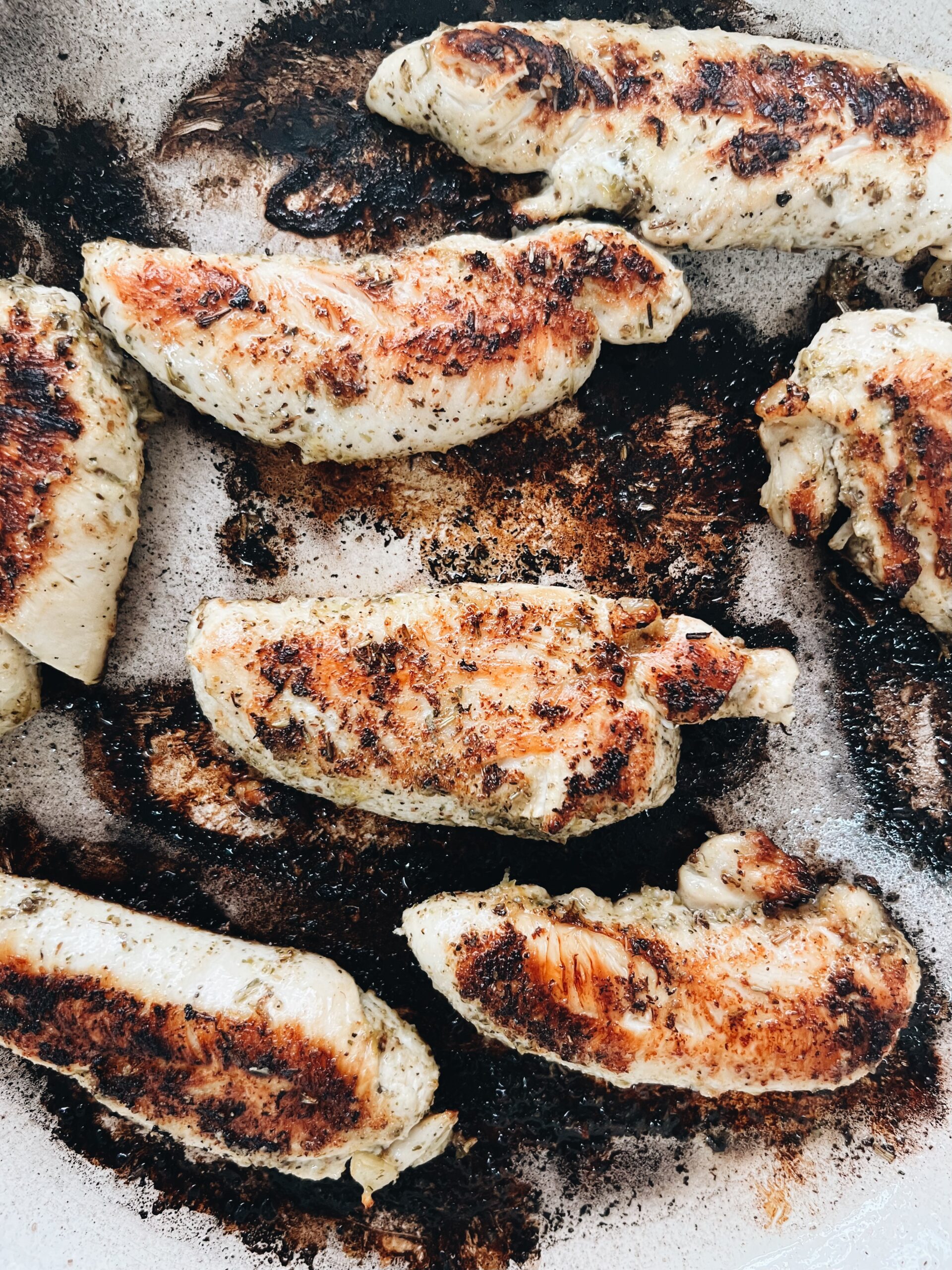 The chicken! So it was marinated in a verrrra simple mix of extra virgin olive oil, salt, garlic powder, onion powder, Italian seasoning, lemon juice and ZAYSTE. (mom, that's zest in Bev speak.)
I'm not even sure how long I let the chicken marinate. An hour maybe? Honestly just whatever kind of time you have works.
Then get them gawgeously seared!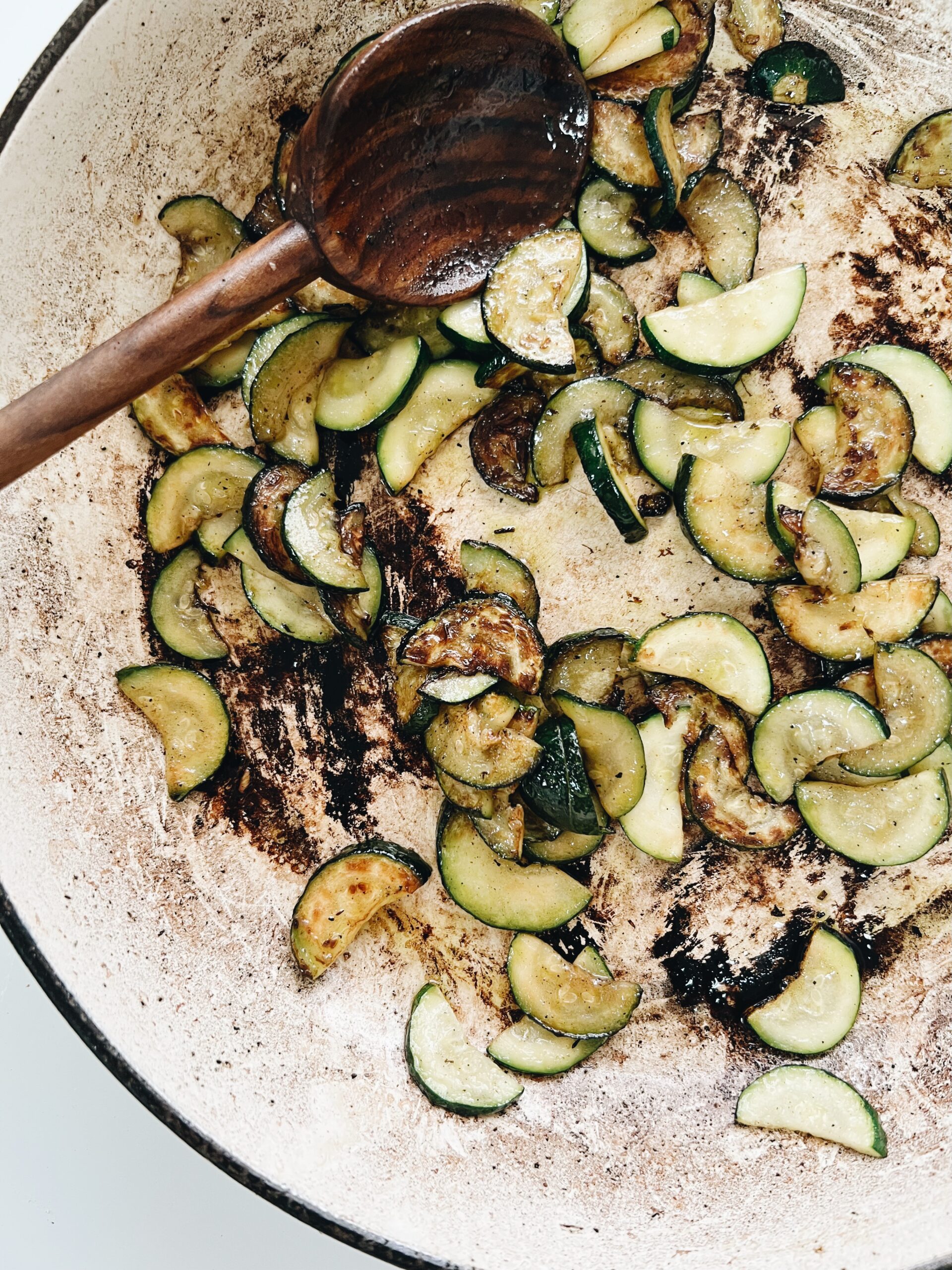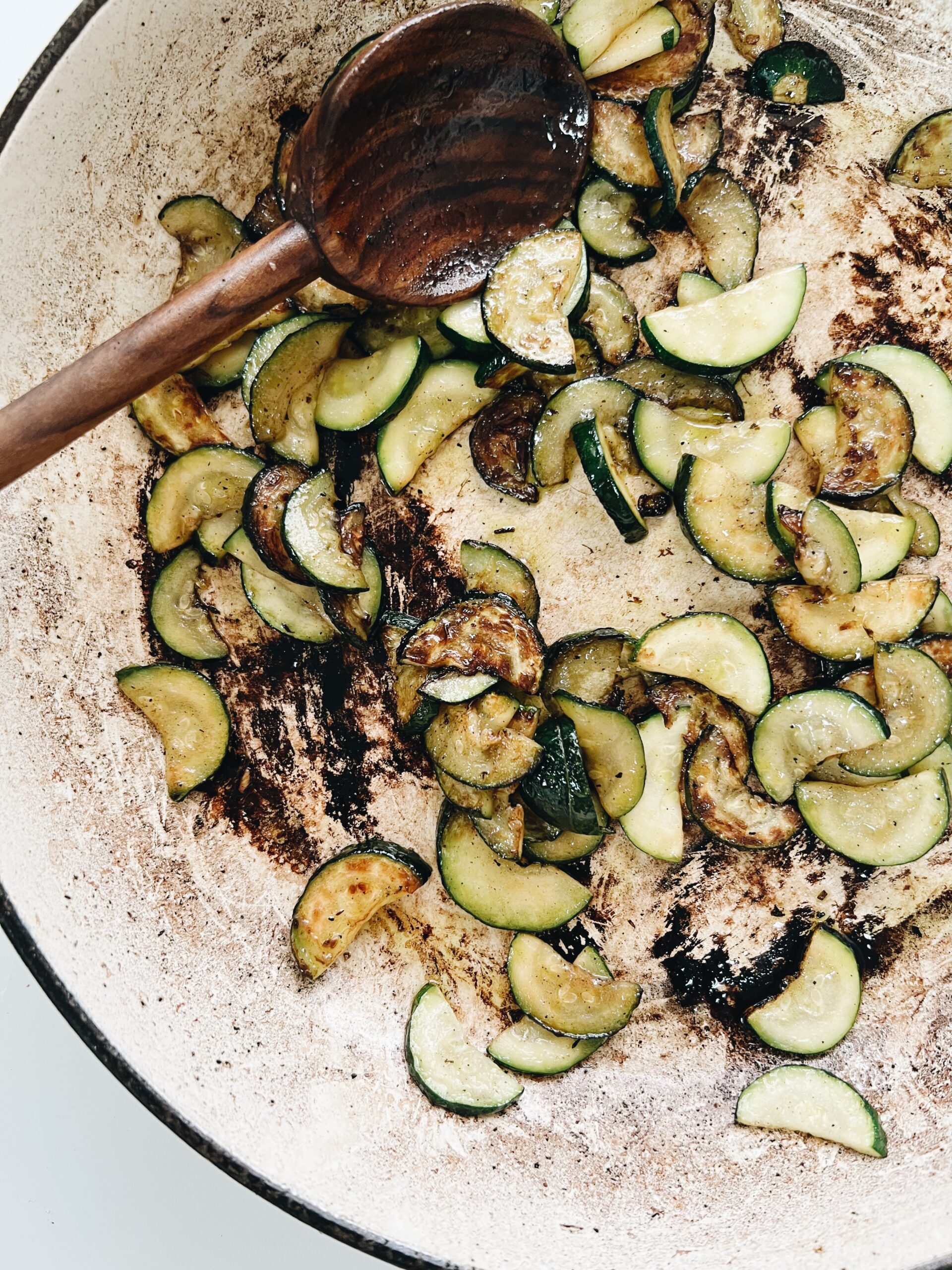 You'll yank them out to rest. Add a splash of extra stock or water to the skillet to deglaze any of the browned bits. Then we'll add our sliced zucchini and sauté with some salt until we get some nice coloring. About five minutes I'd say. Nothing too aggressive. This is a Tuesday for crying out loud.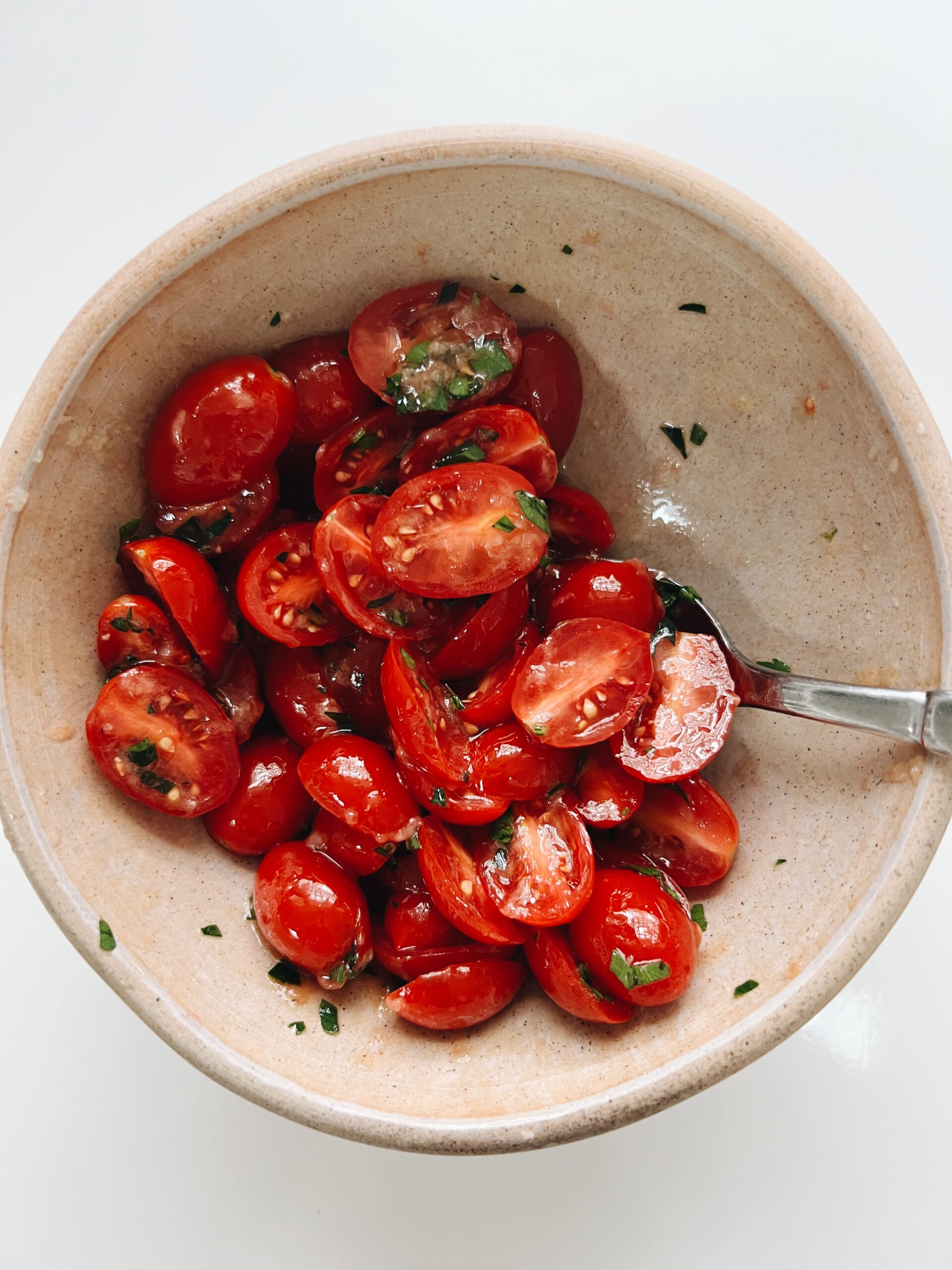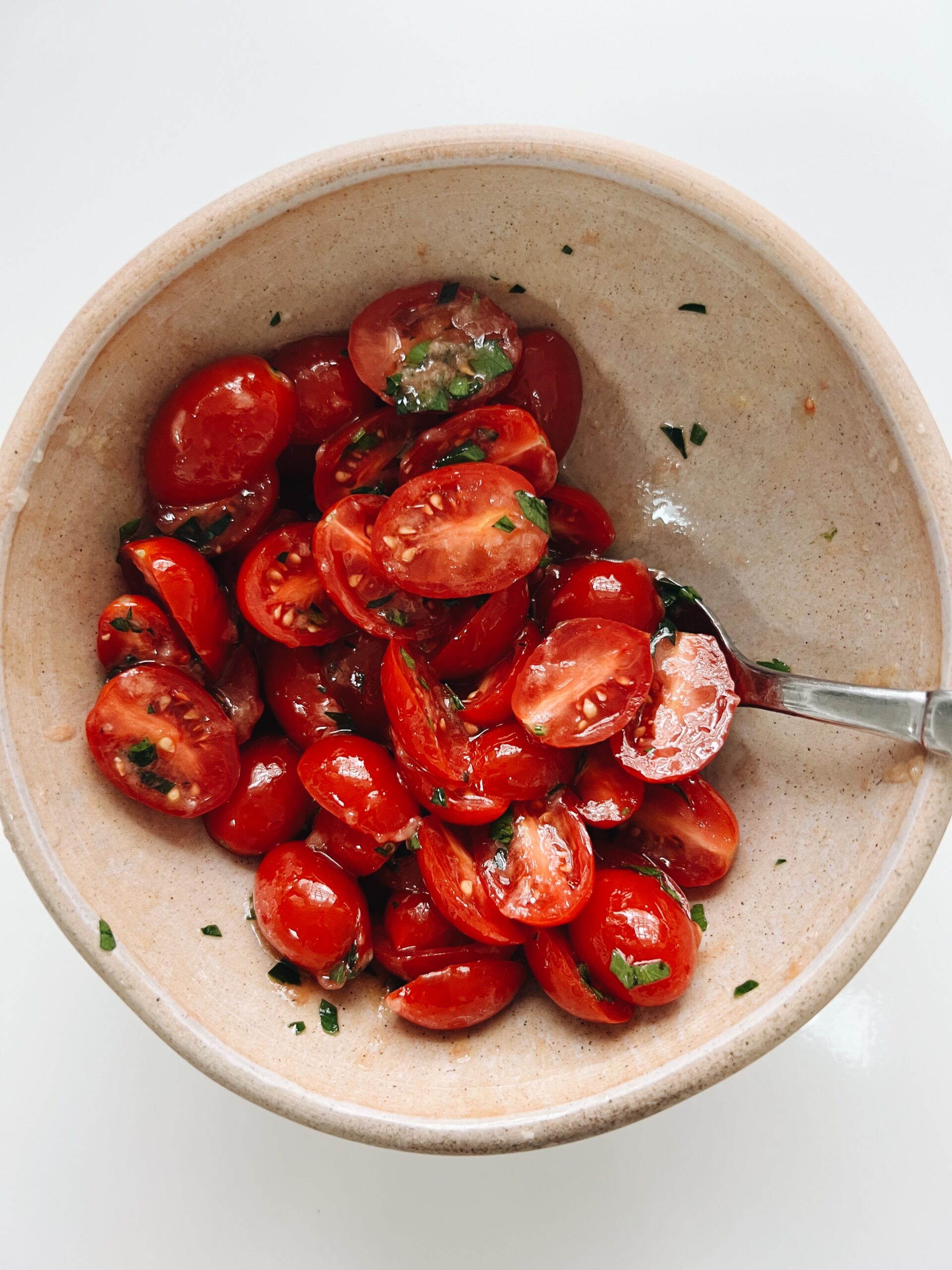 You know I always love marinated tomatoes as a topping once the weather starts to warm up. Really any time of year, but especiaaaaaally in the spring and summer. So just take some cherry or grape 'maters and slice them in half. Drizzle with oil, a pinch of salt, a little grated garlic and some freshly chopped parsley. Let this sit and absorb as long as it can. You can even do this early in the day and have it on the counter at the ready.
Are we still saying at the ready?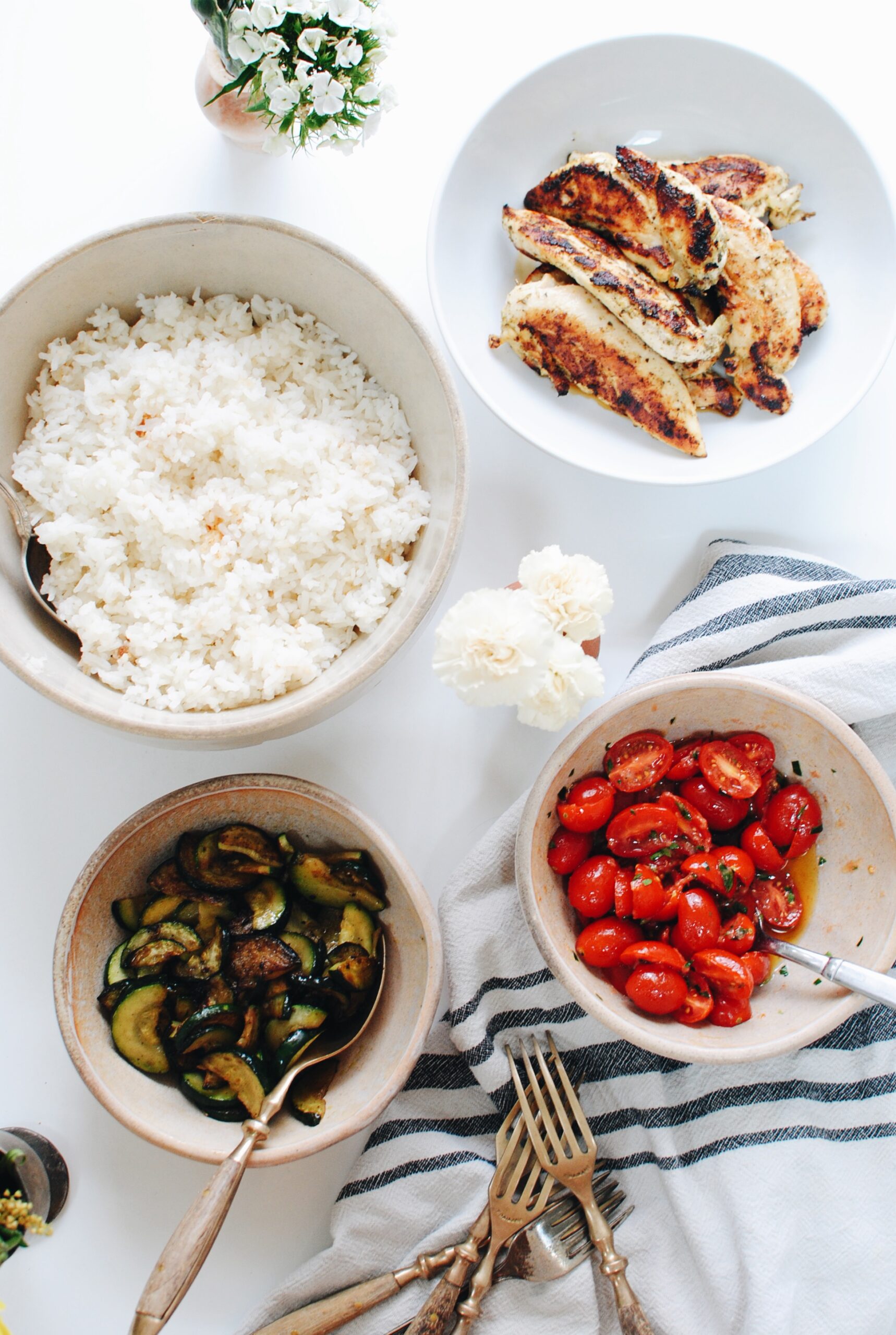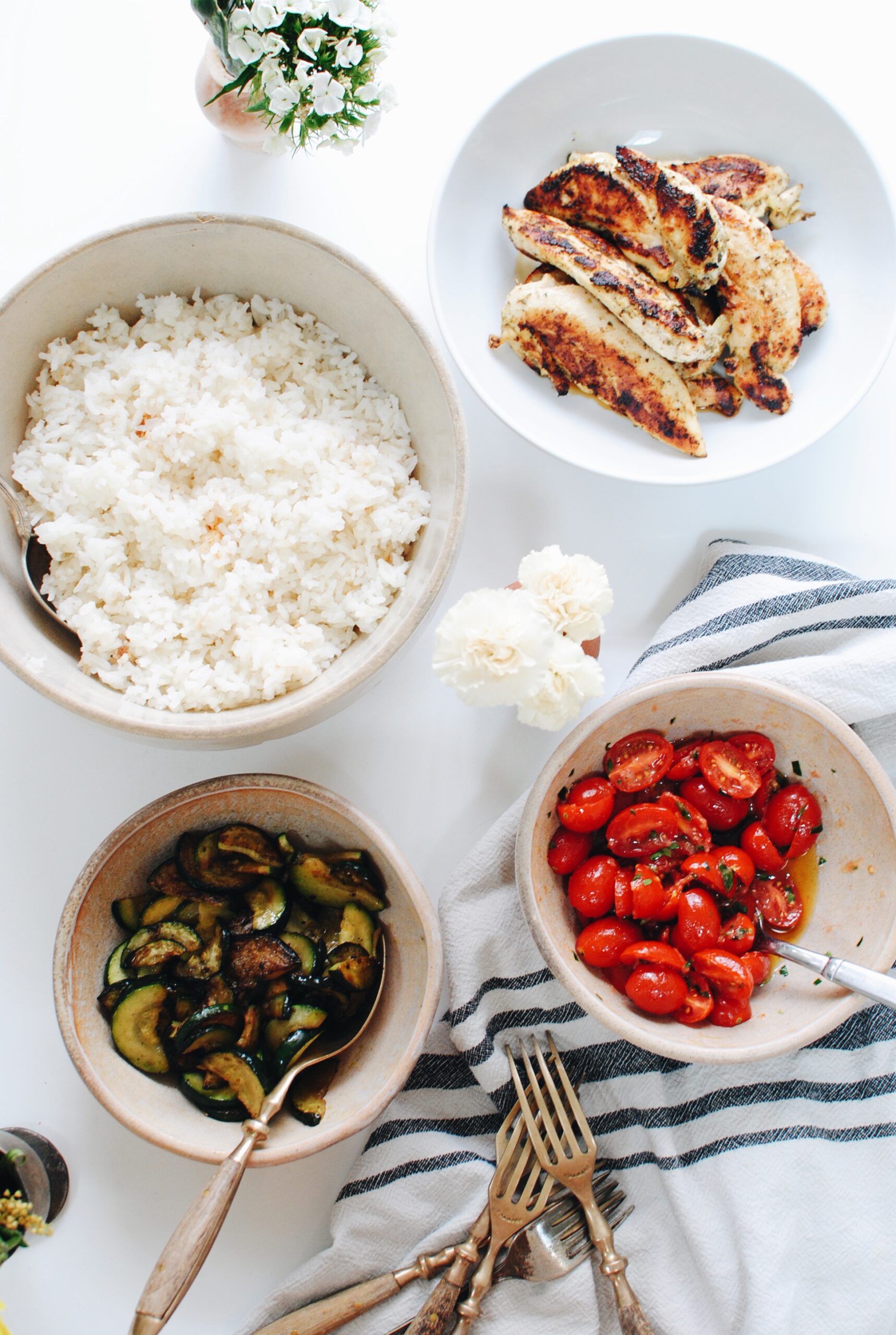 And here we go! We have four finished dinner components: the shallot rice, seared chicken, sautéed zucchini and marinated tomatoes. The plus to this setup is that you build according to preference. For the kids it's a little rice in this corner of the plate, a little chopped chicken in that corner, and a little zucchini in that other corner. (Nat loves sliced salty tomatoes, but "not like this, moooom." – we'll get there.)
But for me? This is what I like. (look down. no, not at your feet, ya boob. at the next photo.)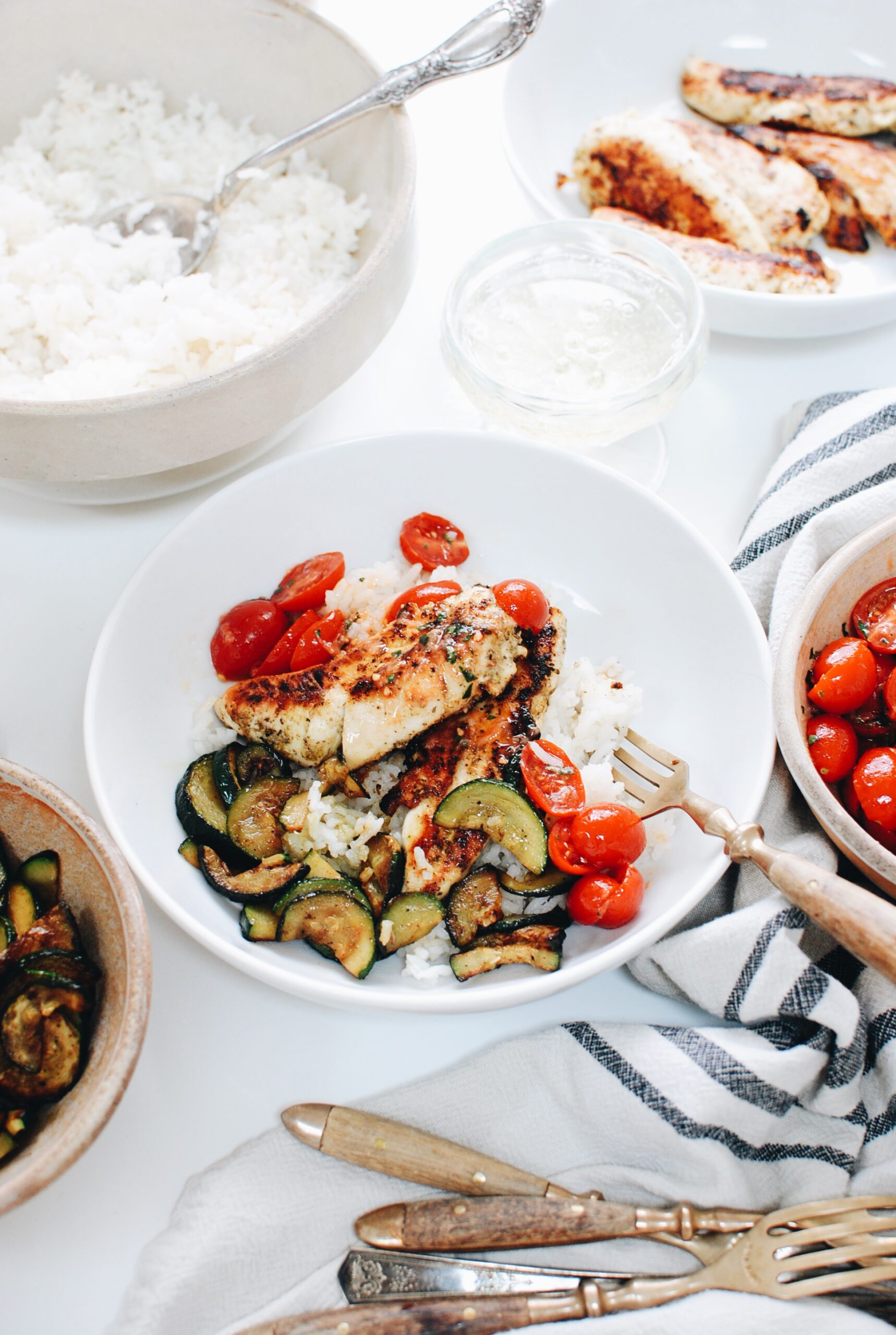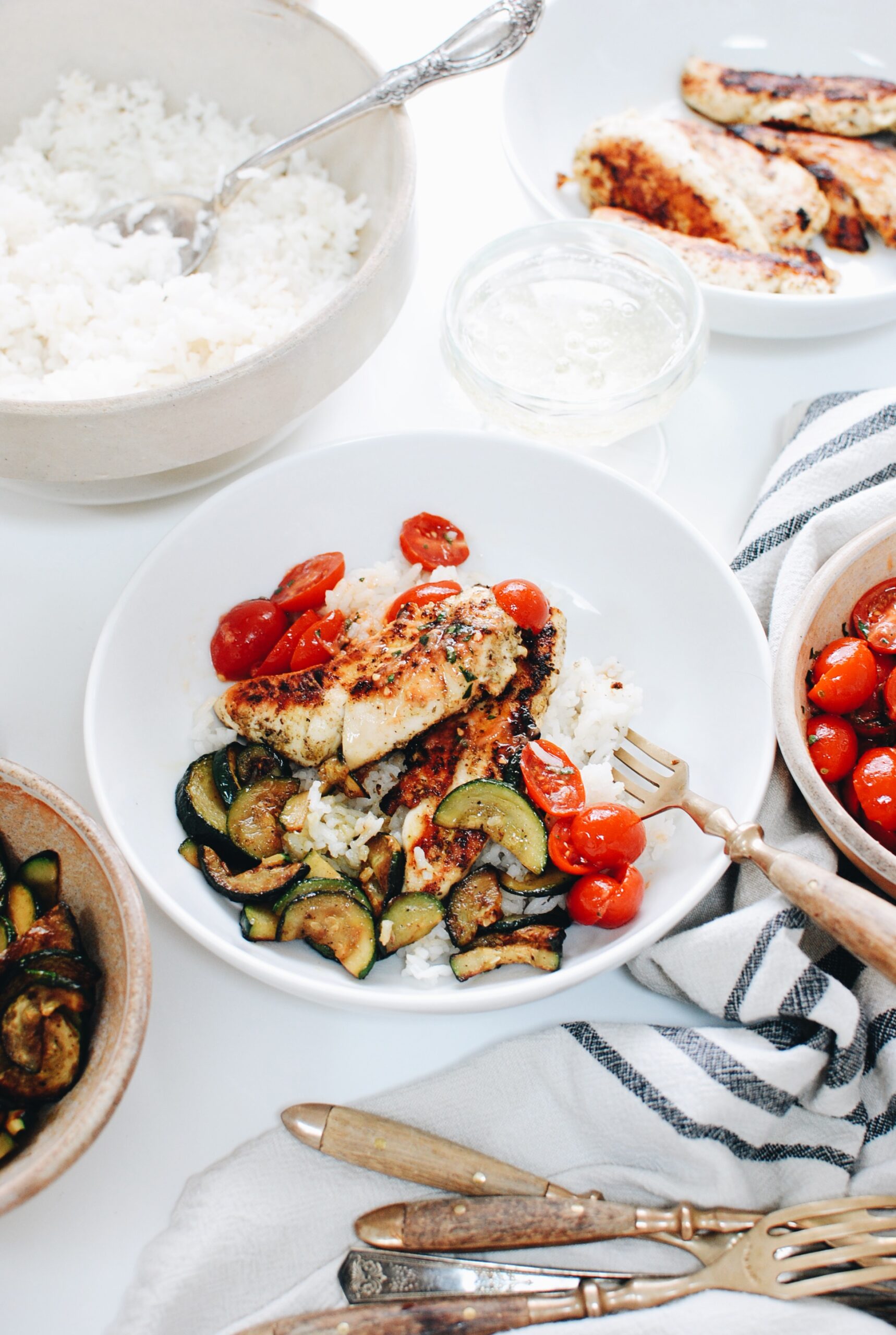 Hiiiii, I just love it. Rice on the bottom, chicken on top, zucchini piled on and the tomatoes just draped right over.
And you see, the tomato juices will sort of seep down into everything and give it a nice pop of acidity. Ya gotta have that acidity, man!
We're starting a band called Acidity, Man! (not to be confused with Acidity Man. Punctuation is important.)
Truly delicious. The tender, flavorful chicken, the depth of the cooked rice with the shallot enhancement, the earthy zucchini and the pop of tomatoes – ugh. It's everything. Now, how you PLATE it is up to you. But we're having an old-school main and a few sides for sup sup tonight! (<–so sorry about that.)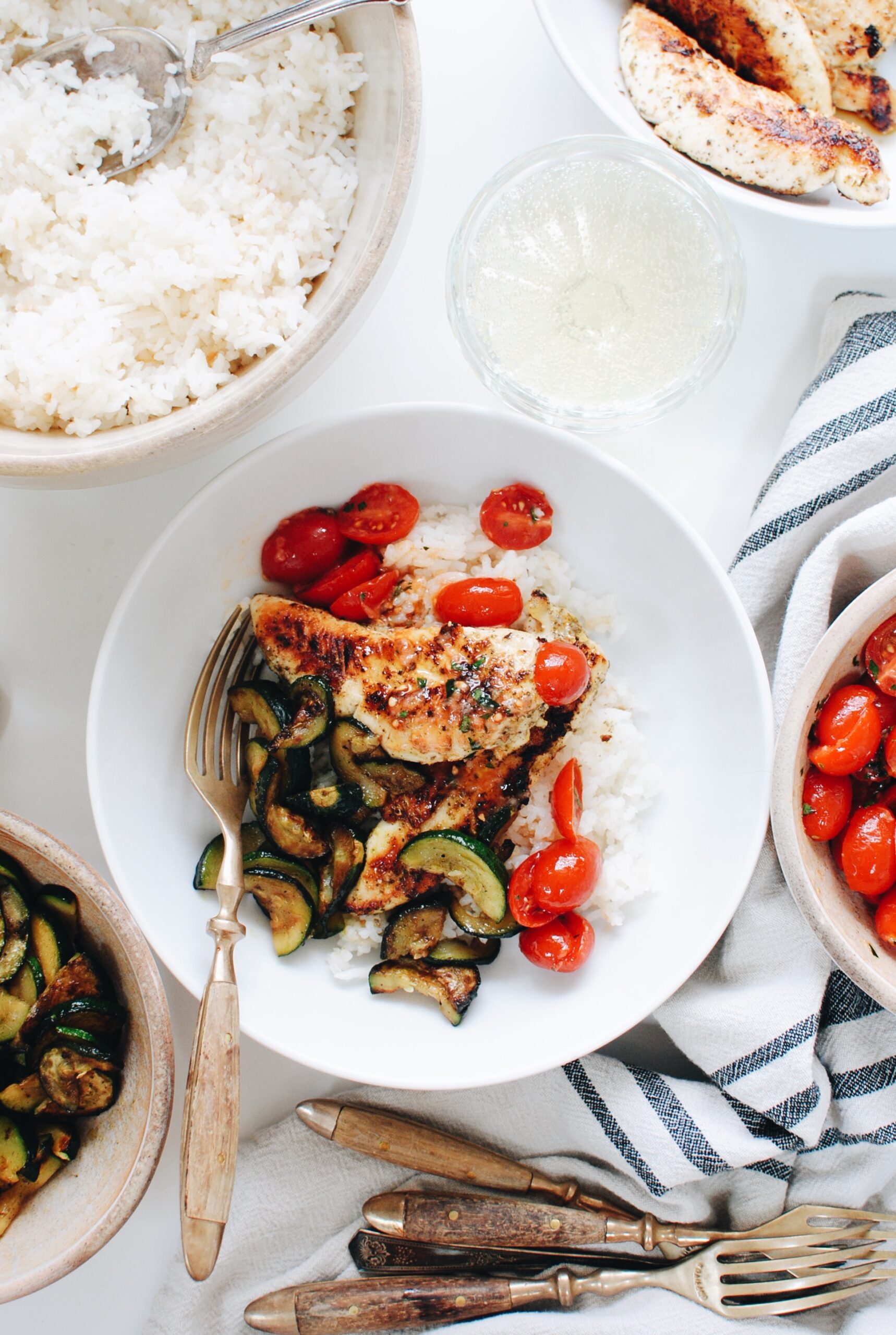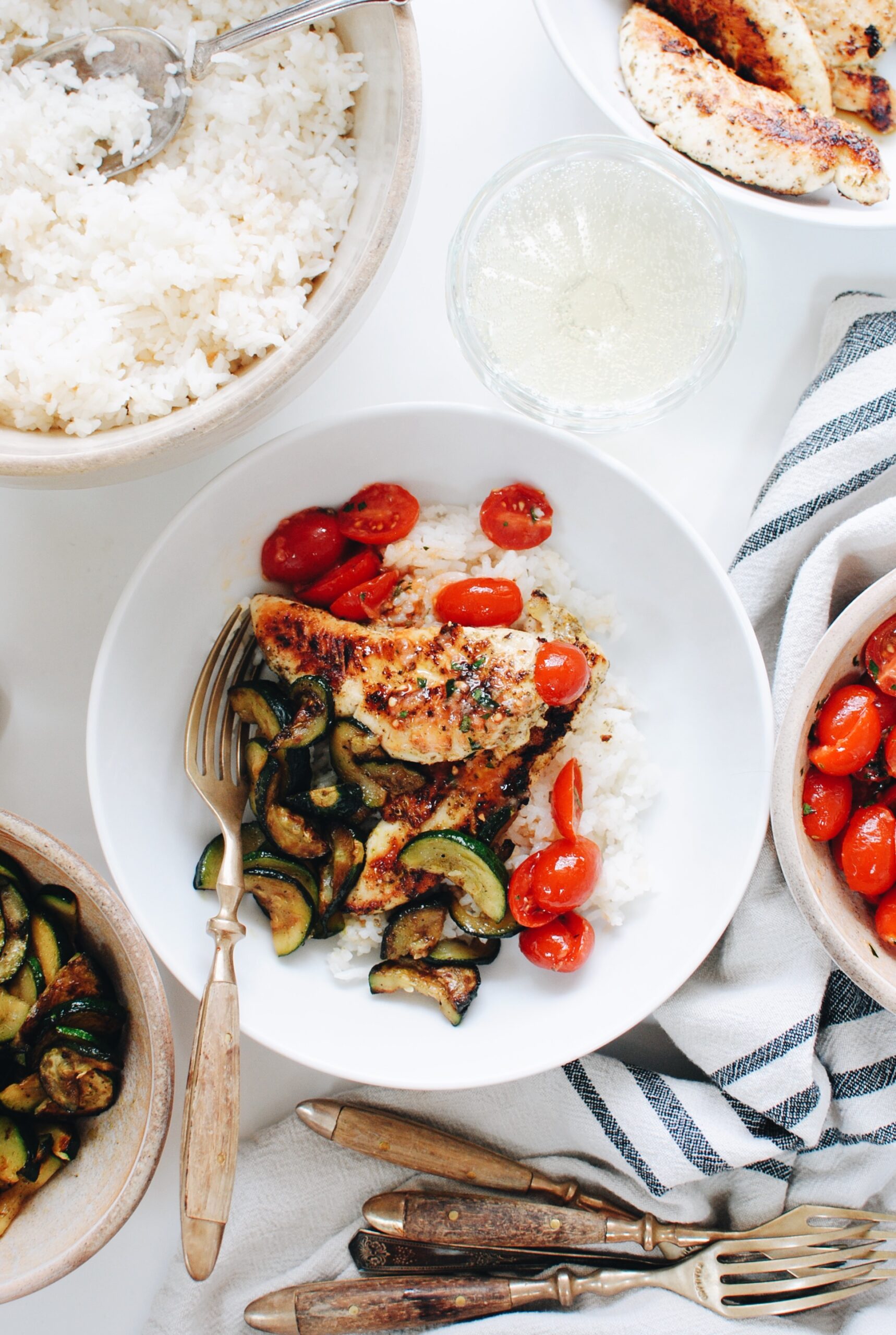 Anytime dinner, this is it.
Italian Chicken with Shallot Rice and Zucchini
Ingredients
14 oz chicken tenders
3 Tbs. extra-virgin olive oil
1 tsp garlic powder
1 tsp onion powder
1 Tbs. dried Italian seasoning
1 lemon, zested and juiced
2 zucchinis, thinly sliced
1 cup Jasmine rice, rinsed until the water is clear
2 cups chicken stock
1 small shallot, thinly sliced
1 cup cherry or grape tomatoes, halved
1 Tbs. extra-virgin olive oil
2 garlic cloves, grated
1 tsp chopped parsley
Pinch of salt
Instructions
In a bowl or shallow dish, combine the chicken, oil, garlic powder, onion powder, Italian seasoning, lemon zest, juice, and a pinch of salt. Gently toss this together to coat and marinate at least an hour. All day if you have it!
In another small bowl, combine the tomatoes, oil, grated garlic, parsley and a pinch of salt. Toss this and let it sit as long as you want.
In a rice cooker, combine the rinsed rice, chicken stock and sliced shallots. Add a small pinch of salt and stir together. Turn it on and forget it. Once it's finished, fluff with a spoon or fork.
In a wide skillet, bring the heat to a medium high and add the chicken. Sear for four minutes; flip and sear another three, until you get some gorgeous color all over. Remove the chicken from the skillet to rest, and add a splash of water or stock to the pan to deglaze any browned bits. Now add the zucchini slices (and another drizzle of oil if needed) and sauté about five minutes with a pinch of salt.
Ready to plate! Serve the cooked shallot rice with the seared chicken, sautéed zucchini and a good drizzle of the marinated tomatoes. Such a delight.
Serves four!
7.8.1.2
569
https://bevcooks.com/2022/04/italian-chicken-with-shallot-rice-and-zucchini/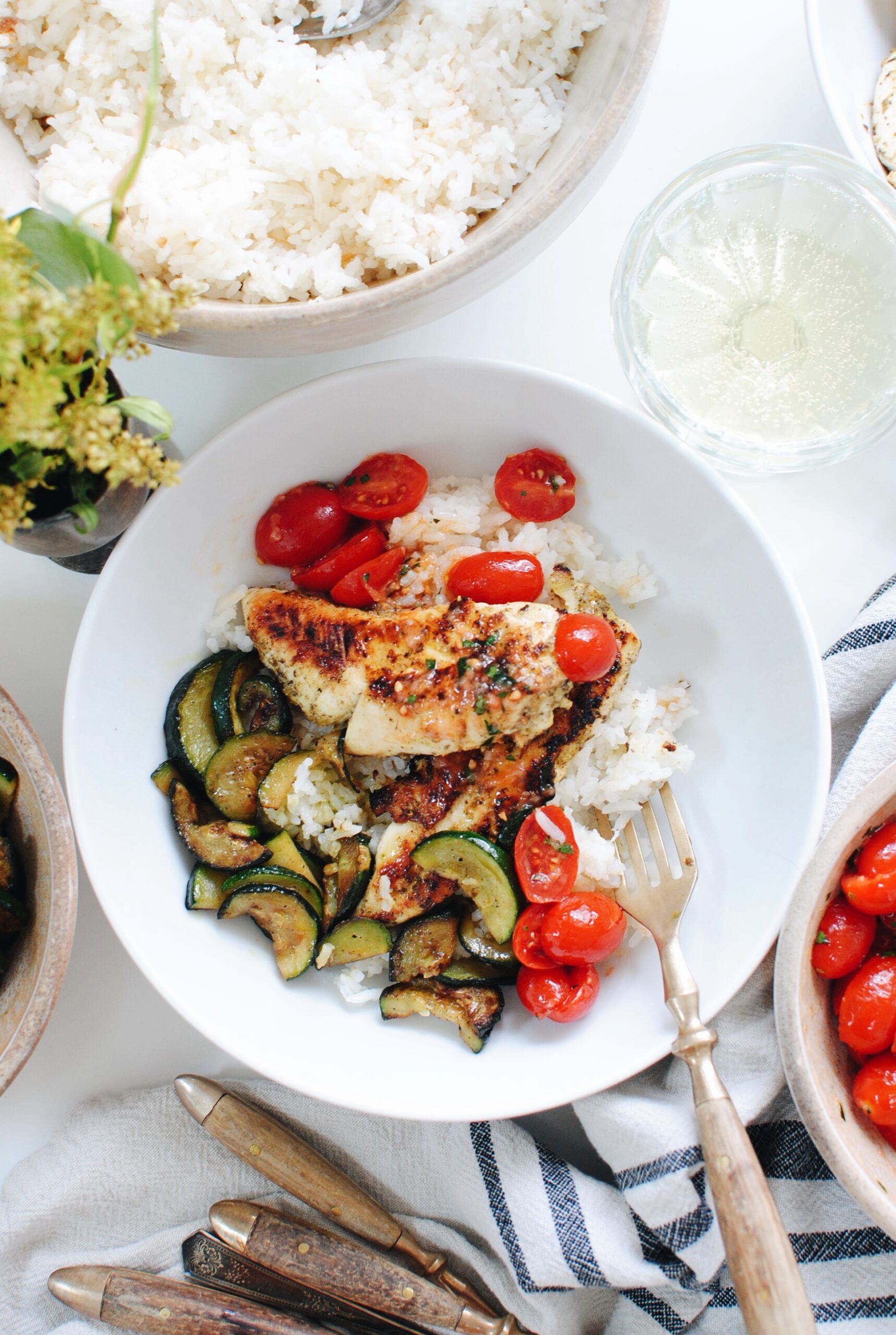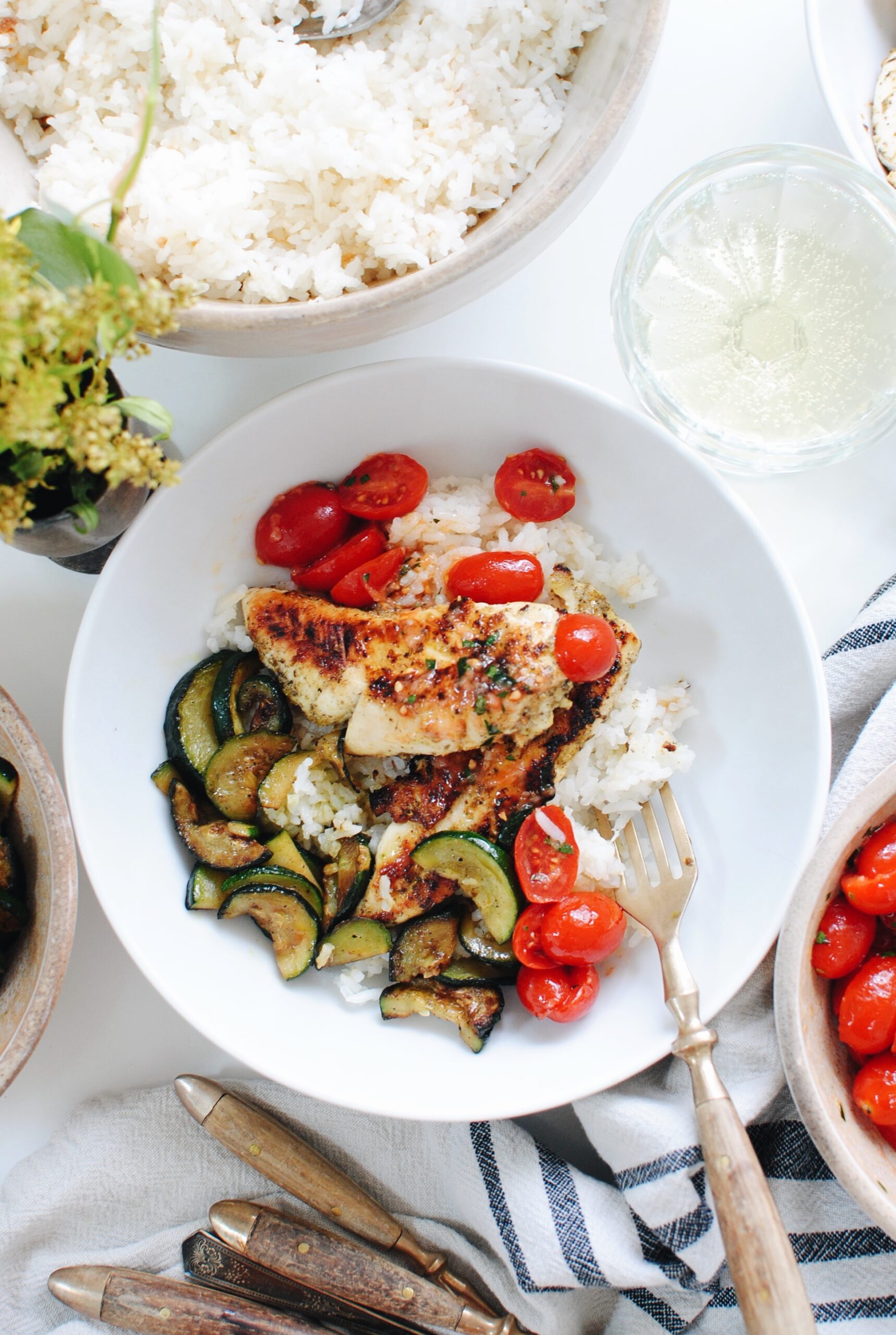 Make this happen and report back when ya do! I already can't wait for you.