PIE! I made the pie again! But there's a sad story.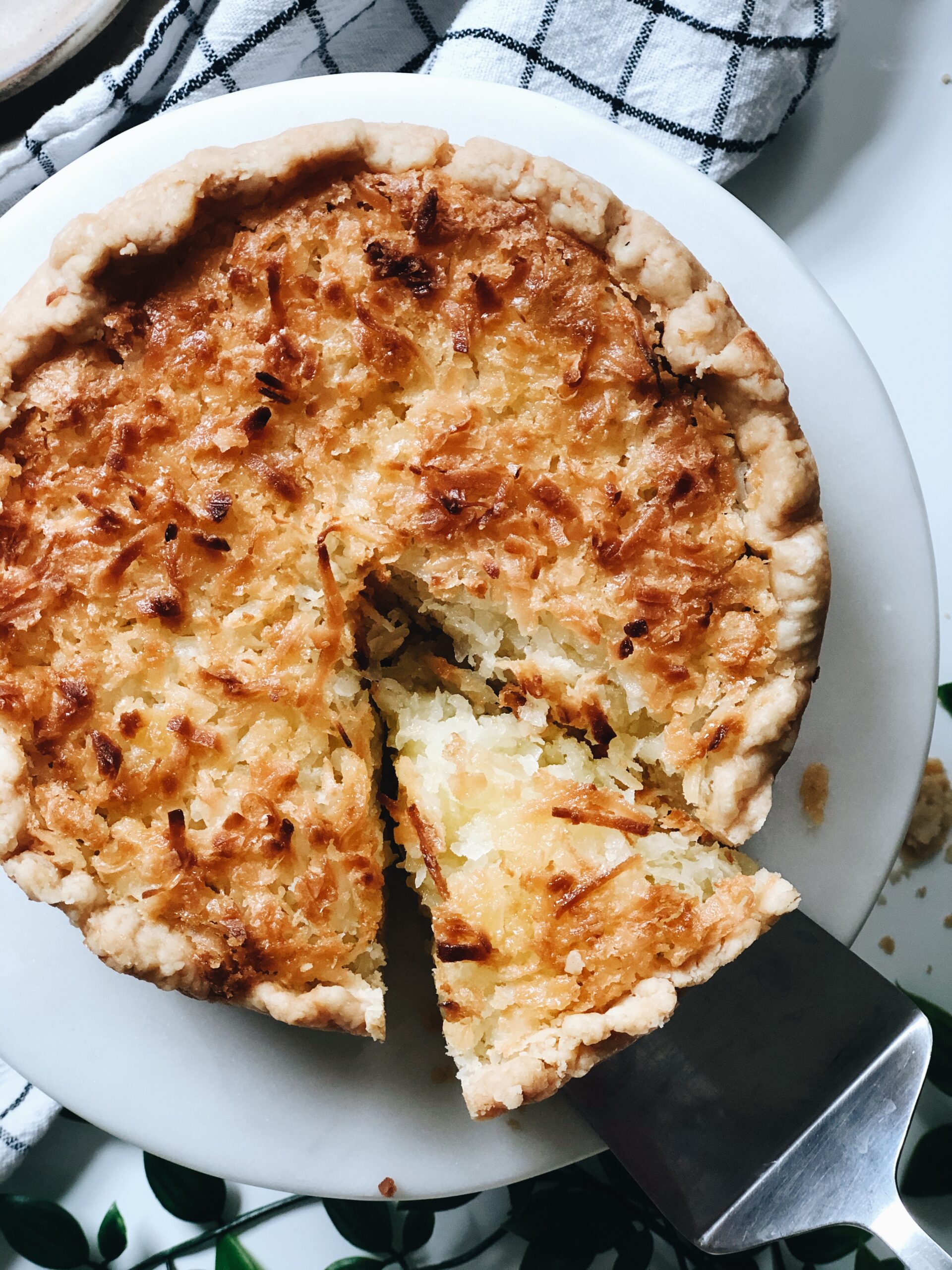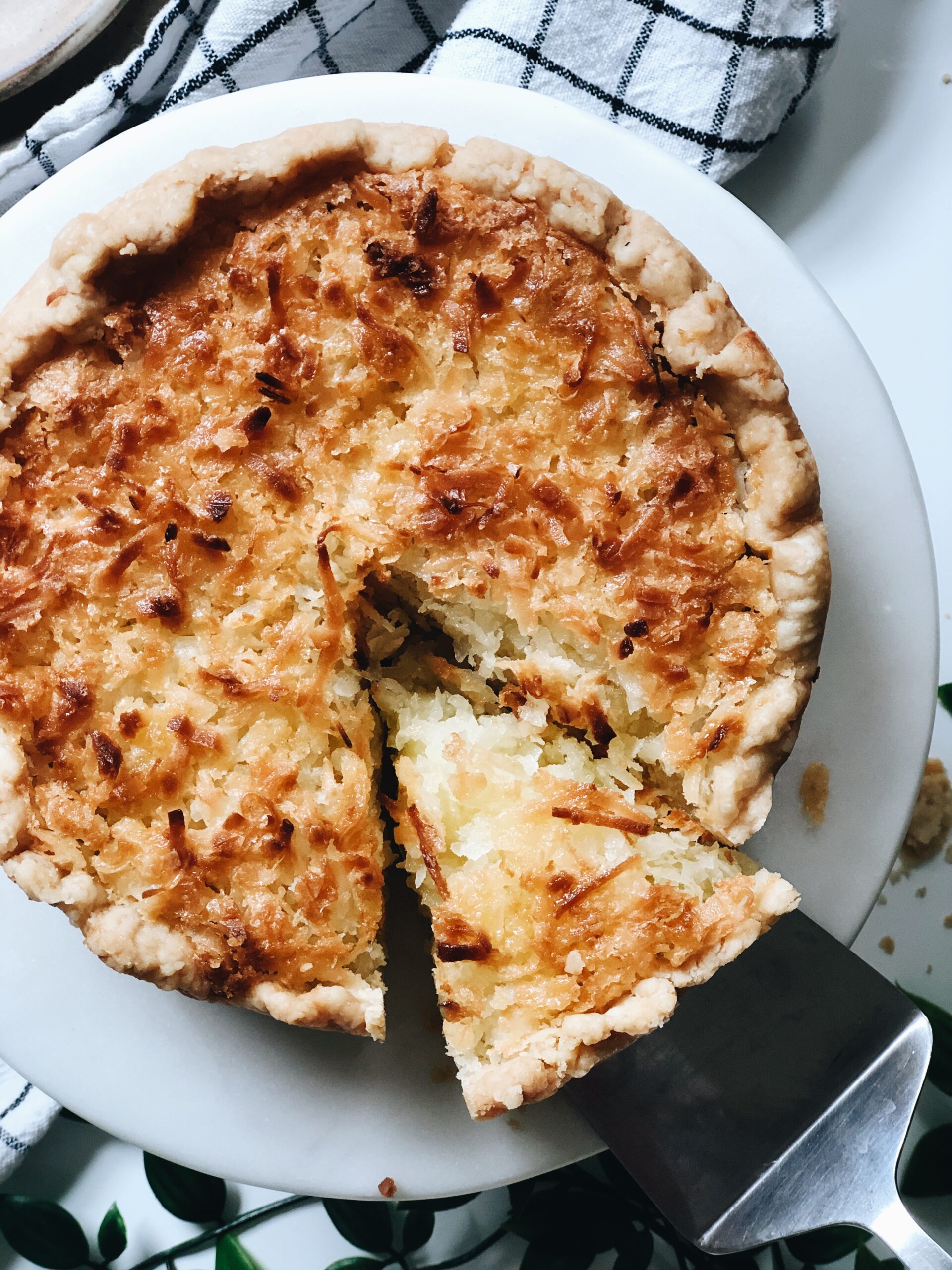 The sad story isn't about me making the pie again. That's not the sad part. I knew I'd have to make it again after I botched the crust the first time because I didn't read the measurements correctly. And when you think about it, making pie again doth not equate sadness. On the contrary, it's something to celebrate. The sad part is what happened after I made the the pie again. But we'll get there.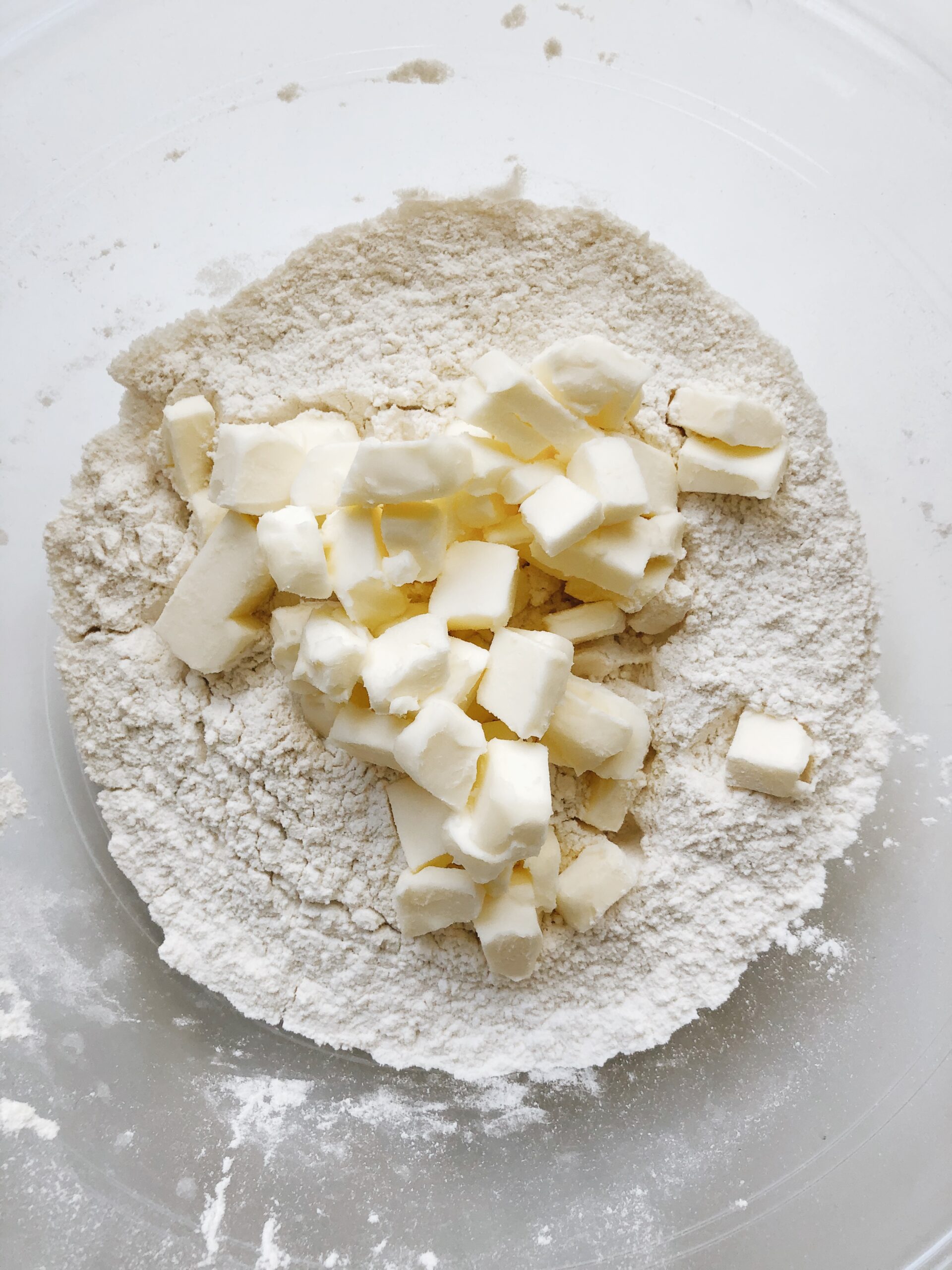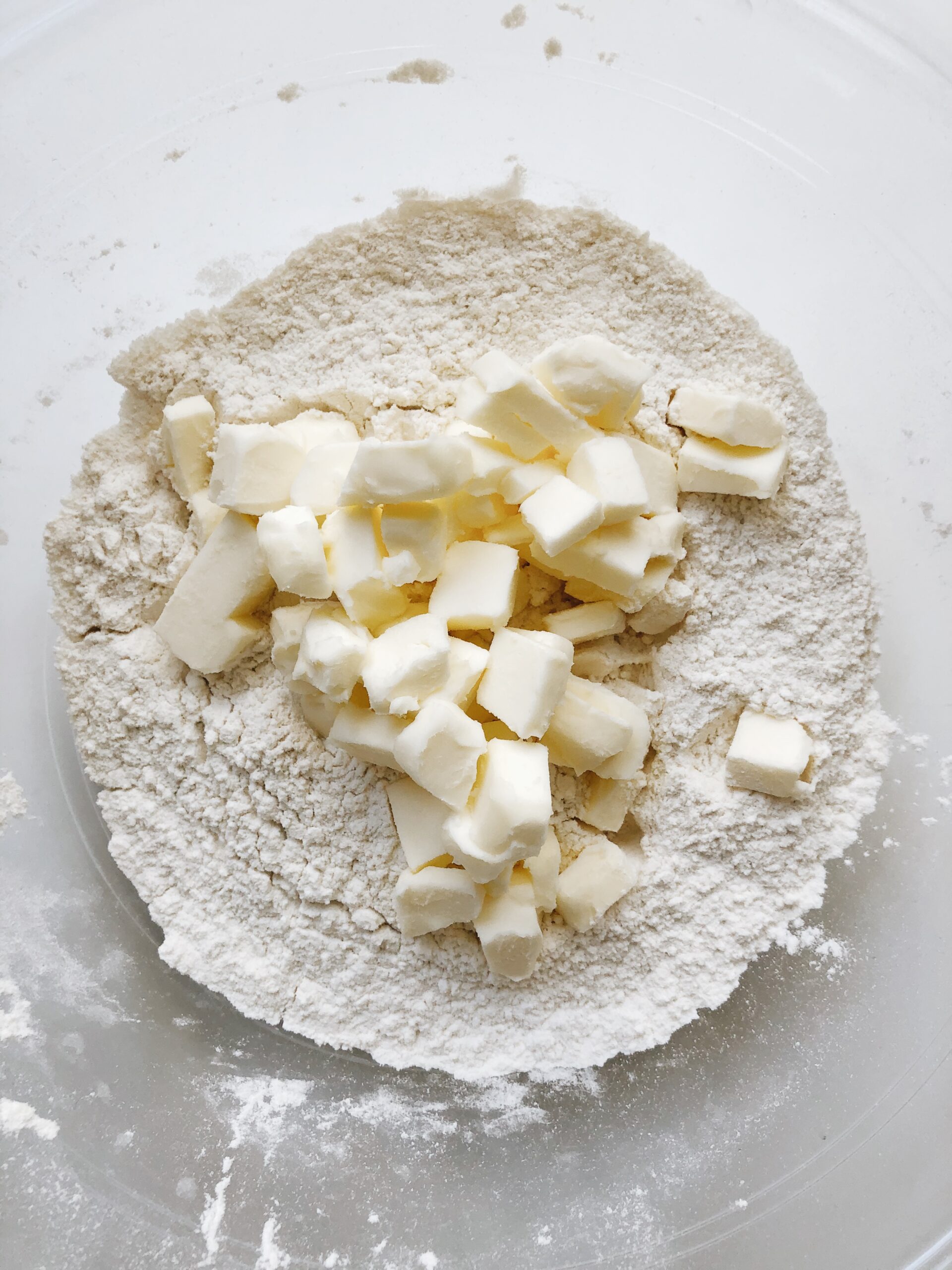 You know I'm not a baker by nature. I'm more of a cooker by whimsy. (my friend Lacy hates the word whimsy.) I throw ingredients together at random and cross my fingers. But you can't do that with baking. And that's fine, I just need to wrap the voices in my head around it.
The pie crust – it's Alison Roman's THE ONLY PIECRUST, and it's dern delicious. It reminds me of the holidays, when you open a beer right after lunch, throw on some Etta James and start a pie crust. There's something about leaning against the counter, hunched over a crusty cookbook with an open afternoon and the scent of butter that is just everything. But see, what happened that first time is: I wanted to make it a mini pie crust. Her recipe makes two regular pie discs. I halved the recipe, not registering that that's fine if I'm only making one regular sized pie. But I'm making a MINI pie, so I'd need to quarter the recipe. Know what I mean, Vern?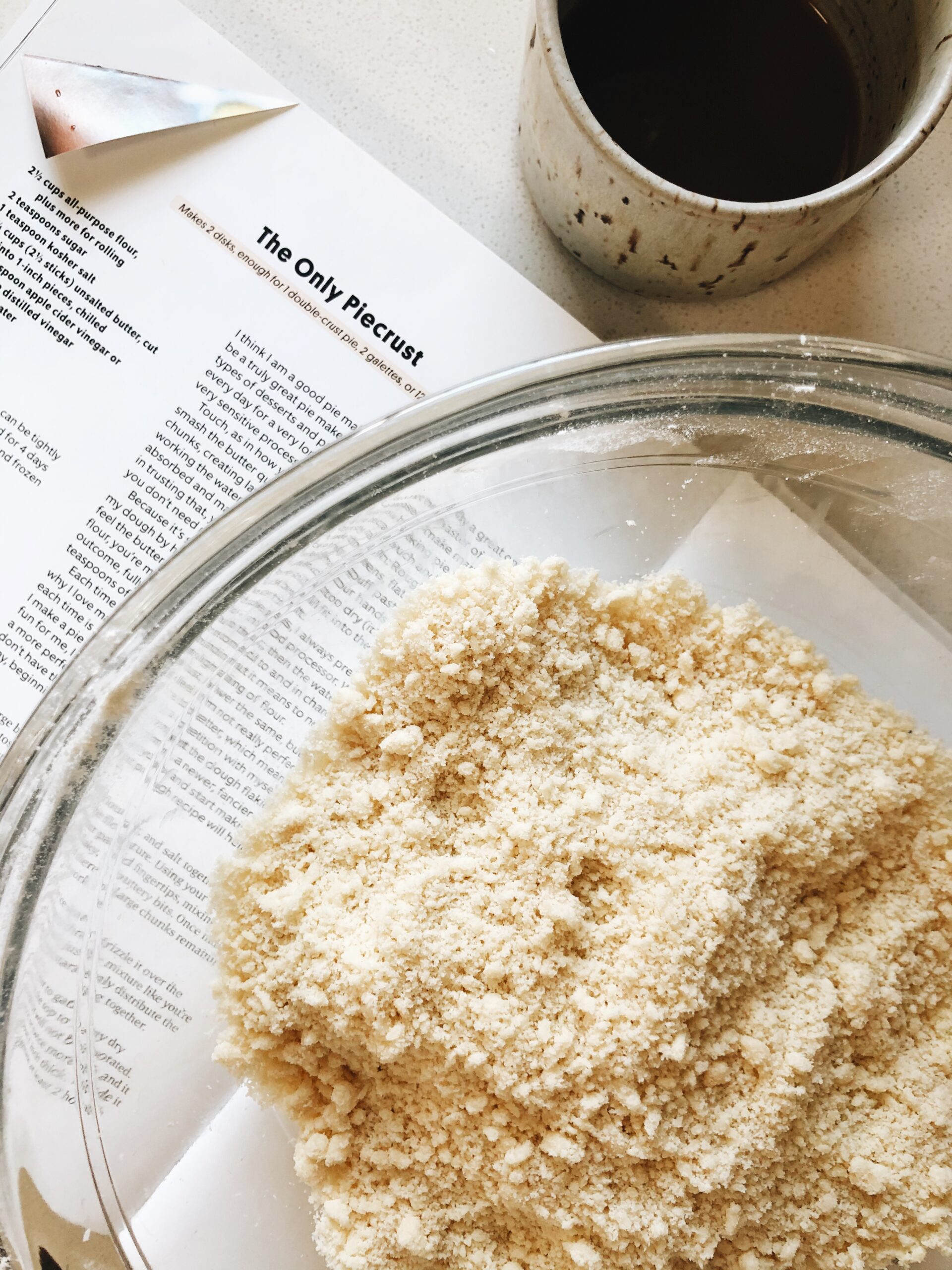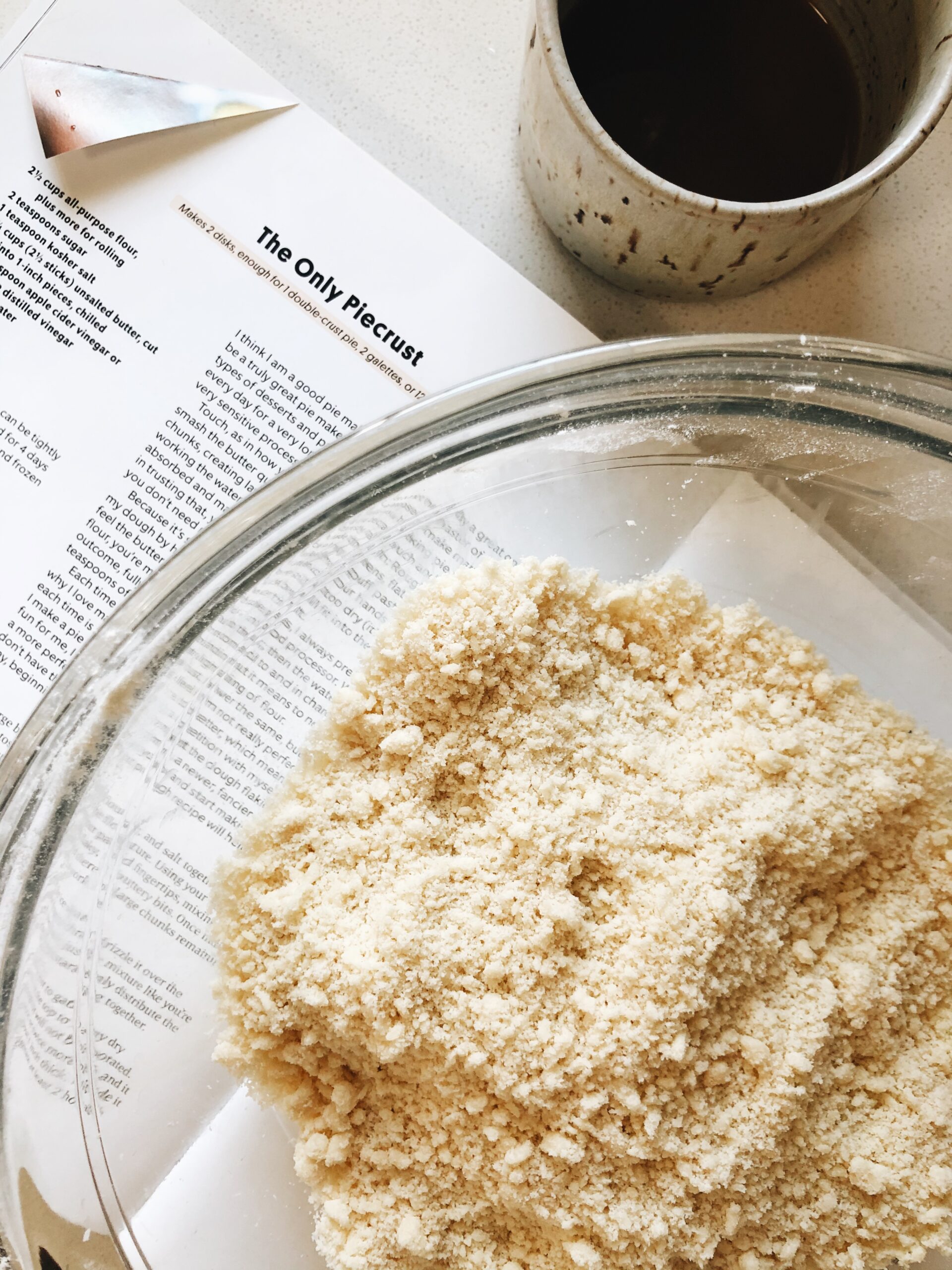 We got there. Eventually. And the crust, albeit V THICK, was flaky, buttery and still excruciatingly delish. But I wanted you to have it the right way. So I made the pie again.
I made the pie again! See, we're happy.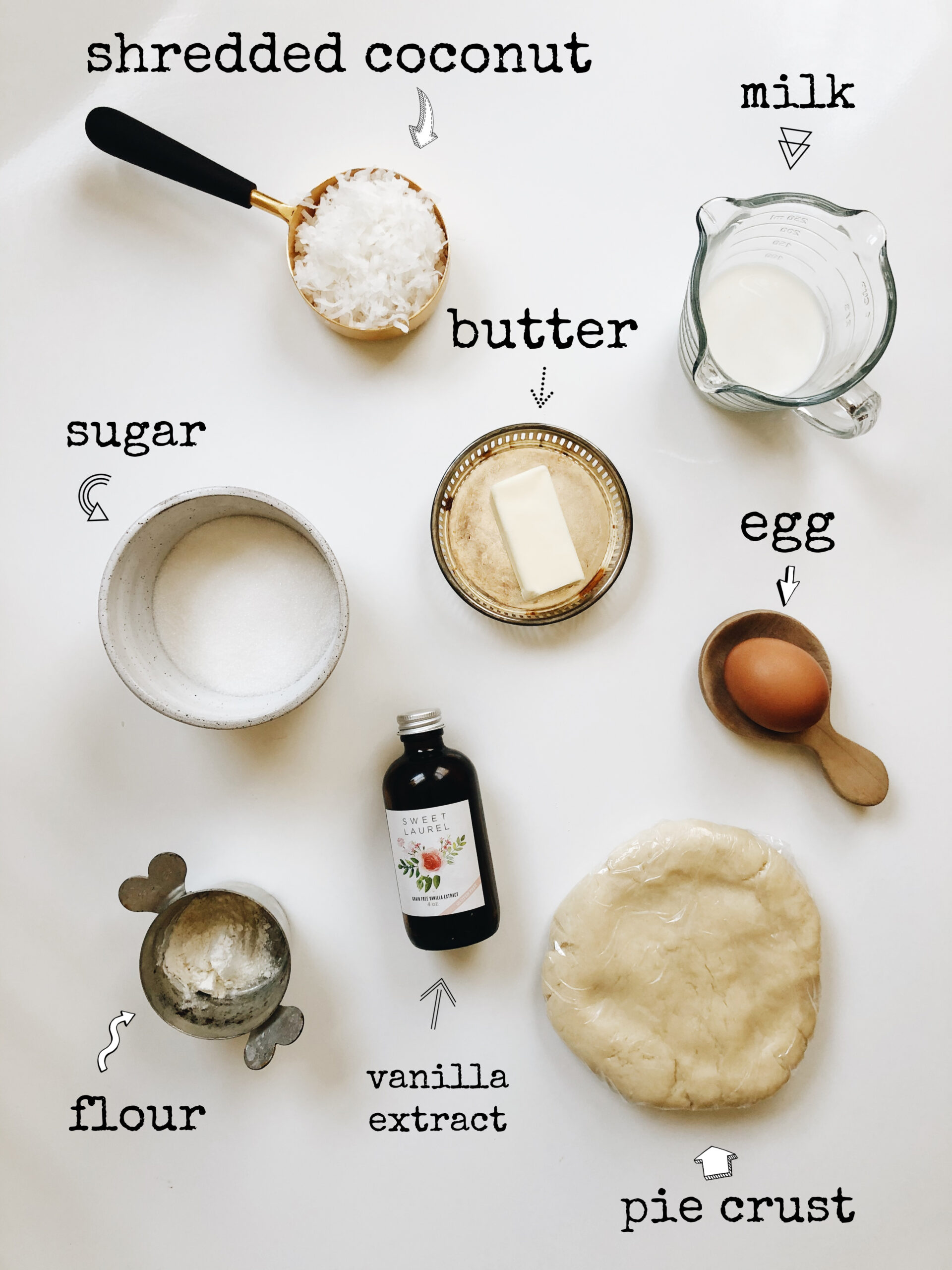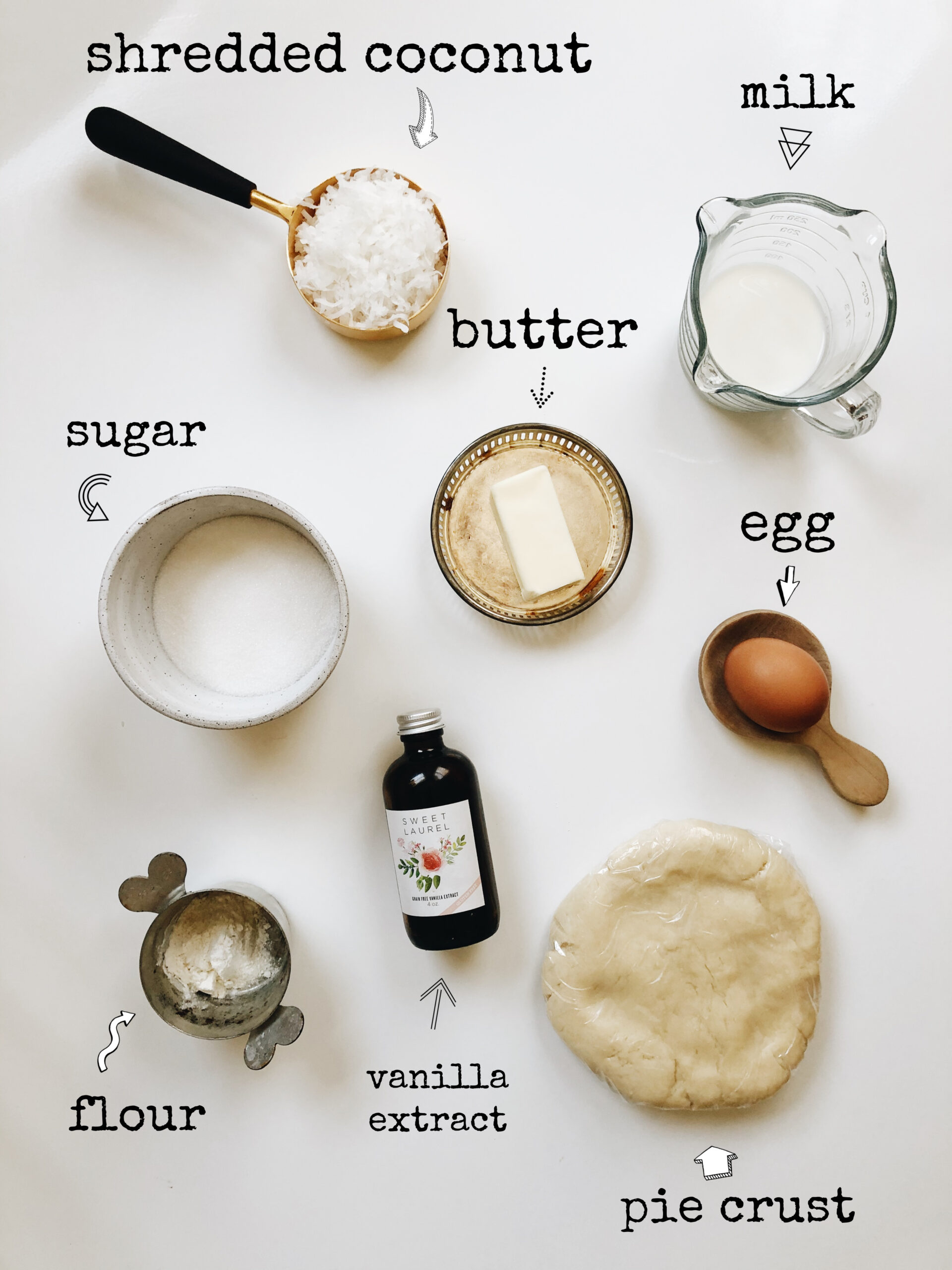 Now let's talk about the custard filling. To be HONEST, I'm not exactly sure the exact difference is between a coconut cream pie and a coconut custard pie. One is baked in the oven, and one is cooked on stove top. I believe that's it. So perhaps I do know the difference. Never mind.
I wanted custard, darn it! That's what it comes down to. (it always does, really.)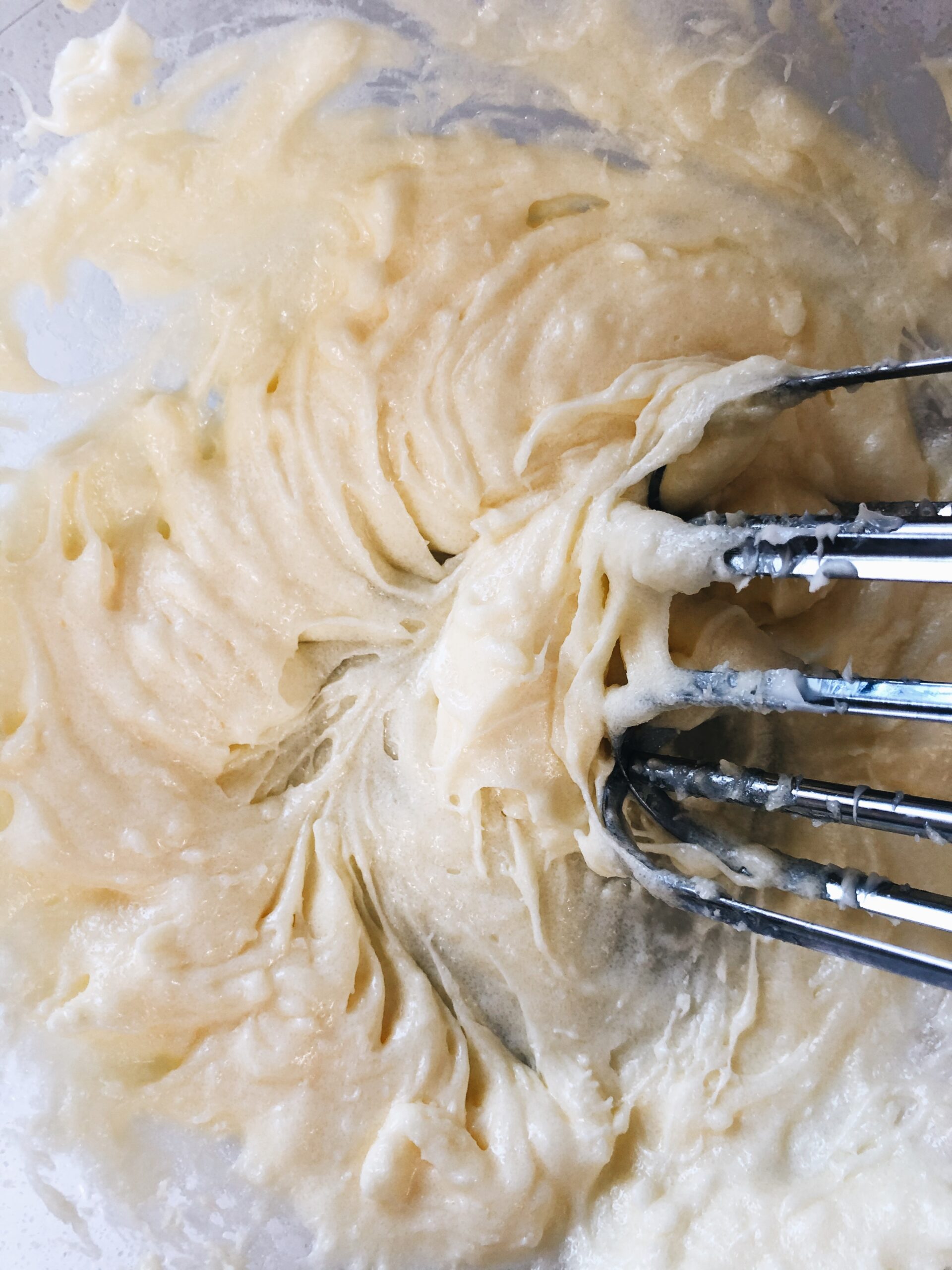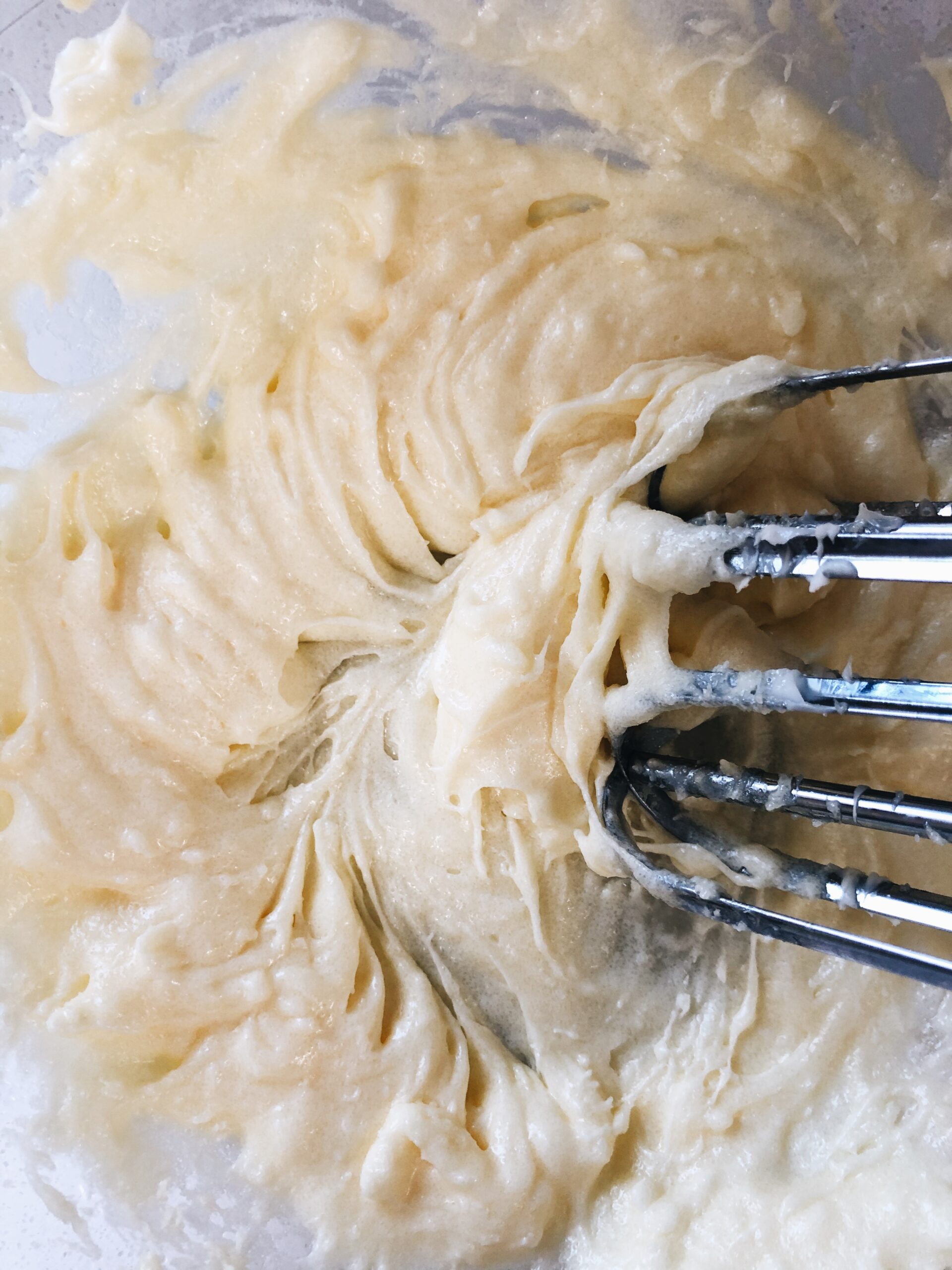 It's a simple filling. Butter + sugar + egg + pinch of flour + milk + shredded coconut + vanilla. What I did was tweak something I saw on All Recipes, because it had way too much sugar and milk in their recipe. So I put my thing down, flipped it and reversed it, and here we are.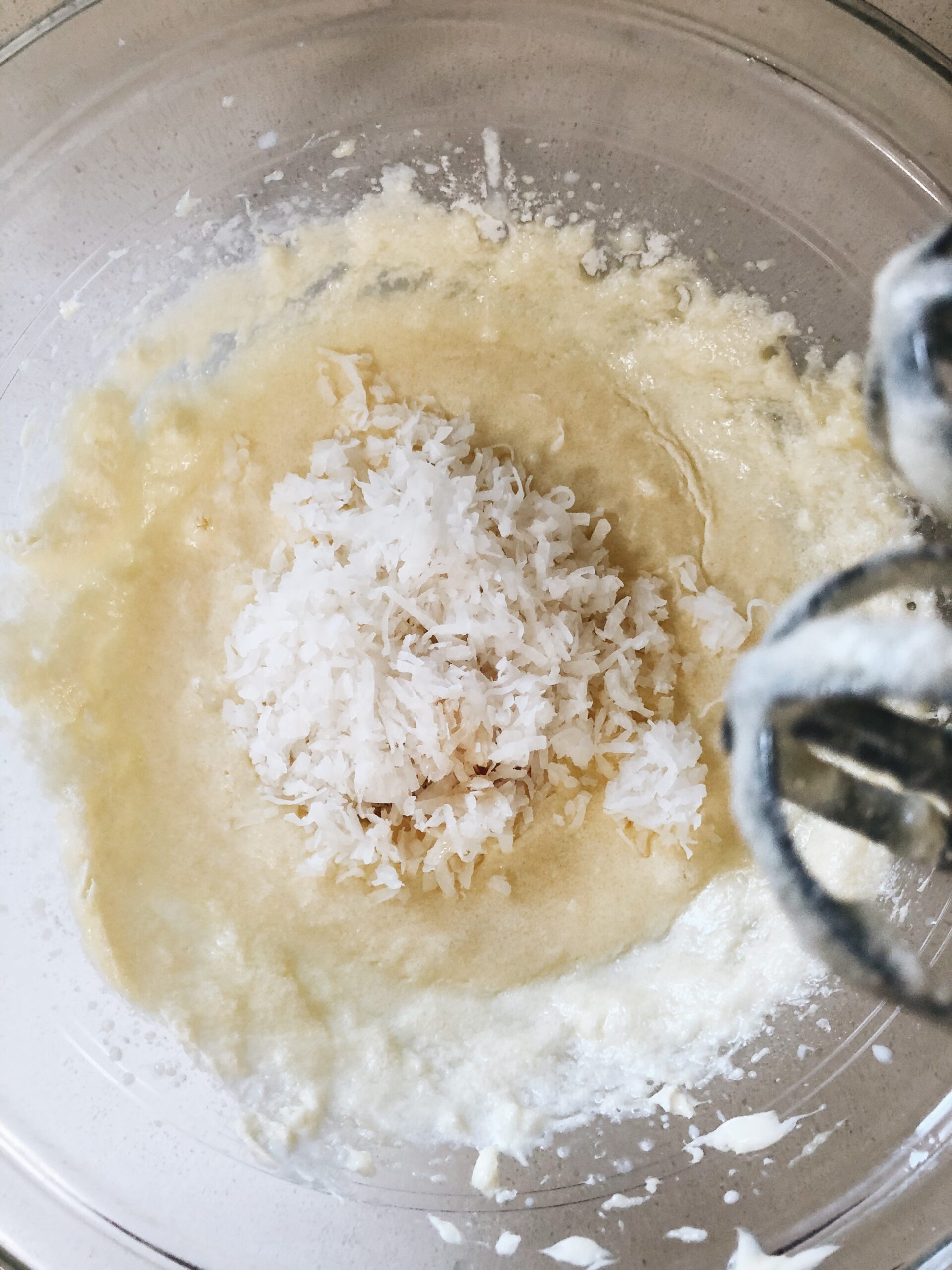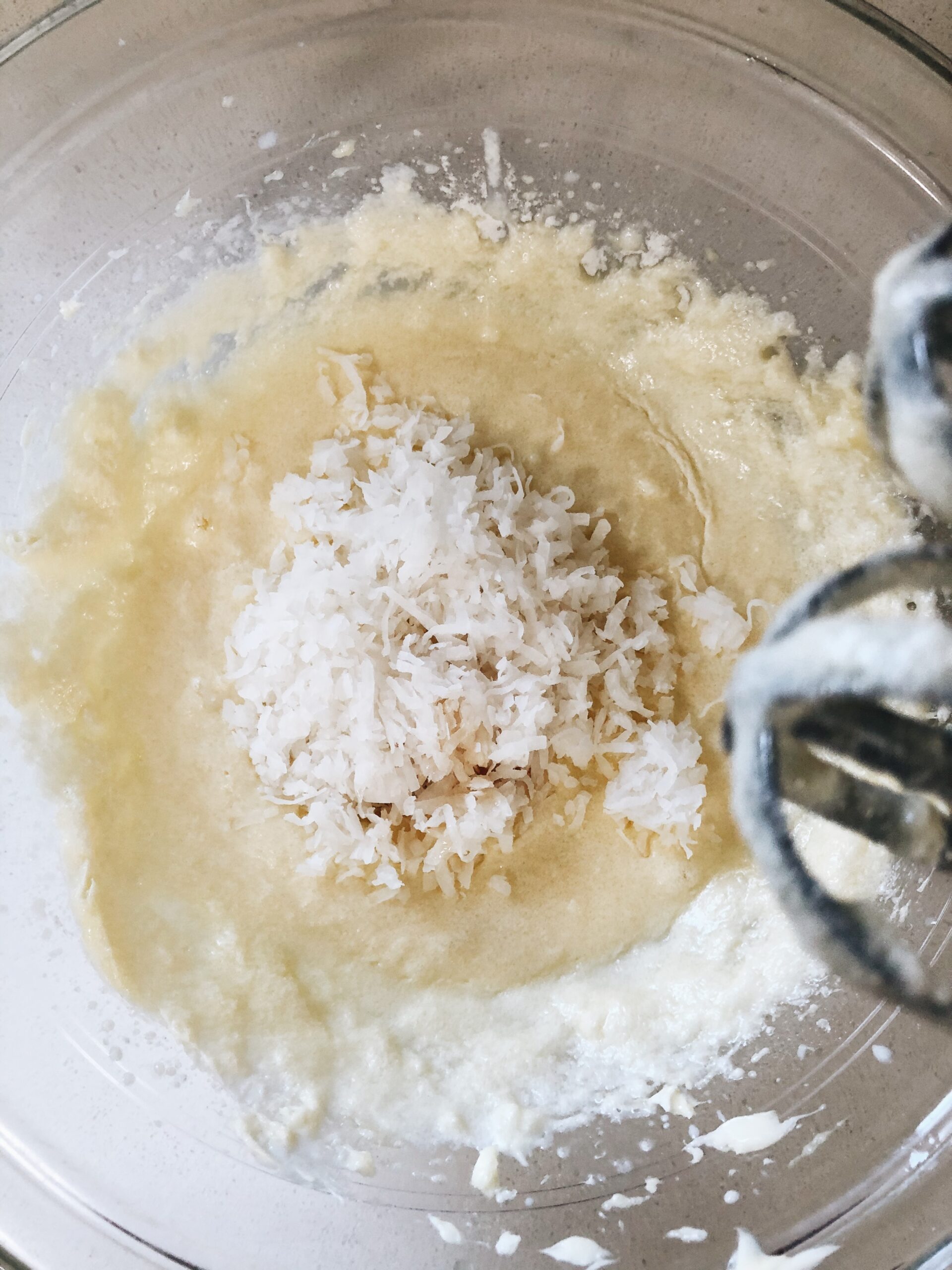 The coconut: it's shredded. You'll see flaked, too, but shredded is best. Also, I could only find sweetened coconut, but unsweetened is GREAT. Use that if it's all you see. If there's a choice, man I dunno. This is why we have our raging inner soul fairies, you see.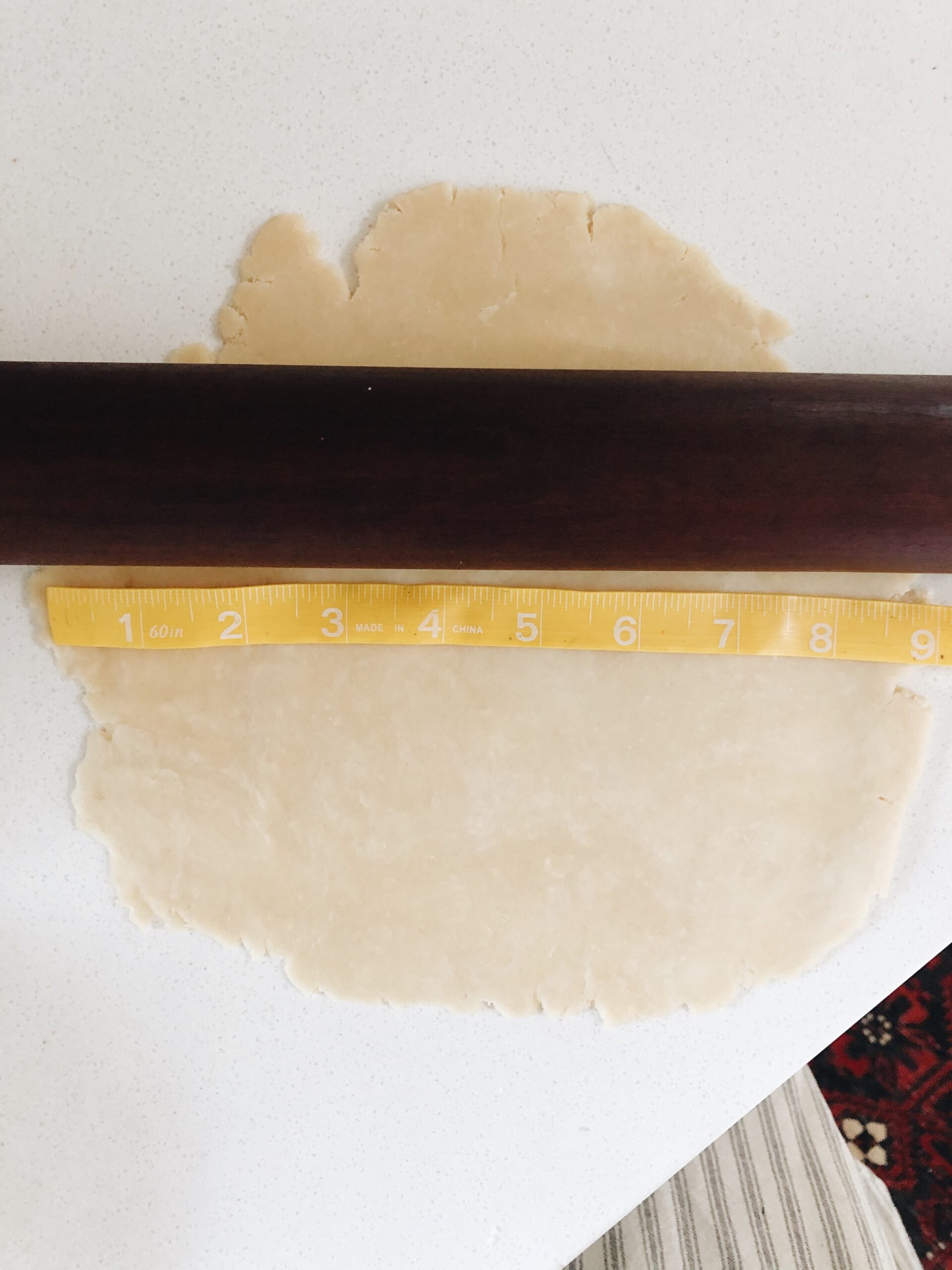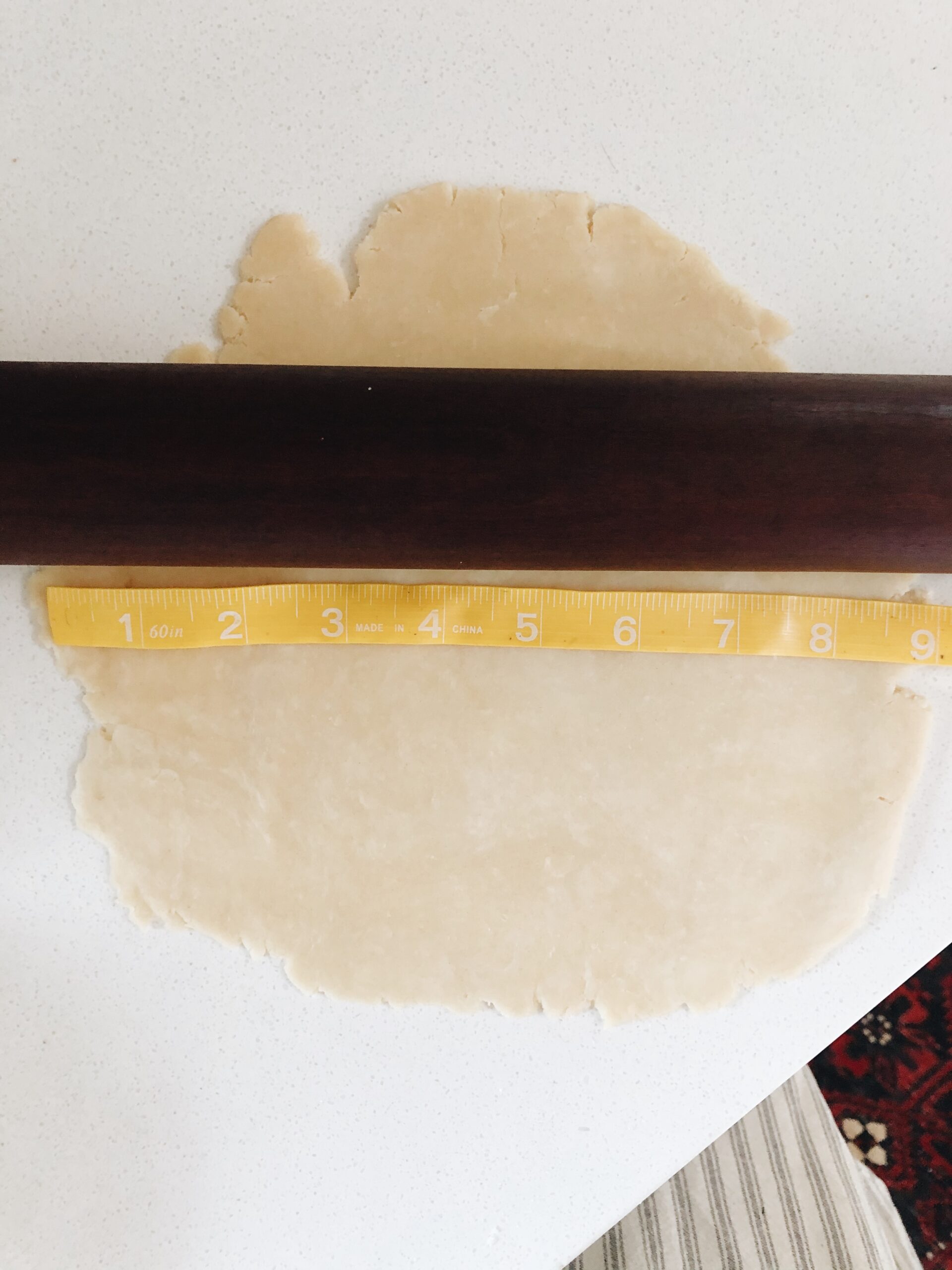 Let's get our chilled crust out of the fridge and roll it out. My little pie container (container feels wrong) was six and a half inches wide, so I rolled the dough out to about nine inches. The sides of my container (seriously why does that sound so odd?) were deep. Yours might not be. Yours might slant, but we're all still good people.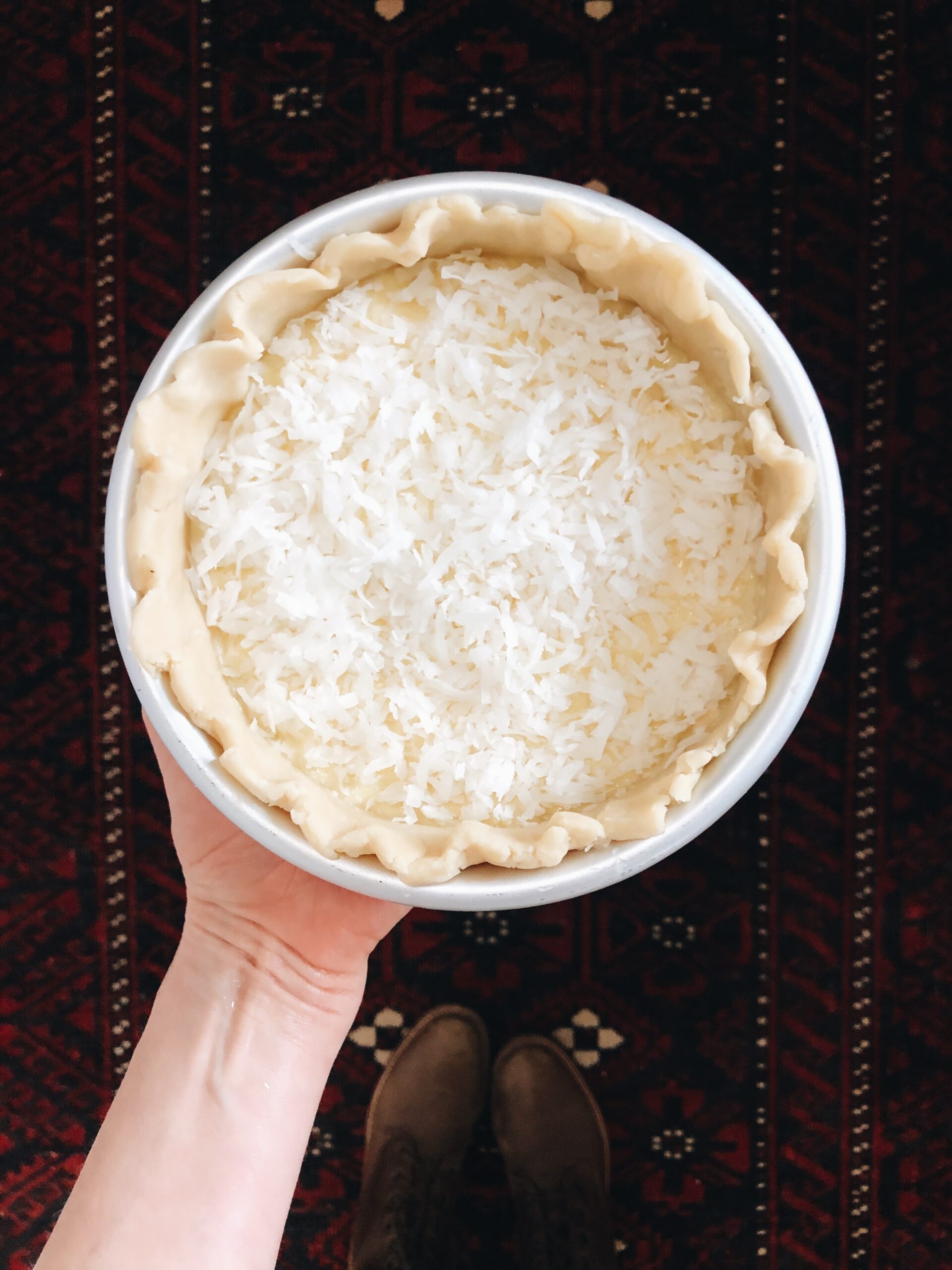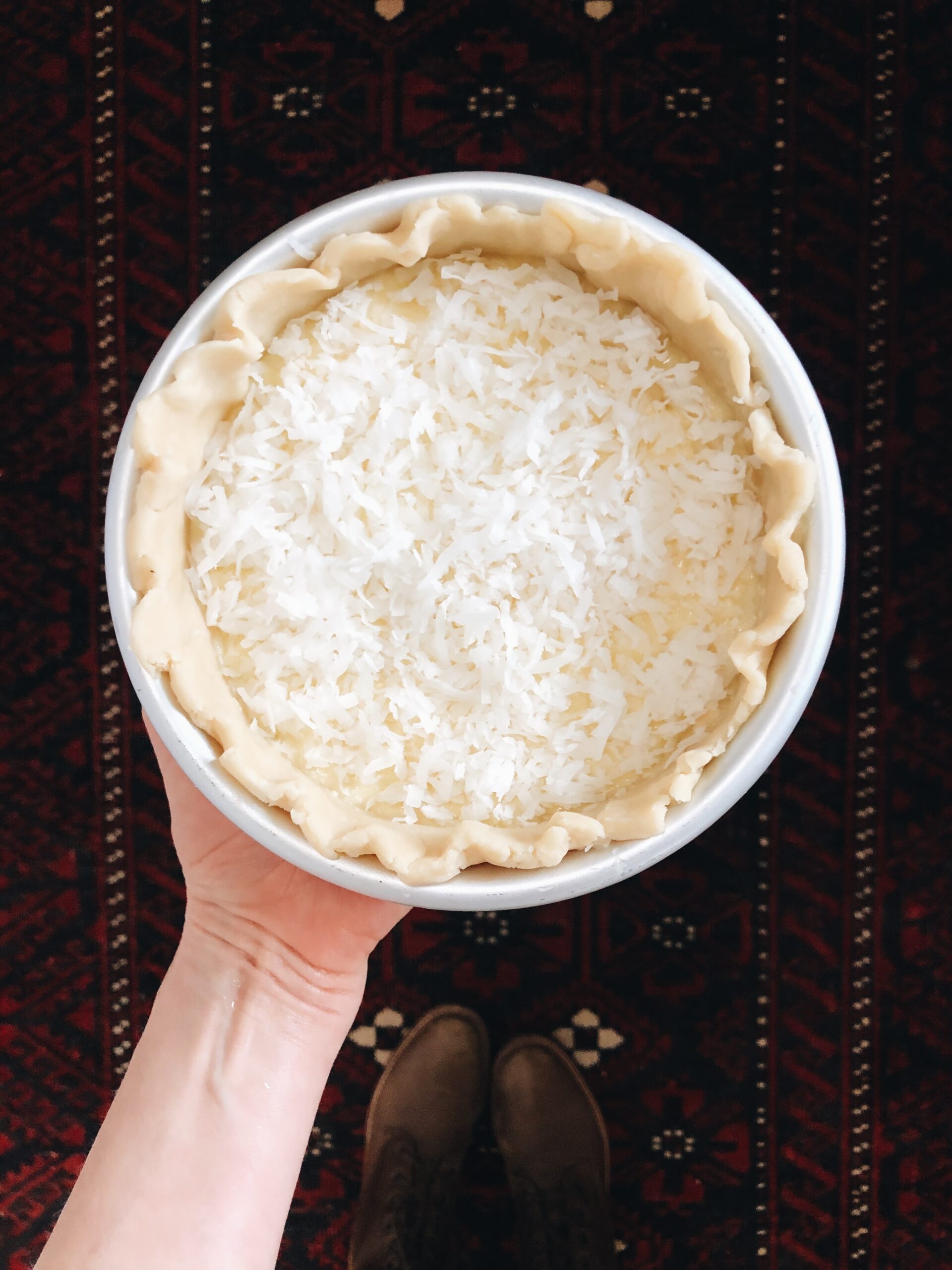 There we go! My edge crimping has serious self esteem issues, but camp was all filled up, so.
Remember to save some coconut for topping! Two Tbs-ish.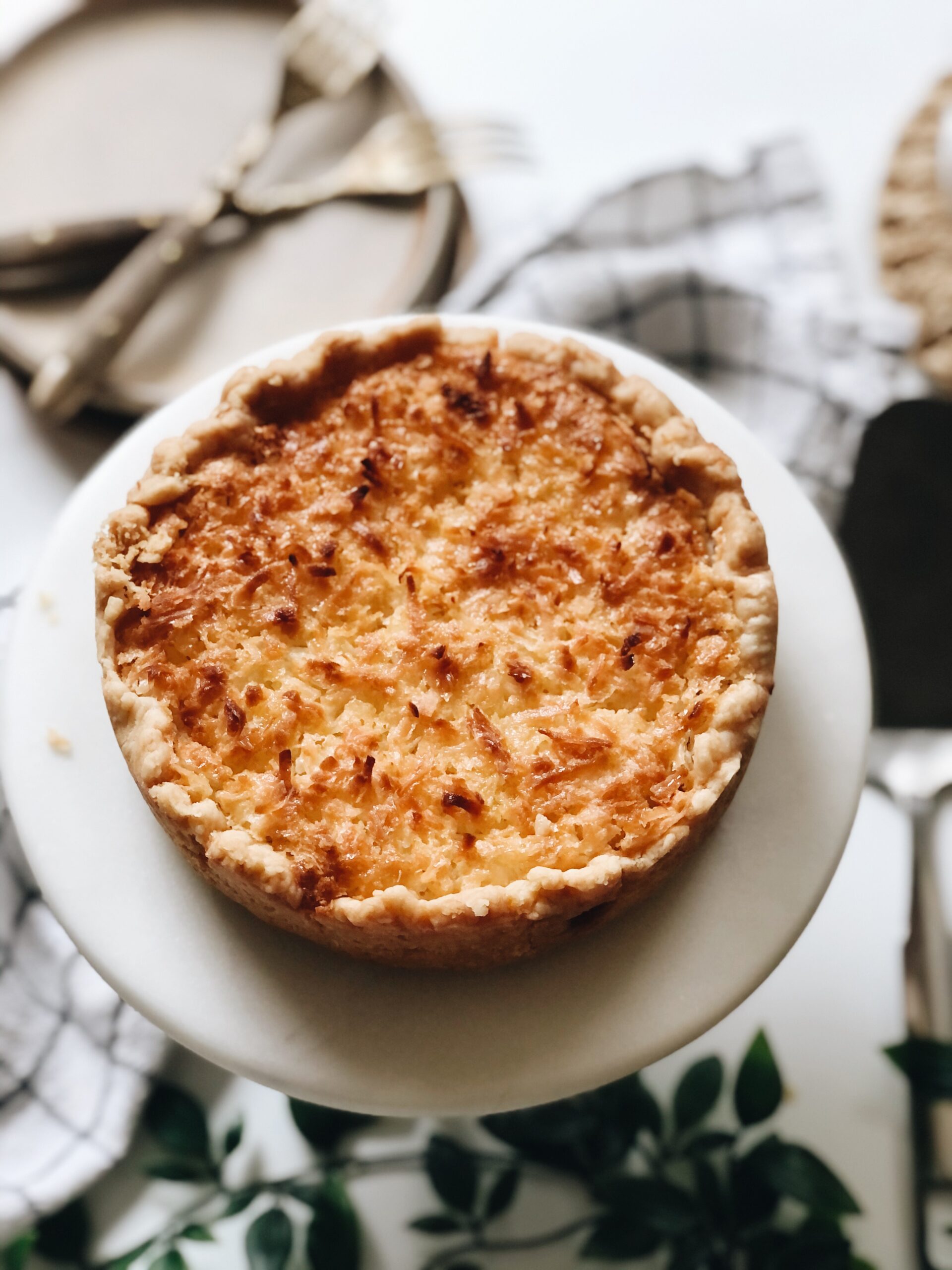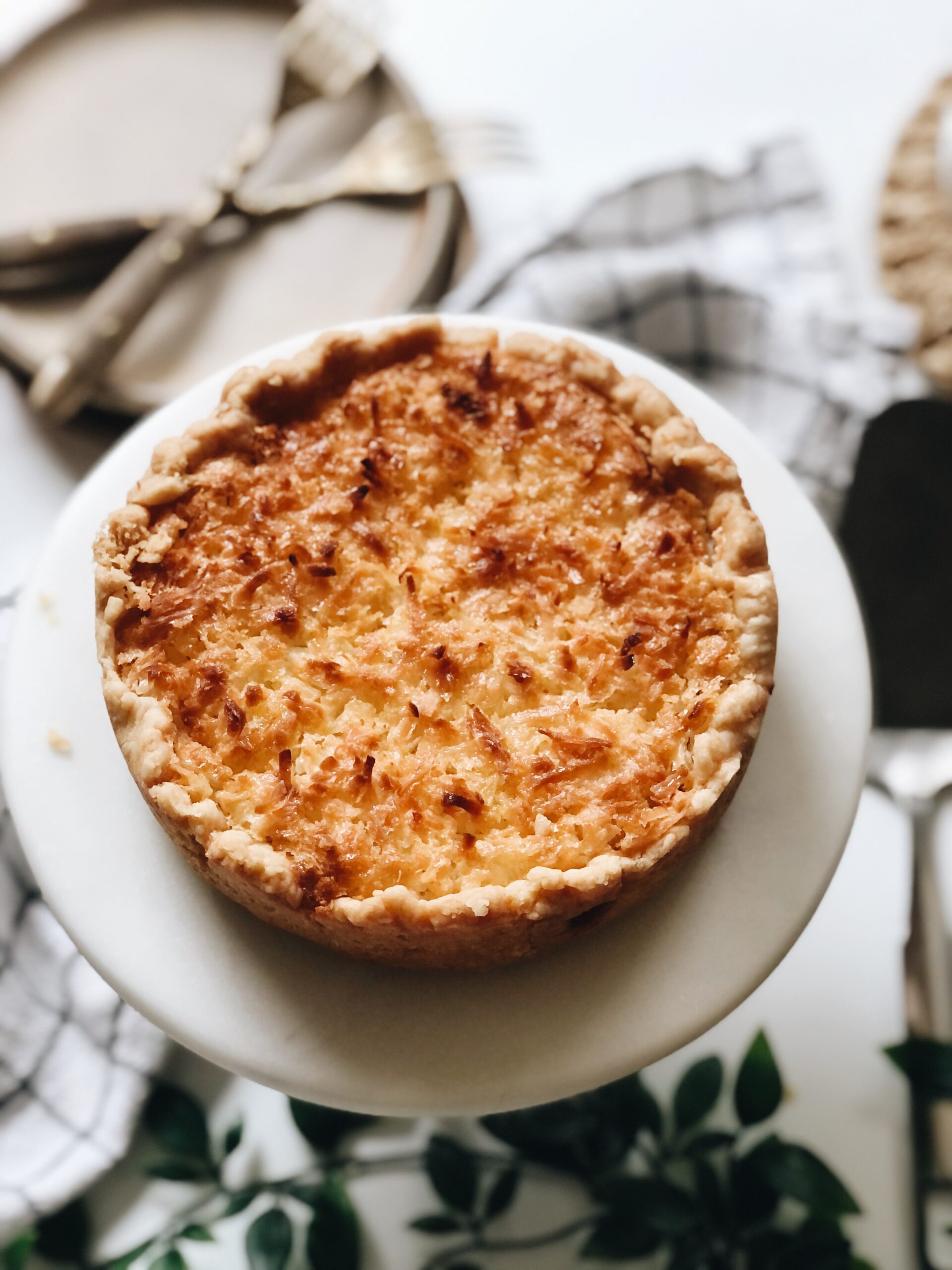 HULLO. That was in the oven for about 50 minutes, at 350 degrees. And she's exquisite.
Of course you'll let it cool completely, at least an hour. This gives the innards a chance to set and marry and cool and luscious itself up. Or something.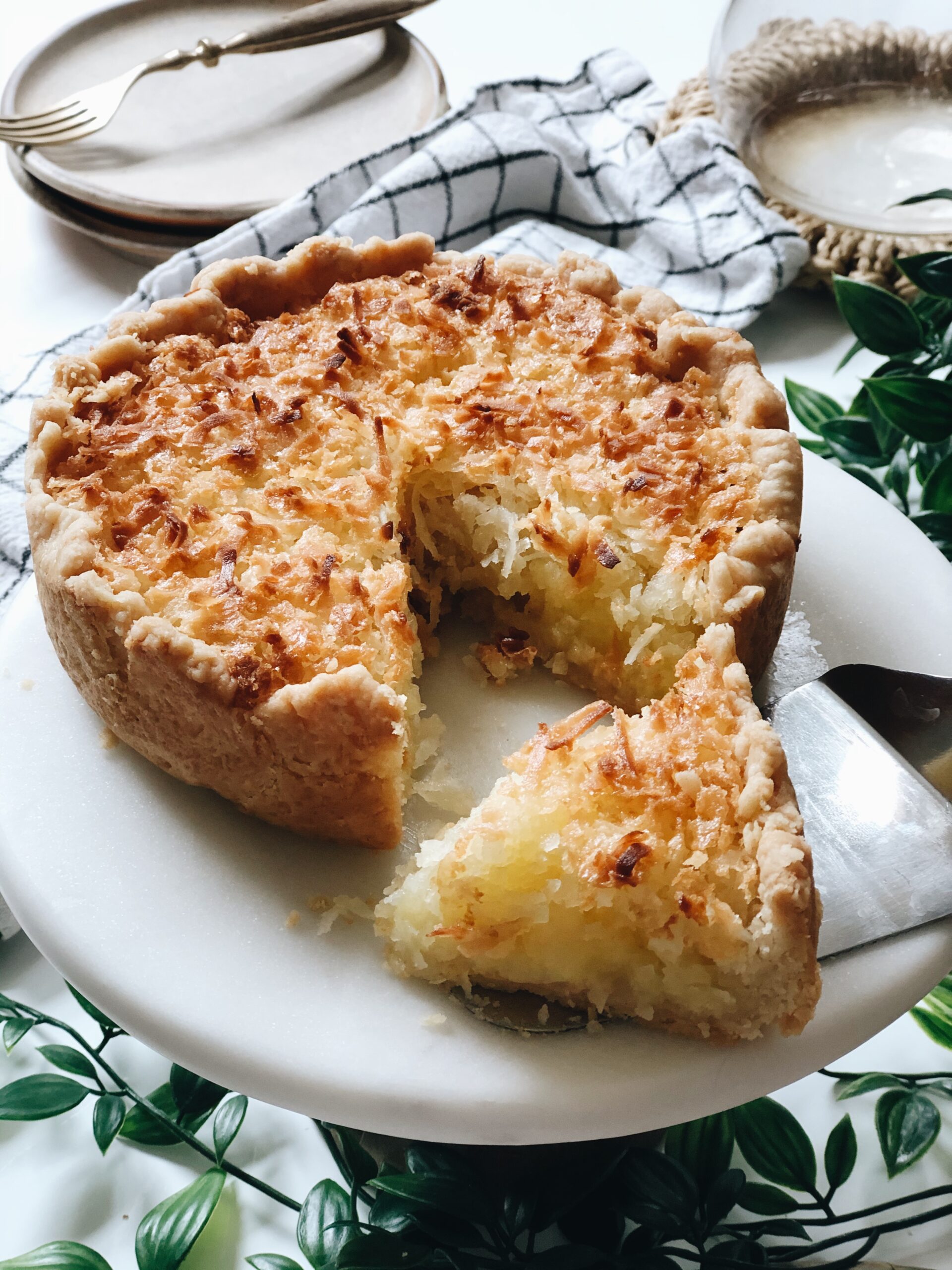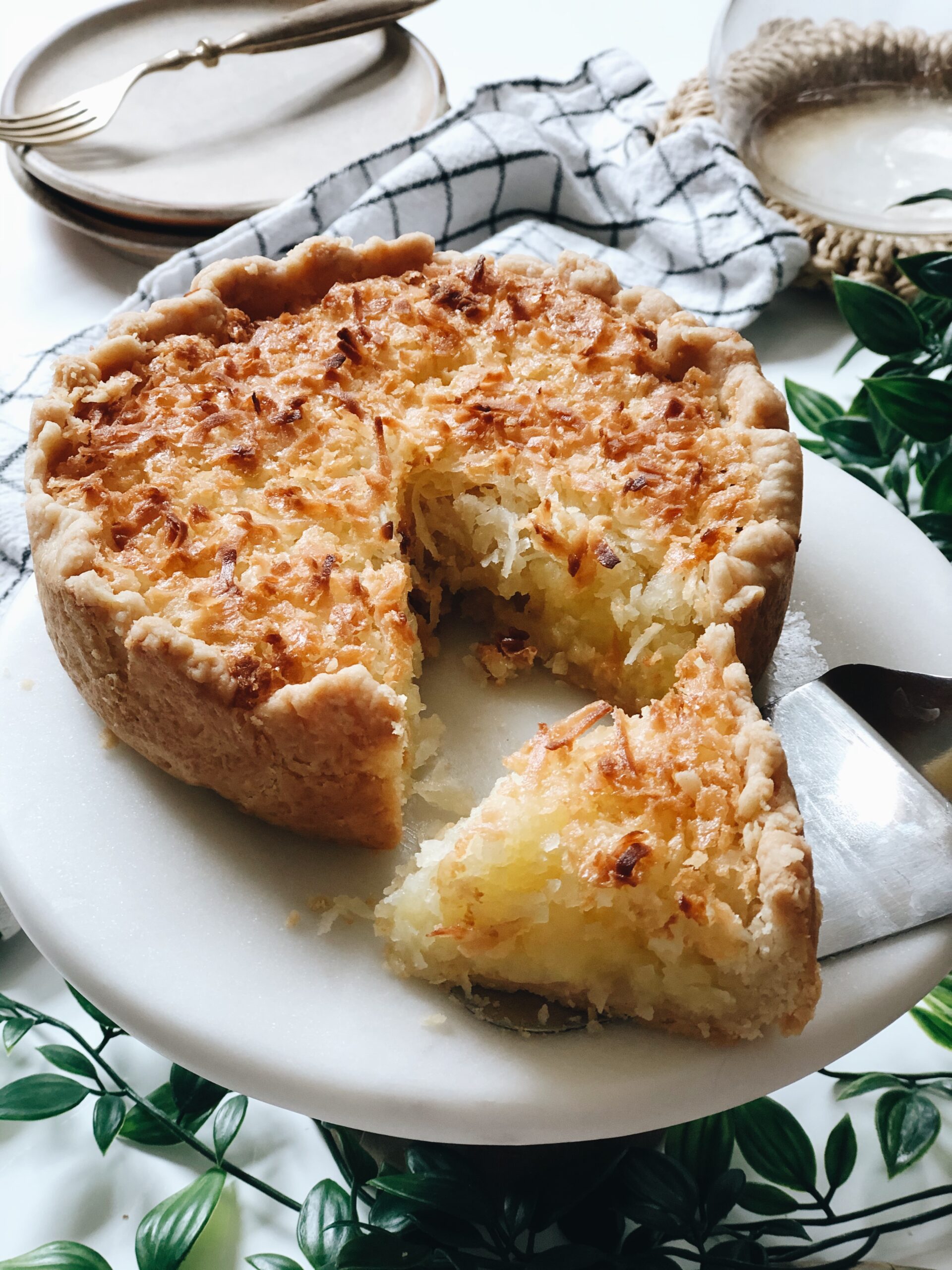 I love how it looks like a deep dish pizza pie, with those dramatic straight sides. It's got such 'tude! But gentle, ya know? Rustic and windowsill ready. WHERE MY CARTOON BIRDS AT?
Oh, the sad story. Right.
…well…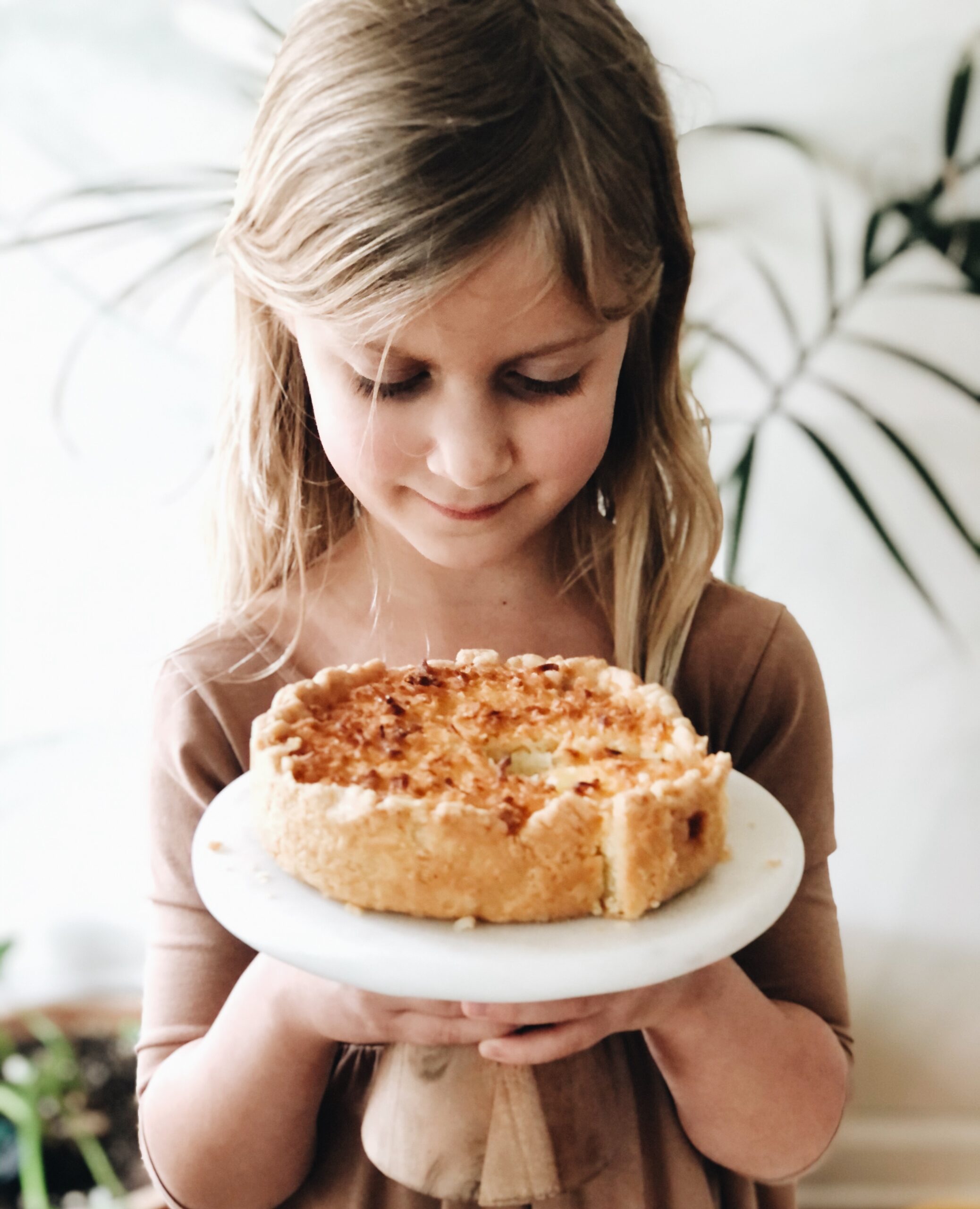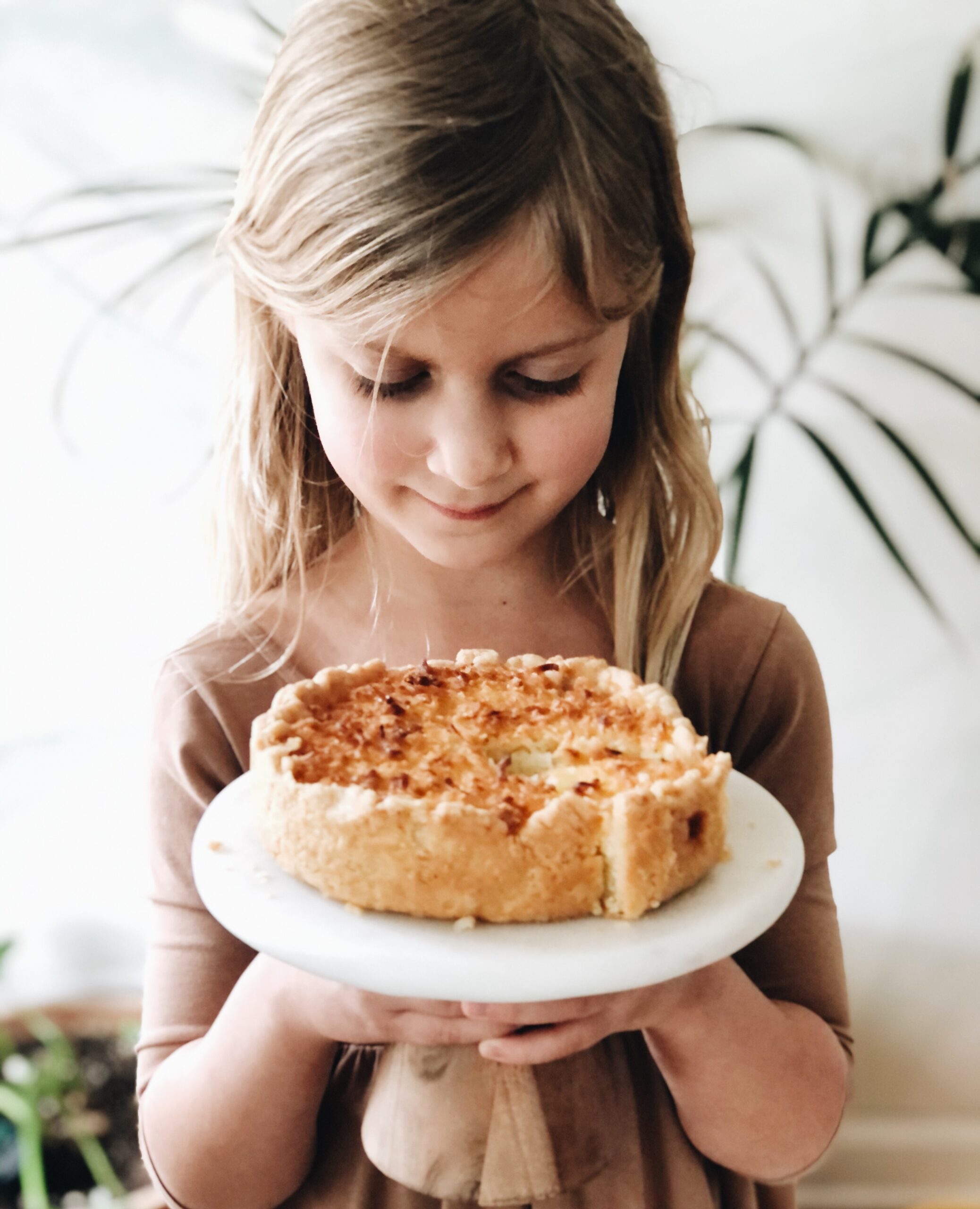 It's nothing to do with this photo of Nat holding the pie. This was the good part. We were all about to have pie. I set it down to organize the next plate shot, you see. Will leaned down to get on his knees (per my direction) but didn't realize that he shouldn't actually put ALL HIS WEIGHT on the tiny table. I'm sure you can guess what happened next. Tilt. Flip. "Nooooo!" Overturn. Pie. "OH SHI-" Gone. Upside down. "OMG." On the floor. Splattered. Crushed. "OH I CANNOT BEL-" Obliterated. Dunzo.
We'll be okay.
The pie tastes fabulous, though. Even though I didn't get any.
(Will has since recovered.)
(Jury's still out for me.)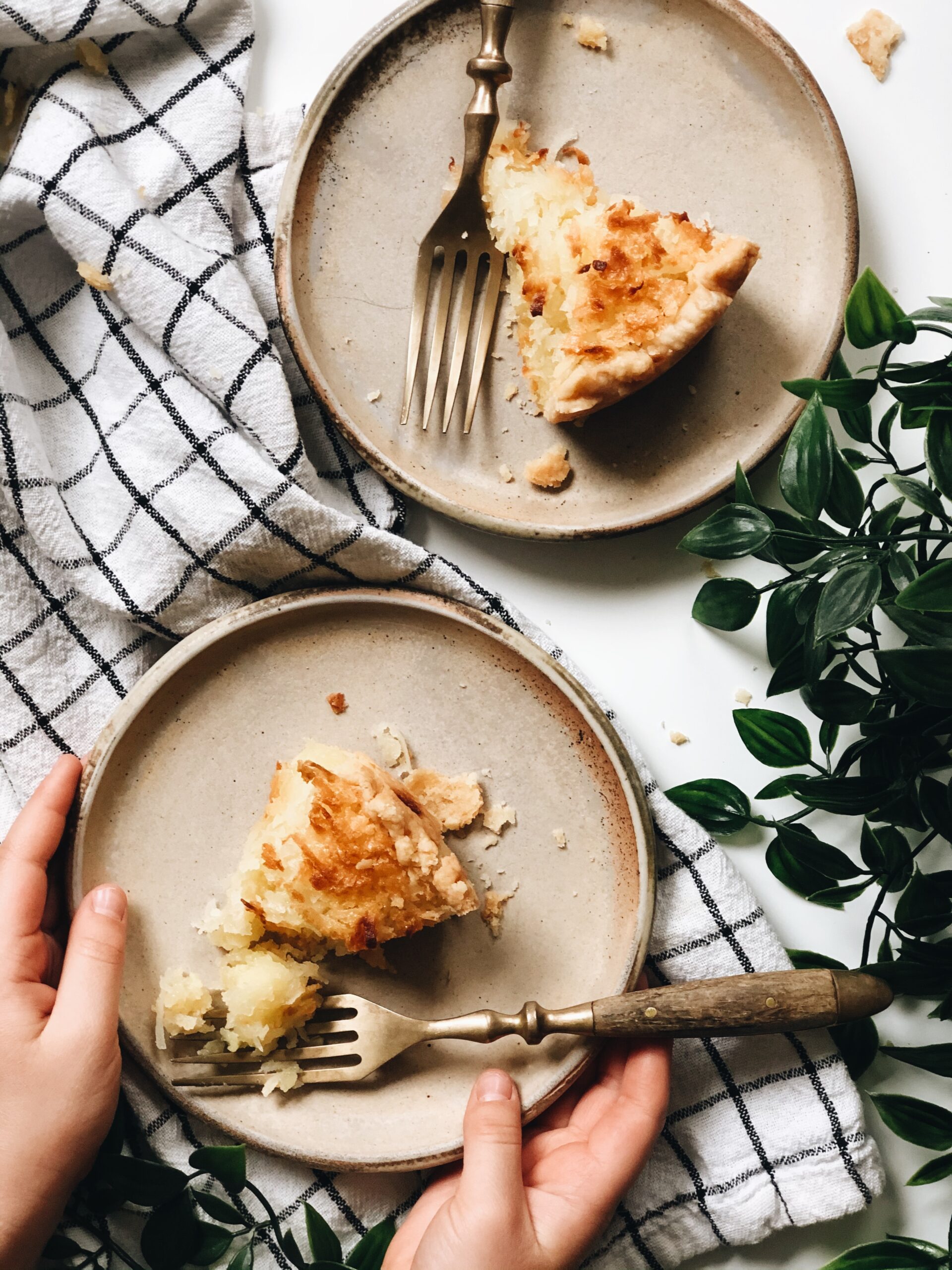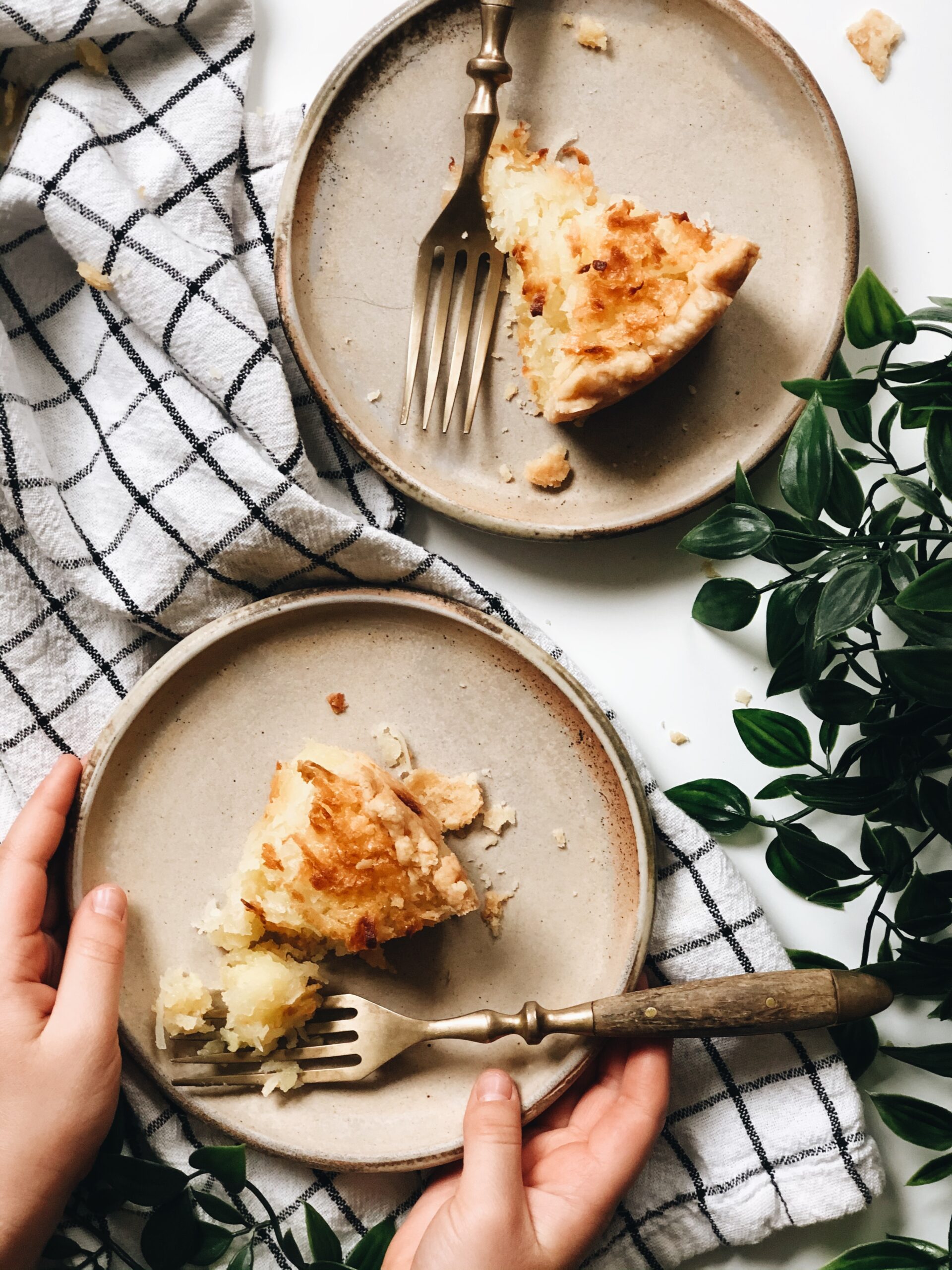 Make this Easter weekend! (Will was crying in the corner so his hands weren't in this photo. It's fine.)
Ingredients
For the crust:
1/2 cup plus 1 Tbs. all-purpose flour
1/2 tsp sugar
Small pinch of coarse salt
5 Tbs. cold butter, cut into small chunks
1/2 tsp apple cider vinegar
1 Tbs. iced water
For the custard:
1/2 stick butter, room temp
1/2 cup sugar
1 Tbs. flour
1 egg
1/3 cup milk
1/2 cup shredded coconut (plus more for topping)
1/2 tsp vanilla extract
Instructions
For the pie crust, combine the flour, sugar and salt in a large bowl and whisk together. Add the small chunks of butter, and using your fingers, press them into long flaky bits, until they're incorporated into the flour, and there are no long big chunks. Then smell it because BUTTER.
Gently dump the mix onto a work surface. Combine the vinegar with the cold water and sprinkle it over the flour mix, running it through with your fingers, until the dough comes together. Press and knead the dough a few times until it forms a shiny mass, then press it until it's about one inch thick, like a disc. Wrap this in plastic wrap and chill for about two hours.
Preheat your oven to 350.
For the custard filling, beat the butter with the sugar and egg in a large mixing bowl on a low mixer speed. Add the flour and mix it a second or two. Add the milk and give it another blend. Then add the coconut and vanilla, stirring it one last time with a spatula or spoon to incorporate.
Remove the pie from the fridge and roll it out until it's about nine inches across, give or take. Press the pie crust into a mini pan (mine was 6 1/2 inches wide but anything in that range will work!) and crimp the edges until they look cute. Cute-ish. This is real life here. Fill the crust with the custard filling, and sprinkle a little bit more coconut on top. Bake for 45 to 50 minutes, until the pie is no longer wiggly and the coconut is golden brown on top. Let it cool completely before you cut in, at least an hour.
Serves 4-6, depending on the serving size!
7.8.1.2
492
https://bevcooks.com/2021/03/mini-coconut-custard-pie/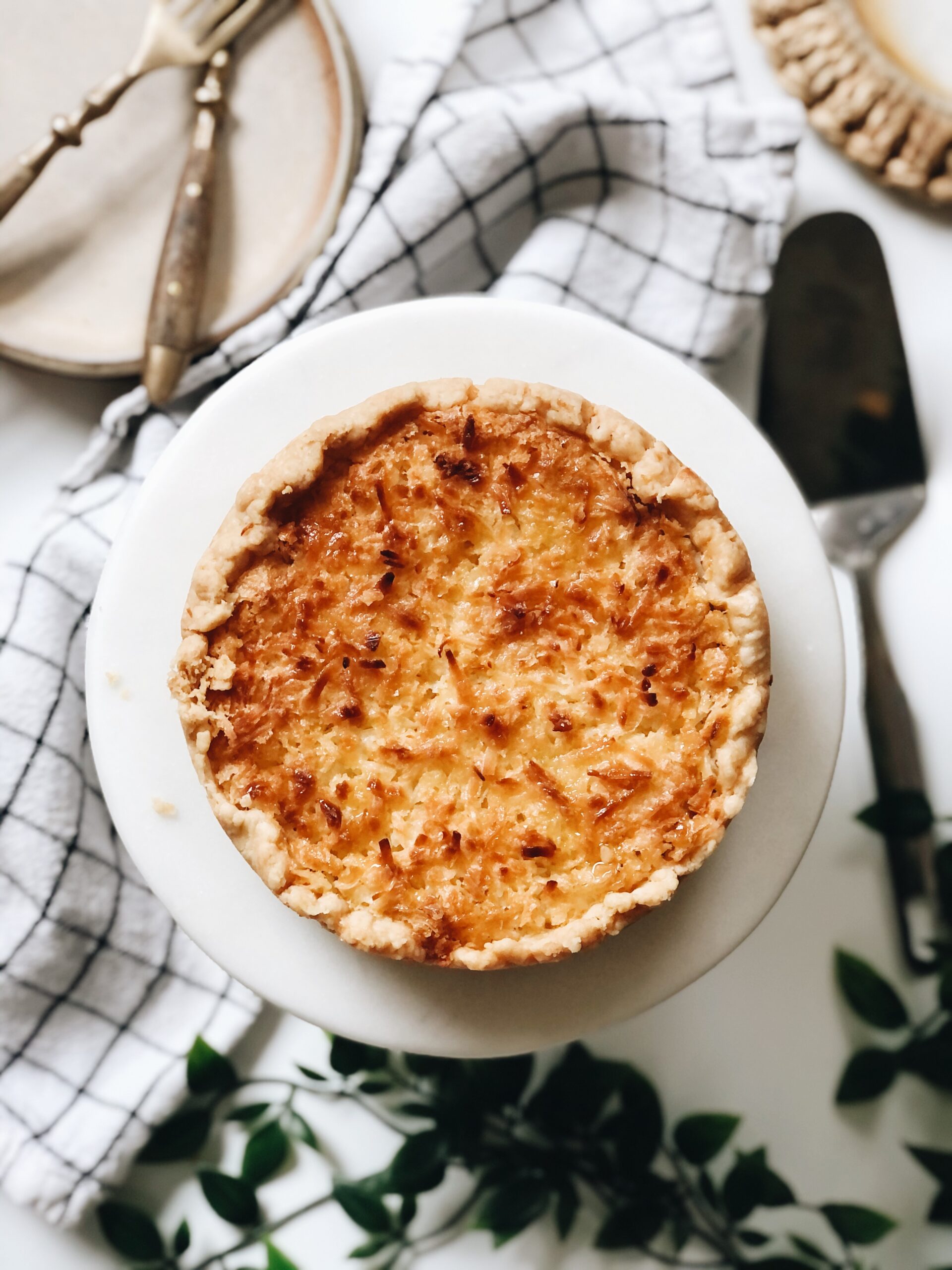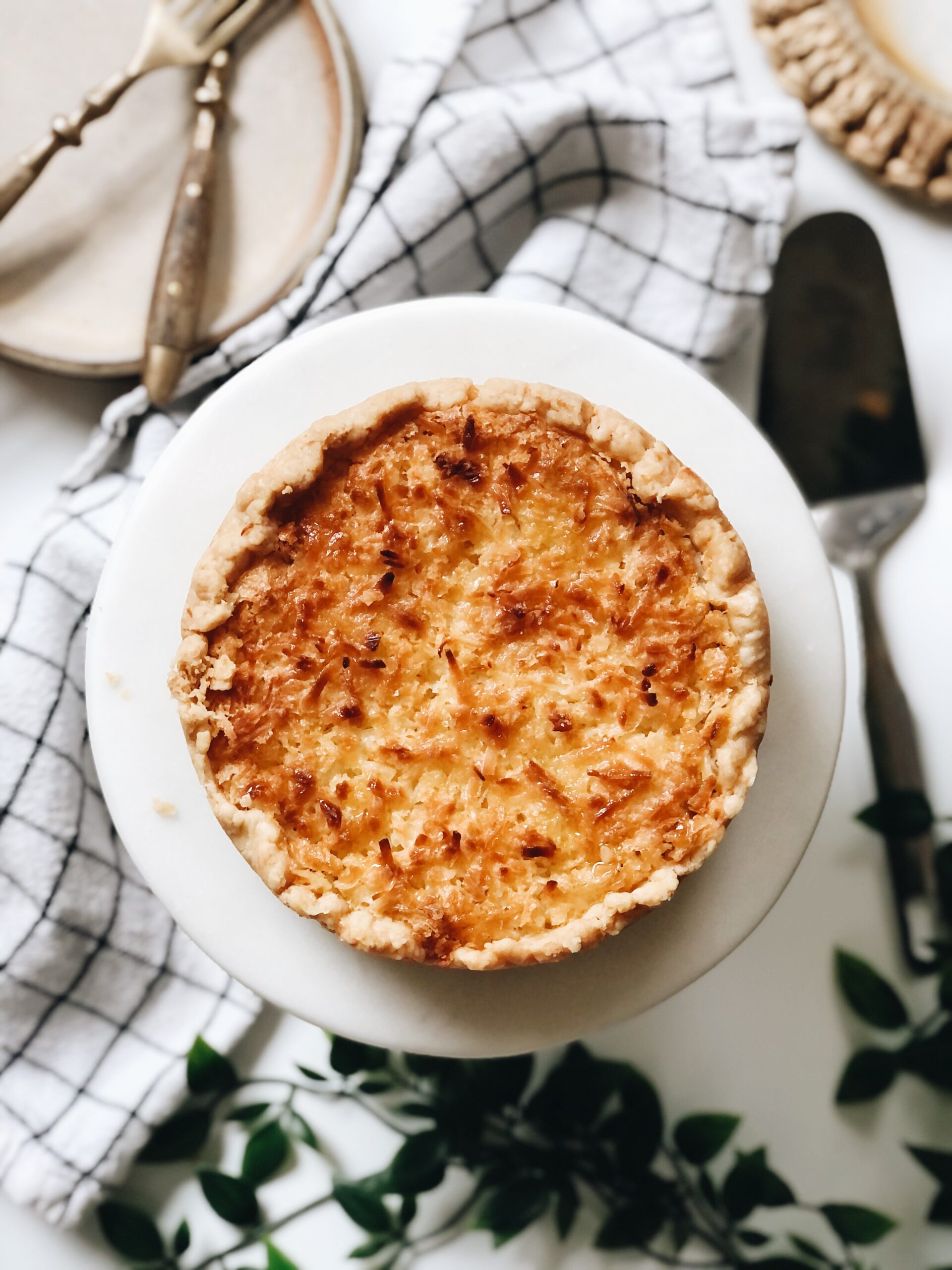 Seriously don't drop it.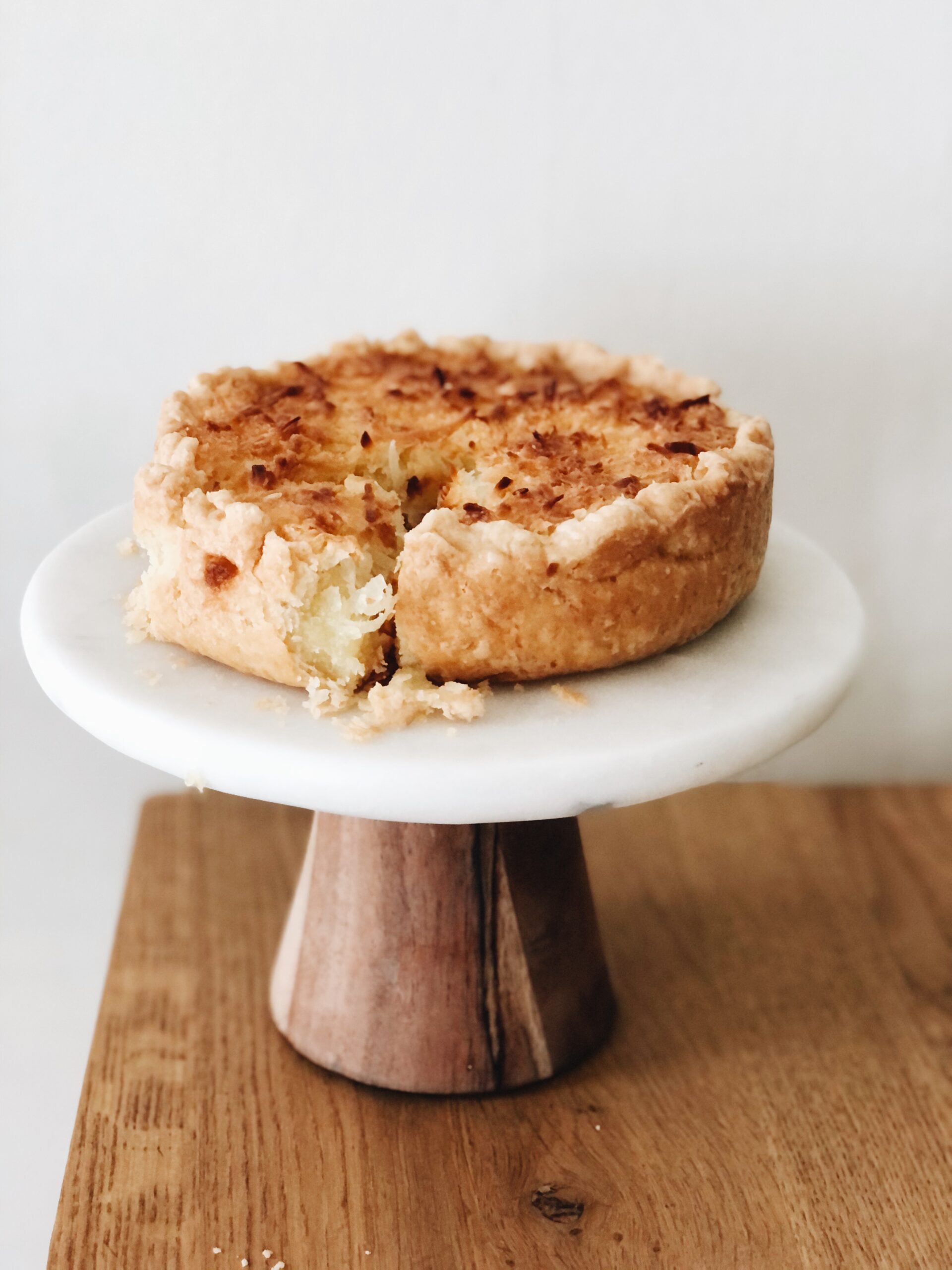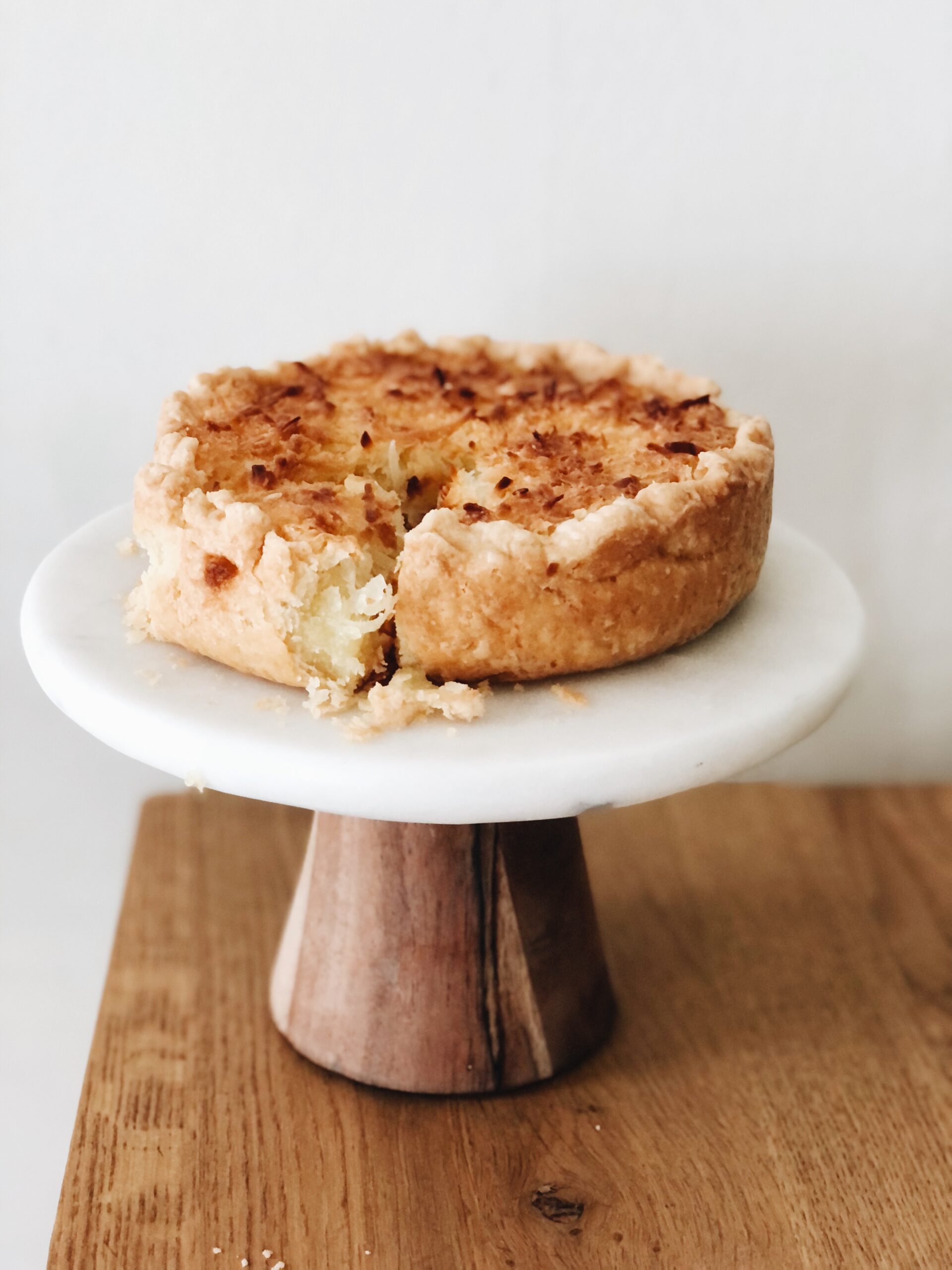 RIP.