And look, it's Tuesday! Taco Tuesday. I didn't even plan that. (no really.)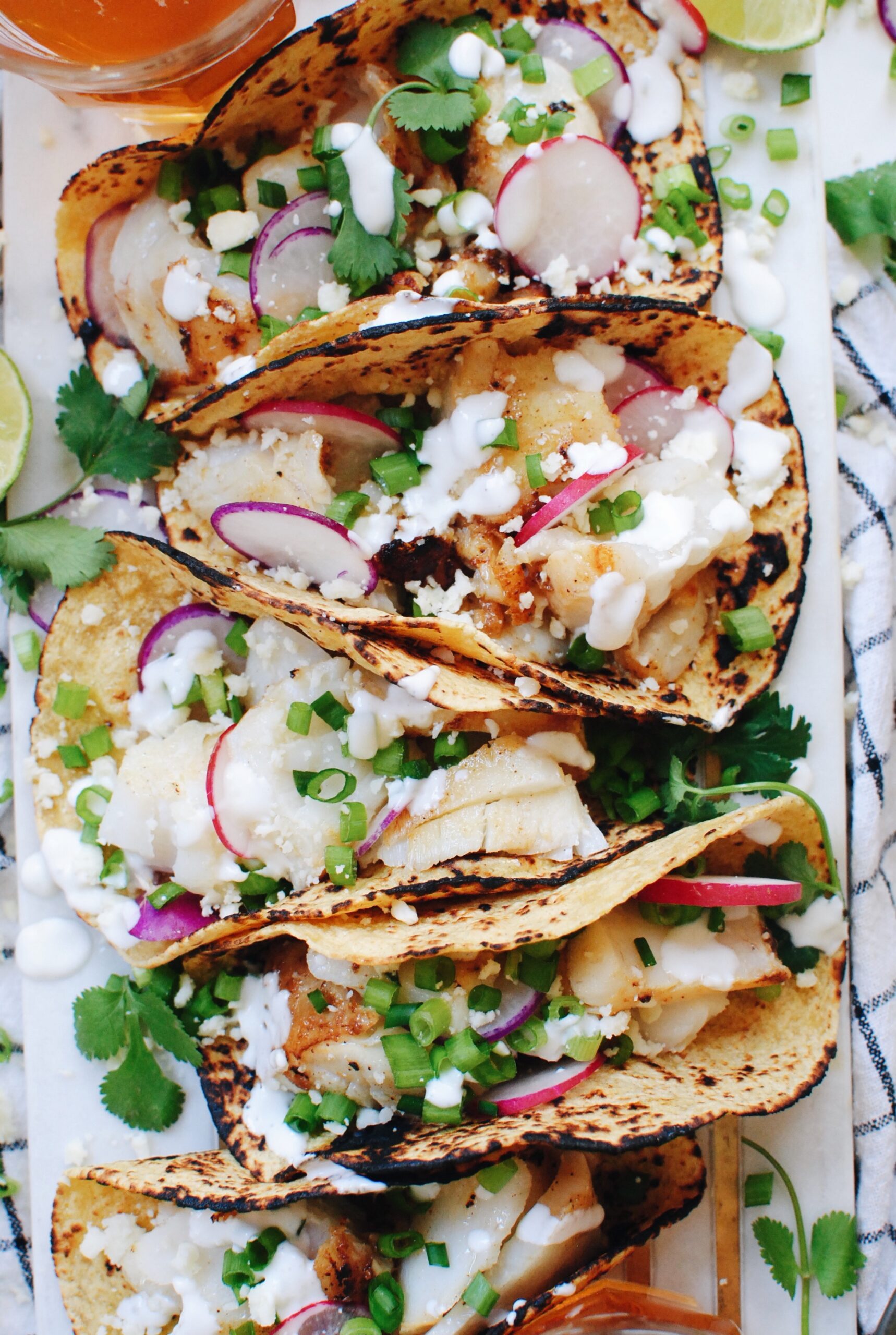 Sometimes you just need fish in a taco. A flaky fish inside a toasted corn tortilla. And you need it topped with something peppery and crunchy. And drizzled in something tangy and bright. But it can't take too long to make. And it has to knock you and your mouth and your soul completely over with flavor.
This is what we need today.
And this is what we're getting today.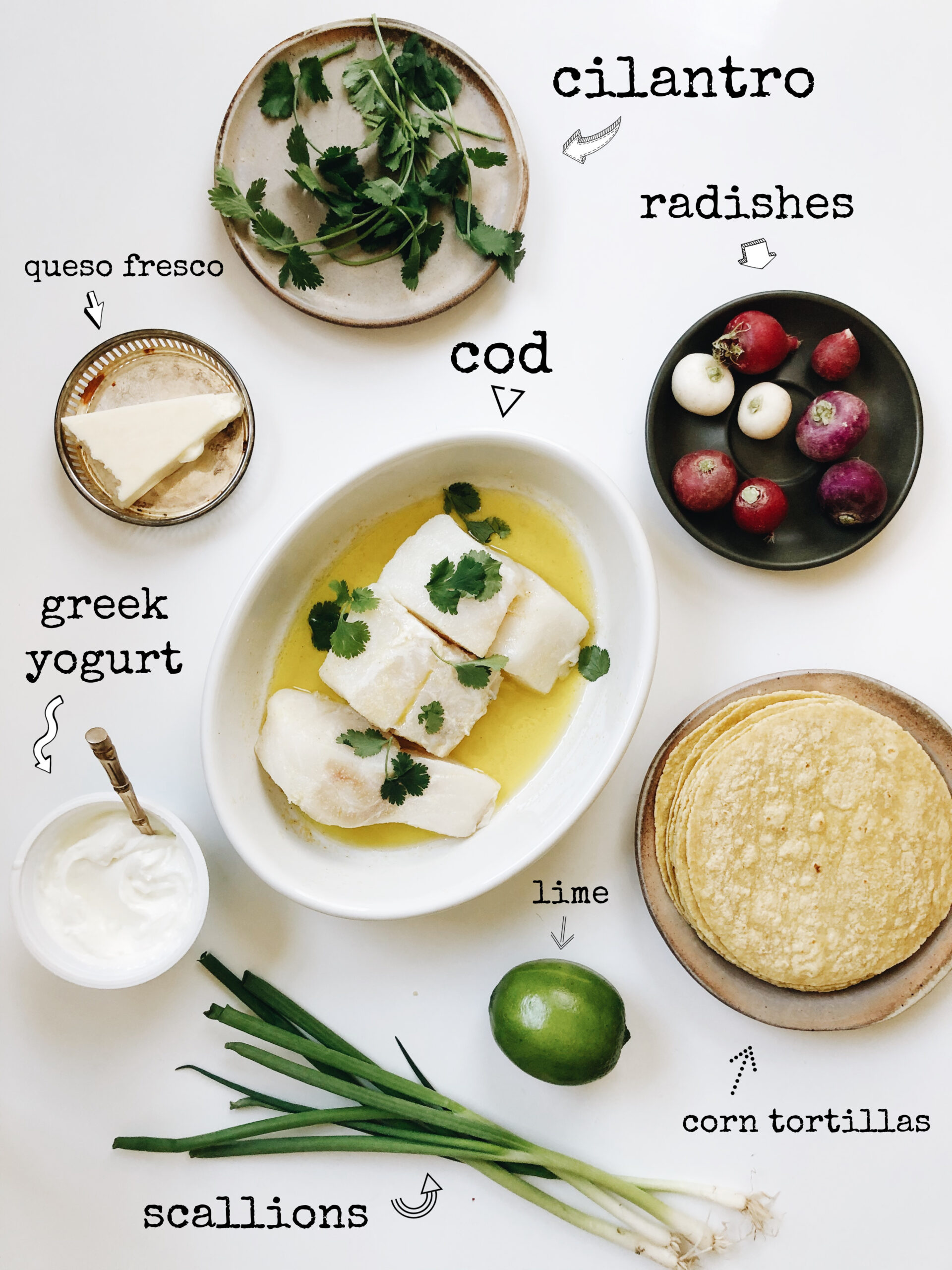 I went with cod. (which YES I still think has worms. did we ever confirm that? but the worms disappear when they cook? probably shouldn't be typing this on a food blog. anyone know for sure?) All the everyone eats cod, though, so we're having the cod. You can absolutely buy haddock or halibut or any other flaky white fish. Salmon works, too, if you're in a pinch.
Let's marinate the cod! Just about an hour – extra-virgin olive oil + lime juice + lil' bit of garlic powder, pinch of salt + a few cilantro leaves. (you can do this in a plastic baggie, but I normally use a shallow little pan. anything works!)
And see, this truly is very simple. Look at those ingredients. While the fish marinates, you can thinly slice the radishes, combine the lime and greek yogurt until it becomes a little thinner in texture, slice up some scallions, and crumble the queso fresco. Supes simps.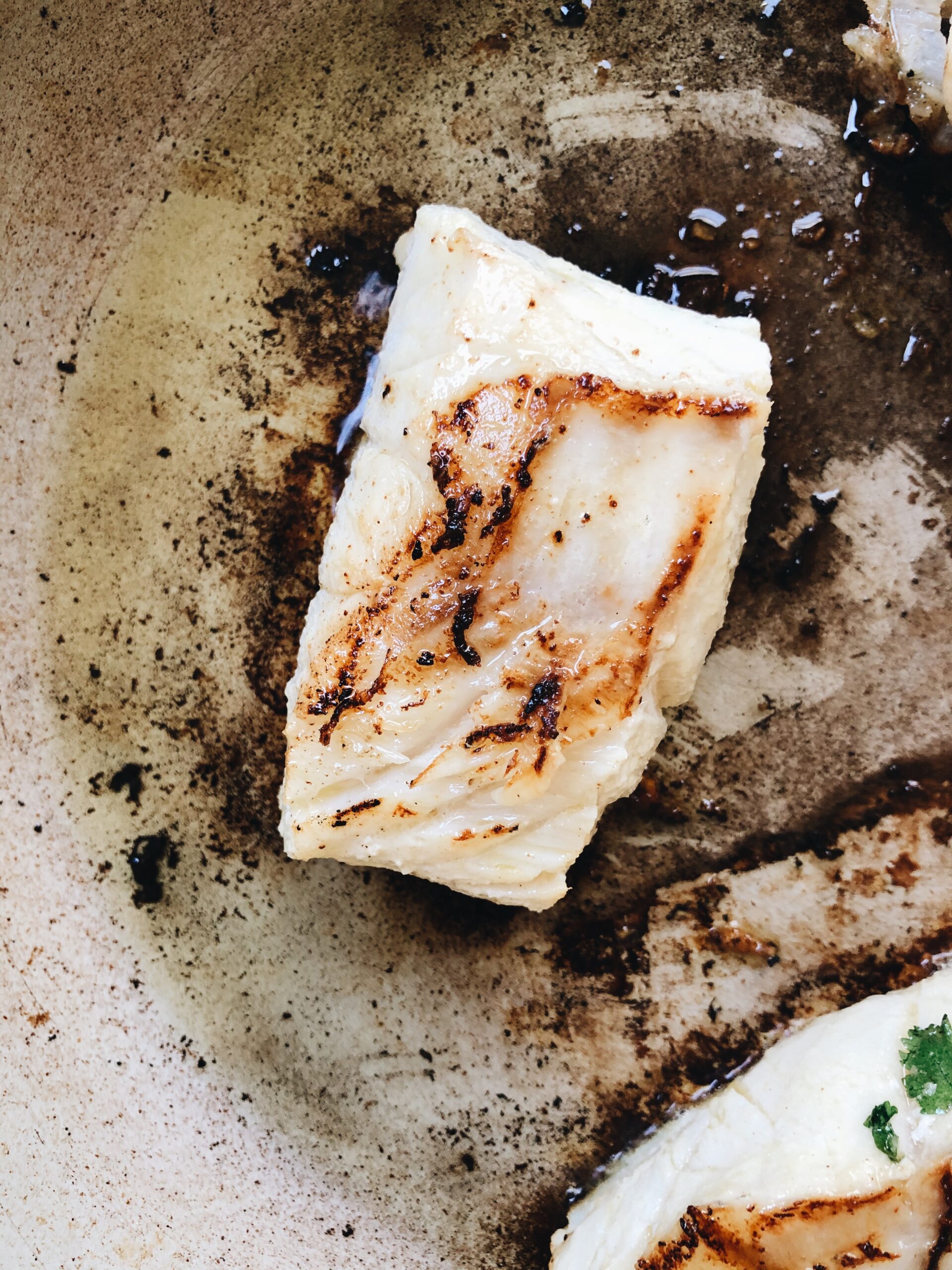 After an hour or so of marinating, just sear the fish in a hot pan. I used a little of the marinade oil to sear, as you won't need much. Get it nice and browned on both sides, maybe three minutes a side. Nothing too aggressive. We want some nice flaking action.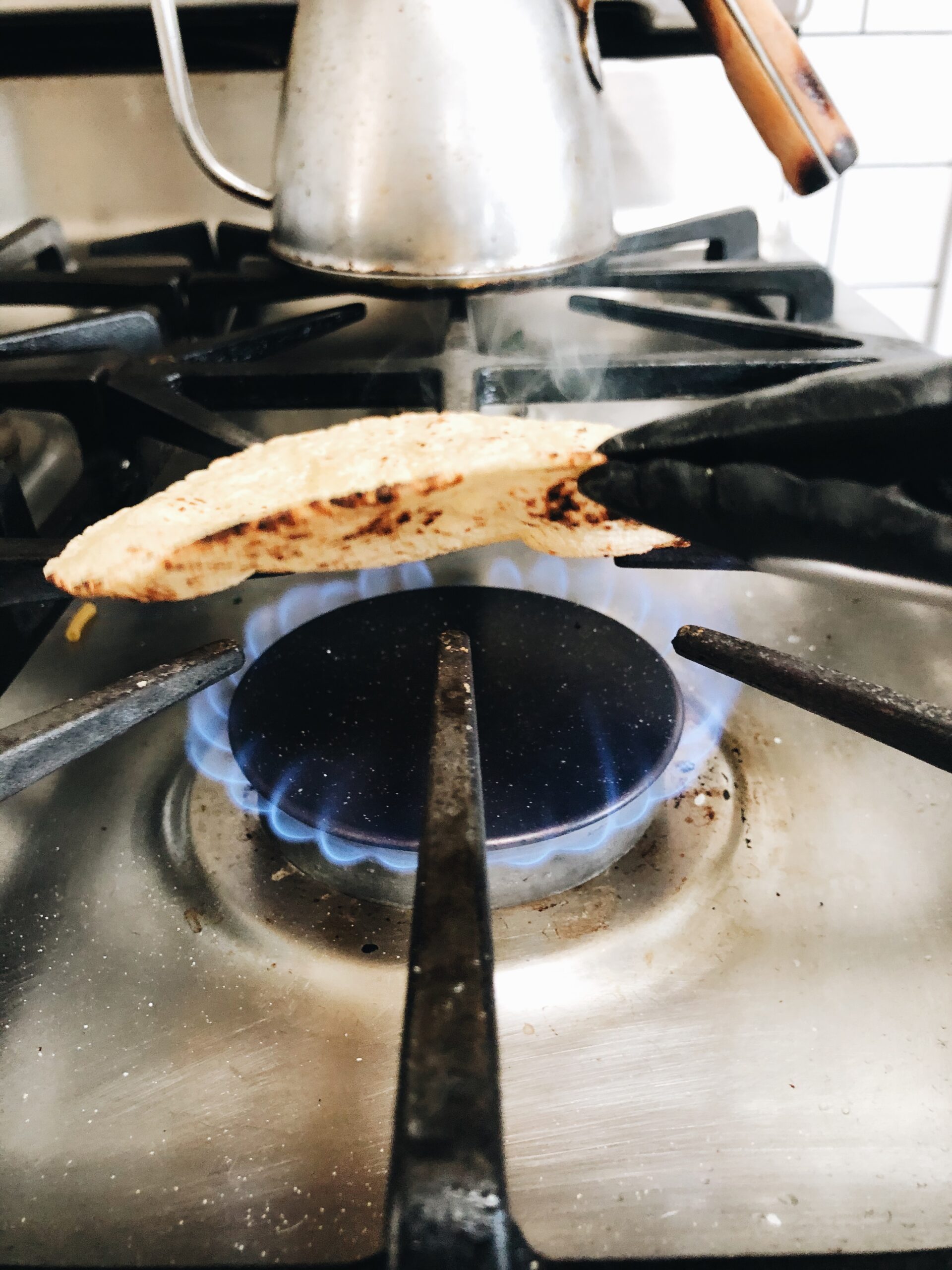 Yeah so worst photo alert. Make sure your oven is super dirty with a rogue dried up mac and cheese noodle in the background, or else the whole thing is ruined.
Then toast your torts, bruh. Flip it a few times over a flame until it puffs and chars in places. This is one of the supreme things about these tacos. And if you use flour, toast them as well! I toast over a flame no matter what. Eternal flame. Toast it. For days.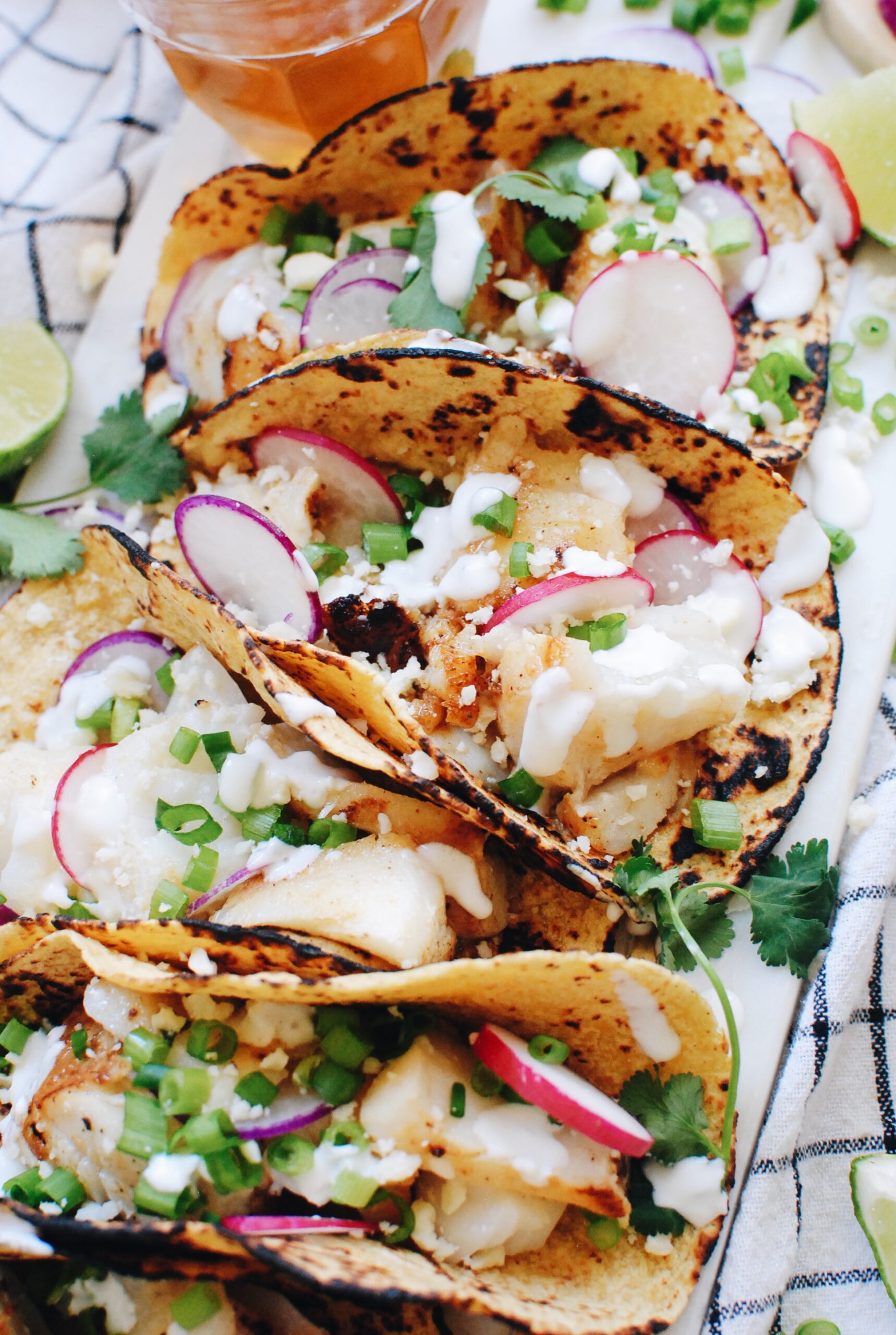 And then really it's just a pile on situation. The fish goes first, the sliced radishes get tucked in, scallions are sprinkled, tears are shed, queso fresco crumbles, and the limey yogurt drizzle finishes it off. Scatter a few cilantro leaves over the top, as well. 'Atta goil.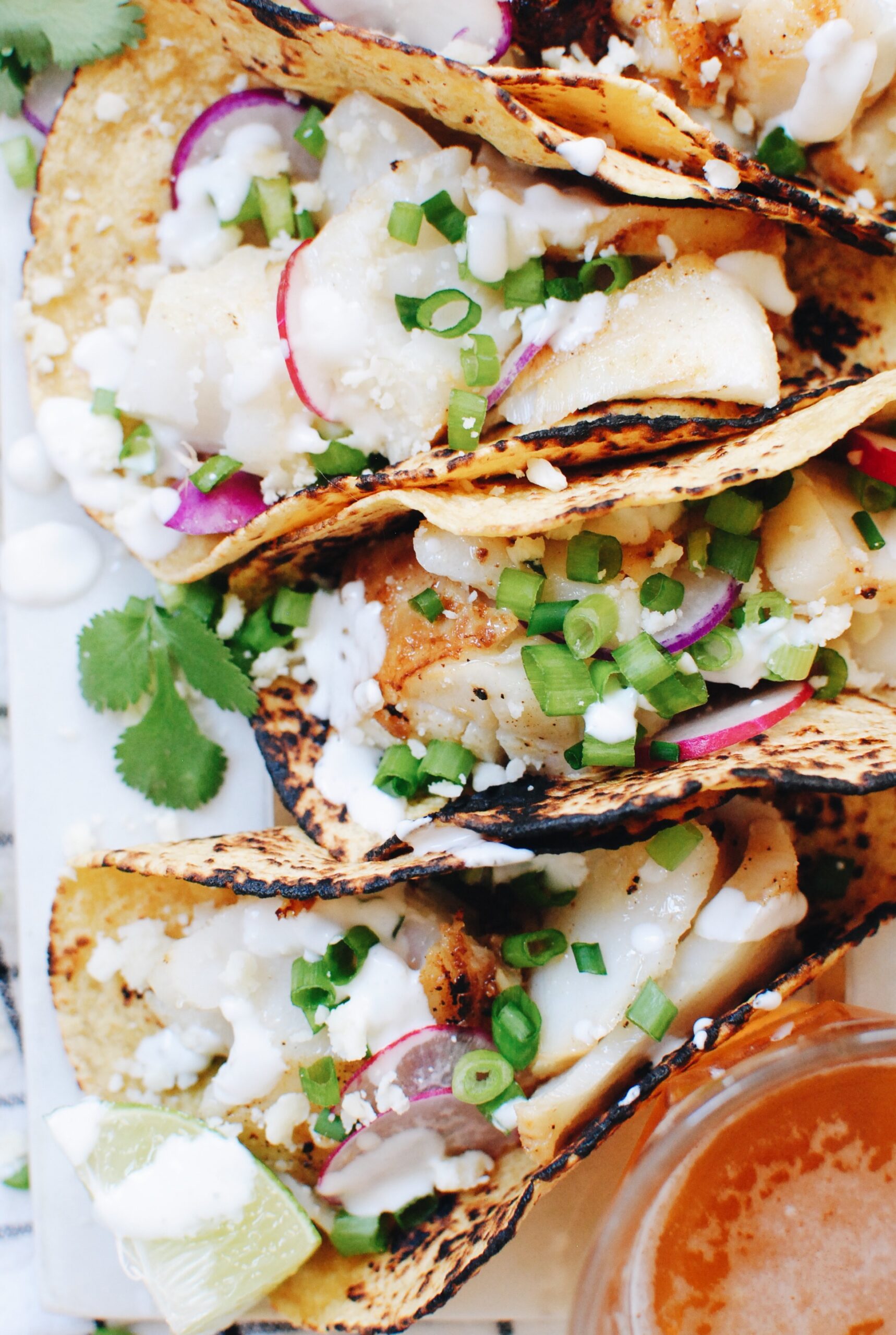 And of course it's always a solid idea to keep extra lime wedges on hand for le squirts. Which came out only a little awkward just now.
These are fresh, fun, flaky and fabulous. SO EASY to whip together, and you didn't forget about the texture, right? Toasted corn, tender fish, crunchy toppings, crumbled cheese – ugh. You can't. Except for when you do.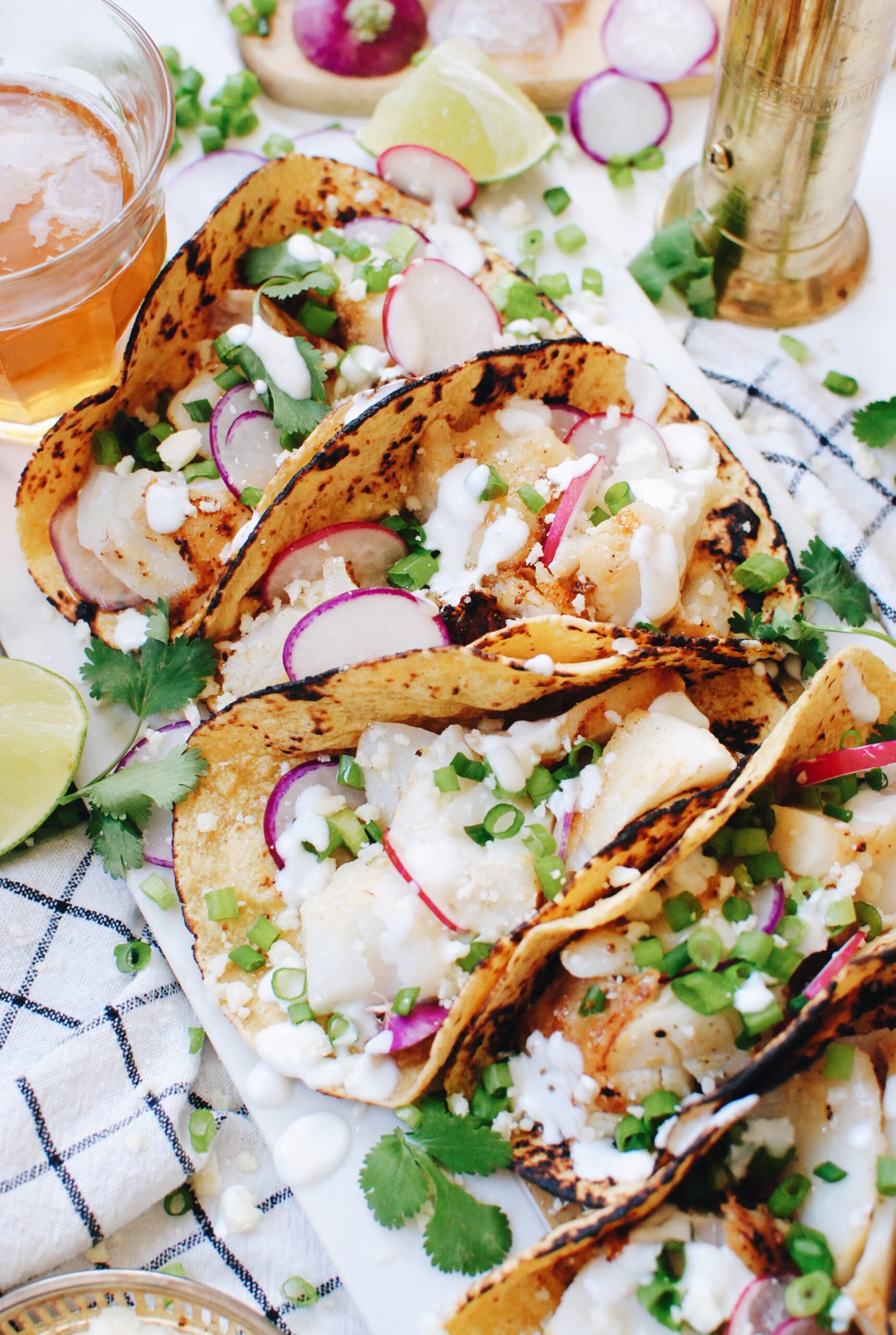 You could also sub in shrimp if y'awnt! You could honestly stick anything lying around the house in these and I feel like you'd be livin' large.
Wait, maybe set down the dirty shoe.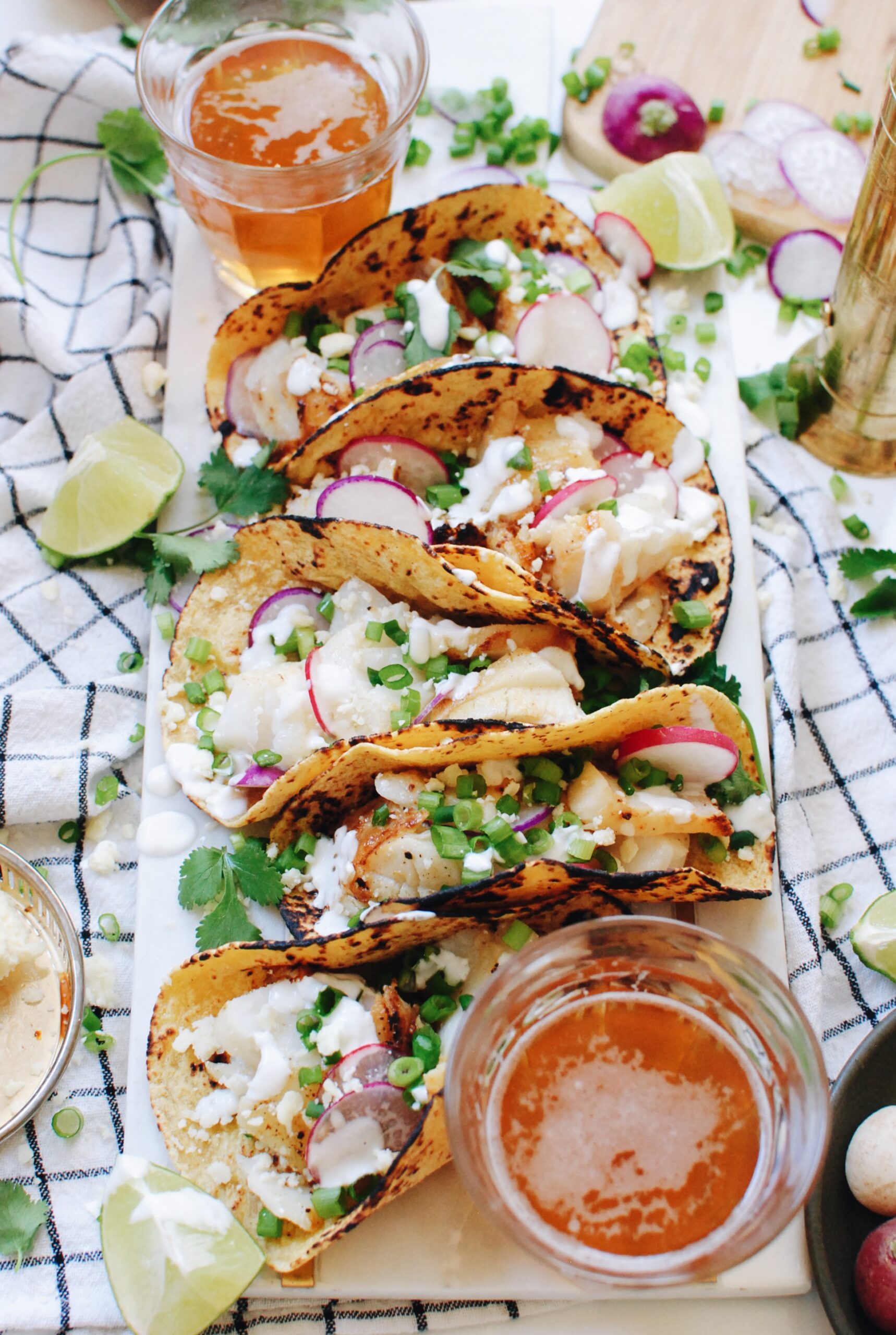 Fish tacos, but GOOD.
Simple Fish Tacos with Radishes and a Greek Yogurt Drizzle
Ingredients
1 pound cod fish
3 Tbs. extra-virgin olive oil
1 Tbs. fresh lime juice
1/2 tsp garlic powder
1/2 cup cilantro leaves
8 corn tortillas
3-4 Tbs. greek yogurt
1-2 Tbs. lime juice
Thinly sliced radishes, for garnish
Thinly sliced scallions, for garnish
Crumbled queso fresco
Coarse salt
Instructions
In a medium bowl, whisk together the olive oil, lime juice, garlic powder, a few cilantro leaves and a pinch of salt. Place the fish in the marinade and turn or gently toss to coat. Let this sit, covered in the fridge for about an hour. Bring it out and let it sit about 15 minutes before you sear.
Heat a medium pan over medium high heat. Add the fish and sear on each side for three minutes. You want a nice char on both sides, and cooked all the way through, until flaky.
In the meantime, toast each corn tortilla over an open flame until bubbled and charred.
Whisk the greek yogurt with the lime juice until it's a slightly thinner consistency.
Load up the tacos! Into each tortilla goes a few pieces of fish, tucked radishes, a few scallions, a drizzle of the yogurt sauce, a sprinkle of queso fresco cheese, a scattering of cilantro, and a good final squirt of lime juice. Done and delicious.
Makes 8 tacos!
7.8.1.2
490
https://bevcooks.com/2021/03/simple-fish-tacos-with-radishes-and-a-greek-yogurt-drizzle/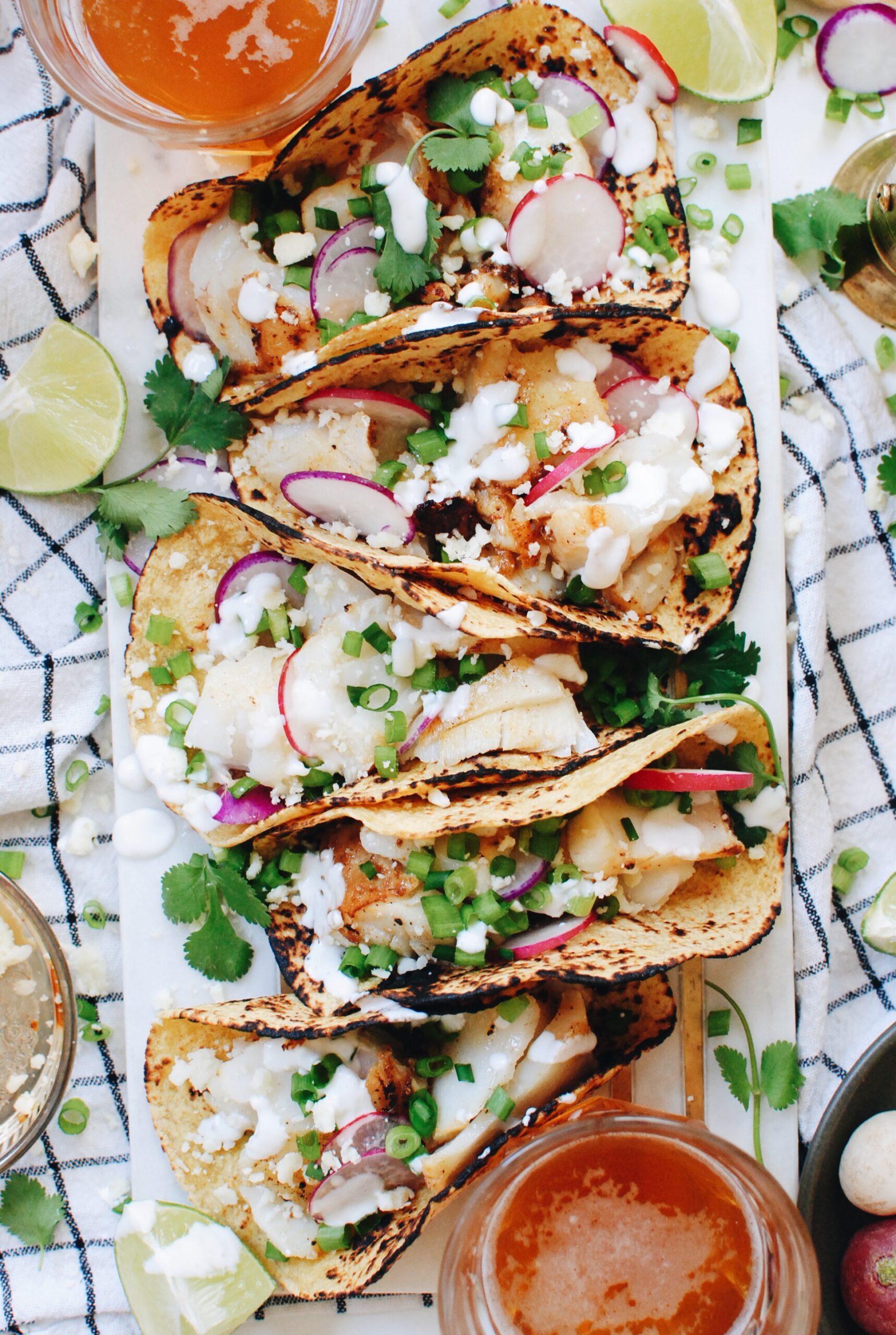 You may now face plant.