Our new go-to bbq! And clearly you must know about it.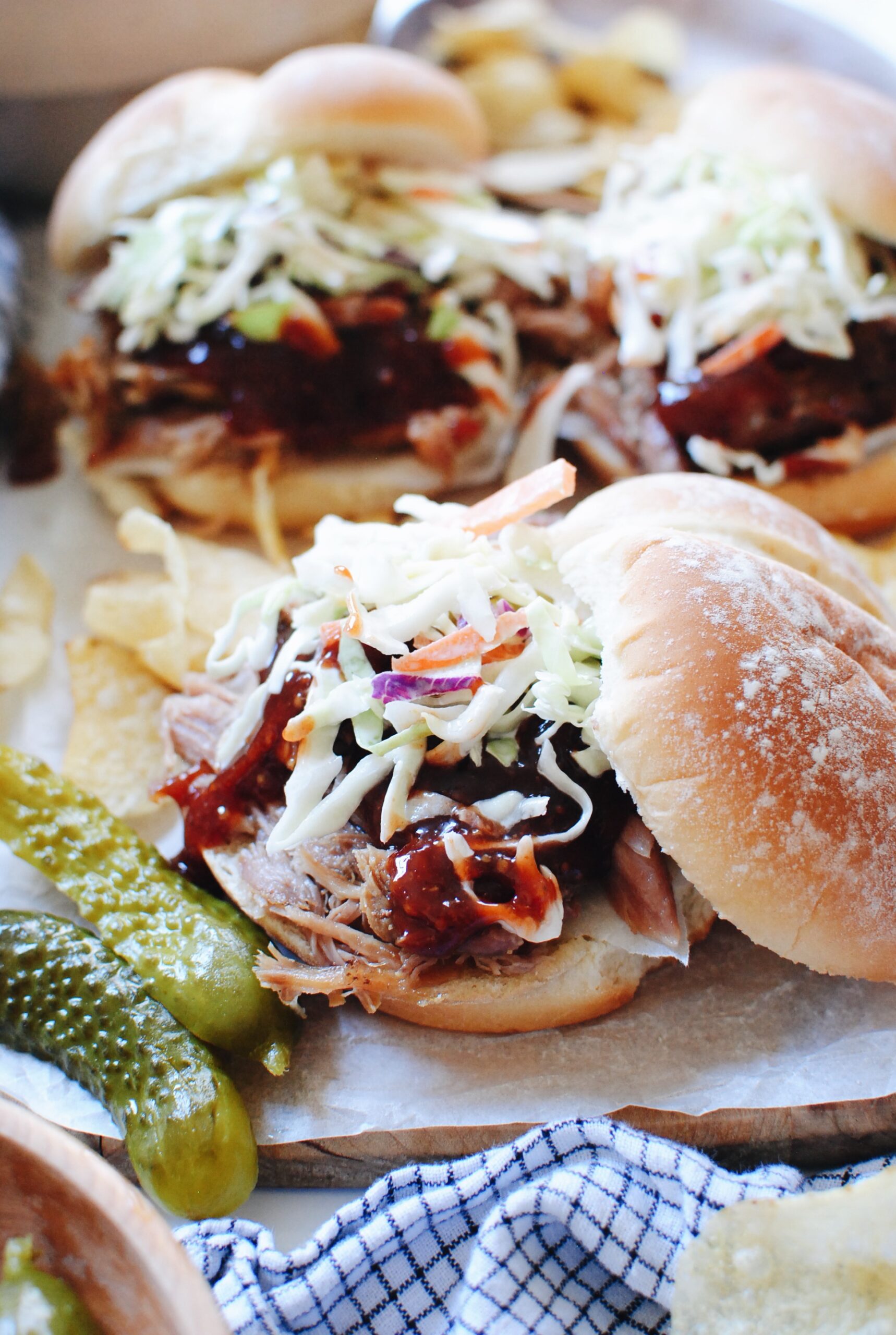 The thing about it is, we're not putting too too much focus on the pork. Which may cause some of you to violently throw your laptop into oncoming traffic or a lake. But don't do that yet because once you see the sauce you'll regret not being able to look at it because your laptop is under water or a semi. This is called thinking ahead.
The bbq sauce. It's hilarious, but I guess it's a thing. Aaron made it once and I was falling apart at the flavor, and then he told me what was in it, and I laughed because I thought he was kidding. But he wasn't.
Any guesses?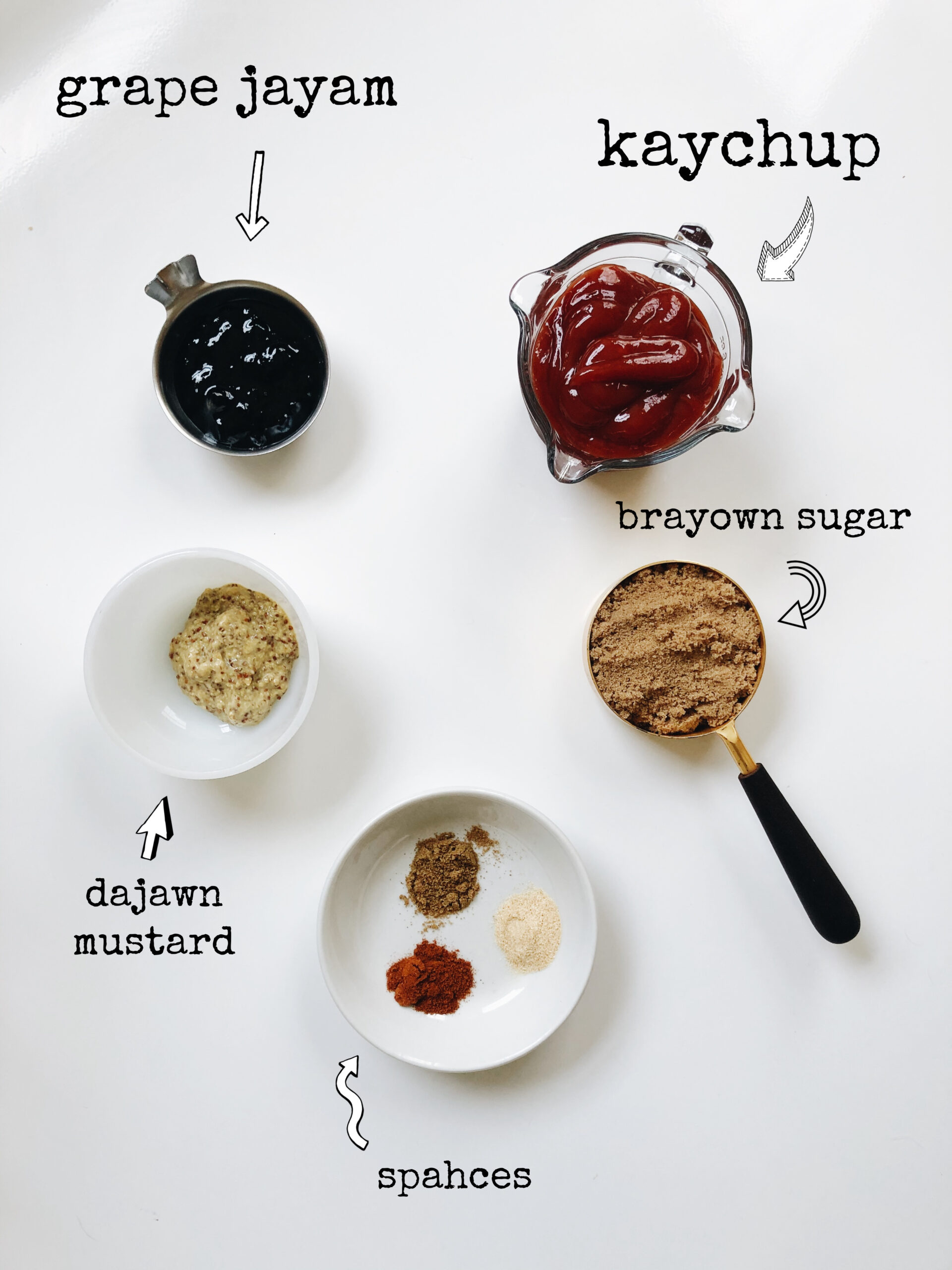 GRAPE. JELLY. (or jam, or preserves, or whatever you have grapey in the fridge)
Is that not ludicrous? But it works! It absolutely works. I will say, Aaron used this backup jelly in our fridge that he bought last March when we stocked up like lunatics, but it's not my go-to. I actually like blueberry preserves, so my version was a little seedier, but use what ya got, man!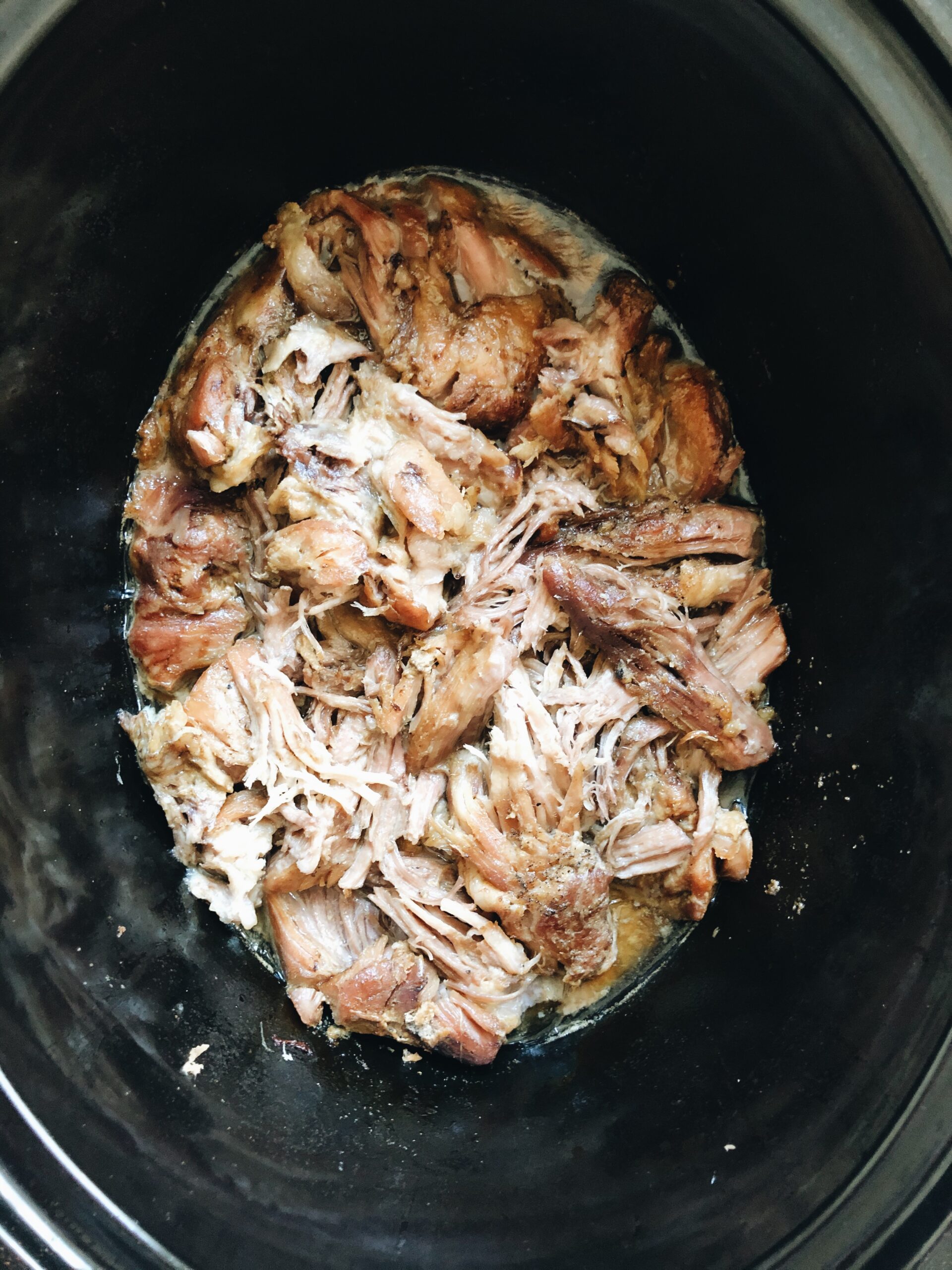 The pork. It's so, so simple. A three pound shoulder in a slow cooker with a little bit of garlic and onion powders, salt and pepper. Splash of stock. That's it.
The fattiness of the shoulder: once it's fully cooks and shreds, you'll see the wiggly parts (ew) and you can just tong those right on out. Buh-bah.
GUYS, I once saw this boy in the school cafeteria in 7th grade at Houston Junior High in Hobbs New Mexico in the late '80s take a giant bite of clear wiggly fat on the tip top of his bbq sandwich and it.has.haunted.me.ever.since. Like, the back of my mouth just clinched in saliva right now. Grossest. Tong that mess out please before I barf.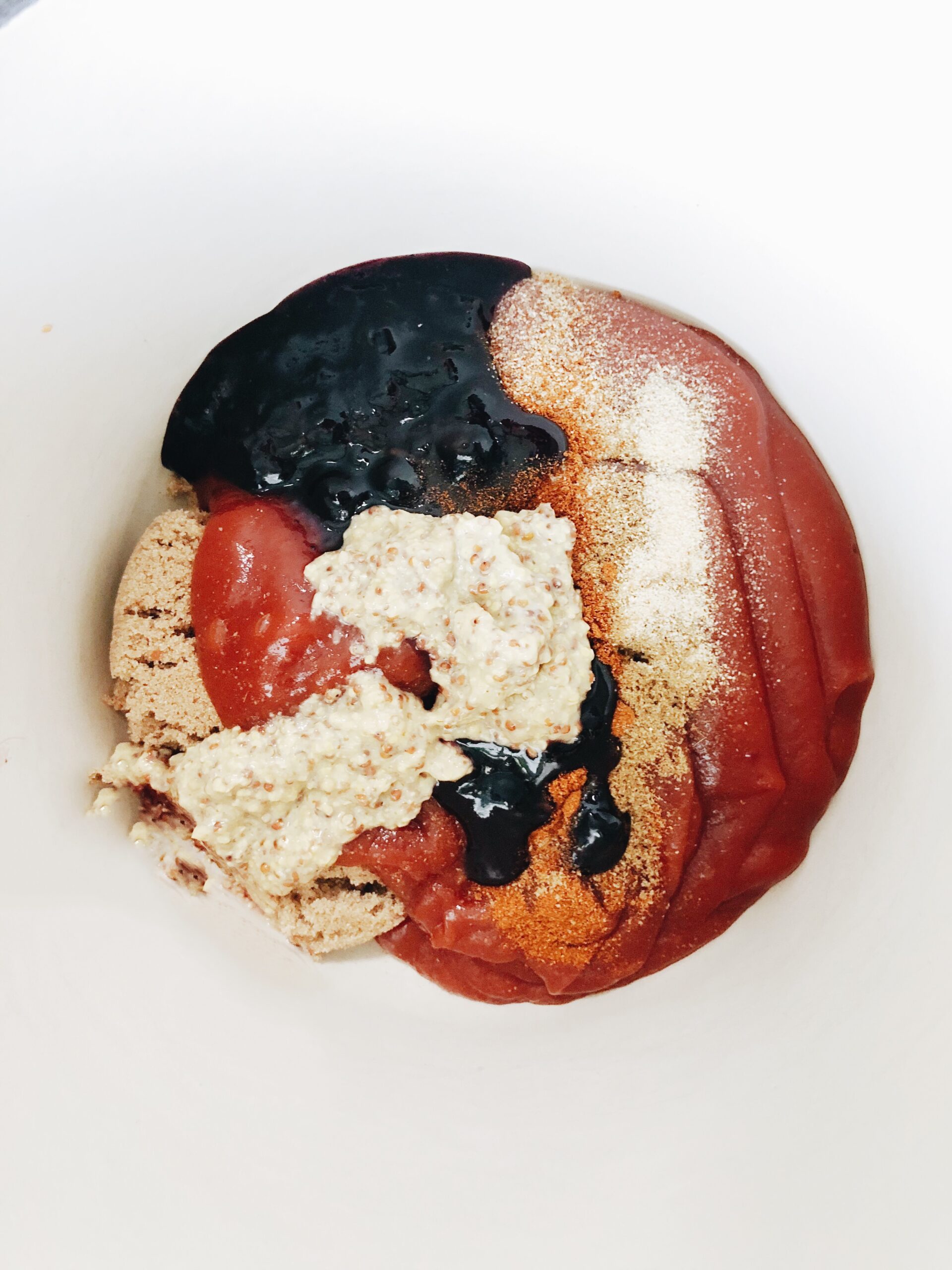 And here's our sauce! Like I said, mine was blueberry-y, but your grape jelly will have a smoother finish. And they both add a rich sweet depth to it that is super unexpected. You absolutely must try this. Just warm and simmer on a low heat for 10 or so, while you shred the pork. That's it. (Regular mustard works well in here if you don't have a grainy dijon.)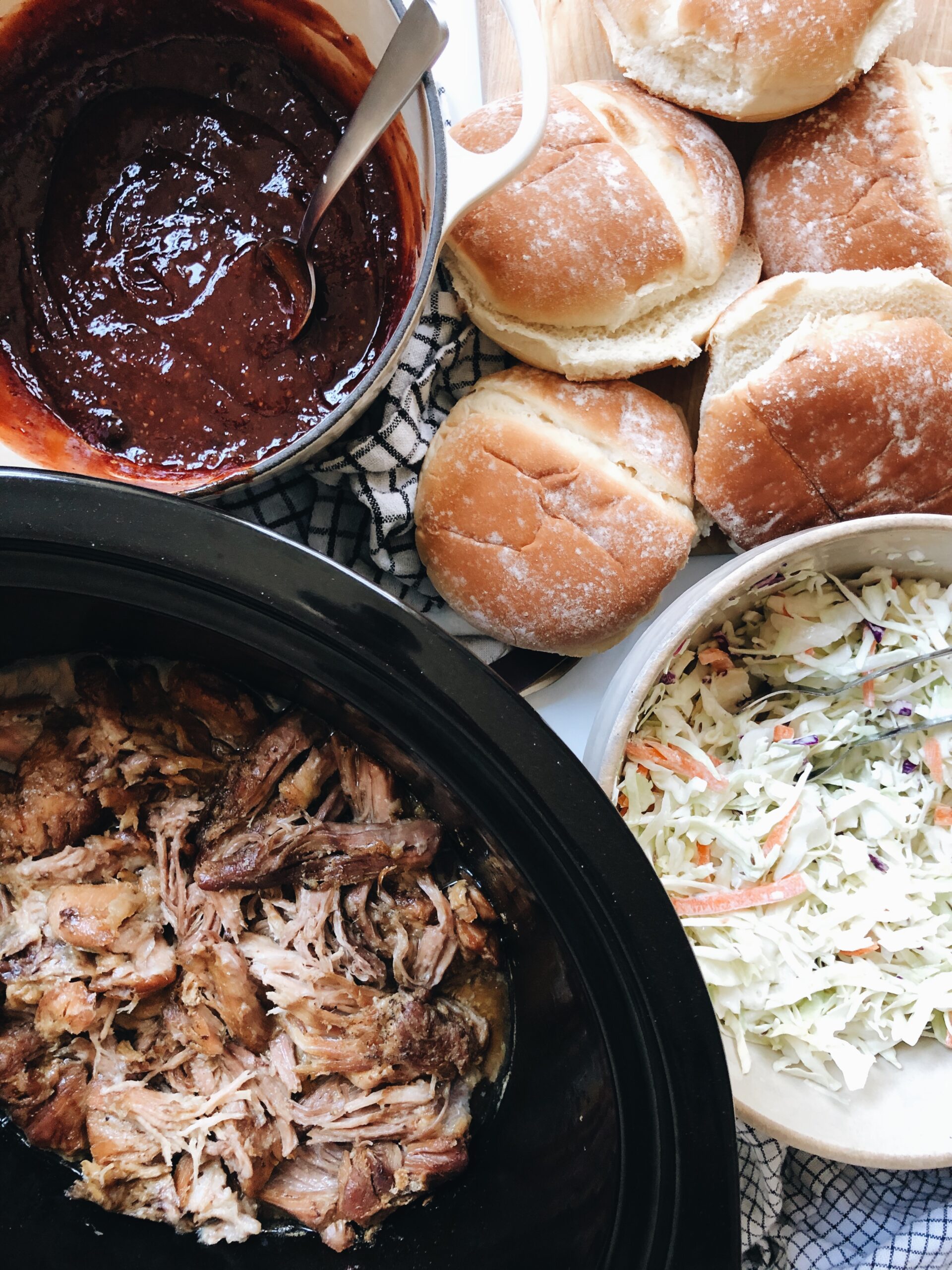 Here's our spread! I will say, for the coleslaw: I use a bag of shredded cabbage and carrots (both in the same bag), and add a dollop or two of mayo + a squeeze of lemon juice and a sprinkle of caraway seeds. Tiny pinch of salt. That's all. It's quite simple, but I'm mainly here for the crunch and that slight tang. Gotta have that.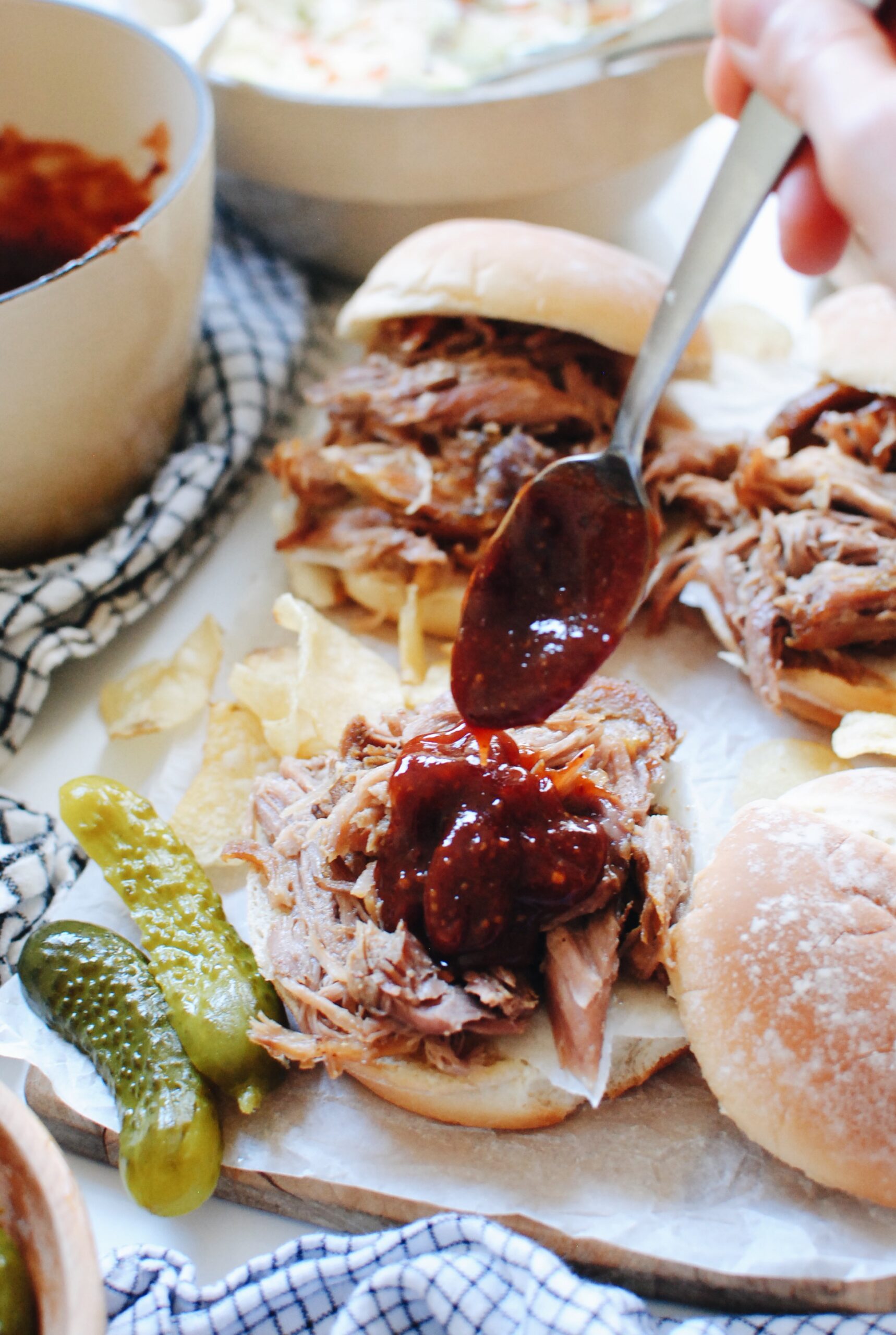 Hi, babe. Yes please. Take some good toasted buns and load them up with shredded pork. Then spoon as much bbq sauce over the top that is humanly appropriate. (spoiler alert: it's a lot.)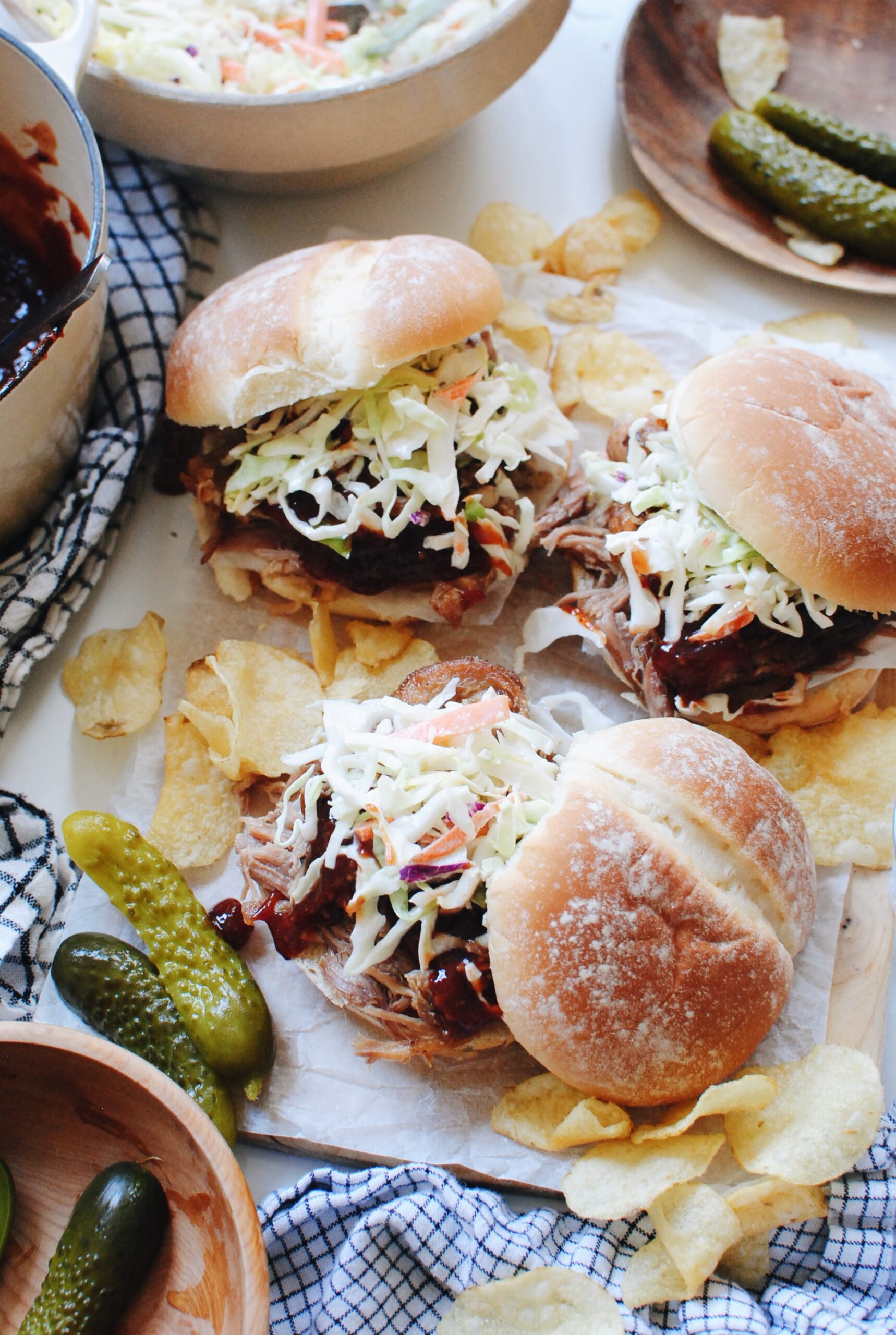 Tong (I keep saying tong today) some slaw on top of the sauce, and slide that toasted top bun on to finish. It's just glorious.
And don't ask me if this is KC-style bbq sauce because you know I have no idea. Isn't one of the Carolina's more of a vinegar base? And then something else is more tomato base? And Bev's is grape jelly based. Ha! Just kidding. I think.
You've noticed how most of this is hands off, right? You'll plop the shoulder into the slow cooker first thing in the morning. Couple of shakes of spices on top and you go live your life. The sauce, buns and slaw come together 20 minutes before you're ready to eat. And you can even make the slaw early, too! Let it sit, that's totally fine.
Make the sauce early, too!
Shoot, make it all early! Look at open day you have!
(I get excited about things.)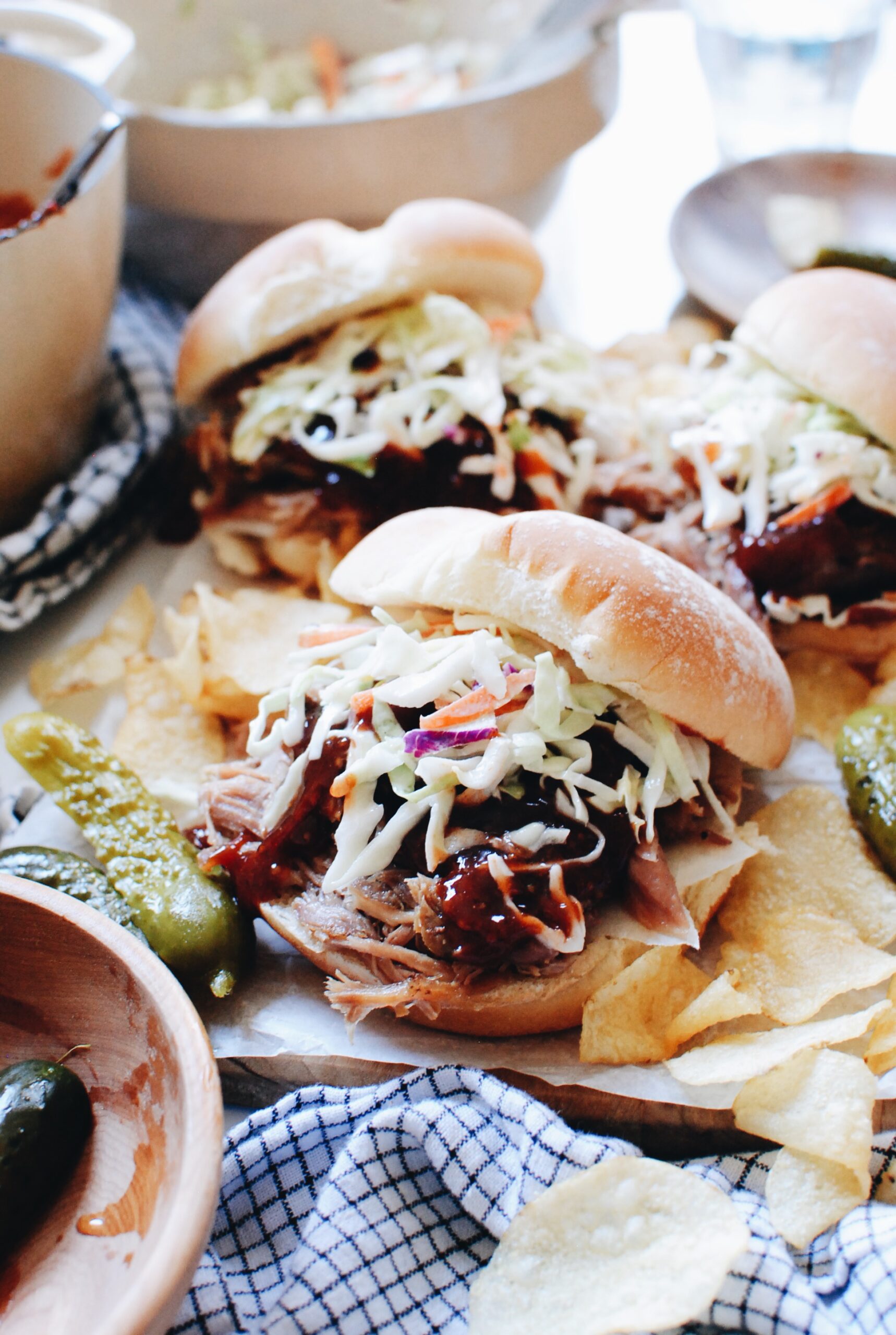 Pickle spears and chips on the side because you know how to be happy. That's right you do.
Simple Pulled Pork BBQ Sandwiches
Ingredients
3 pound pork butt or shoulder
1 tsp each: garlic powder, onion powder, coarse salt, freshly ground pepper
1/3 cup chicken stock
1 cup ketchup
1/2 cup brown sugar
2 Tbs. dijon mustard
2 Tbs. grape jelly (or blueberry preserves, anything works!)
1/2 tsp cumin
1/2 tsp garlic powder
Tiny pinch of smoked paprika
Hamburger buns, toasted (however many you're serving)
1 bag of grated cabbage and carrots + 2 Tbs. mayo + squeeze of lemon juice + sprinkle of caraway seeds + pinch of salt (or your favorite slaw!)
Pickles and chips, to serve
Instructions
Place the pork in a slow cooker. Season with garlic and onion powder, salt and pepper. Add the stock and wiggle the pork in it all. (Sorry) Cook the pork on low for 8 hours, or high for 4-6. At the midway point, flip the pork over so that the spices evenly spread out. Gently shred the pork at the end of cooking. You'll see some nice browning here and there. We didn't do that in the beginning! Thanks, slow cooker. Taste it. Need any more salt? Do what you need to do here.
In a small pot, combine the ketchup, brown sugar, grape jelly, mustard, cumin, smoked paprika and onion powder. Bring to a medium low heat and simmer on low for about ten minutes. Taste that. GOOD, RIGHT?
In the meantime, combine the cabbage with the mayo, lemon juice, pinch of salt and caraway seeds in a medium bowl. Toss that to coat. And you can do this early in the day and let it chill for hours if you want. So simple.
Place some shredded pork on the bottom toasted bun, then top with sauce and slaw. Slap that last bun on top and you're good to go.
Serves about six! (You might have leftovers. Which is good.)
7.8.1.2
491
https://bevcooks.com/2021/03/simple-pulled-pork-bbq-sandwiches/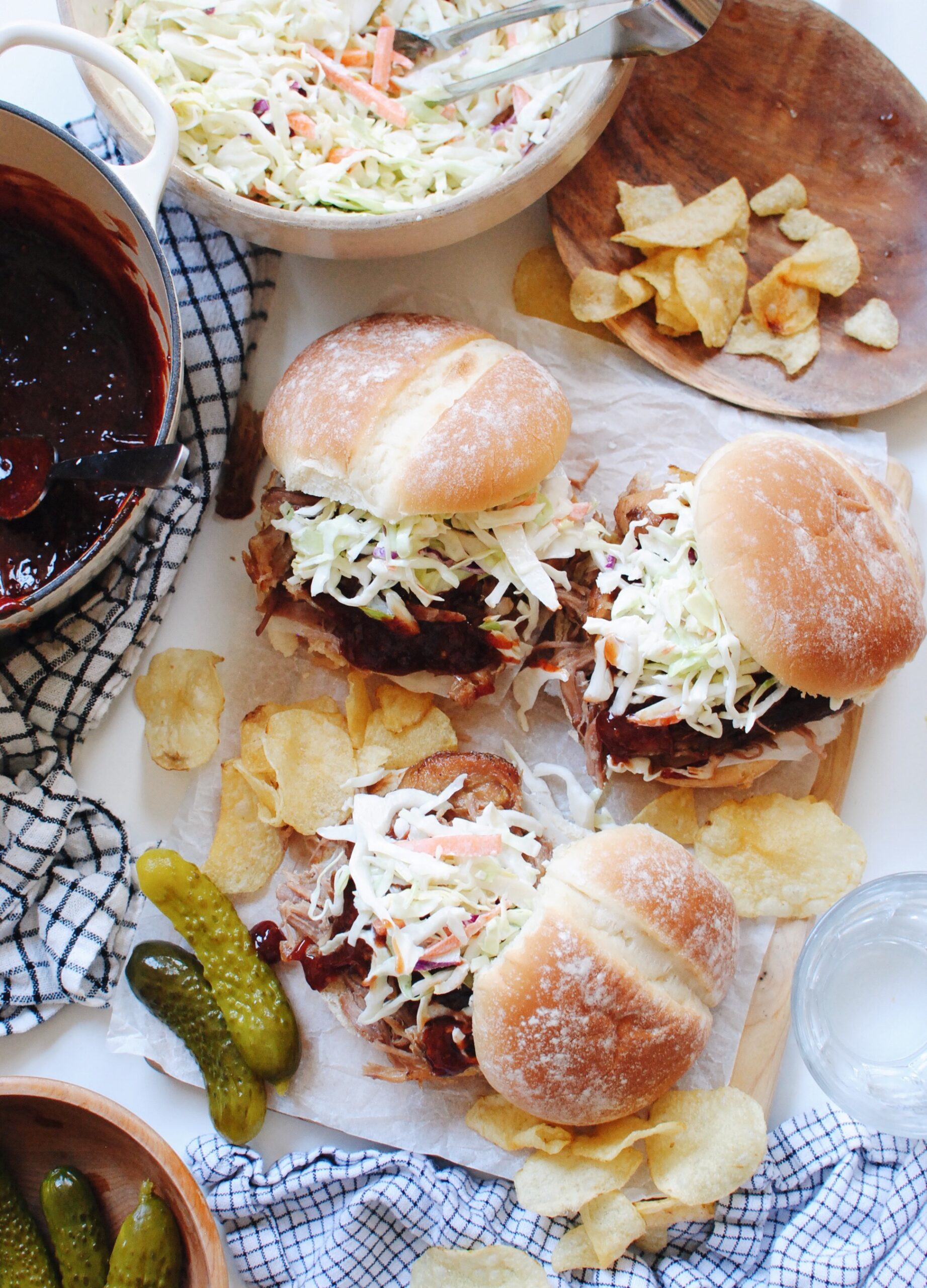 IT IS A NEW DAY.