It's book daaaaay! (I know you've been on the edge of your face for this.)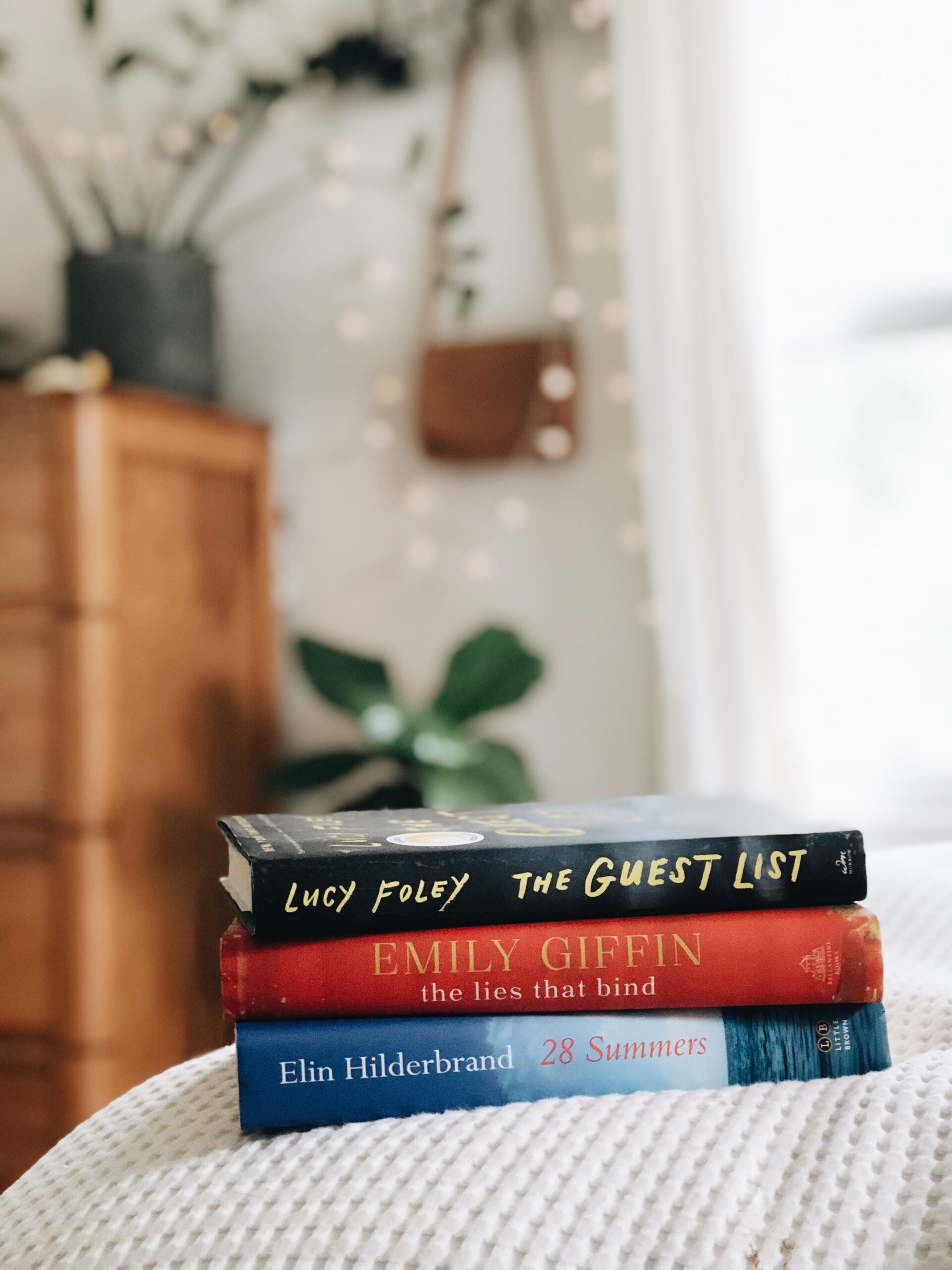 All three of these are recent reads. Within the last few weeks/months. This year. This summer. This era. This season. This now.
They're books that have crawled into my psyche and found a cozy hibernating mental organic cotton pouf in that dark corner of my cerebrum. Minimal damage, I'm pleased to report.
These books were gooooood.
Let's go.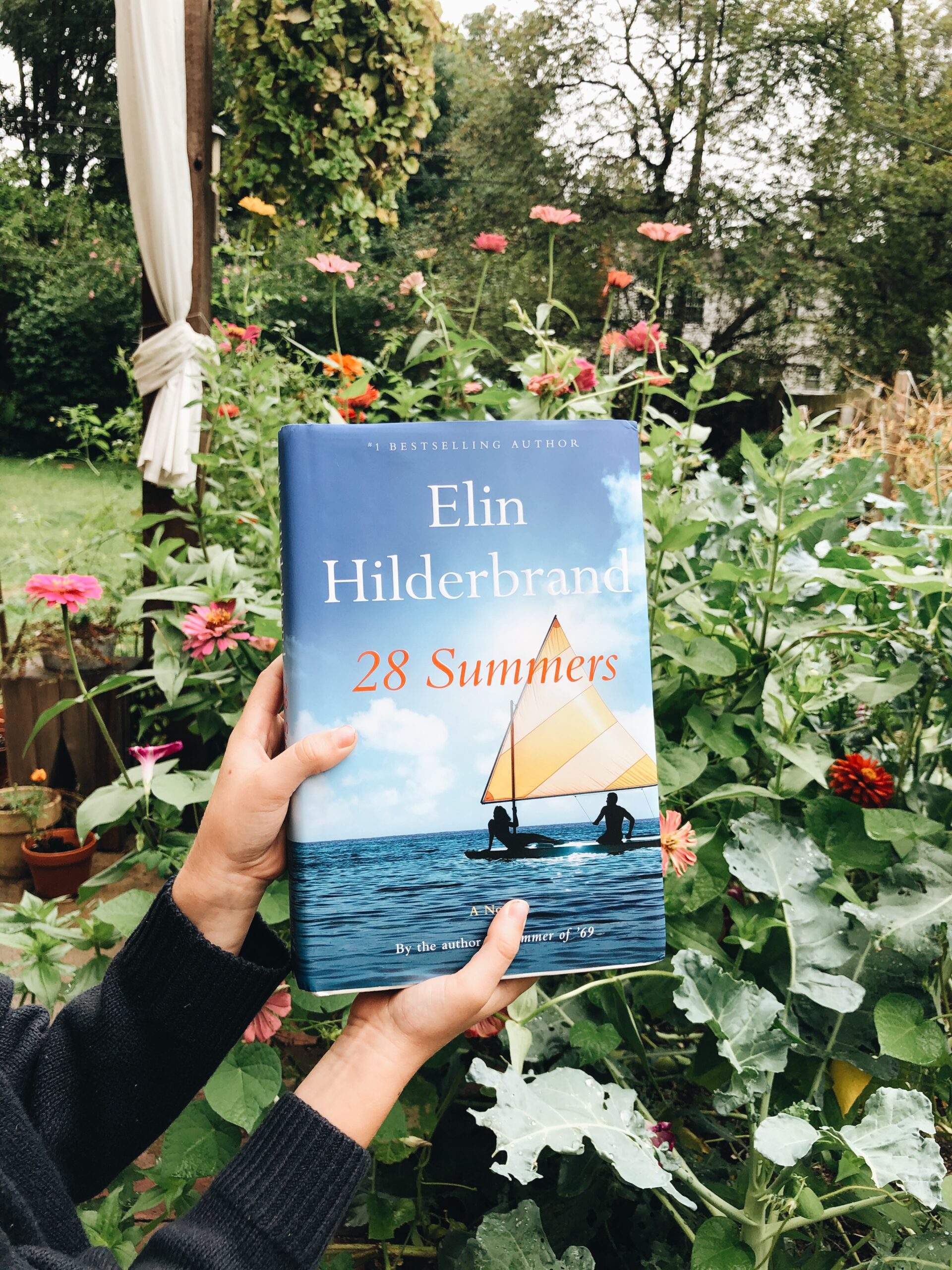 Well, you already know my unruly obsession with Hilderbrand. She's simply candy. I cannot inhale her writing fast enough.
So much that when Elin shows off her kitchen in Instagram Stories and I spy a cute brass pepper mill in the background, I hunt that ish down. Look at me being influenced!
She lives on a stunning property in Nantucket (all of her books take place there, ya know), and her beachy/coastal/island style oozes New England charm. (and money, but whatever.) And the way she opens every IG Story with her sharp alto voice with, ". . . HI, GUUUUUYS." There's that pause right before! You know what I'm talking about? No? Oh.
So this book – 28 Summers. It's prime Elin. Dreamy, fun, heartbreaking, vividly fantastic. And this isn't a spoiler, but if you've ever seen the 1978 movie "Same Time, Next Year" with Alan Alda and Ellen Burstyn, it's absolutely based on that. Of course with that added Hilderbrand sparkle.
The book spans over – you guessed it, 28 years, with a heavy focus on Labor Day weekend. Remember I begged you all to read it last weekend! Did you? No? Oh.
It's Jake and Mallory, who meet in their mid teen years, have a spark, fall in forbidden love, and carry on with their secret romance every single year for nearly three decades. And just like in STNY, they have outside lives. Kids, marriage, drama, deaths, politics, all kinds of delicious mess. Yet they stay "together" through it all. But only for three days each year. It's wild. Each chapter even starts with these little "It's 1995. What are we talking about in 1995?" lines – exactly like the montage scenes in STNY! And I'm a sucker for nostalgia and all things memory, so obviously my giddy runneth over. She gud.
What I love though are the details. You can tell Elin loves food, because of the way she incorporates all the tiny (and not so tiny) details about what they snack on (soft brie slices with seedy crackers), what they pack in a picnic lunch (cold asparagus salad with tangy feta), what they eat for each Friday night of Labor Day weekend (sliced tomatoes on the counter next to the patties covered in plastic wrap.) It's all there. She doesn't leave out a thing. It's fabulous and you'll gain weight reading this book.
So, my plan with Hilderbrand IS: we're working our way back. We read Summer of '69 last year, and also The Perfect Couple a few books back. We've tackled the Winter Street series (oh, those Quinns), so up next Ashlee and I are making our way through the Paradise series. Which you'll see at the bottom of this post.
The book is beachy, romantic, scandalous, vibrant, classic Elin. GET IN THAT.
Also Ash and I are already planning our post-pandemic trip to Nantucket to eat all the things and stalk Elin. But don't tell her I told you.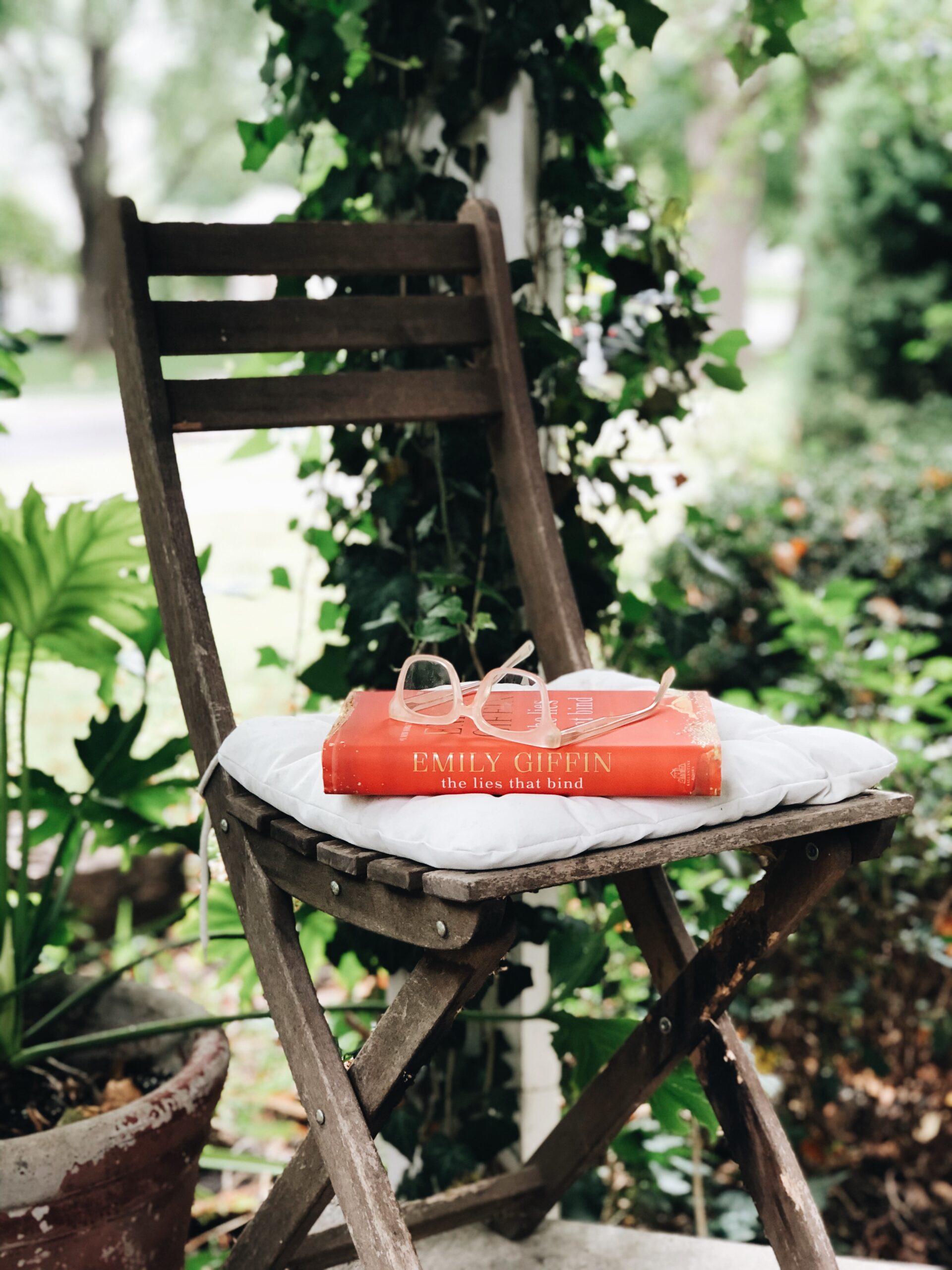 Next up: The Lies That Bind!
Ugh, I love Emily Giffin. I've read every single one of her books. As in, every single one. All of them. And it had been so long since her last book (well, I guess a year and a half) All We Ever Wanted (also seriously good!), that I'd nearly forgotten her style. Her voice, the way she tells a story. But only for a second.
This book is marvelous. It takes place before, during and after 9/11. I'm not sure if I'm simply telling you, or warning you. It's tough to read those details and sort of relive those emotions, even after all this time. (whoa, it's tomorrow. I didn't even put together until now.) I can't IMAGINE what New Yorkers have felt reading this book. Beyond the tragedy, there are a lot of broken relationships, regret, mistakes. And that's just the first chapter!
It's sensitive Cecily and suave Grant. (and broken-up-with Matthew) There's an unexpected romance between the two, and then he straight up disappears in 9/11. This isn't a spoiler. The back of the book says the same, STOP GIVING ME THE STINK EYE.
Alllllll this craziness unfolds in the wake of his disappearance, and just when you think it can't get worse, it does. It's stressful, but like, fun stressful. (not the 9/11 part, obviously.)
Oh! Remember Rachel, Darcy and Ethan? They make an appearance! I get irrationally excited about things like that but I need friends.
This book is suuuuper webby with betrayal. Every other chapter you're like, "NO. Wait, really? NOOOOO." "Whaaaaat! NO. Stop! STOOOOOOP." <–just like that.
Read it!
Also, Emily I'm going to need you to come out with a new book like every four months, k?
The Guest ListOOOOOOOOOOOMUGUH.
This read is the ultimate supreme gateway to your fall. There's so much spooky, gloomy, haunted atmosphere in this book, it's perfection.
There's this wedding, right? Seems cheerfully delightful, right? On this remote Irish island with a giant medieval mansion, right? B A R F.
It's nuts. First of all, all these 30-something men who somehow feel the need to pretend they're still teenagers might seriously be the worst thing ever. ANNOYING doesn't even barely begin to cover it. But you enjoy hating them so intensely so obviously it's delicious.
It just gets so crazy. Who you think did what might have, might not have. What this person did back then might have some tie to today, but maybe not. (those were odd sentences. it's me, not you.) I did NOT see that ending coming. I'm not going to give a single thing away, but w h a t i n t h e a c t u a l f.
(That looks like ALF at the end. Remember that show? Couldn't stand that show.)
SO YES, so much mystery, so much fog, all these bogs, so much mud, so much unexpected drama, so many insane twists and bizarre turns, a CAVE, it's all you need this fall. Well, START with this this fall. Because next up is our to-be-read pile!
Also, read this dang book already.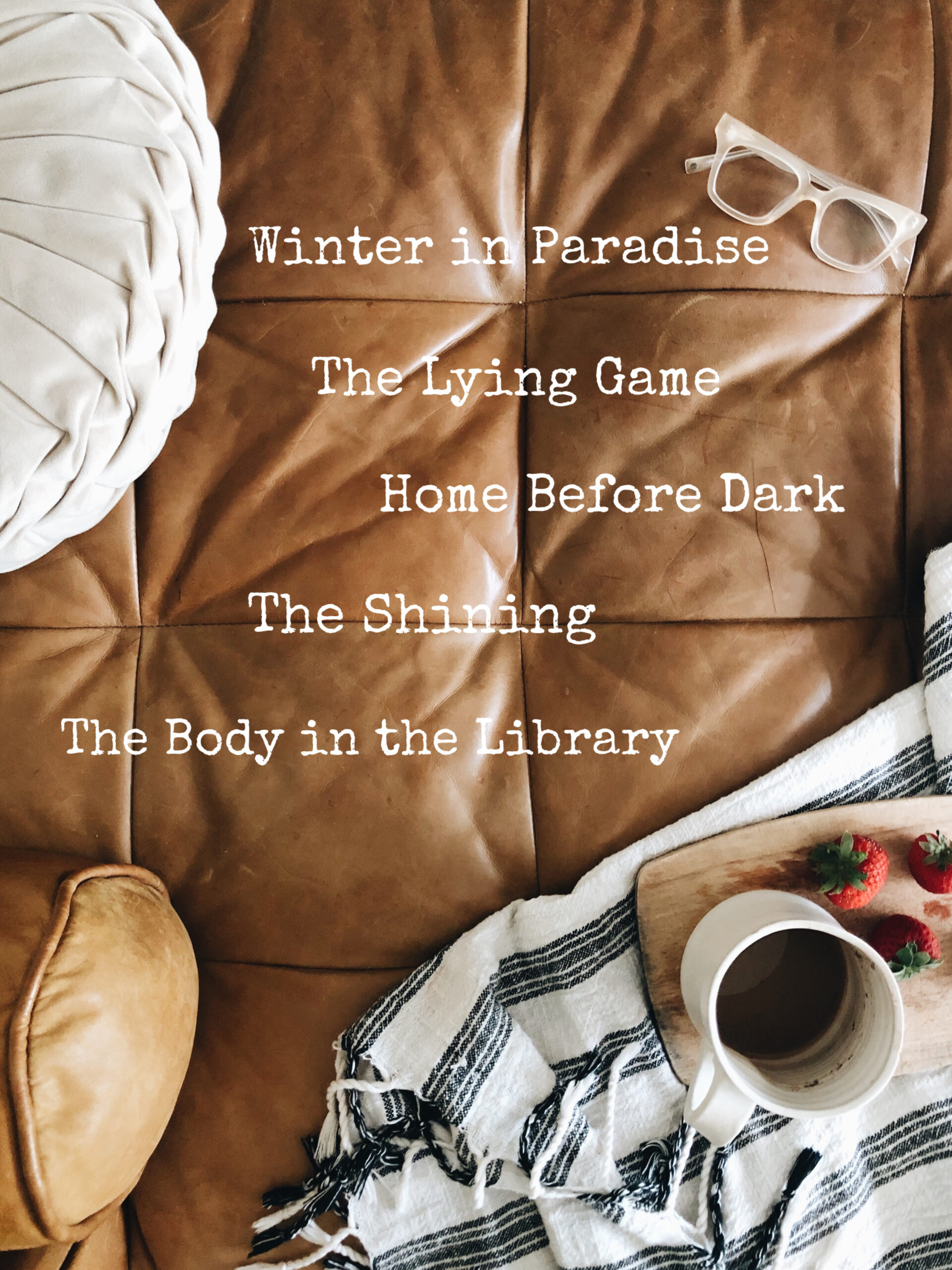 Okay, here's what's next. I will say, I'm halfway through The Scent Keeper (omg inhaling every word. through my nose, ha.), then after that I have The Mother-in-Law. But after that, this round! I'm thiiiiiiinking we'll start with Winter in Paradise, then tackle our mysteries as we enter October. And I do want to include more psycho thrillers for November, so I'll keep you tuned in via Stories for that!
You're looking at The Shining like, wait what? Guys I've never read it! Ah know, ah know. And yes, The Body in the Library is classic Agatha. We can't not.
Tell me, have you read any of these? Or any that we book clubbed? I guess technically it's not a book club without overturned bottles of wine on a rug and someone slop dancing on a coffee table showing off their postpartum stretch marks.
I suppose all we can do is dream.