One paaaaan one paaaaaaaan! (I get excited about things.)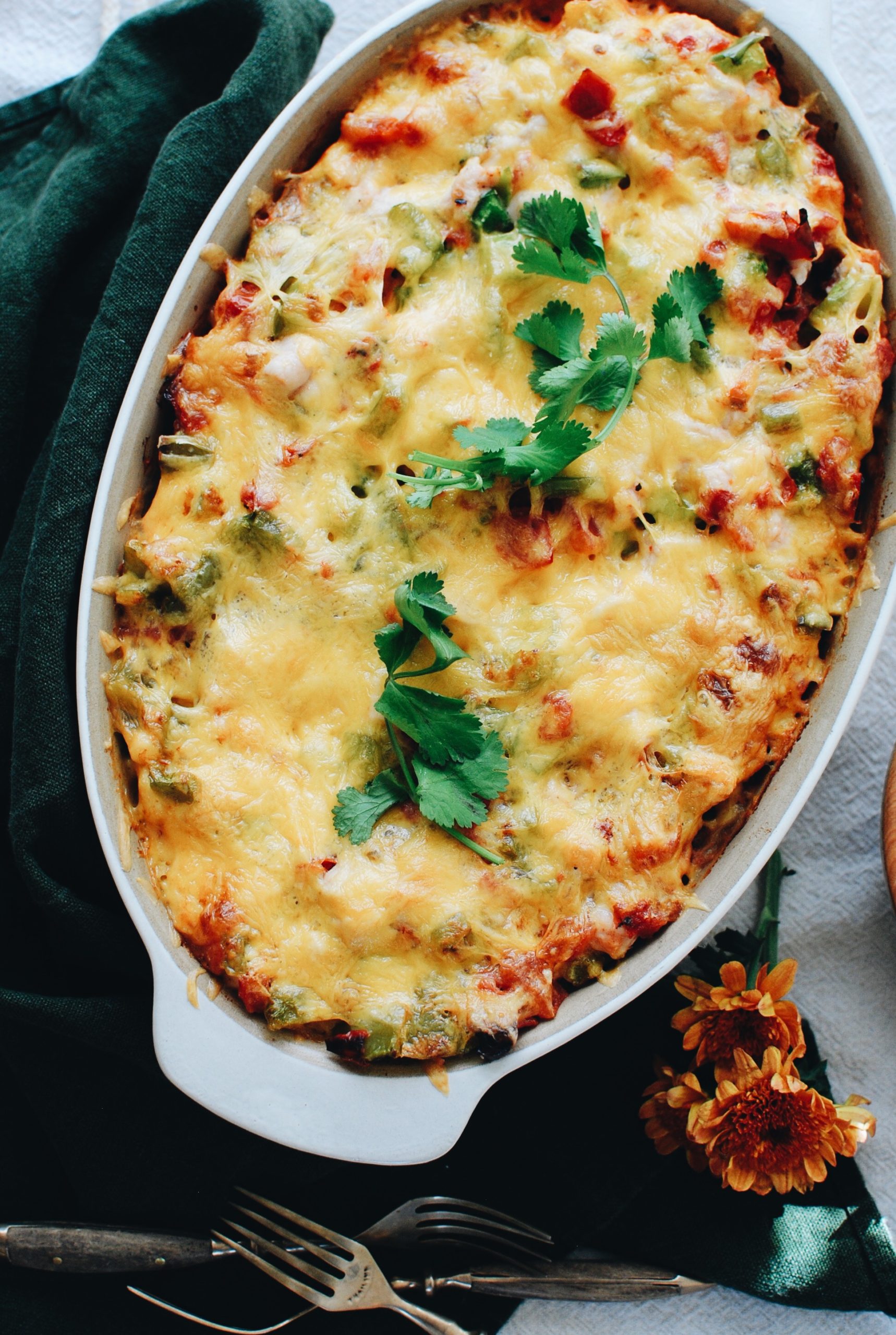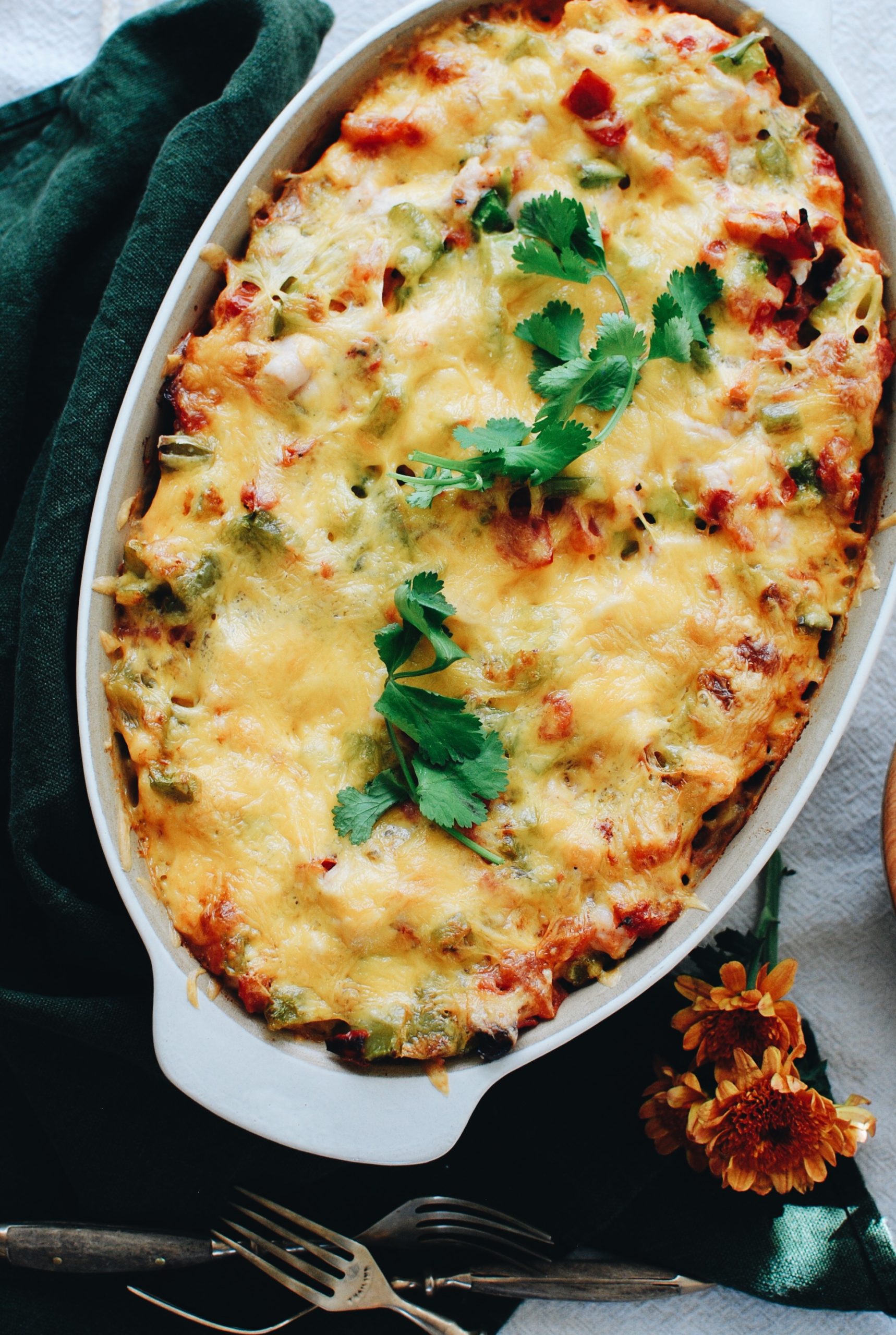 This is definitely one of those dinners that sort of makes itself. Besides your arms and hands and brain and three to four kitchen tools assisting.
It's SO simple. Because I feel like that's what we need this month. Extra wine. I mean extra simple. (And extra wine.) But not so simple that we're compromising flavor. Just simple enough. Barely simple. Simple pimple.
Never mind.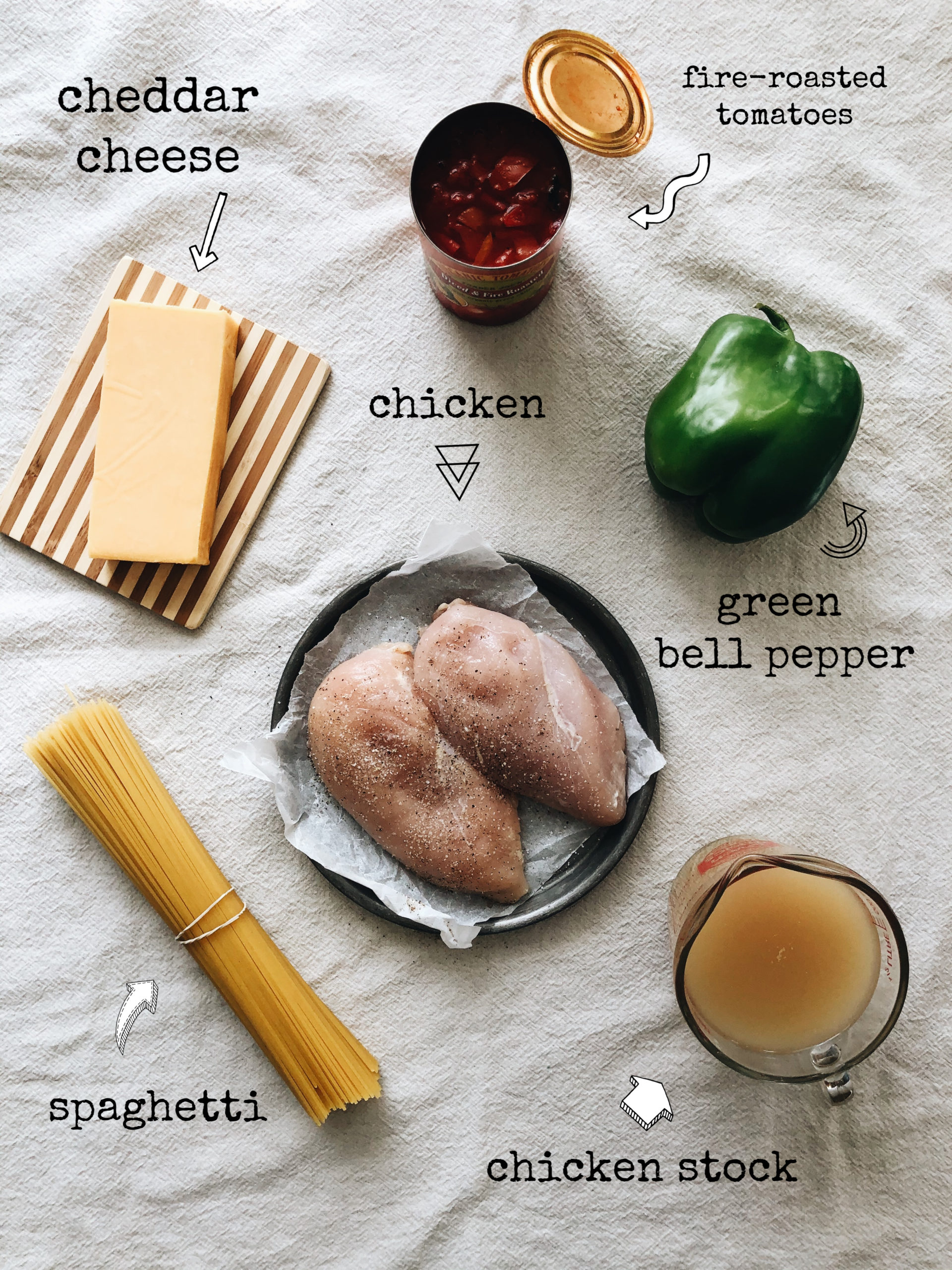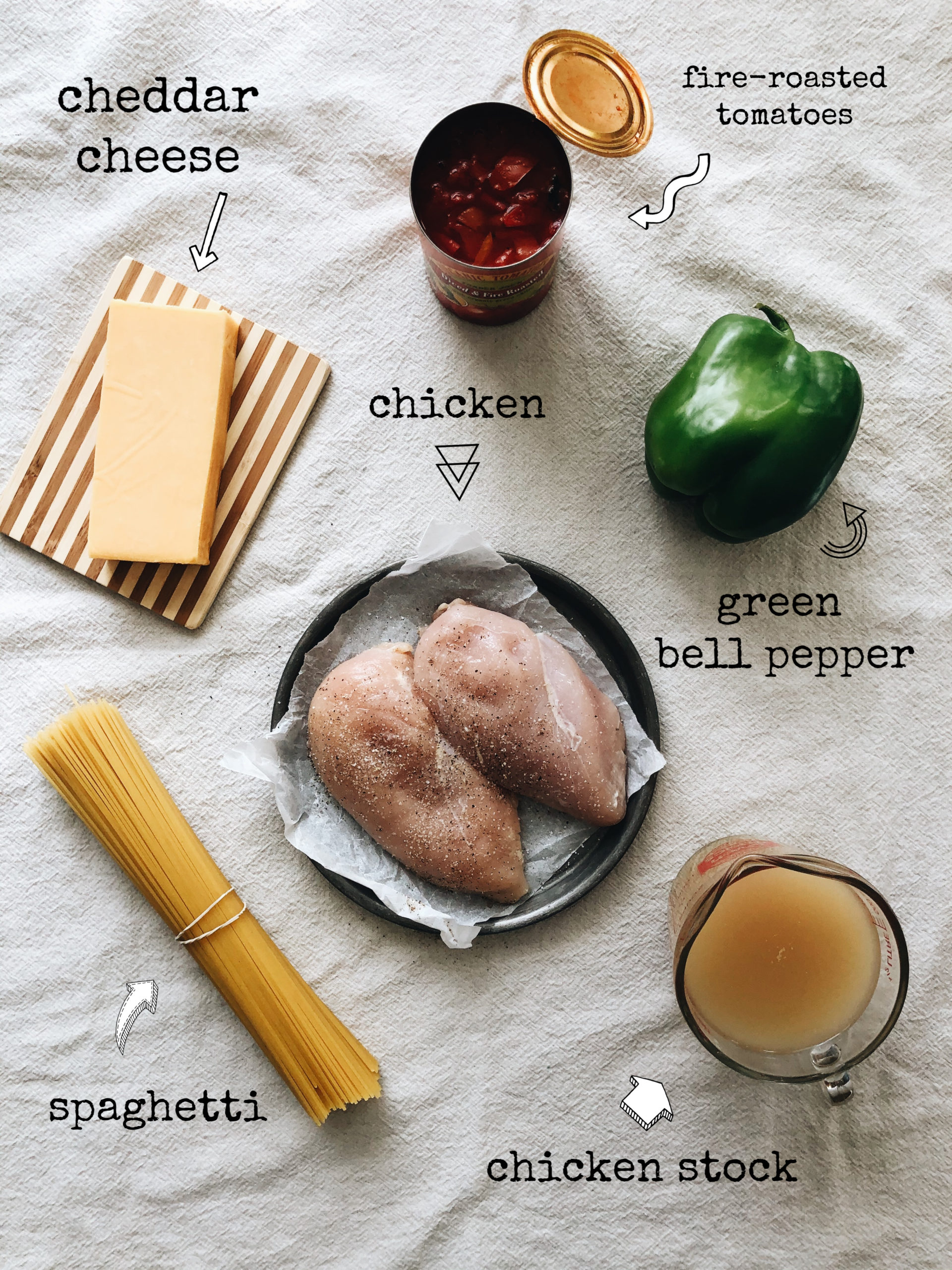 Six ingredients! Das it. And this casserole has a slight Tex-Mex feel with the chiles in the fire-roasted tomatoes. And if you can't find a can of fire-roasted tomatoes with the chiles in them, no stress! Use a can of Rotel. It's just fine. Plus the green bell. I feel like it adds just little something to the overall flavor that ups your bliss.
Yes I just said a green bell pepper ups your bliss. I need friends.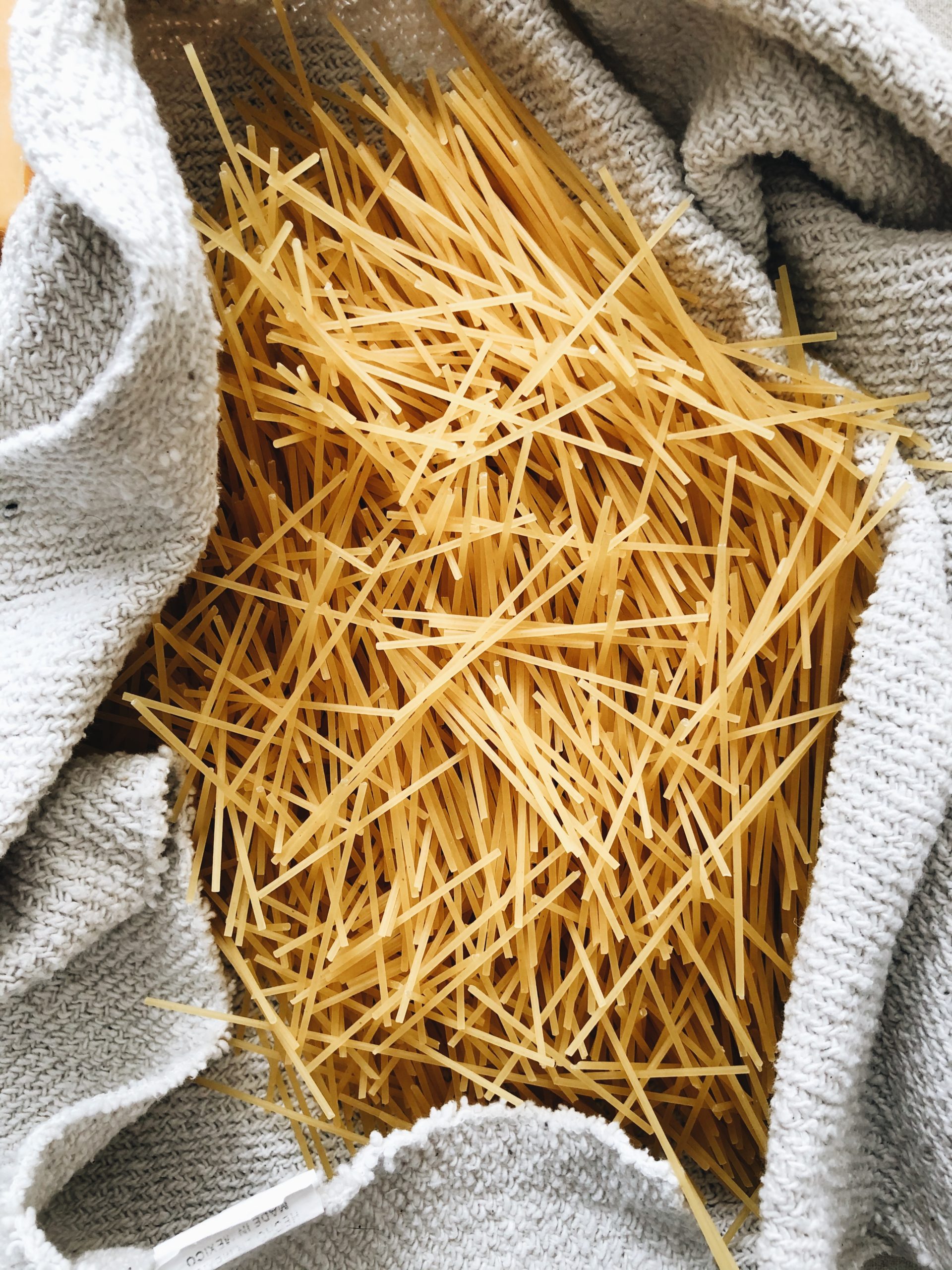 So this is what you'll do. Wrap the spaghetti in a tea towel and break it up! Into like, two-ish-inch pieces. Some may be smaller, some may be longer. Prison waits not for you.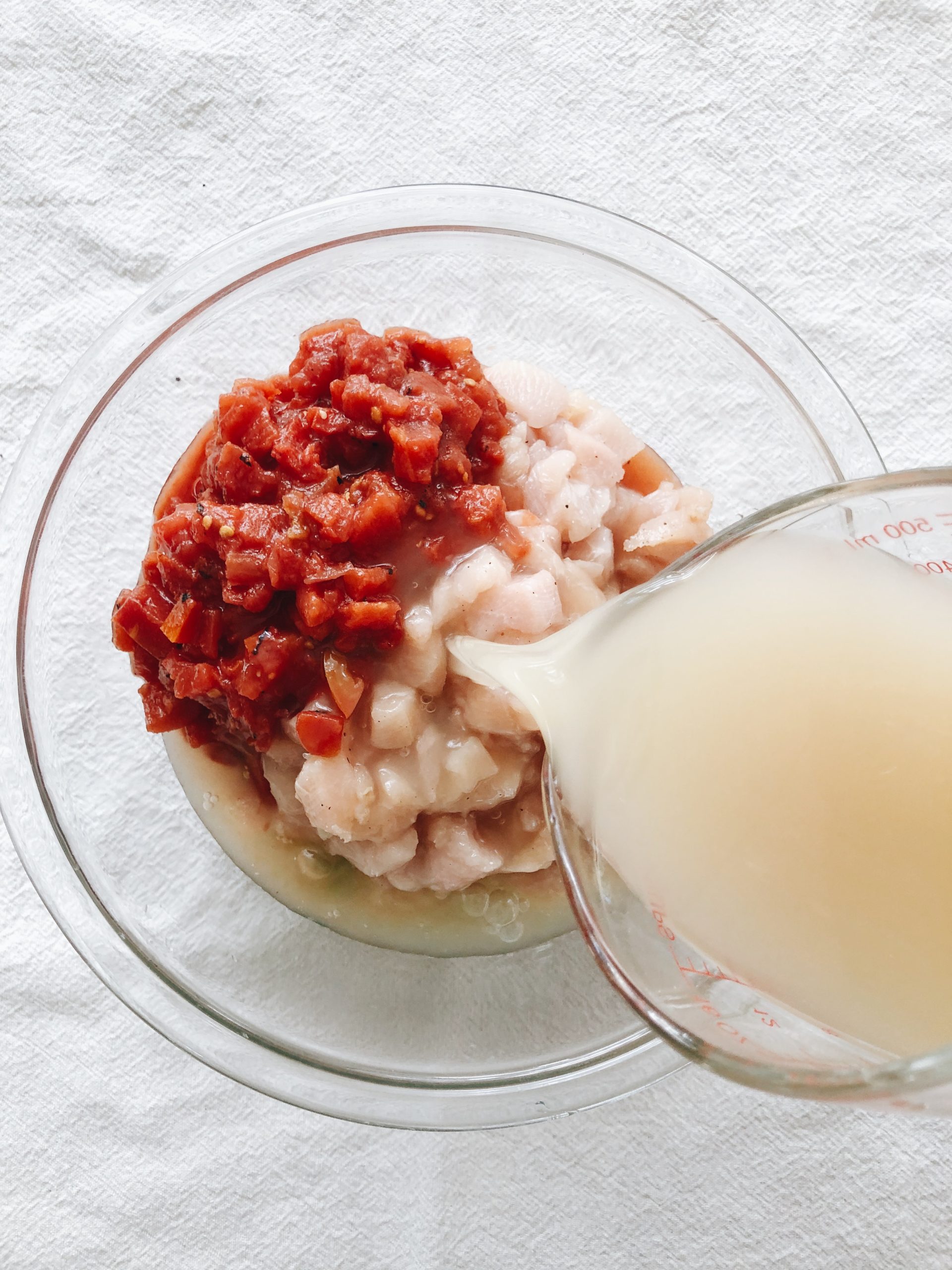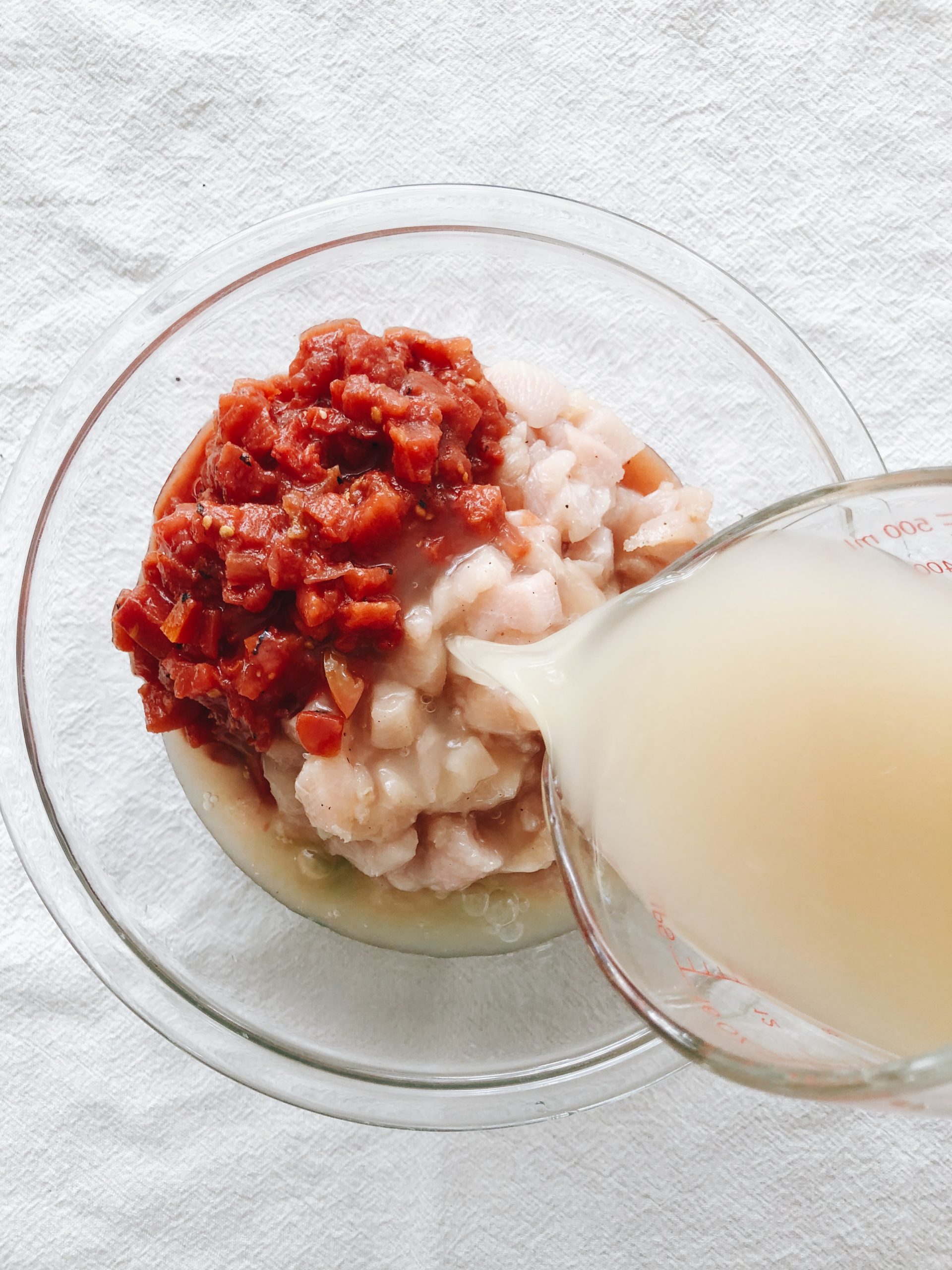 Then, in a big bowl, mix together the chicken, green bell pepper, tomatoes and chicken stock. Give this mess a good pinch of coarse salt and one more little stir stir. Stir.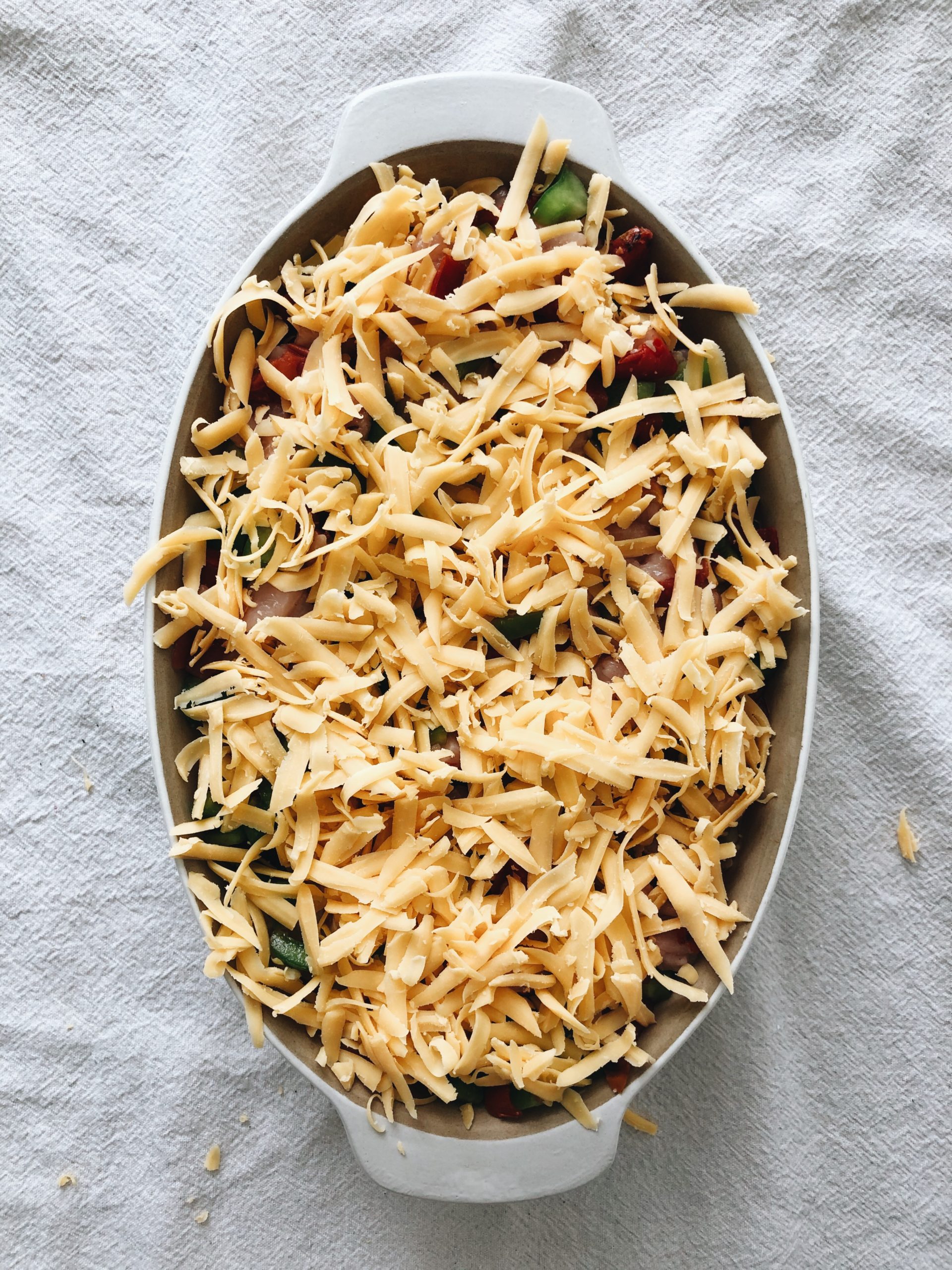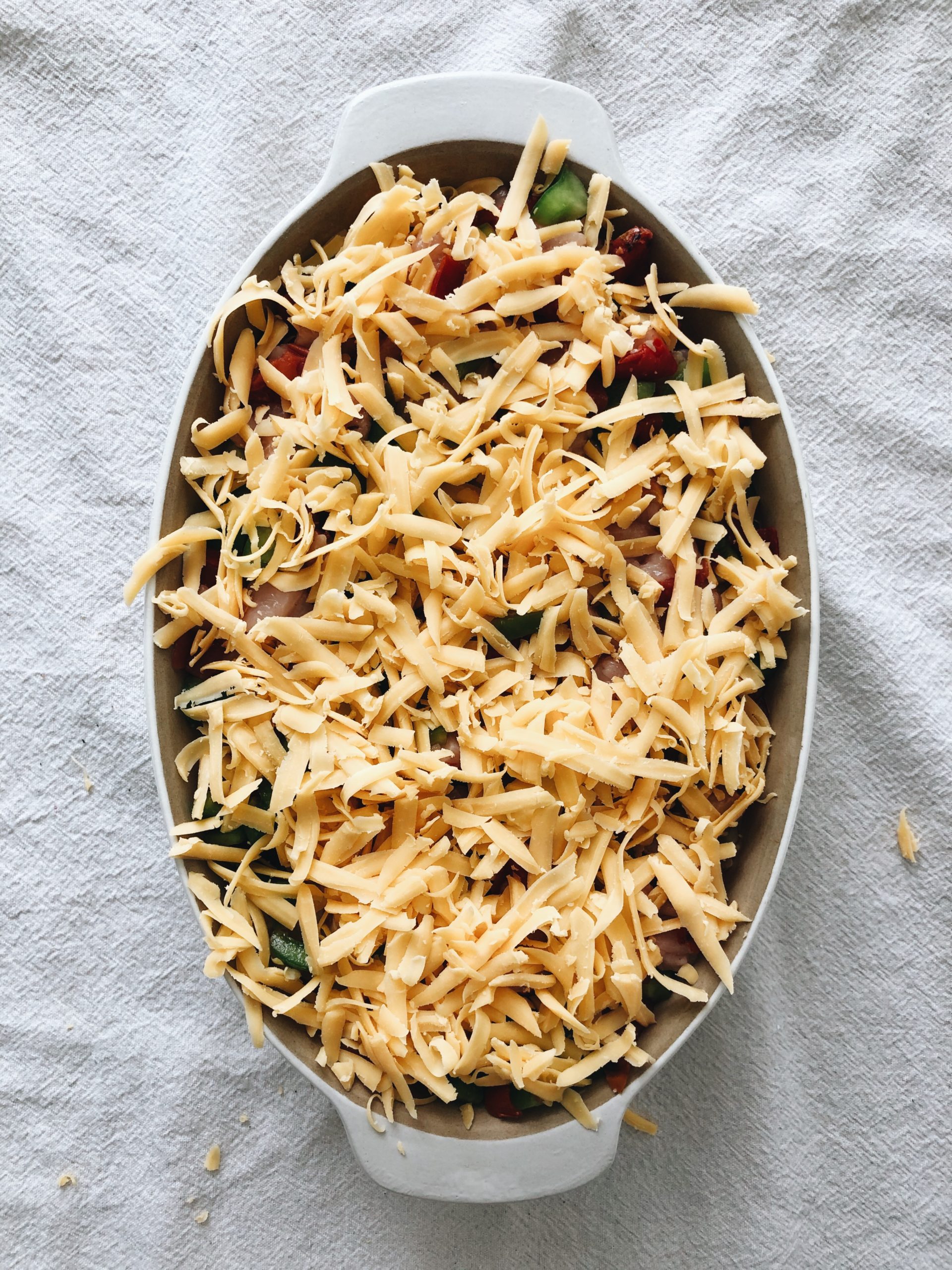 And then you layer! The broken spaghetti goes along the bottom of a casserole dish (sprinkle a little salt over it), then you'll carefully pour the chicken mix on top of the pasta (another sprinkle of salt), making sure all the noodles are covered in liquid, and finally the grated cheddar over the top. (extra sharp is life)
And no, no need to boil the pasta. It all cooks together in the baking! See how I take care of you?
Stop looking at me like that.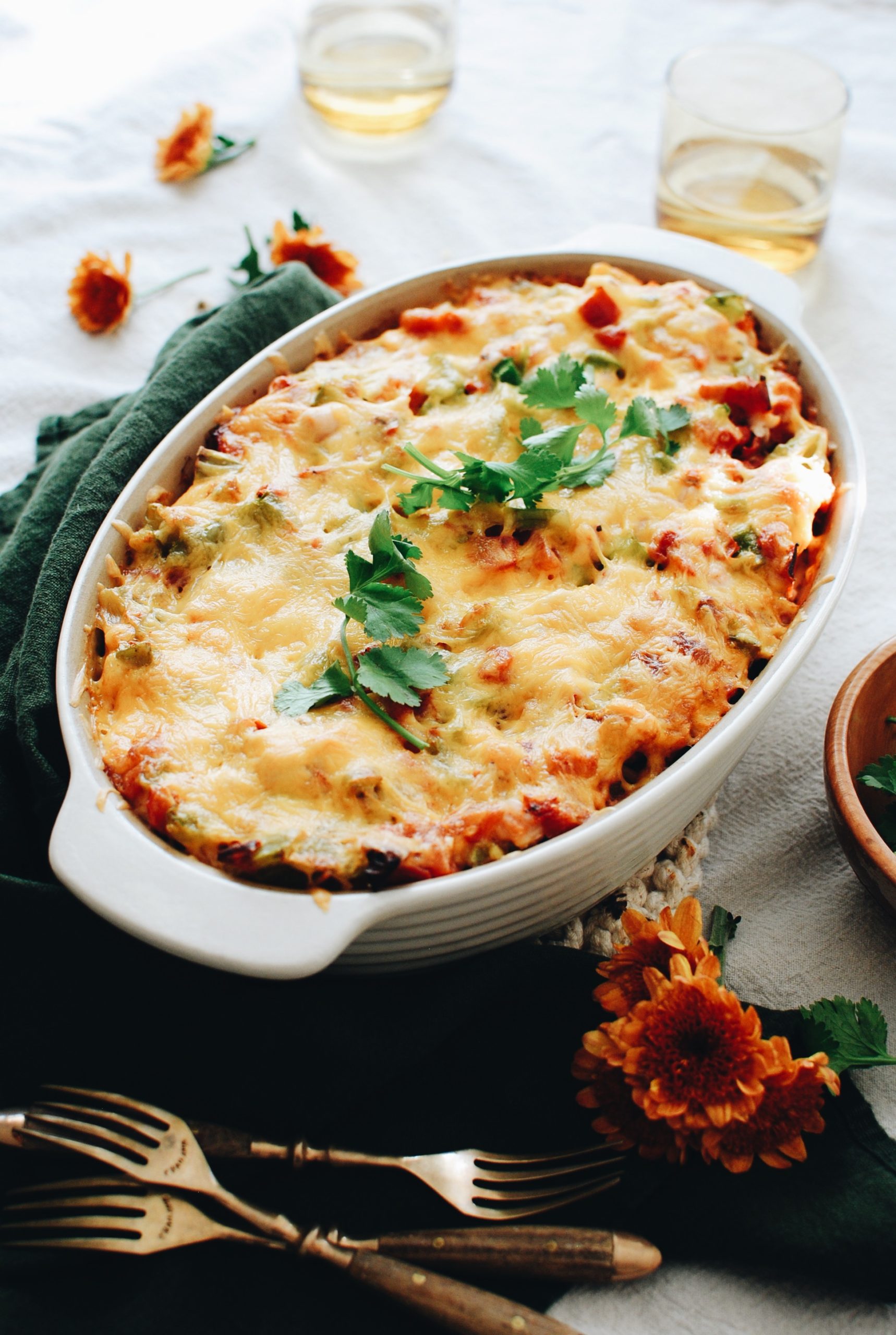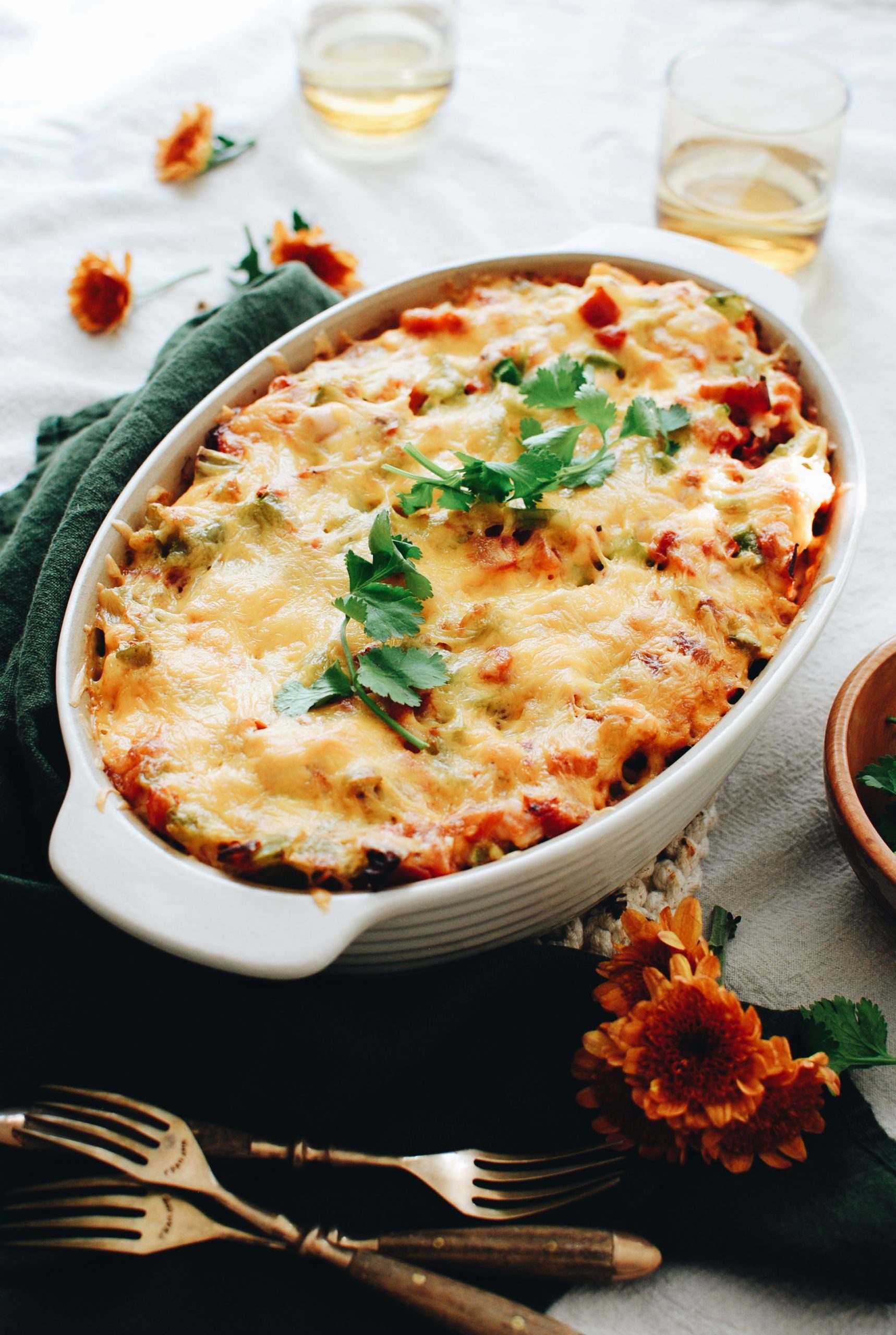 And that's it! 20 minutes in the oven, tented with foil, and then another 20-30 (maaaybe a hair longer, depending on your oven), until the cheese is browning and bubbly and all that pasta underneath is tender and mercifully weeping to be snarfed.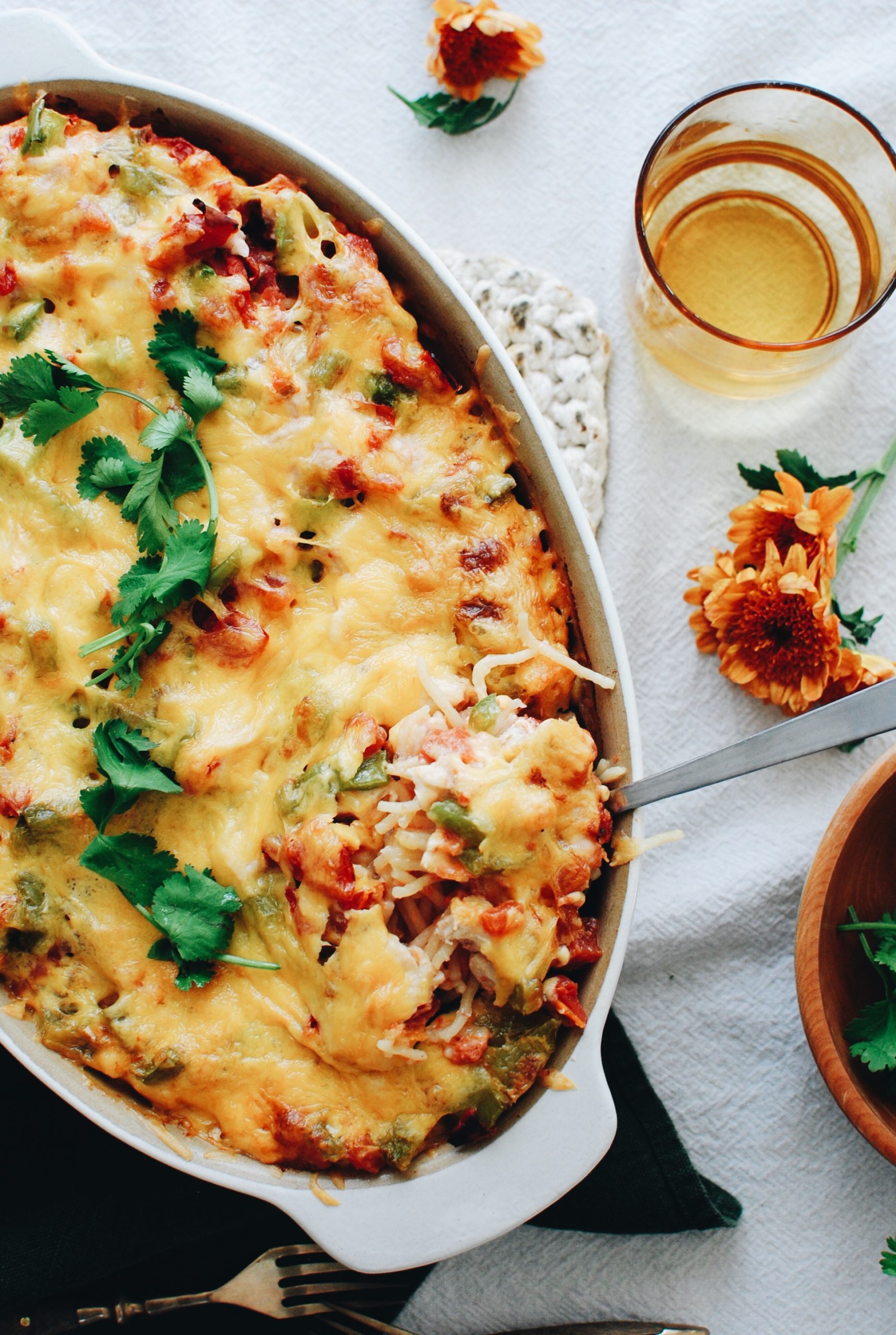 It's. So. Good.
And you know what – if you waaanted, you could sprinkle the cheese in between the layers to have it cheesy all throughout the casserole. I kept mine on top because you do know the man I live with, right? Right.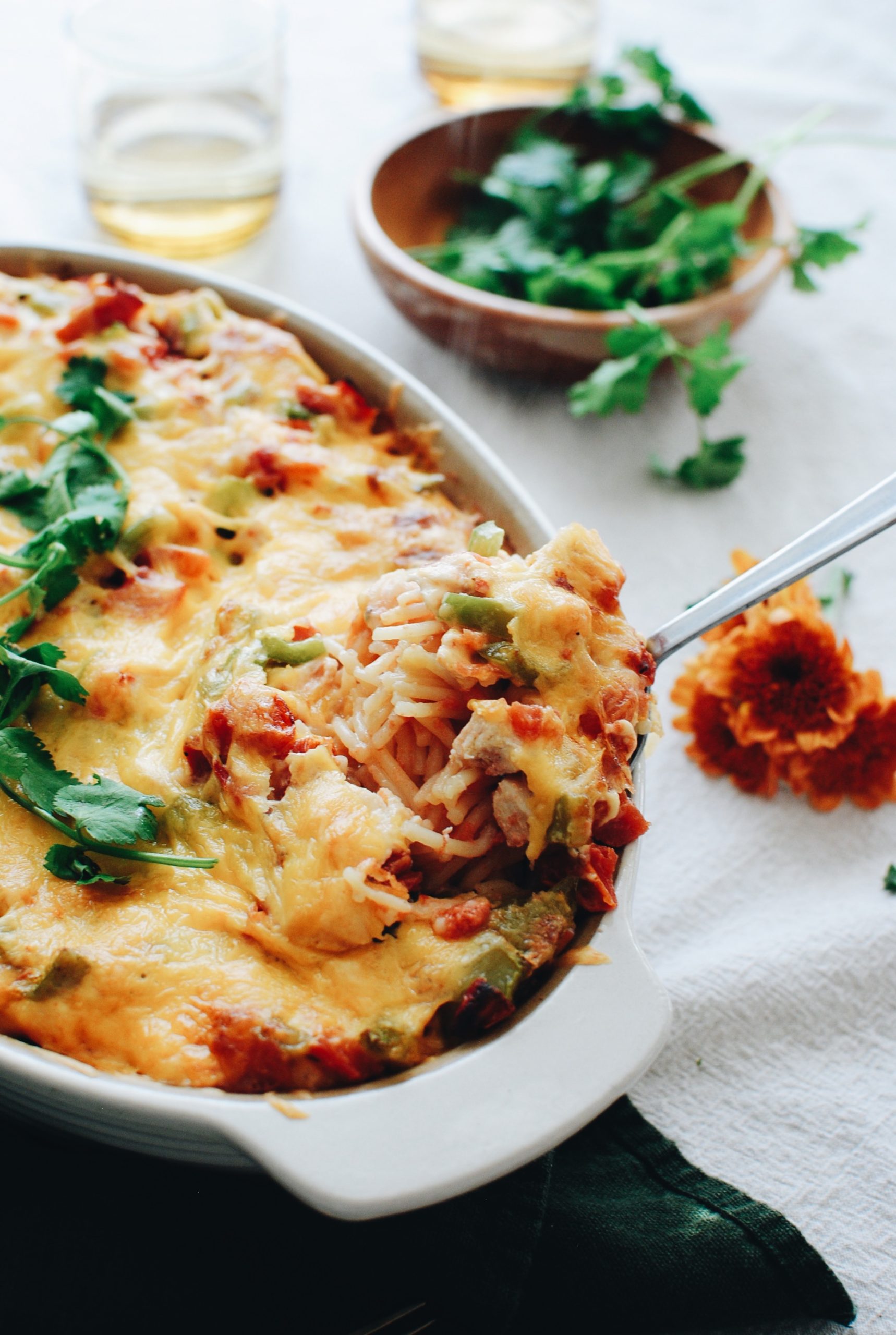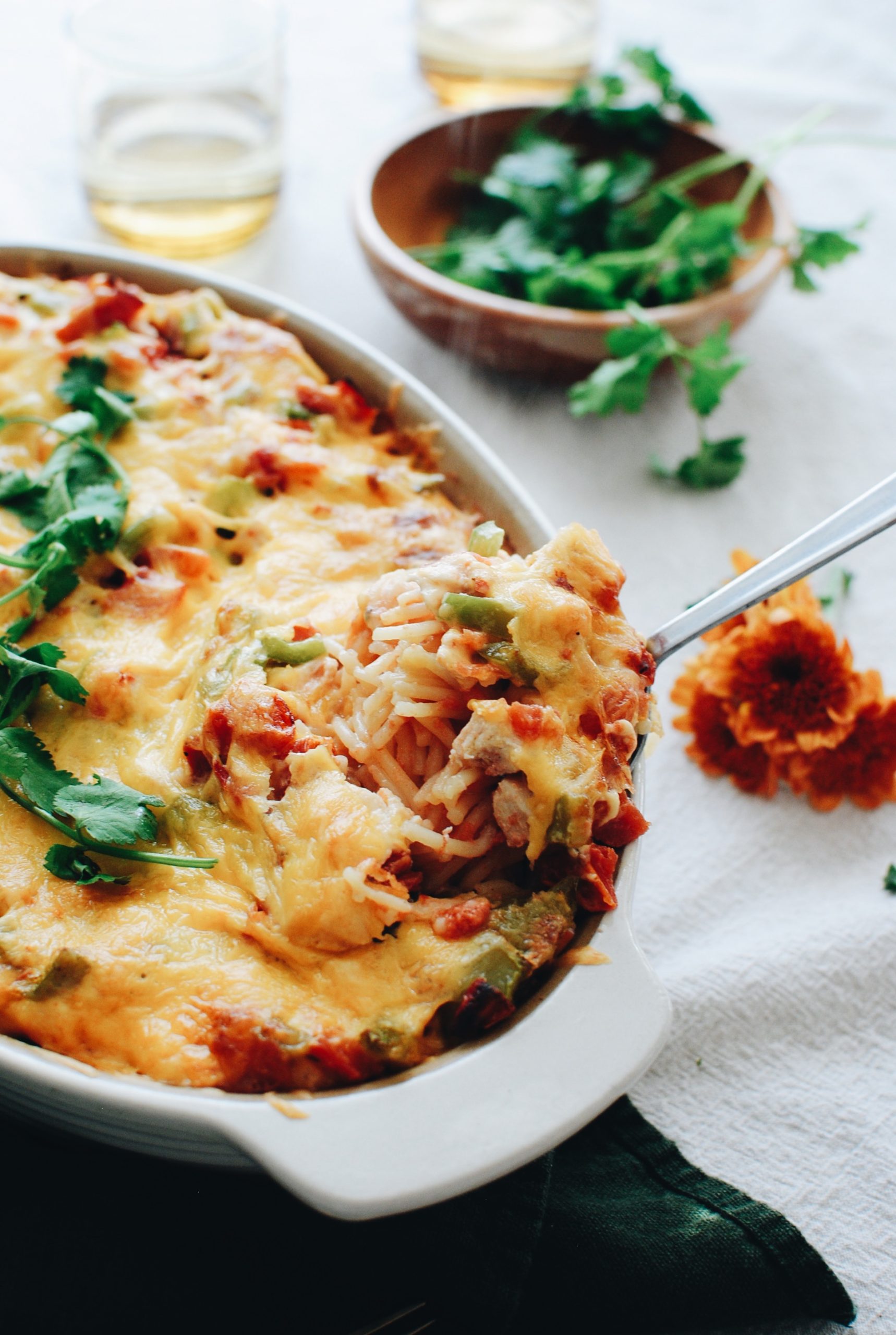 Tons of nostalgic flavor, ludicrously simply to put together, comfort grubbage to the max, and ONE PAN.
O N E P A N.
Er, casserole dish. Whatever. You get it.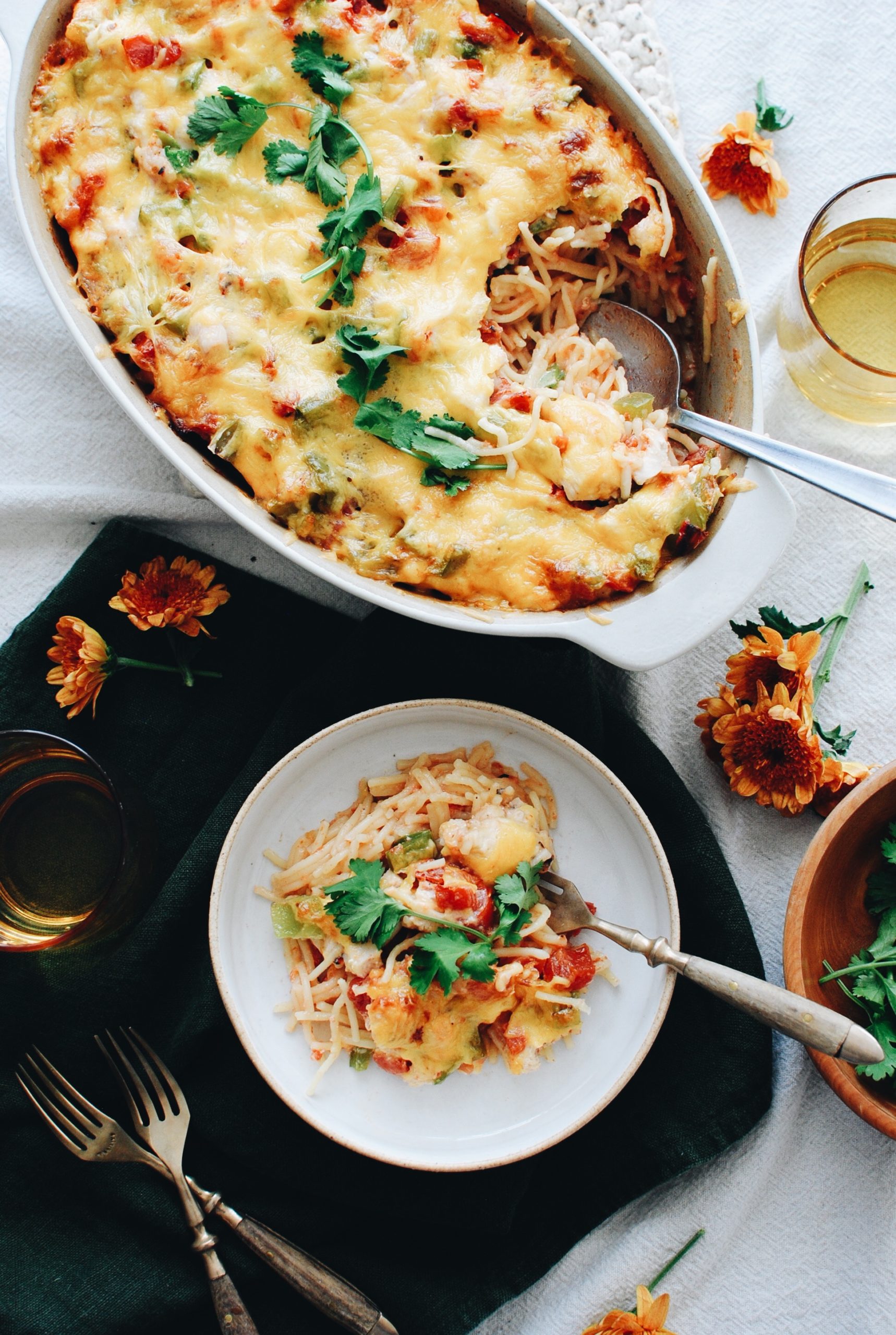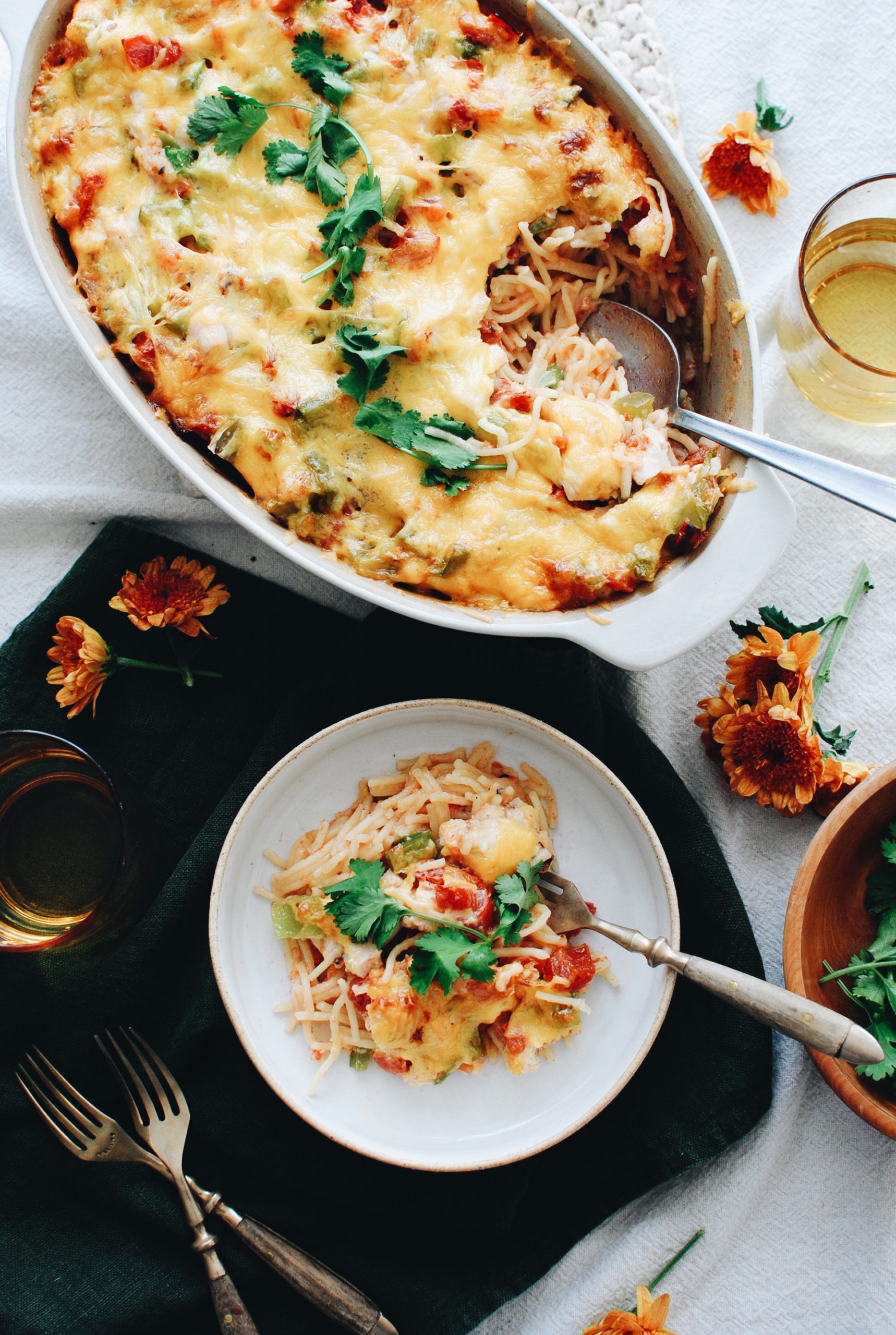 Obviously this is your dinner tonight.
One Pan Chicken Spaghetti
Ingredients
8-10 oz spaghetti
1/2 green bell pepper, diced (more if you want!)
1 (14.5 oz ) can fire-roasted tomatoes (with green chiles if you can find it)
2 small chicken breasts, diced
2 cups chicken stock
1 (8 oz) block cheddar cheese, grated (you might not use the entire block)
Coarse salt
Cilantro for garnish
Instructions
Preheat the oven to 350.
Place the spaghetti in a tea towel, wrap it and break it up! Two-is-inch pieces. You can do this. It's therapy.
In a large bowl, add the diced chicken, diced green bell pepper and fire-roasted tomatoes. Pour the stock in and stir to combine. Season with a good pinch of salt and give it one more stir.
Layer the broken spaghetti along the bottom of a casserole dish (in the 8x13 range) and pour the chicken stock mix evenly over the top, making sure all the spaghetti is coated in liquid. Give one more little sprinkle of salt over the top of the chicken. Sprinkle the cheese over the casserole, and tent it with foil. Bake for 20 minutes, covered. Then remove the foil and bake another 20-30 minutes, until the cheese is browning and starting to bubble, and the pasta is cooked through. You'll just use a fork to dig down and test it. No bigs.
Serve it family style! Garnish with cilantro if you please, and dig in like a maniac.
Serves 4-6.
7.8.1.2
390
https://bevcooks.com/2019/12/one-pan-chicken-spaghetti/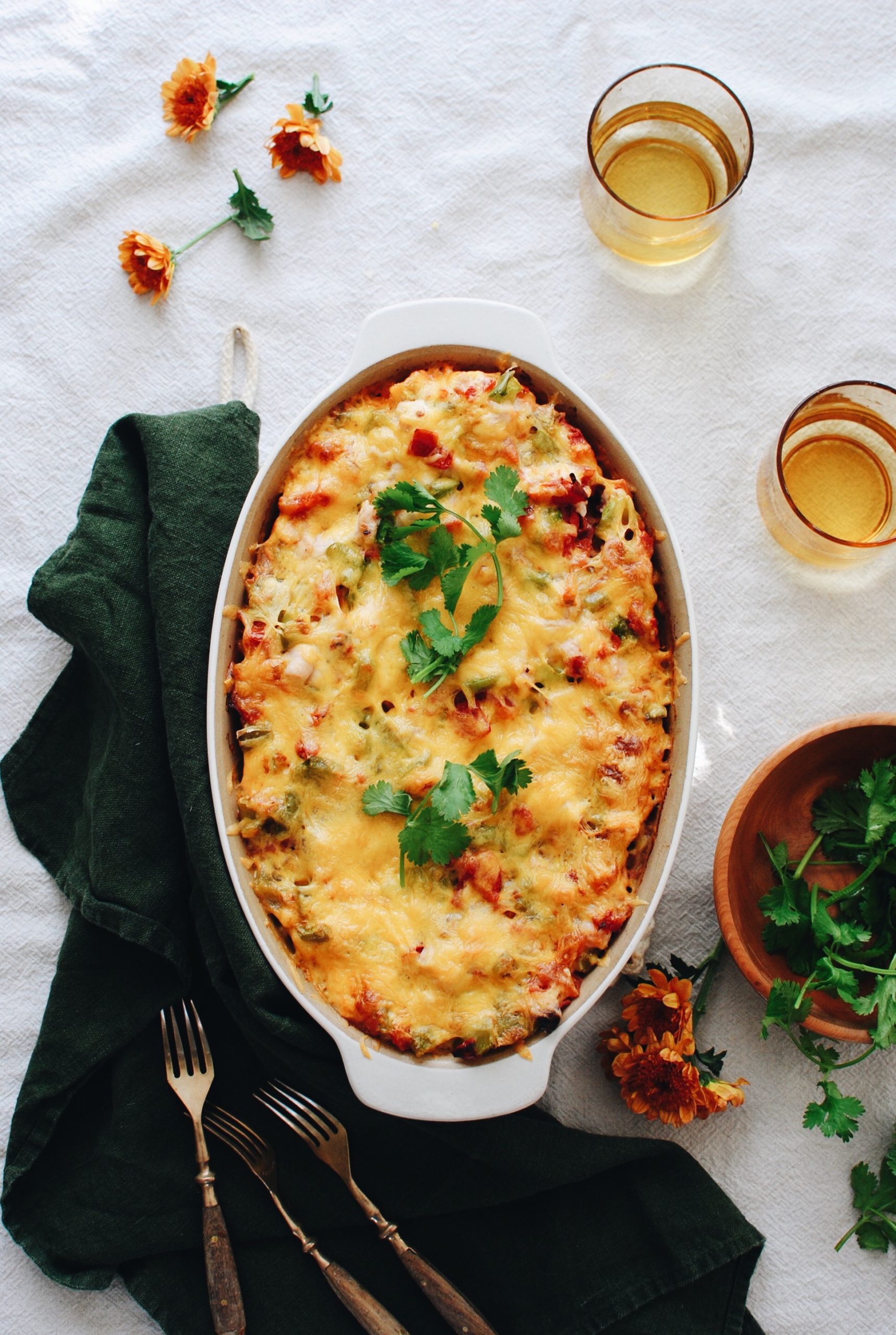 Can I come over?