Fall is in 11 days SO THIS IS TOTALLY ALLOWED.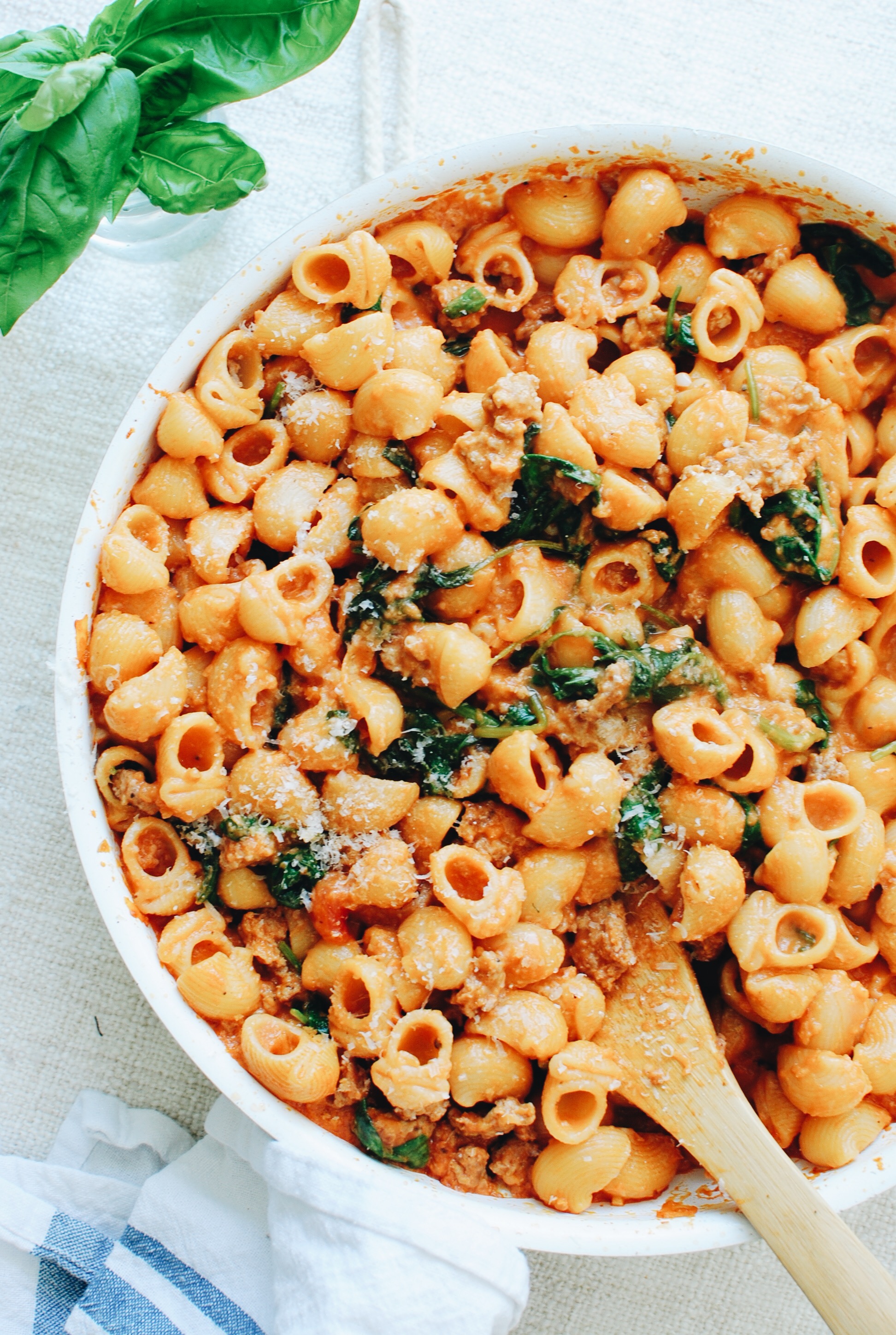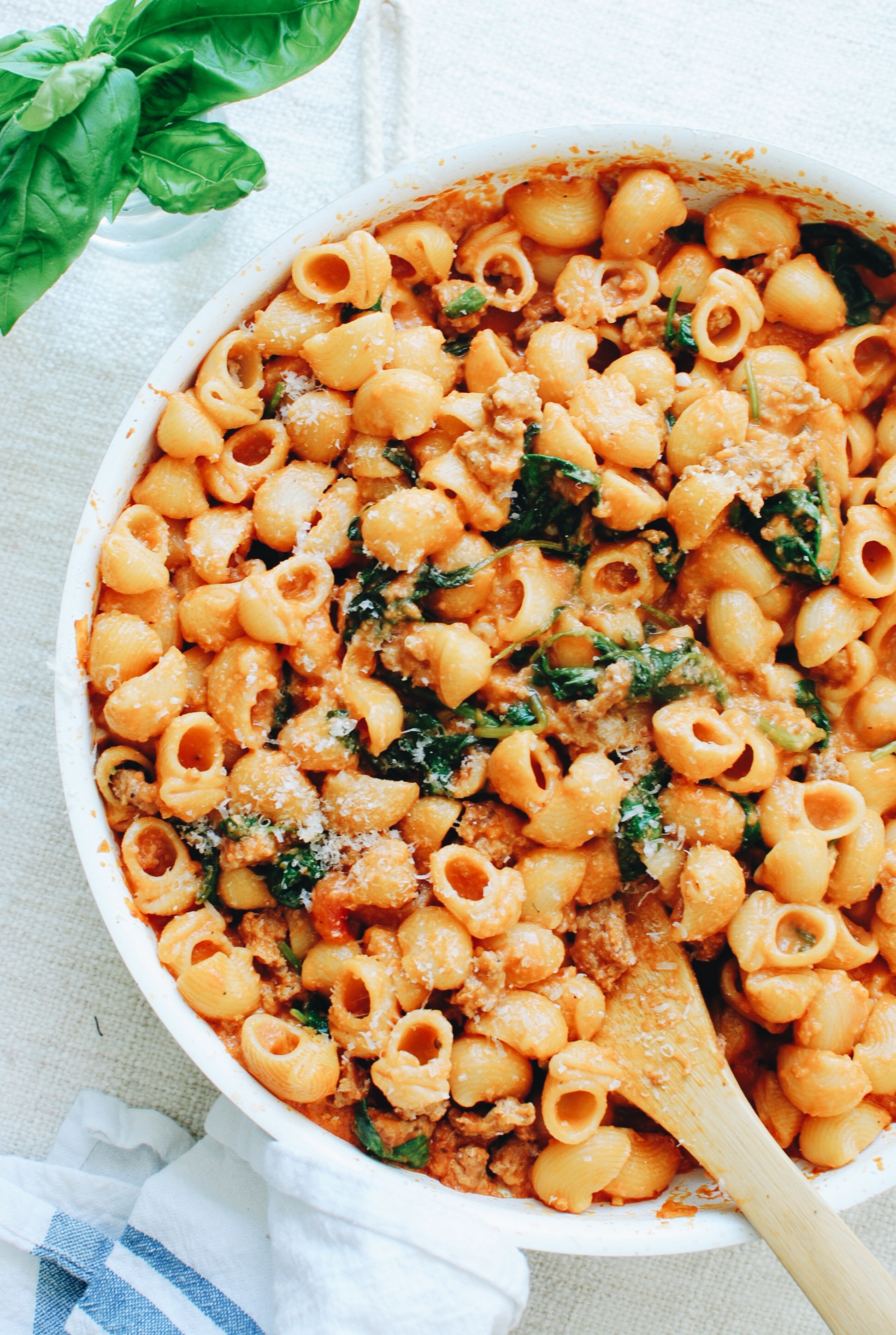 More like, welcomed with open torso and face.
I basically have the best ever news for your fall. A new life direction, if you will. And I know how your brains work, so I'll break it to you not-at-all slowly.
DeLallo has a new line of pastas!
Hold on, let me try that again.
DELALLO HAS A NEW LINE OF PASTAAAAAAAAS. (<—said like Oprah.)
And one variety is called SHELLBOWS so I know you're here for it.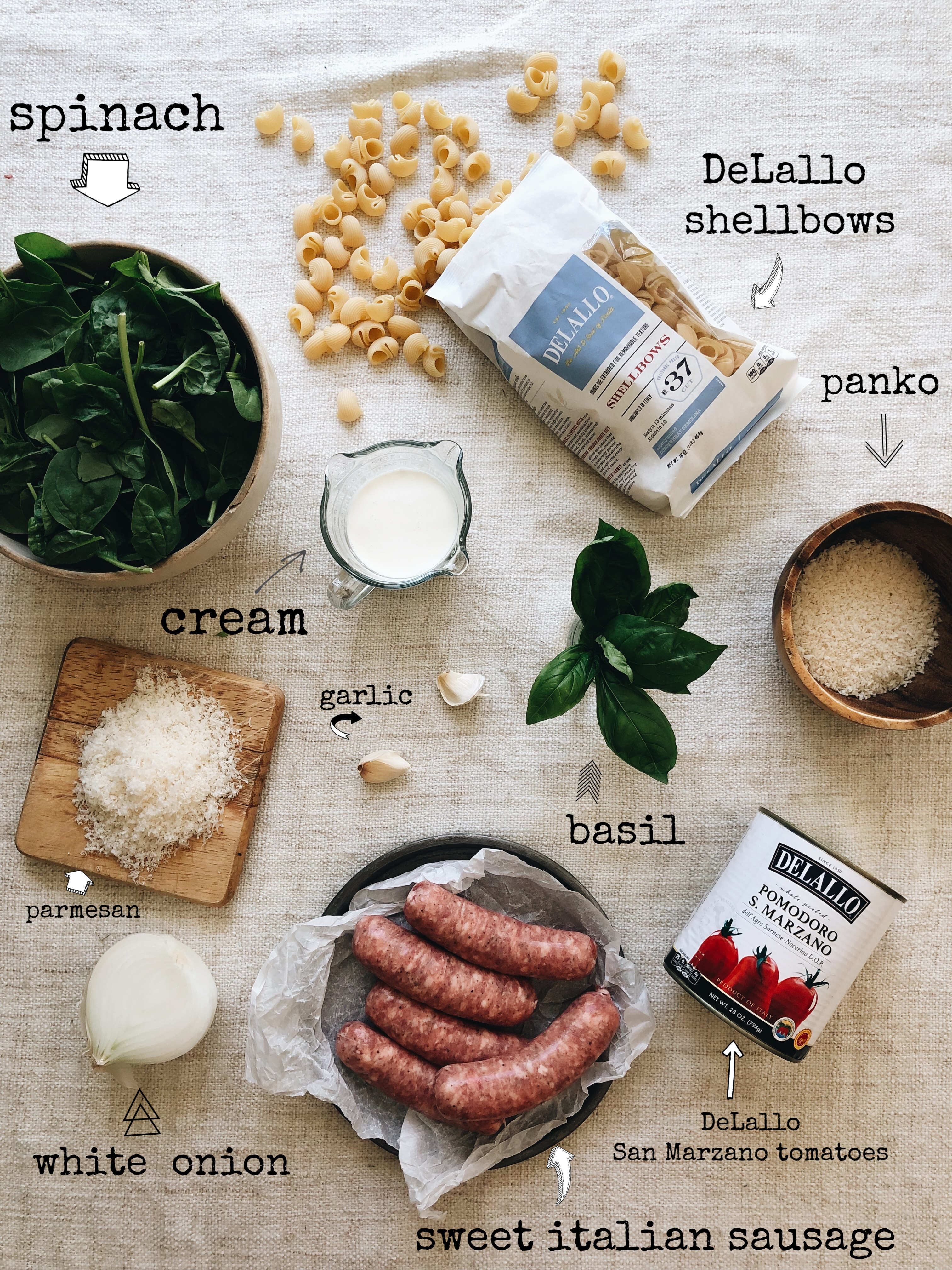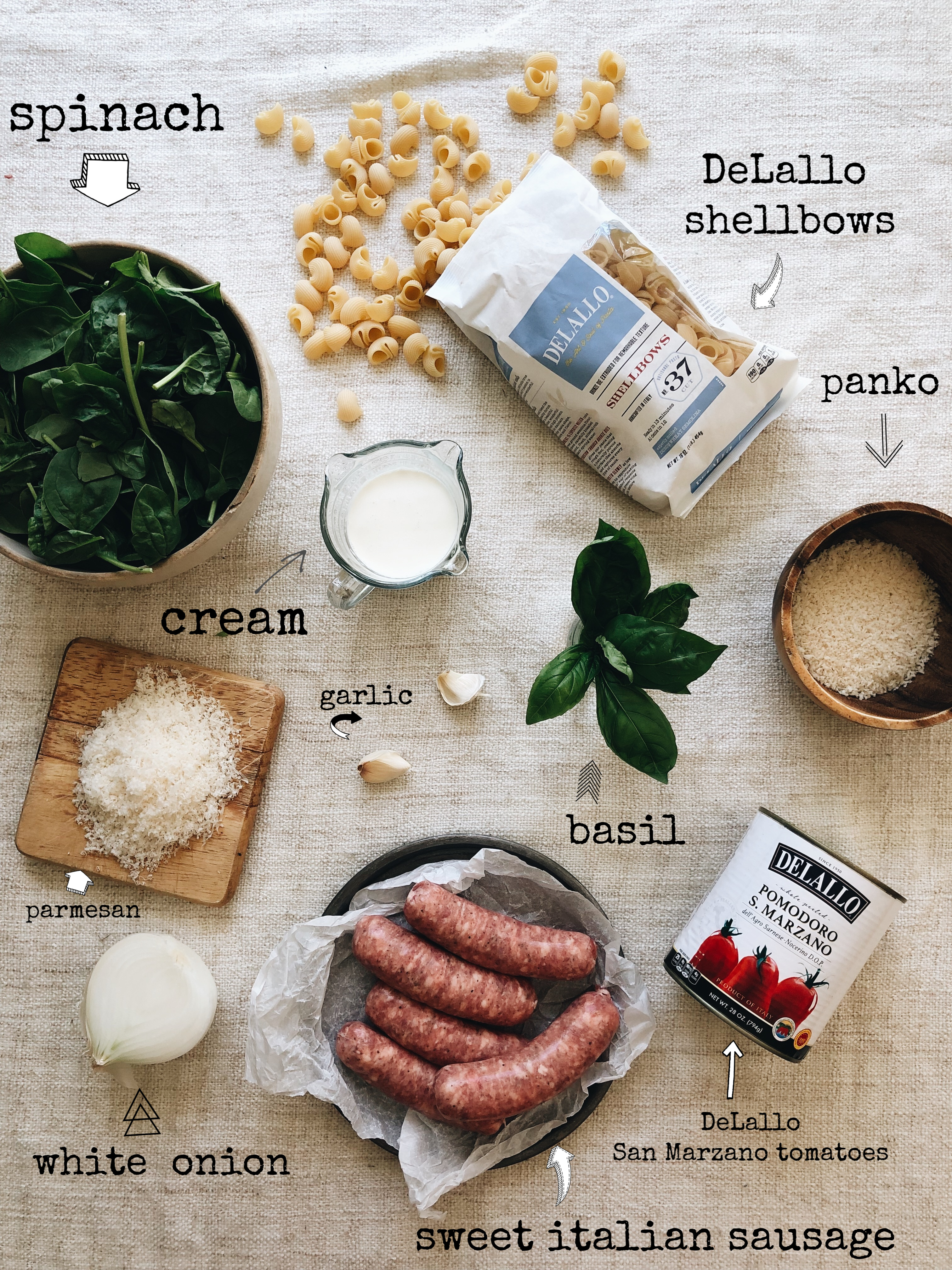 I'll touch more on the pastas in a few, but let me start by showing you this delectable Italian bounty of wonder. There is just not much more to life than this. Creamy. Tomato-y. SAUSAGE AND SPINACHY. All blanketing those adorable little shellbow shapes that hold little pockets of chunky sauce all up in 'em.
And then we have a crunchy cheesy topping in the end, so there's that.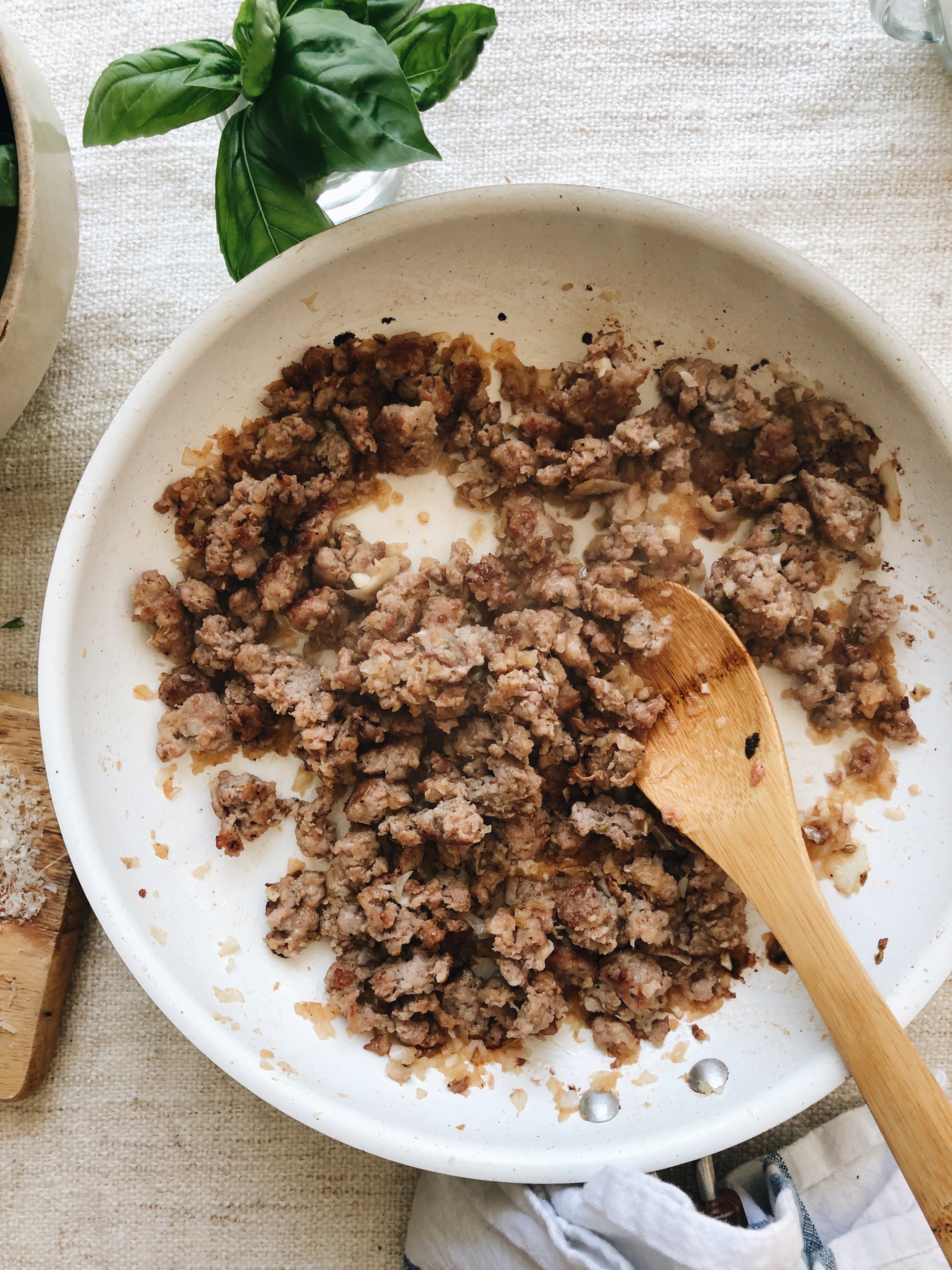 You'll just brown some sausage! Ain't no thang. And really, you can go mild, sweet or hot here, but Italian sausage is the key to fall eating and living, so don't skip it.
You've also added in diced white onion and garlic, so the flavor is buildin' buildin' buildin'.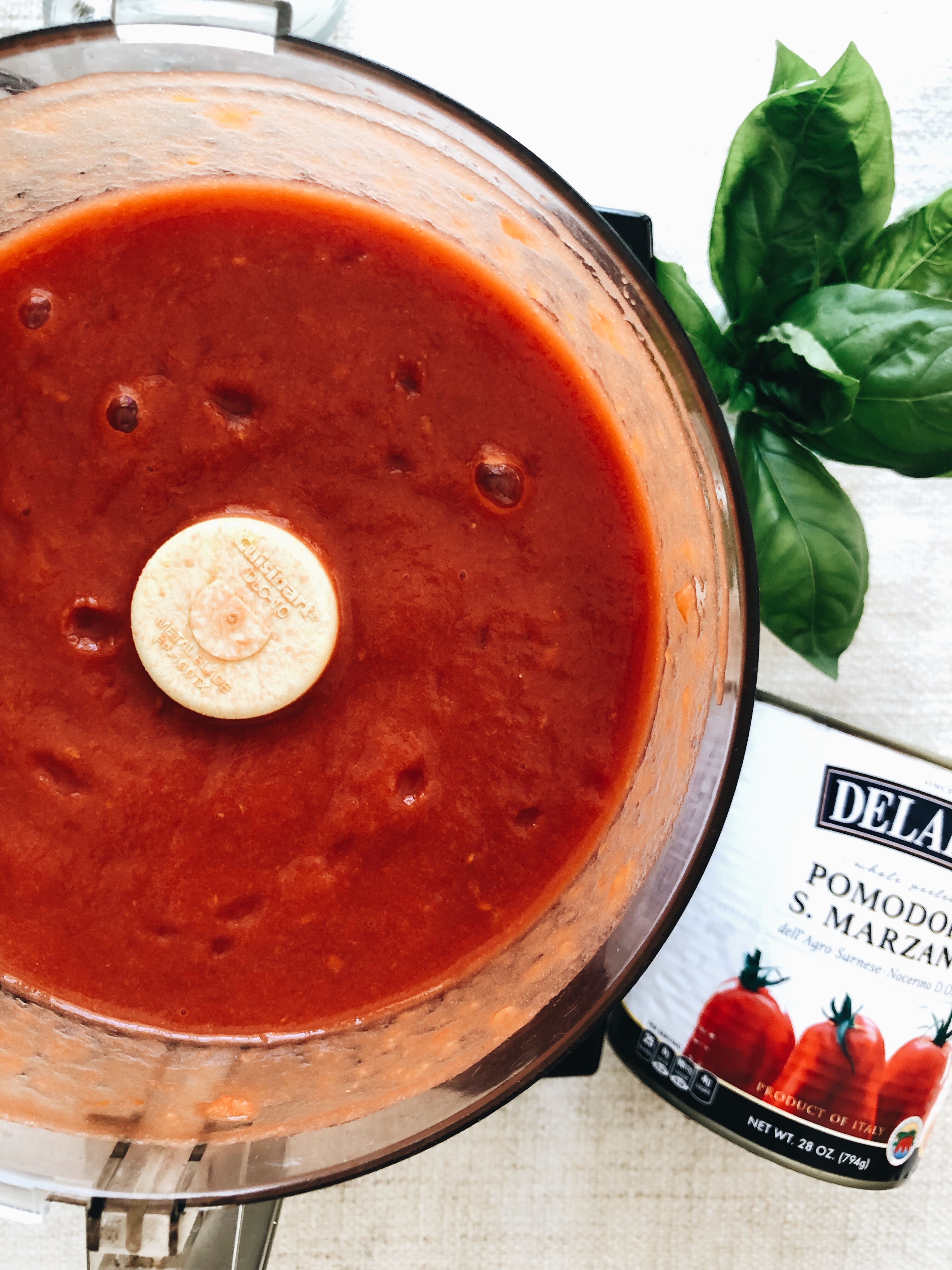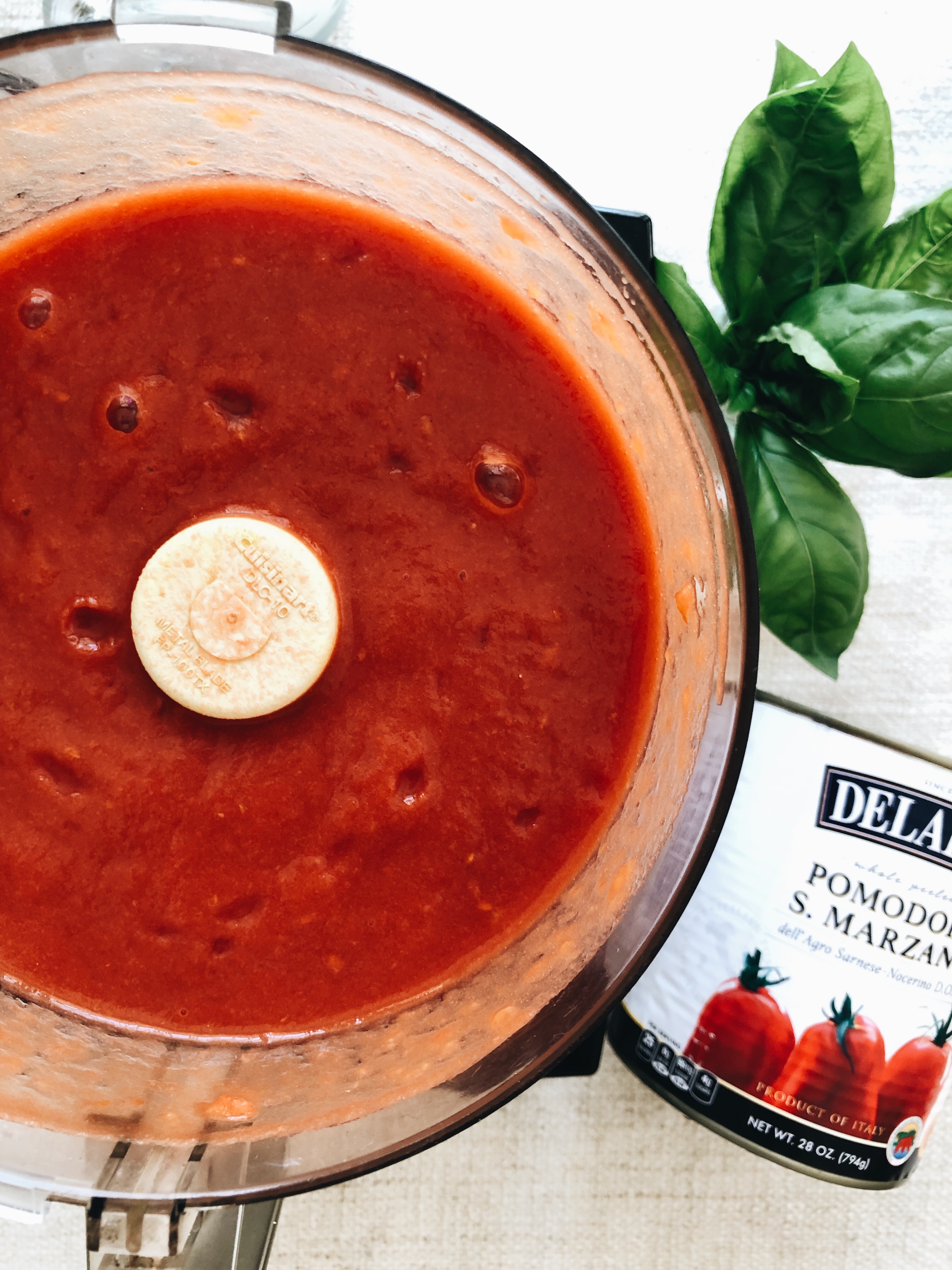 Oh – DeLallo also has their own line of imported San Marzano tomatoes. Which are obviously the king of tomatoes. Queen? Queen.
You'll just purée those pups in a food processor until smooooth and silky. I'm a personal fan of a silky tomato sauce, with the chunks being the veggies and meat. Are you the same? Surely you're the same. Now I'm starving just thinking about this.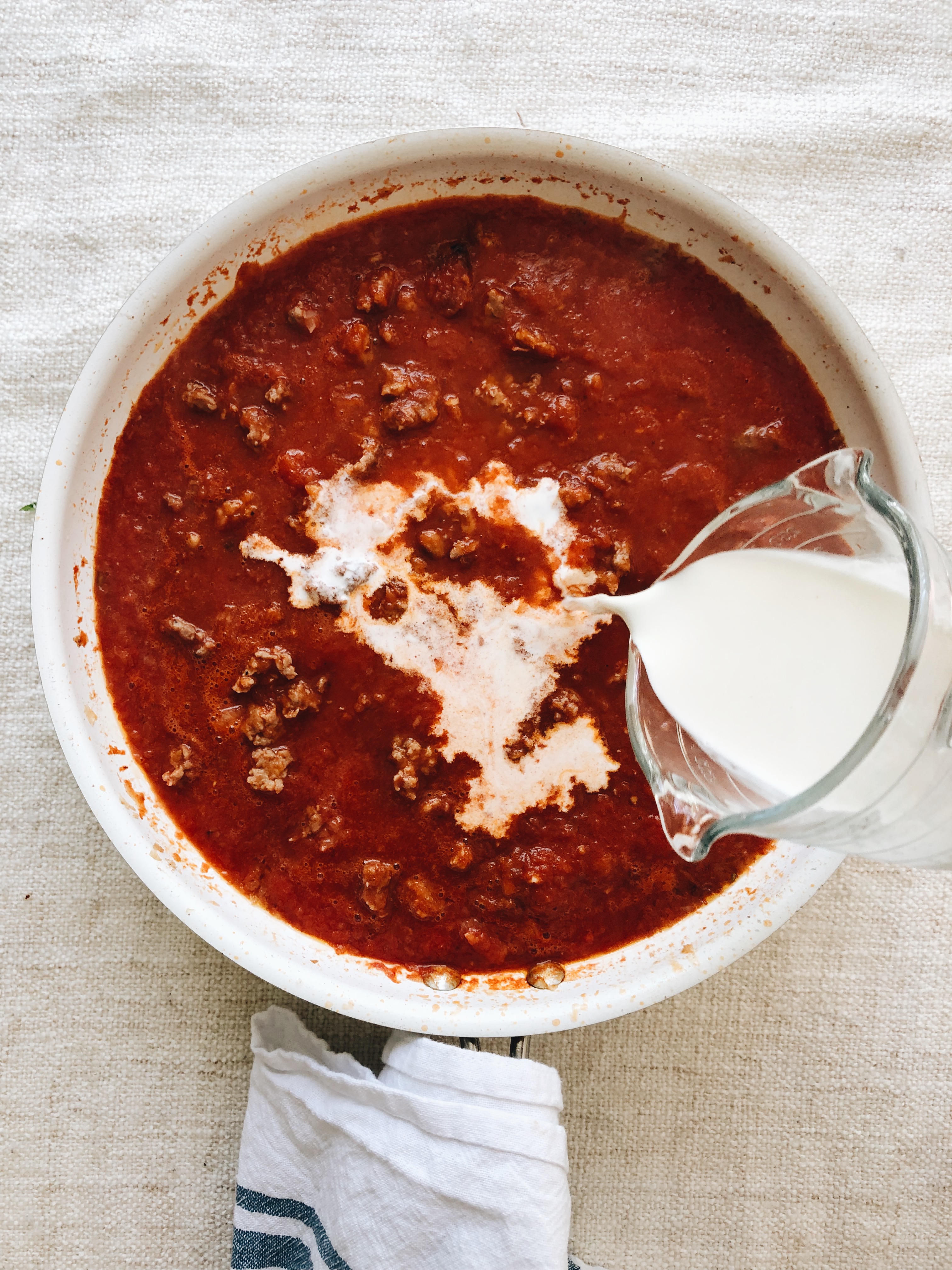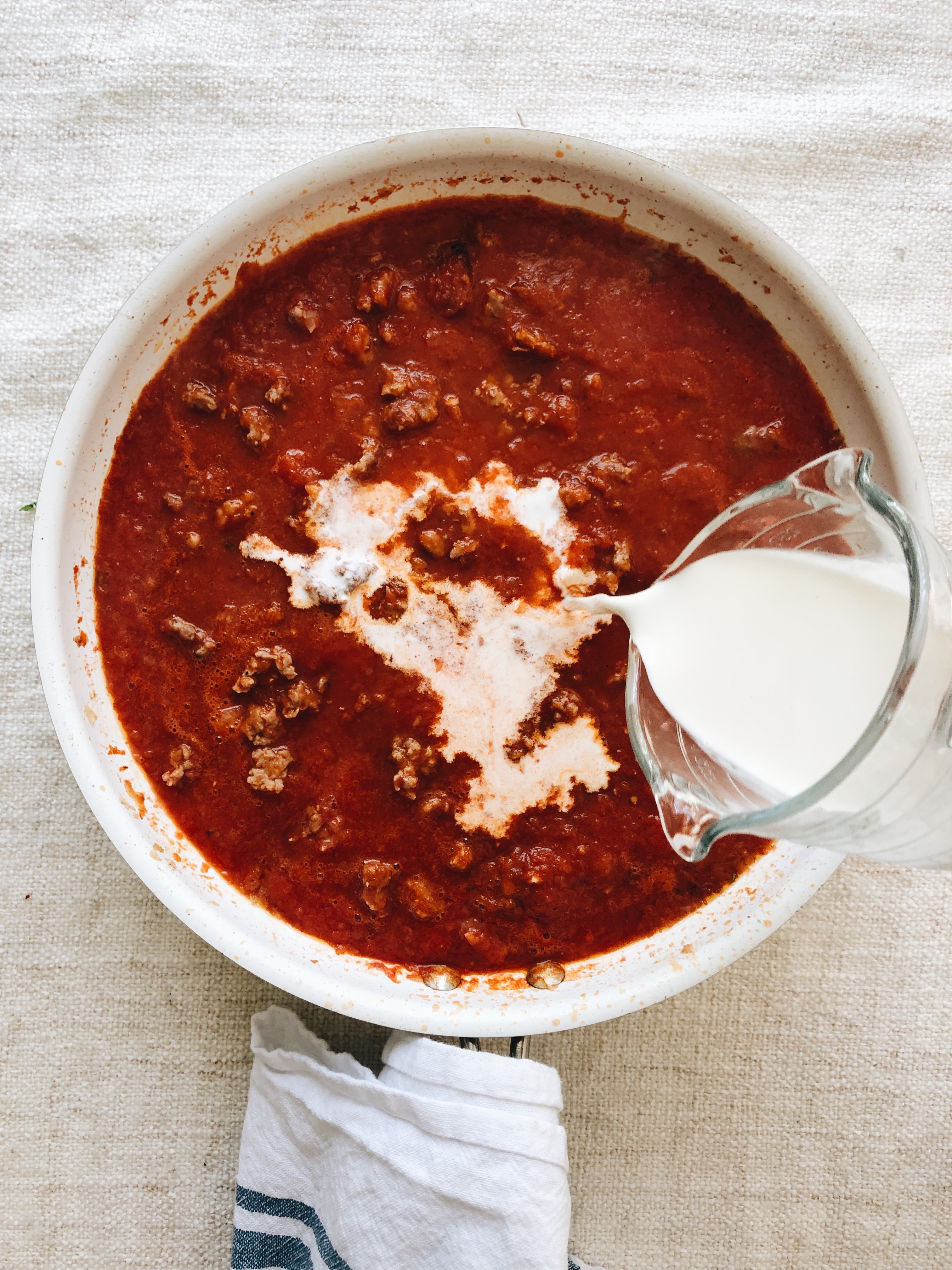 After you've simmered the tomatoes in the sausage for about five minutes (oh! tip – after you've dumped the puréed tomatoes into the skillet and you stick the bowl of the processor under water to rinse, add that rinsing water to the pan! Just half a cup or so. It helps thin the sauce and gives the meat something to thicken into. Know what I mean, Vern?)
Then you add heaven. By that I mean cream. NAMASTE.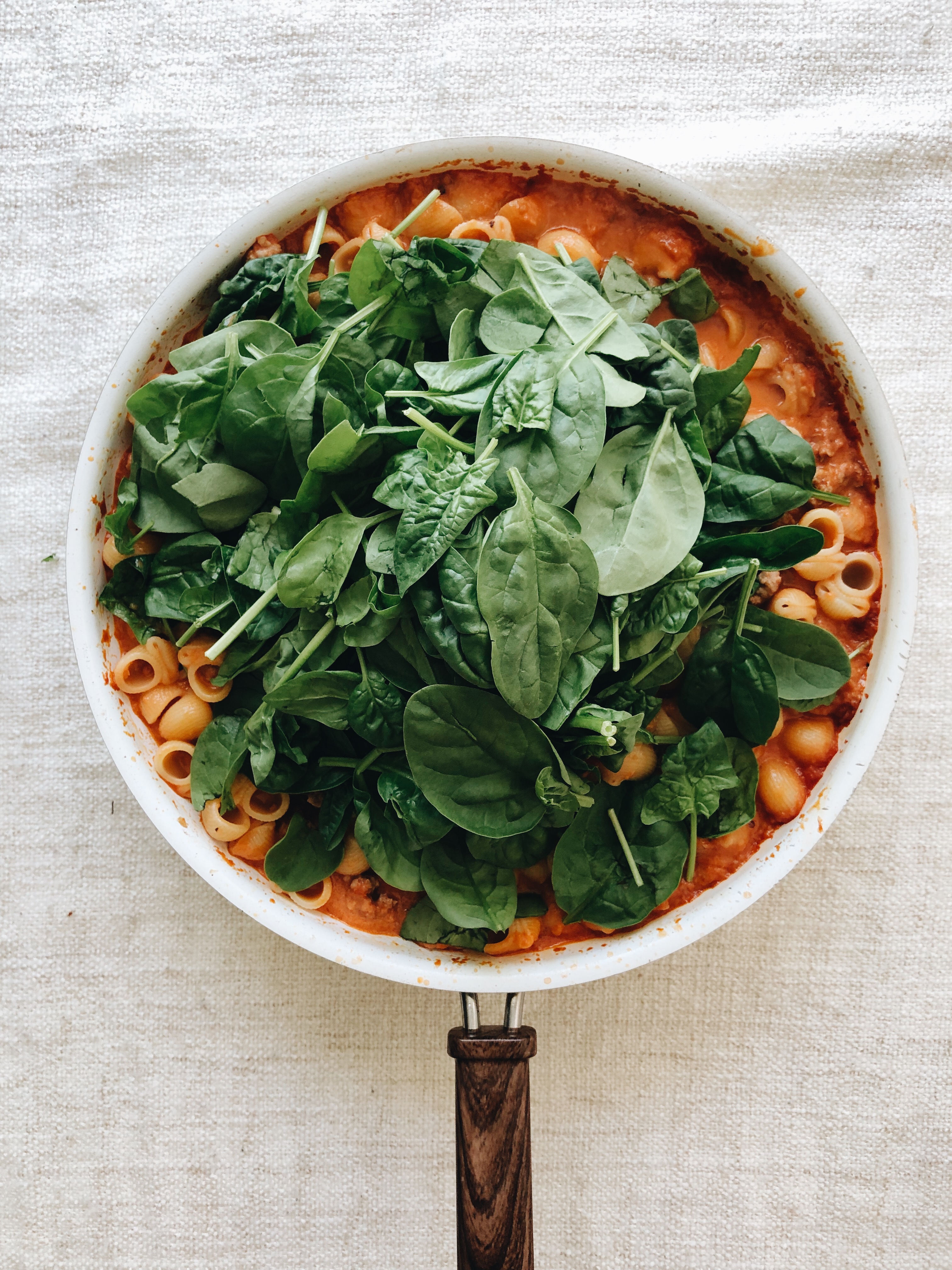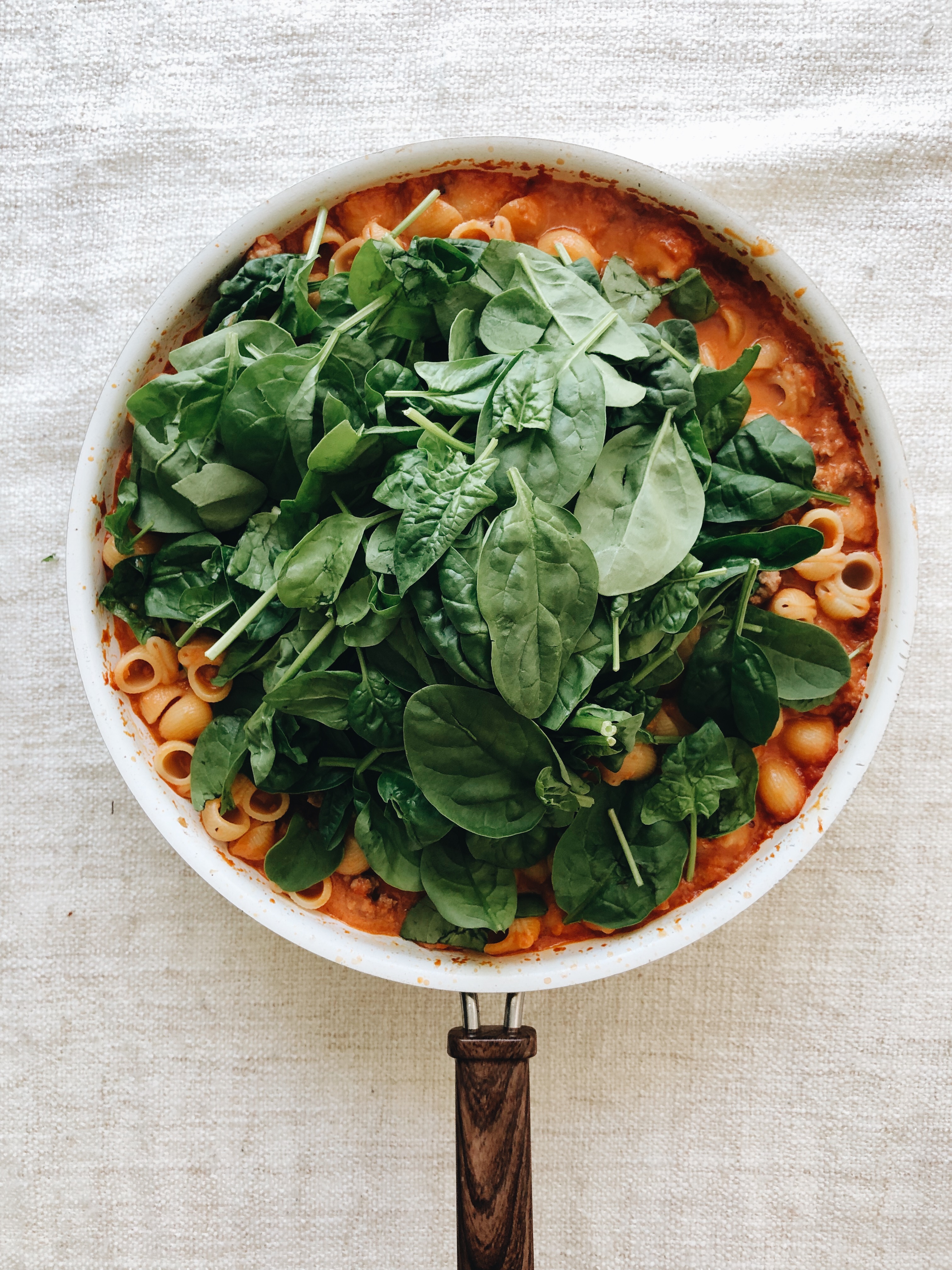 So you've boiled the DeLallo shellbows and said the word shellbows an appropriate amount of times, and then transferred them right into the creamy tomato sauce. At this point, just add the spinach in batches and let it wilt down into everything. It always seems like an absurd amount of greens, but they'll seriously vanish into the sauce. Every single time. #SCIENCE.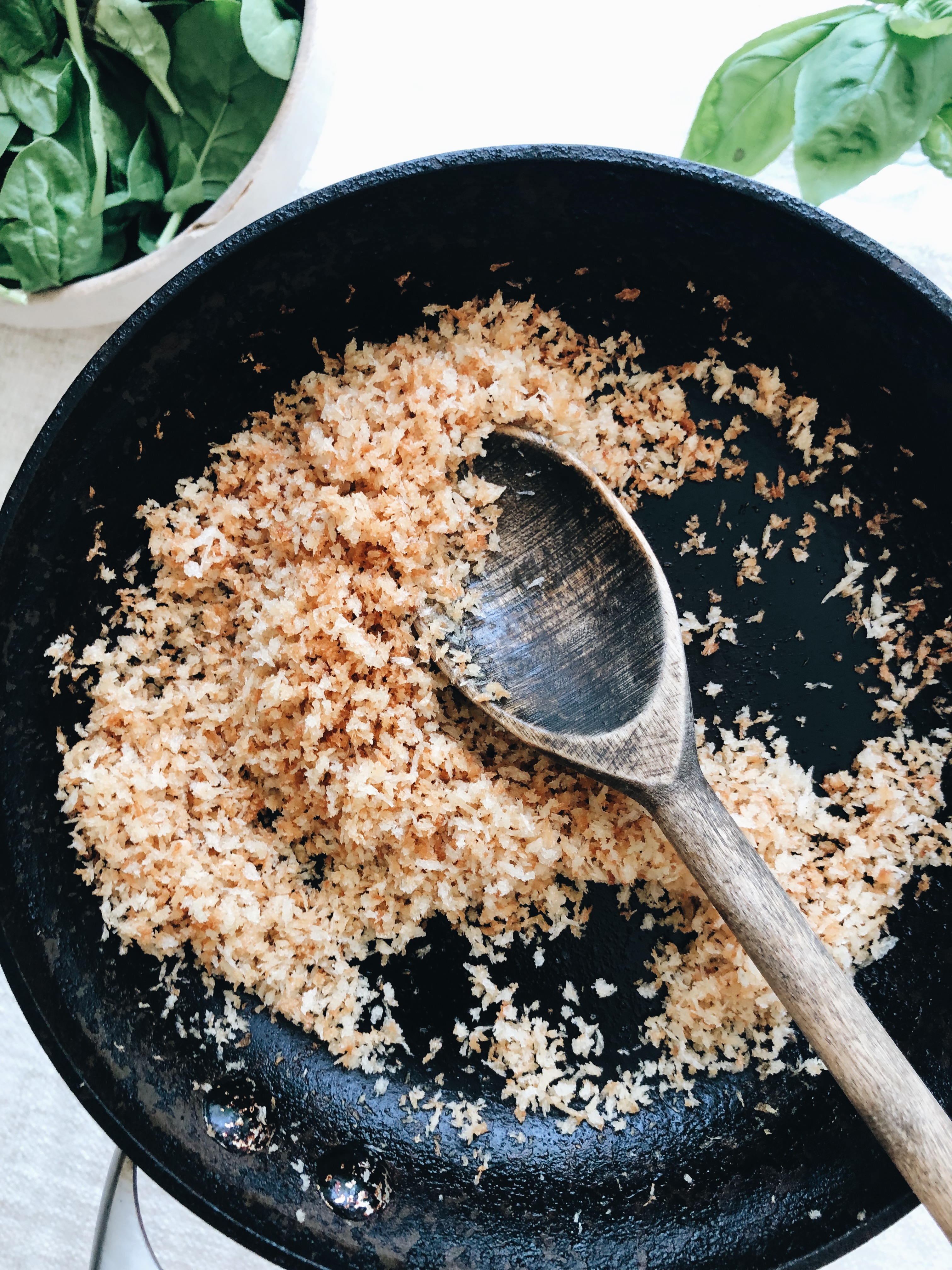 On the side, you've melted butter and toasted some panko in it. Buttery crunch. How could you not make tank tops and posters.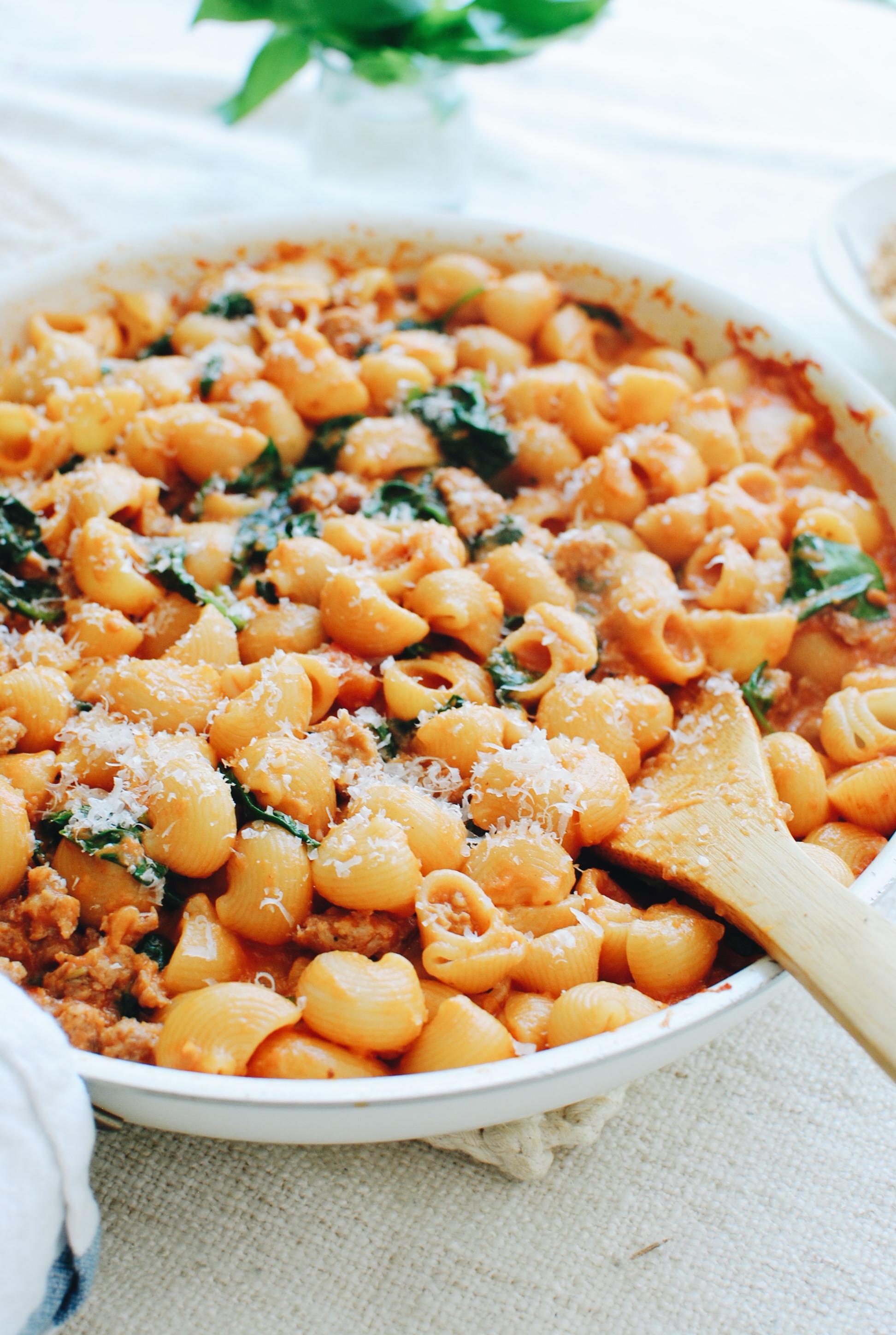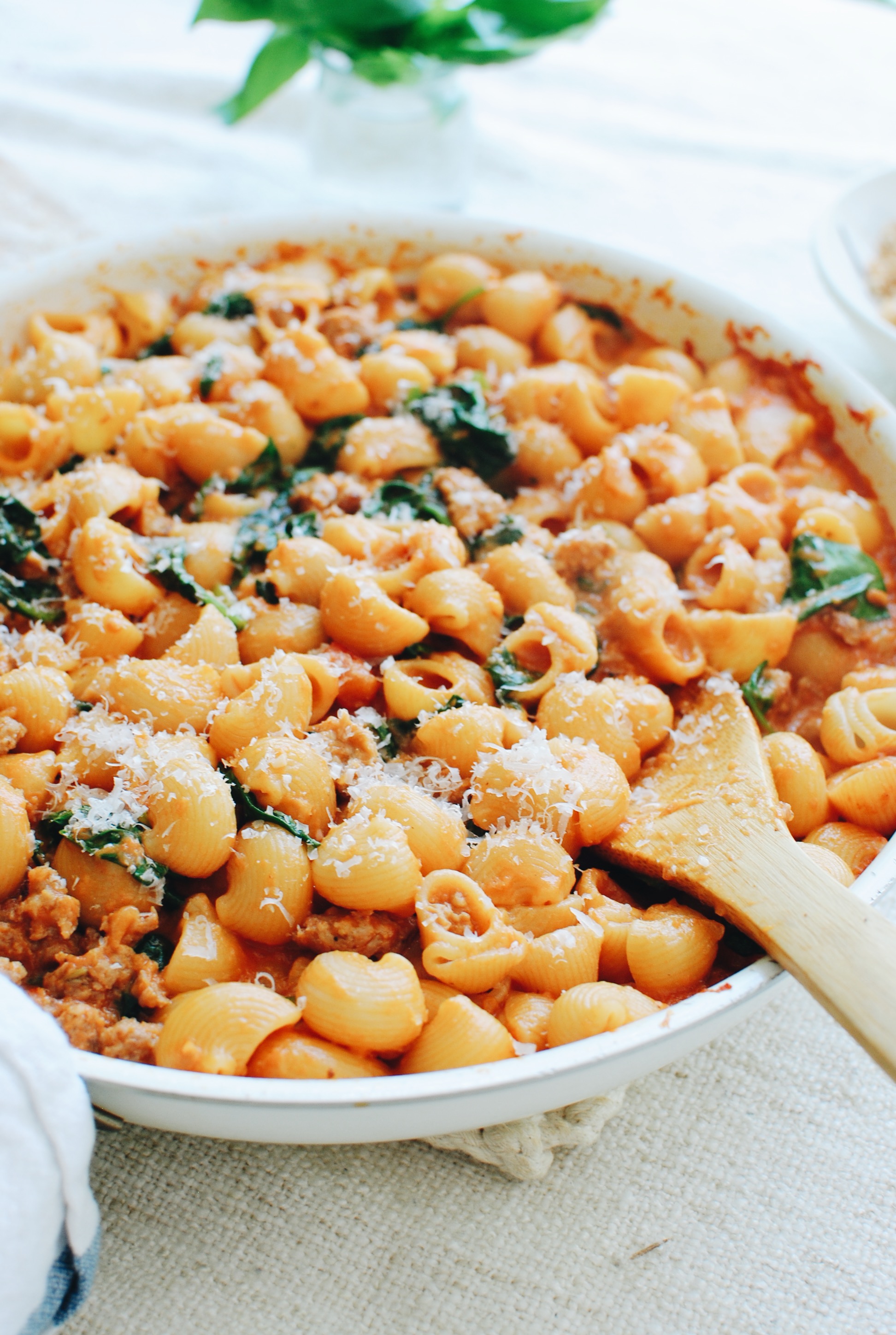 And there she is, yo. Everything is stirred together in creamy, glossy glory and you have gone completely blind with desire.
Top it with panko, parmesan and plenty of fresh basil leaves!
DeLallo really killed it with these pastas. Handcrafted from like, the highest quality durum wheat at the south of Naples, where pasta was born, dudes. It also has a pale matte golden color that other pastas don't have and I'm OBSESSED. High in protein with a delicious toasty aroma, you.need.these. And they have a ton. Long pastas, short ones. Go look at this, already!
Also, invite me over when you make this.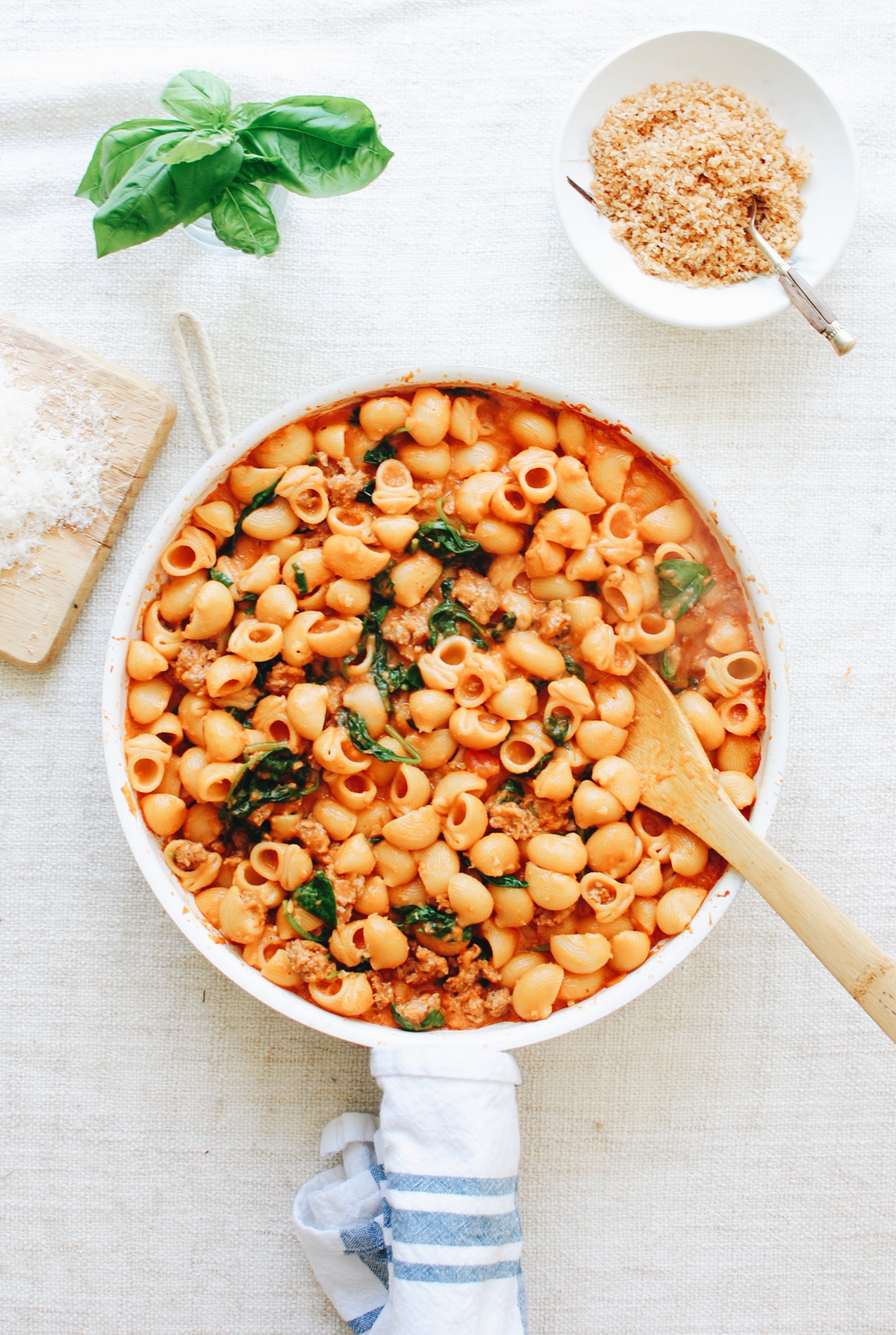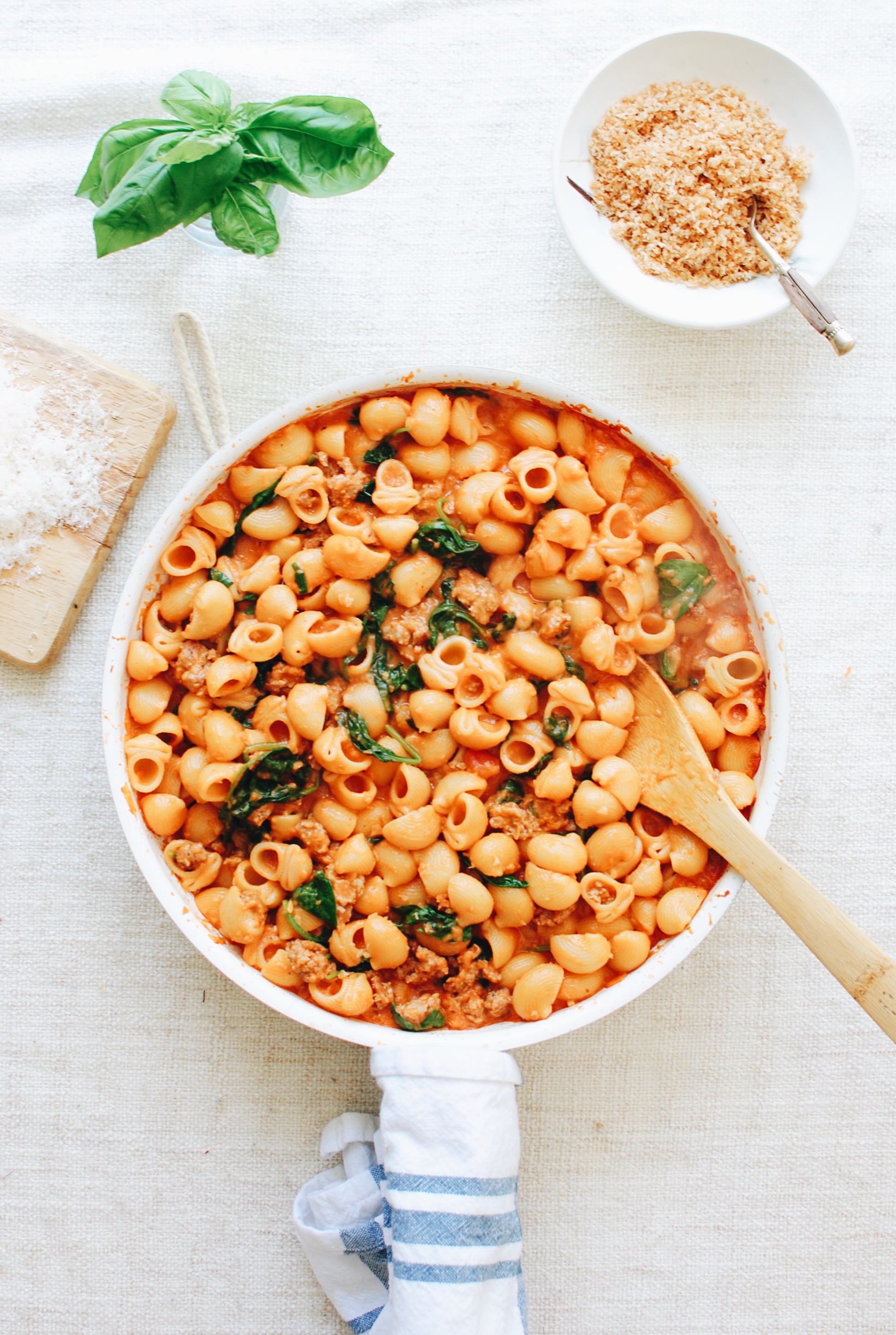 You do remember is fall is in 11 days, right?
Creamy Tomato Shellbows with Sausage and Spinach
Ingredients
1 pound sweet Italian sausage (if in links, casings removed and sausage torn into chunks)
1/2 white onion, diced
2 cloves garlic, minced
1 (28 oz) can DeLallo San Marzano tomatoes (pureed in a food processor until smooth)
1/2 cup heavy cream
6 oz baby spinach
16 oz DeLallo shellbow pasta
1/2 cup Panko
1/2 cup freshly grated parmesan cheese
2 Tbs. butter
fresh basil, for garnish
Coarse salt
Instructions
Bring a large pot of salted water to a boil.
In the meantime, crumble the Italian sausage with a wooden spoon in a heated skillet over medium heat. Once browned through, add the onion and garlic and sauté for about five minutes, until the veggies soften. Then add the pureed tomatoes and let simmer for three minutes. Add the cream and simmer another 2 or 3 minutes. Now add the spinach in batches, letting it all wilt.
In the meantime, melt the butter in a small skillet and toast the Panko until golden brown. Transfer to a small bowl and stir in the fresh parmesan. (Or leave it separate if you want!)
In the meantime, you've been boiling the DeLallo shellbows until al dente, according to package directions. Transfer the cooked pasta to the creamy sauce and stir to combine. Season with a pinch of salt, to taste.
Serve family style, with toasted Panko/parmesan and fresh basil!
Serves 4-6.
7.8.1.2
372
https://bevcooks.com/2019/09/creamy-tomato-shellbows-with-sausage-and-spinach/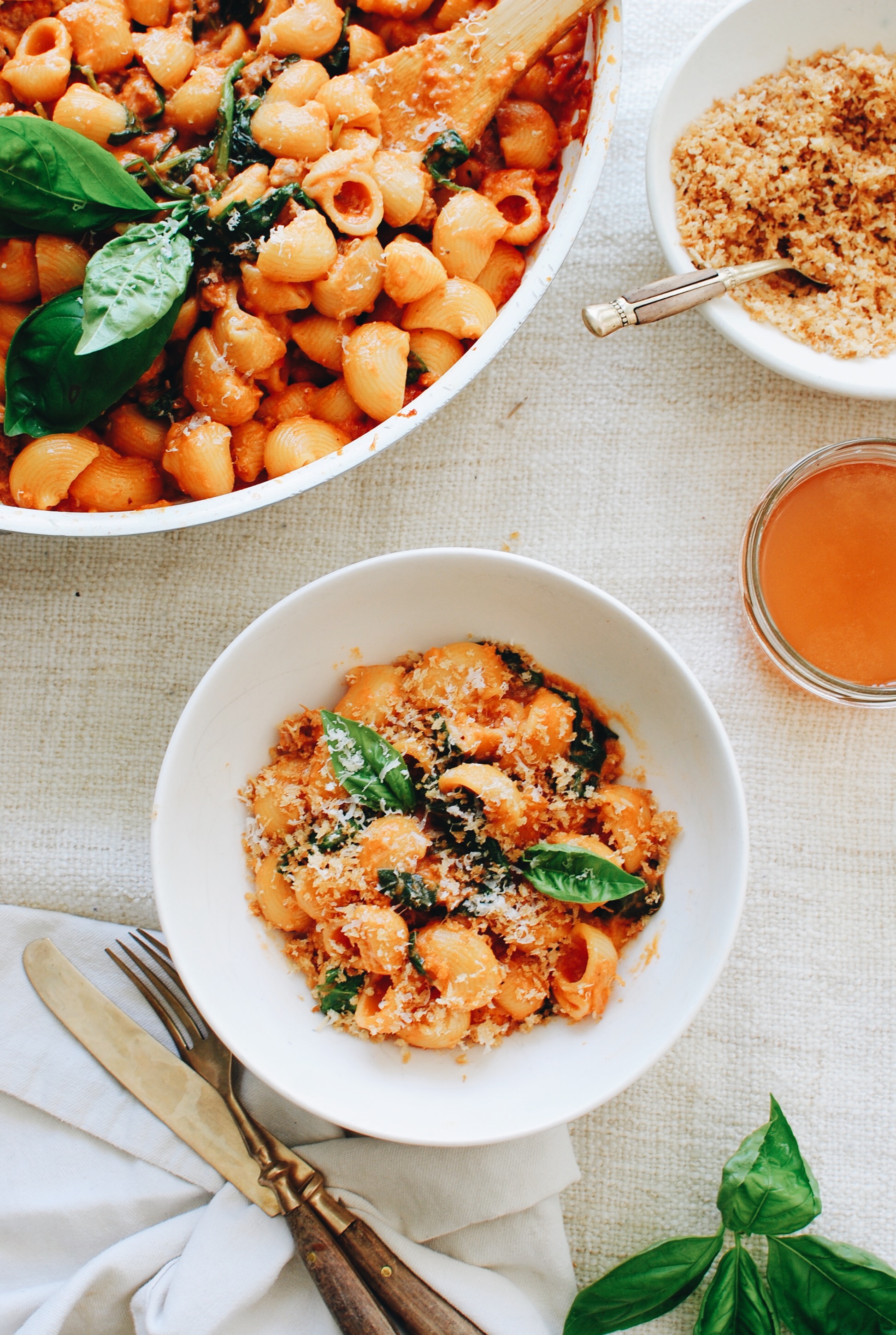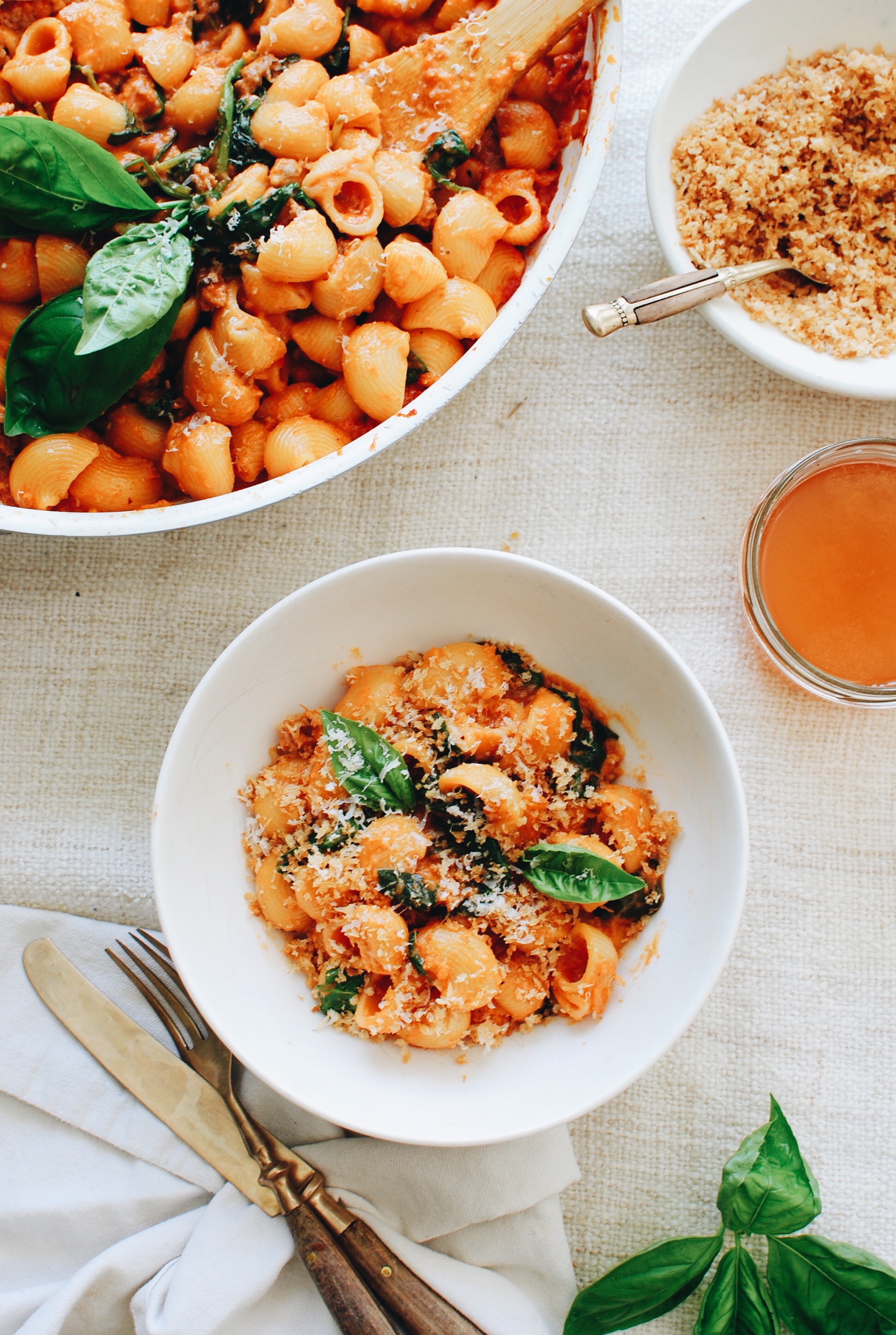 UM, yeah.
(This post is definitely in partnership with my lover DeLallo. But all ramblings and pasta inhalings are totally my own. We coo?)