Okay the tofu is totally fried so get excited right now.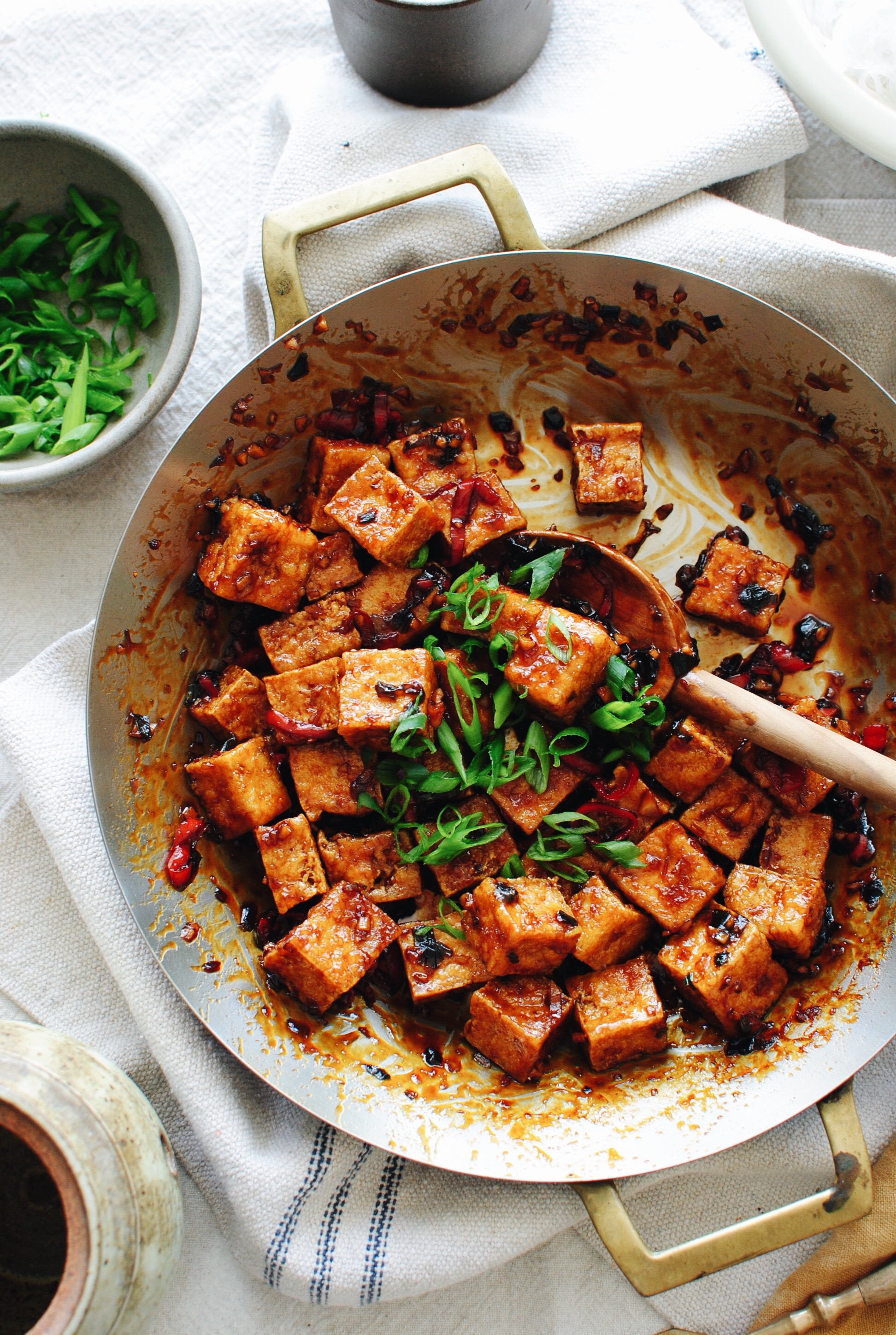 I hardly ever fry! Ever! Fry! Ever ever! (<–too much?)
But there's this Thai restaurant in town that fries their tofu, and it is absolute bliss to eat. Crispyyyyyy and spongyyyyyy and spicyyyyyyy. UGH. I had to try it.
So this recipe is sort of hybrid of things I've eaten or looked at in my life. (you're like, I don't understand any of that.) A) It's sort of like this Three-Cup Chicken I made a while back! B) The look of this sticky tofu was inspired by a photo I saw in the vegetarian book Plenty. His was black-pepper tofu, but I loved those big cubes all glossy and sexy. And C) of course I wanted it to feel like the tofu from our hipster Thai restaurant downtown.
So I birthed this recipe!
…wish I'd phrased that differently.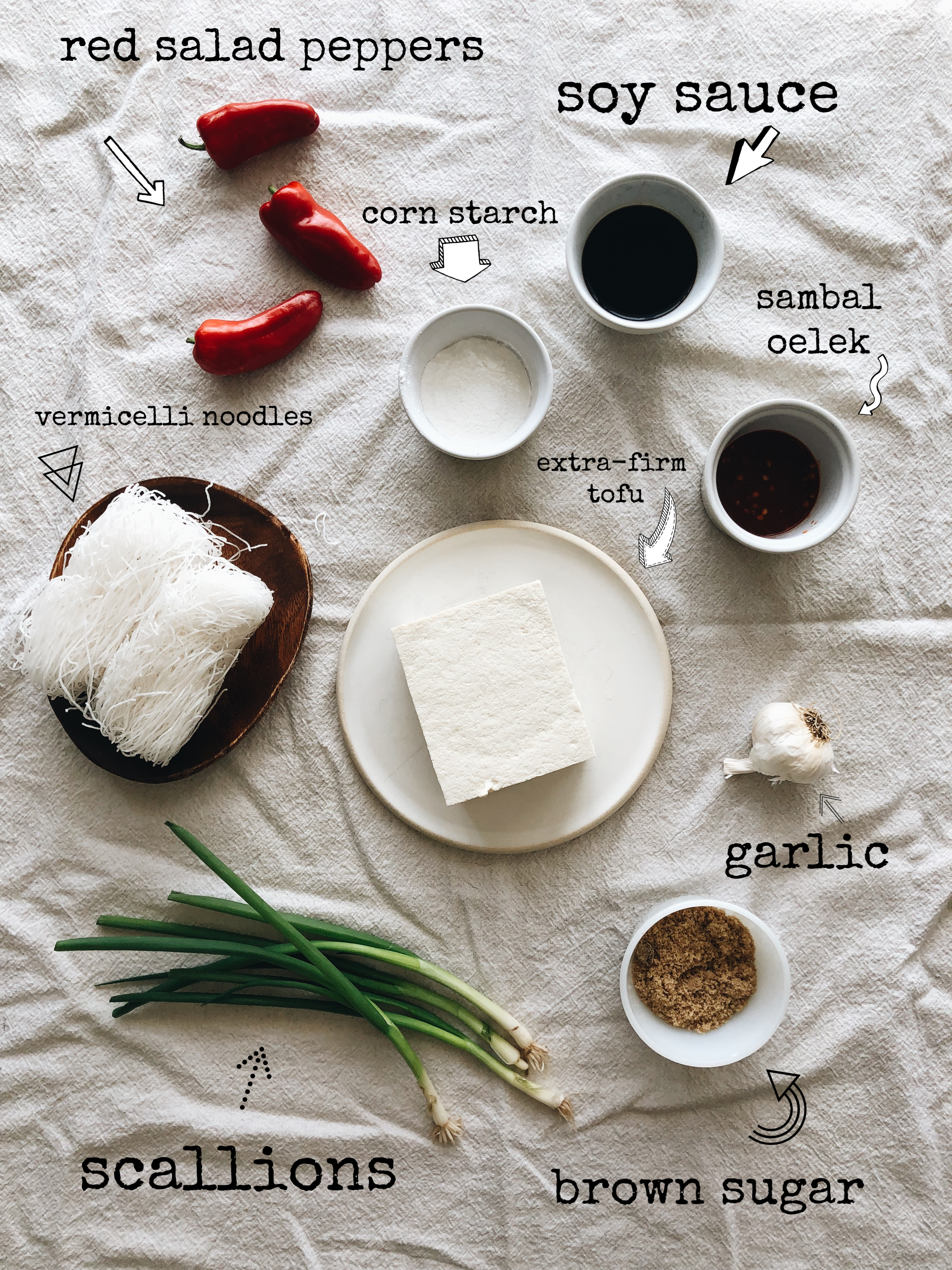 Oh! Remember the sambal oelek you bought a couple of weeks ago for the Thai Coconut Noodles? And you were all pissy like, WHEN am I ever going to use this stuff again, BEV?
Now, Chachi. RN.
(poll! do you hate it when people type rn, instead of right now? what's your stab level with that?)
So yeah, simple ingredients. And buy the extra-firm tofu! It will hold up better. And before you fry, place it in a shallow bowl and place a heavy bowl or plate on top. That will press out a lot of the moisture inside the block. "Thanks for coming out, we're Moisture Inside the Block! We've got CDs and t-shirts right over there for sale."
Listen, IT COULD HAPPEN.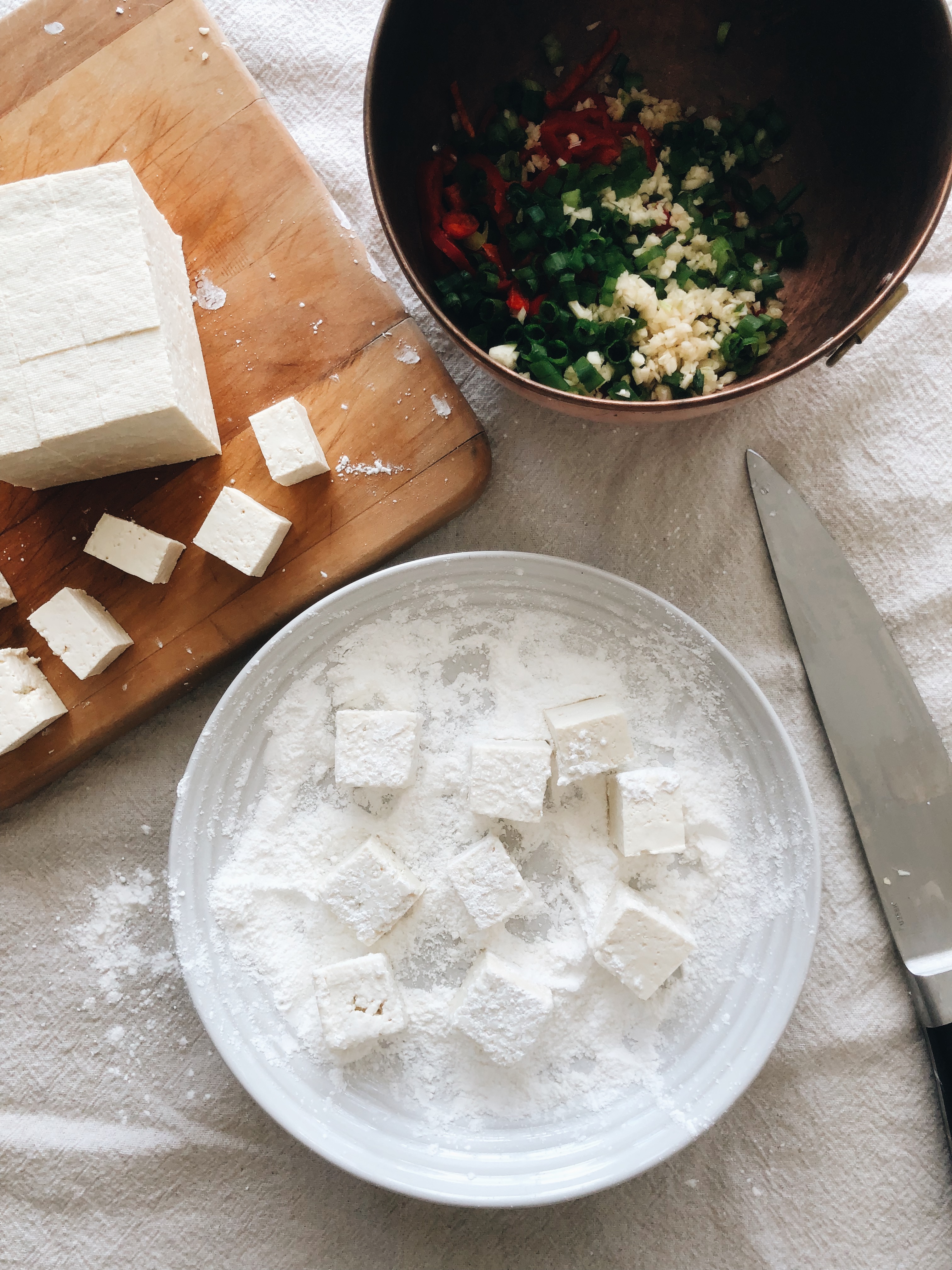 So you'll toss the pressed-out cubed tofu with some corn starch and coarse salt. You could use regular flour in place of the corn starch. I was just taking a tip from the Plenty dude.
An then FRY those mothers in hot vegetable or canola oil until they turn a light golden brown. I DISCOVERED that tofu doens't get that dark brown. At least mine didn't. And I kept them in the oil for 57 months. And look.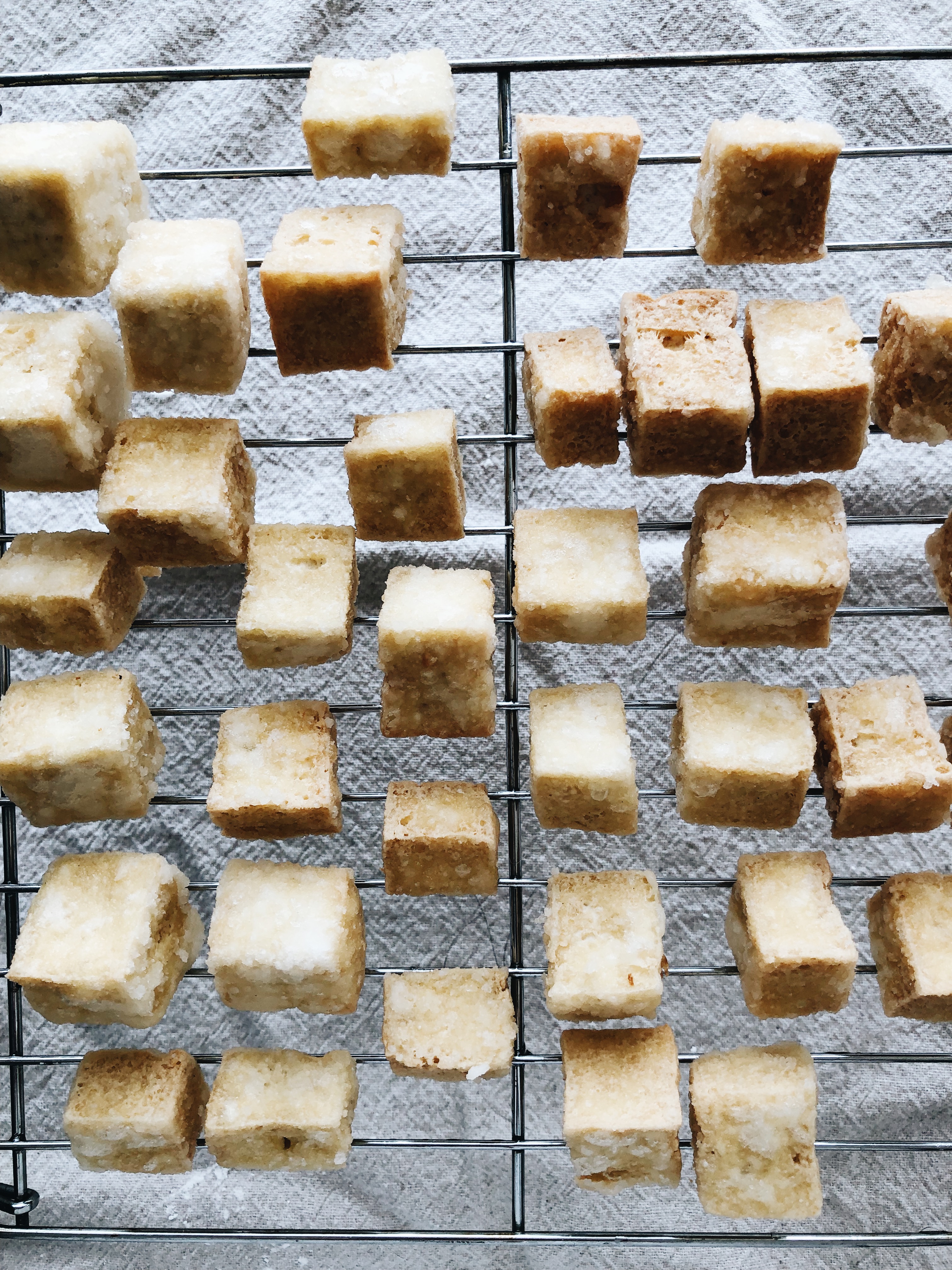 Light golden brown. Crispy! But not as dark as I expected. I guess this is the life of fried tofu. And I'm here for it.
Fry in batches, and just keep moving them around in the oil because they'll want to gang up on you and stick together. So just keep 'em separated. (name that song.)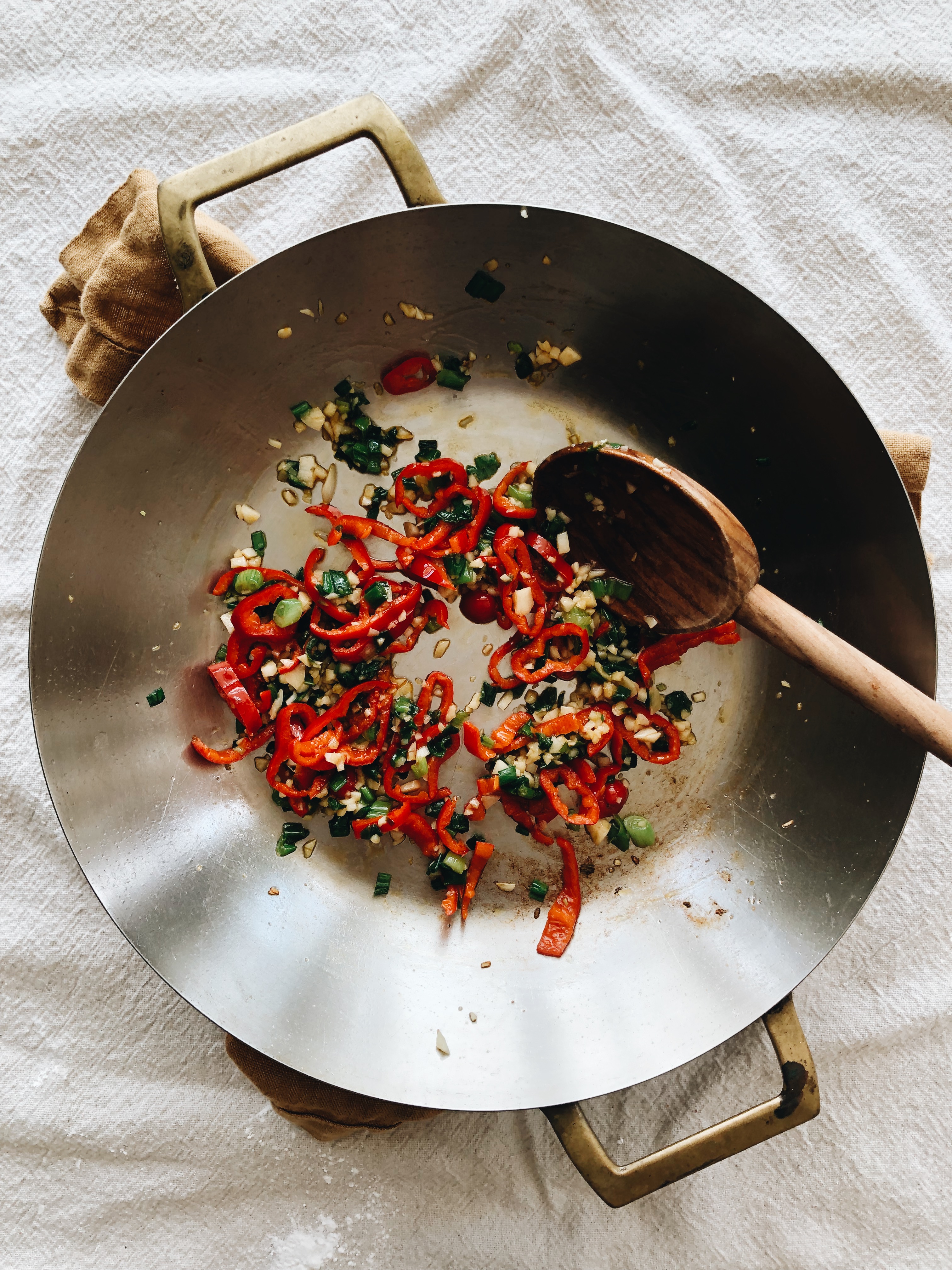 Now, in a medium pan, sauté your garlic, scallions and red salad peppers. These aren't hot peppers! They're more sweet than anything. You know, they come in those bags with yellow and orange peppers? That. Those. It. Them.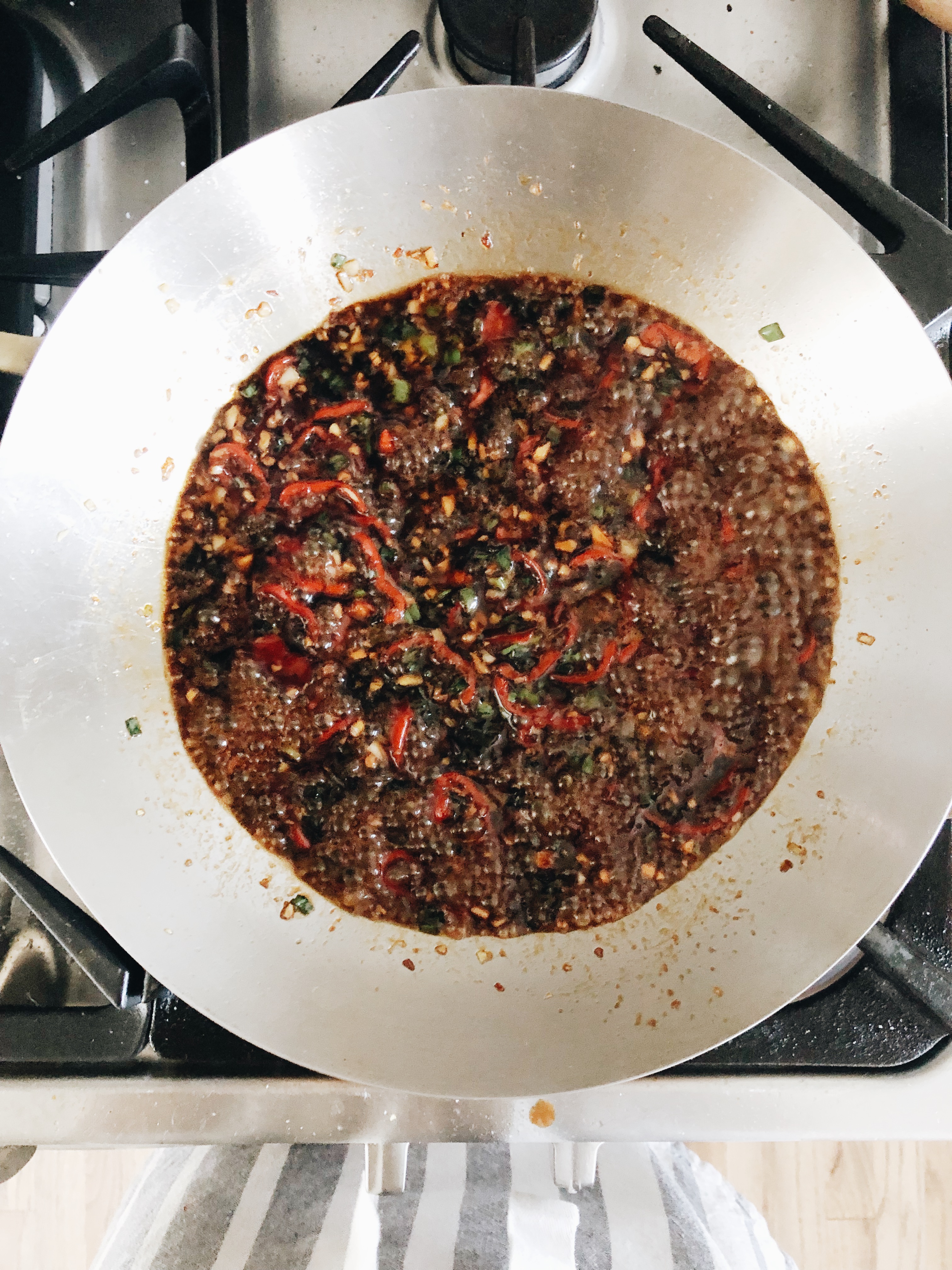 This isn't the greatest photo in the world, but I wanted you to see how bubbly and sticky the sauce becomes when you add the soy sauce, sambal and brown sugar! I mean look at that. It's like, CARAMELIZING, you guys.
And then you'll toss the fried tofu in that gloriousness and this is what happens in your life. . .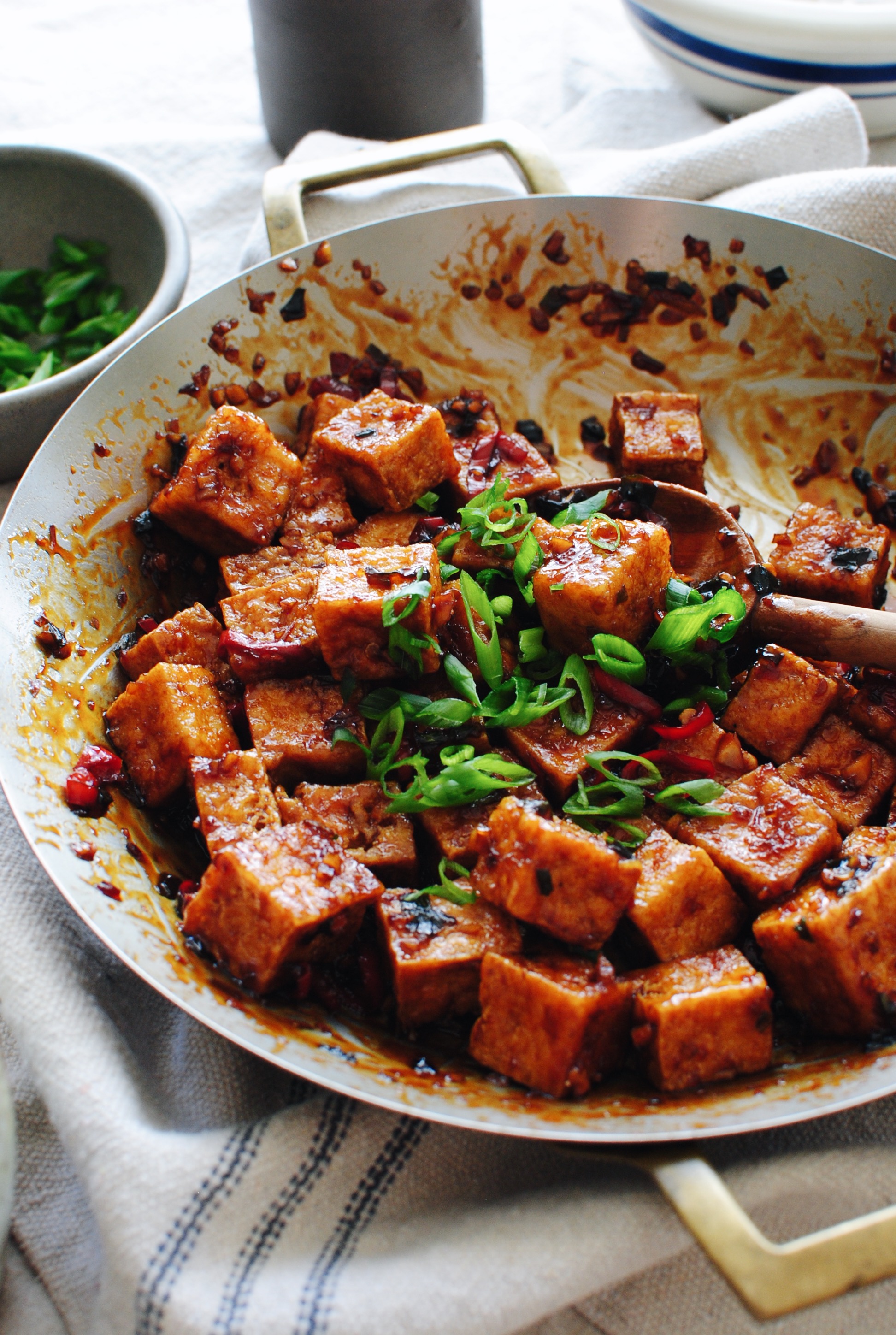 HA-BAM.
It's just all so stupid delish. You will not BELIEVE that crispy tofu all in that glossy, sticky sauce. And the glass (or vermicelli) noodles are a cinch to cook. They barely TOUCH hot water and they soften so beautifully. And you might think, OKAY THESE NOODLES ARE STICKING TO EACH OTHER, BEV, WHAT DO I DO?
First of all, simmer down. Run them under some cool water to loosen! And then once that sauce touches the noodles, they loosen again and become one with the rest of the dish.
Just unbelievably good. Sweet, a little spicy, definitely savory.
All in your mouth, rn.
Just kidding, right now.
Hiiii, make this.
Sticky Tofu with Glass Noodles
Ingredients
1 lb 2 oz extra-firm tofu
1/2 cup corn starch
1 Tbs. olive oil
1/3 cup (low sodium) soy sauce
2 Tbs. sambal oelek
3 heaping Tbs. brown sugar
5 scallions, finely sliced
4 cloves garlic, minced
3 red salad peppers, seeded and sliced
3 3/4 oz package vermicelli noodles
Coarse salt
Vegetable oil for frying (48 oz)
Instructions
Place the tofu in a shallow bowl, and place a paper towel on top, and another heavy bowl or plate on top. Press the tofu for 10 minutes, getting as much moisture out as possible. Then gently cut the tofu into cubes.
In another shallow bowl, mix the corn starch with a good pinch of salt. Toss the tofu cubes in the corn starch and shake off any excess. Fry the tofu in batches until light golden brown, about 7 minutes per batch. Drain on paper towels or a drying rack.
In a medium skillet, heat the olive oil over medium-high heat. Add the garlic, four of the chopped scallions, and the red peppers to the skillet, and sauté about three minutes, until the veggies soften. Add the soy sauce, samba oelek and brown sugar, and stir the sauce for about three minutes, until it becomes bubbly, sticky and glossy. Add the fried tofu to the sauce and toss until coated.
In the meantime, cook your glass noodles in hot water for just a couple of minutes, until they soften. Drain the noodles and run them under cool water to cool.
Serve the sticky tofu with the glass noodles, and garnish with that last sliced scallions!
Serves four.
7.8.1.2
216
https://bevcooks.com/2019/03/sticky-tofu-with-glass-noodles/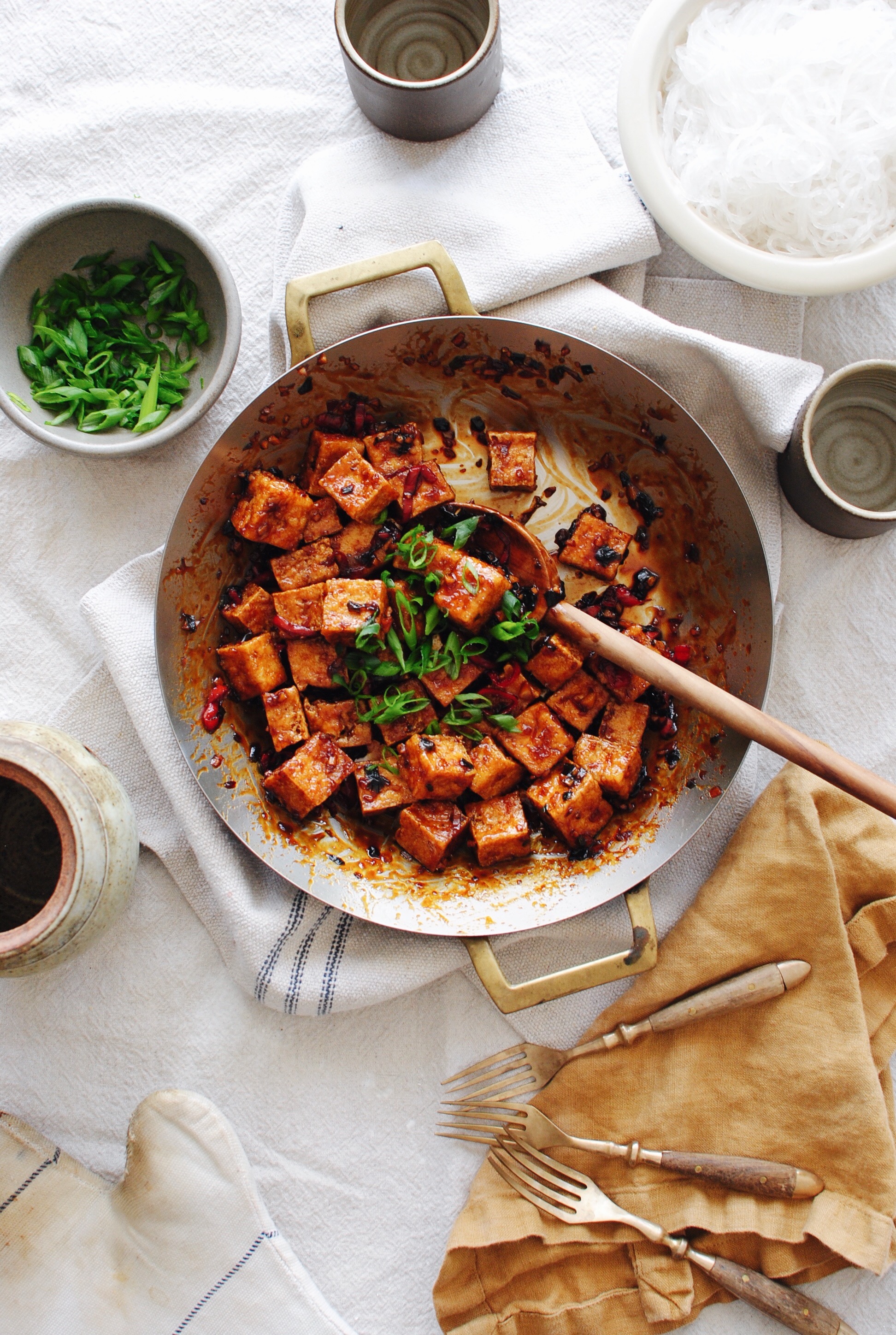 Those glasses have water in them. They look empty, but they water in them. Okay bye.